Pokemon Switch RPG coming late 2019, Bayonetta 3 is TBA
Nintendo gives very slight updates on future high-profile Switch games.

Published Sat, Feb 2 2019 3:29 PM CST
|
Updated Tue, Nov 3 2020 11:49 AM CST
The Switch's big new mainline Pokemon RPG is still on track for a late 2019 release, but other games like Bayonetta 3 are still deep in development.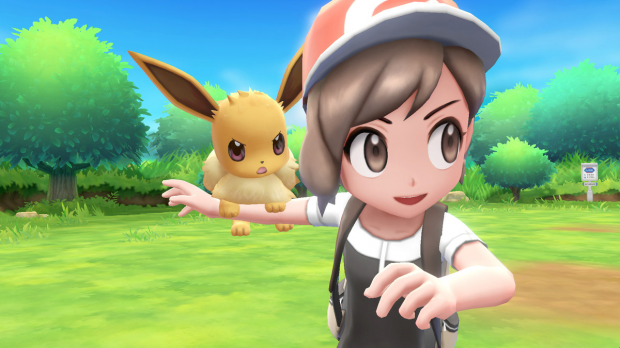 In its latest financial reports, Nintendo re-affirmed release windows of key first-party Switch games that will propel Fiscal Year 2019's earnings. Strong software like Super Smash Bros. Ultimate and Pokemon Let's Go Eevee and Pikachu helped Nintendo sell 9.42 million consoles during the holidays, and pushed total game sales over 163 million. Nintendo plans to leverage this plan in 2019 with strategically staggered game releases.
Nintendo says Animal Crossing is still on for its nebulous 2019 release, possibly early or mid-year to round out the release timeline, whereas the Pokemon RPG, a "traditional find, battle, train type experience," will launch in late 2019 (probably during the Q3 holiday period from October - December). Nintendo's consistency with this window hints development is going well. It's likely the Pokemon mainline game will have some sort of integration with Pokemon Go and utilize specially-made hardware that connects to Switch consoles and smartphones.
Other big Switch games like Bayonetta 3 are listed as TBA, which makes sense given PlatinumGames is working on a new IP, Babylon's Fall, alongside Square Enix. Progress on Bayonetta 3 is faring well, the developers say, and the studio may announce the game's release date sometime this year.
Following its recent reboot and subsequent delay on Switch, Metroid Prime 4 is listed as TBA and there it should stay for a year or so.
Bandai Namco's Singapore branch was originally developing Metroid Prime 4, but the game didn't live up to Nintendo's high expectations. So Nintendo scrapped all progress, rebooted the game, and handed it off to the Metroid series veterans at Retro Studios to complete.
Nintendo will likely confirm all release dates in its series of Direct showcases, but historical trends give us an idea of software cadence. Here's how the timeline may pan out:
Animal Crossing - Early FY2019, possibly from April - June
Bayonetta 3 - If it comes out in 2019, possibly in Q2'19 during June - September
Pokemon Mainline RPG - Q3'19, possibly from October - December during big holiday rush
Related Tags