The Nintendo Switch enjoys an explosive holiday quarter that propelled total global sales past 32 million units.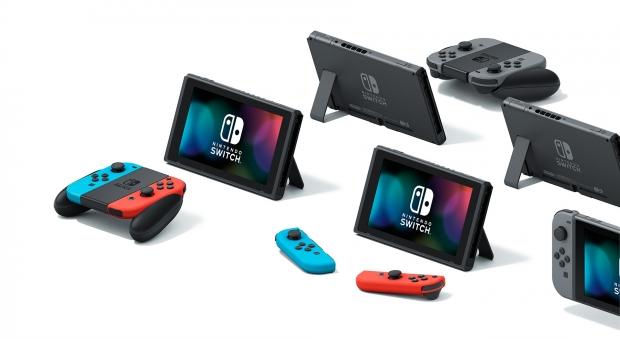 The Switch handheld-console hybrid has now sold 32.27 million systems worldwide, Nintendo announced in its recent Fiscal Year Q3'18 filings. During the critically important holiday quarter from October through December, a period that earns most of Nintendo's yearly revenue, the company sold a staggering 9.41 million Switch consoles, exceeding analyst predictions by nearly 1 million sales.
Q3 sales are up a mighty 30% year-over-year, and dwarf Q1 sales by nearly nine-fold and Q2 sales by nearly three-fold (a trend that's quite typical in the industry). Nintendo also sold 2.4 million more Switches in holiday 2018 (9.41 million) than in holiday 2017 (7.24 million). Big first-party software like Super Smash Bros. Ultimate and Pokemon Let's Go Evee and Pikachu were main drivers for adoption, along with holiday discounts.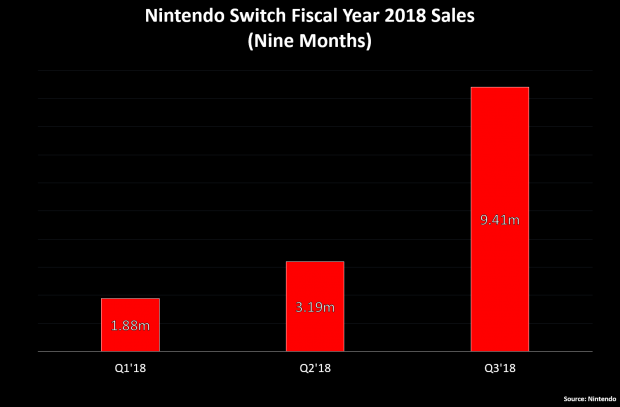 "Super Mario Party released in October, at 5.3 million units, Pokemon: Let's Go, Pikachu! and Pokemon: Let's Go, Eevee! released in November, at 10 million units, and Super Smash Bros. Ultimate released in December, at 12.08 million units," Nintendo wrote in its financials.
Total Switch sales for Fiscal Year 2018 now sit at 14.71 million, leaving Nintendo to sell about 5.29 million systems to hit its internal sales target. The company wants to hit 20 million Switch sales in the fiscal year ending March 2019, but analysts are skeptical.
Past trends show fourth quarter sales dip off from the big holiday rush and historically Nintendo sold 2.92 million Switch consoles in its previous Fiscal Q4'17 timeframe. It's doubtful than Nintendo can push over 5 million systems during January through March 31, 2019.
Nintendo President Shuntaro Furukawa acknowledged the goal won't be met, but re-affirmed the console's massive software adoption rate:
"Hardware sales so far this fiscal year have not been at a pace needed to reach the full-year target that we set at the beginning of the fiscal year. But Nintendo Switch sales continue to grow at a rapid pace globally, and especially software sales are extremely robust. I believe this past holiday season laid a solid foundation for further expansion of the Nintendo Switch business."