PlayStation Classic specs revealed
Sony's PlayStation Classic strips for the camera.
Published Nov 29, 2018 2:09 PM CST
|
Updated Tue, Nov 3 2020 11:50 AM CST
1 minute & 42 seconds read time
Sony's new $100 PlayStation Classic packs enough power for optimum emulation, but the software throws off performance.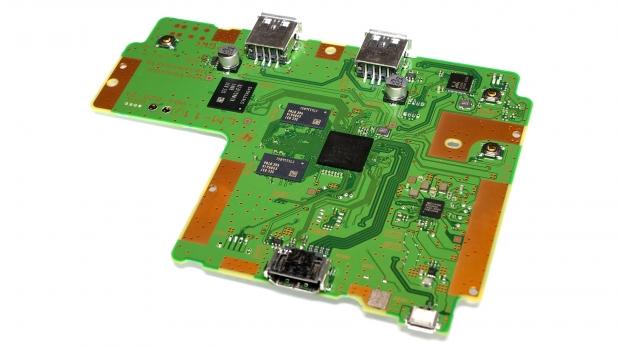 Retro mini consoles are all the rage these days and offer the likes of Sony and Nintendo ways to make a quick buck. These boxes are cheap to make and cash in on nostalgia, but unlike the NES and SNES Classic Editions, Sony's latest PlayStation mini actually has decent specifications for old-school emulation.
According to a teardown from Eurogamer, the micro-console features a MediaTek MT8167A SoC (the same used in Acer's 10-inch Iconia tablet) alongside 1GB of 1866MHz RAM.
Here's a quick spec list:
MediaTek MT8167A SoC processor

Quad-Core ARM Cortex A35 CPU @1.5GHz

PowerVR GE8300 GPU

1GB DDR3 RAM (1866MHz)

Samsung 16GB eMMC NAND memory
Thus armed, the PlayStation Classic shouldn't have any trouble running older games. But the real issues arise in the games themselves: instead of opting for full NTSC support, Sony included PAL versions of certain games.
Nearly half of the PS Classic's library is PAL (9 games out of the 20 are PAL versions) which results in inconsistent frame rates, jitters, and other technical hiccups. PAL games ran on 50Hz televisions whereas NTSC titles ran at 60Hz, so developers would slow down PAL region games accordingly to match the frame rates of overseas TVs.
Combined with a somewhat lackluster library of games and rather barebones UI and features, the PAL slowdowns paint the PlayStation Classic as not worth buying at $100. I have no doubt it'll still sell extremely well but I think consumers will be disappointed by its gameplay performance and we could see lots of complaints from confused owners this holiday season.
Related Tags