Take-Two Interactive CEO Strauss Zelnick is careful to say all of the publisher's future games won't have online elements monetized by microtransactions.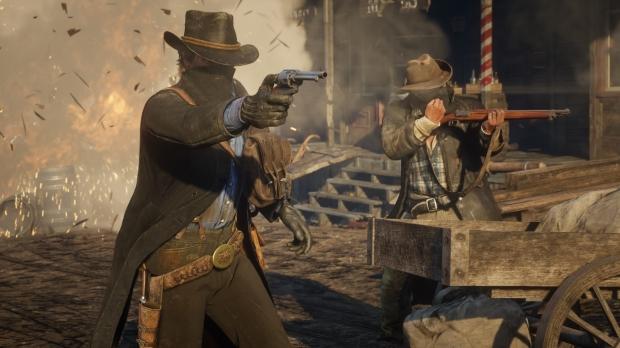 Thanks to its annualized sports titles, GTA Online, and other titles, Take-Two rakes in hundreds of millions of dollars from in-game purchases every quarter. In Fiscal Q1'19 the publisher made $240 million from microtransactions and DLC. With this new digital-oriented live service approach, Take-Two (and other major players like Activision, EA, and Ubisoft) can tap engagement strategies to make consistent revenues over time. But that doesn't mean every single game Take-Two puts out will be riddled with microtransactions, company CEO Strauss Zelnick says.
When asked about live services finding their way into all future games, Mr. Zelnick makes a distinction between microtransactions in online games and more traditional piecemeal DLC macrotransactions offered for singleplayer-driven titles. In other words: engagement doesn't automatically mean microtransactions.
"There won't be an in-game monetization opportunity for every title we put out. There will be some opportunity to stay engaged--it could be downloadable add-on content, for example. There will not be a multiplayer mode for every game we put out. So it really depends on what's organically correct for the title," Take-Two CEO Strauss Zelnick said at this year's Goldman Sachs conference.
This approach makes a lot of sense considering every game can't forcibly have an online mode attached to it (unless maybe if you're EA).
However, a lot of Take-Two's existing games (sports games, GTA V) and future games like Red Dead Redemption 2 and what's assuredly Borderlands 3 are primed for this kind of monetization pattern.
Red Dead Redemption 2's online mode is likely to have a similar microtransaction strategy as GTA Online, whereas 2K Games could tap cosmetic skins with Borderlands 3.
Make no mistake: Take-Two will absolutely continue monetizing its live service games. After all, the publisher made nearly $500 million from recurrent consumer spending last fiscal year. What Mr. Zelnick is essentially saying is that there won't be a one size fits all approach to how this is achieved.
But before a game can be monetized it has to actually be good--or at least that's Take-Two's philosophy.
"I think the opportunity [for recurrent consumer spending] is enormous, but the opportunity doesn't come from us sitting around and saying 'how do we extract more value from our consumers'. The opportunity for growth, whether it's in a frontline release, recurrent consumer spending, or anything else we do comes from how do we make the best quality titles in the business, how do we captivate and engage consumers, how do we innovate--and we try to do all of that in a very efficient way," Mr. Zelnick continues at the event.
"It's definitely our strategy that once we launch a title we want consumers to stay engaged. But we're aware that if the title isn't a hit then they're not going to want more of it. The fact that it's our strategy doesn't matter."
"What matters is are we delivering and incredible entertainment experience. If we are, we then give consumers and opportunity to stay engaged, and that's a sea change in our business. So recurrent consumer spending is now ten times what it was in 2012. It was 48% of our net bookings last fiscal year, but we had a light schedule last fiscal year, but nonetheless the business has been transformed and I think the market has realized that."
Ultimately time will tell how Take-Two's games are monetized, but so far it looks like this ethos only applies to non-sports games, such as the four new IPs being made as part of the new Private Division label (remember that Obsidian's upcoming Fallout-like RPG will be published at Private Division).