Red Dead Redemption 2, Borderlands 3 monetization prediction
Red Dead Redemption 2's online mode is prime territory for GTA Online-level microtransactions, but could Borderlands 3 have lootboxes?

Published Thu, Nov 9 2017 4:28 PM CST
|
Updated Tue, Nov 3 2020 11:53 AM CST
Take-Two's biggest games for next year include Red Dead Redemption 2 and what's almost assuredly Borderlands 3. Like all of the publisher's big games, these titles should be monetized--and that means microtransactions, DLC, season passes--the lot.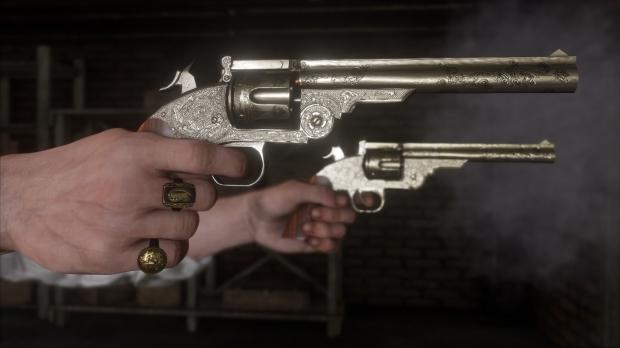 Earlier today we reported that Take-Two pretty much wants to monetize all of its games with recurrent consumer spending options to not only earn more cash, but also keep engagement up and ensure the games last quite a long time. With the Games-as-a-Service model publishers can make their games last for 2-3 years at a time (ex: GTA Online has lasted four and is still making record revenues). We've already predicted Red Redemption 2's new online multiplayer mode will be monetized similar to GTA Online, but what about Borderlands 3? Could it have lootboxes, or just traditional DLC/season passe? Or both?
In the fiscal Q2'18 earnings call, Take-Two Interactive CEO Strauss Zelnick gave a few clues about the company's future slate of games, especially Red Dead Redemption 2. Let's pay close attention to the language used here--it could help frame what to expect with next year's biggest game. "I think the key lesson from GTA Online, remember we launched that title four years ago, so we certainly have learned a lot from what we knew four years ago," Mr. Zelnick said in the earnings call Q&A session. That's the first tidbit that relates GTA Online's success to future online models.
The CEO goes on to highlight that monetizing the engagement built by strong online games is critical, and strongly hints that RDR2 will be monetized in a similar fashion as GTA Online.
"And one of the things that we learned is, if we create a robust opportunity and a robust world in which people can play delightfully in a bigger and bigger way that they will keep coming back and they will engage and if there is an opportunity to monetize that engagement. And we've announced that there will be an online component to Red Dead."
As for Borderlands 3...that could be more complicated. The game is traditionally a "shoot and loot" experience, so it's very possible the latter part of that genre will be tapped via lootboxes. But there's no guarantee of course. Borderlands games also typically have online co-op play to boost engagement, and an important way to monetize online engagement between millions of players is some way to make on-demand purchases that have an immediate effect on the experience.
However, Mr. Zelnick goes on to say that just because GTA Online is selling gangbusters doesn't mean that every single game they produce will be online, and that it won't be monetized in a similar way with Shark Cards.
"And furthermore we've said that we aim to have recurrent consumer spending options for every title that we put out at this company. It may not always be an online model. It may not, probably won't always be a virtual currency model, but there'll be some ability to engage on an ongoing basis with our titles after release across the board."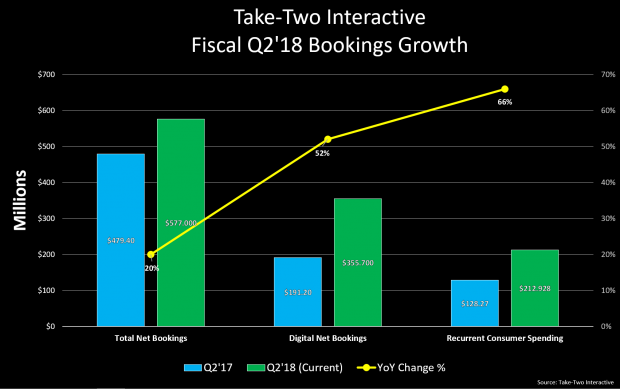 Finally we have discussion about Take-Two's numbers. The company earned $212.928 million in recurrent consumer spending in the three-month period ended September 30, up 24% quarter-over-quarter and a huge 66% year-over-year. GTA Online, NBA 2K18, and WWE Supercard were all strong drivers of this growth. In fact, spending on DLC, microtransactions, add-ons, subscriptions and other content made up 42% of net sales in the quarter.
"That's a sea change in our business, and recurrent consumer spending is 42% of our net bookings in the quarter. It's been transformative for us and the only reason it's transformative for us is because it's transformative to our consumers. The business that once upon a time was a big chunky opportunity to engage for tens of hours or perhaps 100 hours has turned into ongoing engagement, day-after-day, week-after-week. You fall in love with these titles and they become part of your daily life," Mr. Zelnick said.
So the key takeaways here are as follows:
Take-Two will continue monetizing its games. This shouldn't be a surprise.

Red Dead Redemption 2 will likely be monetized in a similar way as GTA Online, but with a different mechanic/hook, a new setting, and probably new ways to engage players

Borderlands 3 will fold into this model in some way, possibly via lootboxes or just traditional season passes/DLC
Related Tags