Marvel's Spider-Man PS4 opening cinematic to gameplay video
The opening cinematic to the very first gameplay experience has been revealed for Marvel's Spider-Man PS4 title.
Published Jul 31, 2018 3:04 AM CDT
|
Updated Tue, Nov 3 2020 11:51 AM CST
1 minute & 40 seconds read time
Spider-Man fans will be glad to know that a video has been leaked of the opening cinematic of Marvel and Insomniac Games' upcoming title. The video showcases the entirety of the opening cinematic all the way through to the first gameplay experience.
The video has been uploaded to the YouTube Channel 'Egorgian Beast' and originates from the VK Fest in St. Petersburg, Russia. Insomniac Games arrived at the event and had on display the latest preview of Spider-Man, Egorgian Beast was lucky enough to capture a very decent video of the preview and post it online. From the video we can see Peter Parkers apartment which looks like one of those mystery solving pin boards with string, combined with sci-fi level technology experimentation. Exactly what you would expect from a slightly older Spider-Man.
Eventually, we see Parker arise and get ready for his day, he leaves his urgent rent notice on the floor and swings out into the world. The cinematic seamlessly transfers to gameplay, and at this moment this is where the game will begin for all players. It should be noted, that if you take your time watching the video and notice Parker's post-it notes, there is a note that says "Call T.S back re job offer." Could this be a reference to Tony Stark? Could he be included within the game or is this just a wink towards the Marvel Cinematic Universe? Marvel's Insomniac Games and Marvel's Spider-Man will be releasing exclusively on the PlayStation 4 September 7th.
In other news about Spider-Man, the title could feature a further 60+ more suits and many more villains, find out why this could be a possibility here. Tombstone is a very strong possibility of being included within those extra villains, there evidence for that rumor here. Lastly, if you are thinking about going all out for Spider-Man, you can pick up an exclusive Spider-Man themed PS4, check that out here.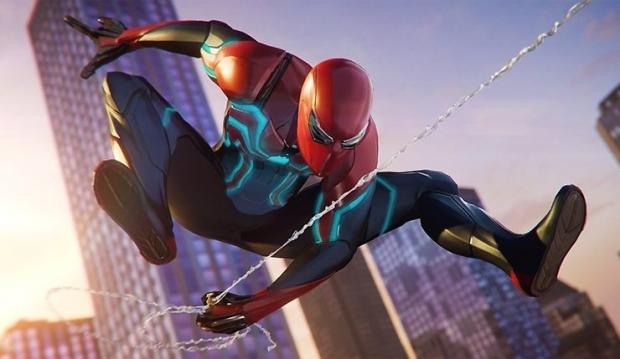 Related Tags