AMD reaches a point of Zen, stock rises 20% in just 48 hours
AMD stock soars 14% while Intel struggles with 10nm, leaving Wall Street abuzz.

Published Sat, Jul 28 2018 7:31 PM CDT
|
Updated Tue, Nov 3 2020 11:51 AM CST
AMD has posted better-than-expected Q2 2018 sales and earnings that have pushed AMD stock up 14% in 24 hours, and over 20% in 48 hours.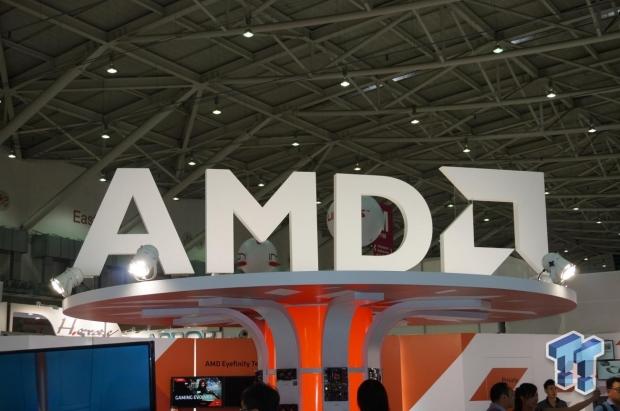 The company posted $1.76 billion in revenue for the three-month period, compared to $1.15 billion in the same quarter of 2017. AMD posted a net income of $116 million, which when compared to the $42 million loss of the same time last year, is a great result.
AMD Q2 2018 highlights:
Q2 net income of $116 million up from a loss of $42 million a year ago, a $158 million swing

Q2 revenue of $1.76 billion up from $1.15 billion a year ago, a 53% improvement

Gross corporate margins at 37%, up from 34% a year ago

7nm EPYC and 7nm GPU now sampling to customers

Video card product sales continue to be strong despite weak crypto market
During an investor call on July 25, AMD CEO Lisa Su said: "We had an outstanding second quarter with strong revenue growth, margin expansion and our highest quarterly net income in seven years. Most importantly, we believe our long-term technology bets position us very well for the future. We are confident that with the continued execution of our product roadmaps, we are on an excellent trajectory to drive market share gains and profitable growth".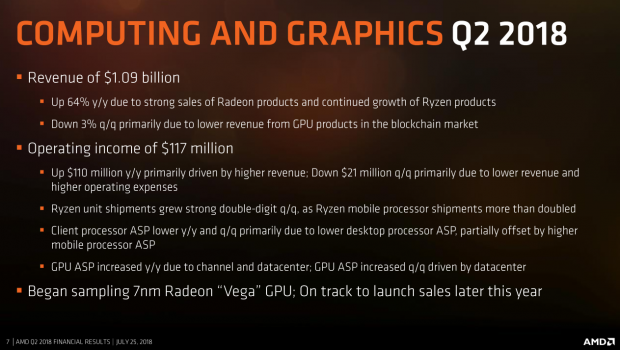 AMD is focused on its semi-custom and data center businesses, with Lisa Su saying that the data center is AMD's #1 priority right now. Su promised that AMD will nail Intel to the wall with its 7nm node, as Intel is struggling to get 10nm to market let alone the data center.
The company will have next-gen EPYC processors in the hands of customers next year, where we should see a huge 64C/128T possible on a single CPU while Intel sits on its hands with 28C/56T. AMD is expecting to push into the enterprise CPU market with "mid-single-digit percentage" by the end of Q4 2018.
If we rewind to last year, AMD had virtually 0% of the enterprise and data center markets, but this all changes with Zen. The enterprise and data center markets are worth over $12 billion, so we can see why AMD is happy to push into something where Intel is sitting still. Even if they can claw back 5-10% it will change their bottom line dramatically over the next 12-18 months.
Not only that but we have the entire roll out of Ryzen 2000 series nearly complete, and the next-gen Threadripper 2 processors about to hit which will give consumers 32C/64T in the consumer CPU market. This was previously reserved for the enterprise market with EPYC, and while we might not see big percentages of Ryzen Threadripper 2 processors sold, it'll be enough to make people see just how important AMD has become in the CPU business in the last 18 months... and how confused Intel has become.
Facebook saw $120 billion wiped away in front of its eyes in 24 hours, representing the largest one-day drop since the huge dot-com bust where Intel and Microsoft lost $91 billion and $71 billion, respectively. So in comparison, AMD is doing extremely well and in the week of news where Facebook sees $120 billion wiped away, AMD is walking away all smiles.
Related Tags