Fallout 76 has cosmetic microtransactions
Fallout 76 will be monetized with cosmetic items only to fund free updates and content.

Published Thu, Jun 14 2018 2:52 PM CDT
|
Updated Tue, Nov 3 2020 11:51 AM CST
Fallout 76, being an online service game, will be monetized with optional cosmetic-based microtransactions--something that really shouldn't be a surprise.
Bethesda's big new experimental Fallout 76 game will follow a familiar formula we've seen across the industry: online live-based titles that make recurring revenue via optional in-game purchases. Gamers will be able to purchase cosmetic items in Fallout 76 (paintjobs, outfits, etc) to add flavor to their characters, the studio confirmed, but everything offered on the game's digital storefront can be earned through regular play--paying outright is just a shortcut. Users will not be able to buy items that have a direct affect on gameplay.
Read Also: Fallout 76 is over four times bigger than Fallout 4
Similar to games like Destiny and Fortnite, Fallout 76's cosmetics will fund future content development and live updates. Bethesda's Austin studio--who will handle the live operations of Fallout 76 while the bulk of Bethesda's other branches move onto Starfield--already has a content roadmap to keep players happy.
The studio understands engagement is critical for any service game and the plan includes several smaller piecemeal live updates that will tweak, balance and ultimately ensure the game stays rolling with bigger DLC-sized drops set in between. Bigger content drops could include rotating live events, more story missions with fresh gear, and maybe even a new area or two in the irradiated West Virginia playground.
Fallout 76 is a game that's meant to be played for "years to come" and monetizing it properly hinges on two major things: keeping players engaged with content, and keeping the in-game world stable. If Bethesda's teams can create something that achieves both goals while staying true to their original vision I can foresee something big coming out of this big bet.
Also remember that Fallout 76's microtransaction earnings will have a direct affect on future projects as well. In-game purchases don't just fund new content for their respective games but also adds to the pot of cash tapped for other games--in this case Starfield and The Elder Scrolls VI. The more money that GTA Online makes, for example, the more money Take-Two Interactive makes and Red Dead Redemption 2's budget could grow and grow.
Read Also: Fallout 76 is a service game, can and will change over time
Ultimately Fallout 76 seems to have some major advantages for Bethesda and potentially players.
The West Virginia playground being live means that it'll continually change over time and morph into something different. Some things might stay the same, but overall Bethesda will have to play wasteland gods (or Overseer if you prefer) and carefully calculate, watch, and shape the world and its mechanics to meet players' needs.
Fallout 76 is due out on November 14, 2018 on PS4, Xbox One and PC. Check below for more info about the game:
Read Also: Fallout 76: no NPCs, no offline, real-time VATS, mods later
KEY FEATURES:

You will Emerge!

Multiplayer finally comes to the epic open world RPGs of Bethesda Game Studios. Create your character with the S.P.E.C.I.A.L system and forge your own path in a new and untamed wasteland with hundreds of locations. Whether you journey alone or with friends, a new and unique Fallout adventure awaits.

Mountain Splendorland!

All-new graphics, lighting and landscape technology brings to life six distinct West Virginia regions. From the forests of Appalachia to the noxious crimson expanses of the Cranberry Bog, each region offers its own risks and rewards. Post-nuclear America has never looked so beautiful!

A New American Dream!

Use the all-new Construction and Assembly Mobile Platform (C.A.M.P.) to build and craft anywhere in the world. Your C.A.M.P. will provide much-needed shelter, supplies, and safety. You can even set up shop to trade goods with other survivors. But beware, not everyone will be quite so neighborly.

The Power of the Atom!

Go it alone or with fellow survivors to unlock access to the ultimate weapon - Nuclear Missiles. This destruction also creates a high-level zone with rare and valuable resources. Do you protect or unleash the power of the atom? The choice is yours.

B.E.T.A. (Break-It Early Test Application) Access!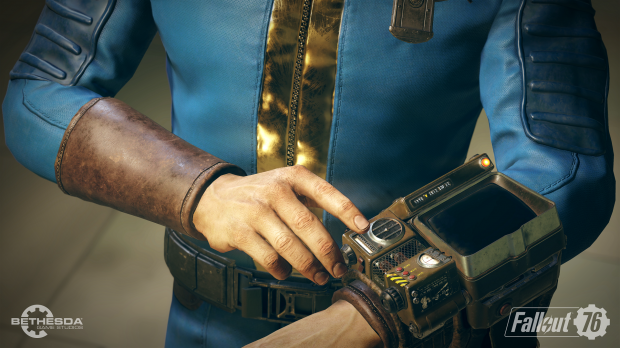 Related Tags