Fallout 76: no NPCs, no offline, real-time VATS, mods later
Bethesda has lofty plans for its online-only Fallout 76, including mod support down the line.

Published Mon, Jun 11 2018 2:53 PM CDT
|
Updated Tue, Nov 3 2020 11:51 AM CST
Bethesda's Todd Howard confirms Fallout 76 can't be played offline, and solo players will still interact with other gamers in some way. But this is just the beginning: Fallout 76 will evolve throughout the months (and years) with new features, balancing, and eventually even mod support.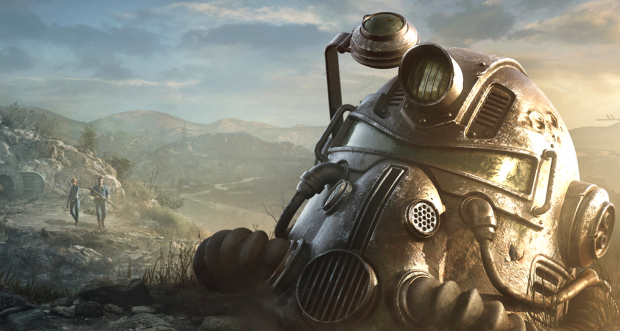 Described as a "post-nuclear online RPG," the new Fallout 76 game is an always-online experience that can't be played solo like previous Fallout titles. Last night Bethesda revealed that the game itself focuses on survival in the massive wasteland of West Virginia and has a heavy emphasis on teamwork--if you team up with others things are easier, there's social incentives, etc. There's no NPCs, either: everyone in the game is an actual person that you can interact with, whether PVP, PVE, or even trading and teaming up to build camps or outposts. But what about mods? Bethesda is committed, Howard says.
"We love mods, so we are 100% committed to doing that in Fallout 76 as well. We will not be able to do that at launch though," Bethesda Game Studios Game Director Todd Howard said in a recent interview with Geoff Keighley.
"Our goal for launch--this is really new for us--is having a well-running, robust service, and then some period later (we're currently still designing what that service looks like) you'll be able to have your own private world and be able to mod it and do all of that."
"We think with our games that's where the longtime life of them really is. But that is trickier when you get into an online world. We're definitely committed but it just won't be at launch."
Read Also: Fallout 76 is over four times bigger than Fallout 4
Quests will be doled out via holotapes, terminals and robots, but actual characters and people will all be other players.
"There are no NPCs. So that's one of the big differences that we really leaned on, which is every character you see is a real person. But there are still robots and terminals and holotapes, if you see a lot of our Fallout 4 quests, they're kind of this found world quest thing, we still do all of that," Todd Howard said in a recent interview with Geoff Keighley.
"But then...if you sort of picture doing those quests in Fallout 4, but then if you run into a gang of raiders, those are other players."
VATS is confirmed but instead of slowing down time it'll be real-time and lets players target and pick parts of enemies, very much like an auto-aim mechanic.
Fallout 76 will launch on November 14, 2018 on PS4, Xbox One and PC. Keep an eye out for more coverage on the game--there's still lots to digest!
Here are some more key features about Fallout 76, as per the official Bethesda fact sheet:
KEY FEATURES:

You will Emerge!

Multiplayer finally comes to the epic open world RPGs of Bethesda Game Studios. Create your character with the S.P.E.C.I.A.L system and forge your own path in a new and untamed wasteland with hundreds of locations. Whether you journey alone or with friends, a new and unique Fallout adventure awaits.

Mountain Splendorland!

All-new graphics, lighting and landscape technology brings to life six distinct West Virginia regions. From the forests of Appalachia to the noxious crimson expanses of the Cranberry Bog, each region offers its own risks and rewards. Post-nuclear America has never looked so beautiful!

A New American Dream!

Use the all-new Construction and Assembly Mobile Platform (C.A.M.P.) to build and craft anywhere in the world. Your C.A.M.P. will provide much-needed shelter, supplies, and safety. You can even set up shop to trade goods with other survivors. But beware, not everyone will be quite so neighborly.

The Power of the Atom!

Go it alone or with fellow survivors to unlock access to the ultimate weapon - Nuclear Missiles. This destruction also creates a high-level zone with rare and valuable resources. Do you protect or unleash the power of the atom? The choice is yours.

B.E.T.A. (Break-It Early Test Application) Access!
Related Tags