Analyst: Battlefront II in-game spend could break $100m
EA should turn Battlefront II's monetization and rake in serious cash, says analyst, but sales targets have been reduced.

Published Tue, Dec 12 2017 10:28 AM CST
|
Updated Tue, Nov 3 2020 11:53 AM CST
In the wake of controversy, Bank of America Merrill Lynch analyst Justin Post has reduced EA's predicted share price and Battlefront II sales...however the game could still make over $100 million from in-game microtransaction purchases.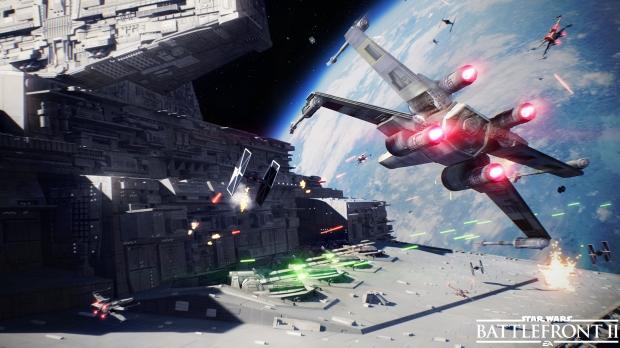 The hoopla over Battlefront II's in-game purchases has apparently had a strong affect on sales as gamers avoid the title in an effort to send EA a message. The publisher has responded by temporarily removing microtransactions, but according to Post, this is just a temporary measure. Even still the analyst firm feels Battlefront II will miss its original 14 million sales target by more than 2 million units, and has reduced the company's earnings per share price as a result.
"EA has had a challenging Calendar 4Q, beginning with the shutdown of Visceral Games and now Battlefront 2 (BF2) controversy," Post wrote to clients on Monday. But there's a silver lining for EA: Battlefront II's poor reception sets the company's fiscal 2019 timeline up for a big upswing, especially with games like Anthem and the next Battlefield game on the way.
"As controversy subsides post-holidays, we expect investor interest to pick up ahead of a stronger FY19 title slate, renewed digital optimism, and operating leverage potential."
And of course we shouldn't expect EA to keep the microtransaction switch turned off. I guessed as much given the fact EA can typically make over $1 billion a year from live services, and Battlefront II is a huge game that the company spent quite a bit to make in conjunction with Disney and Lucasfilm.
But the switch-on won't happen any time soon: "Battlefront MTX relaunch and FIFA World Cup content launch are key 1H events," Post wrote.
"Battlefront 2 MTX likely to return next year," he wrote. "Perhaps the biggest stock negative from the BF2 MTX issues is the potential negative impact on FY19 MTX revenues ... That said, even with 12mn in total units sold and an average of $10 of MTX per game sold, BF2 could still do over $100mn in MTX."
The analyst also gave four key ways that EA could monetize the game without kicking off yet another big controversy:
"Focus MTX on cosmetics ... we see some room for skins such as light saber and blaster coloration, vehicles appearance modifications, and potentially hero costumes from different scenes/events in the movies."

"Supporting heroes to unlock/purchase. Locking iconic heroes like Darth Vader and Luke Skywalker upset the player base, but rolling out new supporting heroes from the comics/movies would likely see less pushback. Also, players may be more open to purchasing via MTX vs grinding additional currency later in the game lifecycle."

"Integrate a visible collectable. Other games have created visible (but subtle) collectible items available with achievements, currency, or MTX (i.e. virtual companions/pets)."

"Single player downloadable content. EA could introduce expansions to the single player campaign, driving additional player spend without fragmenting the multiplayer universe."
Related Tags