Battlefield 1 launched in 2016 and continues serving as a cash crop for EA. But come next fiscal year it's time for a brand new Battlefield shooter, strongly hinting DICE has been crafting a fresh experience for the last few years.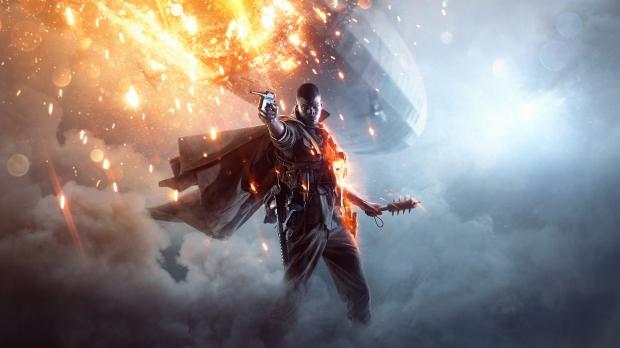 The new Battlefield game will release during EA's fiscal year 2019 timeline, which runs from April 1, 2018 through March 31, 2019, the publisher today announced in its fiscal Q2'18 financial documents. The company also confirmed that the new Battlefield game will launch in the same fiscal slate as BioWare's big new shared-world shooter Anthem, which is believed to be EA's unique answer to Destiny. Anthem is explicitly referred to as an action game, and EA has previously affirmed the game will have "genre-melding" while strongly hinting microtransactions and other live services will be included.
"The core of our fiscal 2019 is a full slate of sports titles and their associated live services, plus new live services from Star Wars Battlefront II," Electronic Arts CFO Blake Jorgensen said in the report. "We will add the next Battlefield game, and move into the action genre with Anthem. We expect our subscriber base to continue to grow, and for our new mobile titles to benefit from players looking for deeper experiences with higher production values."
Relevant: EA: unit sales less meaningful than live services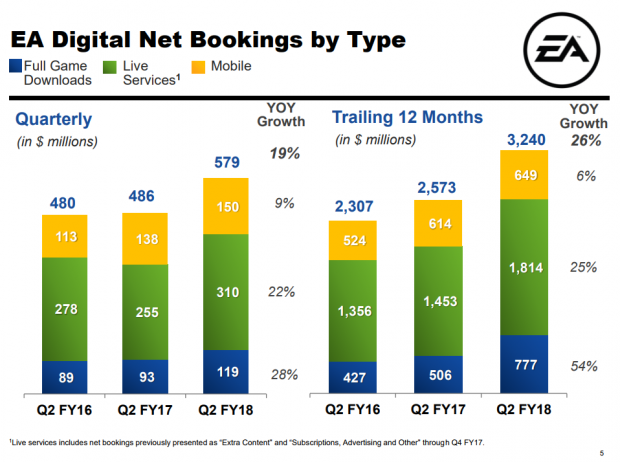 Jorgensen went on to cement live services as part of EA's core "bedrock" foundation, which shouldn't be a surprise considering the company makes billions a year from microtransactions, DLC, subscriptions, in-game content and other digital purchases.
"As you build your fiscal 2019 model, remember that our event-driven live services continue to be the bedrock of our business. Live services, including mobile live services, were nearly half of our net bookings over the last twelve months. Including our recurring sports titles and catalog sales in the calculation takes the total to over 75% of our annual net bookings, leaving less than a quarter of net bookings delivered through the sale of the remaining frontline titles. "
"In addition, our live services are growing strongly; we forecast 10% to 15% growth in fiscal 2018 and we're tracking well ahead of that. We're excited by the progress we are making, and the impact it will have on fiscal 2019."