E3 2017 - EA is extremely excited about BioWare's new IP, Anthem, and frankly so are we. This is a new opportunity for BioWare to reclaim their throne with the "Bob Dylan of video games." Here's what EA's Patrick Soderlund had to say about the new project.
Yesterday EA finally revealed BioWare's new IP, previously codenamed "Dylan" because EA and BioWare wanted to make the "Bob Dylan of video games." It's called Anthem, it's set in a massive futuristic open world with sci-fi Spartan-like mechsuits, it's online-based, has four classes and is "fast and unexpected." This is EA's dream game, the "gigantic action game" they've always wanted to make, and represents a turning point for BioWare. In a very real sense, this is BioWare's Destiny.
According to EA executive Patrick Soderlund, Anthem will deliver something gamers haven't seen before. "[Anthem] pushes the boundaries of open-world fidelity to a whole new level, unlike anything you've ever seen before. It's a new IP from BioWare, they've been working on it for quite a while. We're gonna have a very short section of that at our press conference, and then it will appear with a gameplay demo at a partner's press conference the day after," Soderlund said in a recent interview with Engadget.
Soderlund goes on to confirm EA has several new IPs in development, iterating that Anthem is extremely ambitious--almost too ambitious.
"It's cool for us because it's been awhile since we came up with a new IP. We actually have several new IPs in development, but to create something from scratch and build something new takes time.
"And this is the first out of more new IP you'll see from us, and massive, hugely, hugely ambitious - almost to the point of too ambitious, but I like that - and I'm very bullish on it. I love it. I've been very personally involved in it and maybe that's why I'm biased, but I hope people are going to like it."
To say a lot is riding on Anthem is an extreme understatement. Anthem has been in development for five years by BioWare's main Edmonton division, and through that time they've no-doubt carved a new experience with Frostbite's powerful games engine.
After the failures of Mass Effect: Andromeda to captivate core BioWare fans, the developer has a key chance to redeem itself with Anthem. But it goes so much deeper than that. This is a turning point for BioWare, a chance for them to explore a new horizon and move beyond its focus on Mass Effect and Dragon Age.
As we've reported a year go, Anthem will be action-based, and it'll have extensive online components and will feature a new disruptive social-based gameplay that redefines our expectations of gaming--or so EA says.
Continued below.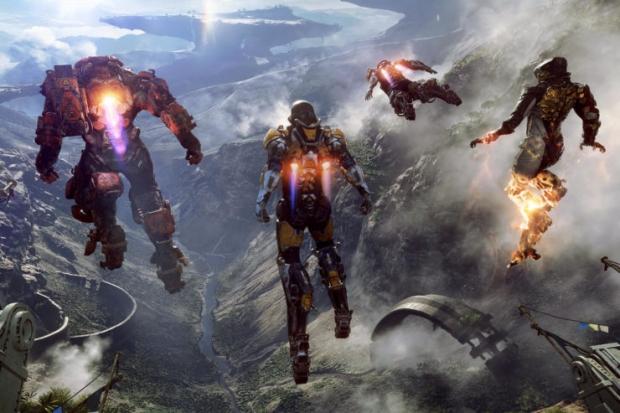 Here's a collection of quotes from various EA and BioWare executives that sheds more light on Anthem, and what we should expect with BioWare's massive new IP.
Anthem is expected to release in EA's Fiscal Year 2019 timeline, which ends on March 31, 2019. That means Anthem could be released as far as 2019. Anthem will be cross-platform on PS4, Xbox One and PC, despite having strong emphasis on Project Scorpio's high-end 4K power.
EA has confirmed Anthem will leverage Microsoft's new 4K Xbox to deliver stunning visuals and impressive gaming experiences.
Continued below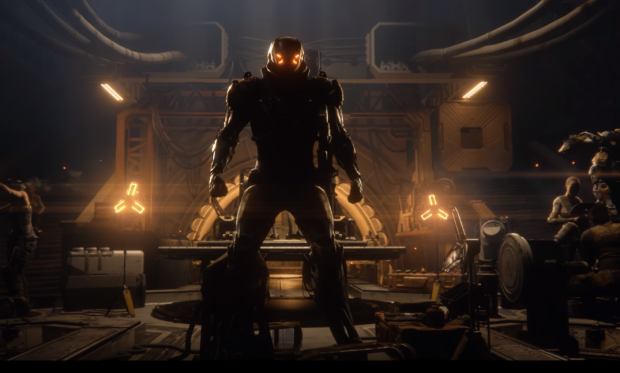 "We're trying to build a fictional world that feels real and is alive and is constantly changing."
"New IP is one the purest forms of innovation in our industry. A brand new idea combining the latest tech and a vision for something extraordinary. This game will push every boundary for you. It is fast, dangerous, beautiful and unexpected," EA's Patrick Soderlund said at EA Play in June.
"Looking forward, we will continue our aggressive pace of innovation through experiences that capitalize on our technology, network and creativity. We are very pleased with the progress of our new action IP from BioWare - the design is stunning, gameplay mechanics are excellent, and the action will be exhilarating," EA said in its Fiscal Year 2017 earnings call.
"This game is built around a live service, and through our creative process we have decided to add more to the disruptive new social designs for our players. To accommodate that, we are moving the launch date for this project into FY19."
Continued below
Read Also: Why I'm worried about BioWare's new IP
EA CFO Blake Jorgensen goes on to heavily hint the IP will have strong online-based multiplayer elements, not unlike an MMO:
"This game has the potential to fundamentally disrupt the way people think about an action title, bringing friends together to play in exciting new ways. We're very excited about the future of this new franchise and its ability to attract a larger global audience."
When asked if the new IP would be an RPG, EA CEO Andrew Wilson answered with the following:
"About the new BioWare IP...I think you mentioned it was action/adventure in the description. Is that an RPG game and should we assume that from BioWare's history? And is that a wholly-owned IP or is that a royalty-bearing IP?"
"It's action-adventure, not RPG. So what we're starting to see more and more in games is kind of genre-melding, which is great components of a number of different genres really coming together in a single game.

"So when you're thinking about this game you should be thinking about the great RPG character development and storyline progression that BioWare is known for, but in a world of greater action and greater adventure. Which is growing to be the largest categories of games.

"It will be a wholly-owned IP and we're very excited about it and we'll share more in the year to come."
BioWare's Aaryn Flynn talks about the new IP:
"Hi everyone,

"As we're working hard to finish Mass Effect: Andromeda, I wanted to take a minute to talk about our new IP. As our CEO Andrew Wilson mentioned, we're creating a unique IP that will bring players together in exciting new ways.

"There's much more to say in the coming months, but for now, I wanted to offer this additional background.

"In 2012, we began crafting a new universe full of new characters, stories, and gameplay. Our ambition is simple: Draw upon 20+ years of development knowledge and lessons to create something fun and new for you to enjoy with your friends.

"There's nothing quite as exciting as building a new IP from scratch, and it will be even more thrilling for us to share more with you in the future.

"Thanks,

Aaryn"