Bethesda is well-known for extending the life of its products with tons of remasters and re-releases--this year marks the fourth release of Skyrim, for example--and now its post-apocalyptic RPG is getting the traditional game of the year treatment.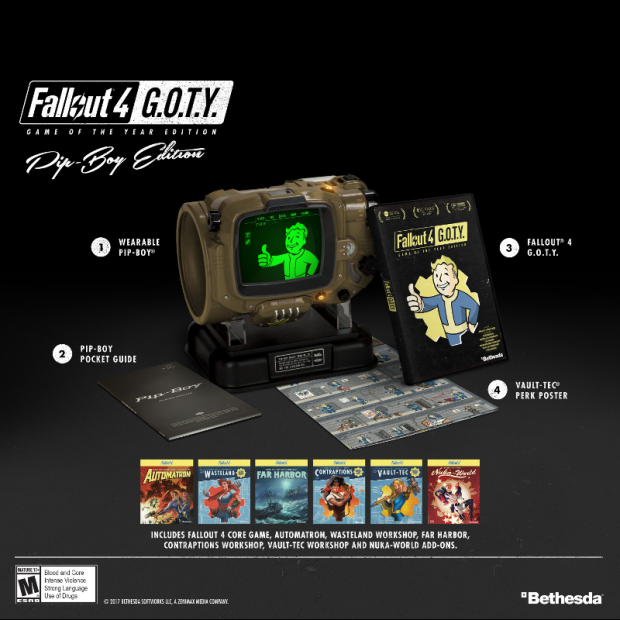 The Fallout 4: Game of the Year Edition retails for a full $59.99, and as you'd imagine, the game is bundled with the full suite of expansions like Far Harbor and Nuka World alongside baked-in updates like the esteemed Survival mode. The GOTY edition comes after Fallout 4 soaked up big sales over two years, and more than a year after Bethesda hiked the season pass to $50. The game's absurdly popular $99 Pip-Boy collector's edition is also getting a limited re-release (because of course it is).
Bethesda has some interesting motivations for this re-release. Outside of the obvious push for more money, the company is delivering an easily accessible all-in-one package to prepare gamers for Bethesda's new Creation Club monetization scheme, which launches this summer. The Creation Club initiative allows gamers to buy small slices of DLC add-on content like weapons and armor, and also includes big expansion-sized updates. Essentially Bethesda is making an on-demand DLC marketplace where gamers can buy high-quality content made by the modding community's top content creators and Bethesda themselves. But the real trick to Creation Club's success is compatibility, and the DLC or "paid mods" need to be 100% compatible with all official Fallout 4 DLC and updates. Thus Bethesda is releasing the all-in-one package at a full $59.99 price tag to get players started.
Read Also: Bethesda's Creation Club is more like DLC than paid mods
The Creation Club initiative marks an important landmark occurrence in the games industry and represents a big move on Bethesda's part. The storefront will connect two of its biggest games and franchises--Fallout 4 and Skyrim--while breathing new life into each with a steady stream of new content, which will engage players and pull in strong revenues over time.
The key thing to remember about Creation Club is that it's 100% optional. Bethesda will continue to support and allow free mods in Fallout 4 and Skyrim. However, unlike a portion of the free mods available, Creation Club content is rigorously tested and promises to be a higher caliber that the free content--think of big updates like Falkskaar and the like.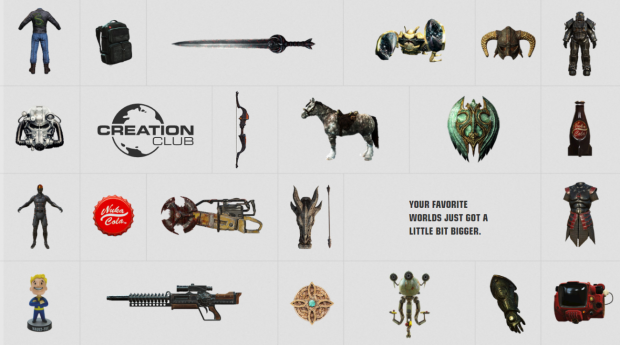 I personally believe Bethesda's Creation Club is the start of a new era of monetized singleplayer games, and that other major publishers will adopt this approach moving forward. I've always wanted to expand my game with high-quality DLC and mods, and found the $50 Fallout 4 Season Pass to be quite underwhelming. Now popular mod-makers can not only breathe more life into Fallout 4, but they can earn money for their work in a secure environment.
The games industry is moving towards the Games-as-a-Service (GaaS) model, which sees games evolve over time with significant content updates. These updates are usually free thanks to microtransactions and the GaaS model typically favors online-based games like Overwatch, Titanfall 2, League of Legends and Warframe; as players spend money on in-game items like loot boxes, skins, etc the developers continually push out new updates to keep things fresh.
However this model isn't typically applied to offline singleplayer games. This is the true potential of Bethesda's Creation Club. Users have to be online to download the content, but they don't have to stay online to use the content, similar to how Fallout 4 and Skyrim mods are treated on the Bethesda.net framework.
Read Also: Bethesda: we want to leave free mods the way they are
Despite the negative "paid mods" stigma attached to the Creation Club, I truly believe this is the start of something big. Bethesda.net will be a service that binds all of Bethesda's biggest games with key initiatives like Creation Club, and I'm confident that other major games-makers will follow in the company's footsteps.
Fallout 4: Game of the Year Edition will be available on September 26, 2017 on PlayStation 4, Xbox One, and PC.