Bethesda: we want to leave free mods the way they are
Bethesda asserts it doesn't want to disrupt the free modding community, only give gamers more official paid DLC content to consume.

Published Fri, Jun 16 2017 4:23 PM CDT
|
Updated Tue, Nov 3 2020 11:55 AM CST
E3 2017 - Bethesda exec Pete Hines says premium Creation Club content will live alongside free mods, and the company has no plans to disrupt or shake-up the free modding market on PS4, Xbox One or PC.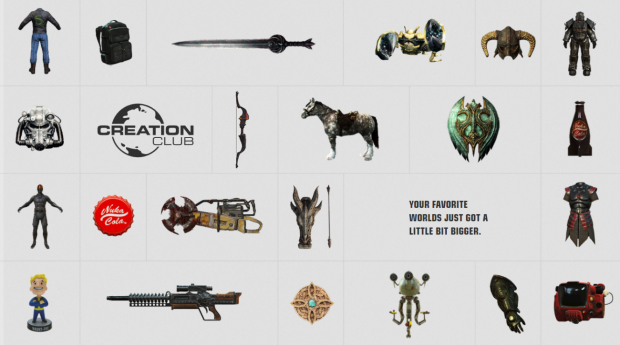 Bethesda's new Creation Club program might sound an awful lot like paid mods, but it's actually not. Creation Club content does resemble mods in terms of being add-on content that ranges from weapons and armor to new quests and even new world areas, but it isn't free.
Users will have to pay real-world money to unlock credits to buy content. However, payment ensures higher quality--the content is highly regulated and submissions are put through Q&A testing and alpha and beta phases.
Bethesda is treating all Creation Club content as they would official DLC released by its studios, and that's because it actually is: Bethesda will be making Creation Club content alongside external third-party mod-makers, but only a select few that passes the company's high standards of quality. The Creation Club gives mod-makers a means to earn money in a stabilized environment, and incentivizes Bethesda to offer a slew of post-release content in micro bite-sizes.
The modding community is worried, however, and gamers still remember the paid mod fiasco on Steam. Pete Hines, Bethesda's Vice President of PR and Marketing, says that Bethesda isn't going to thwart free mods. Free mods will continue alongside Creation Club on Xbox One, PS4 and PC, and paying for content on the new storefront is entirely optional.
"We want to continue to make and do stuff for Skyrim and Fallout 4, and we want to create an ecosystem that works across both games, but we want to leave mods the way that they are," Hines said in a recent interview with Gamespot.
"We don't want to change how free mods work. And we want to actually be able to do this ourselves but to also bring in external developers or even bring in people who are known for making mods, but not bring them in as modders - bring them in as, now you're a game developer with us, not on a mod; whatever we greenlight that you make has to meet certain criteria."
Read Also: Bethesda's Creation Club is more like DLC than paid mods
"Is Creation Club paid mods? No. Mods will remain a free and open system where anyone can create and share what they'd like. Also, we won't allow any existing mods to be retrofitted into Creation Club, it must all be original content. Most of the Creation Club content is created internally, some with external partners who have worked on our games, and some by external Creators.

"All the content is approved, curated, and taken through the full internal dev cycle; including localization, polishing, and testing. This also guarantees that all content works together.

"We've looked at many ways to do "paid mods", and the problems outweigh the benefits. We've encountered many of those issues before. But, there's a constant demand from our fans to add more official high quality content to our games, and while we are able to create a lot of it, we think many in our community have the talent to work directly with us and create some amazing new things."
As originally announced in the Creation Club FAQ, all submissions have to be 100% original. That means users can't submit existing Skyrim: Special Edition or Fallout 4 mods, wiping out risk of piracy or thievery at the cost of replicating some of the community's best content.
"It can't be something you've already created that now you say, 'I want to offer this through Creation Club.' That's not what Creation Club is about."
Hines iterates that Creation Club is like mini-DLCs. This is true to an extent, but I would define the content ranging from microtransaction levels of add-on content with one-off weapons and armors to fully-fledged landmasses with quests and such like the Far Harbor DLC.
"It's almost like mini DLCs in some way, although that's probably not even a great point of reference. But they are internally created, or internally created along with external developers."
Creation Club will feature a wide variety of content including but not limited to:
WEAPONS: New weapons, material skins, parts, etc.

APPAREL: New outfits, armor, and items for your character.

WORLD: New locations, decorations, foliage, etc.

CHARACTERS: New abilities, characters, companions, etc.

CREATURES: New enemies, mounts, pets, etc.

GAMEPLAY: New types of gameplay like survival mode, etc.
The Creation Club creations are treated like official DLC instead of mods. The content is 100% compatible across all platforms and both Skyrim: Special Edition and Fallout 4 (but content will be monetized individually on a per-game basis, ie content in Skyrim SE won't carry over to Fallout and vice versa) and will work with all official DLC packs like Far Harbor, Automatron, and Nuka World.
"They're fully internally developed and work the same across all three platforms. They're guaranteed to work with your save games. They don't turn off Achievements or Trophies, unlike mods. They're guaranteed to work with all DLC. They'll be localized as needed. They will be put out and created as official content from the studio."
Despite the worries from the community, the Creation Club's heightened level of security may attract key mod-makers, and it'll be interesting to see how the program grows over time.
Related Tags