Electronic Arts is no stranger to MTX, also known as microtransactions--the publisher packs them into almost every online-based game to earn long-term revenue streams and fortify engagement. And like it's predecessor, Mass Effect: Andromeda's microtransactions get pretty pricey.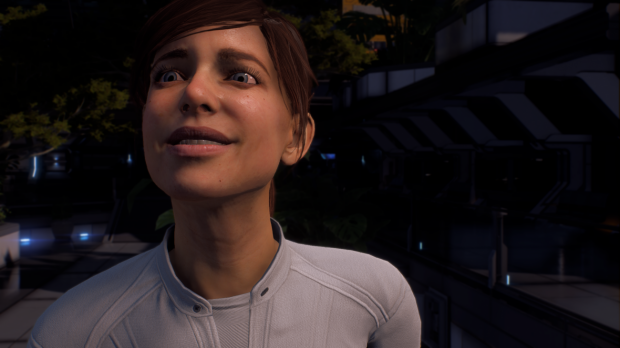 We've known for a while now that Mass Effect: Andromeda's multiplayer component would have in-game purchases, but now we know just how much money you can spend to quickly unlock items in the mode. Surprising no one, gamers can spend up to $100 to unlock the game's premium currency, aka "Andromeda Points."
To make matters extra slimy, ME: Andromeda's multiplayer packs are randomized loot-bag style so you never ever know what you're actually going to get, further incentivizing players to buy more currency if they don't get what they want the first time.
"Andromeda Points are an in-game currency for the Mass Effect: Andromeda Multiplayer mode only. These points can be purchased with real-world currency and can be used instead of the earned in-game currency to obtain new Multiplayer packs, which contain items used in the Multiplayer mode."
It's also worth noting that ME: Andromeda's multiplayer is co-operative only, so there's no devious pay-to-win style PvP action going on here. Just Firefight-esque Hord mode-style combat.
The game's microtransactions are listed in the following price tiers (note that AP = Andromeda Points):
$4.99 for 500 AP

$9.99 for 1050 AP

$19.99 for 2150 AP

$29.99 for 3250 AP

$49.99 for 5750 AP

$99.99 for 12000 AP
Remember that Mass Effect: Andromeda's microtransactions will fund the game's new multiplayer map packs, so all additional maps and multiplayer content will be free. Destiny took a similar approach to this, and Halo 5: Guardians did the same (although Halo 5's MTX are absolutely atrocious).
Note how each point tier is just a little over double their respective predecessors. For example, you get 50 extra AP when you spend $10 at once versus buying two $5 packs.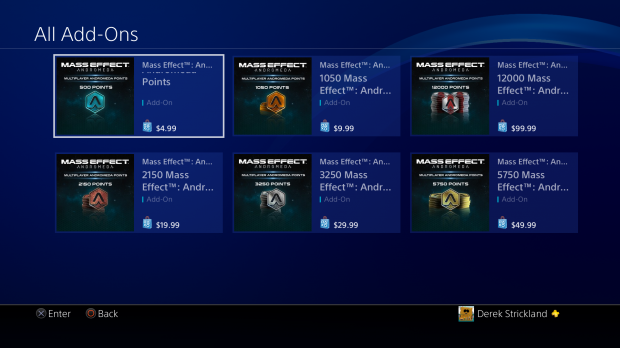 To figure out if these packs or wroth buying our not, lets take a quick look at how much the blind bags cost. Yes, Mass Effect: Andromeda's rewards are loot bag style with random rewards so you never ever known what you're actually getting.
There are five types of packs: Supply Pack, Basic Pack, Advanced Pack, Expert Pack, and Premium Pack. You can only earn Multiplayer Credits (MP Credits) by playing the game normally, and the MP to AP pack redemption ratio is pretty skewed. Andromeda Points can only be redeemed for the last three pack types--Advanced, Expert and Premium.
These packs are used to unlock new items and characters, all of which are rated in three different rarities: Uncommon, Rare and Ultra-Rare. The higher packs have more chances at unlocking Ultra-Rare grade items or characters.
Here are the Multiplayer Credits vs Andromeda Points conversion ratio for each of the packs.
Advanced Pack

20,000 MP Credits or 100 AP (approx. $1)

Contains 5 random items or characters, including at least 1 Uncommon with a small change for a Rare.

Expert Pack

50,000 MP Credits or 200 AP (approx. $2)

Contains 5 random items or characters, including at least 1 Rare with a small chance for an Ultra Rare

Premium Pack

100,000 MP Credits or 300 AP (approx. $3)

Contains 5 random items or characters, including at least 2 that are Rare, with a higher chance for at least 1 Ultra Rare
So how fast do you earn credits? If the rate is skewed too far, you're pretty much pushed to buy AP rather than grind MP credits. From what I've seen, gamers can earn about 10,000 or 20,000 MP Credits every 20 minutes or so by completing bronze grade missions. Silver missions give you 25,000 MP credits
Redeemed items are shown as "cards" in tiers like platinum (ultra-rare), gold (rare), silver (uncommon) and blue (common).
Opening a pack can give you anything from weapons, weapon mods, one-use supplies, one-time use boosters that amplify weapon damage, ammo for special weapons like the Cobra RPG, and respec tokens. Again, you never know what you're going to get.
You could unlock a mod for a weapon you don't even have, or a booster for gear you don't even use. Or you could get an awesome ultra-rare class that you've always wanted.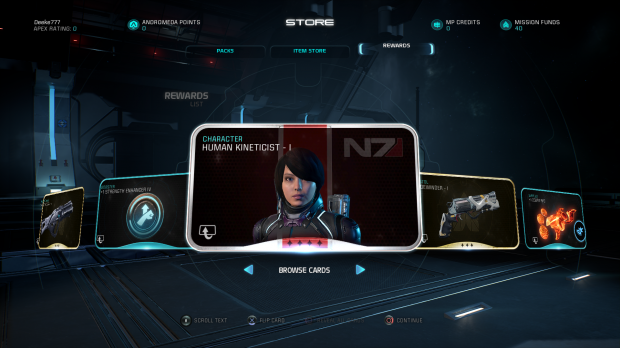 Here's a breakdown of the max unlockable packs for each of the MTX price tiers:
The $100 microtransaction unlocks 40 Premium Packs, 60 Expert Packs, and 120 Advanced Packs

The $50 microtransaction will get you 19 Premium Packs, 28 Expert Packs, and 57 Advanced Packs

The $30 microtransaction unlocks 10 Premium Packs, 16 Expert Packs, and 32 Advanced Packs

The $20 microtransaction gets you 7 Premium Packs, 10 Expert Packs, and 21 Advanced Packs

The $10 microtransaction unlocks 3 Premium Packs, 5 Expert Packs, and 10 Advanced Packs

The $5 microtransaction only unlocks 1 Premium Pack, 2 Expert Packs, and 5 Advanced Packs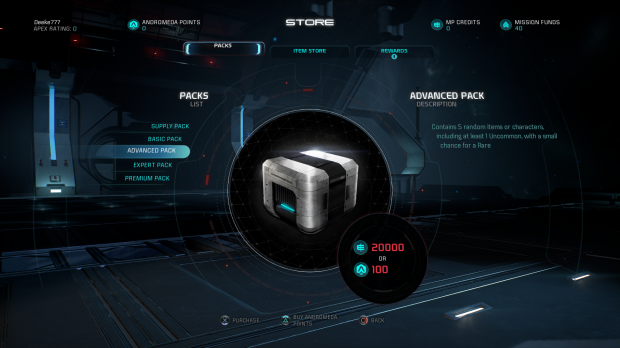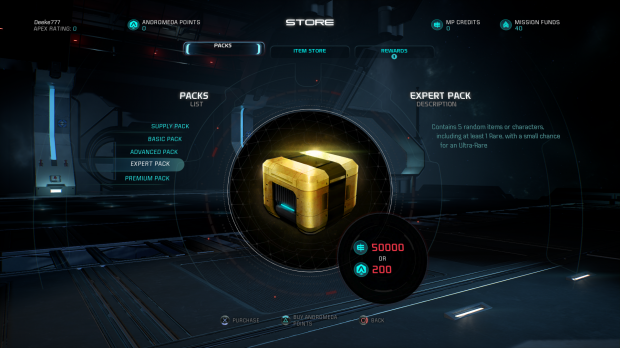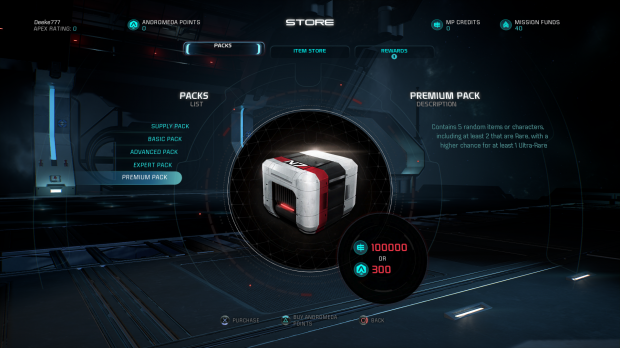 If you've read my Mass Effect: Andromeda impressions article, you know I'm not a fan of the game so far. It genuinely feels clunky, half-finished, goofy and just plain weird at times. To me, this isn't a Mass Effect game--it's a watered-down imitation that aims to pull in more mainstream gamers and finish off EA's fiscal year 2017 earnings with a huge bang.
And, of course, we have the microtransactions.
EA...just please stop this.
Buying "packs" and "points" in massive games that already have insane earnings potential is awkward to say the least. But honestly this is how companies like EA make most of their money--hell, EA made $1 billion in a single quarter thanks to recurrent spending via money-makers like FIFA Ultimate Team.