EA: Mass Effect: Andromeda to sell 3 million in one week
EA has a distinct strategy with Mass Effect: Andromeda's release date, and here's how it'll affect this year's games and beyond.
Published
4 minute read time
EA expects to sell about 3 million copies of Mass Effect: Andromeda in its first week or so, and here's how that will affect the company's overall Fiscal Year 2017 earnings.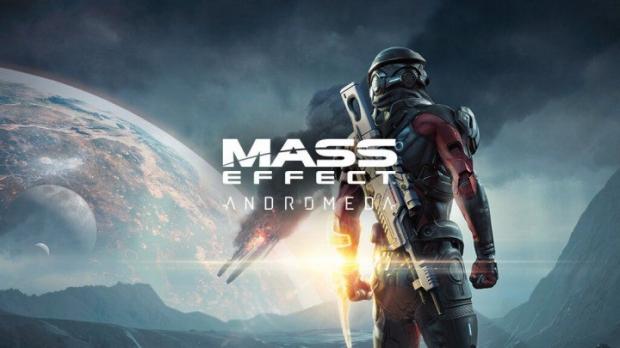 Mass Effect: Andromeda will ship on March 21, 2017 which is right at the fourth quarter end of EA's current Fiscal Year (FY17). This is not by mistake. EA slotted the new Mass Effect game in this spot specifically as a business strategy to help bolster an already-stellar year of earnings.
In its third quarter (ending Dec. 31) EA hit $1 billion of operational cashflow for the first time ever, and pulled in a net revenue of $1.149 billion.
That's pre-Mass Effect: EA expects BioWare's RPG will have a massive effect on the fourth quarter earnings, and forecasts have net revenue estimates at $1.482 billion. From Q3 to Q4 2017 EA forecasts a $333 million increase in net revenue, and Mass Effect will be a major part of those earnings, but all of EA's current money-makers are included as well.
As such, EA expects that 30% to 50% of Mass Effect: Andromeda's lifetime sales will be sold through the game's launch period in Q4 2017. Mass Effect 3 sold about 6 million units at launch, so EA estimates the new Mass Effect could sell between 1.8 million and 3 million during its launch.
Since the FY 2017 ends on March 31, 2017, Mass Effect: Andromeda will have 10 days or so to sell up to 3 million combined digital and physical copies on Xbox One, PS4 and PC.
Digital-only purchases are a different story. EA typically stops recording digital sales about 5-7 days before the actual fiscal year is over, so that leaves about a 3-5 day period for digital purchases to be included in the FY 2017 earnings.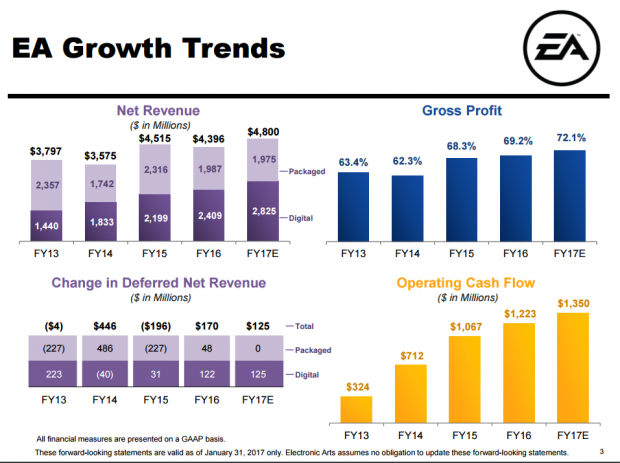 Drew Crum - Stifel Nicolaus - Analyst

"Thanks, guys. Just want to ask about the fourth quarter, some of the titles and content you have scheduled to release? And as it relates to the digital

revenue, you mentioned the Battlefield expansion pack late in the quarter, Mass Effect is March 21, I believe in North America, and March 23 in

Europe.

"Given those dates, and the revenue recognition, I think you recognize digital revenue 10 to 14 days in arrears, is it possible that that gets

pushed to FY18?

"And my second question relates to Titanfall. Just want to understand if you have any thoughts as to why you think it underperformed? And going forward, what the digital monetization strategy will be with that franchise? Thanks."

Blake Jorgensen - Electronic Arts Inc. - CFO

"So I'll address the first one, Drew, and then Andrew can address the Titanfall question. We, our digital cut-off is typically about 5 to 7 days, depending on the calendar, more than the actual days. But so we will get some digital from the first few days of sales for Mass Effect.

"We will get very little revenue, just because of the way we book the revenue for the DLCs on Battlefield 1. So you can assume that's close to zero, and assume Mass Effect is going to be anywhere between 30% to 50% of the lifetime of that title.

"And the last Mass Effect did close to 6 million units, so you'll probably see something like around 3 million units in the quarter, depending on the exact timing so."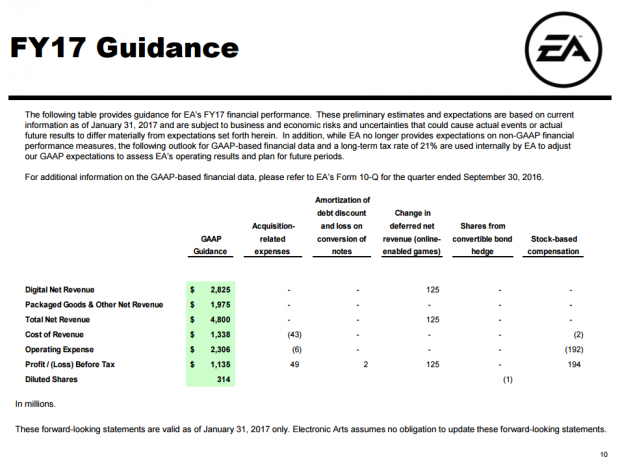 So what does all this mean?
EA has basically ensured Mass Effect: Andromeda's strongest initial selling point will maximize current fiscal year earnings to culminate in a total FY 2017 net revenue of $4.8 billion and an operational cashflow of $1.35 billion.
By doing so, EA ensures it will have enough operational cash to re-invest into projects and games for Fiscal Year 2018, further bolstering their incoming lineup--which includes new titles like BioWare's massive new IP, Star Wars Battlefront 2, a new Need for Speed, as well as a slew of new mobile game updates, DLC, monetizations, etc.
The publisher will also continue pulling in earnings from Mass Effect: Andromeda via MTX (the game will have online-based multiplayer microtransactions) and consistent recurring sales throughout the beginning of FY 2018 (April 1, 2017) onward. BioWare may even release story-based DLC and expansions for their new Mass Effect game, funded by microtransactions.
However I think the real interesting thing here is how EA is gearing up for BioWare's massive new IP.
"This game has the potential to fundamentally disrupt the way people think about an action title, bringing friends together to play in exciting new ways. We're very excited about the future of this new franchise and its ability to attract a larger global audience."
This new IP will be a franchise, it's coming in 2018, and is based on sci-fi-ish action-adventure with considerable online elements. I've likened this to BioWare's "dream game," and it may be something like Bungie's Destiny.
Instead of being a shooter, however, I think BioWare's IP will leverage all of the developer's strong suits: storytelling, strategy, adventure, etc. This will be a meld of many key elements, and it represents something huge for EA and BioWare. It's a turning point for BioWare, and this online-based game will ensure EA has a massive influx of monetized content including DLC, MTX, and maybe even subscription-based gameplay alongside a buy-to-play strategy.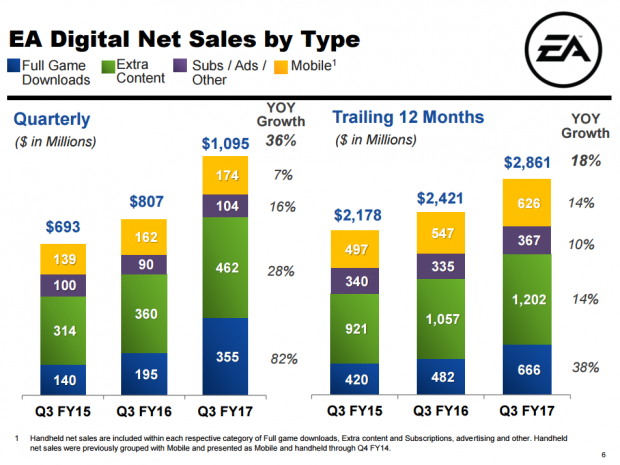 Although the IP has been in development since 2012, I think EA is still looking to pull in more revenue to re-invest into the game itself. Since it's coming in 2018 (possibly FY2018 or FY2019) it stands to reason the game may be mostly finished, however EA may want to continue securing operational cashflow to ensure certain things such as a stable online environment and a dedicated liveteam.
"It's action-adventure, not RPG. So what we're starting to see more and more in games is kind of genre-melding, which is great components of a number of different genres really coming together in a single game," EA CEO Andrew Wilson said in the earnings call.
"So when you're thinking about this game you should be thinking about the great RPG character development and storyline progression that BioWare is known for, but in a world of greater action and greater adventure. Which is growing to be the largest categories of games. It will be a wholly-owned IP and we're very excited about it and we'll share more in the year to come."
In any case, Mass Effect: Andromeda should be a big success given the hype, and EA will continue doing what it does best: making money by making games.
Related Tags