Project Scorpio Game DVR records native 4K 60FPS
Microsoft's new 'monster' console may record gameplay at native 4K 60FPS.

Published Mon, Mar 13 2017 1:14 PM CDT
|
Updated Tue, Nov 3 2020 11:56 AM CST
Microsoft's new Project Scorpio console may be the real deal when it comes to native 4K gaming, despite having only a scaled, console-grade 6TFLOP GPU. Reports indicate that Microsoft's "monster" 4K console could record gameplay footage at native 2160p 60FPS as well as stream 4K content.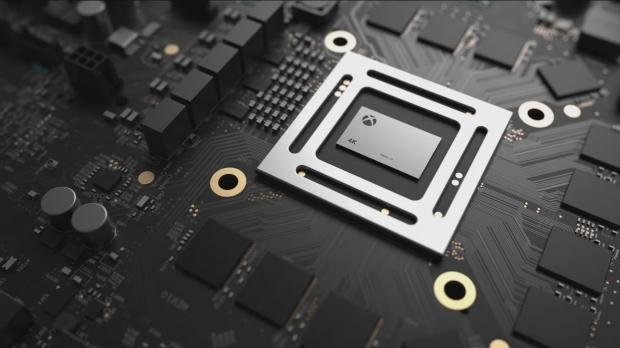 Windows Central received another tip from its Xbox sources that Project Scorpio will be capable of streaming and recording gameplay footage at 4K 60FPS. The outlet reports that Project Scorpio will leverage HEVC and VP9 codecs for decoding 4K video streams, as well as HEVC encoding for 3840 x 2160 resolution 60FPS Game DVR captures.
"Microsoft's Beam streaming service has been running public 4K stream tests for some time, and it's now fair to assume it will not only be PC streamers who will benefit. Project Scorpio's Game DVR will allow you to stream and record clips in 4K resolution with 60FPS, according to our sources, which is a massive, massive step up from the 720p, 30FPS you get on the current Xbox One," Windows Central's Jez Corden reports.
While 4K HDR gaming is the new frontier for console gaming, it remains clear that Project Scorpio will be tailored to high-end enthusiast gamers, and now, content creators. If it is indeed capable of hitting native 2160p 60FPS while gaming, as well as hitting native 4K 60FPS Game DVR recordings and streaming, the box will almost certainly be priced at our original estimated $599.
Read Also: Project Scorpio to supersample graphics on 1080p HDTVs
Project Scorpio confirmed specs:
6 TFLOPs of performance

320GB per second memory bandwith

8 CPU Cores
We can only speculate what kind of hardware Project Scorpio will have, but our educated guess would be this: a scaled 14nm-based AMD SoC with an 8-core Ryzen CPU complimented with a highly-scaled and customized 6 TFLOP GPU that could incorporate both AMD's Polaris and high-end Vega GPU architectures on the same chip.
There's a possibility that Project Scorpio's GPU could be based on AMD's new RX 580 Polaris GPU, or perhaps even its powerful Vega architecture--or a mix of both--forged into AMD's new Raven Ridge APU technology.
But in a time where internet connections are still woefully outdated, will Project Scorpio's 4K 60FPS game recordings benefit anyone other than enthusiasts? Native 4K footage gets astronomically huge, so Scorpio's 4K Game DVR likely won't be practical to average gamers, but I'm sure Scorpio can output at 1080p 60FPS or even 720p 30FPS like the original Xbox One.
It'll be interesting to see what Microsoft has in store for us in the coming months. Project Scorpio may be unveiled at a separate pre-E3 event, with a follow-up showcase at E3 2017 in June.
Check below for everything we know about Project Scorpio so far:
Everything we know so far about Project Scorpio:
Related Tags