Project Scorpio in playable state, games 'play great'
Xbox's Phil Spencer just played his first game on an early Project Scorpio build: 'games play great, console looks right'

Published Tue, Jan 24 2017 5:21 AM CST
|
Updated Tue, Nov 3 2020 11:56 AM CST
Early builds of Microsoft's "monster" native 4K-ready Project Scorpio console have been fired up, and Xbox division head Phil Spencer got first crack on the system.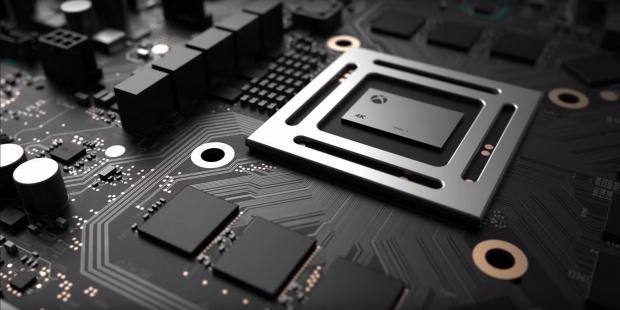 Now that AMD's Ryzen CPU and high-end Vega GPU architectures are starting to mature, especially the Raven Ridge APUs that combined both potent technologies in a single scaled chip, Microsoft's Project Scorpio console is starting to take shape. In fact, the team just tested out one of the very first Project Scorpio builds, and Xbox's Phil Spencer took the "beast" for a ride and played some Xbox games on the high-end system for the first time. How was it?
"Great day, Scorpio update w/ team. Played my first games on early Scorpio unit. Games played great, console looked right, proud of the team," Spencer Tweeted a bit ago.
Microsoft has recently touted that the team has made significant strides and progress with Project Scorpio's development. Now Spencer's recent Tweet only adds more affirmations to Xbox gamers that the system is indeed coming, and will likely hit its Holiday 2017 projected release date.
In fact, Xbox division head Phil Spencer says the Xbox design team is making strides on the system. When asked if Project Scorpio will be revealed pre-E3 2017, Spencer said: "Really wish I could, design team is doing their "thing" again, really happy with what they've been able to do."
Read Also: Project Scorpio won't be $399, and here's why

As we speculated before, Project Scorpio should leverage AMD's new Ryzen CPU and Vega CPU architectures to enable native 4K gaming, 1080p 60FPS+ with HDR, and 4K uspcaled variants as well as enhanced dynamic resolution scaling.
Original Xbox One (and maybe Xbox 360 games) will leverage new upgrades with the hardware similar to Sony's PlayStation 4 Pro, but Microsoft hasn't been too explicit about this process, but expect the upgrades to be much more potent and pronounced than PS4 Pro's onboard Polaris GPU.
Read Also: Project Scorpio mentioned at AMD's Vega CES 2017 booth
We can't wait to see Project Scorpio unveiled, but we'll likely have to wait until E3 2017 in June for an official reveal.
Project Scorpio will release Holiday 2017, likely for a price point of $599 or so. Check below for everything we know about the console so far.
Project Scorpio confirmed specs:
6 TFLOPs of performance

320GB per second memory bandwith

8 CPU Cores
Everything we know so far about Project Scorpio:
Related Tags