No Man's Sky devs accused of patent infringement, could lead to delay
Dutch company Genicap claims No Man's Sky uses its patented 'Superformula' world-building technology, and Hello Games basically admits it did.

Published Wed, Jul 20 2016 5:30 PM CDT
|
Updated Tue, Nov 3 2020 11:59 AM CST
Mere weeks away from No Man's Sky launch, Hello Games finds itself embroiled in yet another hurdle; the studio has faced data-destroying floods, a legal battle with SkyTV's trademarking of the world "Sky", and now a potential patent infringement case that could delay the game even further.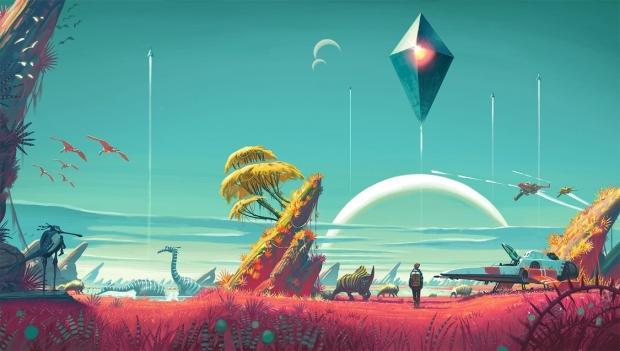 Dutch company Genicap claims that No Man's Sky unlawfully uses the company's patented Gielis Superformula technology to build its near-infinite, procedurally-generated universe. Genicap goes on to say that Hello Games hasn't properly licensed the use of their Superformula, and will need to do so before the game launches. "We haven't provided a license to Hello Games," said Genicap's Jeroen Sparrow from the company. "We don't want to stop the launch, but if the formula is used we'll need to have a talk."
Although Genicap hasn't seen No Man's Sky's code and doesn't know how explicit the so-called "infringement" really is, Sean Murray admitted to building the initial foundations of No Man's Sky using the Gielis Superformula. The Superformula is integral to No Man's Sky's procedurally-generated world and serves as the core for the game itself, and Genicap is alleging the studio isn't licensed to use their mathematical code. According to the New Yorker, the Gielis Superformula was created in 2003 by Belgian plant geneticist Johan Gielis. After developing the formula, Professor Johan Gielis took his findings to Genicap, and is still a member of the company.
"The basis is the Superformula, a single equation that uses only a few variables to create an infinite number of supershapes. It become also known as the Gielis formula (Generalized Intrinsic & Extrinsic Lengths in Submanifolds).
THE GIELIS FORMULA provides a direct geometrical description and relation between circles and squares, flowers and snowflakes, molecules and space-time, sounds and vision, anything and everything."
I'm sure you can see where this is going.

"One of the hardest things for us to do is to create coherent shapes. This sounds ridiculous, but it is hard to find a formula that you can rely on," Murray told the New Yorker, and the author of the article even said that "the Superformula appeared reliable," while underlining exactly how the Superformula helped the studio envision their dream, adding further evidence that Murray used the code for his game.
So there you have it; based on past coverage, we clearly see that Sean Murray and his team at Hello Games used Genicap's patented Gielis Superformula to build the foundations of No Man's Sky. Given this, Genicap might actually have a substantial case against the indie dev team.
But then again we have no clue how much Hello Games altered and changed the base Superformula code--it's highly likely they tweaked it substantially, so there's no telling how much the finalized world-building tech resembles Genicap's patented Superformula.
Interestingly enough, Genicap claims that it tried to contact Hello Games many, many times, but received no response. "We are in the process of creating a game based on the superformula. It would be great if we could trade knowledge with Hello Games. We tried to contact them but didn't get any response," said Genicap's Jerome Sparrow.
Sony will likely have to step in once again and help Hello Games settle this case out of court, the same way it settled the SkyTV case.
If the case proceeds, No Man's Sky could be delayed indefinitely: "If there's indeed an infringement of the patent, there'll be a financial compensation and distribution will have to be ceased," said IT-lawyer Arnoud Engelfriet (via NeoGAF).
No Man's Sky is scheduled to release in 3 weeks on August 9, 2016 on PS4 and PC--that is, of course, if Sony and Hello Games settle the case. Otherwise...there's no telling when it could launch.
Related Tags