UPDATE: The Aorus X7 Pro actually features dual GeForce GTX 970M in SLI, not dual GTX 1080M, and the 17-inch display runs at 3K 120Hz, not 4K 120Hz. A GIGABYTE representative reached out to us to confirm the specs, and apologies for the mix up--we were going off of reports from another source.
Computex 2016 - The new Aorus X7 Pro laptop will be an insane performance powerhouse, packing in what could be dual GTX 1080M's in SLI to power a beefy 4K display at 120Hz.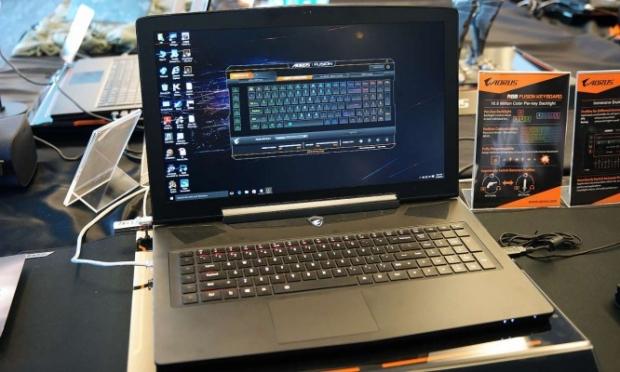 The Aorus X7 Pro (not to be confused with the VR Ready Aorus X7 DT) will likely be one of the mindbendingly powerful laptops on the market, sporting dual NVIDIA video cards in SLI and a 17.3-inch 3840 x 2160 resolution display at 120Hz with a 5ms response time. Aorus hasn't officially unveiled video card specs for the X7 Pro because they can't yet name the "new-generation NVIDIA GPU" that will power the laptop. Since NVIDIA hasn't announced their new Pascal-based mobile GeForce GTX 1080M just yet, we're betting the X7 Pro uses dual GeForce GTX 1080M's. This isn't the first time we heard about Pascal mobile GPUs at Computex - MSI reps hinted to TweakTown that the new MSI G65 Vortex would leverage dual GTX 1080M's in SLI.
Although GPU specs aren't released, we know that the Aorus X7 Pro will pack in a quad-core Intel Core i7 Skylake CPU, up to 64GB of DDR4-2133MHz RAM, M.2 PCIe SSD's, USB Type-C support, and HDMI 2.0. Since the X7 Pro's 4K display has a 5ms response time, we don't think G-Sync will be supported. Like the rest of Aorus' new X family, the X7 Pro will feature the new full RGB Fusion keyboard backlighting, with enhanced color customization patterns and effects.
This is pretty huge news considering desktops don't have access to 4K 120Hz displays just yet--those are coming later this year.
So far coverage on the Aorus X7 Pro has been quiet, with the new Aorus X7 DT and X5 gaming laptops getting the most attention. This is pretty curious given how incredible the X7 Pro's specs are, but I'm guessing the lack of attention is likely due NVIDIA not having revealed the mobile Pascal chips. We'll be sure to update you once more information comes to light.
The Aorus X7 Pro starts at $2699 with a release this summer.