Computex 2016 -- TweakTown has learned that MSI's cylindrical Vortex G65 gaming PC is about to get a refresh that rocks a pair of NVIDIA's mobile Pascal video cards in SLI, suggesting that the 1080m and 1070m reveals are right around the corner.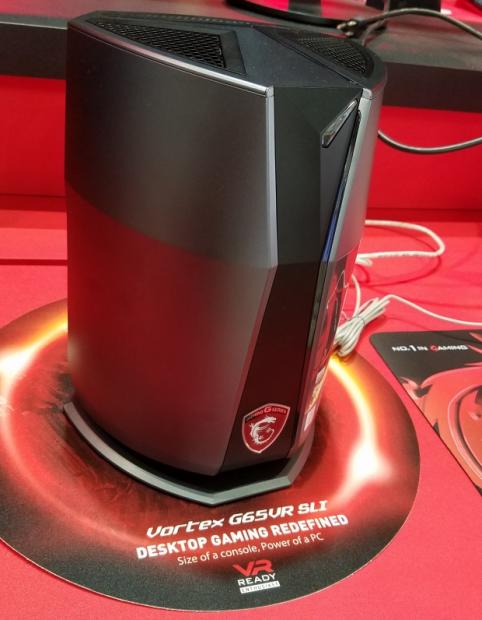 When MSI debuted the Mac Pro-inspired Vortex G65 earlier this year, its high-end model rocked a powerful GTX 980 SLI configuration. Not 980m, but desktop class 980 MXM format GPUs. But as I perused MSI's booth at Computex today, I noticed something curious. When MSI first announced the system, the info card obviously said something to the effect of "NVIDIA GeForce GTX 900 series." This info card said "NVIDIA latest generation video card (SLI)."
When I asked an MSI representative on the show floor if they were planning an upgrade, he very heavily implied (along with a joke about non-disclosure agreements) that the demo model not hooked up to any monitors contained NVIDIA's mobile GeForce 1080 card in SLI, though it wasn't clear whether these would be the proper mobile variant or an MXM format like the 980 used in their prior model. I asked him if he'd be willing to open up the G65 and he politely declined.
I later confirmed through another industry source not affiliated with MSI that he had seen the same system a couple weeks prior to Computex, and it indeed had a pair of mobile Pascal cards.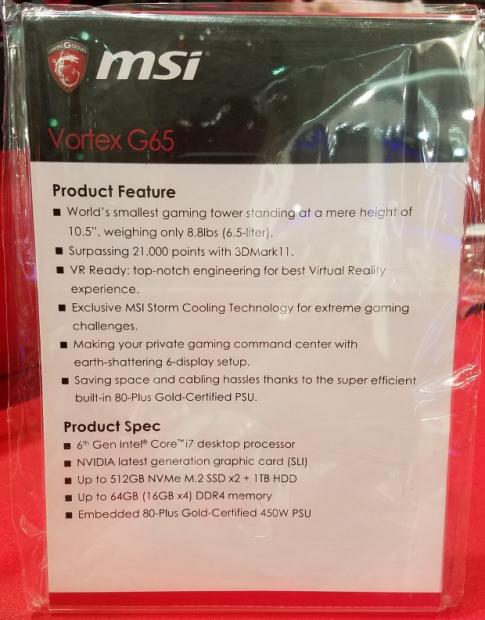 The system also boasts up to 64GB of DDR4 memory, up to two 512GB NVMe M.2 SSDs as well as a standard 1TB hard drive, and stands only 10.5-inches tall.
It's certainly no surprise that NVIDIA is keen to follow up their successful desktop launch of Pascal with some mobile versions to supercharge the notebook market, but I'm especially interested in what this means for small-form-factor "VR Ready" systems like the Vortex G65 and many others like the Alienware Alpha, ZOTAC's ZBOX lineup, or GIGABYTE's Brix mini-PCs. The reveal of the inevitable 1080m and 1070m, however, could be coming sooner than we think. Given the significant performance gains Pascal has over Maxwell, this only means great things for notebook gamers and VR enthusiasts.