EA released Battlefront half-finished to leech off of Episode VII hype
EA admits that Battlefront was shipped half-finished so it could piggyback from The Force Awakens' fame.

Published Wed, May 18 2016 10:15 AM CDT
|
Updated Tue, Nov 3 2020 11:59 AM CST
Why was the new Star Wars: Battlefront game released half-finished without a campaign? So it could leech from the insane hype generated from The Force Awakens, of course!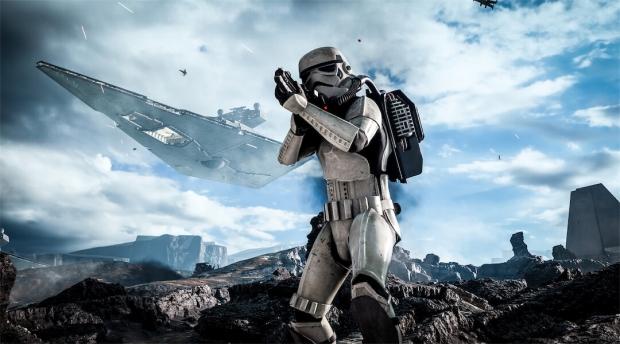 After watching Star Wars: The Force Awakens in the theater, I wanted to continue my experience with a game. Publishers know this; that's why they've always served us with countless direct movie tie-in games, for better or worse. The new Battlefront game was yet another offering in this long tradition, and EA finally admits why the game shipped half-finished without a campaign.
"We made this choice due to time and being able to launch the game side-by-side with the movie that came out to get the strongest possible impact," EA Studios' head Patrick Soderlund said at the company's Investor's Day meeting. Ah, so that's the trade-off: either ship a fully-finished game and miss the huge sales generated by the Star Wars frenzy, or ship it early and half-finished and take the hit in credibility but rake in tons of cash.
In the past, EA said things like "most gamers won't play a singleplayer campaign anyway" to cover up the real reason behind the unfinished game, but now we know for sure. Not to say we didn't know beforehand, as it was painfully obvious. As I said before, gamers have been dealing with shameless movie tie-ins for decades now, and it won't stop anytime soon.
EA has also admitted that Battlefront is rather empty, saying that the game "may not have the depth gamers wanted".
In any case, EA gets another shot to make up for the lackluster content: the publisher is making a Battlefront 2 sequel for 2017.
But it looks like EA may just follow down the same old road, as Battlefront 2 will use content "from the new movies". Luckily the only movie it can borrow from will be Rogue One, and that will be out after the game's 2017 release.
Related Tags