No Man's Sky VR would be a 'really good fit', says creator
The infinitely sprawling space sim No Man's Sky could be the 'killer app' that VR needs to become a mainstream hit.

Published Sat, Apr 30 2016 12:07 PM CDT
|
Updated Tue, Nov 3 2020 12:00 PM CST
No Man's Sky creator Sean Murray echoes what fans have known since the reveal: virtual reality would be a fantastic platform for the procedurally generated, planet-hopping space sim.
Hello Games' Sean Murray is definitely optimistic about virtual reality, so we could see a VR adaptation of No Man's Sky sometime in the future. In a recent interview with IGN, Murray said that VR is a "really good fit" for No Man's Sky: "I think VR in general is incredibly exciting. I would say I'm a believer. I have this optimism about it. But it doesn't have a killer app yet--I haven't found anything that makes me want to spend hours upon hours in VR yet.I really hope everyone gets it right."
So could No Man's Sky be the "killer app" that virtual reality needs? Could Hello Games' space sim take the mantle as the one singular must-have VR experience and kick off a new wave of excitement for the platform? Murray was still guarded about No Man's Sky on VR, choosing not to directly answer if the game is coming to VR or not.
"If it was No Man's Sky VR-if such a thing existed-being able to find a planet if you really loved and then be able to see it in [VR]. I think something like that would be incredibly cool."
This isn't the first time Murray has talked about bringing No Man's Sky to VR. Back in July 2015, Murray told Edge Online that "VR is definitely something we're thinking about", following up with quotes that are startlingly similar to the recent ones.
"Morpheus, Oculus...There's nothing more cool and sci-fi than VR and a big procedural universe," Murray said at the time. "I think that, for the people who want to just explore, and even for the space combat and things like that, it would be a good fit. Let's put it that way."
The massive intergalactic sci-fi sim is definitely one of the most hyped games in recent memory, and a release on Sony's new PlayStation VR would be absolutely massive for the platform--ditto for the Oculus Rift and HTC Vive.
No Man's Sky is slated to release on June 21, 2016 across PS4 and PC. We've put together a massive checklist of everything you can do in the game, and be sure to check out the latest gameplay preview for more info.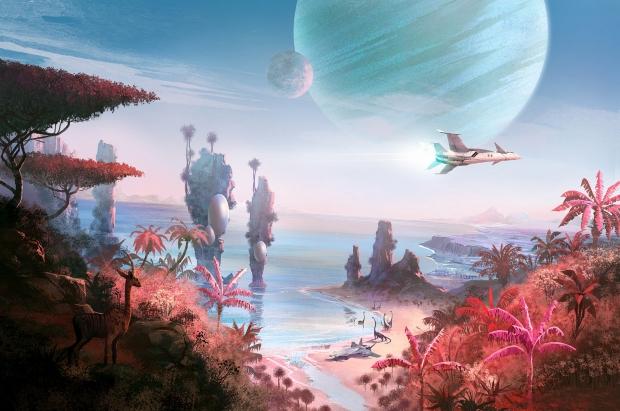 Related Tags