No Man's Sky could come to VR
Will we get to play No Man's Sky on the Oculus Rift?

Published Wed, Jul 29 2015 9:28 PM CDT
|
Updated Tue, Nov 3 2020 12:05 PM CST
No Man's Sky is undoubtedly one of the most ambitious and anticipated games in recent memory--its magnificent interstellar sci-fi themes awaken the inner space pirate in all of us, not to mention the cosmic beauty of an infinitesimal procedurally-generated universe made of billions of celestial bodies and planets just waiting to be explored.
And what better way to experience such a galactic adventure than with VR? Hello Games' Sean Murray agrees that No Man's Sky would benefit tremendously from VR support, and has shown a lot of interest in the possibility. "Morpheus, Oculus...There's nothing more cool and sci-fi than VR and a big procedural universe," Murray continued in a recent interview with EDGE magazine. "I think that, for the people who want to just explore, and even for the space combat and things like that, it would be a good fit. Let's put it that way."
Acknowledging the sensitive nature of pre-release juggernauts and the deal with Sony, Murray wasn't able to get into specifics: "I don't know what I'm allowed to say. [VR support] is something we're thinking about."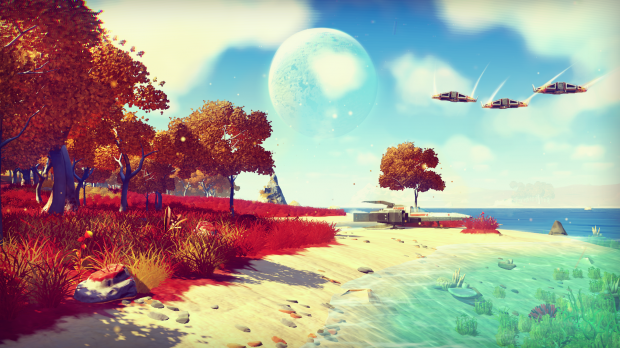 No Man's Sky was previously believed to be a timed-exclusive for Sony's PlayStation 4, however Murray revealed last month that the game would release simultaneously for PC and PS4. This consistent cross-platform release could afford time to work in VR support for the game.
Since consumer models of both the Oculus Rift and Sony's PS4-ready Project Morpheus are planned for a release in 2016, we might see a Holiday 2015 launch for No Man's Sky with VR support shortly thereafter. So far Hello Games hasn't revealed any concrete launch details for the space sim and it remains TBD.
Related Tags