New No Man's Sky footage peels back the rim of the universe once again
New No Man's Sky gameplay footage peels back the rim of the universe to reveal the billions of stars within.

Published Wed, Apr 20 2016 7:47 PM CDT
|
Updated Tue, Nov 3 2020 12:00 PM CST
Another No Man's Sky gameplay preview has been spotted, this time showing off 15 minutes of footage on Sony's PlayStation 4.
Sean Murray recently sat down with Anthony Carboni to showcase half an hour of No Man's Sky, revealing even more tidbits about the game. We've already tracked a massive list of things you can do in No Man's Sky, but Murray always seems to surprise us time and time again--no matter how much you think you know about the game you're always shown something new.
The playthrough shows us what a typical session will look like, with exploration, material mining, weapon crafting, and conversations with aliens. We do get to see a nice glimpse at weapon customization and how attachments will work, pretty much confirming how important raw materials are. Based on the small glimpse we get of the inventory screen, I can see that Man's Sky is going to be a huge grind fest. Players will be planet-hopping for materials to build up their weapons, recharge shields, boost ships, and build all kinds of new tech. But you won't just be crash-landing on planets for mats--you can mine them from asteroids as well.
During the session, Anthony Carboni said something that resonates with the massive scope of No Man's Sky. "I'd forgotten about space...there was enough to do, that I'd totally forgotten that we could just bolt any time we wanted."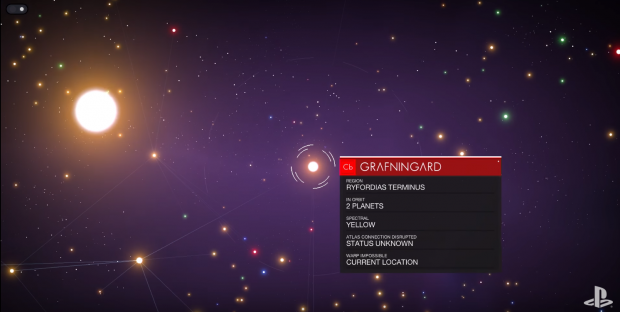 The space sequence was just as illuminating. Players will be able to soar the stars within their cozy ships and investigate a multitude of different things outside of planets. You can investigate merchant ships on their trading routes, blast federation cruisers for some high-stakes starfighting, and even harvest mats from the ships you destroy.
You can even make out the exact nature of a planet based on its view from space. The outward planet views are actual representations of the world itself--you won't see rough approximations of a plane'ts surface, but instead accurate topography of that particular world.
We also get to see No Man's Sky's galaxy map. It's a sprawling mass of billions of scintillating stars and planets, fluxing and waning in brilliant hues and tones. Every dot is a star with its own solar system, with its system of planets and moons and untold amounts of secrets and randomized world states. The end sequence shows you just how big Hello Games' procedurally-generated space sim actually is, and honestly, it's hard to quantify in words.
No Man's Sky releases June 21 on PC and PlayStation 4. Click here to check out special edition pre-orders.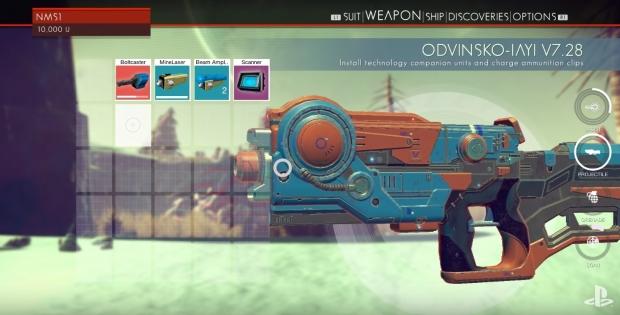 Related Tags