Oculus Rift CV1 Unboxing & First Impressions
Our Oculus Rift CV1 is here! We unbox it, take a look inside, and provide our first impressions. Come and join us.

Published Apr 17, 2016 5:25 AM CDT
|
Updated Tue, Nov 3 2020 6:58 PM CST
14 minute read time
Introduction & The Oculus Story So Far...
I've thought about writing this article for nearly five years now, and now that I'm here - it doesn't even feel real. I've looked at a bunch of other articles surrounding the release of the Oculus Rift and the HTC Vive, and I have thought long and hard about my approach. It's going to be different because VR deserves to be held in a totally different light.
Reading the other content on the Rift and Vive launches makes me really hate the traditional gaming press, as some - but not all - have "reviews" up on the Rift and Vive. How in the hell do you review something this transformative and revolutionary, in a few days of using it? It's impossible. You can't call it a review if you've only played with pre-retail hardware, without any form of AAA game or system seller.
This is where 'reviewing' the Rift and Vive is something I won't be doing - where I'll be doing more of an on-going experience report. Some of you will like this, and some of you won't - so I'll provide a larger, more detailed review in the next 1-2 months for a few different factors.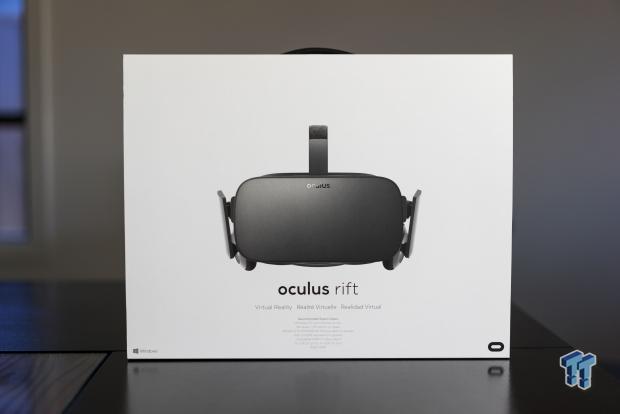 Firstly, I want to wait until I've received the HTC Vive before I fully write my Oculus Rift review - and vice versa. Secondly, I want to really get some hours pumped into both before I can put my weight behind a review. I want to play around with the Rift as much as I can before my Vive turns up in 2-3 more weeks, so that I get good, exclusive time with the Rift on its own - instead of juggling both.
Then when the Vive gets here, I'll begin forming my Rift review - as I'll be able to directly compare both of the VR headsets. Not just from a technological standpoint, but from their software lineups, configuration and setup, and the 'month of use' perspective.
It's going to be a long road for VR, and I'll be right here writing about it constantly. I've been a big fan of VR before it was mainstream, reporting on the original Kickstarter campaign for the Oculus Rift. This was before people noticed it when the DK1 was released, and again with the DK2. I've been a huge fan of VR, from an enthusiast perspective, news reporting perspective, and as a gamer.
I'm also a father to two girls who I believe will benefit greatly from both augmented and virtual reality technology, so it has intrigued me since day one. I've been a gamer for 30 years now (I'm 33 years old), and I won't be stopping anytime soon - I will actually be putting more time into gaming thanks to how new, fresh and exciting VR is.
The Oculus Story So Far...
It all started back in 2012 when the at the time unknown 18-year-old Palmer Luckey took to Kickstarter to fund something called the Oculus Rift. The project raised over $2.5 million, but more importantly, it gained the support from some seriously huge industry heavyweights.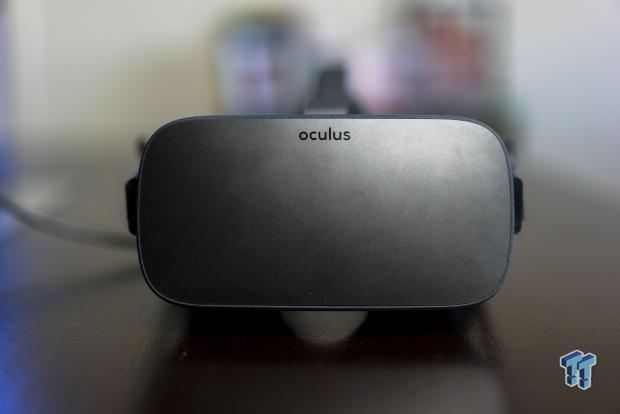 Gaming gods like John Carmack began talking with Luckey privately about the Rift and after sampling an early prototype of the Rift, Carmack began to see what Luckey had been working with - even after doing his own research at the time into VR headsets. Carmack preferred the Rift, and then moments before E3 2012, id Software announced that a future version of Doom 3 called Doom 3: BFG Edition, would be compatible with VR headsets.
During E3 2012, Carmack teased a duct taped, head-mounted display based on Luckey's Oculus Rift prototype, with Carmack's software on top. The unit featured a rather large 5.6-inch LCD, which could be seen with its dual lenses, as they were positioned over the eyes to provide the 90-degree horizontal and 110-degree vertical stereoscopic 3D perspective. It was early days yet, but it truly snowballed from there.
From there, it escalated quickly with the DK1 pumped out and pushed to developers with a rather low-end 7-inch screen that had much lower pixel switching time than the original prototype. This provided reduced latency and motion blur, but the screen door effect was pretty bad.
In 2013, the HD prototype was shown off at E3 2013, which had a 1920x1080 display (twice the number of pixels compared to the 1280x720 display in DK1). It reduced the screen door effect significantly and allowed much more items and larger environments more visible to the human eye thanks to the increased resolution developers had to play with.
Then we had the Crystal Cove prototype, which was unveiled at CES 2014. It featured an impressive low persistence of vision OLED display, as well as a new motion tracking system that used an external camera to track infrared dots that were placed onto the Rift.
This new motion tracking system allowed Rift wearers to move around within the environment, as well as help the motion sickness issues that plagued the DK1. Then, Oculus began shipping the DK2 in July 2014, with it being a small jump over the Crystal Cove prototype unveiled earlier that year.
It had multiple improvements, with a 960x1080 per-eye, low-persistence OLED display, higher refresh rate (75Hz), positional tracking, a detachable cable, and no more need for the external control box that was required for the DK1. Inside of the DK2 was a modified display that was found in the Samsung Galaxy Note 3.
Oculus continued the rapid deployment of new Rift headsets, with the Crescent Bay prototype in September 2014. The new Crescent Bay prototype included a higher resolution display, it was lighter, had built-in audio, and a 360-degree tracking system thanks to tracking LEDs placed in the back of the Rift headset.
Then, in May 2015, Oculus announced that the Rift would ship to consumers in the first quarter of 2016. Pre-orders opened up on January 6, 2016, at 8 AM PST - and I was joined by many when I pre-ordered my Oculus Rift CV1 headset.
Fast forward to April 2016, and my Rift is finally here. It has been an insanely awesome journey, and we're only at the beginning. This is day 0 of VR, and it's awesome - but it's definitely not perfect, and strangely - it's not a hardware problem (most of the time).
Unboxing the Rift
The packaging that the Oculus Rift comes in makes it feel worth every single cent of its $599 price, with a sleek, and smooth box that holds your virtual reality headset, and its various accessories and controllers.
One of the best things about the DK1 was the amazing plastic carry case that it arrived in. It was awesome, totally unexpected, and still rocks today. Oculus were aware of the popularity of the DK1 casing, and while the CV1 casing isn't quite as hardcore, it's a beautiful package - and just oozes that premium feel.
As you can see from our unboxing video above, the box has a beautiful matte finish with a small Oculus logo. Inside, are perfect spots for everything in the box: the Oculus Rift CV1 headset, the camera sensor, Xbox One controller, wireless dongle, and Oculus remote.
What's In The Box
Let's take a quick look around, and inside of the Oculus Rift box, shall we?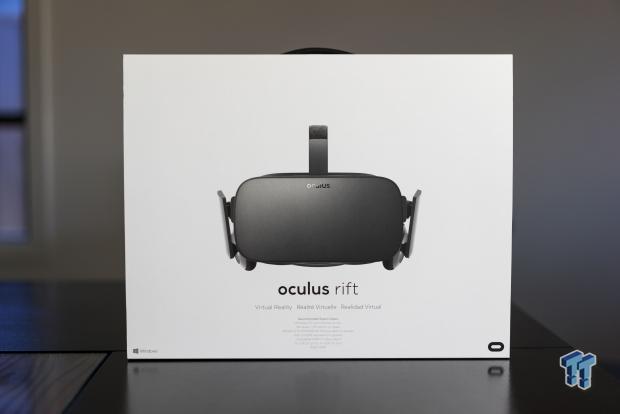 The front of the Oculus Box - lookin' slick there, slick.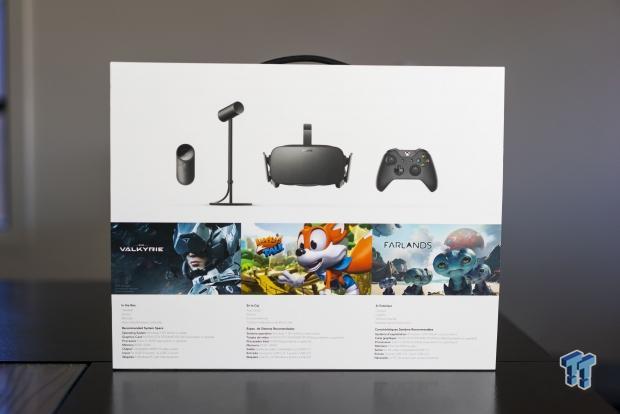 The back of the box, with some details on the games included in the box, and what's in the box in the bottom left.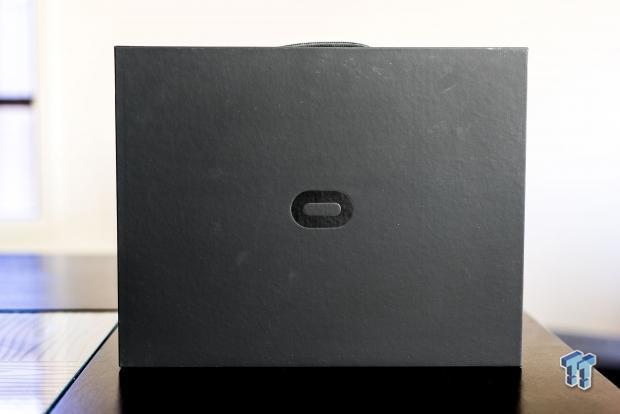 The box inside of the packaging, which doubles as a carry case for your Rift.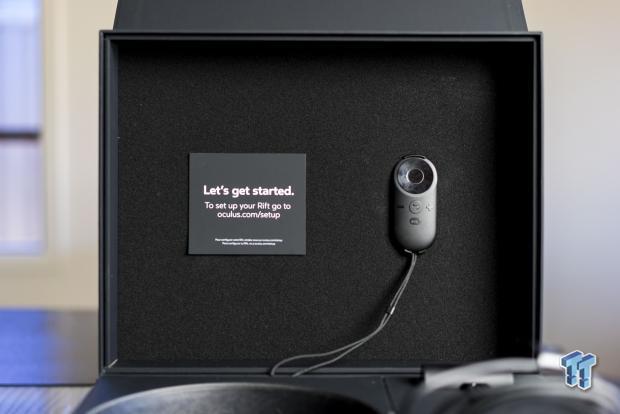 Opening the box, you're greeted with a 'Let's get started' notice - telling you to visit oculus.com/setup to get your Rift up and running. You'll also spy the Oculus remote, too.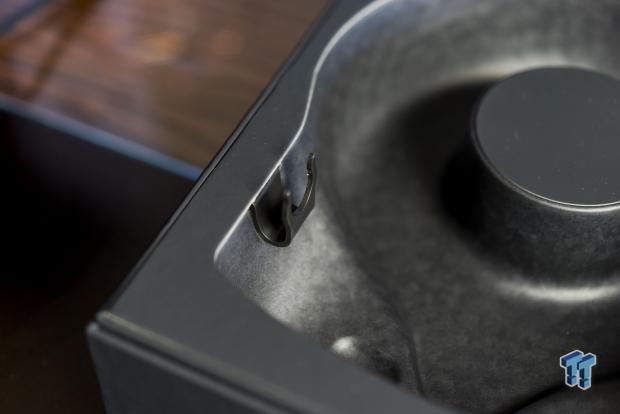 This is the little plastic clip that will keep your Oculus Rift in place, which is a nice touch to see from the company.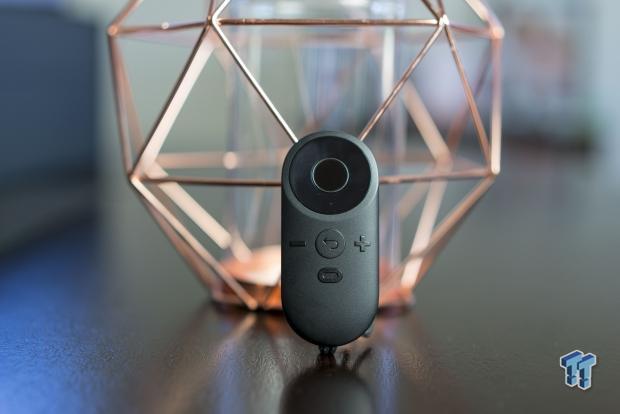 This is the Oculus remote, and holy hell does it come in handy - super light, super intuitive, and it looks like unlimited battery life, too.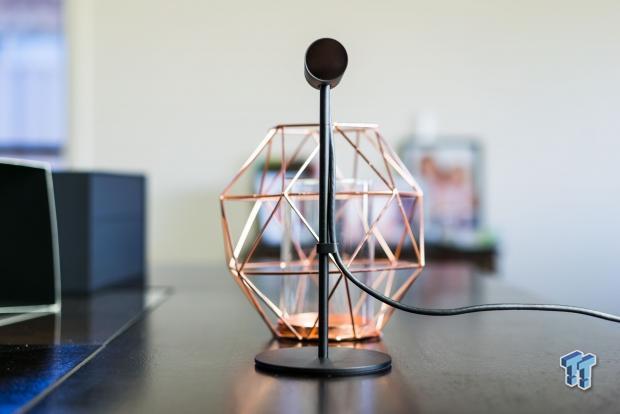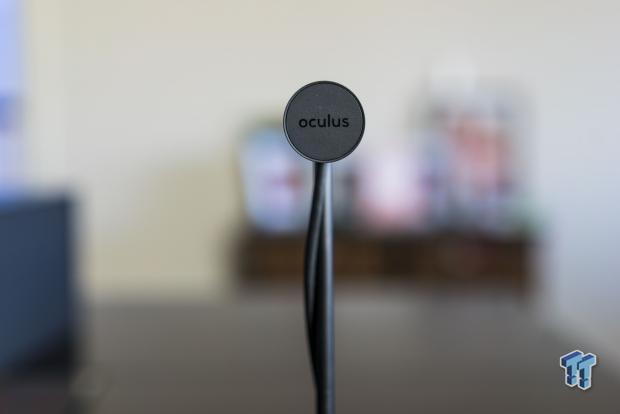 The Oculus sensor, which will keep an eye on you in your room... not freaky at all.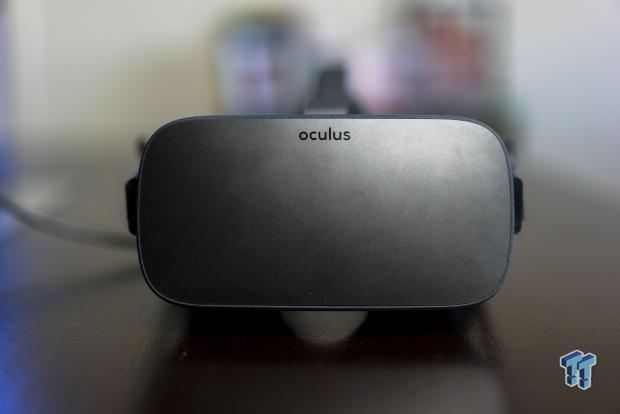 This is it! The Oculus Rift CV1 in all of its glory... it's beautiful, isn't it?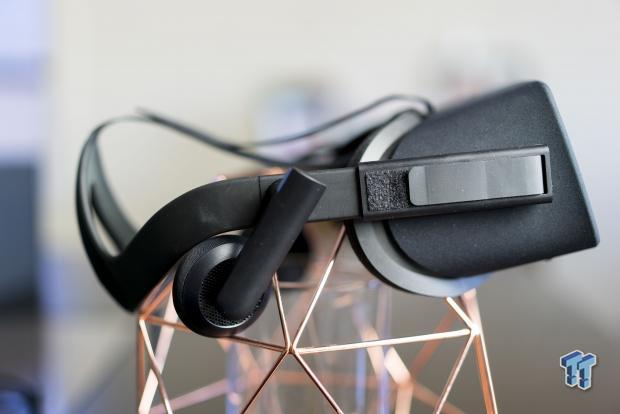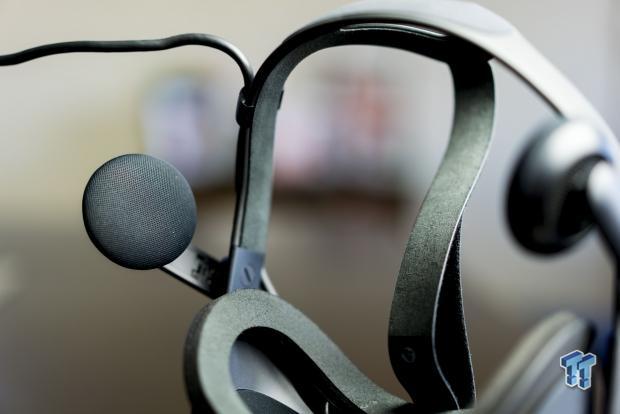 The built-in headphones are pretty damn good.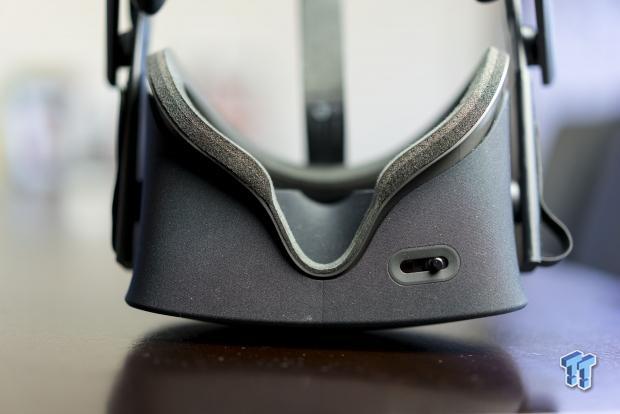 This is the little lever underneath of the Rift that you'll adjust to tweak the OLED displays distance between each other - making the VR experience more, or less focused.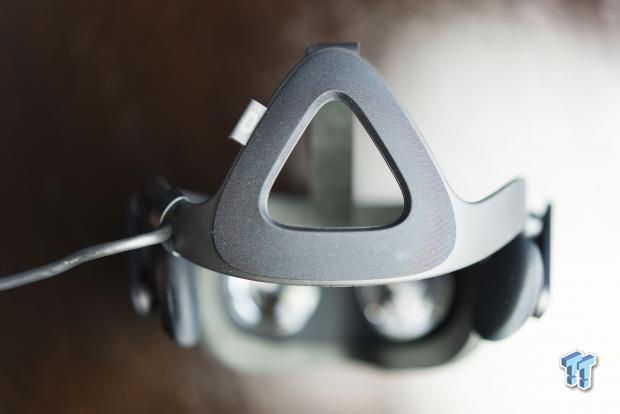 The rear of the headset, which is what the trackers are looking for.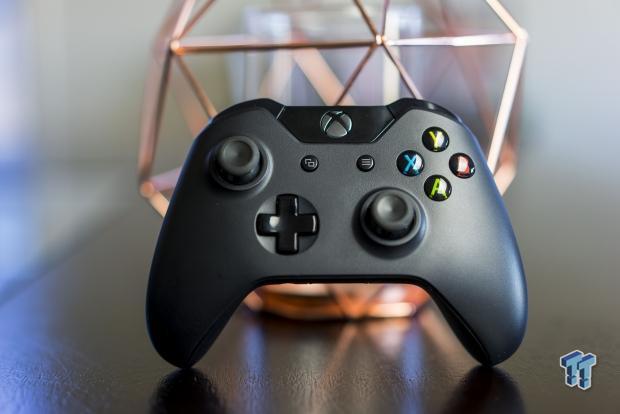 The Xbox One wireless controller, a great controller for your VR gaming experience.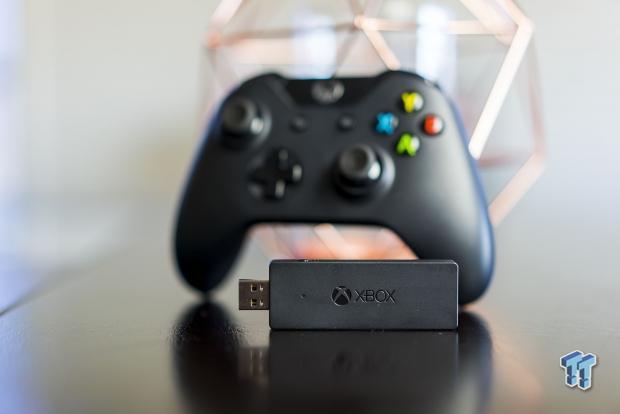 The wireless dongle for your Xbox One controller.
Here's what comes in the box:
Oculus Rift CV1 headset

Camera sensor with built-in stand

Oculus Remote

Xbox One wireless controller

Xbox One USB wireless receiver

Small plastic tool to remove integrated headphones

2 x AA batteries for Xbox One controller

2 x Oculus logo stickers

Oculus lens wipe cloth
Setting Up the Oculus Rift - Part 1
Getting the Oculus Rift set up and running is even easier, and slicker looking than the previous DK1 and DK2 headsets. The hardware side of things is easy, as you need three USB 3.0 ports free, and a free USB 2.0 port.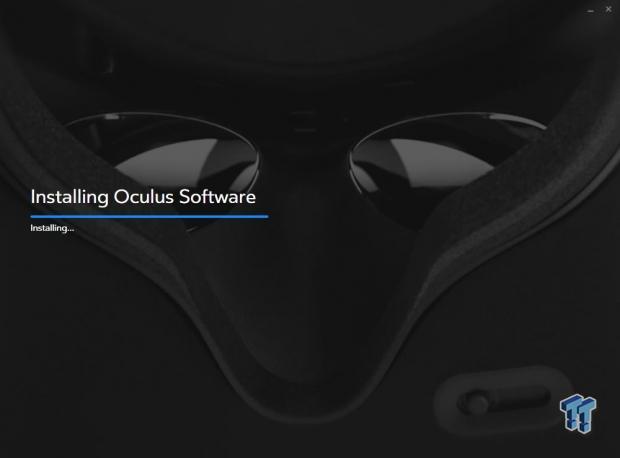 You'll need an HDMI 1.3 or higher port for the Rift itself, with a USB port from the same cable splitting with a Y-splitter cable. Next, you'll need to plug in the camera sensor into a spare USB port, as well as the Xbox One wireless dongle. Once you've got all of this plugged in, it's time to begin the software process.
The software process is kicked off by visiting the Oculus website and downloading the Rift software. After you've downloaded the software, you're one step closer to a new reality.
The Long, But Thorough Setup Process
The setup procedure once you have the software is much longer than I expected, but it's not as long as what I've seen from the HTC Vive - thanks to its 17-part package, and the two Lighthouse controllers and sensors, and all of the accessories required to get it up and running.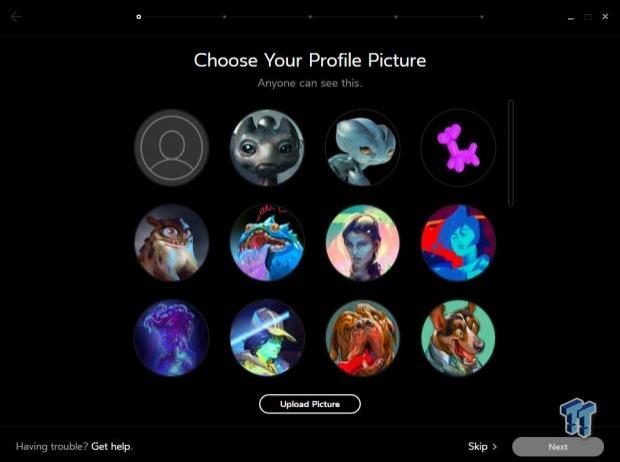 You get to choose your own profile picture, which is a nice touch - and it makes your experience personal. You can even upload a picture if you don't want to be a weird alien or whatever.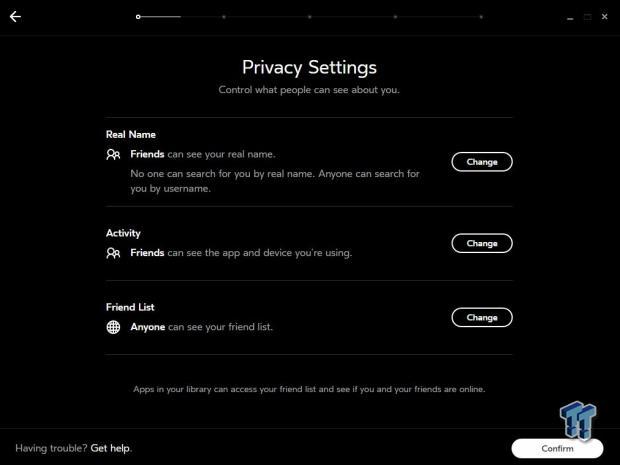 The privacy settings are nice and clear, where you can reveal your real name, the activity on your account, and your friend's list.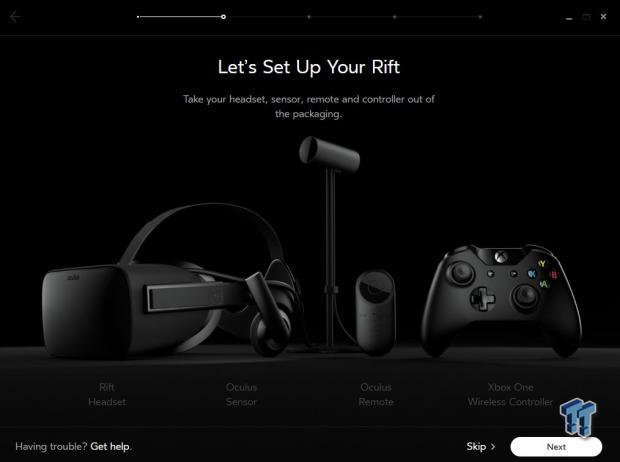 Now, it's time to set your Rift up! Prepare your Rift, sensor, remote, and controller by taking them out of the packaging and preparing them all for setup.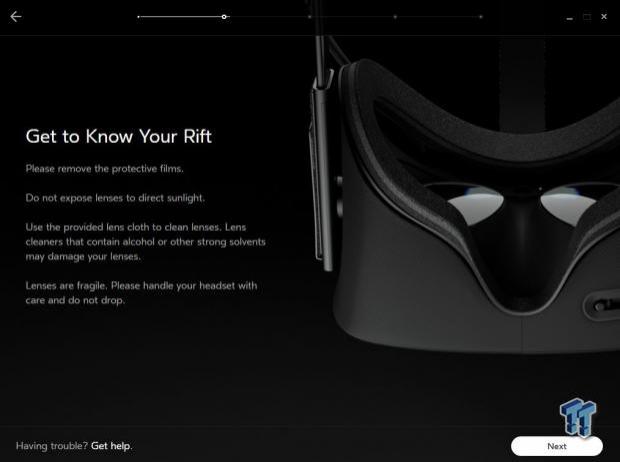 Oculus wants you to get to know your Rift - and they're right, do not expose the lenses to direct sunlight, and be careful with it - this is an expensive piece of technology.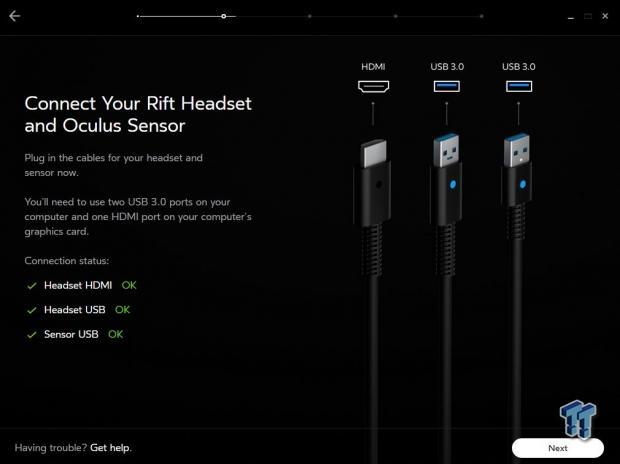 Here's what you'll need to connect to your PC - the HDMI cable, and two USB 3.0 cables (one for the headset, and the other for the sensor).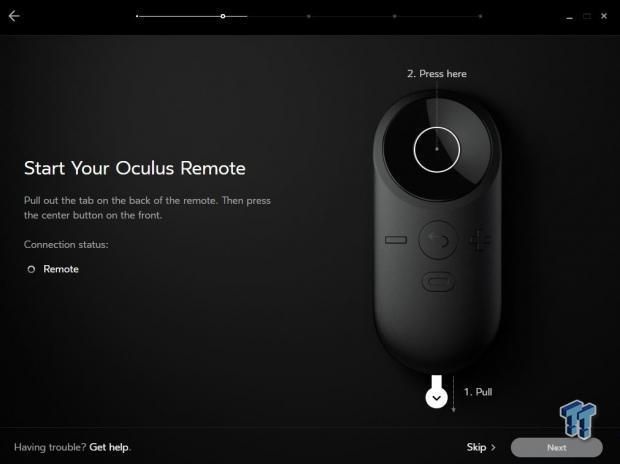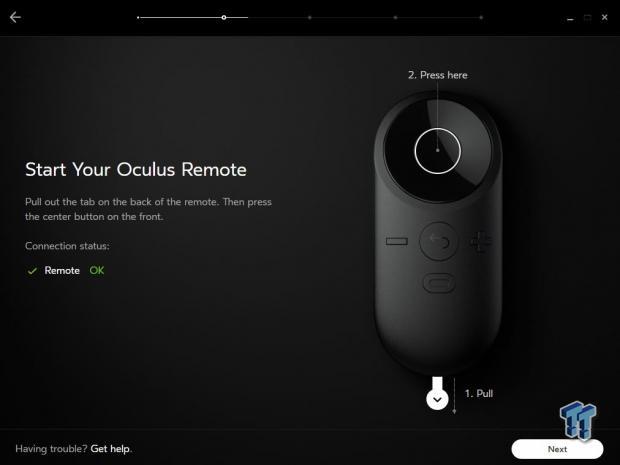 Next up, you'll need to pull the plastic tab from your Oculus remote, and then press the center button.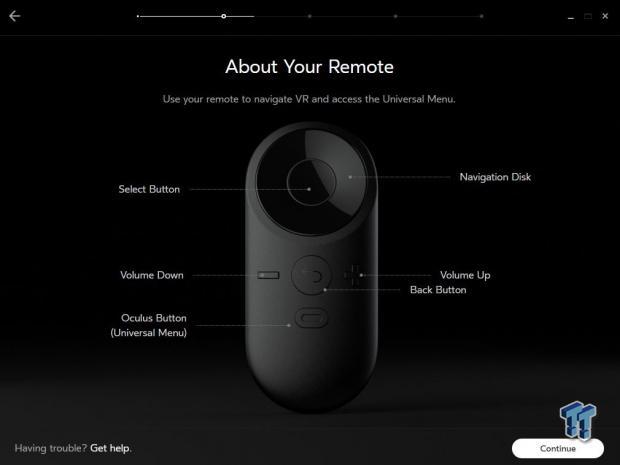 Oculus provides a quick guide on how to use your remote to navigate VR and access the Universal Menu.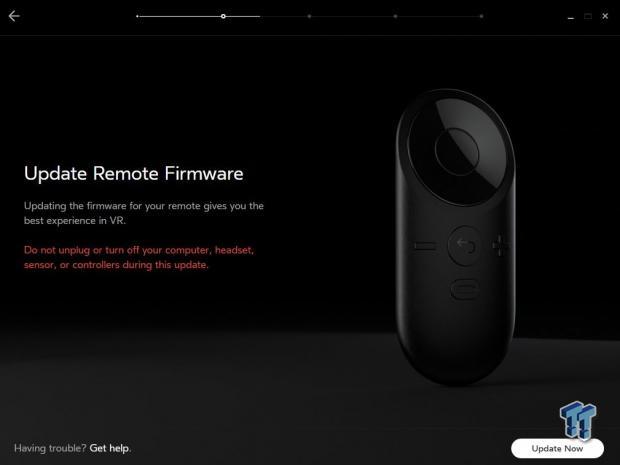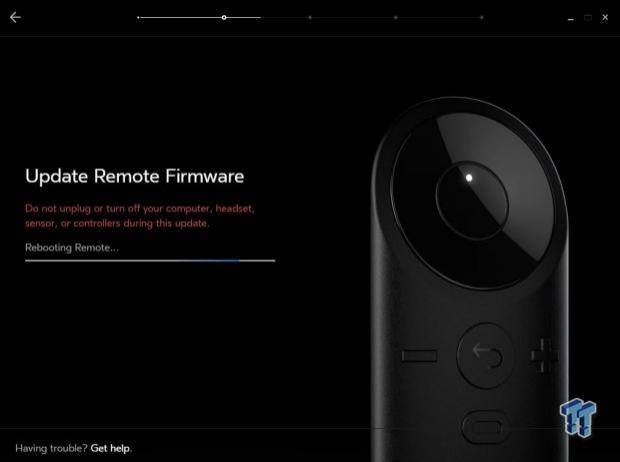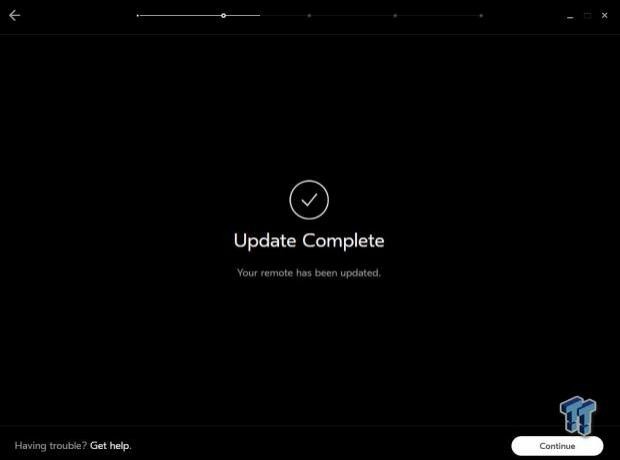 Before using the Oculus remote, I had to update the firmware, which the software did for me.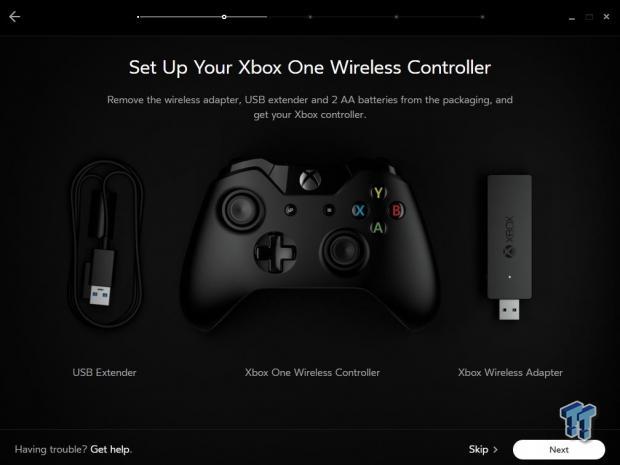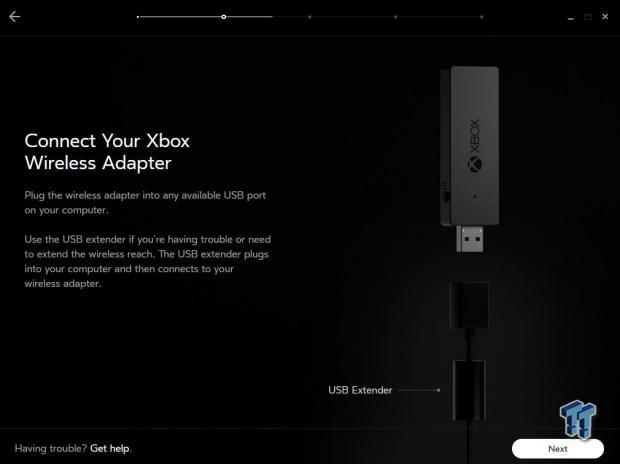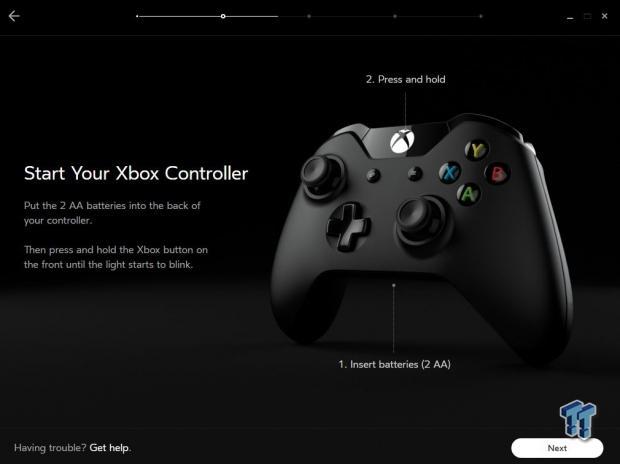 Setting up your Xbox One wireless controller isn't hard. You need to plug the wireless adapter in, install the included AA batteries into the Xbox One controller, and you're most of the way there.
Setting Up the Oculus Rift - Part 2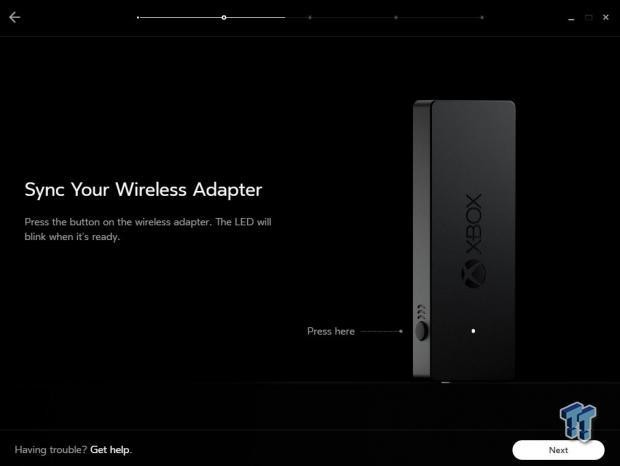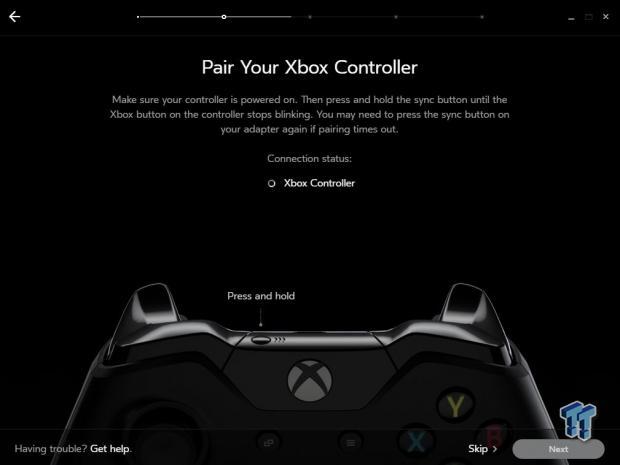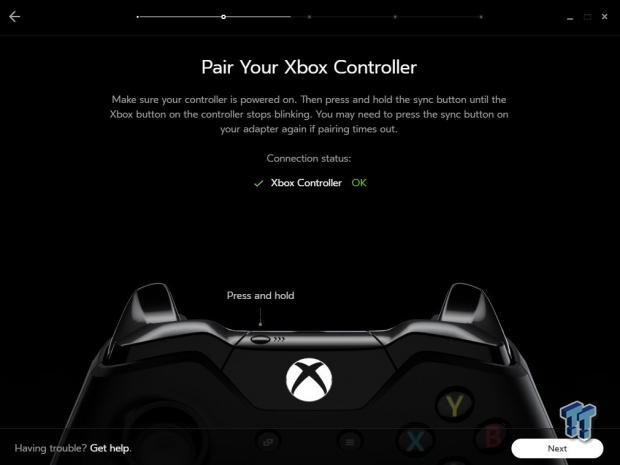 The wireless adapter and syncing your Xbox One wireless controller are super easy, too.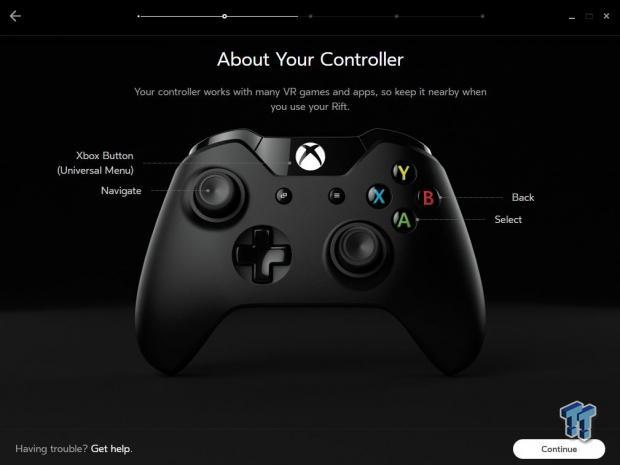 In case you forgot how to use your Xbox One controller, there's a quick 'About Your Controller' section of the Oculus Rift setup procedure.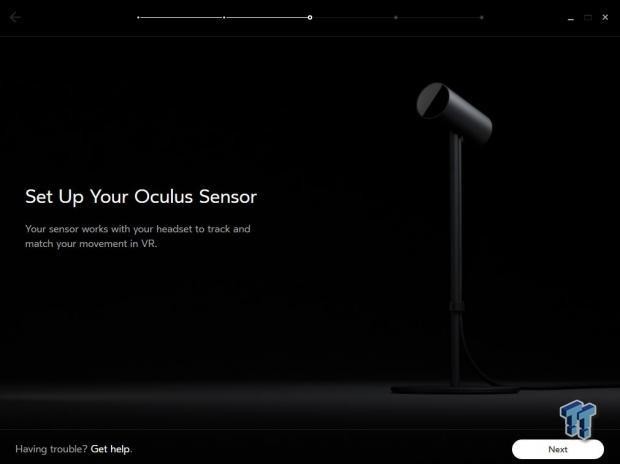 Next up, setting up your Oculus sensor.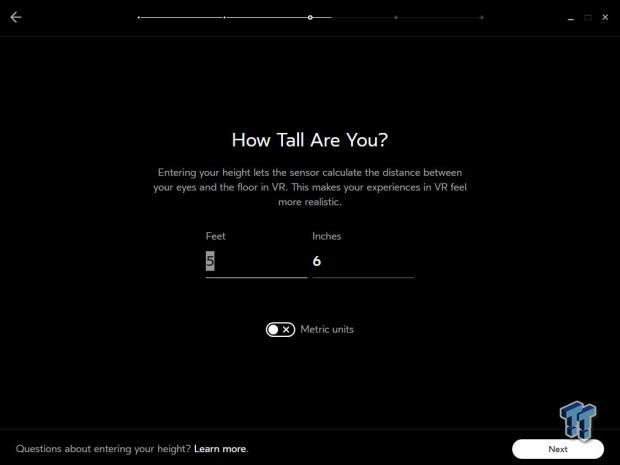 You'll have to tell Oculus how tall you are so that it can calculate the distance between your eyes and the floor in VR.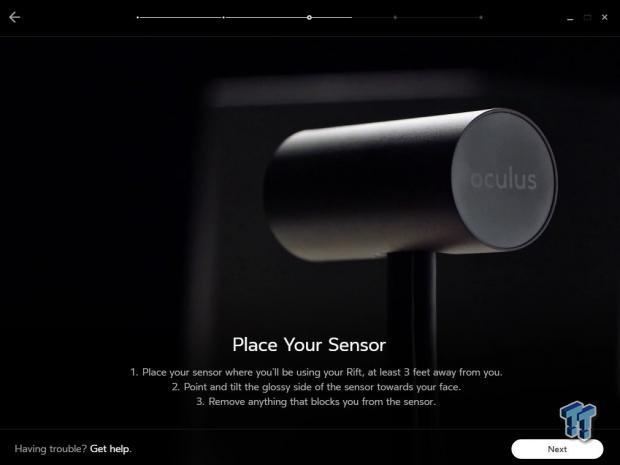 Placing your Oculus sensor is important, make sure to follow these steps carefully.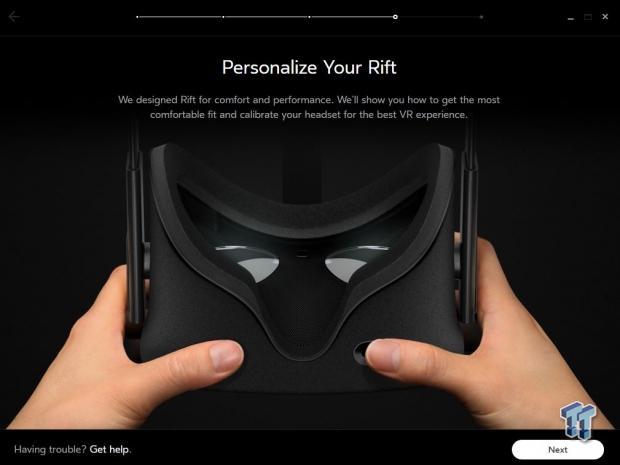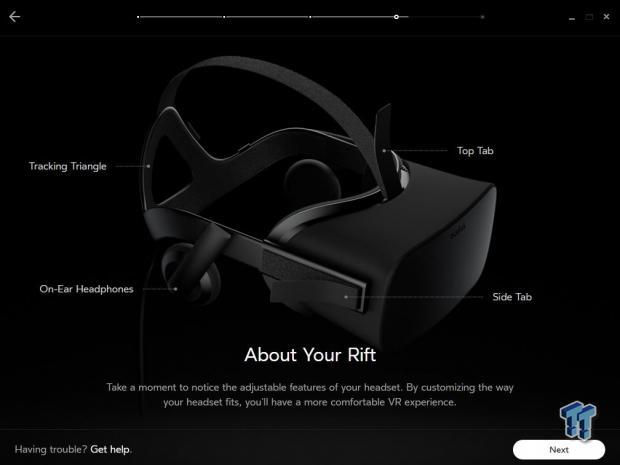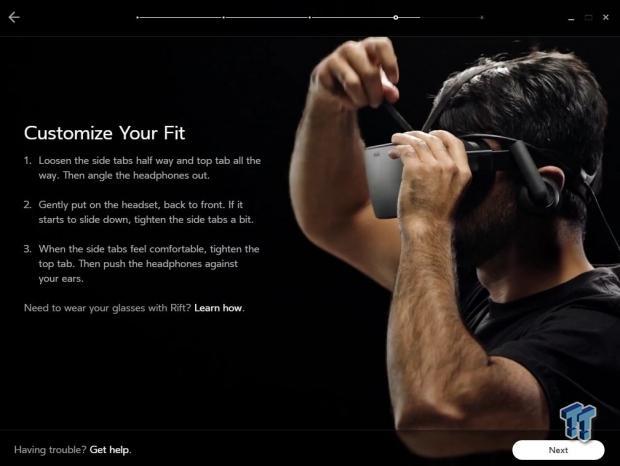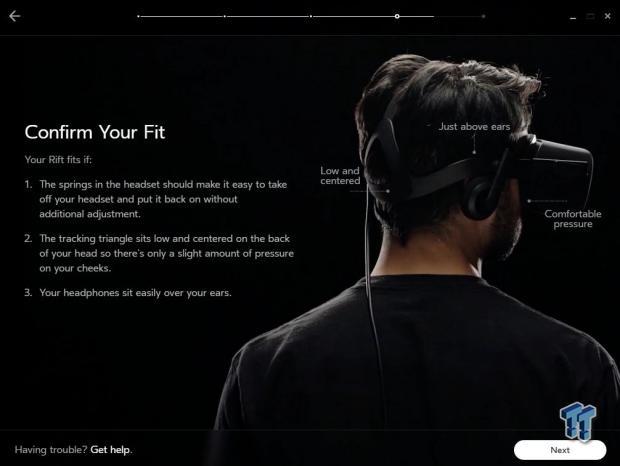 Personalizing your Rift is one of the most important parts of the configuration.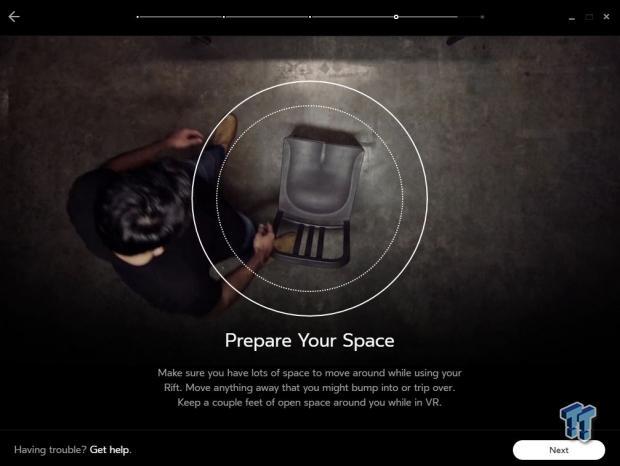 Remember to prepare your space, by making sure that you have enough room around you so that you don't bump into or knock over something close to you.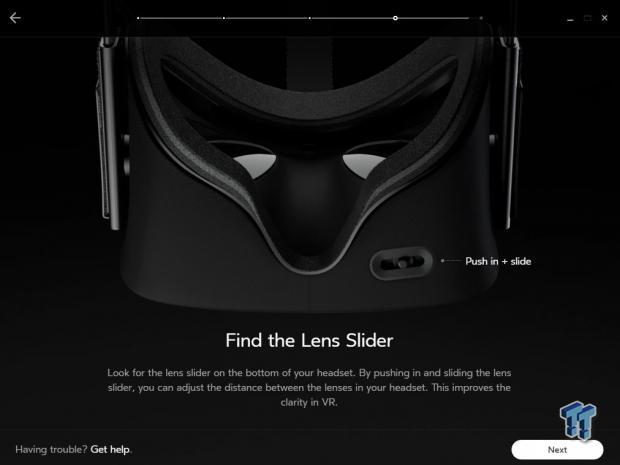 The lens slider is important and is on the bottom of the Rift CV1 sensor. Pushing in, and sliding the lens slider allows you to adjust the distance between the lenses in your headset. This improves the clarity of the VR experience, so remember to do this, and adjust for anyone new using your Rift headset.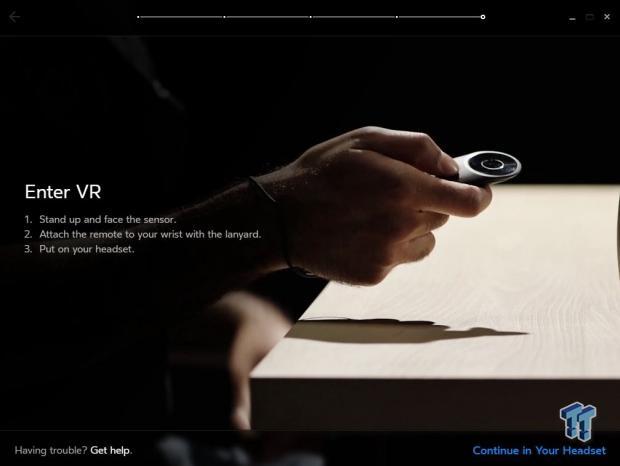 The Oculus Rift setup procedure is done! Now you can enter VR!
Oculus Store & First Impressions
The Oculus Store Is Great, But We Need More Games
It really is... it's just so good to navigate in VR, and easy to use on the PC with your mouse, too. But, there's just not enough games. This is something I'll talk about in much more detail in another article in the next few days, but for now, let's take a look at the Oculus Store and how great the UI is.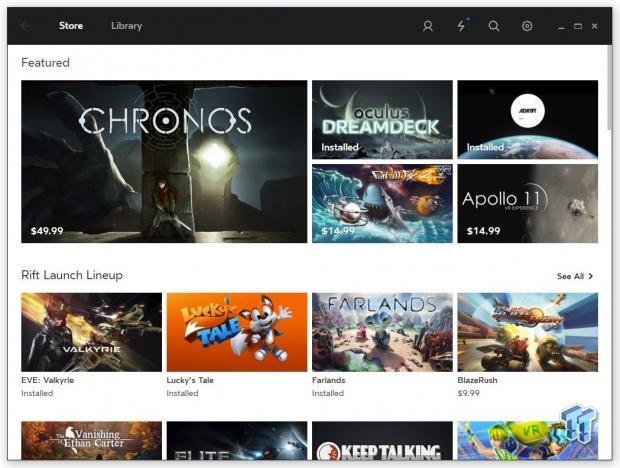 Here's the Store homefront, nice and clean with some options in the top right.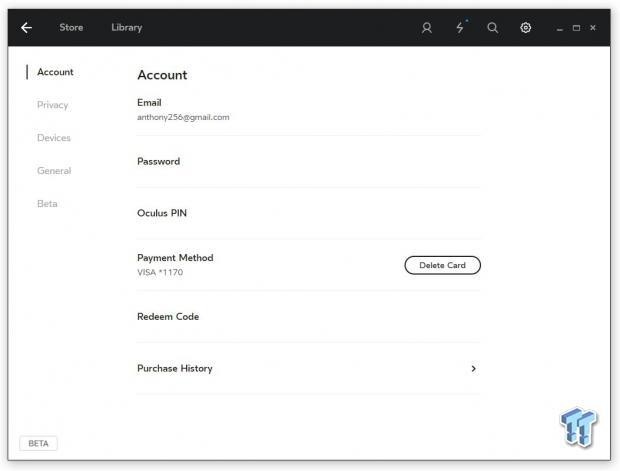 Clicking settings will show up with this menu, where you can browse Account, Privacy, Devices, General, and Beta.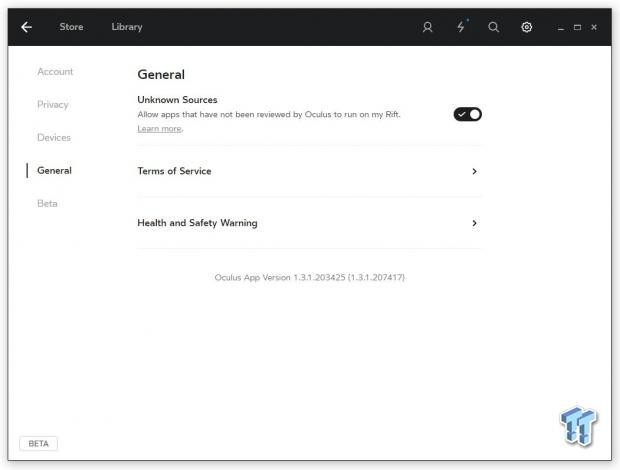 Tapping on 'General' will let you allow 'Unknown Sources,' games and experiences that haven't been vetted by Oculus, allowing them to run on your Rift.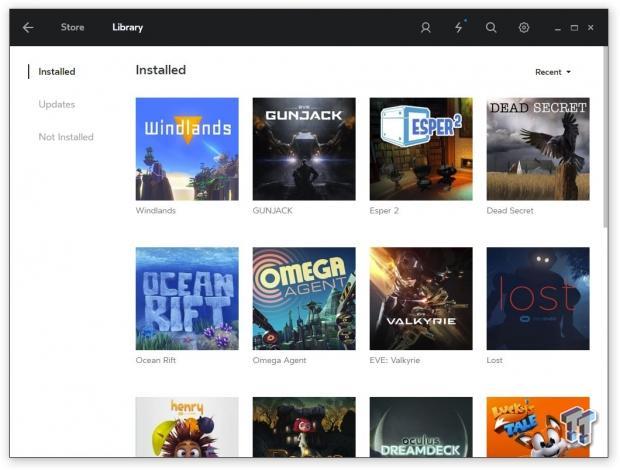 Tapping on 'Library' will display everything installed, games, and experiences that need to be updated, and games or experiences that aren't installed.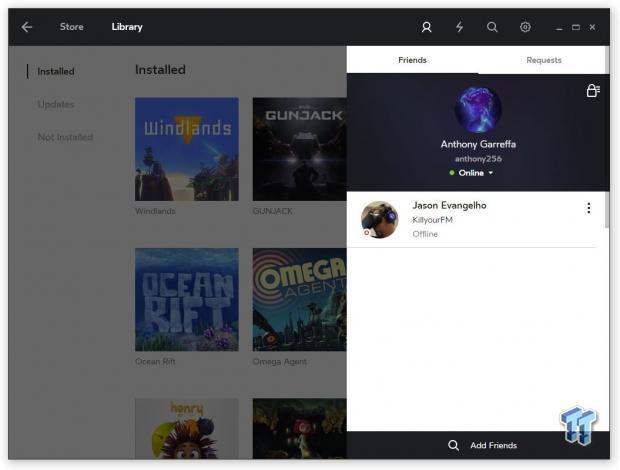 The first icon in the top right is your Friends list, and right now I only have Jason Evangelho from Forbes and Upload VR on my list. I'm a loner! Add me to your Friends list, Oculus owners!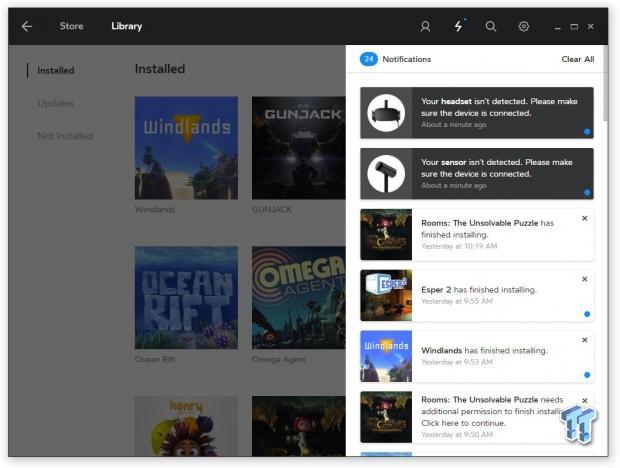 In the top right, the second icon across is your Notifications panel. Here, it'll let you know what's going on with your Rift - whether it's installed and working, and the games that have recently been installed, or updated.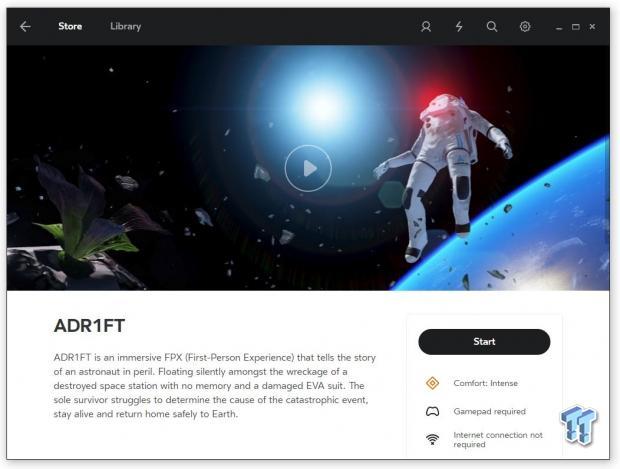 Here's what the landing page for a game looks like, with this example being ADR1FT.
First Impressions
After my first 24 hours or so with the Rift CV1, I've walked away impressed. There aren't any issues with it, but there's just not enough games or experiences to keep you sitting down with the Rift headset on your head for hours per day, multiple days per week.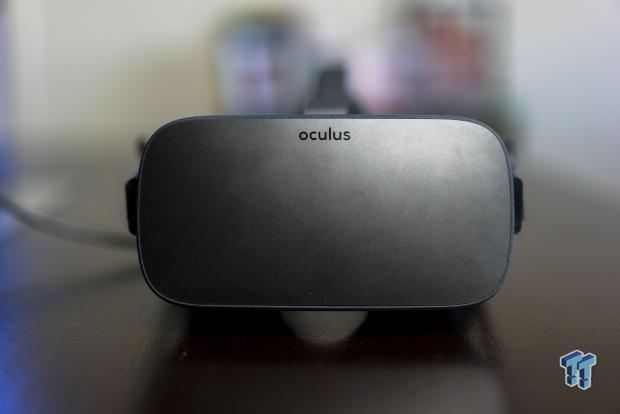 This has happened with most major console launches of the past few decades, including the NES, Genesis, Xbox, PlayStation, Xbox 360, PS2, PS3, and more. But, traditional games aren't what we want - we want those "oh my gosh" experiences in VR, and that's where some of the games and experiences deliver.
Overall, my first 24 hours with the Rift has been great. The Rift is light enough for hours of use without any signs of ache, and the built-in headphones are actually pretty damn great. I didn't think I'd enjoy the headphones this much, but I think this is going to be one area where Oculus sticks it to HTC - including the headphones on the VR headset itself.
Having the headphones on the Rift means no additional weight from a pair of headphones, which takes down the weight, considerably. Sure, third-party headphones could sound better, but they add to the cost, and to the overall weight of the headset, subtracting from the experience.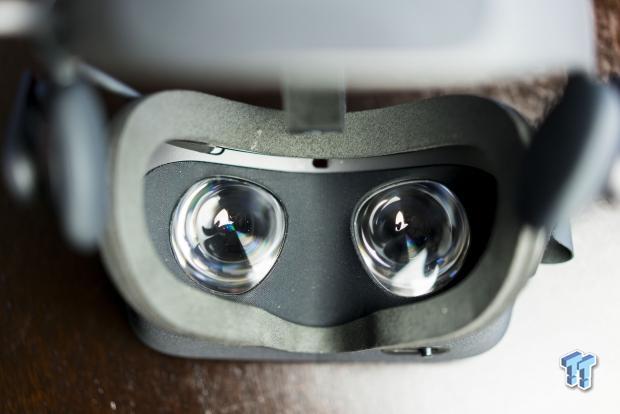 The smoothness of the 90Hz OLED displays is insanely impressive, with friends and family noting that there was a "huge improvement" over the DK1 and DK2 headset to the CV1 unit. The 90Hz refresh rate and OLED panels included in the CV1 are impressive, with it feeling as close to '1:1' with the real-world as technology allows today.
The packaging is great and oh-so-premium. It makes me feel confident in my $599 purchase and doubles as a carry case for me to tote it around with me to someone else's house. The included Xbox One controller is great, and so is the remote, but I would've definitely preferred the Oculus Touch controller - oh well, we'll have to wait until later in the year for that.
Friends, Family & Kids in the Rift & Wrap Up
My Daughters Adore the Rift
Even in the first few days of receiving my Rift CV1, I've put around 10 people through it, all with mixed, but great results. I'll break them down in a minute, as I only had time to get some quick impressions from everyone, but it was an awesome social experiment and something I'll be continuing in more detail going into the future.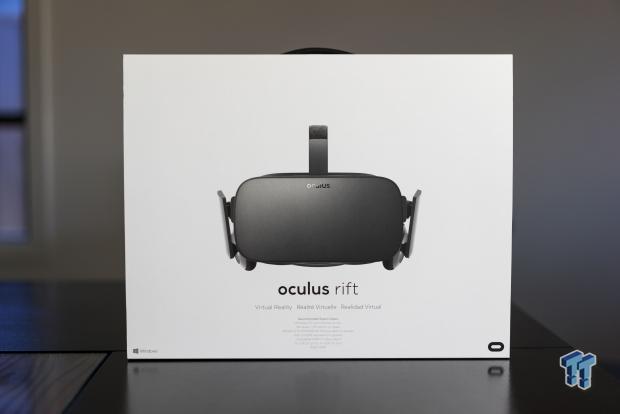 My mom: She's a 53-year-old retired nurse, with limited experience on VR headsets. She uses her laptop for social media, Netflix, and so on - but wouldn't know what CPU or RAM is inside of her PC. Previously, I've put her inside of the DK1 and DK2 units on the simple rollercoaster experiences, where she screamed out loud for three minutes straight. For the first time in the Rift CV1, I let her try out Epic Games' VR experience 'Showdown'. In Showdown, there's a huge robot shooting bullets and rockets at you in super slow-mo, but she loved it - totally simple VR experience and just a taste of things to come.
I then dumped her in the deep end with Dreadhalls, which is a VR horror experience, something that I love to play for newbies in VR. Once again, she loved it - but couldn't get used to the controller - so it was a slower experience. But that's OK, my niece was next, and I knew she'd be sh*t scared of Dreadhalls. If you could see me before I did this, I was rubbing my hands together with glee.
My 17-year-old niece: This was the big one for me, my 17-year-old niece, Alisha. She loves horror movies and TV shows but is someone who will freak out during them. I don't know why she puts herself through the pain, but she does - so this was my opportunity to throw her into Dreadhalls and scare the crap out of her. The result? I submit to you, a video of her freaking the hell out:
My 18-year-old gaming nephew: Corey, my 18-year-old nephew, is a gaming addict. He's impressively good at CS: GO, and can handle himself in virtually any game without an issue. He's a huge technology enthusiast, and couldn't wait to get his hands-on the Oculus Rift CV1. His favorite game so far has been EVE: Valkyrie, which is somewhat expected from me. EVE: Valkyrie does kick some serious ass, and is probably the biggest 'whoa, holy crap' showcase for the Rift so far.
My two-year-old daughter: Evelyn is so beautiful, she just wanted to be involved with everything about the Rift as soon as it was in the house. She's a huge fan of sharks... and we don't know why, but there's a VR experience for the Rift called 'Ocean Rift', so I purchased it and let her play around in it. Her experience was great; she loved it - as you can see from the video below:
My five-year-old daughter: Hey there, Delilah - no, really - her name is Delilah. My five-year-old daughter is right up with VR headsets, having played around with the DK1 and DK2 headsets, and has been excited about playing in the new Rift because I've been talking about it so much. I let her play around with Ocean Rift, and while she loved it, I could see she wanted something more engaging. So, I decided to download 'Henry,' an immersive short VR experience from Oculus Story Studio. It feels like a Pixar creation, but in VR - she loved it.
It's about Henry the hedgehog, who has no friends because everyone he gets close to, he hurts with his spikes. In the short VR experience, Henry makes a wish on his birthday for new friends - and gets them. Without spoiling it, there are some helium balloons which fly around the room, and with Henry being so immersive, Delilah physically reached out in the real-world to grab the balloons. The smile that I had on my face was completely worth it. My five-year-old daughter was immersed in that VR experience so much that she began to blur the lines between reality and VR. I can't wait for her to play around with more games and experiences.
My wife: Natalie, you've avoided me so far - but not for long. After dinner tonight (I'm writing this on a Saturday night at 4:30 pm), I'm making her sit down and test out the Oculus Rift. For dodging me so far, your first experience will be Dreadhalls; I promise you'll love it.
Wrap Up
Normally this is where I would type my 'Final Thoughts', but I'm not giving a final, definitive wrap up on the Rift CV1. This is going to be a very short wrap up because I'm only barely just barely scratching the surface on the Rift CV1 headset. It's an amazing piece of technology; that's for sure.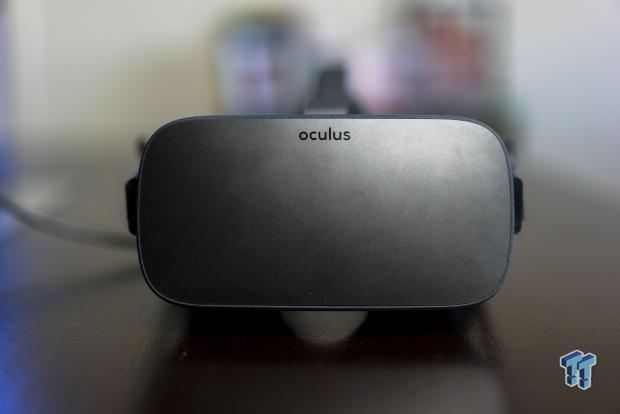 Oculus wins me over in so many ways, with the built-in headphones, the premium feel (from the box, all the way down to the beautiful fabric used on the Rift itself), the easy setup procedure, and the included Xbox One controller. The lack of the Touch controller is going to hurt Oculus when it comes to "do I buy the HTC Vive or Oculus Rift", which is a question I'll be asking myself throughout my articles on the Vive when it arrives, hopefully later this month.
For now, if you've been sitting on the fence about VR - don't. Get down from the fence and buy a VR headset - no matter what you purchase, you won't regret it.
PRICING: You can find products similar to this one for sale below.

United States: Find other tech and computer products like this over at Amazon.com

United Kingdom: Find other tech and computer products like this over at Amazon.co.uk

Australia: Find other tech and computer products like this over at Amazon.com.au

Canada: Find other tech and computer products like this over at Amazon.ca

Deutschland: Finde andere Technik- und Computerprodukte wie dieses auf Amazon.de
We openly invite the companies who provide us with review samples / who are mentioned or discussed to express their opinion. If any company representative wishes to respond, we will publish the response here. Please contact us if you wish to respond.