Intel adds new PCIe SSD's to help speed up those slow Clouds
Intel has some new products to help ensure that cloud data centers are capable of running as quickly as possible, and have introduced their 3D NAND.
Published Fri, Apr 1 2016 8:01 AM CDT
|
Updated Tue, Nov 3 2020 12:00 PM CST
Intel is on a roll after having introduced us, finally, to Broadwell-EP on the server-side, they're also introducing a number of new SSD products intended for use in data centers or in professional capacities. Two of these new SSDs are even packing Intel's own 3D NAND technology, available for the first time in any of their products.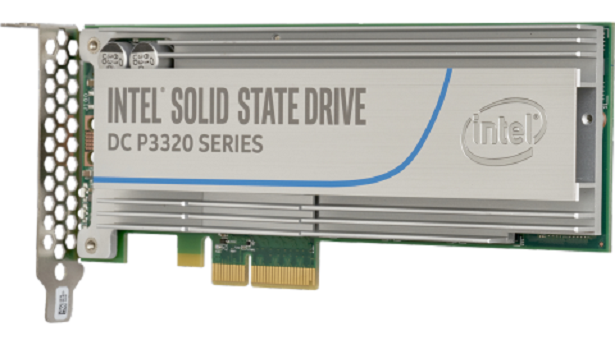 The DC D3700 and D3600 are being introduced to provide solutions for hot storage of data in the cloud, designed to run 24/7 for extended periods of time. They come bundled with MLC with HET (high endurance technology) and an NVMe 1.2 compliant controller that's capable of read speeds up to 2100MB/s and write speeds of up to 1500MB/s on the top-end D3600 device with a capacity of 2TB, and D3700 drive that has a capacity of 1.6TB. Sustain random read IOPS can be as high as 470K with write IOPS up to 95K on the D3700 and 30K on the D3500.
These SSDs will be offered in sizes of 800GB to 2TB with dual port 2.5" drives with U.2 connectors that support PCIe functionality. This means that unfortunately they aren't going to be backwards compatible with existing SAS or SATA connectors. If you want the highest endurance flash storage with these speeds, it'll be time to upgrade. The DC D3600 and D3700 drives also feature end-to-end data protection and power-loss data protection with self-test and thermal throttling and monitoring to make sure that they're as reliable as possible, or at the very least give you an indication when they're about to go.
3D NAND is exciting on many different levels, it gives greater endurance than is already seen in SLC or even MLC with HET, to the tune of several GB's of program/erase cycles, which translates into tremendous endurance over traditional methods. Intel is taking advantage of that fact by positioning the DC P3320 and P3520 as being perfect for any data center. They feature 32 layer MLC-based 3D NAND that's denser than the competition, able to potentially offer more storage in the future. The Intel/Micron cells put most of the CMOS logic underneath the NAND itself, leading to that smaller footprint.
These will be available in sizes from 450GB to 2TB, offered as either 2.5" drives with a U2 connector or as an HHHL PCIe x4 add-in card. They're capable of a maximum read speed of 1600MB/s and write speed of 1400MB/s. IOPS can be as high as 365K when reading and 22K when writing.
The controller on all the new drives wasn't mentioned, but it's possible that we'll see another homegrown solution from Intel themselves to better take advantage of the 3D NAND's capabilities. Endurance figures, while probably high, weren't mentioned in the press release.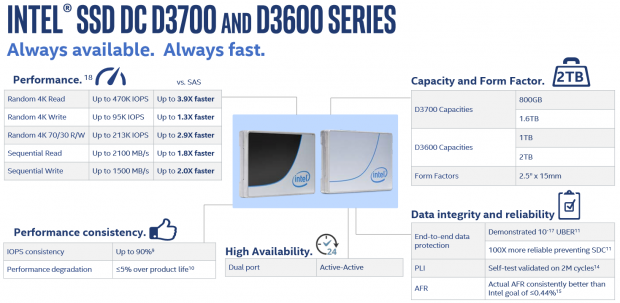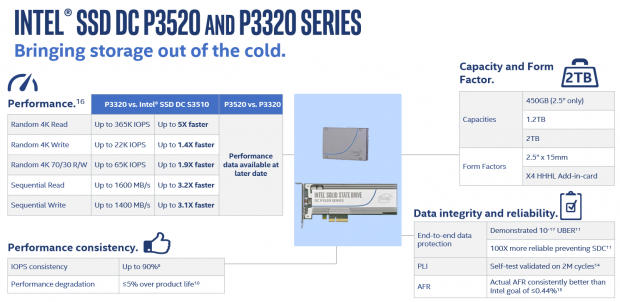 Related Tags