Micron unveils its own 3D NAND technology, finally going vertical
Micron has finally unveiled that their own 3D NAND technology is ready and should be in the first consumer drives very soon.
Published Fri, Feb 12 2016 5:00 PM CST
|
Updated Tue, Nov 3 2020 12:01 PM CST
Vertical NAND is all the rage, something that was initially released commercially by Samsung but is in development by the other manufacturers as well. Micron is unveiling their first generation of 3D NAND into the wild, ready to improve density, reliability and performance.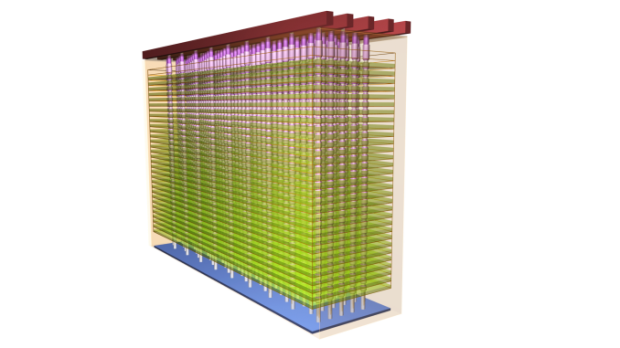 Samples of their own vertically aligned NAND were shown at CES this year, though they were playing a little coy with the details until things were actually finalized. And now those specifications are. Micron's first generation of 3D NAND will come in two flavors, a 256Gb MLC die and a 384Gb TLC die, and those are ready for manufacture it would seem, ready to be integrated into products coming out in the near future.
Interestingly, Micron has made some very significant advancements in how they package their NAND. In the past, the CMOS logic was packaged alongside of the actual memory die itself, but they've been able to place nearly 75% of the CMOS itself underneath the NAND array, similar to how HBM has localized the entire stack vertically. That innovation makes it more cost effective to manufacture.
Right now their first batch of NAND will be going into consumer level drives, so will be endurance rated for the slightly less demanding environments. Enterprise and data-center specific devices will come a little later. MLC will make it out before TLC, as the TLC-based stuff is going through the qualification process at the moment.
It's going to be a good year for SSD's as we look towards higher density, faster speeds and even better endurance with technologies like this from Micron. It's great to think that we might even be able to saturate a 32GB/s M.2 connection, with the proper SSD controller on-board, in the near future. Perhaps we'll need PCIe x8 connections or even x16 to properly utilize future SSD's.
Related Tags