AMD's next-gen Polaris and even the Vega set for 2017 spotted on Zauba
AMD's next-gen GPU set for 2017, Vega, has been spotted on Zauba.

Published Mon, Mar 21 2016 6:29 PM CDT
|
Updated Tue, Nov 3 2020 12:00 PM CST
The stars really aligned for AMD during the Game Developers Conference, with their Capsaicin event being a success. The company not only officially unveiled the Radeon Pro Duo (the dual-GPU based on the Fiji architecture) as well as a double down into VR and a tease of their GPU roadmap through to 2019.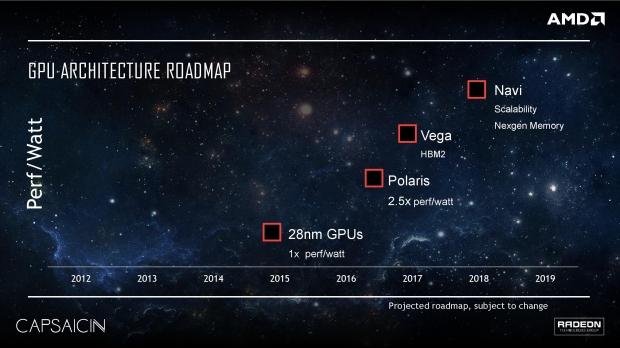 On the roadmap itself, we can see Polaris promising a 2.5x performance-per-watt over the current 28nm-based GPUs, but Vega is sitting above it waiting for a early 2017 release - and that's what we're reporting about today; Vega. AMD should begin playing around with Vega sometime this year, since it is being positioned for an early 2017 release and promising the use of HBM2 - which clocks in at 1TB/sec of memory bandwidth (up from 512GB/sec on HBM1).
Vega has been spotted on the Zauba database, thanks to the predictible nomenclature used by AMD. For their Hawaii XT boards, it was the C67101. Tonga was C76501, while Fiji XT was C88001. Now we have the new C9XXXX series cards flowing through, but we don't think they are Polaris boards. The Baffin XT GPU that was on Zauba was the C98101, which is a Polaris card.
But, we have the C94401 (Polaris 11), the C98101 (Baffin XT, but it should be Polaris 10) and then the C99398 (possibly flagship GPU, which could end up as the Polaris 10 or Vega 10). What we think though, is that this is the flagship Polaris board, which should arrive in the second half of this year.
I don't think we'll see anything Vega related from AMD until the end of the year, and with its release so close to the Polaris launch, Polaris will most likely be more of a mid-range card that will dominate in numbers - while Vega might fight off whatever the GP100 ends up being from NVIDIA, which I think is going to be a beast that will really be felt when it's announced - and that should be on April 4 at NVIDIA's GPU Technology Conference.
Related Tags