AMD's Capsaicin event sees the company focused on VR, next-gen GPUs
AMD doubles down on VR at its Capsaicin event during GDC, teases their GPU roadmap through to 2019.

Published Sat, Mar 19 2016 9:31 PM CDT
|
Updated Tue, Nov 3 2020 12:00 PM CST
GDC 2016 - AMD was all systems go at its Capsaicin event during the Game Developers Conference, unveiling its new dual-GPU video card, the Radeon Pro Duo. The company also talked about its massive commitment to VR, DirectX 12, its next-gen Polaris architecture, and more.
AMD was super confident during this event, where it had a fair amount of hands to play in its battle with NVIDIA. The laser-focused commitment to VR has me excited, as I believe that being a VR-focused company this early on, will only benefit Radeon Technologies Group, and AMD. The company has made partnerships with both Oculus and HTC, for the Rift and Vive, respectively. The company has gone all-in with VR to the point of having its own APU inside of a headset, partnering with Sulon for the Sulon Q headset.
With HDR-enabled TVs and video cards thanks to its next-gen Polaris card, the company had working 14nm at the show. The Radeon Pro Duo was on stage being used during the demonstration, requiring 3 x 8-pin PCIe power connectors to power the dual-GPU video card, rocking 8GB of HBM (4GB per Fiji GPU).
The company also talked about its next-gen cards, with Polaris noting a 2.5x performance-per-watt gain over 28nm GPUs, but AMD also teased Vega for 2017 and Navi for 2018. Vega looks like the big release from AMD, as it has HBM2 noted in the roadmap, while Polaris doesn't. I asked AMD if this meant Polaris wouldn't have HBM2, and that AMD would have HBM2 used on a video card when Vega arrives. But, AMD reiterated it would have a HBM2-based card in 2016.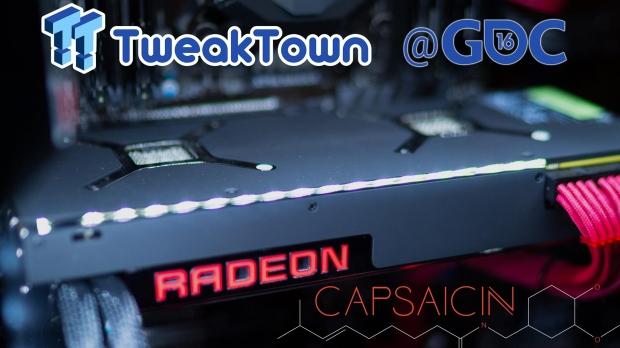 All in all, AMD hosted an excellent event - which was both informative and casual. Lisa Su, the CEO of AMD, came out on stage and used an air cannon to fire t-shirts into the crowd... I mean, come on - that's pretty cool, right?
Related Tags