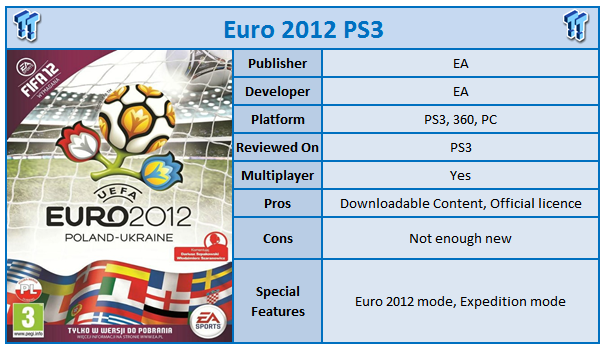 Every two years EA sports ships two football games in the one year (or in the case of the past twelve months, three if you include FIFA Street). It's either the World Cup Game or Euro game and it generally gives a sneak peek into what EA is working on for the next iteration of the formidable FIFA. So it seemed inevitable that EA would release a Euro game, but what has come as a surprise is the method of distribution. Rather than going down the retail path, EA has decided to release this as downloadable content for FIFA 12. It's something that many people have said EA should have done long ago with many of its sports franchises, to save costs and consumer angst. However this experiment hasn't completely gone to plan.
Once installed, Euro 2012 becomes a new option in the FIFA 12 main menu and when selected kicks off what looks to be an entirely different game. The game includes the modes you would expect such as the official tournament, an exhibition mode and playing multiplayer. However one of the more easy arguments against Euro and World Cup games in the past has been their limited replay value and longevity. EA has countered this with a brand new mode known as Expedition.
In one of the more intriguing additions to the FIFA world for quite some time, you begin with a custom team in Expedition mode made up of reserve players from numerous nations in the European zone. You do get to pick a captain who is generally a top player, but from there you need to beat the European teams to build your squad. As you beat teams, you can build 'roads' between nations to take new teams on and also you can take their players to better your team. There is 53 teams included to take on which obviously extends the games life significantly.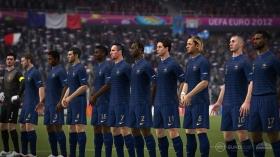 Aside from Expedition the main mode is obviously the tournament itself. The official squads and stadiums are included as well as imagery. The entire front end of the game has been overhauled for Euro 2012 with both positive and negative results. For some reason EA has made some quirky changes such as the fact you cannot see what injury a player has incurred when they get hurt. Instead just a band aid appears. And really aside from the trophy and tournament, you could build this tournament very easily in FIFA 12 and be happy with that. The only difference is the official teams and kits are included when licenced. The squads will be updated as the tournament approaches as well, with an English team update already available.
Being DLC has limited EA in what they can do to the game for example. As mentioned before, generally the World Cup game and Euro games have given an indication of what the focus is for the next FIFA. Not this time around, and it's a shame. Euro 2012 is more a total conversion of FIFA 12 rather than a brand new game and this leads us to wonder when playing, why we aren't just playing the sublime FIFA 12. We were strongly positive when EA announced it would be DLC, but we have to wonder if the limitations have been worth it.
[img]2[/img]
There is a few other decisions made that seem puzzling. For example, not all 53 teams are officially licenced. The powerhouse teams are such as England and Germany, but other popular squads including Wales and the one of the co-hosts Ukraine are not and include fake names. It seems amazing that gaining the official licence didn't allow EA to access the official names and teams, but it appears not the case. This is in stark contrast to the World Cup game that arrives every four years. Also the game includes new commentators for the English audio and they sometimes mention leagues and points talking about long term ambitions. In the Euro finals there is no real league, it's a tournament and so this is very jarring to hear and obviously a carryover from previous games.
Aside from these changes the game feels a lot like FIFA 12. You have to have the FIFA 12 disc present to play the new DLC and we just can't help wondering when we play this DLC why we are not playing FIFA 12. There is not enough of a change this time around to leave FIFA 12 in the dust and focus on UEFA Euro 2012. It's a real shame that EA's first attempt of trying to provide updates via DLC instead of retail code has been a mixed success. Hopefully they keep attempting it, because this first one, is a failure. One for the true football fan only.