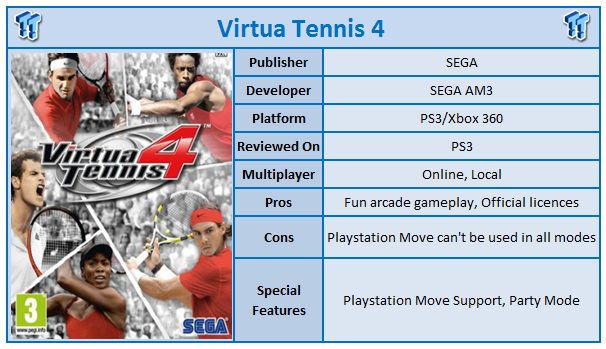 Virtua Tennis has always been one of those games that brings a smile to gamers faces. Many hours were ploughed into Dreamcast systems hitting a ball back and forth over a virtual net and it was one of many great reasons to own that system. This generation we have seen Virtua Tennis 3, which tried a few new things that in our eyes didn't work. So SEGA went back to the drawing board and has now released the fourth iteration of the series. Thankfully for SEGA, it is a clear return to form and Virtua Tennis is one of the better sports games around and probably the best tennis game, as long as you can deal with its wacky side.
Virtua Tennis 4 contains the main modes you would expect such as Exhibition and World Tour, but with a few twists. There is also the opportunity to partake in an Arcade mode where you play in various tournaments until you lose (or win them all). As the name implies, this very much mimics an arcade system style of play and on the harder difficulty settings it offers quite a challenge. The great thing about this mode is that it is a good introduction allowing you to play one of the pros featured in the game without having to deal with building a character up.
The main mode of the game once again, however, is World Tour. In this mode you take a new character through to the professional circuit and hopefully winning some major tournaments. However, in the fourth edition there is a few twists. First of all, you are allocated tickets which set how far you can move in the next turn. Think of the world as a board game, and the player moves around the board. These tickets mix things up, because it means you can't necessarily just train and then go and beat everyone.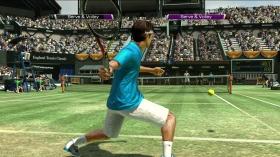 For example, if the next spot along is training, but you only have a '2 or 3' ticket, you won't stop on the next space. There are points in the game where you can buy tickets to have, but overall it makes the game quite random and in many ways represents the potential pitfalls of the professional tour well. You also need to manage your off court reputation by donating money to charity or attending fan days. These earn you stars, and it is stars which get you into the bigger tournaments.
We mentioned before that the game has a wacky side and this comes to the fore in the World Tour mode, especially in the training. We can't imagine the top players in the world picking up chicken eggs and running around the court to improve, but that's what SEGA is asking you to do. It reminds you that this is a video game and that isn't a bad thing. Virtua Tennis has never taken itself overly serious and this is where that facet shines through once again.
As you would expect, SEGA has licensed a number of the world's top players into the game, but there is also a few notable inclusions of lesser known names. Rafael Nadal, Roger Federer and Andy Murray make an appearance, as does Ana Ivanovic, Caroline Woznyacki and Maria Sharapova. Six of the world's biggest names in tennis right now and it gives the game a high level of authenticity. It's just a shame that the graphics let them down so much.
In not much of a surprise, the game also supports the PlayStation Move controller which follows on from Virtua Tennis 3's motion control system. However, in a disappointment you cannot use the motion controller in the World Tour mode.
[img]2[/img]
As well as this, the game takes it even further down the party path with a mode designed for groups of friends which is funnily enough called Party. In Party you play with friends in mini games, some of which are modified from the single player training mode in the World Tour. The mini games include Royal Poker where you need to hit cards on the other side of the court to build poker hands, and Pin Crusher which is like a hybrid of tennis and ten pin bowling and the players serve replaces the bowling ball. This adds another level of gameplay to Virtua Tennis 4 making it also a good multiplayer game. The game can also be played online and SEGA has a world ranking leaderboard setup as well.
[img]3[/img]
The character models in the game are not good at all. They look like SEGA stole a bunch of busts from the wax museums of the world and included them in the game. Even when sweat is dripping on the players throughout the match (a nice touch), they never seem more than wax figures. Combine this with the fact that even in HD the graphics don't impress, it's a real let down.
Where the game picks up in this aspect, however, is the views you can select. You can play from a TV style top down camera or behind the player with the latter offering a quite interesting perspective.
While Virtua Tennis 3 wasn't a bad game, it didn't really impress us. Virtua Tennis 4 has changed all that. The fact you can't use the motion controller in all the game modes is a real disappointment and perhaps it could have used a bit more time in the oven, however, with that aside Virtua Tennis 4 is the best tennis game we've seen so far this generation and has a good balance between realism and arcade gameplay.