Building a DIY All-in-One PC with GIGABYTE's H77TN Thin Mini-ITX Motherboard
The All-in-One PC is going to be a big part of computing in the coming years. We take our first look at building one DIY style with GIGABYTE's brand new H77TN Thin Mini-ITX motherboard.
Published
17 minute read time
Introduction and Package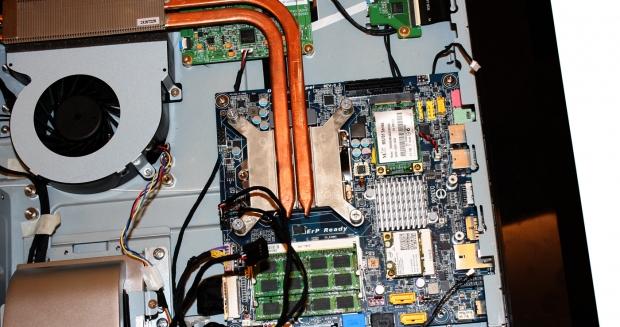 At the beginning what we were going to do with our first DIY AIO PC was a little unknown. GIGABYTE has introduced a new motherboard for the latest PC category in the form of the H77TN - a Thin Mini-ITX motherboard designed for All-in-One systems. With this being new to us we're just kind of going with the flow today. The board itself doesn't have a full package and the manual hasn't even been completed yet by GIGABYTE at the time of writing.
The AIO segment is going to become bigger and bigger as time goes on and the DIY aspect of it is going to be interesting as we see some companies offer motherboards for the platform and others offer chassis. Alongside the H77TN motherboard from GIGABYTE, we've also got a MiTAC Maestro 770 chassis.
What we're going to do today is have a look at both items, but more so cover the experience on a whole. There seems to be plenty to focus on with the first part of the whole process being the build. It's the first time we've built an AIO PC and with no manual, we're kind of just winging it. With a few years of PC building experience under the belt, though, I should be fine. But what is the process like? There tends to be nothing worse than working in a small system and you really can't get much smaller than an AIO PC.
The other big thing we need to cover is the user experience. I've had a play here and there with Windows 8 and continued to find myself disappointed with it. This time around, though, we've got a multi-touch screen. Will I finally get myself a decent Windows 8 experience?
We'll do a little bit of benchmarking to give you a bit of an idea of what kind of performance you can expect. Most of the focus in this area, though, will be on the CPU side of things, as we expect little to happen when it comes to the gaming side of things. The first thing we're going to do is take a closer look at the motherboard GIGABYTE has given us. We'll cover some of the main features and some of the components you'll need to get up and running. Once we've done that we'll take a closer look at the MiTAC Maestro 770 chassis.
Once we've covered both those items we'll then move onto the build process, and cover how easy or hard it was, and any problems we ran into. You know, all that kind of fun stuff before we finally get around to installing both Windows 7 and Windows 8 on the device. Then we'll cover the touch aspect of the unit, and run a few benchmarks before finally wrapping up our experience.
GIGABYTE H77TN Motherboard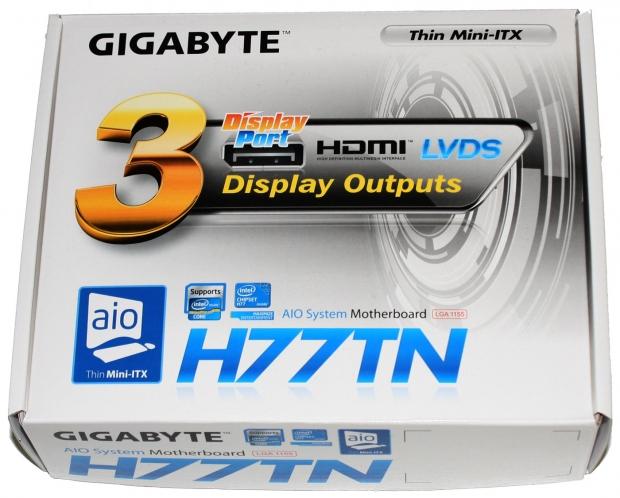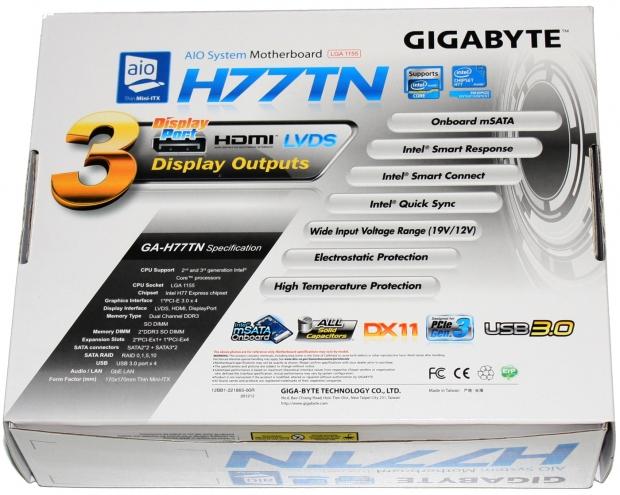 With the board being so small it comes as no surprise that the box is kind of limited when it comes to information. The front of the box gives us a few details with the main highlight being the Display Output options. The back goes onto to list some of the specifications while some of the main features are shown on the right hand side of the box.

Apart from the motherboard itself, when we dive inside the box, we only have an I/O panel. This is quite an early sample and at the time of writing the manual hadn't been completed, nor had the driver CD. We're not 100% sure on the final bundle, but considering the nature of the board, it's probably not going to be huge.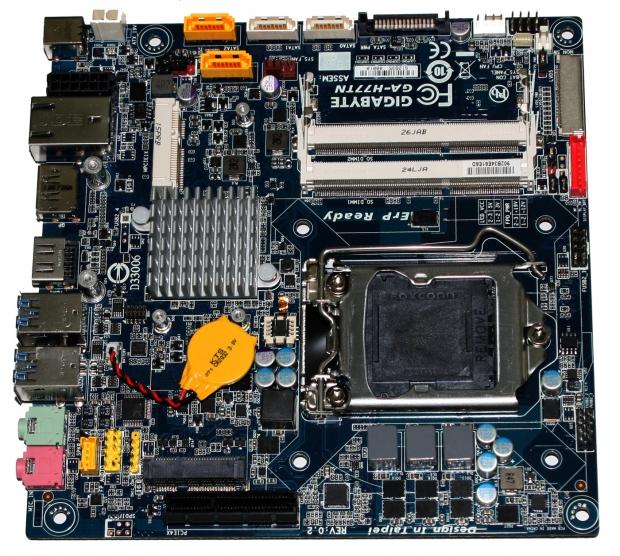 Coming in at just 17cm x 17cm there seems little point zooming in on the board to take pictures as you really can see everything fairly clearly. With Thin Mini-ITX being a new standard from Intel, there are a few things that differ from standard Mini-ITX motherboards. One is the location of the CPU socket which has to be in the same position to accompany a standard heatsink mount inside an AIO Chassis. With a heavy focus being on thin, you can that the standard ATX power connector isn't included, instead you can see in the top right a thin silver header that is used for power.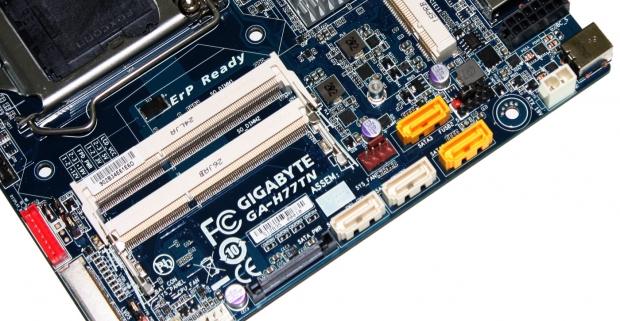 Having a look towards the top of the motherboard you can see starting from the left we've got a SATA power connector and next to that a total of four SATA ports. This comes in the form of two SATA II connectors that are white and two SATA III connectors that are orange that all run off the H77 chipset. Also around here you can see a fan header along with a USB 2.0 header. Finally the other piece that stands out is a small 2-pin CPU connector. We didn't need to use this as the chassis didn't actually have the plug.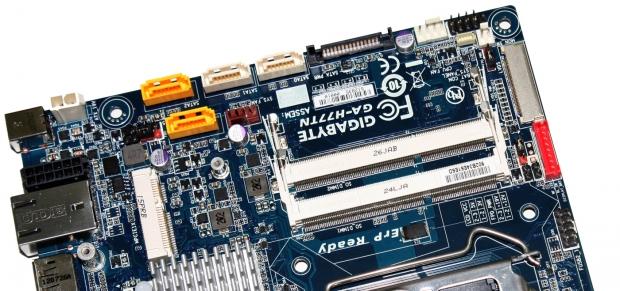 Staying around the same area you can see we've got two memory slots in the form of SO-DIMM slots - again to keep the overall height of the board and its components to a low height. They're able to support up to 8GB of DDR3 ranging from 800MHz DDR to 1600MHz DDR. Also around this area you can see a Mini PCIe x1 slot.
Heading towards the other end of the motherboard you can see we've got a single PCIe x4 slot. We're not quite sure what you can use in it due to the system being so small, but no doubt as the standard becomes more and more known, we'll discover more uses for it. Also just above that you can see we've got an mSATA slot.

As far as the board goes we finish off in the I/O department and you'll notice here how thin in height it is compared to regular ATX motherboards. On the far left we've got a point for our power adapter that comes included in the package of the MiTAC unit. Next to that we've got Gigabit networking via the Realtek chipset followed with DisplayPort and HDMI for video out options. We finish up with four USB 3.0 ports running off the H77 chipset along with a line in and microphone out port running off the Realtek ALC887.
MiTAC Maestro 770
The MiTAC Maestro 770 at first glance isn't bad looking. I'm not too sure what to expect when it comes to an AIO and a certain level of sexiness. It's probably safe to say that Apple has kind of set that bar with the current crop of iMac's. The Maestro 770 isn't ugly, but it's not exactly gorgeous either. It feels industrial - solid and sturdy are two words that jump to mind straight away.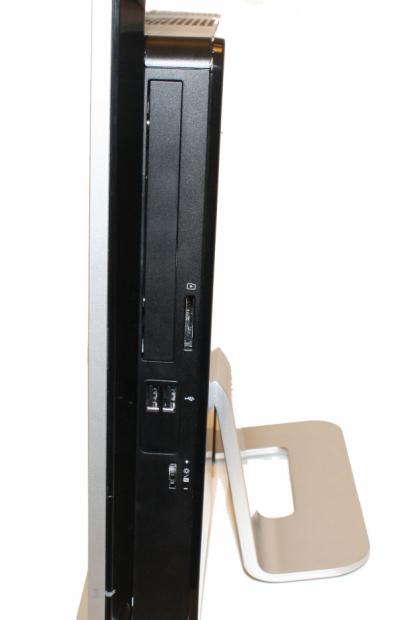 On the right hand side we've got a slot for a slim ROM drive along with a card reader, two USB 2.0 connectors and a switch that lets us adjust the brightness and contrast of the screen.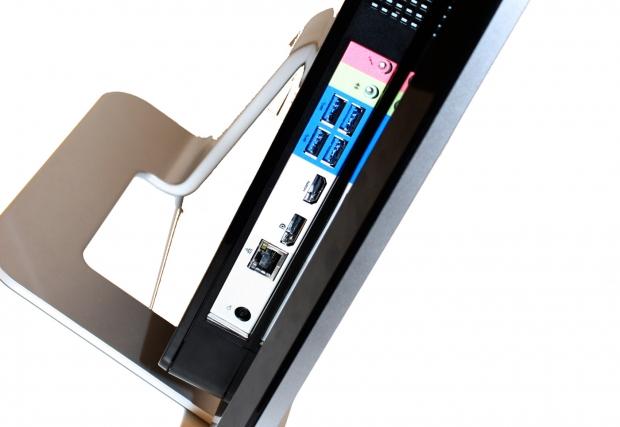 Jumping over to the other side we've got the back of our motherboard where the I/O panel is visible.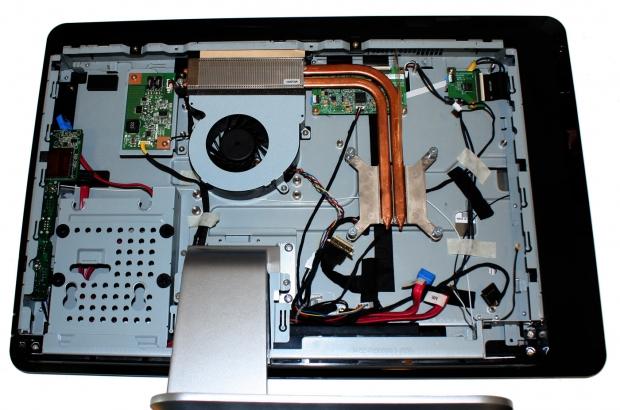 If we flip over the unit and open up the back we can see what's going on. Of course we're dealing with a DIY setup here, and as you can see, the motherboard needs to be installed. We get an idea of the cooling setup, though, and some of the connectors.
Before we get into the building side of things there's a few things we need to cover on the specification side of the Maestro 770. The screen comes in at 21.5" and supports the Full HD 1920 x 1080 resolution making for a pretty sharp image thanks to the IPS panel used. Also on the front we've got a 1MP HD 720p webcam for your video chatting pleasure.
From an audio point of view we've got two five watt speakers that do a "good enough" job for stuff like YouTube and that sort of thing. Don't expect the neighbors to complain about the bass.
One of the biggest features would no doubt be the 10-finger touch support that's offered along with the proximity sensor. The touch design of course makes it super appealing to Windows 8 which was designed with touch in mind. Finally one of the other main features is the 100 x 100 VESA mount support, which is super appealing from a touch perspective.
The Build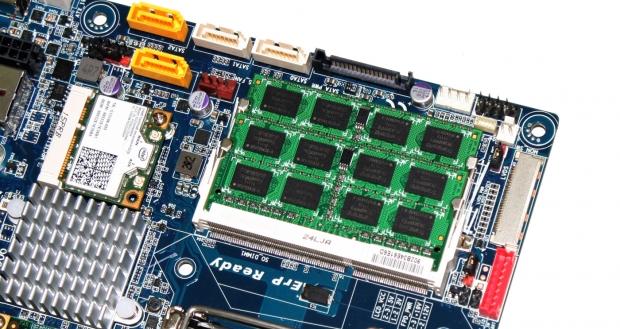 Before we installed the H77TN into the MiTAC Maestro 770 we had to install a few components into the motherboard itself. We filled the two SO-DIMM slots with a pair of 1333MHz DDR 4GB modules giving us a total 8GB of RAM.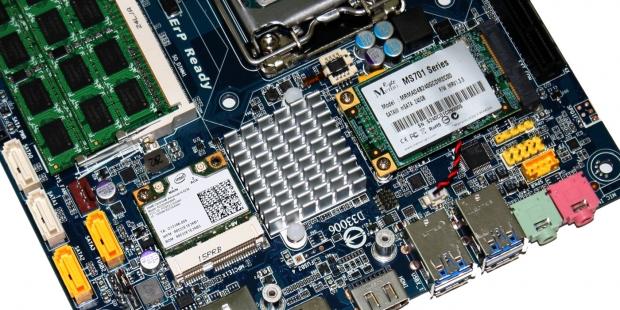 Along with the RAM we also installed a Centrino Advanced-N 6230 WiFi card to add wireless connectivity along with a 240GB MemoRight MS701 mSATA drive. The large capacity of the drive meant that we were able to get away without the need to install a standalone SSD drive, which was awesome.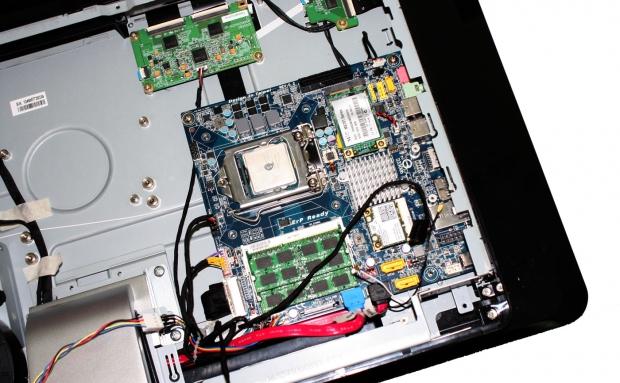 Once that was done we grabbed our beloved Intel Core i7 3770K CPU and installed it into the motherboard and then placed it inside the MiTAC Maestro 770 before applying thermal paste. At this point everything was going pretty smooth. Considering that we're dealing with quite a small chassis and no manual, everything was really going better than I thought it would.
With our CPU installed it was time to reinstall the heatsink, which was super easy. The first thing we did was remount the heatsink with the dual copper pipes coming out the top. A total of five screws hold this in with one towards the back and the four main ones that go over the CPU itself. Then we remounted the fan with its three screws.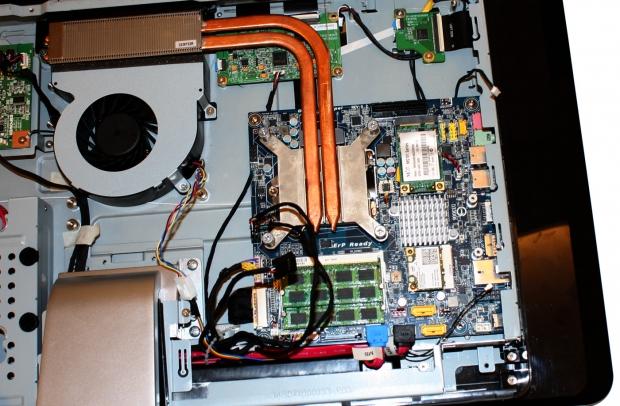 With that installed it was just a matter of plugging in the necessary cables to get up and running. The lack of labeling on them was quite annoying, but the early nature of the sample means that this doesn't come as a huge surprise. One mistake we made originally is we didn't have the touch-screen panel plugged in. It's like a USB 2.0 header, but instead of being a single piece, it's two pieces.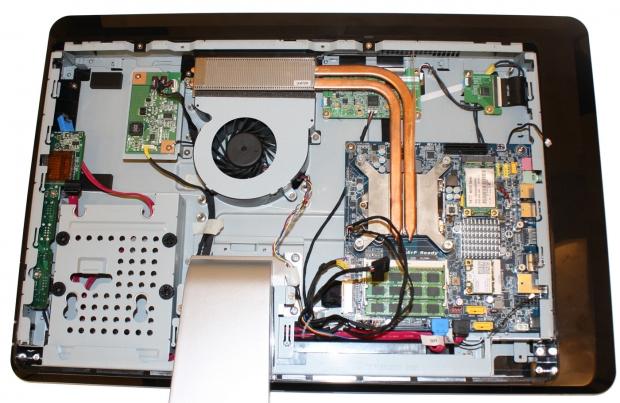 The good news is the unit is so easy to deal with when it comes to installing. While indeed thin, it's just a huge flat open surface that makes the whole process an absolute breeze. Everything is just held in with screws and with the help of our trusty electric drill, the whole build took no time at all to get done.
Software Install and Usage
We were fortunate enough to have quite a large mSATA SSD drive on hand (240GB MemoRight), so we decided to just install Windows 7 directly to that instead of the need to install a separate SSD like we would normally. The main reason for choosing Windows 7 was because it continues to be our operating system of choice and for benchmarking it's the best option. It wasn't until we installed the system that we realized we were dealing with a touch-screen capable device.
With that discovered we headed into Windows 7 and split our drive into two 100GB partitions and installed Windows 8 to the free partition. Both operating systems were installed from a USB drive and installation was flawless.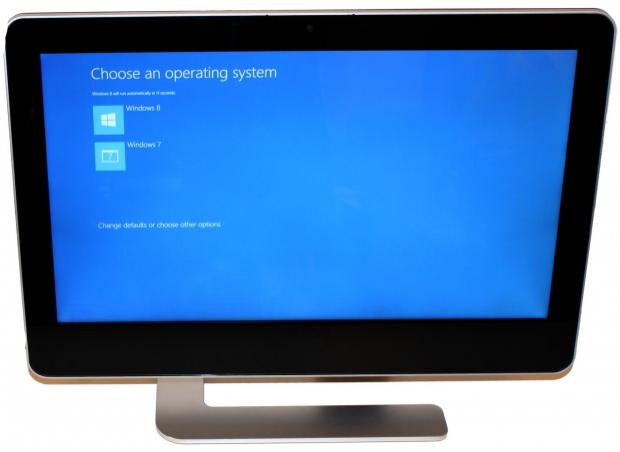 The main difference in the install process was that under Windows 7 we had to install a few drivers once we got in including the normal chipset one and one for the HD 4000 graphics on our Intel I7 3770K CPU. Under Windows 8 on the other hand, once we got into the OS, everything was running perfectly as stock. Both operating systems had no issues with the touch-screen and that worked straight away.
Using the touch capabilities under Windows 7 and Windows 8 is like night and day. You can see one operating system is clearly designed with touch in mind. Touch works fine under Windows 7, don't get us wrong, but you move into Windows 8 and you can clearly see you're dealing with an operating system that has touch in mind.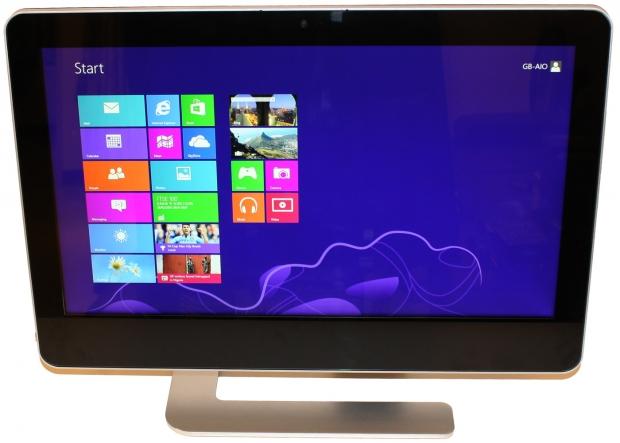 For the first time I found myself really enjoying Windows 8. I'm not delusional to the fact that it could be a novelty thing more than anything else. Touch function can't replace the keyboard and mouse at the moment. You simply can't type as fast on the touch keyboard making serious work on it as a sole platform almost impossible for someone that needs to type as many words as I do.
Finally getting to use Windows 8 the way it's meant to be has really brought me to a certain level of fondness for the new operating system. The operating system is seriously crippled when used with just a mouse and this is really Microsoft's fault. The more I use Windows 8 and the more I use this AIO PC, I find that it could play a greater part in my life, but it could not replace my main PC.
Benchmarks - Test System Setup
The first thing we did was fire up AIDA64 CPUID and make sure everything was looking right.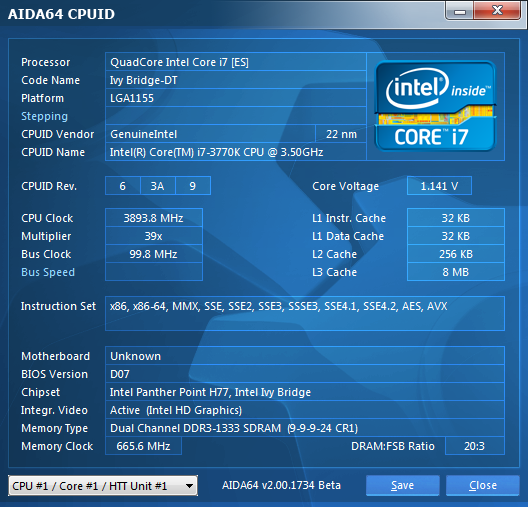 Looking above you can see our 3770k is running at 3.9GHz via Turbo and the 8GB of DDR3 SO-DIMM is running at 1333MHz DDR in Dual Channel with a timing setup of 9-9-9-24-1T. It's lower than what we'd normally run our RAM at, but still a decent enough speed, considering the system we're dealing with today.
We can compare this AIO system against our normal testbed in a number of ways since we're using the same CPU. Of course there are some key differences between our normal testbed and our AIO system here today.
The big one is probably the lack of discrete graphics card. Whenever we test a motherboard it's always with our MSI GTX 580, and that's not an option today. We're also using 8GB of RAM instead of 16GB, which is also running at a slightly lower speed. Finally the other main difference is the storage option. Normally we run our Corsair Force GT SSD on a SATA III port. Today our MemoRight mSATA SSD, while being a SATA III drive, is only running on SATA II connectivity due to a limitation of the motherboard.
CPU Benchmarks
HyperPi 0.99
Version and / or Patch Used: 0.99
Developer Homepage: www.virgilioborges.com.br
Product Homepage: www.virgilioborges.com.br
HyperPi is a front end for SuperPi that allows for multiple concurrent instances of SuperPi to be run on each core recognized by the system. It is very dependent on CPU to memory to HDD speed. The faster these components, the faster it is able to figure out the number Pi to the selected length.
For our testing we use the 32M run. This means that each of the four physical and four logical cores for the i7 and the four physical cores of the i5 is trying to calculate the number Pi out to 32 million decimal places. Each "run" is a comparative to ensure accuracy and any stability or performance issues in the loop mentioned above will cause errors in calculation.
AIDA64
Version and / or Patch Used: 1.00.1035BETA
Developer Homepage: http://www.aida64.com
Product Homepage: http://www.AIDA64.com
Replacing Everest in our labs is AIDA64. This new testing suite is from the core development team from Lavalys and continues that tradition. The guys have thrown in better support for multithreaded CPUs as well as full 64 bit support. We use this to test memory and HDDs for now, but may find ourselves opening this up to other areas of the motherboard.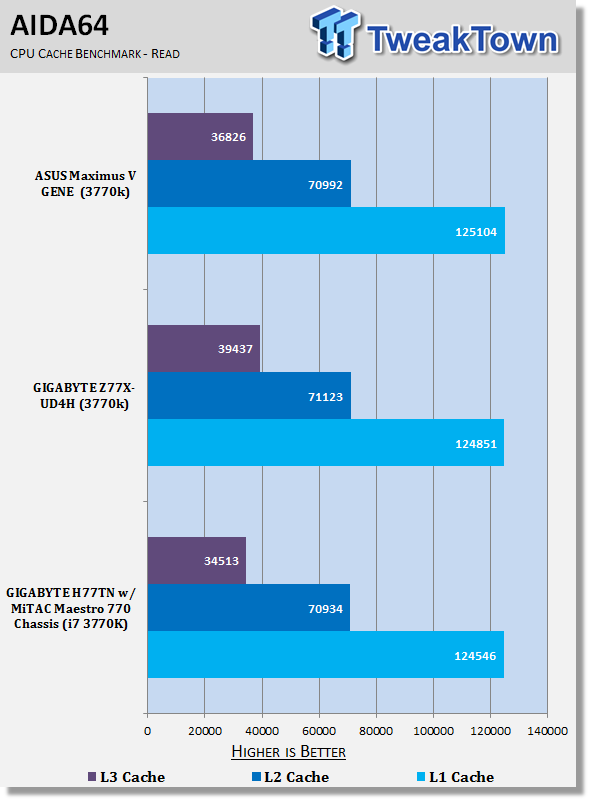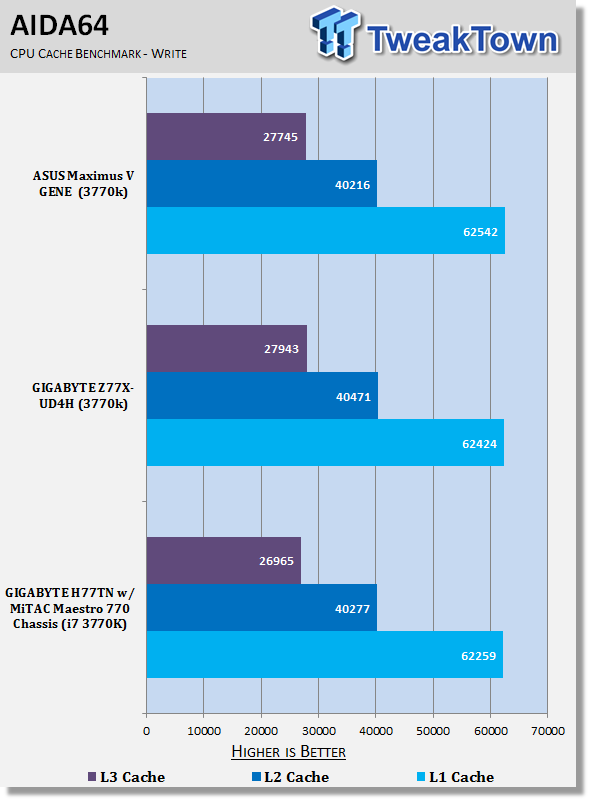 HyperPi performance is strong and lines up with the Z77 options. We thought it would be a little slower due to the reduced RAM speed, but as you can see above, there's little difference between all three setups.
AIDA64 CPU numbers also look good. L3 speeds in both read and write are slightly down, but apart from that, our numbers line up fairly evenly.
System Benchmarks
PCMark 7
Version and / or Patch Used: 1.04
Developer Homepage: http://www.pcmark.com
Product Homepage: http://www.pcmark.com
PCMark 7 includes a range of tests that give different views of your system's performance. In the Advanced Edition you can choose which tests to run. The common use and hardware component tests are unavailable in the Basic Edition.
Overall system performance is measured by the PCMark test. This is the only test that returns an official PCMark score. The Lightweight test measures the system capabilities of entry-level systems and mobility platforms unable to run the PCMark test, but it does not generate a PCMark score. Common use performance is measured by the scenario tests - Entertainment, Creativity and Production - each of which results in a scenario score. Hardware component performance is measured by the hardware tests - Computation and Storage - each of which results in a hardware score.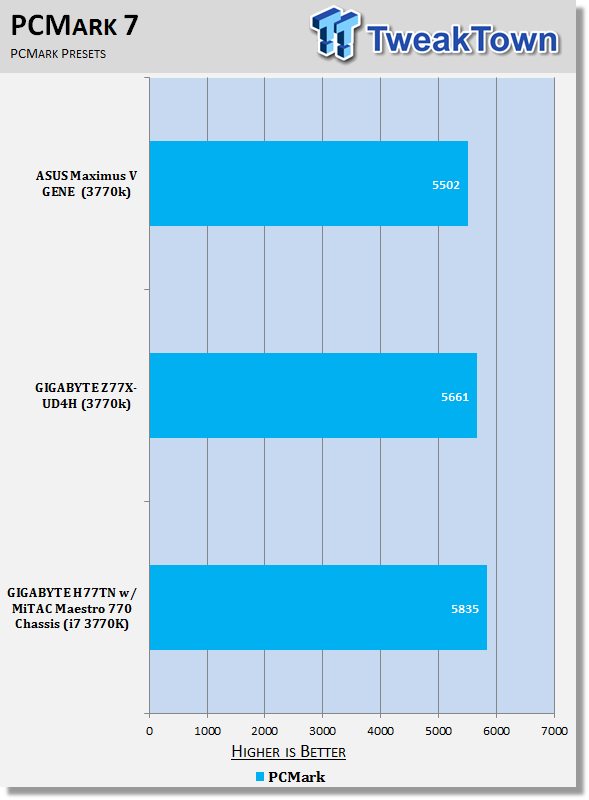 MediaEspresso
Version and / or Patch Used: 6.5
Developer Homepage: http://www.cyberlink.com/
Product Homepage: http://www.cyberlink.com/products/mediaespresso/overview_en_AU.html?fileName=overview&r=1
MediaEspresso is a blazingly fast media universal converter that can transcode your videos, photos and music files and out put them to a huge range of portable devices including mobile phones, portable media players and even game consoles. With technologies like Smart Detect, Direct Sync and CyberLink's TrueTheater™ video enhancements, you can not only forget about complicated format, resolution and output settings, but your converted file will come out the other side looking better than when it went in!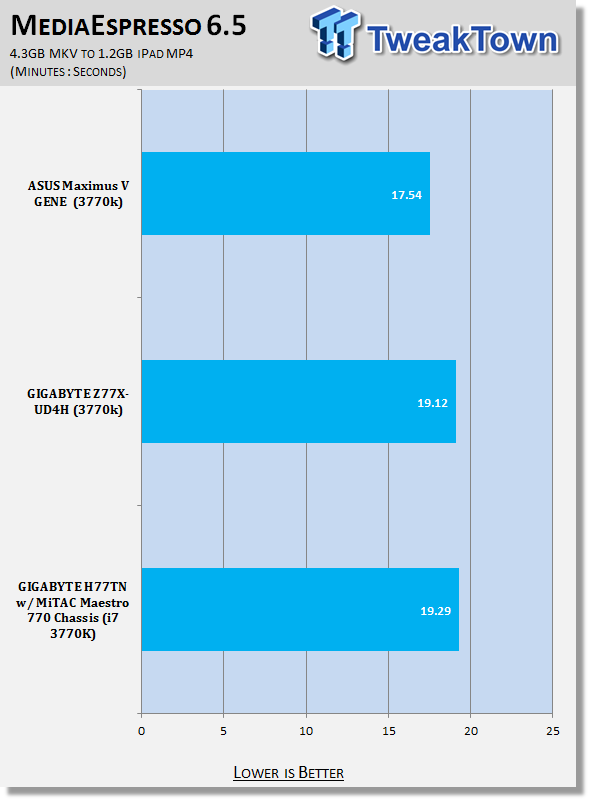 PCMark 7 performance is really strong, you can actually see our AIO comes out slightly ahead here of the competition. MediaEspresso on the other hand is a little behind. We're not far behind the GIGABYTE Z77 option, but around 90 seconds slower than the ASUS option.
Still, though, the performance is very strong considering the smaller nature of the system.
SSD / mSATA Benchmarks
AIDA64
Version and / or Patch Used: 1.70.1400
Developer Homepage: http://www.aida64.com
Product Homepage: http://www.AIDA64.com
Replacing Everest in our labs is AIDA64. This new testing suite is from the core development team from Lavalys and continues that tradition. The guys have thrown in better support for multithreaded CPUs as well as full 64 bit support. We use this to test memory and HDDs for now, but may find ourselves opening this up to other areas of the motherboard.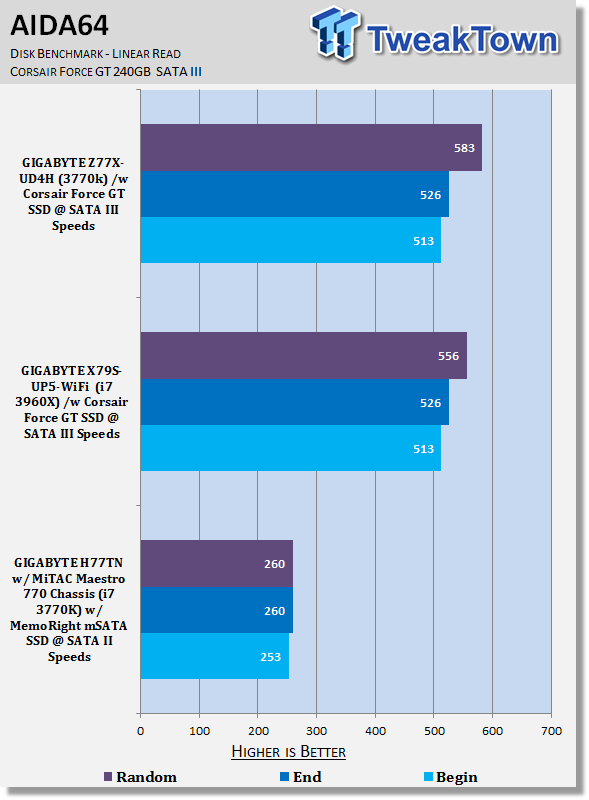 HD Tune Pro
Version and / or Patch Used: 4.61
Developer Homepage: http://www.hdtune.com
Product Homepage: http://www.hdtune.com
HD Tune Pro gives us accurate read, write and access time results and for the last couple of years has been gaining popularity amongst reviewers. It is now considered a must have application for storage device testing.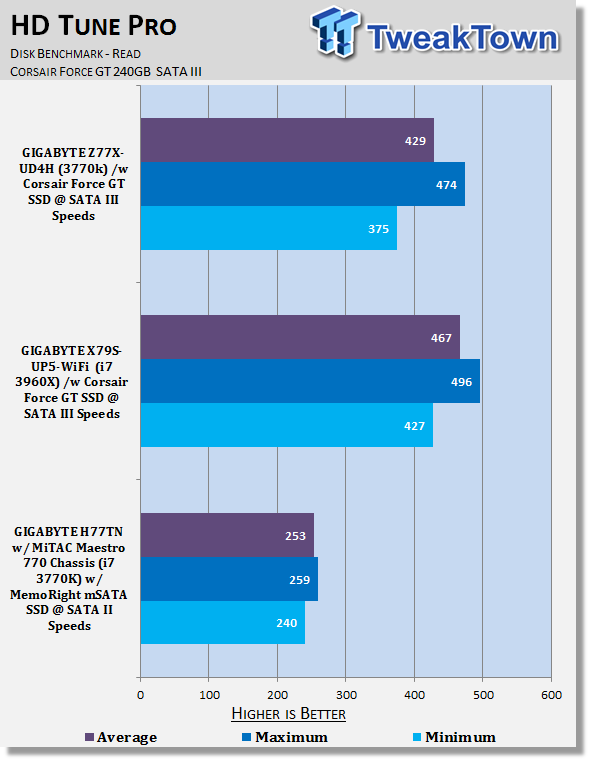 When it comes to performance of our installed drive we knew it would fall back due to the fact our MemoRight drive, while being SATA III based, is only connected via SATA II.
Memory Benchmarks
AIDA64
Version and / or Patch Used: 1.00.1035BETA
Developer Homepage: http://www.aida64.com
Product Homepage: http://www.AIDA64.com
Replacing Everest in our labs is AIDA64. This new testing suite is from the core development team from Lavalys and continues that tradition. The guys have thrown in better support for multithreaded CPUs as well as full 64 bit support. We use this to test memory and HDDs for now, but may find ourselves opening this up to other areas of the motherboard.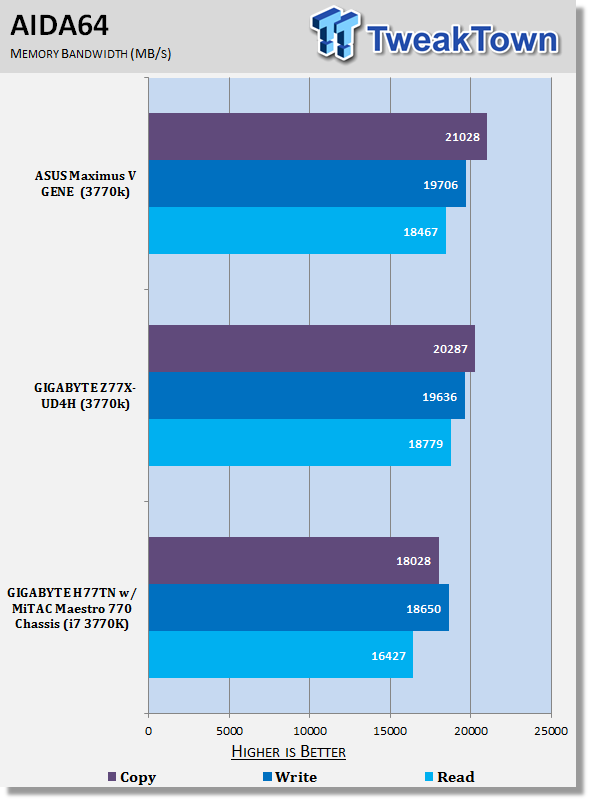 Memory performance as you'd expect is a little behind due to the lower speeds, but really it's not too far back at all. Overall the numbers still look good, which is indeed impressive.
Gaming Benchmarks
3DMark 11
Version and / or Patch Used: 1.0
Developer Homepage: http://www.futuremark.com
Product Homepage: http://www.3dmark.com/3dmark11/
3DMark 11 is the latest version of the world's most popular benchmark. Designed to measure your PC's gaming performance 3DMark 11 makes extensive use of all the new features in DirectX 11 including tessellation, compute shaders and multi-threading. Trusted by gamers worldwide to give accurate and unbiased results, 3DMark 11 is the best way to consistently and reliably test DirectX 11 under game-like loads.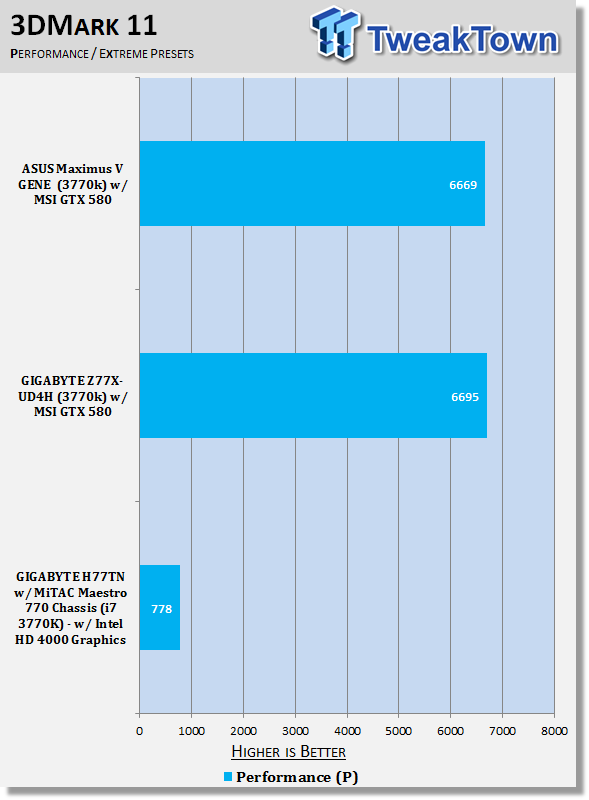 It comes as no surprise that the 3DMark 11 score for this DIY AIO is extremely low. You really can't compare the Intel HD 4000 series graphics to a standalone video card, much less one like the GTX 580.
It helps give you an idea of where we stand in 3DMark 11, though, nonetheless.
Temperature and Power
Power Consumption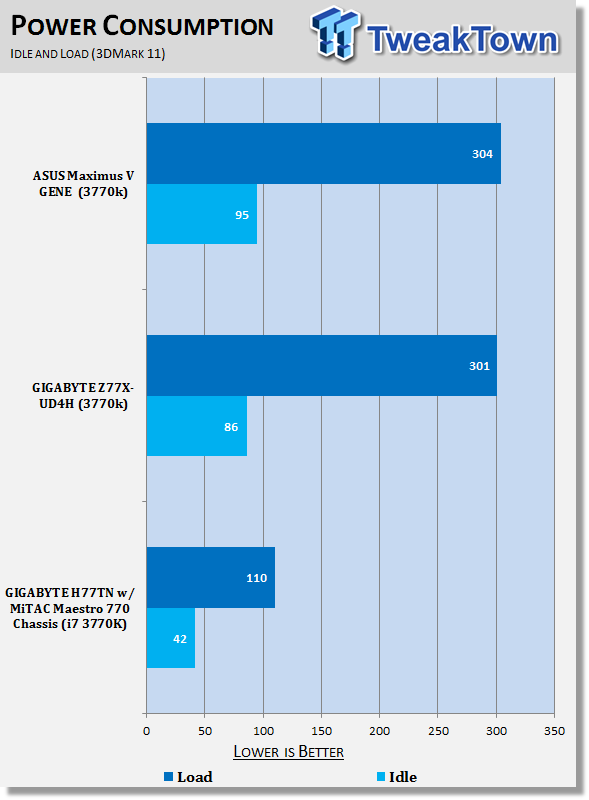 Here we see one of the most surprising numbers. We knew that power draw would be low, especially when you take out the discrete video card.
The difference here is that 42w idle and 110w load are the numbers to power the complete system (including the touch-screen monitor), which is really quite amazing.
Core Temperature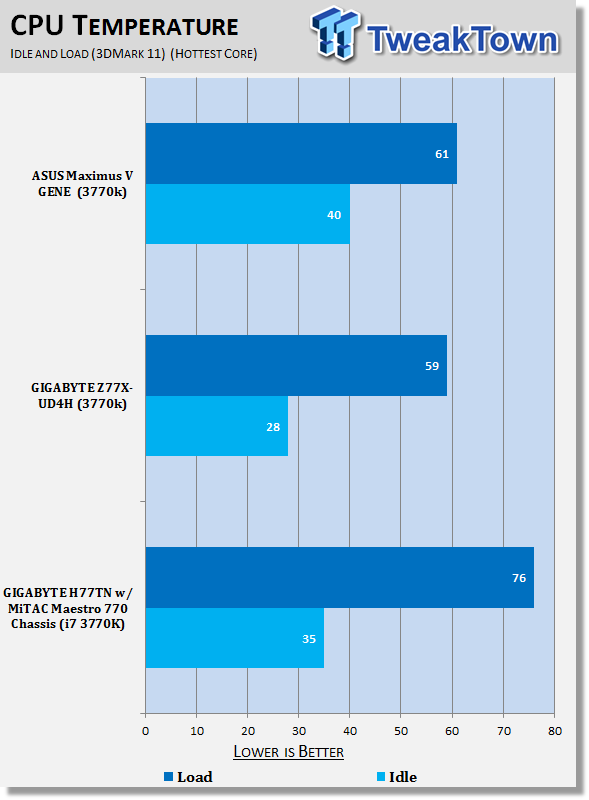 When it comes to the heat side of things we expected the AIO PC to run warmer, especially when you consider we're moving from a AIO water cooling system to a heatpipe cooling solution.
Idle number still look good, but you can see load jumps up. With that said they're not at a temperature level that we'd be worried about.
Pricing, Availability and Final Thoughts
How this DIY AIO segment evolves is going to be very interesting in the coming 12 months. We assume that the majority of the focus is going to be placed on the chassis as it's ultimately going to have the most room for difference. This is because working with such a small area via the Thin Mini-ITX standard means that you can only offer so much on the board itself. It's going to be difficult for motherboard companies to really separate themselves from each other. Of course we could be wrong, and as the segment grows, we'll no doubt discover more and more about the motherboard standard. For now, though, it's all relatively new to us.
Pricing and availability at the moment remains a little unknown. The board itself is listed over at Newegg for $124.99. The majority of the cost is going to come from the chassis, though, and at the moment, we don't know what price that's going to hit at. Along with the chassis and motherboard you need your normal components like RAM, CPU, storage and most likely a ROM drive.
While being touch-screen, you'd also be crazy to not have a keyboard and mouse on hand - which ultimately brings us to the overall experience. A touch-screen can't replace the mouse and keyboard. Instead at the moment it can just assist with it. Does it make life easier? Yes. But the problem is it only makes life easier under Windows 8 because it seems to be so keyboard and mouse unfriendly. Under Windows 7 the touch function feels quite pointless. You simply can't work as accurately as you can with a keyboard and mouse.
I actually find myself really wanting one of these systems now. But it would be a complete nerd tool for me. I'd have it wall mounted in my lounge room. I'd probably have the weather showing on it. I'd use some of the touch apps. It would probably work a bit like a large iPad for me - and that means that probably after a month, I'd stop using it.
AIO systems are going to be big business in the coming years. The strength of the DIY market is going to be interesting, though. I can see the modding scene becoming stronger to create some truly awesome looking machines.
One thing I need to quickly cover is the touch-screen itself. As an avid "i" device user, I've always felt that companies have sat behind when it comes to touch-screen usability. Nothing has really ever felt as quick or smooth as my "i" devices. The screen on the MiTAC Maestro 770 is truly a pleasure to use. Under Windows 8 everything looks and feels fantastic. You can kind of type on it thanks to the 10 point finger touch capabilities, but the angle of the screen makes it a little awkward. You're not about to pick it up and put it on your lap either.
From a quality and performance perspective the GIGABYTE H77TN and MiTAC Maestro 770 are both fantastic. I have trouble picking any real flaws. The issues I have are purely from a platform point of view. The AIO PC just isn't for me at the moment - not in a replace what I currently have situation anyway. I can see a serious use for this kind of PC. I could have a heap of fun with it. My kitchen where I don't cook or my lounge room where I don't sit would look extremely cool with it featured in one of those locations.
Would I be willing to spend the kind of money needed to have it, though? Not at the moment. Would I replace one of these with my mom's iMac? Probably not. It took her long enough to get used to OSX, I don't think I would want to have her worry about Windows 8. Plus we lack that certain level of sexiness that's present in the iMac line up. With that said, I think this is one of the areas that will change over the coming year. With a standard set for everything, companies will now be able to play with the overall design.
We've got two fantastic products here that come together to make one fantastic product. The AIO PC is not for everyone, and until the video situation is sorted, which we can't see happening any time soon, it's a platform that gamers are going to avoid. For others though, it could be just what they want.
PRICING: You can find products similar to this one for sale below.

United States: Find other tech and computer products like this over at Amazon.com

United Kingdom: Find other tech and computer products like this over at Amazon.co.uk

Australia: Find other tech and computer products like this over at Amazon.com.au

Canada: Find other tech and computer products like this over at Amazon.ca

Deutschland: Finde andere Technik- und Computerprodukte wie dieses auf Amazon.de
We openly invite the companies who provide us with review samples / who are mentioned or discussed to express their opinion. If any company representative wishes to respond, we will publish the response here. Please contact us if you wish to respond.