Micron RealSSD P400E Five Drive JBOD Enterprise Report
We take five Micron P400E SSDs for a spin. With the value conscious read-centric enterprise storage segment rapidly expanding, Micron brings the P400E forward as the solution for entry-level enterprise-class SSD storage.
Published Wed, Aug 15 2012 10:31 AM CDT
|
Updated Tue, Nov 3 2020 7:01 PM CST
Introduction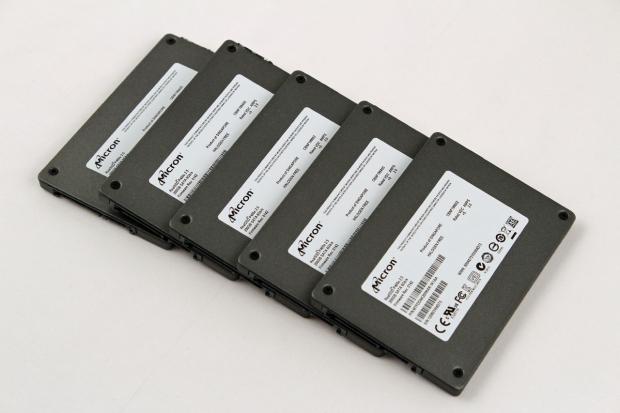 Enterprise-class SSDs have begun to penetrate the datacenter at an increasing rate. One area that has held huge promise is the burgeoning entry-level segment and with the RealSSD P400E Micron looks to capitalize on this largely underserved market.
The P400E is a SSD geared for customers that are looking to integrate a flash solution in the most cost effective manner. Micron's goal is to address an increasing trend of enterprise customers using consumer class SSDs in enterprise applications. Unfortunately, this exposes these users to a host of issues that are the very antithesis of what enterprise class storage stands for. Data loss and corruption are the unforgivable side effects of trusting data to SSDs that aren't designed for the enterprise environment. Another penalty is unpredictable performance and reliability that comes along with utilizing consumer SSDs in environments they weren't designed for. Predictability is the gold standard of effective enterprise solutions and devices designed for average desktop users simply do not fit the bill.
The root of this problem is the prohibitive cost of enterprise class SSDs. The intoxicating speeds that they promise can be a big motivator for some to cut corners. The thought of the massive gains in productivity and performance are simply too good to pass up for many, even those on a budget.
In these cases, the users decide to get into the flash arena at bargain basement prices, buying cheap consumer drives that will wear out quickly. Even with the higher failure rates and lower life expectancy, simply by employing a "rip-and-replace" model they are able to afford flash integration at a lower price point than previously possible. The approach of buying a multitude of low cost SSDs results in multiple replacements of these SSDs as they fail and/or their write cycles are quickly exhausted.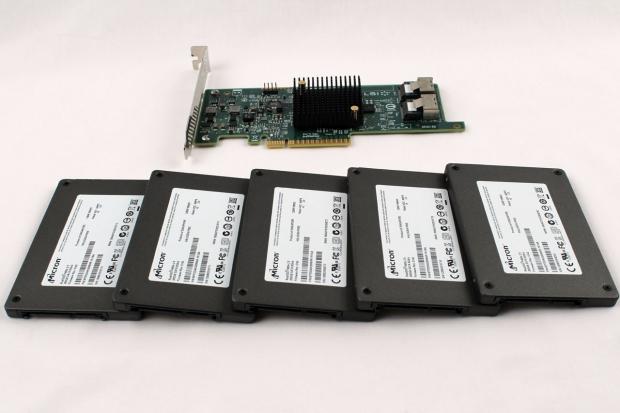 Considering that some of the heavyweights of enterprise SLC SSDs can weigh in at $7000 for a 400GB SSD ($17.5 per GB), there is certainly an attraction to buying consumer class devices at around $1 per GB. Even with the cost of replacing lesser quality drives multiple times, the users still come out ahead in the TCO (Total Cost of Ownership) game.
Micron has approached this growing market segment with the P400E. This MLC SSD is designed to accommodate the need for enterprise class features at a more palatable price point. Optimized for read-centric applications, this SSD isn't designed for the "typical' picture of the enterprise SSD workloads that many wrongly hold in their mind.
As the price of NAND falls and the technology matures, the price structure of SSDs has fallen to the point that SSDs can be a viable alternative in many of the less-thought-of applications that just were not realistic even a few short years ago.
Product Positioning
Flash market segmentation has left a huge portion of the market underserved as the entry-level market grows rapidly. In reality, this largest market segment presents the most opportunity for growth.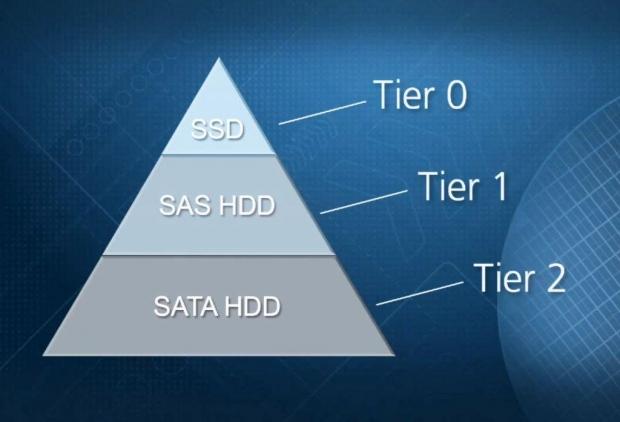 Currently there are three tiers of enterprise storage, with Tier-O being the SSD. This fastest and most expensive medium really is the premium tier of storage. Tier-1 SAS HDDs sit below SSDs and have enterprise class features that set them on top of the HDD hierarchy.
The Tier-2 SATA HDDs comprise the lower tier that typically consists of large bulk storage. These HDDs are lower quality, higher capacity near-line HDDs. They can also involve consumer HDDs pressed into service in the same "rip and replace" model utilized with consumer SSDs. The real area of contention is that top tier of the storage hierarchy. This is where the high-powered SSDs reside. Every system administrator wants at least some of the flash goodness, but not all can afford it. Price is certainly the limiting factor that is keeping many from joining the flash club.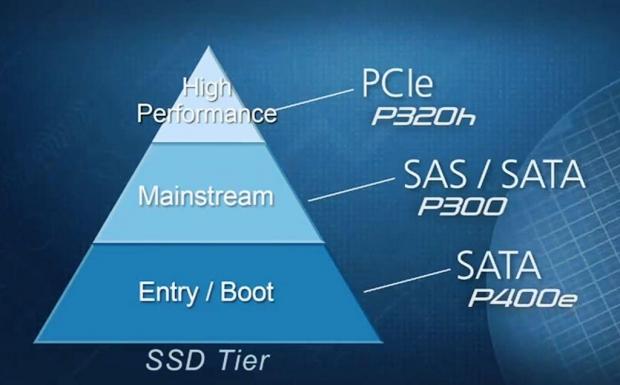 This top tier is also starting to experience its own segmentation and Micron has moved to provide an approach for each tier to address the full scope of the market. This upper tier is where price can become a secondary consideration to sheer speed. The upper echelon devices, typically PCIe, hold the top of this high-speed tier. At this level, Micron offers the P320H as premium data storage. These types of solutions are typically for high I/O applications.
The second tier is the mainstream enterprise tier. Micron offers the P300 solution for mid-level usage. The P300's SLC NAND provides high write endurance and the 2.5" form factor allows easy integration into a multitude of solutions.
Finally, we get down to the entry level and/or boot tier. This level is for the users who do not have massive write loads and who will benefit from SSDs tailored for lighter workloads. This is quite simply the largest market segment that is currently expanding rapidly.
Many users are still falsely holding images of datacenter-class flash storage as being only for the most demanding usage scenarios. OLTP, VMware, cloud computing and bleeding-edge high I/O applications are what many visualize as the use case for all SSDs in the enterprise space. As flash continues to drop in price and the endurance increases, this couldn't be farther off the mark. The casual user base, which is also the largest, is in dire need of solutions that offer enterprise features at a lower price point.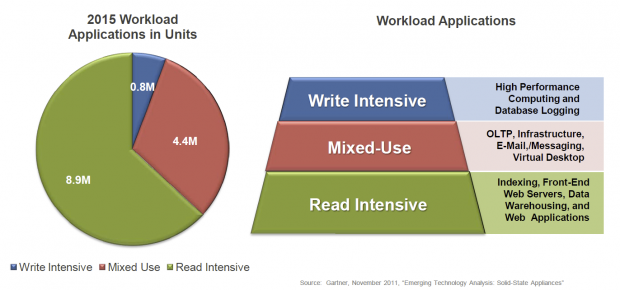 The research from Gartner, the world's leading technology research and advisory company, agrees with the Micron view of things. Here we can see their estimates from their market analysis of projected 2015 workload applications in units. The percentage of these read intensive workload applications are much larger than the other two tiers combined. These read intensive workloads need solutions and the companies that can bring the value oriented solutions forward stand to gain access to the largest and fastest growing market segment.
Base Product Specifications and Architecture
Base Product Specifications

The Micron RealSSD P400E series are available in capacities of 50, 100, 200 and 400GB. These are light use drives and likely to be deployed en masse in most configurations. Power draw of .95 idle and an active average power consumption of 2.5 Watts for the 50GB and up to 5 Watts for the 400GB, illustrate a big improvement in power consumption compared to enterprise HDDs.
The non-standard capacities are the result of using 28% overprovisioning. This helps to mitigate the lower performance of MLC and allows for multiplications of endurance for the user addressable NAND. A high percentage of overprovisioning is part of the equation that allows the P400E to endure up to 175TB of lifetime data writes.
Small volumes also avail themselves very well to caching solutions that these drives are intended for. Other intended uses are application loading, OS loading for enterprise servers, read caching, multi- threaded read workloads, embedded applications and industrial applications.
The P400E is designed for sustainable speed over a long period of use and is rated for 50,000 IOPS and 350MB/s sequential read, with write speeds of 7,000 IOPS and 150MB/s. These certainly aren't groundbreaking specifications, but are adequate for the applications that they are designed for. As with any enterprise storage solution, reliability and data security trump high performance.
The SSD communicates over the SATA 6Gb/s interface, which allows for easy integration into all current hardware configurations. The MTBF is 1.2 million hours.
Architecture
Key enterprise features have been baked into the firmware and device architecture, such as Ucode, enterprise datapath protection and SMART attributes for health monitoring. Typically when observing the internals the untrained eye cannot spot the features that differentiate the P400E from a standard consumer grade M4.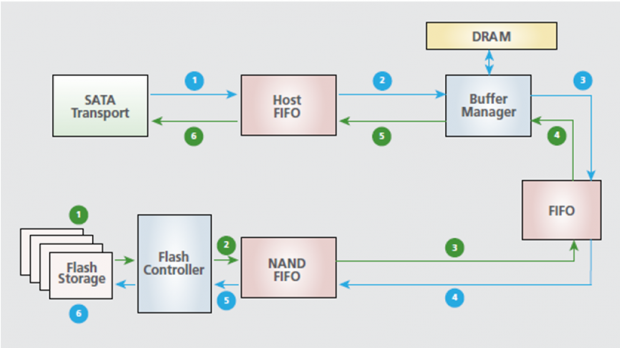 The typical SSD architecture (illustrated above) consists of two "lanes' of travel through the device. Input and Output operations travel between a series of volatile SRAM, cache and buffer management components. More and more of these potential failure points have been introduced as the architecture and design of SSDs continues to advance.
Each of these points in the data traverse can subject the data to corruption and errors. In enterprise applications the validity and safety of this data is paramount, so the architecture of an enterprise-class SSD has to have features built in to combat these weak points.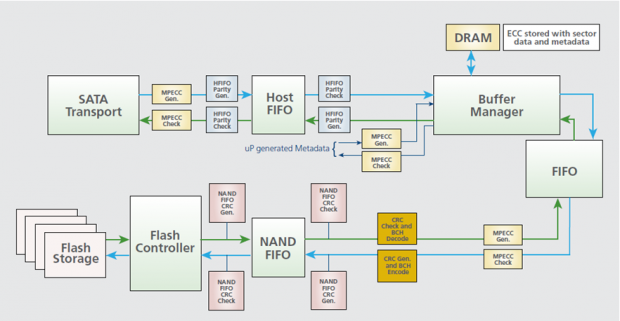 The P400E utilizes expanded data path protection features that ensure the validity of the data as it travels through these possible failure points. User data is effectively "wrapped' in an envelope as it moves through these areas. Enhanced ECC and CRC parity algorithms within the firmware provide RAID-like redundancy. The SSDs generates parity before each potential failure point in the data traverse, then validates that parity after it passes through the component.
The data "at rest' is also guarded by a protection scheme with a RAID-like parity. Providing this level of data security without a huge loss in performance is an impressive achievement for this type of architecture.
P400E Internals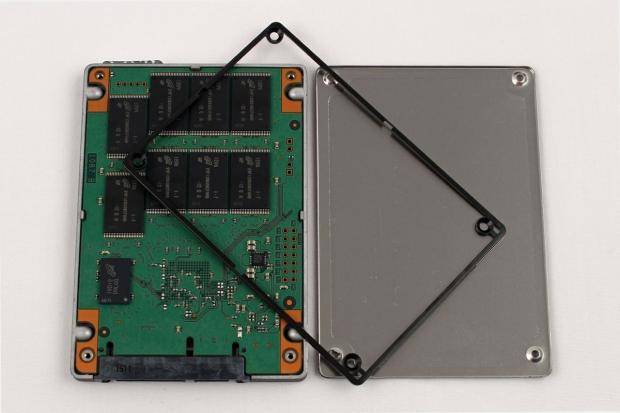 Once popped open we note the black shim utilized for expanding the P400E into a 9.5mm z-height. For 7mm z-height applications, a simple removal of the shim creates a much thinner form factor. This provides the user flexibility for a number of applications, allowing deployment of the P400E as a boot device for a business laptop or easy integration into server racks.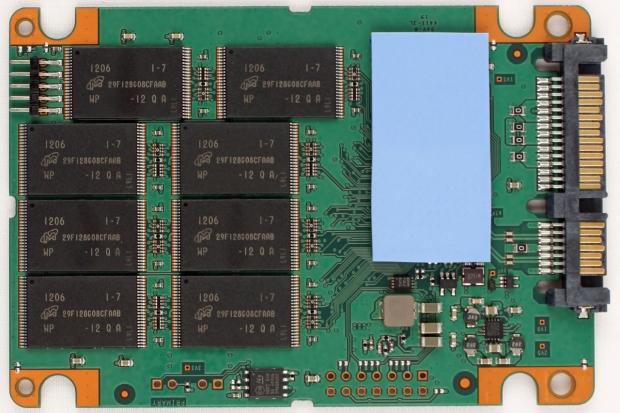 The blue thermal pad is an important feature of enterprise class SSDs that allows for effective heat dissipation from the Marvell 9174 6Gb/s controller. Heat dissipation is very important in handling the higher temperatures that this SSD will experience in comparison to a typical consumer SSD. The thermal pad, placed against the thick bottom casing of the SSD, allows the Marvell controller to run cooler over the course of its life and increases its lifespan.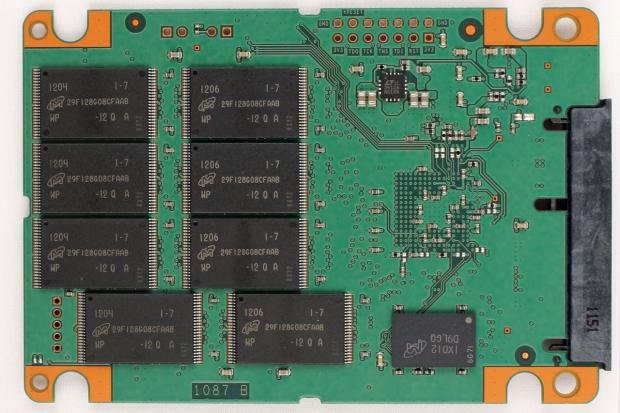 The rear of the PCB holds eight IMFT 25nm 29F128G08CFAAB NAND packages. The 256MB DDR3-1333 SDRAM chip, also produced by Micron, is located to the bottom right of the picture.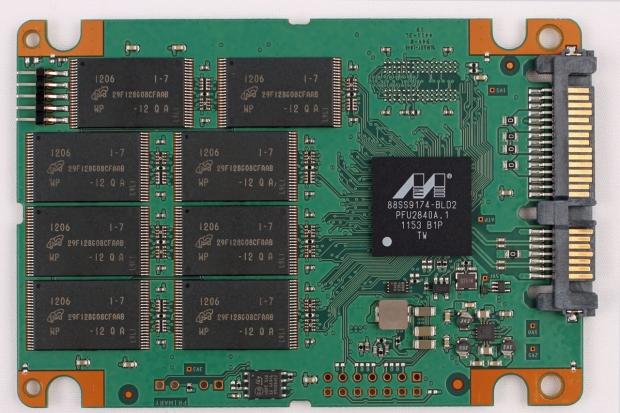 Removing the thermal pad reveals the Marvell 9174 controller, which is utilized in a multitude of enterprise applications. The IMFT NAND packages each contain 16GB of capacity. With eight packages on the top and eight more on the bottom of the PCB, there is a total of 256GB of raw NAND on the PCB.
Only 200GB is user addressable, due to the hefty 28% of overprovisioning that Micron has employed to smooth out performance and boost longevity.
Test System and Methodology
Test System and Methodology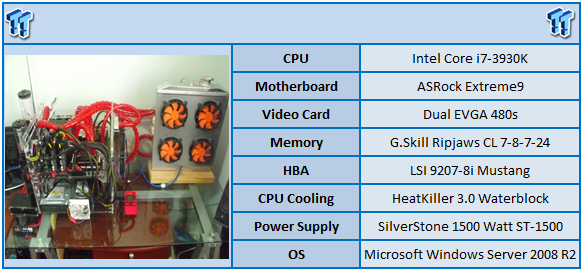 We will be testing five P400E SSDs on the LSI 9207-8i PCIe 3.0 HBA. This allows for a minimum of limitations placed upon the P400E's during testing. The HBA provides a low latency direct connection to the host system.
We have configured the SSDs as separate volumes to ensure that no RAID calculation overhead will skew the results. Different amounts of overhead and varying levels of scaling with different types/brands of RAID controllers and the controller settings themselves can create fluctuating levels of performance.
We feel that the low latency HBA will provide the clearest view of the characteristics of the SSDs themselves and not the surrounding ecosystem.
Testing Enterprise Solid State Storage (SSS)
When assessing enterprise flash products the parameters are vastly different from the type of testing conducted upon consumer SSDs and PCIe flash devices. With consumer devices the capacity of the SSD isn't always used at 100% fill and the drive is rarely put under a sufficient enough load to drive it down into its worst performance levels.
Flash is a premium tier in professional environments, costing multitudes of order more money per GB than HDD or tape storage. Every penny spent on these EFDs (Enterprise Flash Drives) must be utilized to its fullest potential. This entails using every bit of the storage space available to full capacity and keeping the device under a constant workload for the duration of its lifetime. Unfortunately, this type of high-level usage lines up exactly with the worst case scenario for SSDs in terms of both speed and endurance.
All SSDs rely upon spare NAND (Overprovisioning) to complete the majority of their internal functions, keeping the SSD functioning at the highest levels possible. Spare area also provides a higher endurance over the lifetime of the SSD as well. Since enterprise SSD devices are typically used to full capacity, there are usually extra amounts of overprovisioning that enhance endurance and speed above that of mainstream devices.
After prolonged use, all flash-based devices will start to slow down and reach Steady State. Steady State is the "final' level of performance that the SSD will come to when it is placed under continuous load for an extended period of time. This final level of performance has little variability and is far below the level that is attained when the SSD is brand new and Fresh out of Box (F.O.B.).
Storage Networking Industry Association (SNIA)
SNIA is an industry-accepted group that has defined parameters crucial for assessing enterprise and consumer SSDs. In reality, FOB (Fresh out of Box) test results are rather useless for determining the performance of these devices, so it is critical that we test under the correct considerations. We have adopted several of SNIAs central approaches into our testing program here at TweakTown, which will ensure that we observe the devices under the appropriate Steady State conditions.
Steady State is attained by applying a heavy-write workload over the full span of the SSD over an extended period of time. Steady State can also vary depending upon the type of workload placed upon the SSD, so using the correct type of loading is also important.
The three steps of the process are to apply Workload Independent Preconditioning (WIP), Workload Based Preconditioning (WBP) and then verification of Steady State Convergence.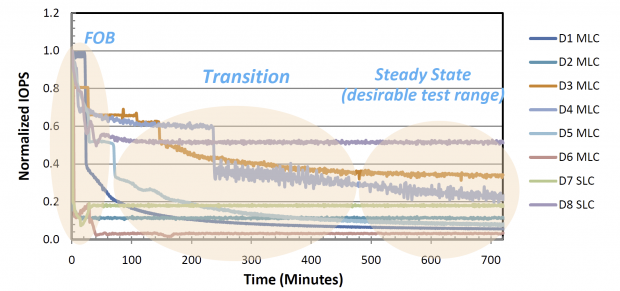 During the WBP we log the performance data to ensure that Steady State has been attained - the slope is less that 10% min/max. Once we have confirmed Steady State Convergence is within the desirable test range on the graph above, we begin data logging.
Base Product Specifications
The five major measurements of base performance of any Solid State Storage solution are latency, random read/write and sequential read/write speed. These are the most common measurements posted by manufacturers to advertise storage performance. We will cover the latency and sequential read and write on this page and random performance on the following page. We begin with a measurement of the latency of the device. The industry standard for measurement of latency is 4K Random Access at a Queue Depth (QD) of one.
These tests consist of the drives in JBOD as separate LUNs. The listing of QD across the bottom axis is the aggregated QD of all devices in total. For example, each drive has a QD of 1 for the "5 QD" entry and a QD of 2 for the "10 QD" entry and so on so forth.
FOB results represent Fresh out of Box when the SSD is brand new. SS represents steady state, when the SSD has settled into its 'final' state of performance.
We also include our 20% over-provisioning results, indicated as "OP" in our graphs. OP consists of leaving 20% of the drive unformatted. By increasing the amount of available spare area, the SSD can perform at higher write speeds. This represents an optional boost for users at the cost of some capacity.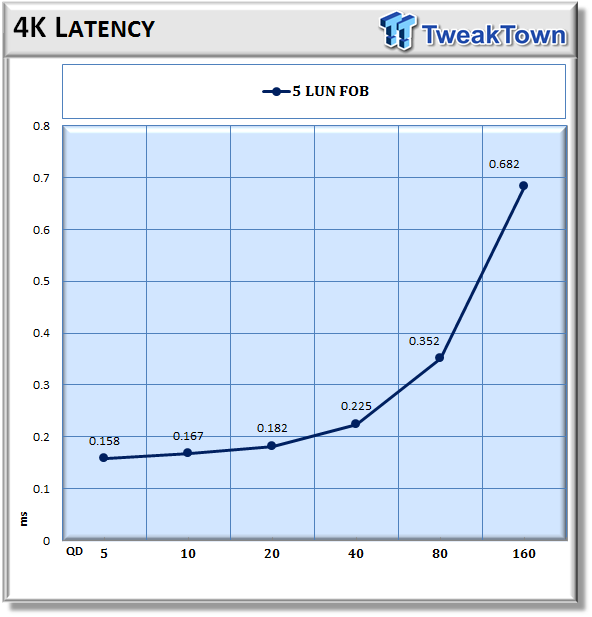 The latency of QD 5 represents 1 QD per SSD and .158 is a good showing. The latency scales up nicely as we head into the higher QD levels.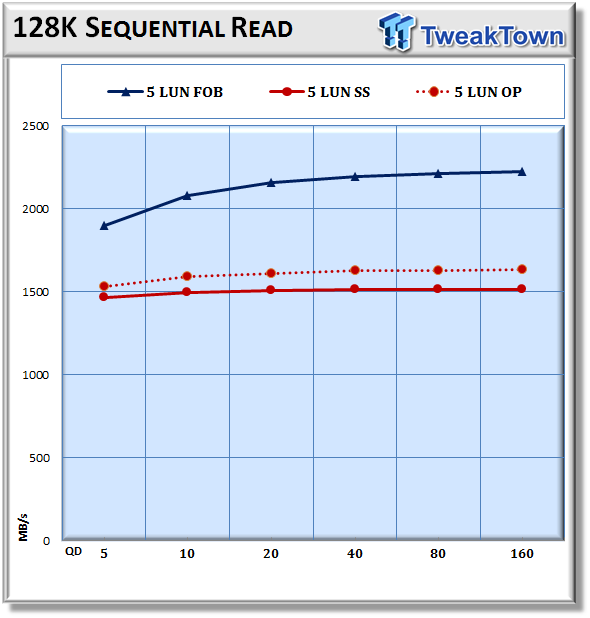 The 128K sequential read speeds reflect the maximum sequential throughput of the SSD using a realistic file size actually encountered in an enterprise scenario.
The P400E attained 2.2GB/s in FOB (Fresh out of Box) and 1.5GB/s in steady state.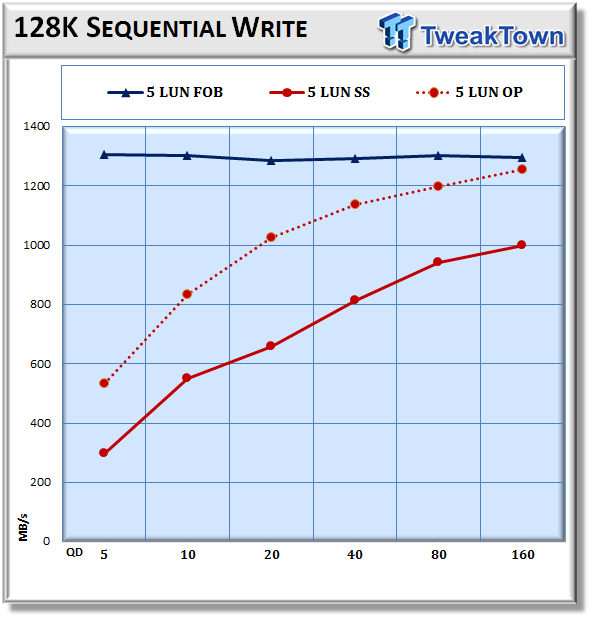 The SSDs reach 1.294GB/s speed in 128K sequential writes. From the overprovisioned results, we can observe that it would be possible to maintain that level in steady state with a sacrifice of some capacity. The JBOD delivers 1GB/s in steady state.
4K and 8K Random
4K Random
4K random read speed measurements are an important metric when comparing drive performance, as the hardest type of file access for any storage solution is small-file random. We test with a five-second ramp time to eliminate any burst results. Random read speeds are largely unaffected by extra over-provisioning and steady state, so we only include standard results for read data, unless the results requires otherwise.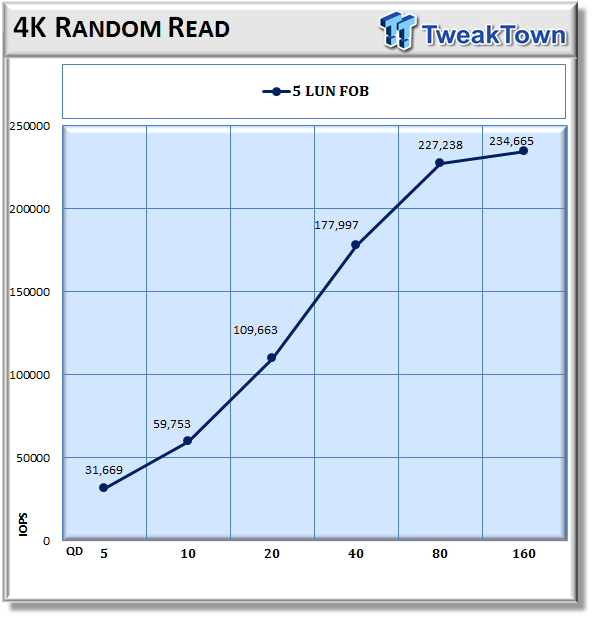 The 4K random read IOPS is superb, continuing to scale very well up through the higher Queue Depths. At a QD of 160 the drives top out at 234,665 IOPS. Roughly a quarter of a million IOPS is very good for the price of this array.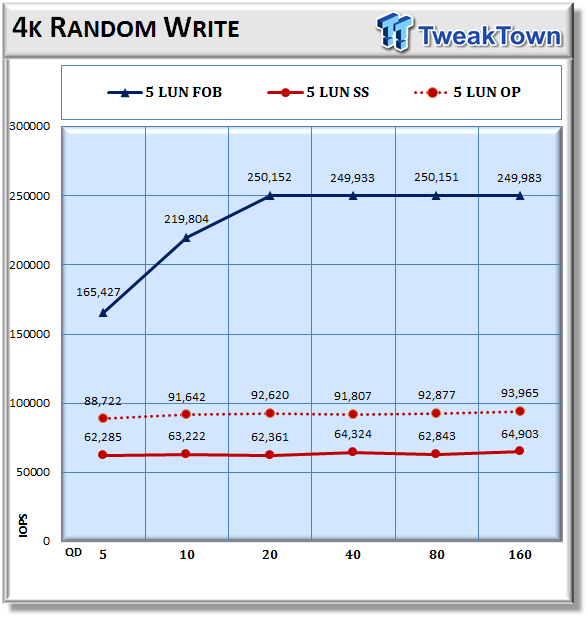 The 5 x P400E JBOD delivers roughly 250K IOPS, but in steady state pulls off 64,903. More impressive is that with a 20% overprovisioning there is a roughly 29% increase, bringing the results up to 93,956 IOPS. The low price point will allow more flexibility for some users to sacrifice some capacity for higher random write performance.
8K Random
8K random read and write speed is a metric that is not commonly tested for consumer use, but for enterprise environments this is an important aspect of operation. With several different workloads relying heavily upon 8K performance, we include this as a standard with each evaluation. Many of our Server Emulations on the following pages will also test 8K performance with various mixed read/write workloads.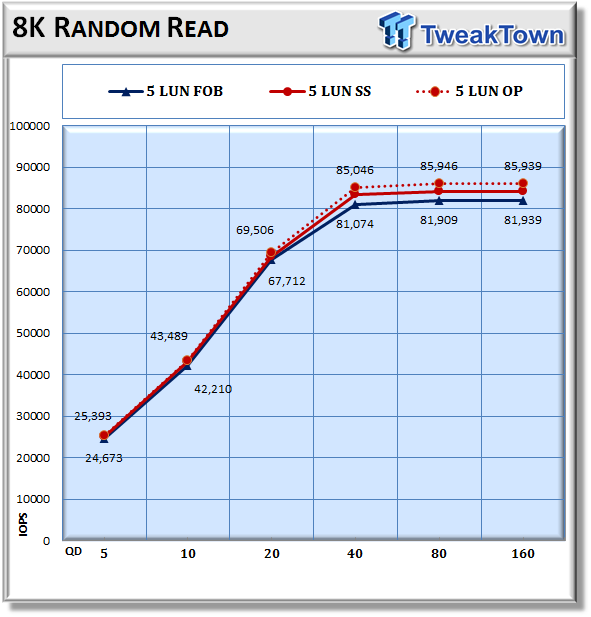 For 8K 100% Random Read the SSDs deliver 84,018 IOPS in steady state.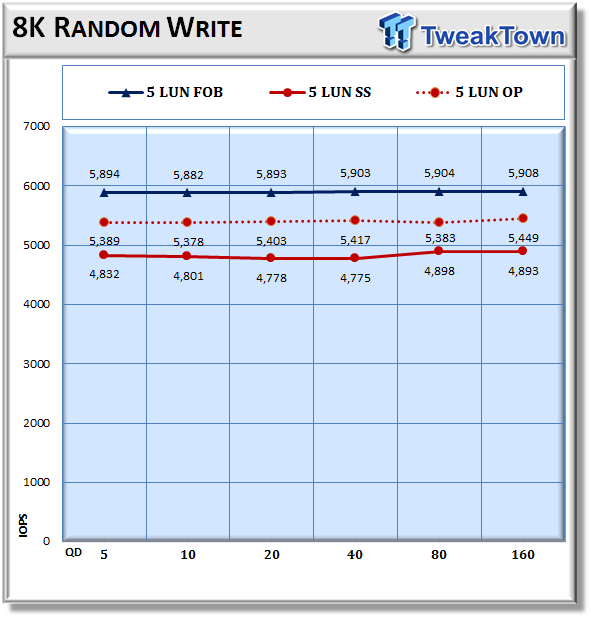 The 8K Random write speed in steady state is 4,893 IOPS and scales to 5,449 IOPS with extra overprovisioning added. This is roughly an 11% increase, not nearly as high of a percentage of increase as we observed with the 4K results.
Server Emulations
We use several industry standard Iometer profiles, configured to emulate the data access patterns utilized by a number of different types of servers.
This first test emulates Database and On-Line Transaction Processing (OLTP) workloads. OLTP is in essence the processing of transactions such as credit cards and is used heavily in the financial sector. Enterprise SSDs are uniquely well suited for the financial sector with low latency and high random workload performance. Databases are the bread and butter of many enterprise deployments and their data access patterns are similar to OLTP. These are demanding workloads with 8K random of 66% read and 33% write distribution that can bring even the highest performing solutions down to earth.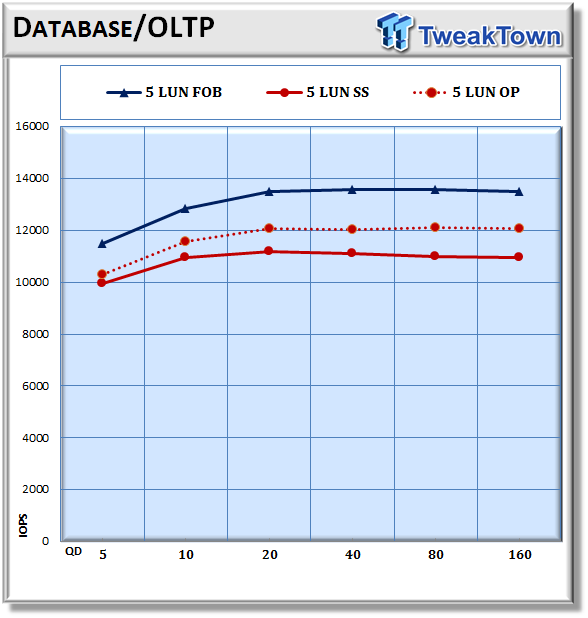 The JBOD delivers 10,947 in steady state and 12,079 with overprovisioning with OLTP usage. This clearly is not an intended usage for the SSDs with the high write workloads.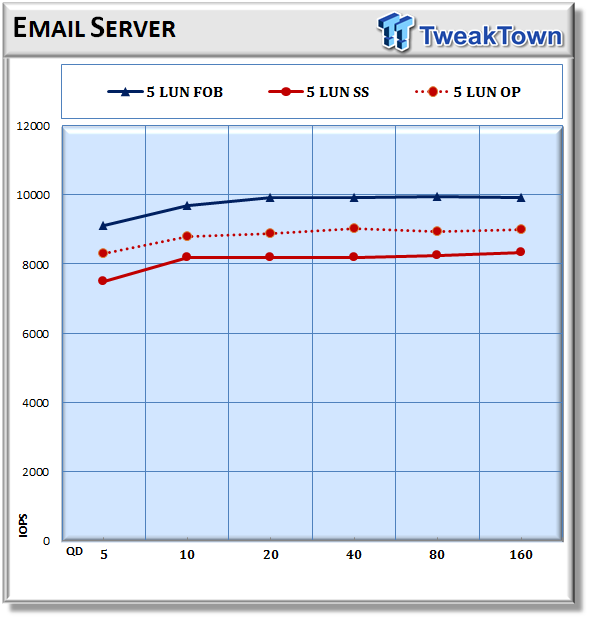 This test emulates a typical Email Server with a 50% Read and 50% write distribution of 8K random files. These types of servers aren't typical applications that many would expect solid state storage to be integrated into. With the lowering price points of high endurance SSDs, acceleration for these types of servers is becoming a reality. An added bonus is that an enhanced amount of IOPS capability equates to a higher average CPU utilization of the server, maximizing the efficiency and TCO/ROI of the overall system.
The JBOD gives 8,335 IOPS in steady state and 8,995 with overprovisioning.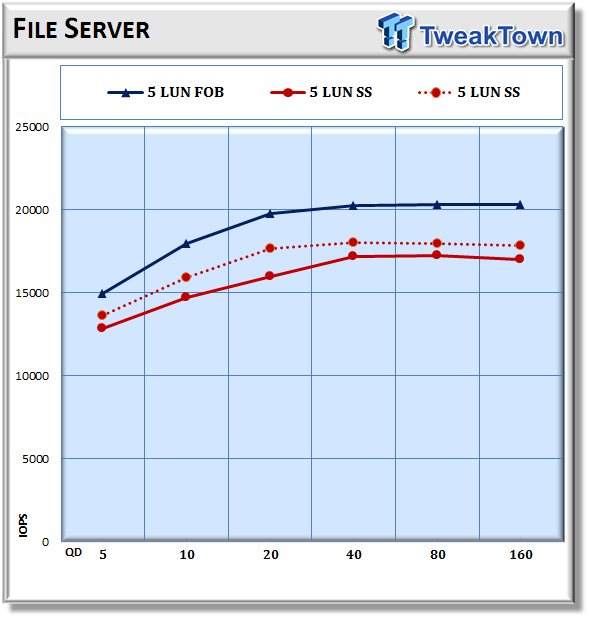 The File Server profile represents typical workloads encountered in file servers. The inherently random nature of data access in file servers can gain considerable boosts in performance from SSDs and benefit greatly from caching and tiering solutions. This profile tests across a wide variety of different file sizes simultaneously, with an 80% read and 20% write distribution.
The JBOD scores 16,993 with steady state and 17,837 with overprovisioning. This higher distribution of read activity in the workload highlights the strengths of the P400E.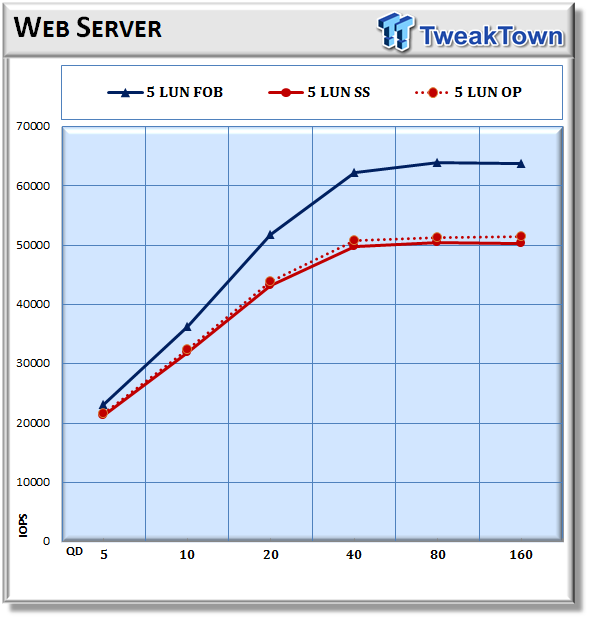 The Web server profile is a read-only test with a wide range of file sizes. Web servers are responsible for generating content for users to view over the internet, much like the very page you are reading. The speed of the underlying storage system has a massive impact on the speed and responsiveness of the server that is hosting the websites and thus the end user experience.
The P400E is geared for this type of workload, providing a monstrous 51,423 IOPS in steady state. Utilization as a caching volume for a webserver would be a particularly good application of this SSD.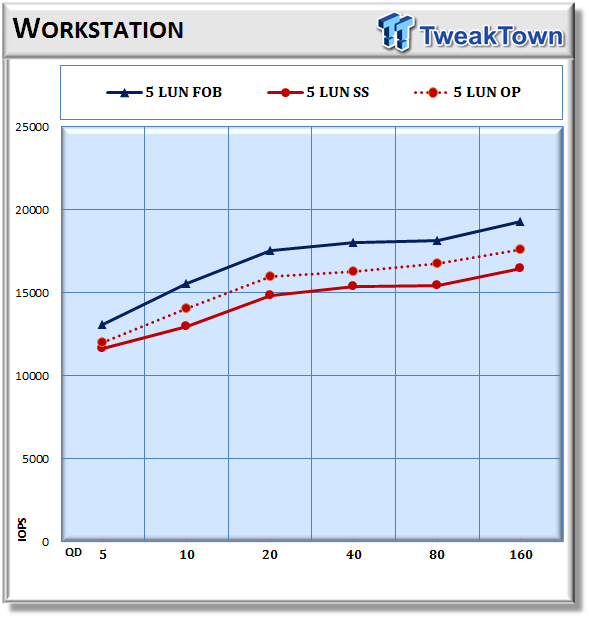 The Workstation profile emulates the usage patterns of a storage system on a typical user's workstation. This would be the closest to an actual operating system pattern that a user would experience on their desktop. This test is comprised of 8K random access with an 80% read and 20% write distribution.
The P400E JBOD scores 16,481 IOPS in steady state and 17,578 IOPS with extra overprovisioning.
Final Thoughts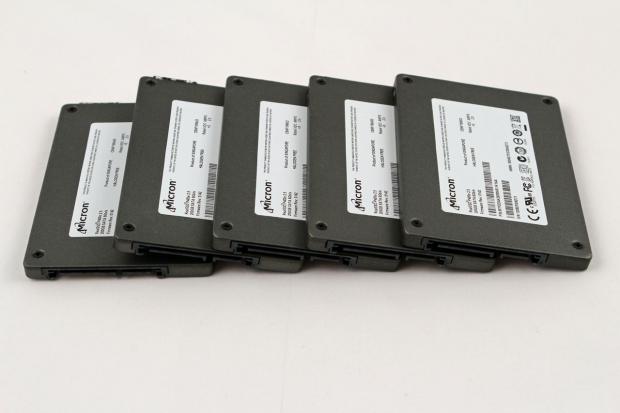 The entry-level is clamoring for value oriented flash solutions to deal with storage system challenges. Strategically placed flash layers within larger HDD ecosystems can benefit administrators in an endless number of scenarios, from data tiering to dealing with VDI boot storms.
For those looking to "right size" their implementations, the P400E provides a lower level of performance that does not bring the higher price range that more expensive SLC products demand. Designed for read-centric applications where high write workloads are not a priority, Micron feels that they have provided the right balance of performance versus price.
With its low price the P400E is intended as a replacement for HDDs. This lower price is realized through employing typical 25nm IMFT MLC NAND. This NAND allows for affordability, but also brings challenges to convert it to a reliable and high-endurance solution. Providing that level of high endurance begins with quality components and integrated enterprise class features on the SSD itself.
The only improvements that I would look for to round this SSD family out a bit more would be the inclusion of power capacitors. While this would create a bit of a higher price, it would be well worth it to protect user data. For the market the P400E addresses, capacitors might just add that extra bit of price that would break the deal. Perhaps a slightly higher priced version of the P400E with integrated capacitors would be in order.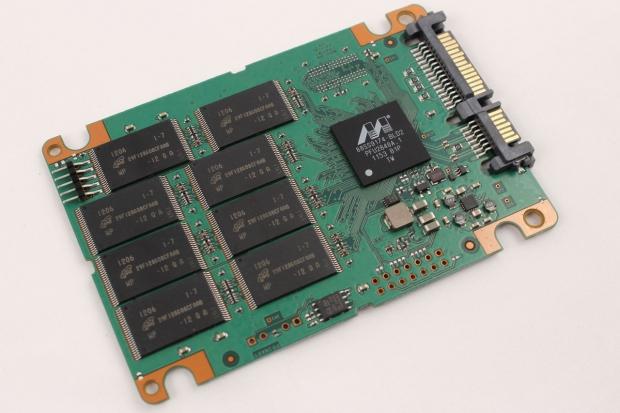 The lack of integrated encryption may be a problem for some, but for the mass audience, real-time encryption is not usually a requirement. While write speeds are admittedly low, these SSDs aren't designed for high write environments.
The setup of five SSDs that we tested here today gives a bit of insight into the performance that can be expected from these enterprise SSDs. Obtaining 234,000 random read IOPS, nearly a quarter of a million, is pretty impressive with five SSDs in this price range. Also equally impressive was an improvement of nearly 30% in random write speed merely by sacrificing 20% of capacity to extra overprovisioning. The low price of these SSDs provides some flexibility for users to sacrifice that bit of capacity for higher write speed.
Many vendors are bringing software-caching solutions to market and these SSDs would perform well in these applications. The overall high read scores illustrate that the P400E would avail itself very well in caching applications with static data sets.
Finally, it comes down to price and that is where Micron really needs to be competitive. The price of MLC is falling rapidly and many consumer drives, which are somewhat of a competitor to this drive, are coming in at low prices right now. Even though pricing on drives can vary, the MSRP for large quantities of the P400E drives is coming in at $100 for 50GB, $175 for 100GB, $330 for 200GB and $655 for 400GB of storage. This pricing is certainly competitive when taken into account the features that these SSDs offer for data security that typical consumer class devices do not. Taking into consideration the price of other enterprise-class SSDs the price becomes much easier to swallow. This line of SSDs is optimized for low TCO and provides a great IOPS-per-Watt and Dollars-per-IOPS ratios for enterprise solutions.
For the low overall price of the setup illustrated here, many users can realize huge application acceleration without the huge price tag to match.
PRICING: You can find products similar to this one for sale below.

United States: Find other tech and computer products like this over at Amazon.com

United Kingdom: Find other tech and computer products like this over at Amazon.co.uk

Australia: Find other tech and computer products like this over at Amazon.com.au

Canada: Find other tech and computer products like this over at Amazon.ca

Deutschland: Finde andere Technik- und Computerprodukte wie dieses auf Amazon.de