HighPoint Rocket 750 Enterprise HBA Review
HighPoint Technologies leverages Marvell controllers in its Rocket 750 HBA RAID controller. Read on as Paul gives us his full opinion on this product.
Published
12 minute read time
Introduction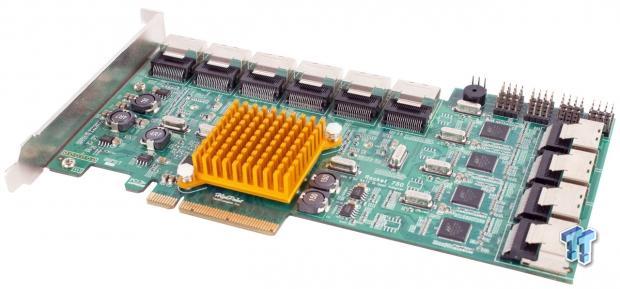 HighPoint Technologies has been developing and bringing to market value-oriented RAID and HBA solutions for both consumer and enterprise applications for over 19 years. The venerable Rocket series began in the mid-1990s, yet it continues to evolve and bear fruit for HighPoint Technologies. HighPoint has been developing RAID and HBA system for over 15 years and prides itself on rapidly developing and deploying solutions for its customers.
The Rocket 750 is a good example of HighPoint's engineering team developing a solution targeted specifically to address a growing market segment. The massive proliferation of information in the datacenter has led to new densely packed servers that house a staggering number of drives in a small footprint. These dense applications can house upwards of 40 HDDs per enclosure. Connecting those drives to the host can create a massive challenge.
Most HBAs offer from anywhere from eight to 16 ports, and several HBAs are required per high-density chassis. Each individual HBA consumes power, takes space, generates heat, and requires several PCIe slots in the server. The distributed method of drive connection for multiple HBAs also presents wire management challenges.
The HighPoint Technologies Rocket 750 addresses these challenges by providing the connectivity of several traditional HBAs on one device that can handle up to forty HDDs. One impressive specification that stands out on the Rocket 750 is its 11W power consumption. This provides connectivity for four drives per watt of energy consumed. Many 8-port HBAs consume roughly 10 watts, which is over one watt per device. The enhanced power efficiency of the Rocket 750 will pay big dividends in large-scale deployments. This also results in less heat generation, which provides the peripheral advantage of lower cooling costs.
The HighPoint Rocket 750 has conservative performance specifications of 2 GB/s read and write. There are also no publicly released IOPS expectations. The intended market for the HighPoint Rocket 750 necessitates performance limitations that reflect the environment the HBA is designed for. The 750 is used in bulk storage environments with HDDs, so any cutting-edge performance specs would merely be wasted money for customers. In this case, right sizing the solution to the environment is crucial to delivering a refined cost-to-performance ratio.
HDDs provide solid sequential performance, but aren't known for delivering blistering random IOPS. In bulk-data warehousing applications, the most relevant metrics are reliability, efficiency, and economics. By utilizing proven Marvell cloud storage architecture, HighPoint has addressed reliability concerns. Low power consumption and fewer required HBAs covers the efficiency bases, and the industry's lowest price point per-port for mass SATA storage will appease the value-oriented.
The Rocket 750 isn't commonly used in the consumer segment and is geared for ODM and system integrators. BackBlaze is one of the largest high-profile customers for the Rocket 750. BackBlaze provides their customers unlimited (yes, unlimited) online backup space for a scant $5 per month. They achieve this unbelievably low price by developing and designing Storage Pods that cram as much storage hardware into one dense package with the most economical server hardware on the market. The addition of the Rocket 750 has allowed BackBlaze to transition away from their old method of using SATA multiplier boards based on five-year-old technology, thus quadrupling their transfer speed.
The increased performance provided by the Rocket 750 has led to RAID synchronization periods shrinking from six days to just two. Utilizing the high-density Rocket 750 also simplifies the hardware deployment by removing the need for complex multiplexor board layouts. HighPoint provides a flexible software application that integrates the Rocket 750 into all Windows platforms, Linux distros, and FreeBSD. This allows for seamless management and monitoring of the attached storage devices.
The HighPoint Rocket 750 is designed to be utilized with 40 HDDs, and the performance specifications reflect that eventuality. The largest collection of matching storage drives we have on hand are our trusty pile of 26 Micron P400m SSDs. Utilizing our SSDs will do well to highlight the maximum performance of the Rocket 750, but we should keep in mind that this is not the expected use-case for the Rocket 750.
PRICING: You can find the HighPoint Technologies Rocket 750 for sale below. The prices listed are valid at the time of writing but can change at any time. Click the link to see the very latest pricing for the best deal.
United States: The HighPoint Technologies Rocket 750 retails for $739.00 at Amazon.
Canada: The HighPoint Technologies Rocket 750 retails for CDN$738.66 at Amazon Canada.
Design and Specifications
HighPoint Rocket 750 Design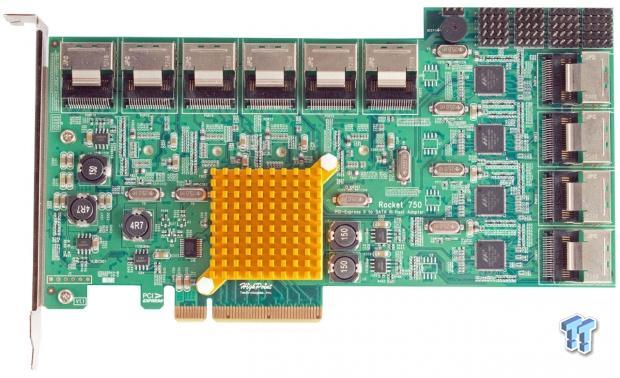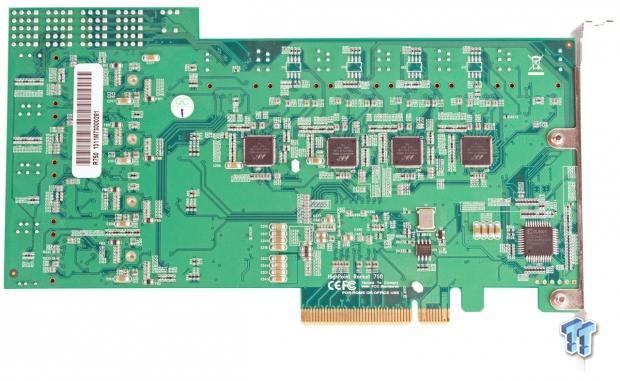 The PCIe 2.0 x8 Rocket 750 features 10 SFF-8087 connectors that connect four drives apiece. There is an audible alarm buzzer at the top of the PCB, and the large heavy copper heat sink cools the HBA controller.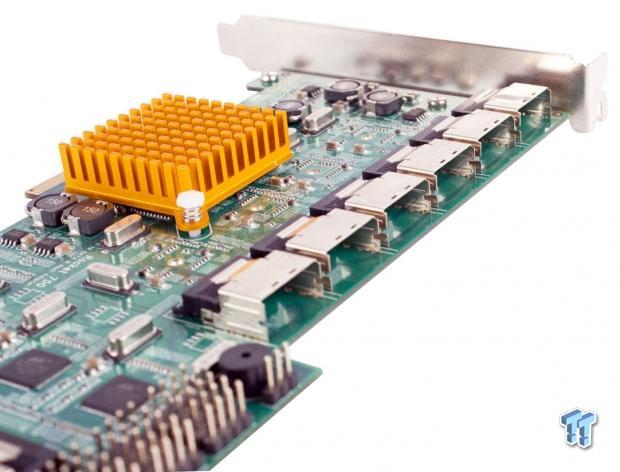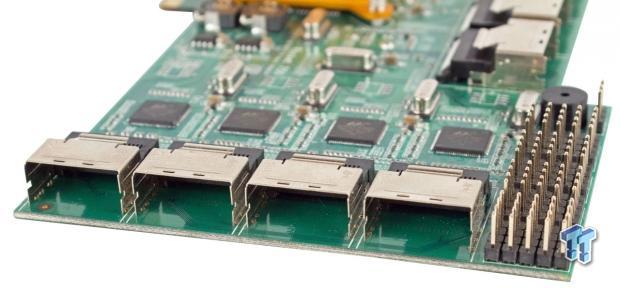 We spot four Marvell 88SM9715 6Gb/s port multipliers behind the four ports lining the edge of the controller. There are also four more Marvell port multipliers on the rear of the HBA. Each of these controllers supports one SATA 6Gb/s host port and five SATA 6Gb/s device ports. These chips feature integrated enclosure management features, including temperature sensors, PWM, tachometers, and voltage rail monitoring. The combination of these port multipliers with the SFF-8087 ports provides up to 40 connected 6Gb/s SATA devices. The Marvell silicon also supports SAS connections, but HighPoint does not support SAS devices with the Rocket 750.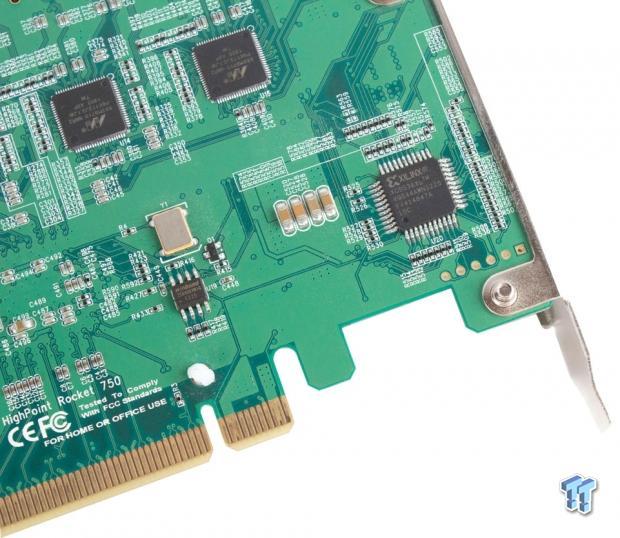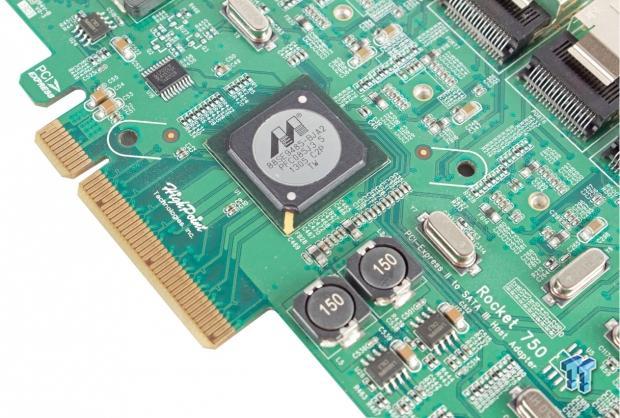 The Xilinx XC9536XL is a 3.3V CLPD for high-performance, low-voltage applications. The real star is the Marvell 88SE9485 host controller. This controller provides an interconnect between the 5 GT/s PCIe 2.0 PHY cores, via a x8 connection, and the eight Marvell port multipliers. This controller offers RAID offload capabilities, but this functionality is not required for the HBA architecture of the Rocket 750.
HighPoint Rocket 750 Specifications
The HighPoint Technologies Rocket 750 provides users an easy-to-use Intelligent Storage Health Manager that provides simplistic control and monitoring functions for the HBA and controlled devices. SMTP provides email alerts for system events, and the physical device pane allows adjustment of drive read ahead, write caching, and NCQ settings. There is also the much-appreciated Identify LED function for locating a pesky drive among the stack of 40 attached devices.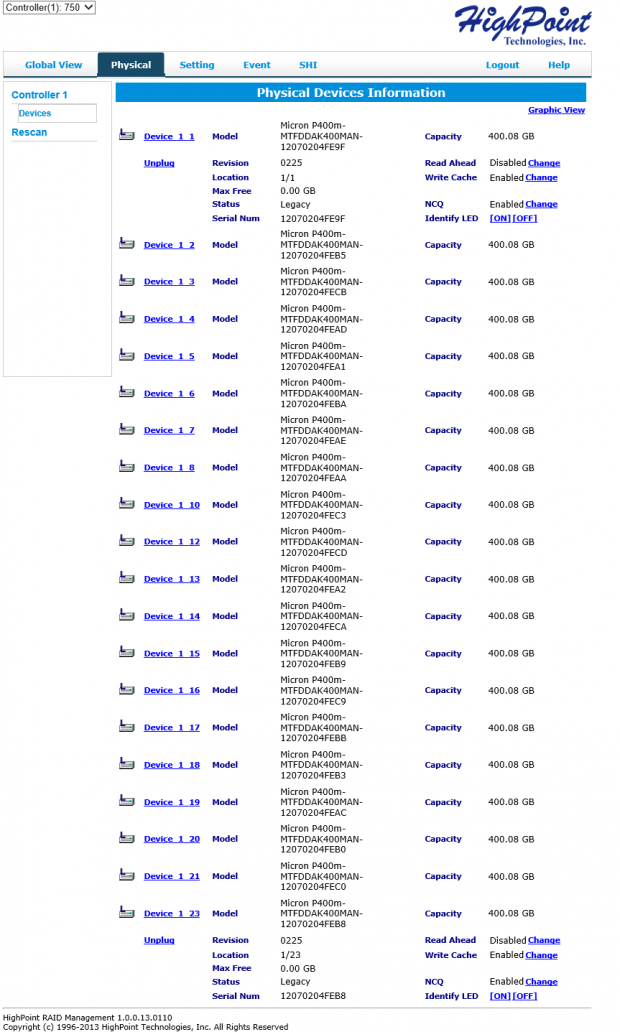 Test System and Methodology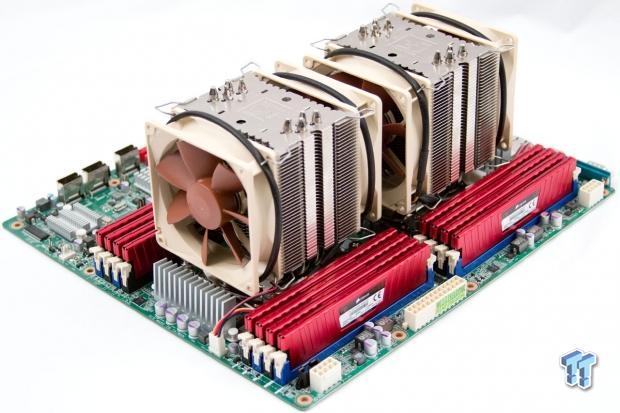 We designed our approach to storage testing to target long-term performance with a high level of granularity. Many testing methods record peak and average measurements during the test period. These average values give a basic understanding of performance, but fall short in providing the clearest view possible of I/O Quality of Service (QoS).
'Average' results do little to indicate performance variability experienced during actual deployment. The degree of variability is especially pertinent as many applications can hang or lag as they wait for I/O requests to complete. This testing methodology illustrates performance variability, and includes average measurements, during the measurement window.
While under load, all storage solutions deliver variable levels of performance. While this fluctuation is normal, the degree of variability is what separates enterprise storage solutions from typical client-side hardware. Providing ongoing measurements from our workloads with one-second reporting intervals illustrates product differentiation in relation to I/O QoS. Scatter charts give readers a basic understanding of I/O latency distribution without directly observing numerous graphs.
Consistent latency is the goal of every storage solution, and measurements such as Maximum Latency only illuminate the single longest I/O received during testing. This can be misleading, as a single 'outlying I/O' can skew the view of an otherwise superb solution. Standard Deviation measurements consider latency distribution, but do not always effectively illustrate I/O distribution with enough granularity to provide a clear picture of system performance. We utilize high-granularity I/O latency charts to illuminate performance during our test runs.
Our testing regimen follows key SNIA principles to ensure consistent, repeatable testing. The first page of results will provide the 'key' to understanding and interpreting our new test methodology. In replicated environments, RAID 0 can be a compelling choice for bleeding edge performance. RAID 5 provides a layer of data security that protects from the loss of a drive. We test RAID 0 and RAID 5 for this evaluation. We utilized an array of 24 Micron P400m SSDs for testing. The drives were configured in RAID via the Windows Server 2012 disk manager.

The demanding nature of our enterprise test lab requires resilient solid state storage for testing, and we selected the P400m specifically due to its consistent performance and heavy endurance capabilities. Top speeds of 60,000/26,000 read/write IOPS and up to 380/310 MB/s of sequential throughput allow the P400m SSDs to push 6Gb/s devices to the limit. We have published the Micron P400m 200GB Enterprise SSD Evaluation, which provides an in-depth look at this heavy-duty enterprise SSD.
Benchmarks - RAID 0 4k Random Read/Write
RAID 0 4k Random Read/Write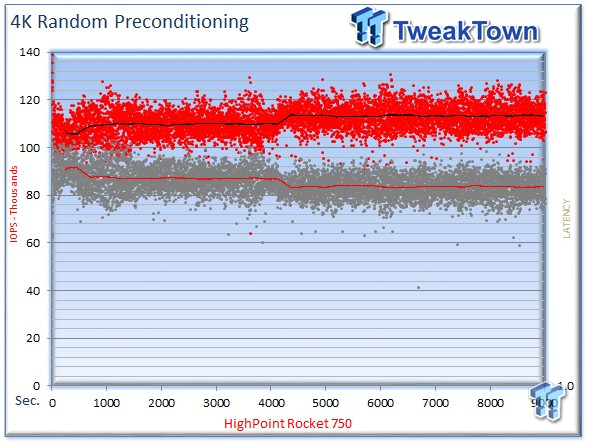 We precondition the array of 24 Micron P400m SSDs for 9,000 seconds, or two and a half hours, receiving performance reports every second. We plot this data to illustrate the drives' descent into steady state.
This dual-axis chart consists of 18,000 data points, with the IOPS on the left and the latency on the right. The red dots signify IOPS, and the grey dots are latency measurements during the test. We place latency data in a logarithmic scale to bring it into comparison range. The lines through the data scatter are the average during the test. This type of testing presents standard deviation and maximum/minimum I/O in a visual manner.
Note that the IOPS and Latency figures are nearly mirror images of each other. This illustrates that high-granularity testing can give our readers a good feel for latency distribution by viewing IOPS at one-second intervals. This should be in mind when viewing our test results below. This downward slope of performance only happens during the first few hours of use, and we present precondition results only to confirm steady state convergence.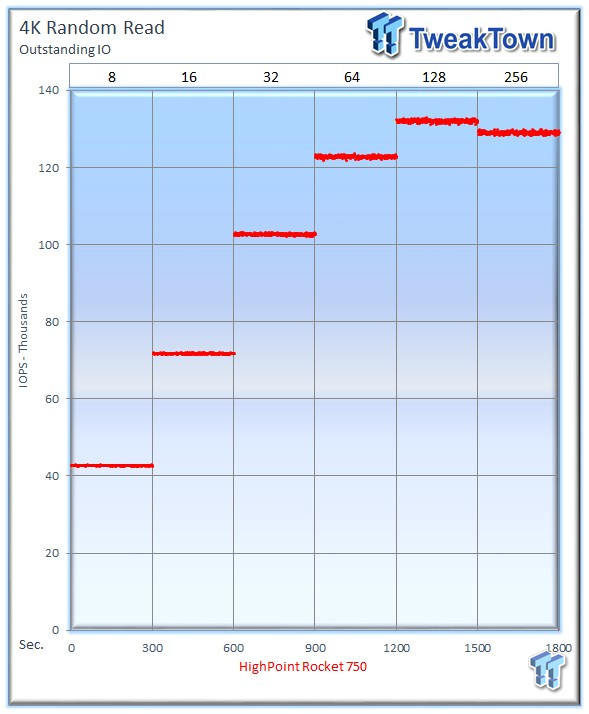 Each level tested includes 300 data points (five minutes of one second reports) to illustrate performance variability. The line for each OIO depth represents the average speed reported during the five-minute interval. 4k random speed measurements are an important metric when comparing drive performance as the hardest type of file access for any storage solution to master is small-file random. One of the most sought-after performance specifications, 4k random performance is a heavily marketed figure.
This decidedly brutal workload is not something the HighPoint Rocket 750 will be subjected to often, but it manages to provide an average of 129,103 IOPS at 256 OIO, and 132,136 IOPS at 64 OIO. Keeping things in perspective, the fastest 15k HDDs deliver roughly 540 IOPS, so 40 of them would only provide 21,600 IOPS. The Rocket 750 could easily provide that speed with plenty of room to spare.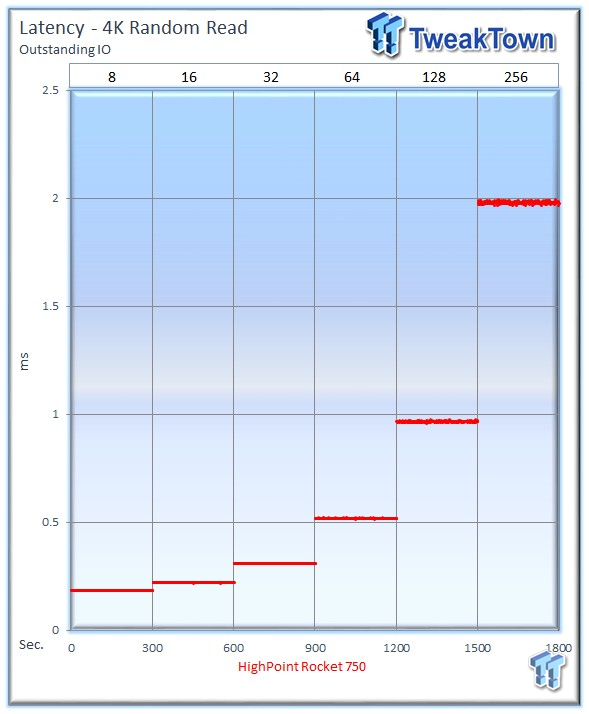 The Rocket 750 provides excellent latency at lower queue depths, and would easily handle any array of HDDs.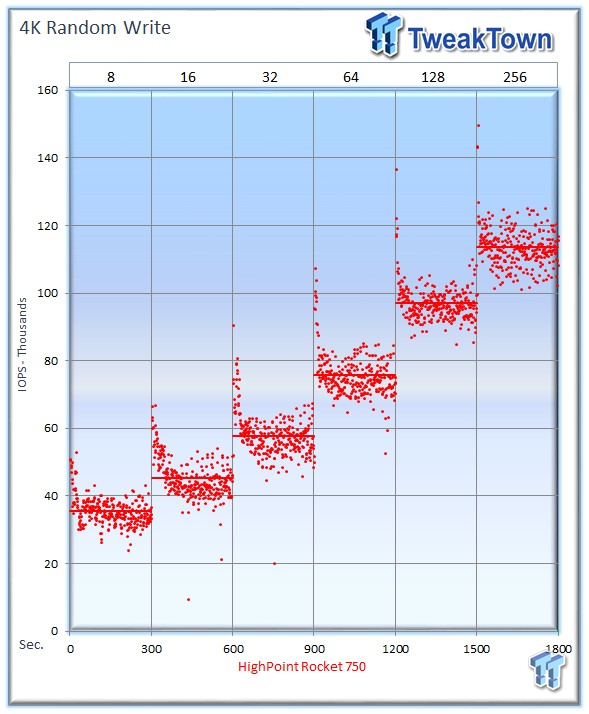 Once again, the Rocket 750 provides plenty of transactional performance for HDD arrays with an average of 113,706 4k write IOPS at 256 OIO.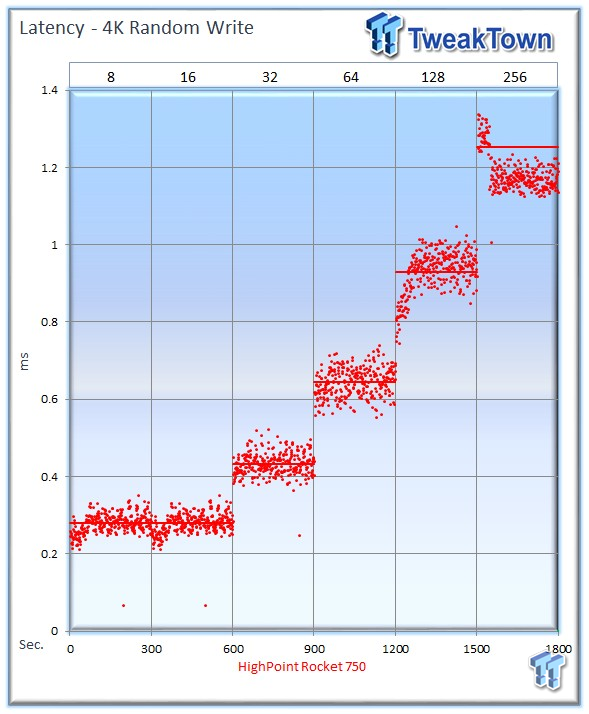 The latency performance of the Rocket 750 scales well as we add in heavier workloads.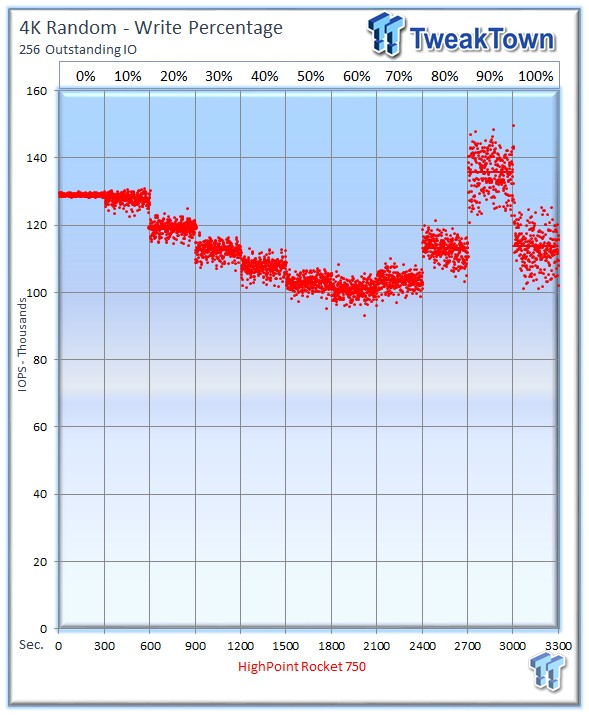 Our write percentage testing illustrates the varying performance of each solution with mixed workloads. The 100% column to the right is a pure 4k write workload, and 0% represents a pure 4k read workload.
The Rocket 750 provides a predictable performance profile in our mixed workload testing.
Benchmarks - RAID 0 8k Random Read/Write
RAID 0 8k Random Read/Write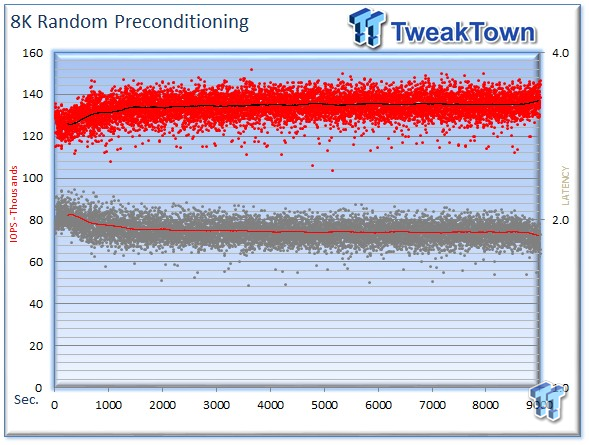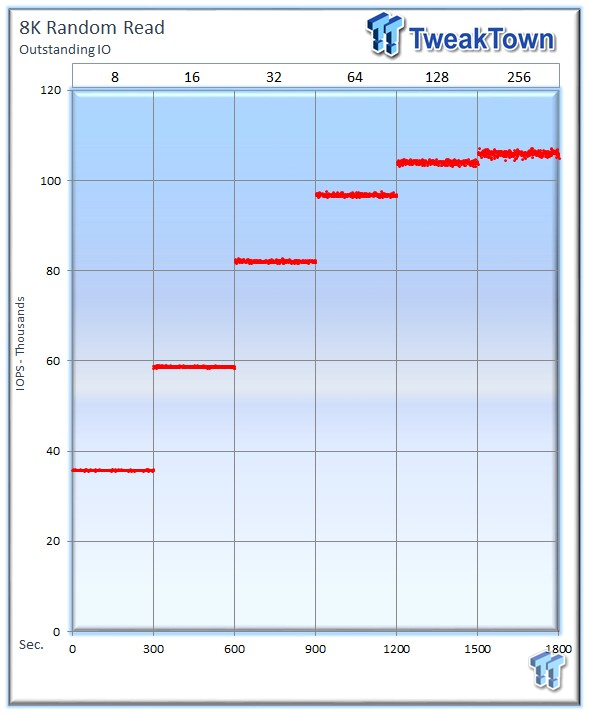 Server workloads rely heavily upon 8k performance, and we include this as a standard with each evaluation. Many of our server workloads also test 8k performance with various mixed read/write workloads.
The HighPoint Technologies Rocket 750 averages 106,044 IOPS at 256 OIO, which is very close to the performance with the smaller 4k file size tested earlier.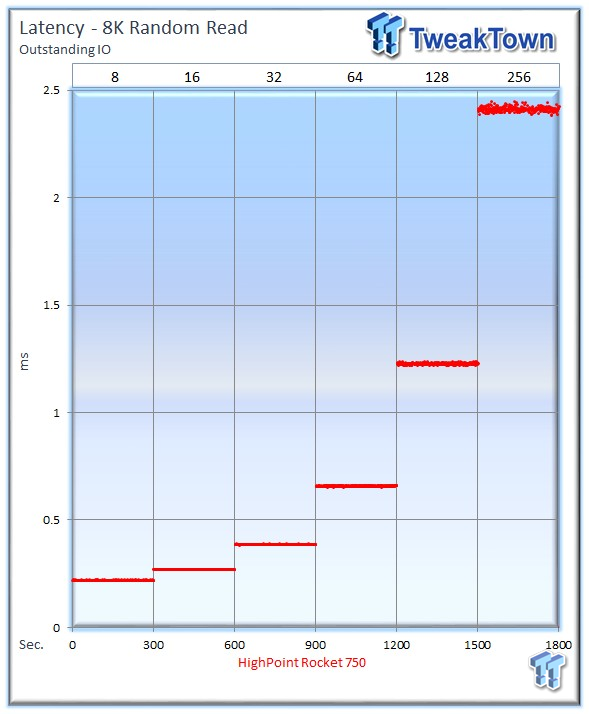 The Rocket 750 provides a very tight latency distribution during read activity.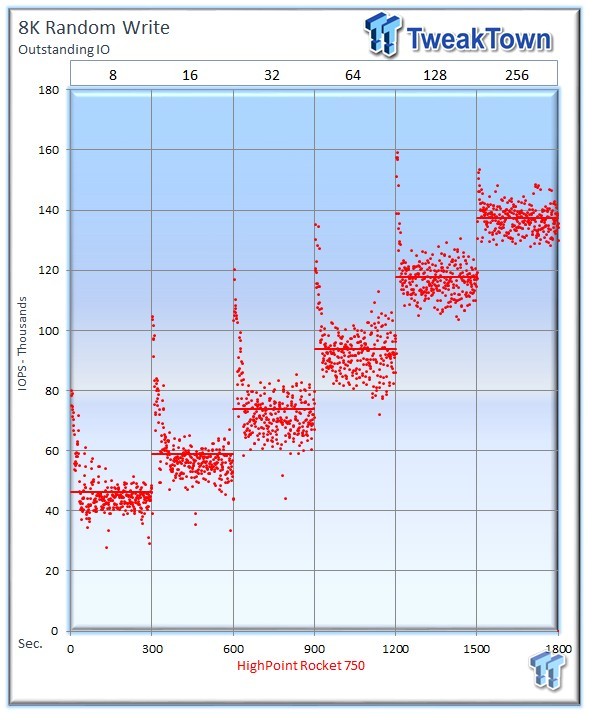 The Rocket 750 provides an average of 137,396 IOPS at 256 OIO.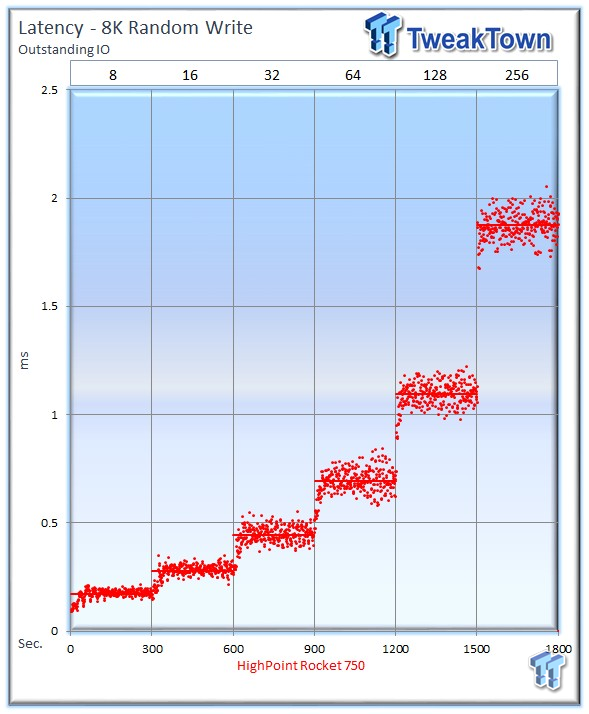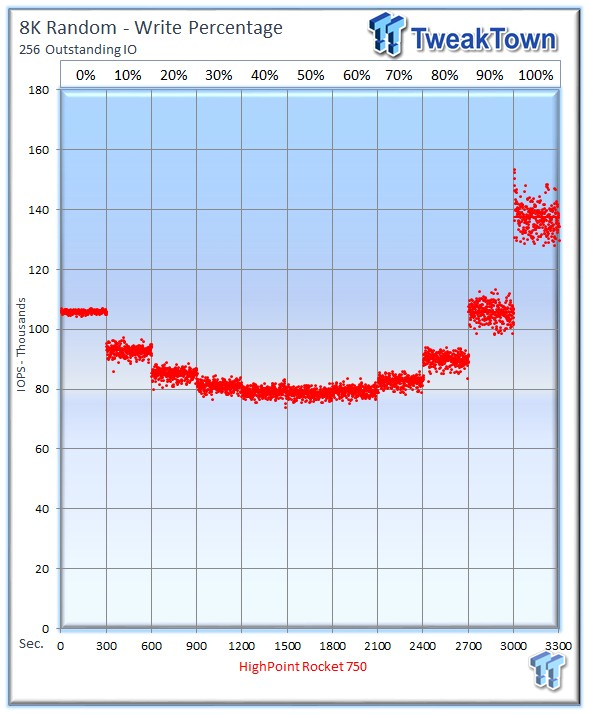 The Rocket 750 exhibits an affinity for heavier write workloads with 8k random workloads.
Benchmarks - RAID 0 128k Sequential Read/Write
RAID 0 128k Sequential Read/Write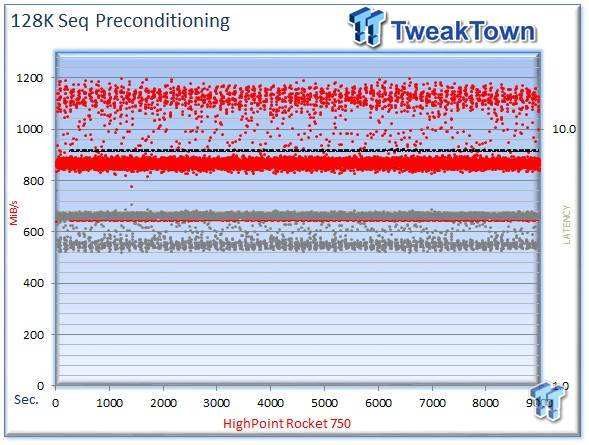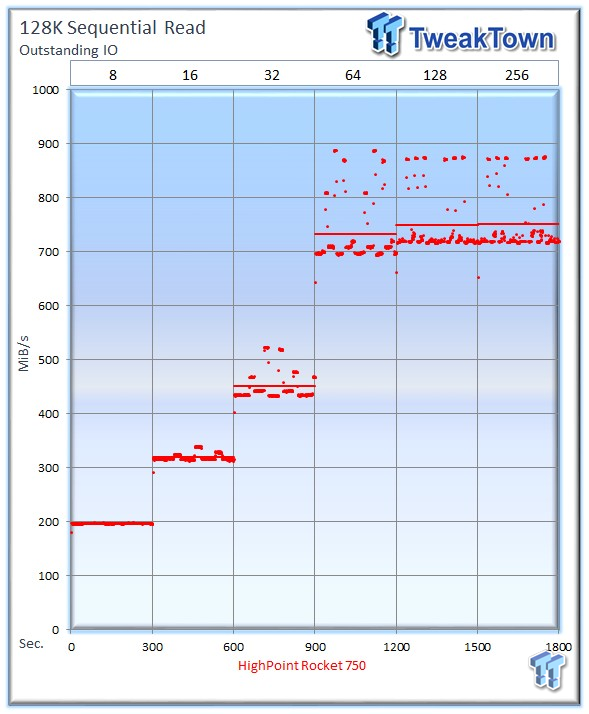 128k sequential speed reflects the maximum sequential throughput of the RAID controller. Surprisingly, the only area the Rocket 750 exhibits inconsistent performance is with 128k sequential workloads. The Rocket 750 is spec'd for 2 GB/s speeds, but we only managed to attain an average of 750 MB/s with 128k sequential testing. Further testing with larger stripe sizes resulted in a peak throughput of 1.9 GB/s with sequential read activity.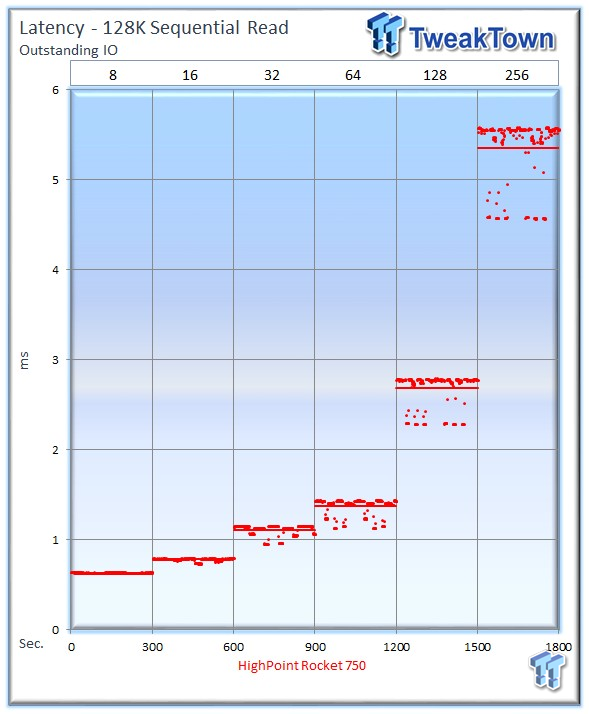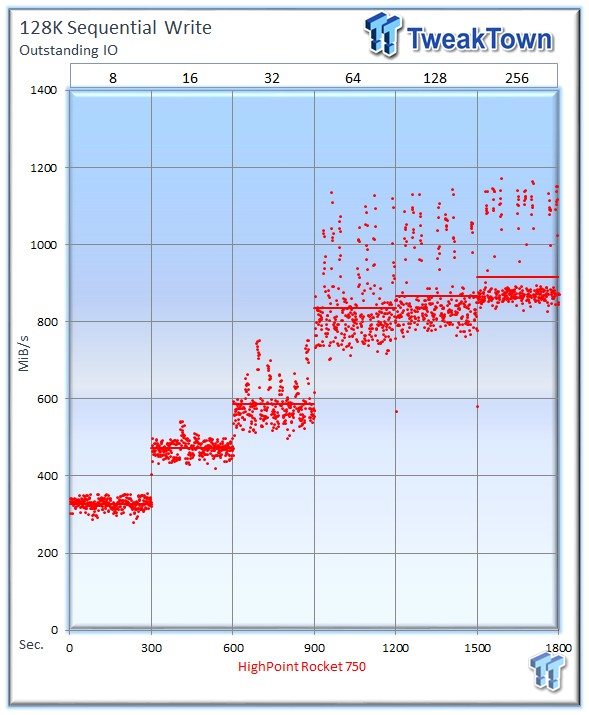 The HighPoint 750 struggles again in our sequential write testing with the smaller 128k file size, only averaging 916 MB/s. With a 1MB file size, we attained an average of 1.8 GB/s.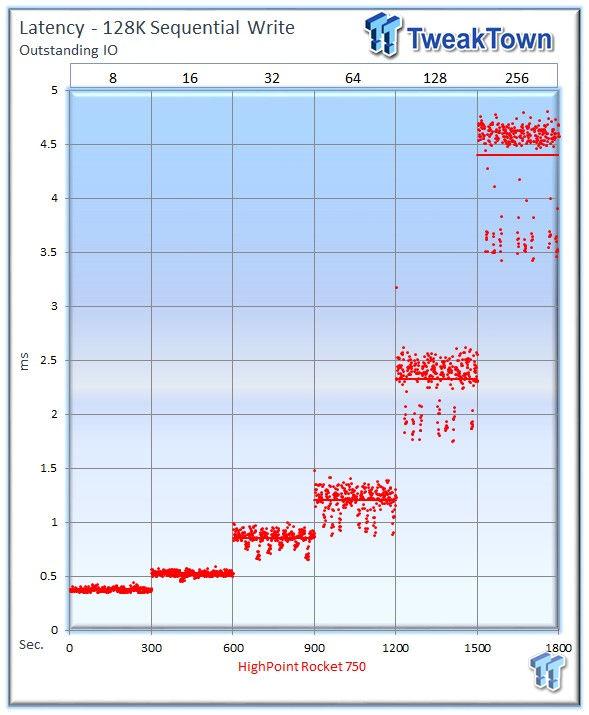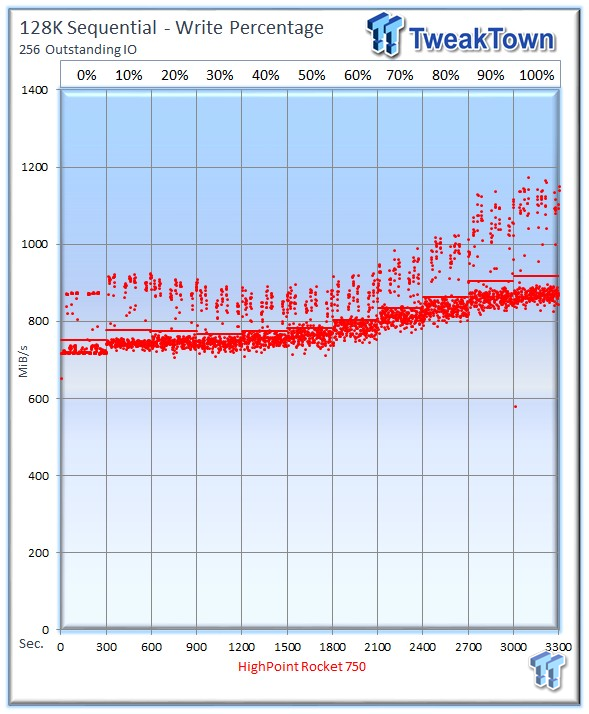 The Rocket 750 once again shows a preference for write activity with larger file sizes. The controller steadily gains speed as we add in heavier write workloads.
Benchmarks - RAID 0 Server Workloads
RAID 0 Database/OLTP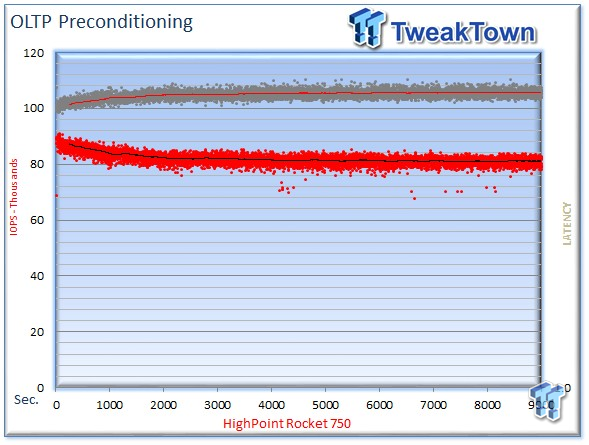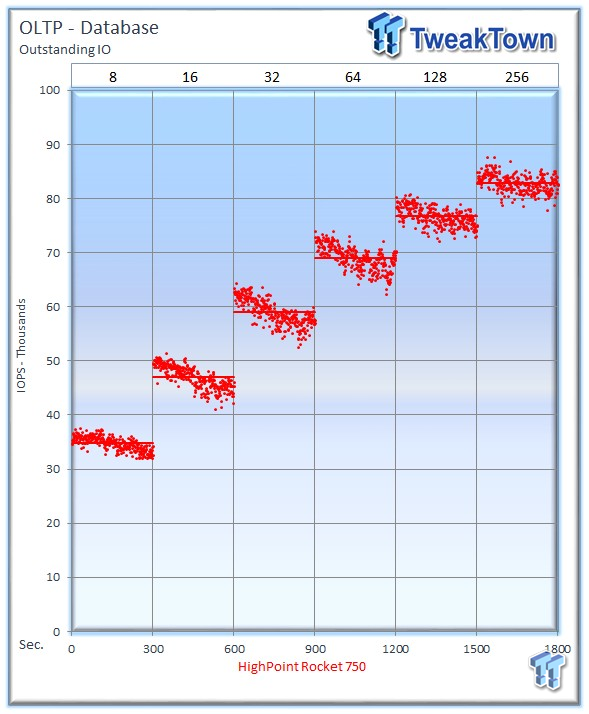 This test emulates Database and On-Line Transaction Processing (OLTP) workloads. OLTP is the processing of transactions such as credit cards and high frequency trading in the financial sector. Databases are the bread and butter of many enterprise deployments. These demanding 8k random workloads with a 66 percent read and 33 percent write distribution bring even the best solutions down to earth.
The HighPoint Technologies Rocket 750 averages a respectable 82,900 IOPS at 256 OIO in an OLTP environment.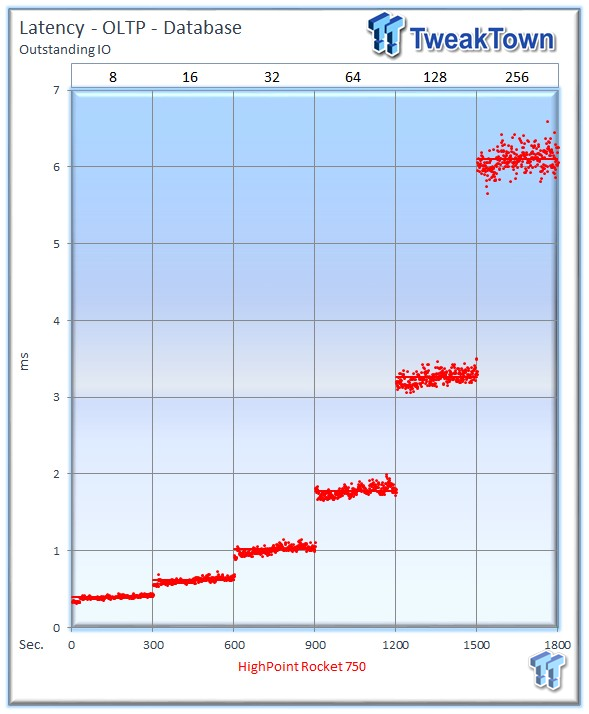 RAID 0 Web Server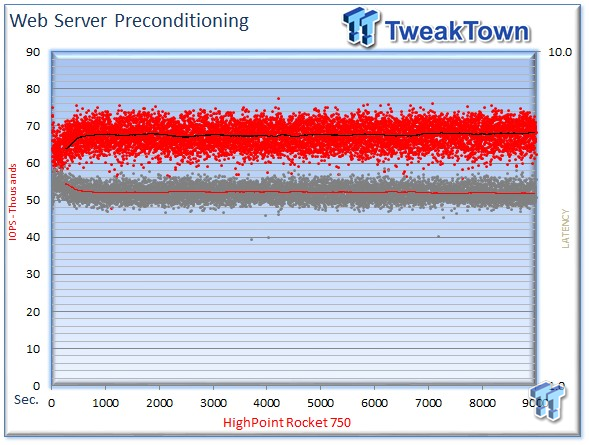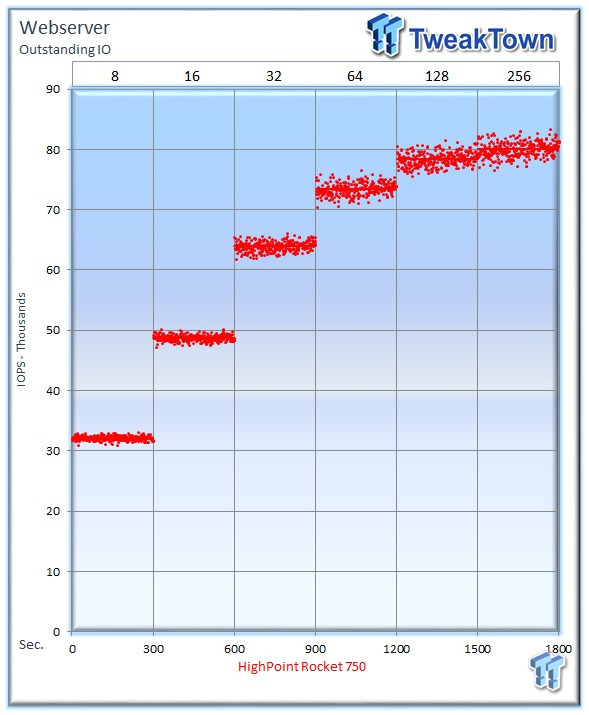 The Web Server profile is a read-only test with a wide range of file sizes. Web servers are responsible for generating content users view over the Internet, much like the very page you are reading. The speed of the underlying storage system has a massive impact on the speed and responsiveness of the server hosting the website.
The Rocket 750 averages 80,048 IOPS at 256 OIO.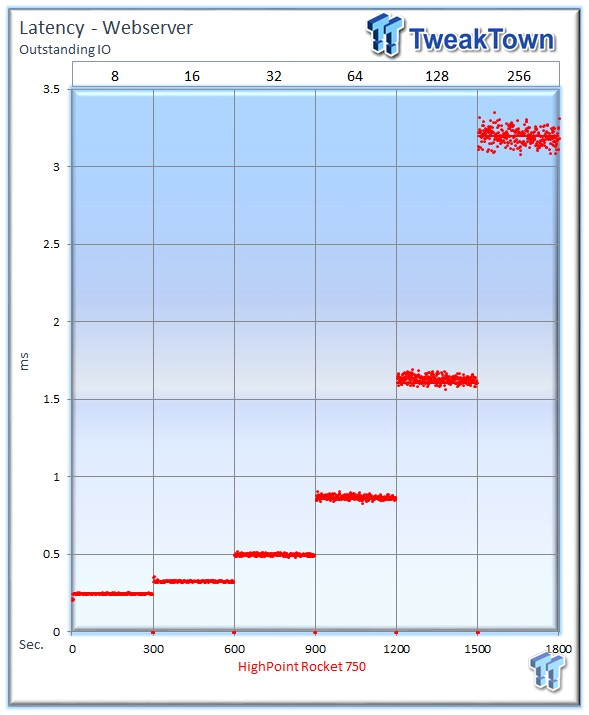 RAID 0 Email Server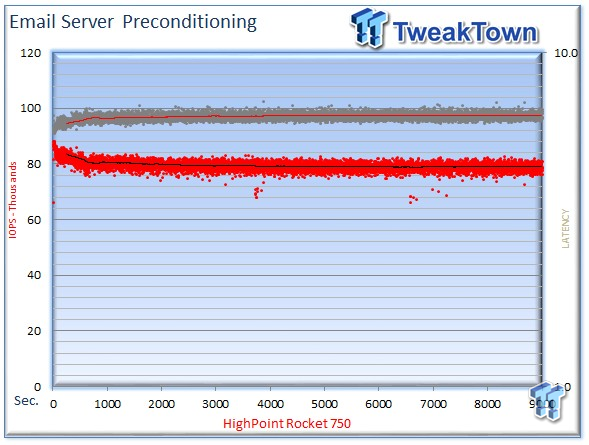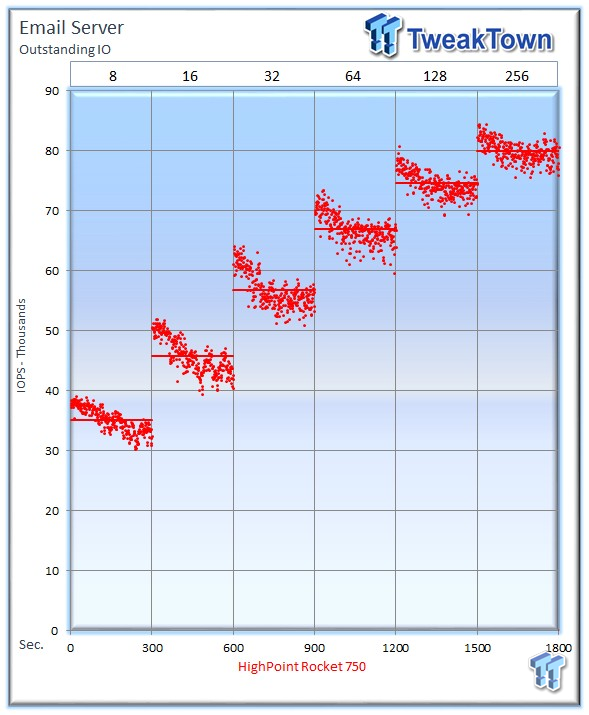 The Email Server profile is a demanding 8k test with a 50/50 read/write distribution. This application is indicative of performance in heavy write workloads.
The Rocket 750 averages 79,947 IOPS as 256 OIO.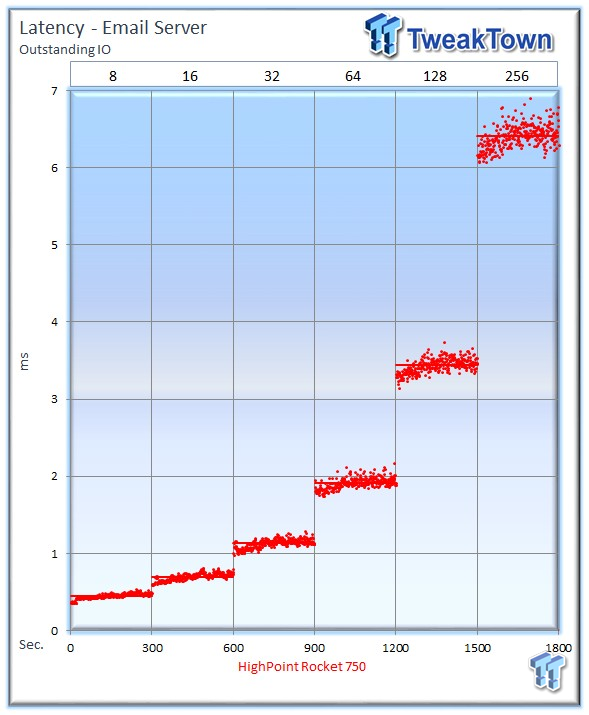 Benchmarks - RAID 5 4k Random Read/Write
RAID 5 4k Random Read/Write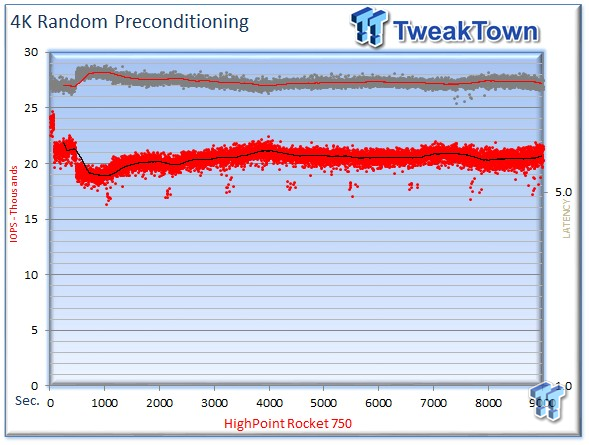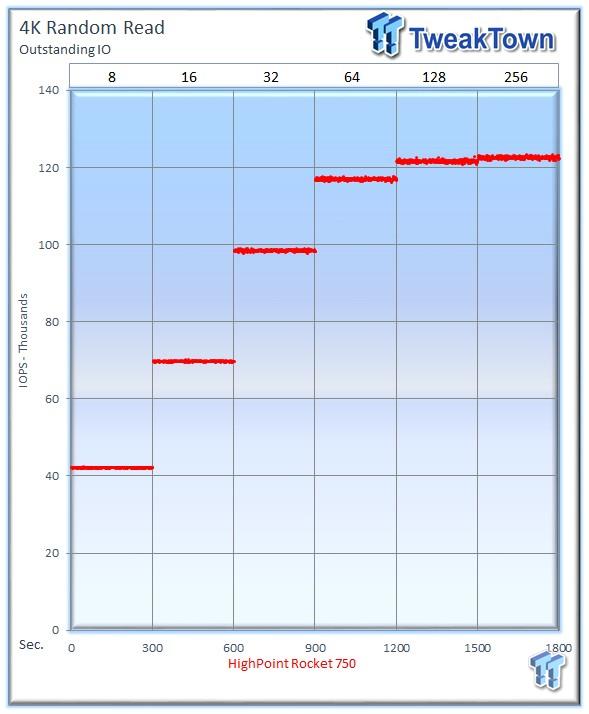 The HighPoint Rocket 750 averages 122,685 IOPS at 256 OIO.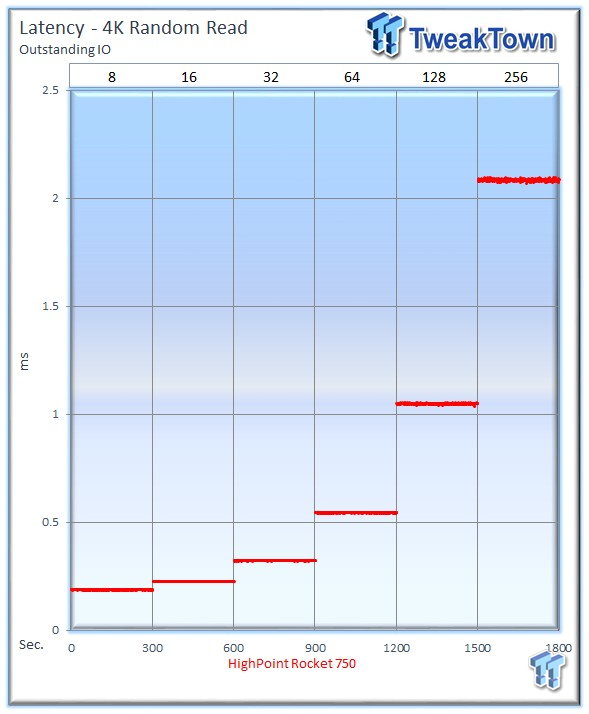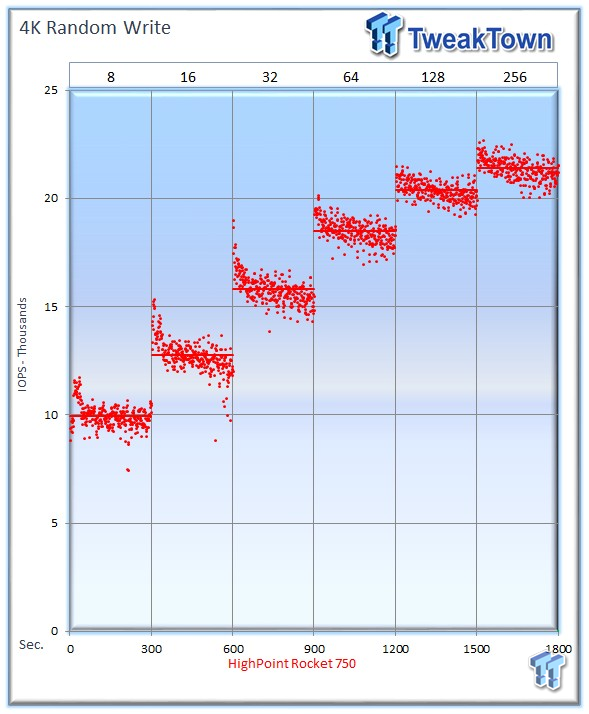 The Rocket 750 provides 21,380 IOPS at 256 OIO, likely a result of poor performance from the operating system. In this configuration, the Rocket 750 is merely in pass-through mode.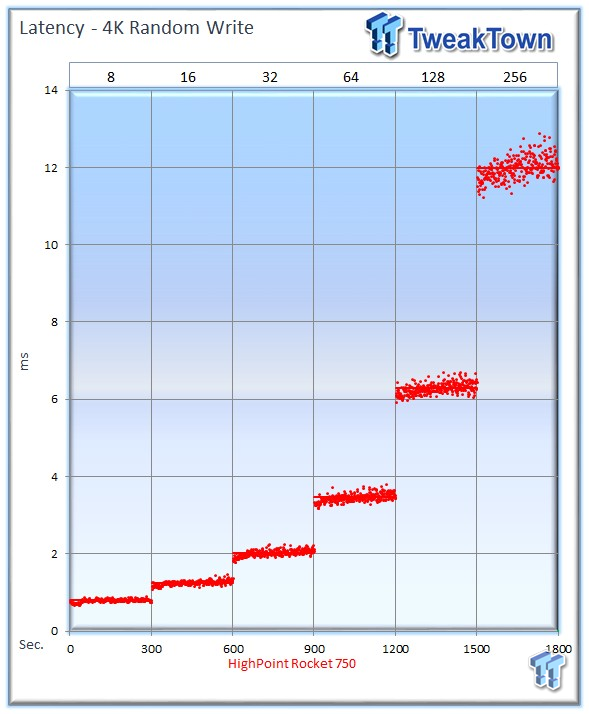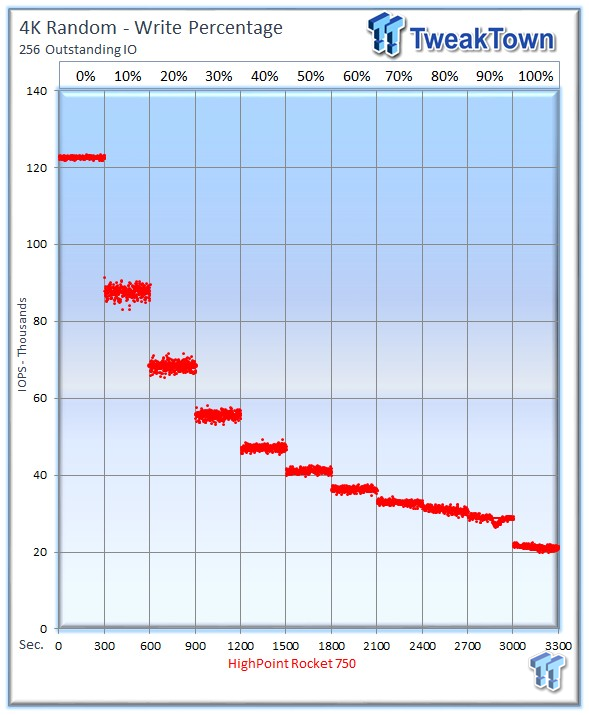 We can observe the radical performance impact parity calculations have on RAID 5 performance as we mix in more write activity.
Benchmarks - RAID 5 8k Random Read/Write
RAID 5 8k Random Read/Write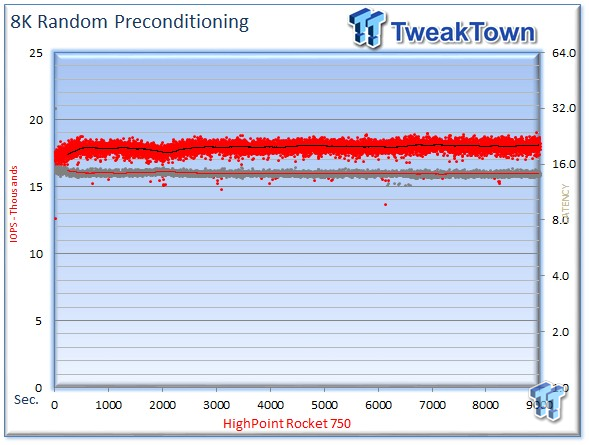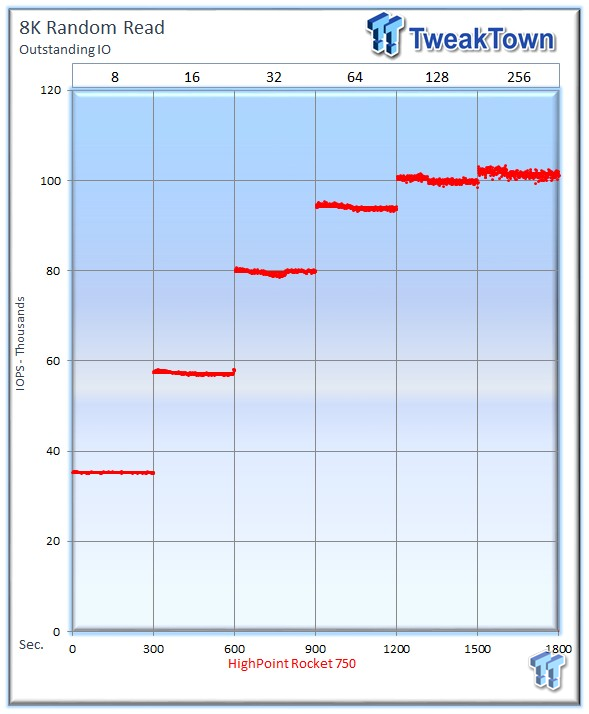 The Rocket 750 tops out at 101,607 IOPS at 256 OIO, exhibiting excellent read performance in RAID 5.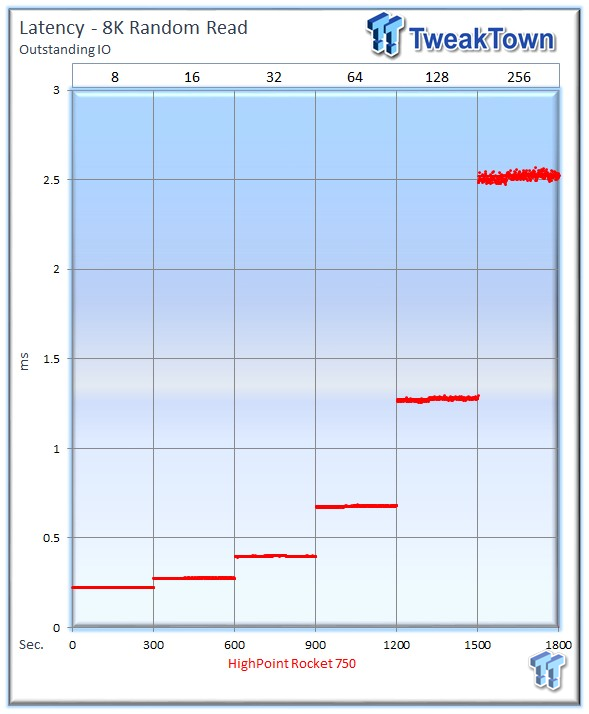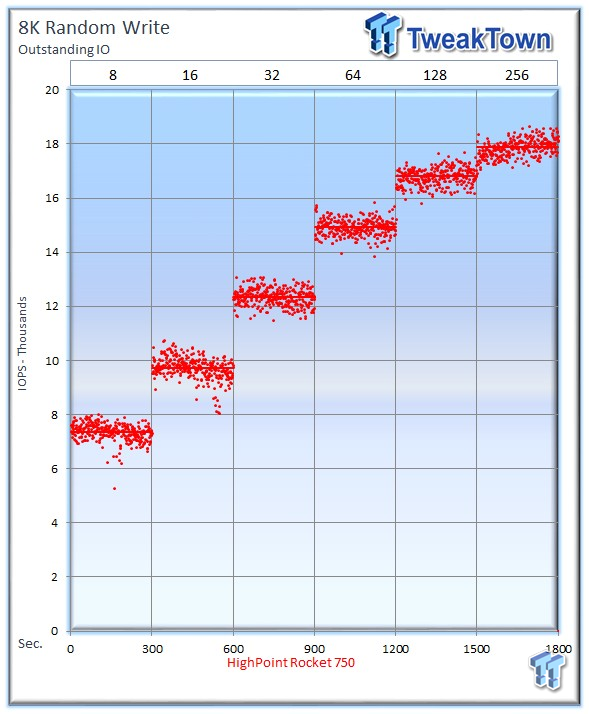 Rocket 750 supplies 17,871 IOPS with 8k random write activity at 256 OIO.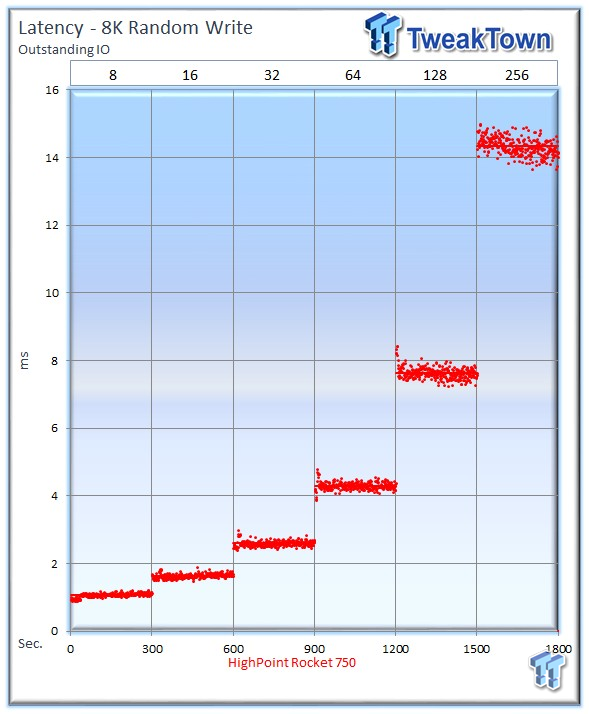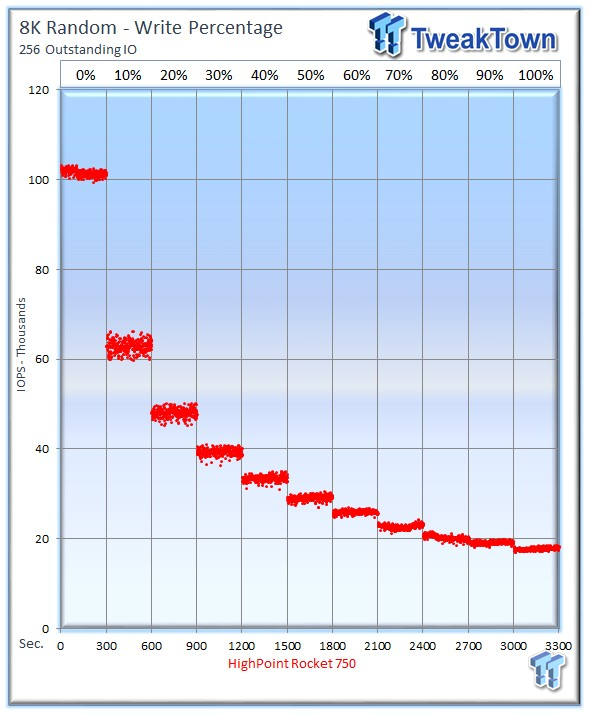 The Rocket 750 starts out at a massive 100,000 IOPS, but quickly falls below 20,000 IOPS with heavy write activity.
Benchmarks - RAID 5 128k Sequential Read/Write
RAID 5 128k Sequential Read/Write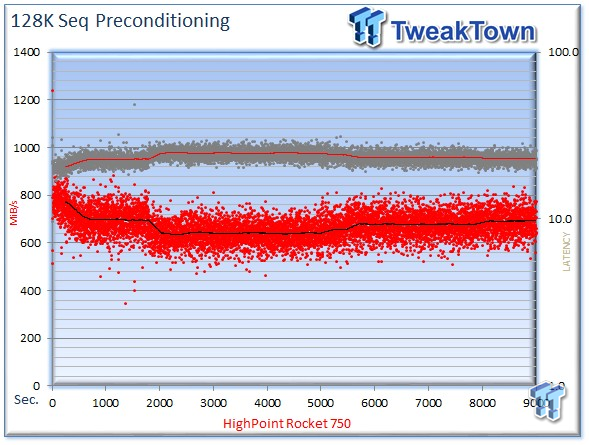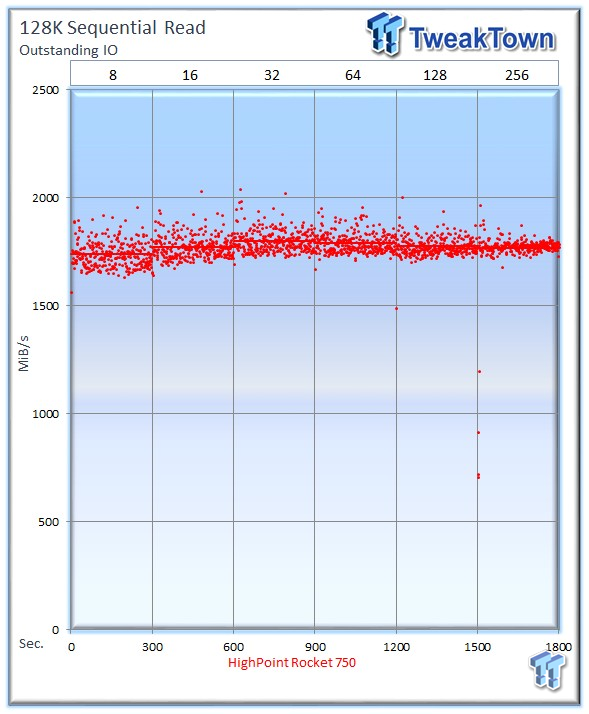 The Rocket 750 inexplicably provides an amazing boost in sequential performance with RAID 5, boosting up to 1,765 MB/s at 256 OIO. We tested numerous times to confirm this boost in sequential performance with 128k sequential data compared to RAID 0, which should be expected be much faster.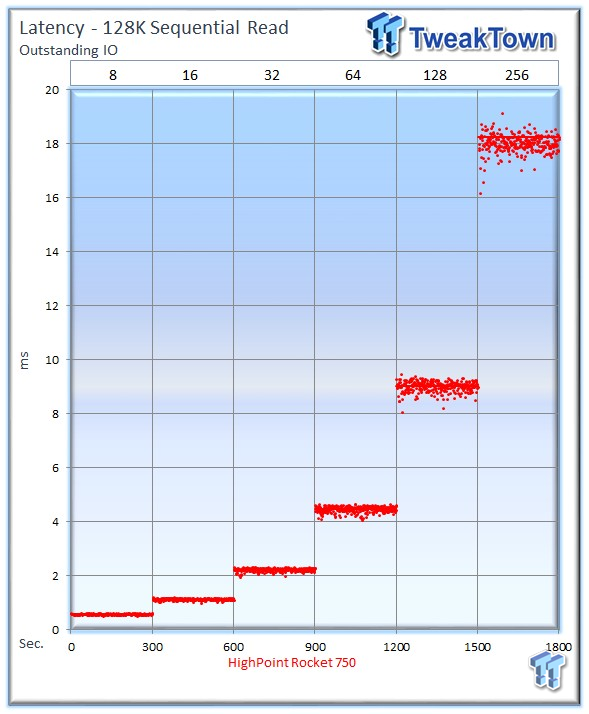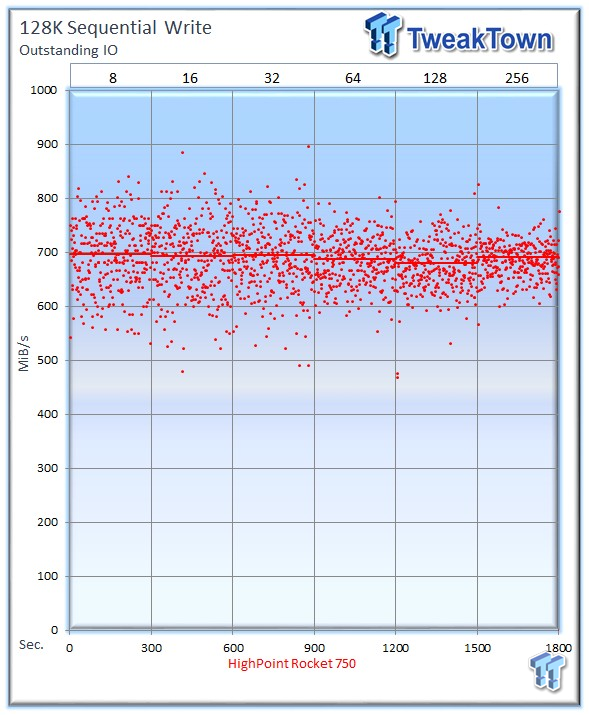 The Rocket 750 averages 691 MB/s at 256 OIO.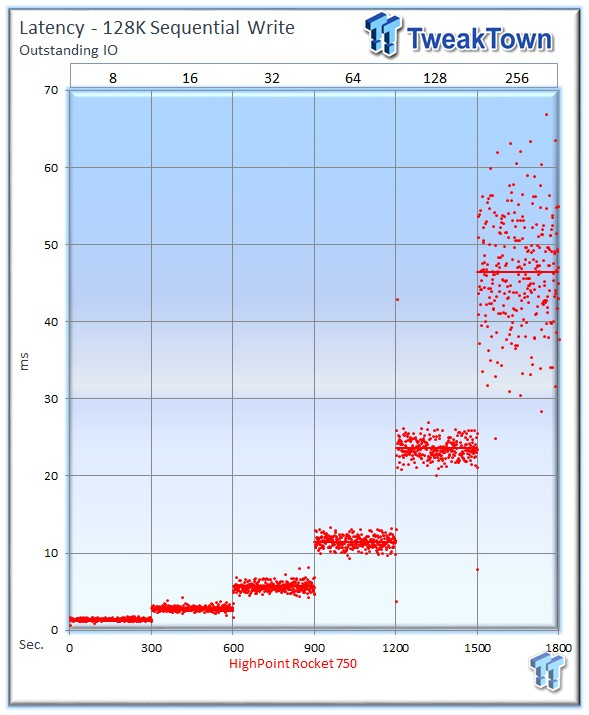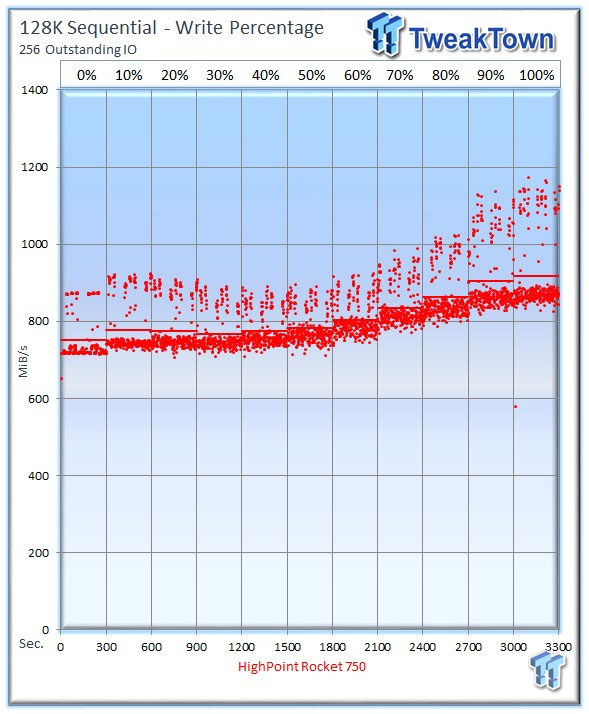 The HighPoint Rocket 750 continues to favor write performance, even in a RAID 5 configuration, making steady gains as we mix in more write activity.
Benchmarks - RAID 5 Server Workloads
RAID 5 Database/OLTP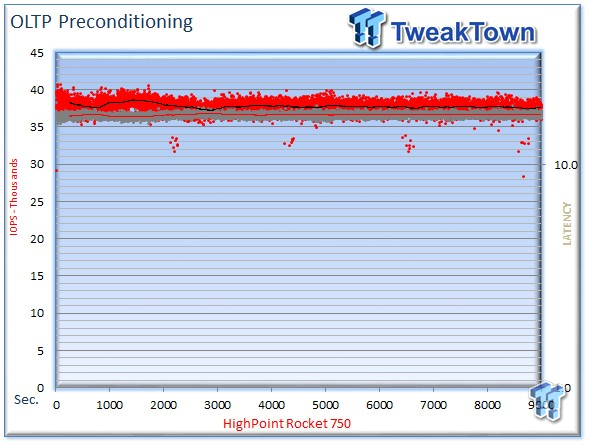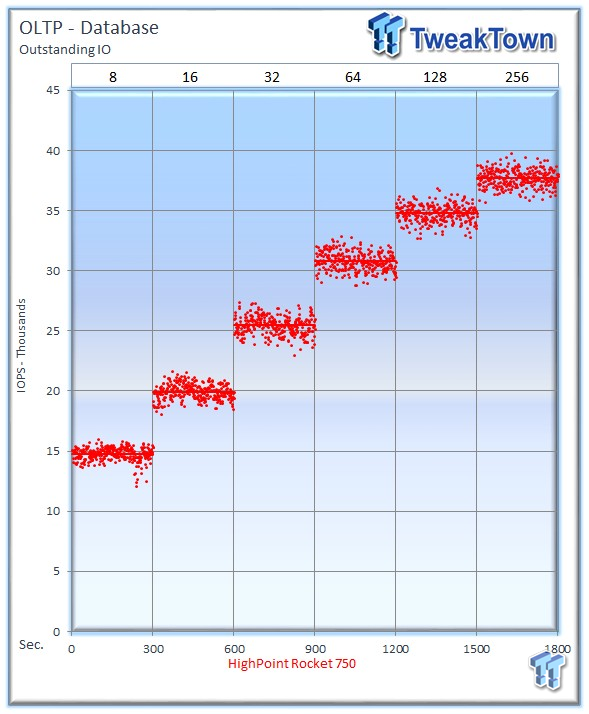 The HighPoint Technologies Rocket 750 averages 37,701 IOPS at 256 OIO.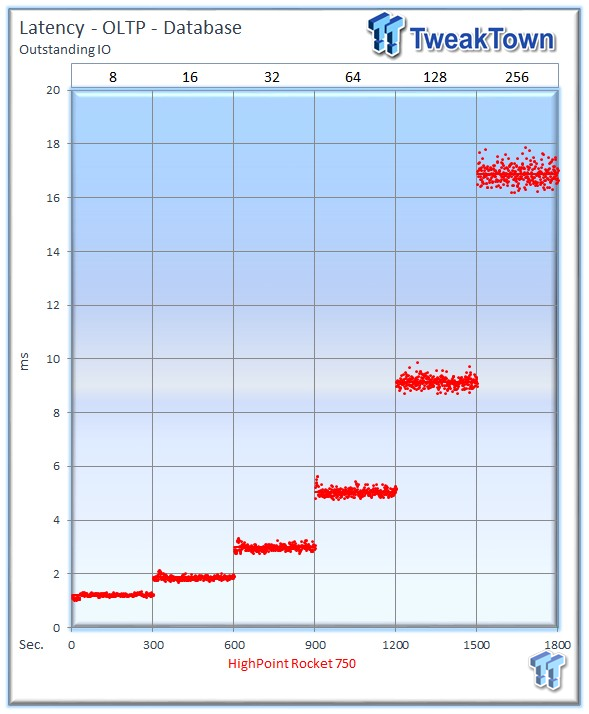 RAID 5 Web Server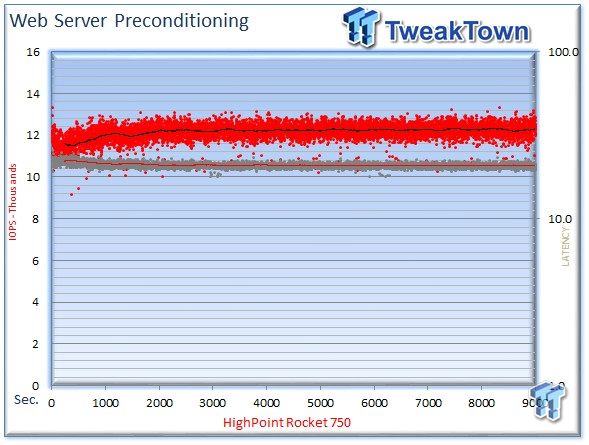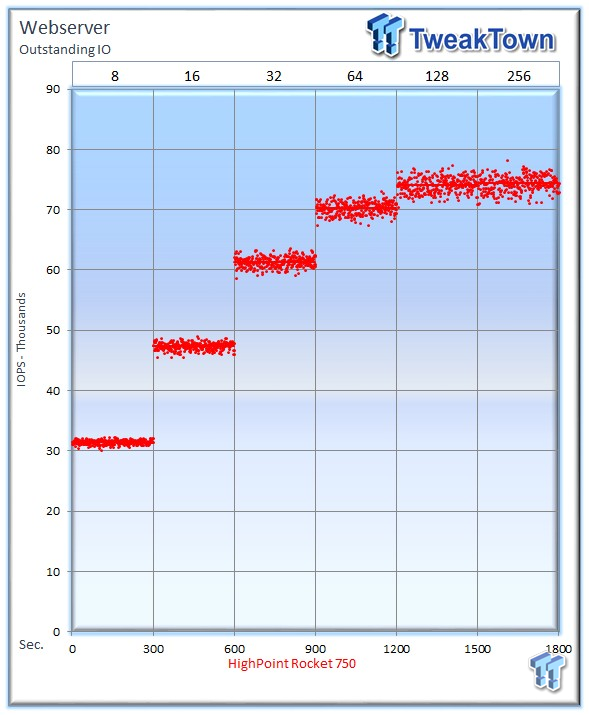 The Rocket 750 delivers 74,357 IOPS at 256 OIO.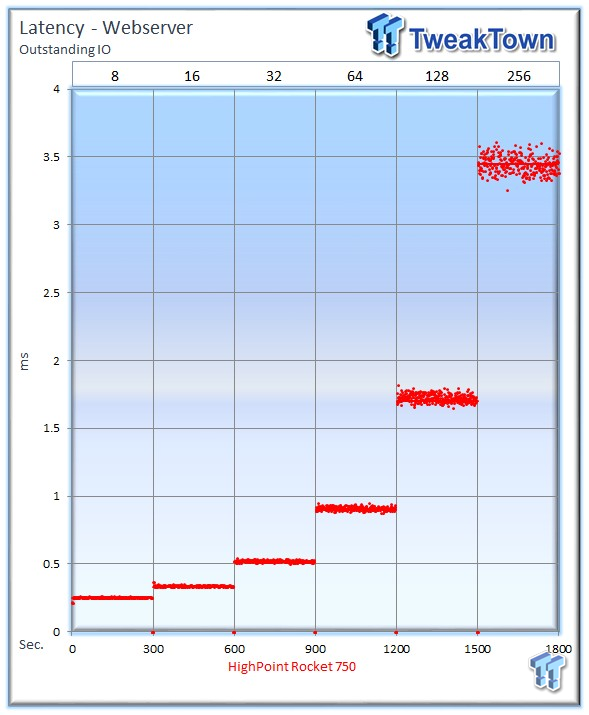 RAID 5 Email Server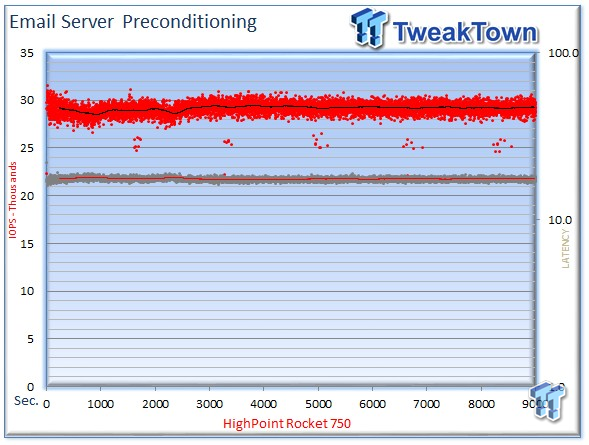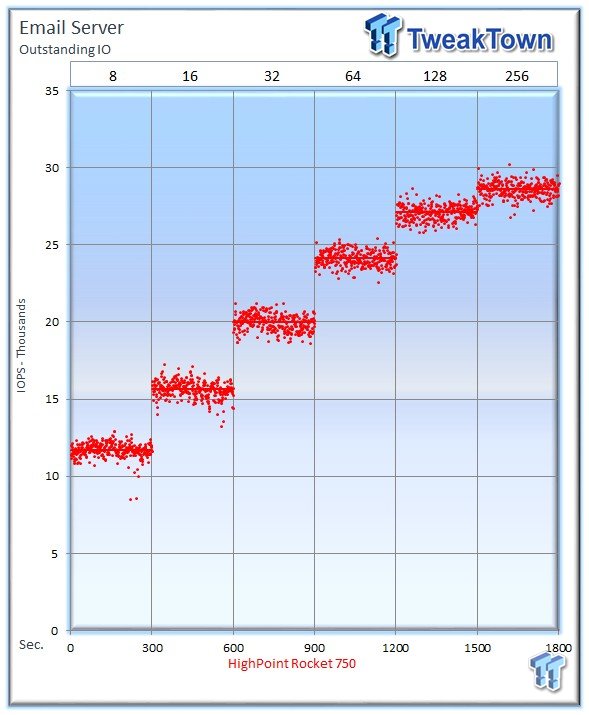 The Rocket 750 closes out our test suite with an average of 28,616 IOPS.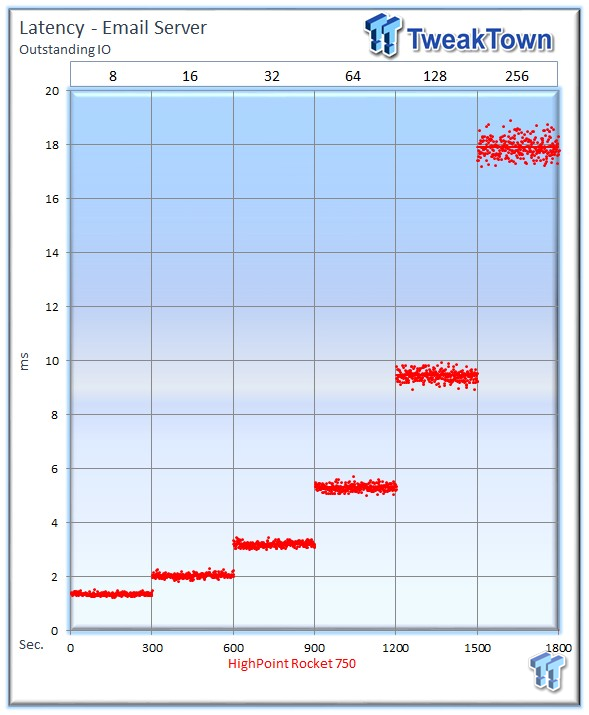 Final Thoughts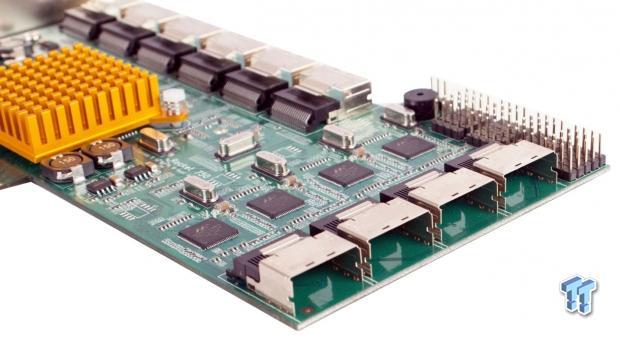 The needs of the datacenter are constantly changing, but one thing remains the same: the amount of data requiring storage is growing at a faster rate every year. Administrators tasked with storing massive amounts of data are constrained by the also-unchanging IT budget. Delivering a copious amount of storage capacity within a tightly defined budget is becoming a more arduous task with each passing year.
Much of the value of an economical approach stems from a careful analysis of the required workload. Not every workload requires bleeding-edge performance, and in many cases with large arrays of HDDs, the exact opposite is true. Acquiring top-shelf HBA components can simply equate to spending valuable IT dollars on unneeded performance. HighPoint's approach of right-sizing the Rocket 750 for the task at hand is a great example of their overall design philosophy. While the performance of the Rocket 750 isn't going to set any records, it is far above any requirements for hard drives.
The spartan approach saves money on upfront acquisition costs by reducing the required number of devices to complete the job typically serviced by several devices. The low power consumption of the Rocket 750 also delivers on the tail end by delivering great TCO by reducing overall power consumption. Low power consumption also ends up generating less heat.
The use of Marvell architecture is a good move for HighPoint. Marvell's architecture is proven and reliable, and Marvell provides other support, such as complete SDKs and drivers. System integrators concerned about reliability from value-oriented storage solutions tend to place more stock into designs that use proven architectures.
Compatibility and management can become sticking points. The Rocket 750 is certified for use with Windows, Linux, and FreeBSD. The management utility is simple and functional and fulfills the limited requirements needed for HBA management, along with a few nice monitoring features.
BackBlaze has integrated the HighPoint Technologies Rocket 750 into their Storage Pod 4.0 design to address several key challenges. The use of the Rocket 750 facilitates the removal of five multiplexor boards, which each adds a potential point of failure. The increased speed provided by the Rocket 750 also drastically reduces the time required for key system processes.
BackBlaze has always maintained an open-source philosophy with their Storage Pod designs, which has led to many users replicating their design for their own environment. The no-frills design provides the most spacious storage capacity at the lowest possible price point, and Storage Pod designs are replicated for a wide range of use-cases. BackBlaze freely shares the design specifications and parts list for their Storage Pods on their blog page.
In our testing, we chose to present the Rocket 750 as a stand-alone evaluation simply because there isn't another product on the market that fills this niche. Pairing the Rocket 750 with today's 6TB drives, administrators can pack a whopping 240 TB of storage into just one HBA. This impressive density and adequate performance at a low price point merits the TweakTown Best Value Award.
PRICING: You can find the HighPoint Technologies Rocket 750 for sale below. The prices listed are valid at the time of writing but can change at any time. Click the link to see the very latest pricing for the best deal.
United States: The HighPoint Technologies Rocket 750 retails for $739.00 at Amazon.
Canada: The HighPoint Technologies Rocket 750 retails for CDN$738.66 at Amazon Canada.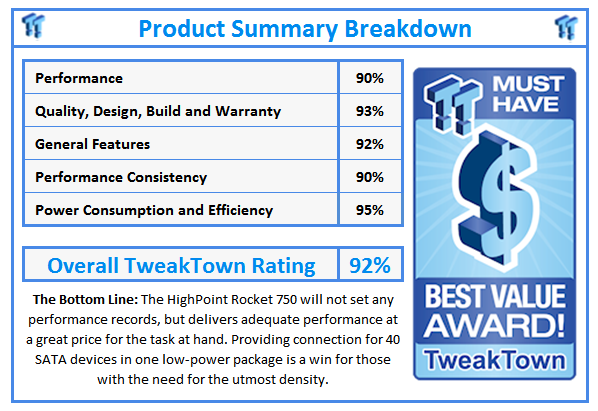 PRICING: You can find products similar to this one for sale below.

United States: Find other tech and computer products like this over at Amazon.com

United Kingdom: Find other tech and computer products like this over at Amazon.co.uk

Australia: Find other tech and computer products like this over at Amazon.com.au

Canada: Find other tech and computer products like this over at Amazon.ca

Deutschland: Finde andere Technik- und Computerprodukte wie dieses auf Amazon.de
We openly invite the companies who provide us with review samples / who are mentioned or discussed to express their opinion. If any company representative wishes to respond, we will publish the response here. Please contact us if you wish to respond.