Introduction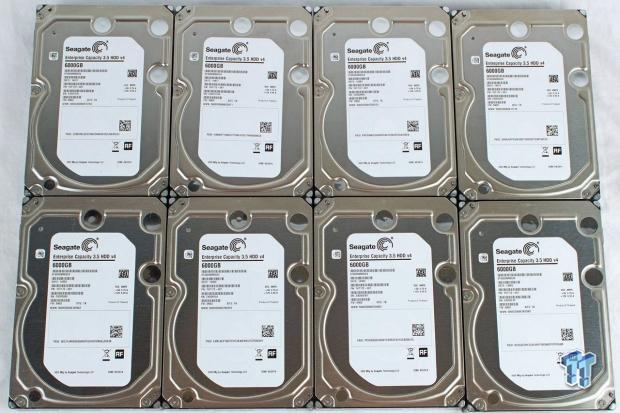 The continued data explosion has necessitated a mix of new and old technologies to address the increasing pressure on IT departments to handle a massive influx of data. Tape has spent fifty years in the datacenter, but it is still a mainstay for bulk backup of archival data. Moving data off to slow storage tiers is usually a good fit for cold and low-value data. Other, more unconventional methods, such as Blu-ray archival, have even made an appearance to provide economical archival storage alternatives.
Shuffling cold data off to slow archival tiers is an easy fix, but storing large amounts of active data has been the biggest challenge in the datacenter. Until recently, the rate of HDD capacity increases have slowed, leaving the undesirable option of simply continuing to scale up to meet storage demands. The 6TB Seagate Enterprise Capacity 3.5 HDD v4 (evaluated here) is a welcome sight for those facing the challenge of meeting the demand for increased data storage capability. Instead of scaling storage up by adding more racks of 4TB HDDs, administrators can now simply slip in new 6TB drives to realize an instant 50% capacity boost.
Storing data in parity RAID sets has only become more painful as HDD capacity has grown. Excessive rebuild times can drag into days, or even weeks in extreme cases, and can nearly mathematically assure the eventuality of a bit error during rebuild. The reality of scuttling entire arrays during rebuild led the exodus from RAID 5 to RAID 6. Unfortunately, both RAID techniques suffer performance penalties, and the extra layer of protection from RAID 6 only exacerbates performance issues.
A slew of innovative techniques have sprung up to ease the transition to larger volumes, among them object storage and advanced erasure coding. These innovative techniques represent the path forward for large capacity arrays, but the current implementations have performance implications of their own. There will be a slow uptake until more refined object storage and erasure coding techniques, such as SSD metadata caching, become mainstream. Object-storage Ethernet based-HDDs are also waiting in the wings, such as Seagate's Kinetic architecture, which offers the bonus of drive-to-drive data migration, among other benefits.
The Seagate v4 supports RAID Rebuild. RAID Rebuild is part of the SAS standard now supported by RAID controller vendors. RAID Rebuild enables communication between the drive and the RAID controller to perform surgical rebuilds in lieu of rebuilding the entire array. The enhanced speed of the Seagate v4 also helps speed the rebuild process.
Another attractive feature of the Enterprise Capacity v4 is its conservative power specifications. The v4 remains very competitive on a Watts-per-TB basis, despite an incremental increase in power consumption. Keeping data readily accessible is always going to incur a TCO overhead, but enhanced sleep and idle states delivered via Seagate's PowerChoice Technology help minimize the blow for sporadic workloads. We will include more details about PowerChoice on the following page.
A simple eight-drive array can now offer an impressive 48TB of capacity, and the Seagate v4 is available in 6Gb/s SATA and 12Gb/s SAS versions to accommodate varying requirements. The challenges of parity-based RAID has led to increasing use of RAID 10 in the datacenter because it does not suffer the same rebuilding pains. Today we are forgoing presentation of the results of our RAID 5 testing, which was well within expectations, to highlight performance in RAID 10 and RAID 0 environments. Let's dive in, and take a look at the results of our testing.
PRICING: You can find the Seagate Enterprise Capacity 3.5 HDD v4 (6TB) for sale below. The prices listed are valid at the time of writing, but can change at any time. Click the link to see the very latest pricing for the best deal.
United States: The Seagate Enterprise Capacity 3.5 HDD v4 (6TB) retails for $472.49 at Amazon.
Canada: The Seagate Enterprise Capacity 3.5 HDD v4 (6TB) retails for CDN$730.97 at Amazon Canada.
Seagate Enterprise Capacity v4 Internals and Specifications
Seagate 6TB Enterprise Capacity 3.5 HDD v4 Internals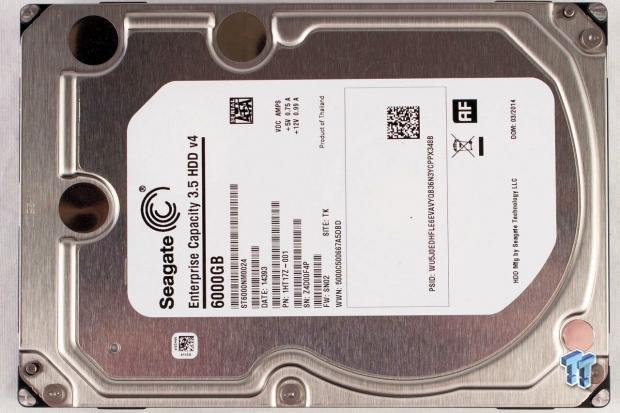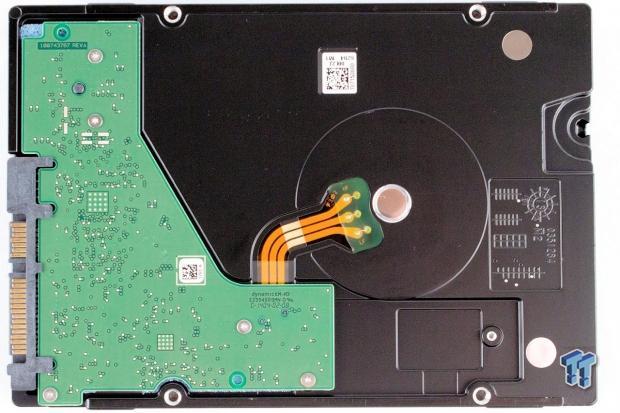 The Seagate Enterprise Capacity 3.5 HDD v4 comes in the familiar 3.5" form factor. The Seagate v4 has a humidity sensor that detects when the drive is above spec, and alerts the user. It also features ramp load technology, and a top-cover attached motor.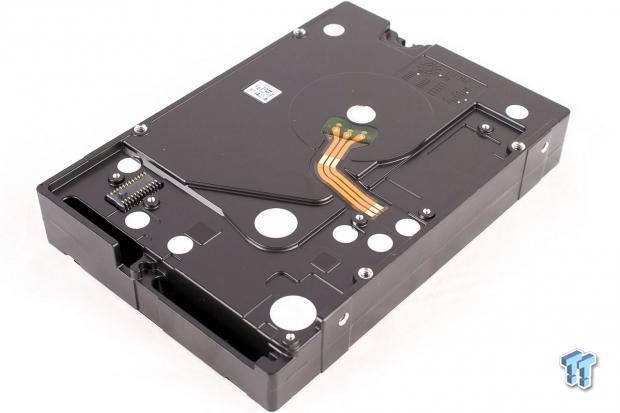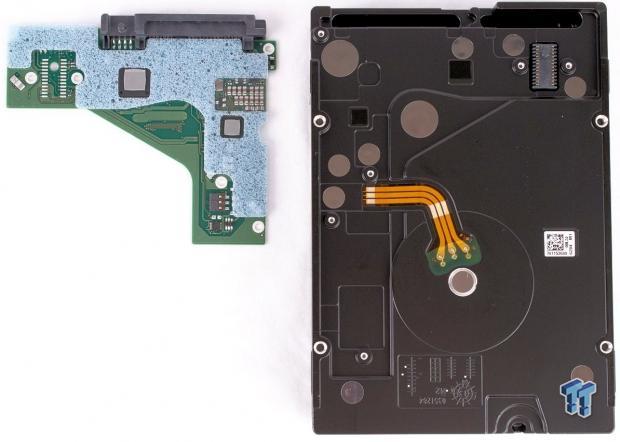 The v4 has a different hole-spacing layout than typical HDDs, lacking two of the typical middle screw emplacements on the side of the drive. Users should be aware and plan accordingly, but a slight modification of most side-mount trays will suffice. The foam covering rests between the PCB and the drive to absorb vibration. Thermal pads cover the controller and motor controller to shed heat into the case of the drive. There is also a sheer plastic cover over three rows of capacitors on the right edge of the PCB.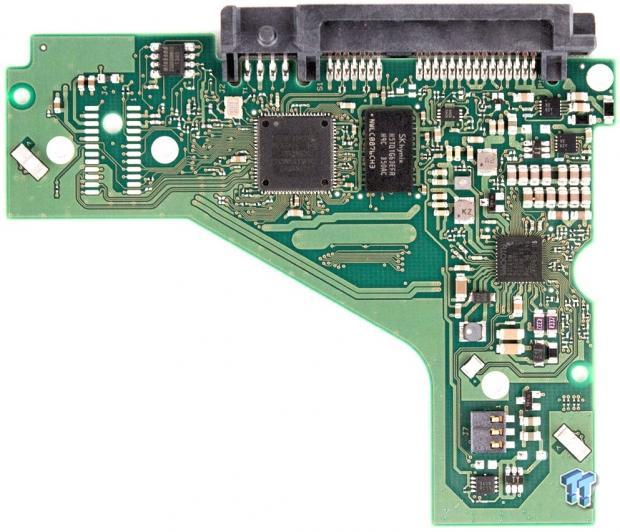 There are no discernable manufacturer markings to identify the drive controller. The SK Hynix memory chip offers 128MB of multi-segmented cache. The SMOOTH drive motor controller resides to the bottom right of the PCB. Two accelerometers occupy opposing corners of the PCB, and help counteract drive movement and vibration. The Seagate v4 touts industry-leading rotational vibration tolerance.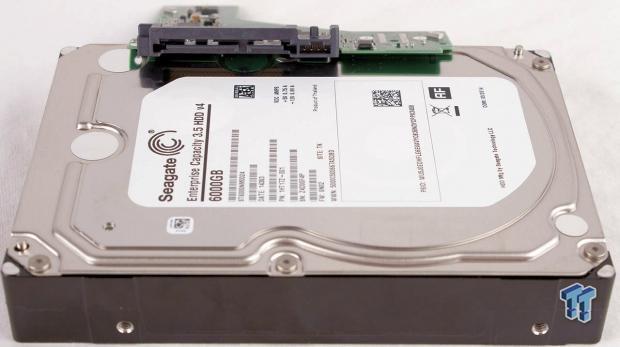 Our samples feature the 6Gb/s SATA connection.
Seagate 6TB Enterprise Capacity 3.5 HDD v4 Specifications
Idle power consumption is a point of discomfort in the datacenter. The Seagate Enterprise Capacity v4 utilizes PowerChoice Technology, Seagate's proprietary implementation of the T10/T13 Approved Standard. PowerChoice provides four enhanced idle modes that place the drive into deeper quasi-sleep cycles to conserve power.
The feature is enabled with a SAS Mode Page, or SATA Set Feature command in a typical implementation. Once enabled, PowerChoice places the drive into successively deeper idle states triggered by the length of drive inactivity. There is also the option for immediate host-initiated power transitions with SAS/SATA commands, but each consecutive sleep mode requires more time for resumption.
The Seagate v4 offers SED models (AES-256) with ISE (Instant Secure Erase). ISE eases drive retirement and repurposing by eliminating the need for physical destruction. Seagate SED drives are typically the same price as standard drives. There is also an SED-FIPS 140-2 model available. The SED-FIPS version is only available at the 6TB capacity point. Seagate is the only drive manufacturer that offers SED-FIPS drives with tamper-evident coverings.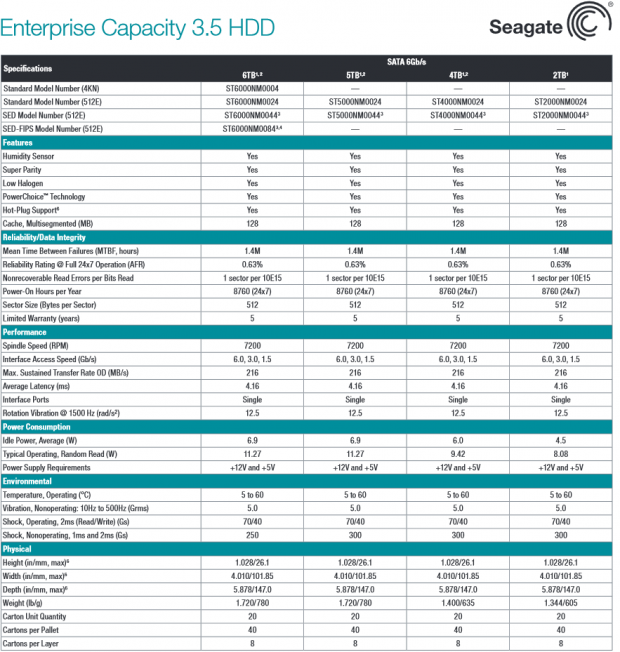 Test System and Methodology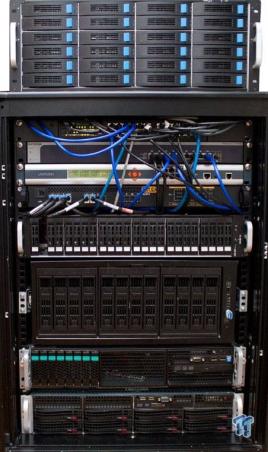 Our approach to storage testing targets long-term performance with a high level of granularity. Many testing methods record peak and average measurements during the test period. These average values give a basic understanding of performance, but fall short in providing the clearest view possible of I/O QoS (Quality of Service).
While under load, all storage solutions deliver variable levels of performance. "Average" results do little to indicate performance variability experienced during actual deployment. The degree of variability is especially pertinent, as many applications can hang or lag as they wait for I/O requests to complete. While this fluctuation is normal, the degree of variability is what separates enterprise storage solutions from typical client-side hardware.
Providing ongoing measurements from our workloads with one-second reporting intervals illustrates product differentiation in relation to I/O QoS. Scatter charts give readers a basic understanding of I/O latency distribution without directly observing numerous graphs. This testing methodology illustrates performance variability, and includes average measurements during the measurement window.
IOPS data that ignores latency is useless. Consistent latency is the goal of every storage solution, and measurements such as Maximum Latency only illuminate the single longest I/O received during testing. This can be misleading, as a single "outlying I/O" can skew the view of an otherwise superb solution. Standard Deviation measurements consider latency distribution, but do not always effectively illustrate I/O distribution with enough granularity to provide a clear picture of system performance. We utilize high-granularity I/O latency charts to illuminate performance during our test runs.
The first page of results will provide the "key" to understanding and interpreting our new test methodology. In replicated environments, RAID 0 can be a compelling choice for bleeding edge performance. RAID 10 provides the benefits of replication, and faster time-to-ready after drive failures. We test RAID 0 and RAID 10 for this evaluation.
Benchmarks - RAID 0 4k Random Read/Write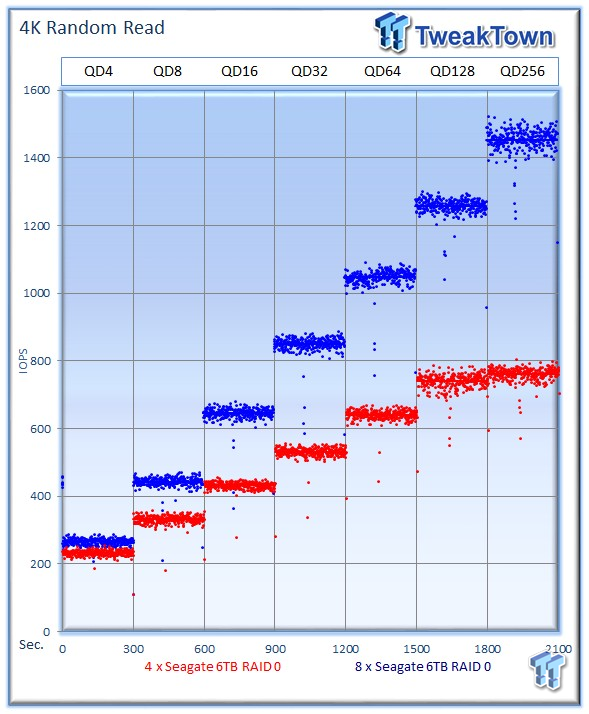 Each level tested includes 300 data points (five minutes of one second reports) to illustrate performance variability. The line for each OIO depth represents the average speed reported during the five-minute interval. 4k random speed measurements are an important metric when comparing drive performance, as the hardest type of file access for any storage solution to master is small-file random. 4k random performance is a heavily marketed figure, and one of the most sought-after performance specifications.
The four-drive array averages 761 IOPS at 256 OIO (Outstanding I/Os). The eight Seagate V4's make the jump up to 1,454 IOPS at 256 OIO - barely shy of providing perfectly linear scaling.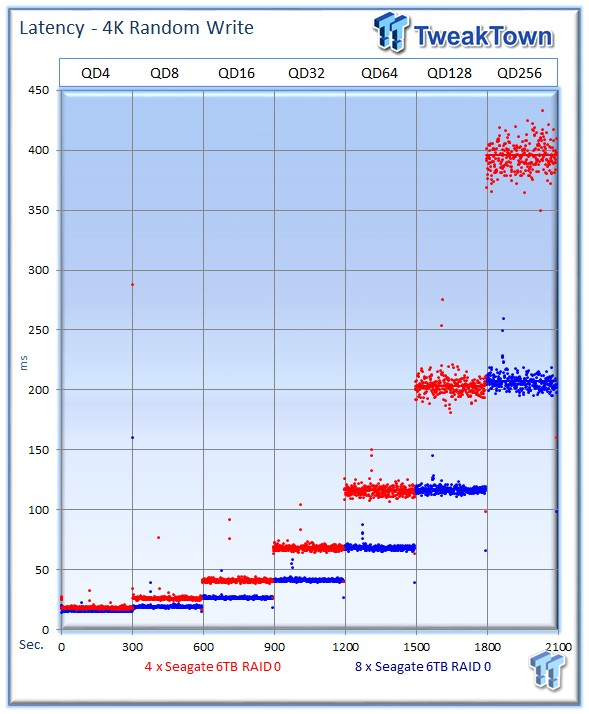 Latency performance becomes less consistent as we move from four drives to eight drives in the random read workload.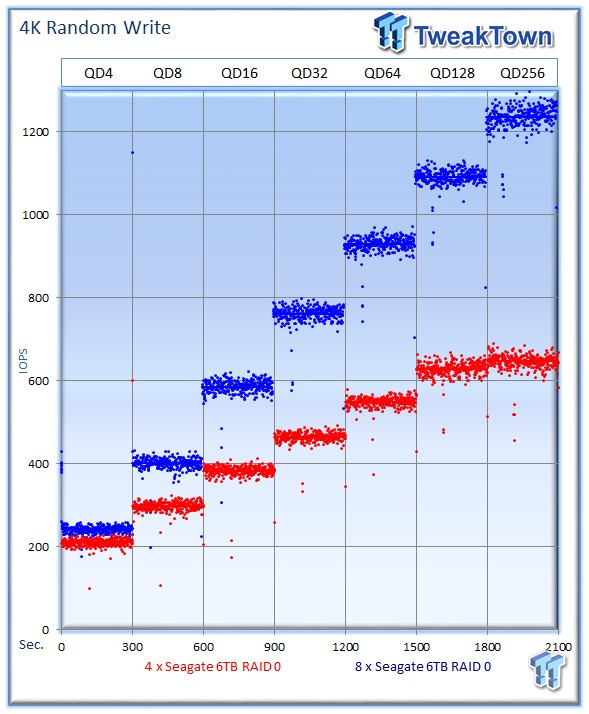 The eight-drive Seagate v4's provide 1,235 IOPS at 256 OIO, a nearly perfect linear scaling from the 646 IOPS provided by the four-drive array.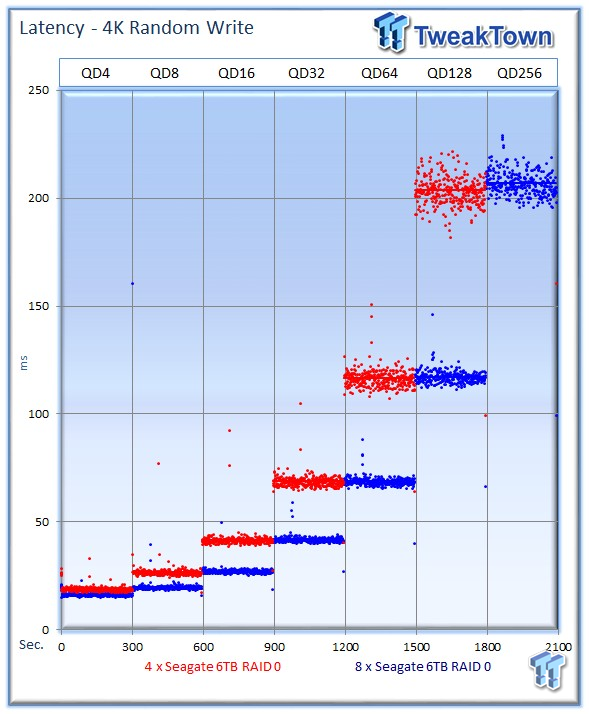 The write latency results also feature a bit more variability as we add more drives.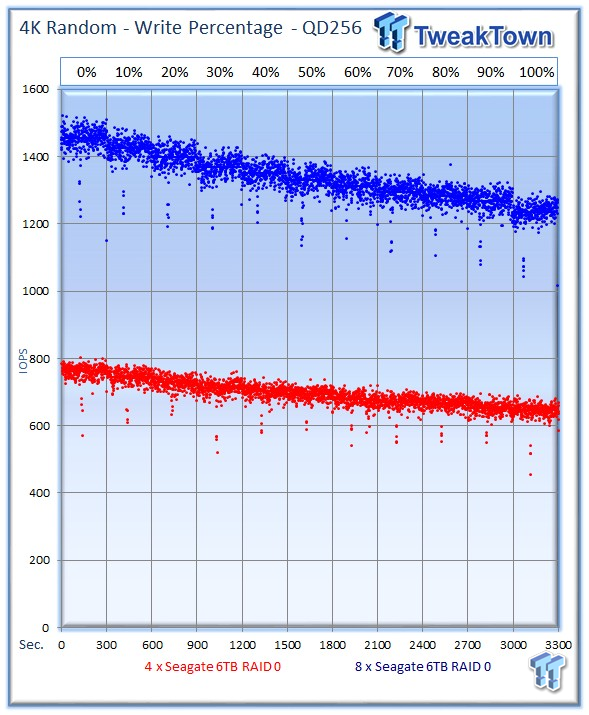 Our write percentage testing illustrates the varying performance of each solution with mixed workloads. The 100% column to the right is a pure 4k write workload, and 0% represents a pure 4k read workload.
In mixed workloads, the addition of several drives pays big dividends. In some mixtures, particularly as we mix in more write activity, we observe more than double the performance of the four-drive array.
Benchmarks - RAID 0 8k Random Read/Write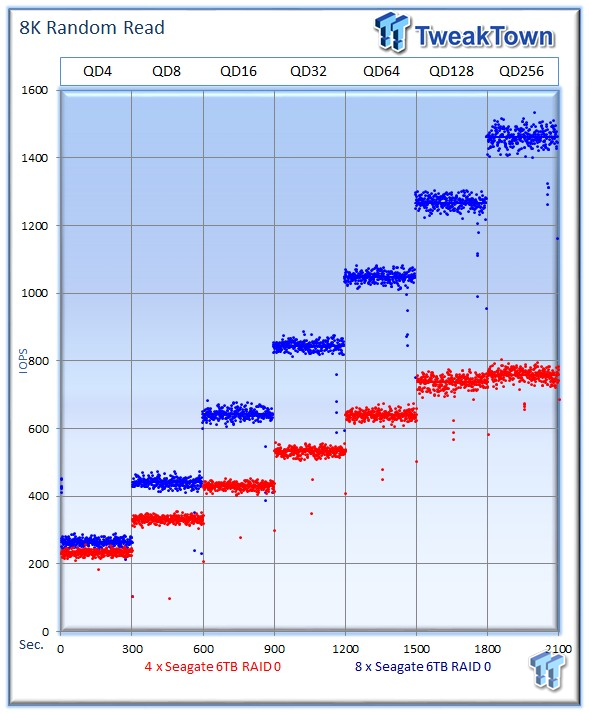 Many server workloads rely heavily upon 8k performance, and we include this as a standard with each evaluation. Many of our server workloads also test 8k performance with various mixed read/write workloads.
The four-drive array of Seagate Enterprise Capacity v4's provides 759 IOPS at 256 OIO, and expands to 1,460 IOPS with the eight-drive array.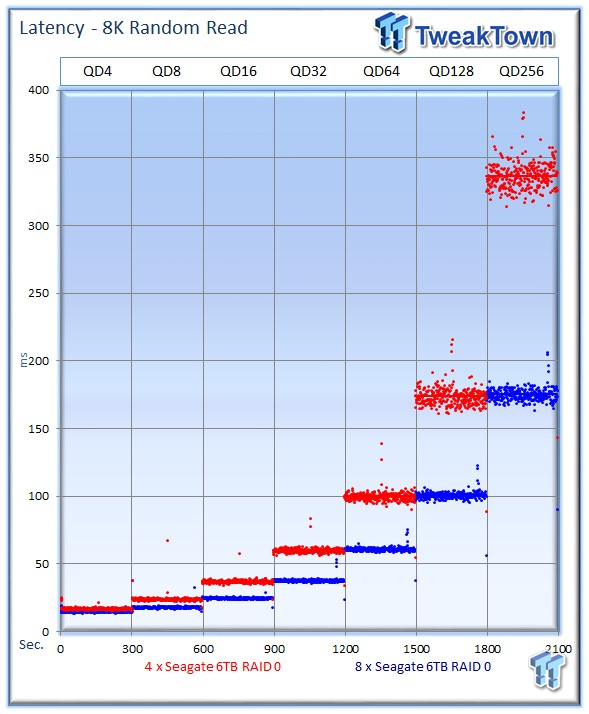 Once more, we note more variability with the addition of several drives. This variability is offset by enhanced performance.
The eight-drive array moves up to 1,245 IOPS from the 641 IOPS provided by the four-drive array.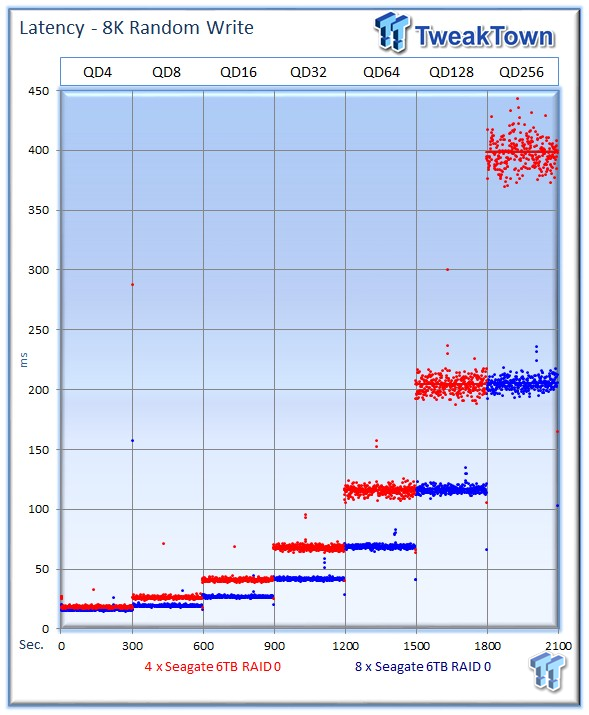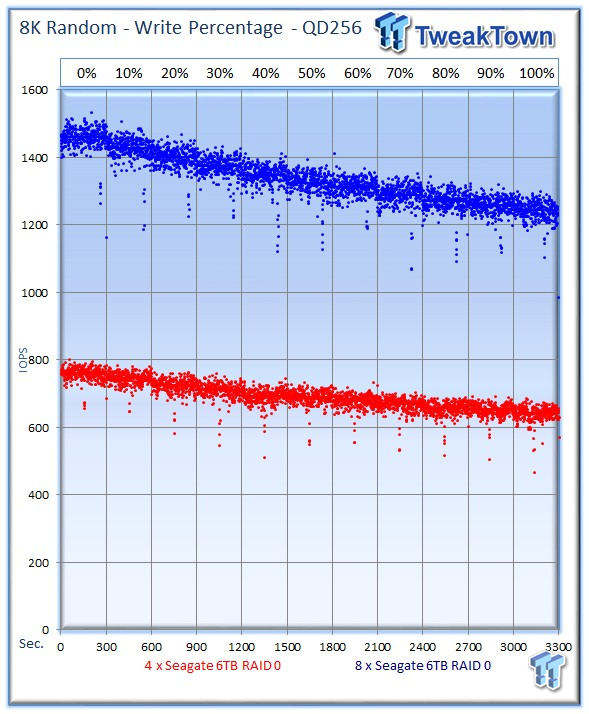 The Seagate v4 exhibits a propensity for random write workloads in general, and scaling becomes more effective with heavier write workloads.
Benchmarks - RAID 0 128k Sequential Read/Write
128k sequential speed reflects the maximum sequential throughput of the SSD, and is indicative of performance in OLAP, batch processing, streaming, content delivery applications, and backup scenarios. Today's HDDs are increasingly used for sequential workloads as SSDs encroach upon the application space. The four-drive array provides a healthy 850 MB/s, and the eight-drive array pushed that up to a tremendous 1,697 MB/s.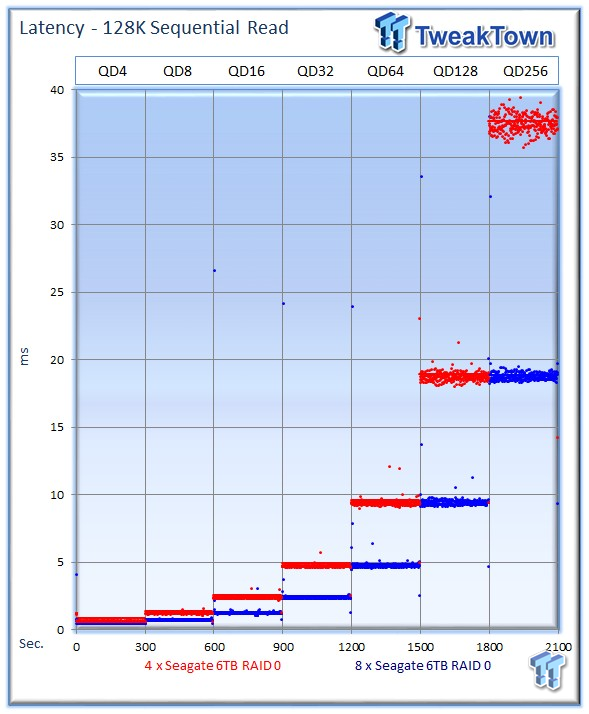 Latency testing reveals expected scaling.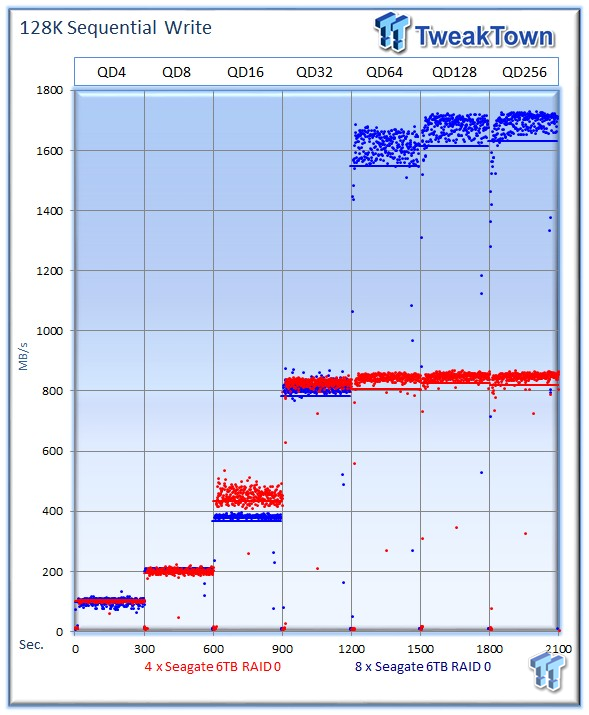 Sequential write performance is important in tasks such as caching, replication, HPC, and database logging. The four-drive array delivers 820 MB/s during the sequential read tests, and the eight-drive array provides 1,631 MB/s.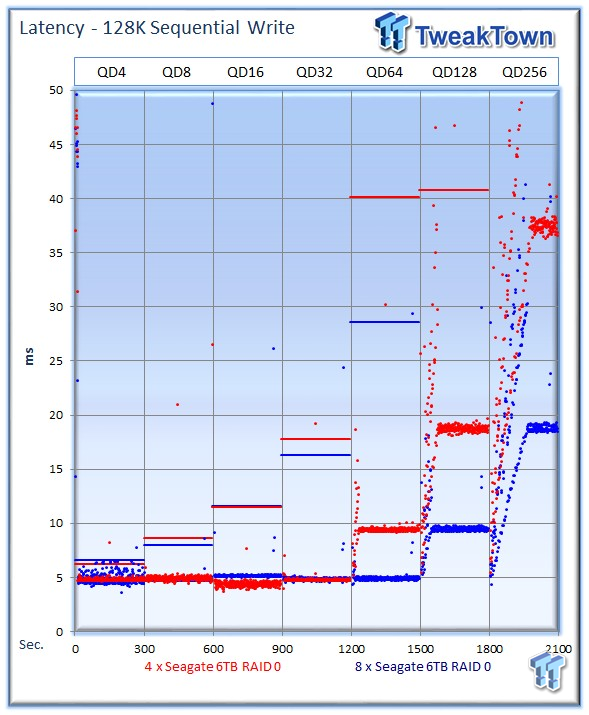 An interesting phenomenon presented itself during the sequential write testing. The v4 experiences some variability at the onset of heavy write activity for a few seconds, and then resumes normal operation.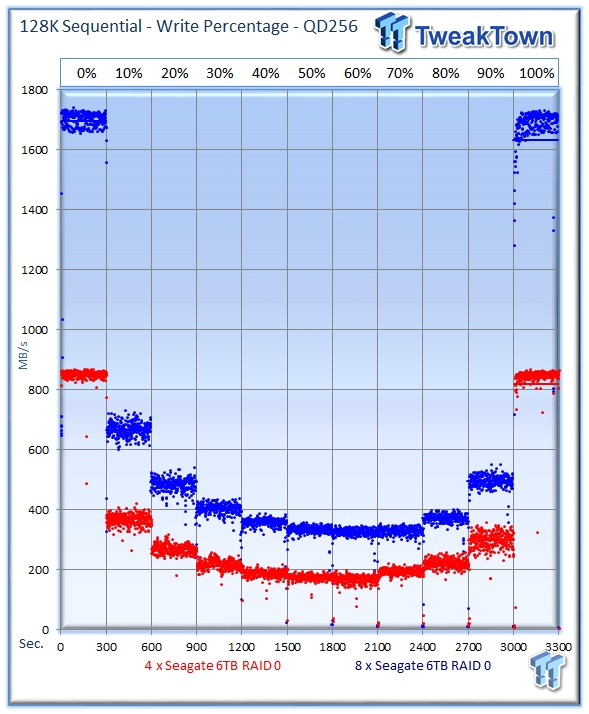 Write percentage-testing reveals that while there are large gains in the pure read and write workloads, there is an expected trough in the middle.
Benchmarks - RAID 0 Server Workloads
RAID 0 Database/OLTP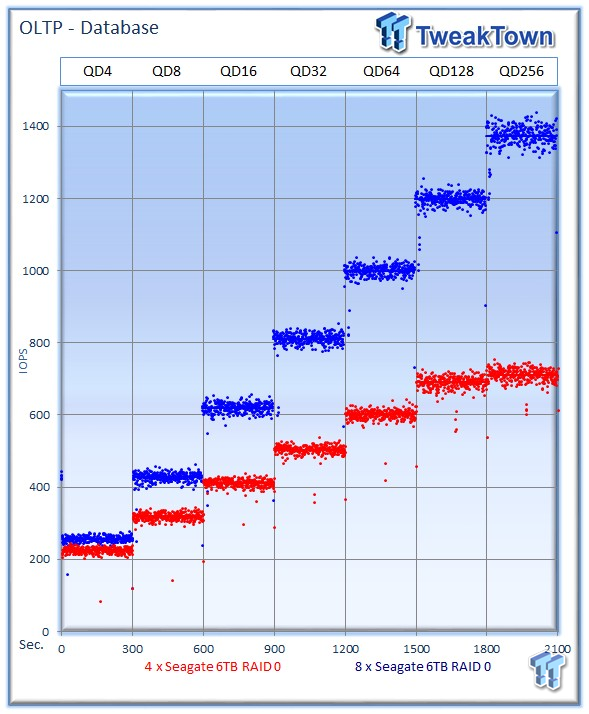 This test consists of Database and On-Line Transaction Processing (OLTP) workloads. OLTP is the processing of transactions such as credit cards and high frequency trading in the financial sector. Databases are the bread and butter of many enterprise deployments. These demanding 8k random workloads with a 66 percent read and 33 percent write distribution bring even the best solutions down to earth.
The four-drive array provides 712 IOPS, and the addition of more drives brings us up to 1,373 IOPS.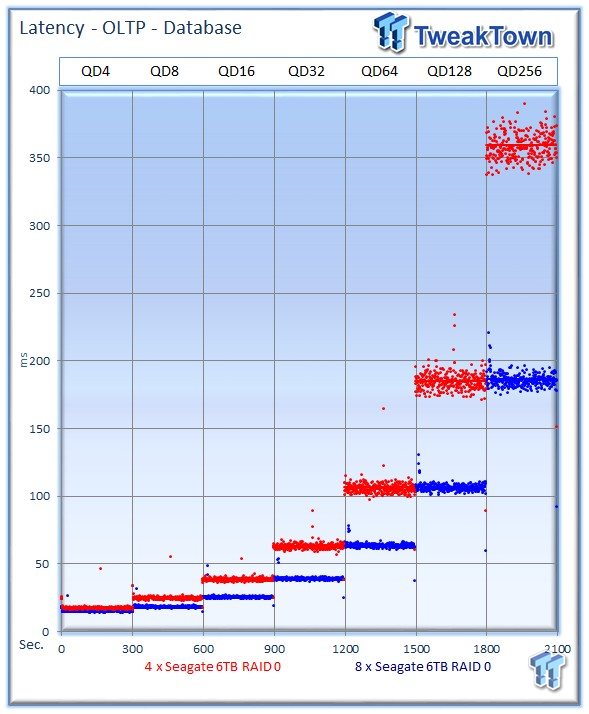 RAID 0 Web Server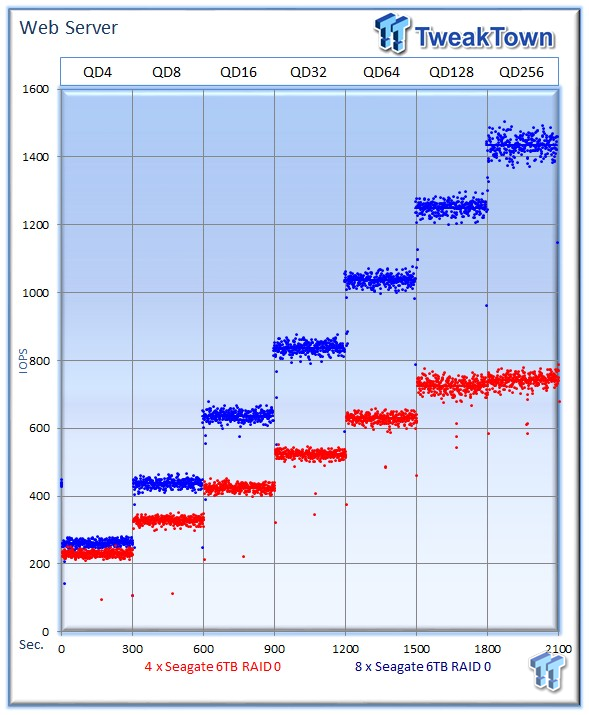 The Web Server workload is read-only with a wide range of file sizes. Web servers are responsible for generating content users view over the Internet, much like the very page you are reading. The speed of the underlying storage system has a massive impact on the speed and responsiveness of the server hosting the website.
The four-drive array averages 742 IOPS at 256 OIO, and boosts up to 1,434 IOPS with eight drives.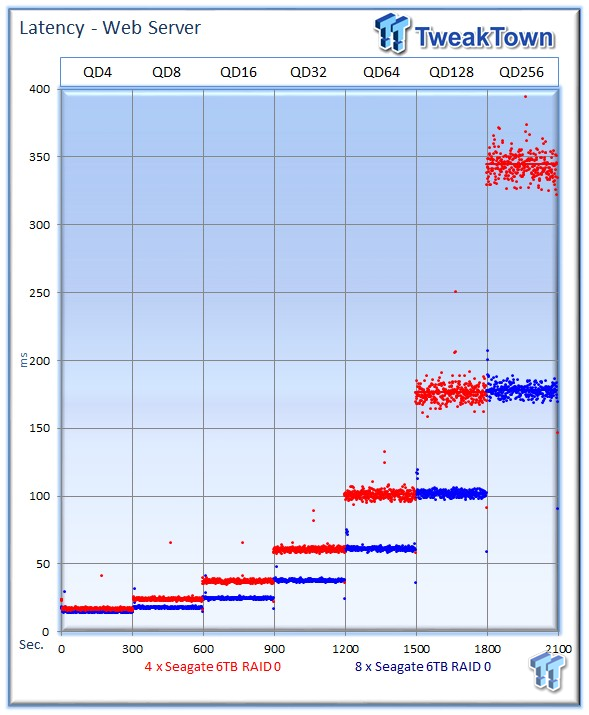 RAID 0 Email Server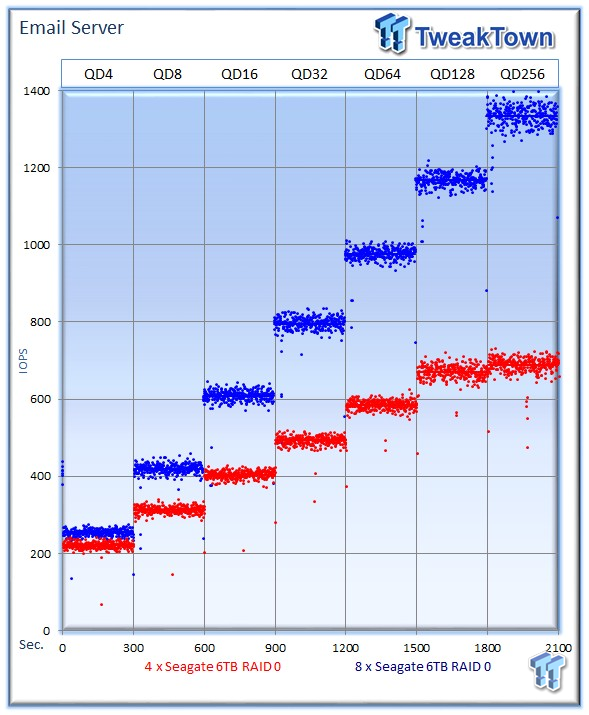 The email server workload is a demanding 8K test with a 50% read and 50% write distribution. This application is indicative of the performance in heavy write workloads.
Four drives in RAID 0 provide 689 IOPS, and that number rises up to 1,333 IOPS with eight drives.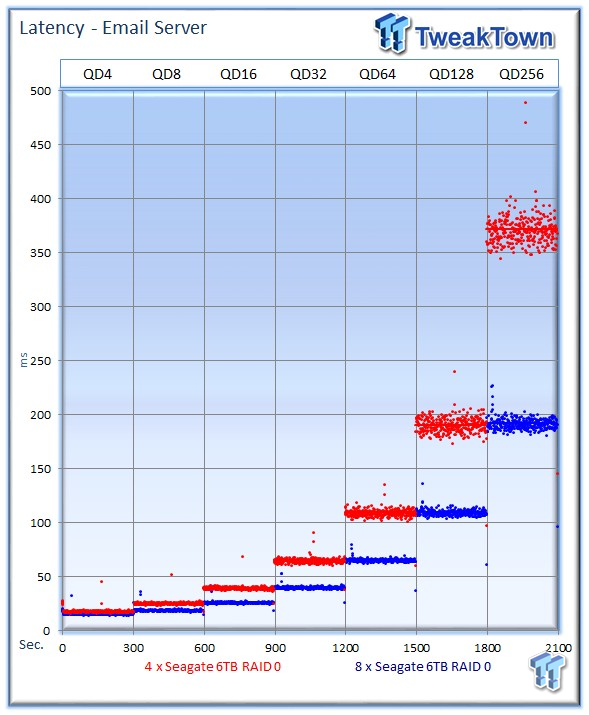 Benchmarks - RAID 10 4k Random Read/Write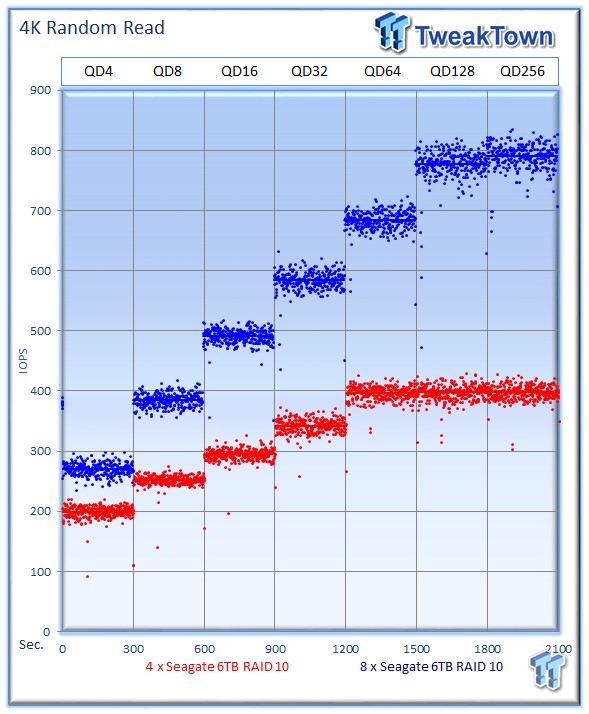 RAID 10 offers several advantages over parity RAID sets, but this comes at the expense of capacity. The four-drive RAID 10 array provides 397 IOPS, and the eight-drive array brings that to 790 IOPS.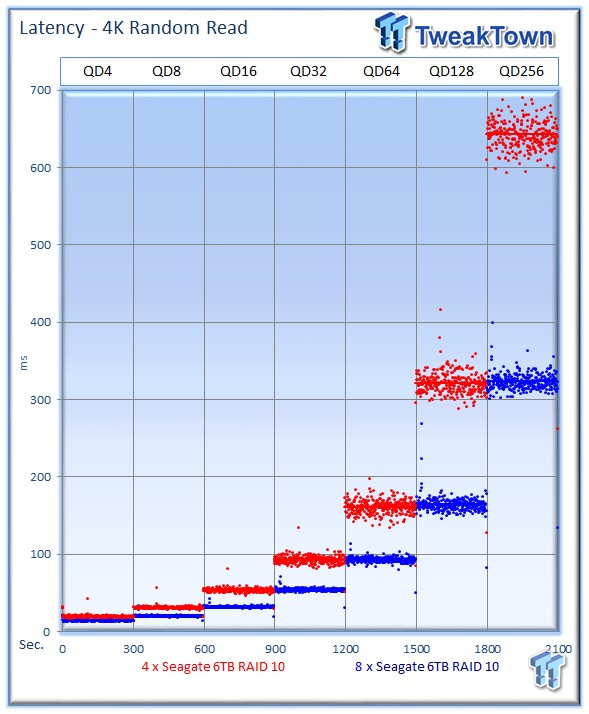 The RAID 10 results also reflect the same tendency to trade more performance for a bit of consistency.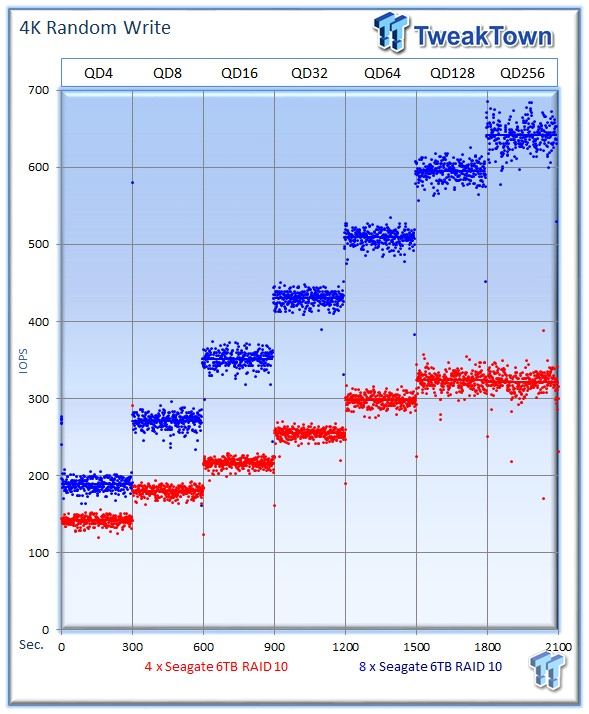 The four-drive array provides 312 IOPS, and the eight-drive array delivers 641 IOPS.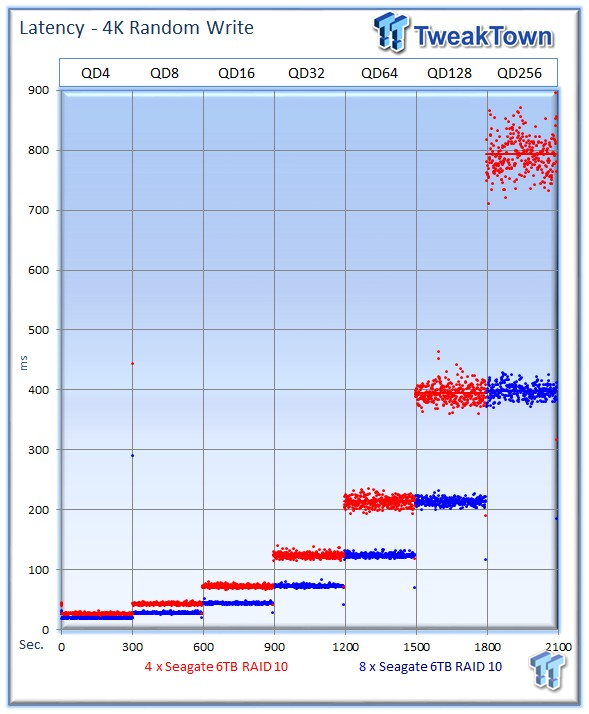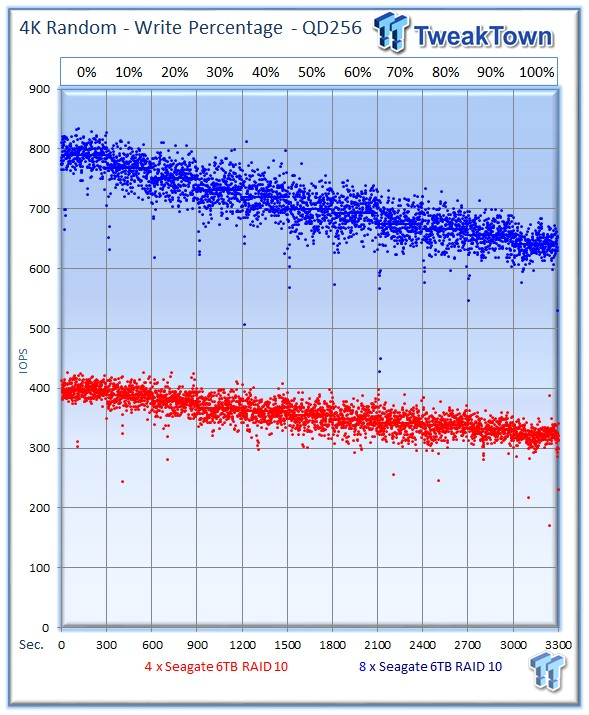 The eight-drive array doubles performance as we mix in more write activity.
Benchmarks - RAID 10 8k Random Read/Write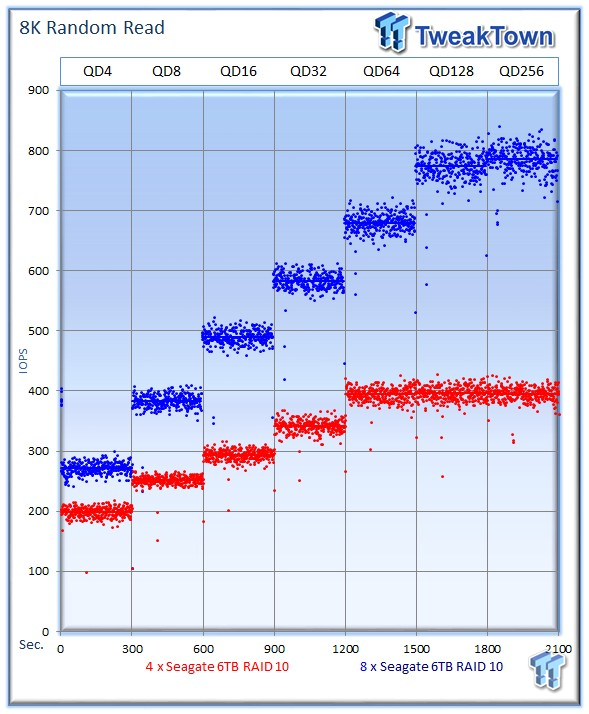 Four drives deliver a solid 395 IOPS, and performance nearly doubles with the eight-drive array reaching 784 IOPS.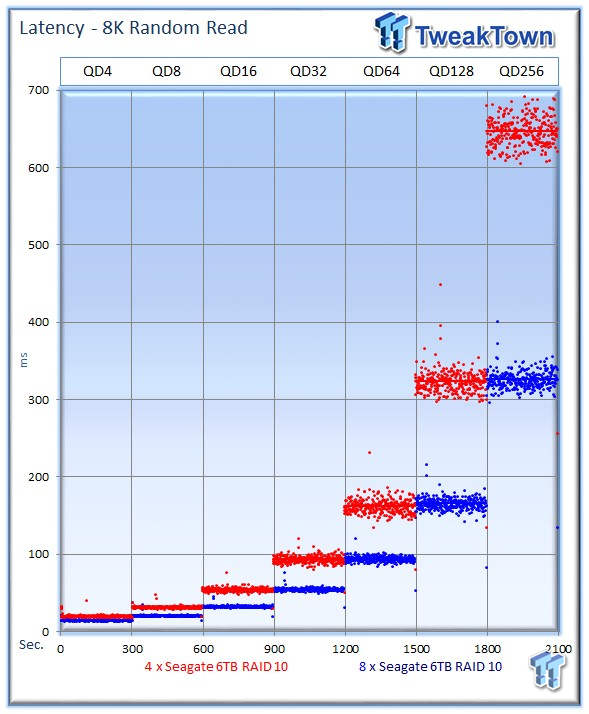 The latency scales as expected, with a slight increase in variability at higher OIO.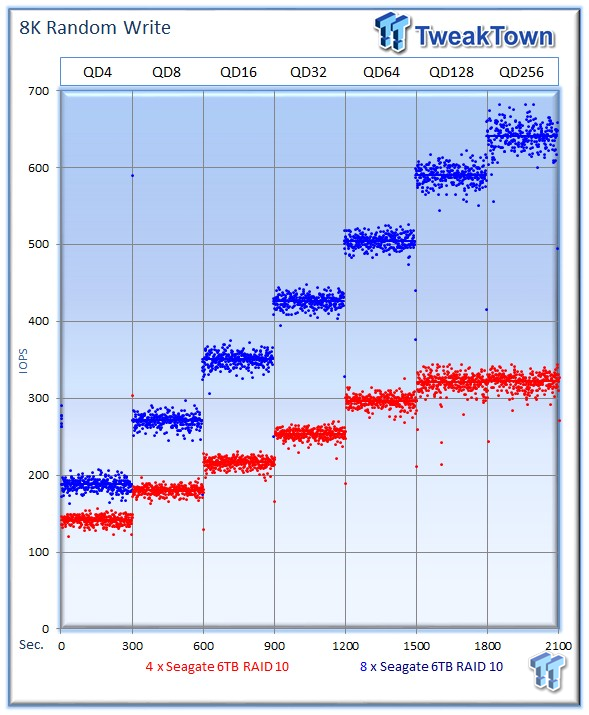 Four drives provide 322 IOPS, and eight drives brings that up to 640 IOPS.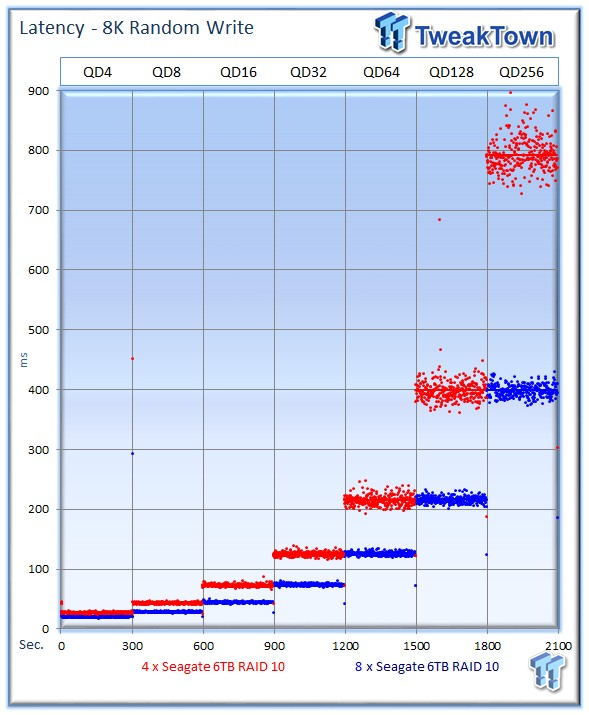 The 9361-8i provides lower latency during the test.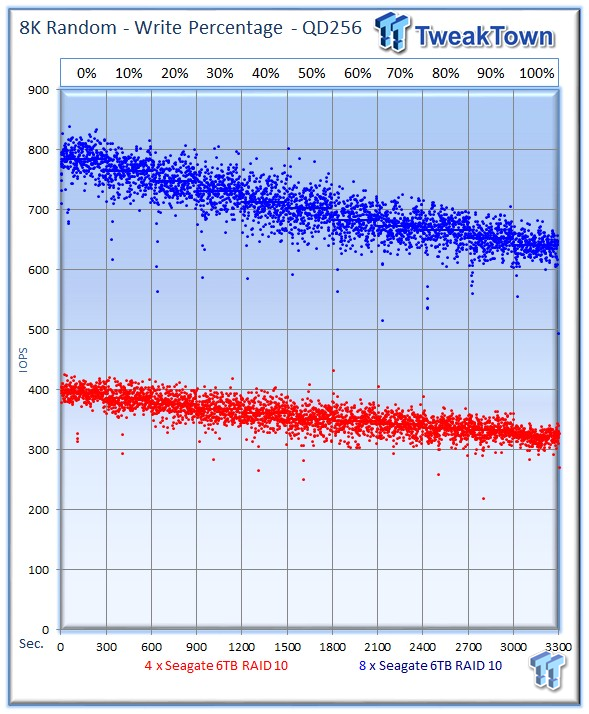 As we mix in progressively higher write workloads, the Seagate drives actually provide better scaling between the two arrays.
Benchmarks - RAID 10 128k Sequential Read/Write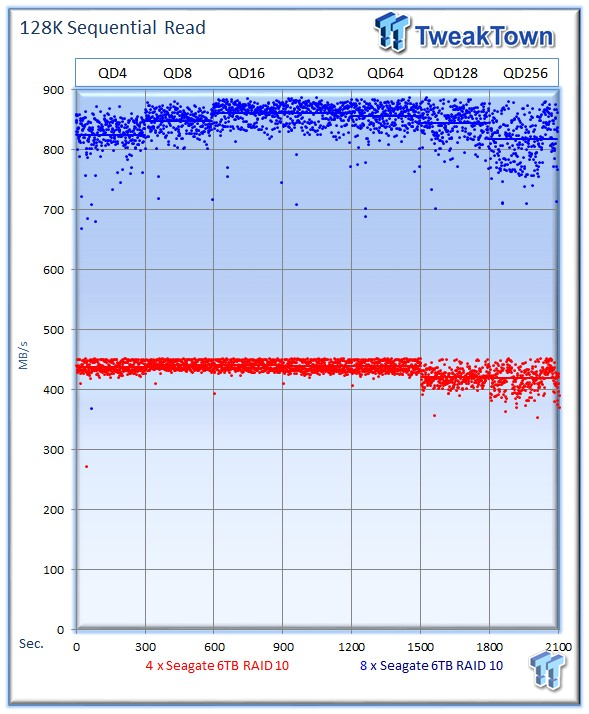 Four drives deliver 418 MB/s, and eight drives brings that up to 817 MB/s.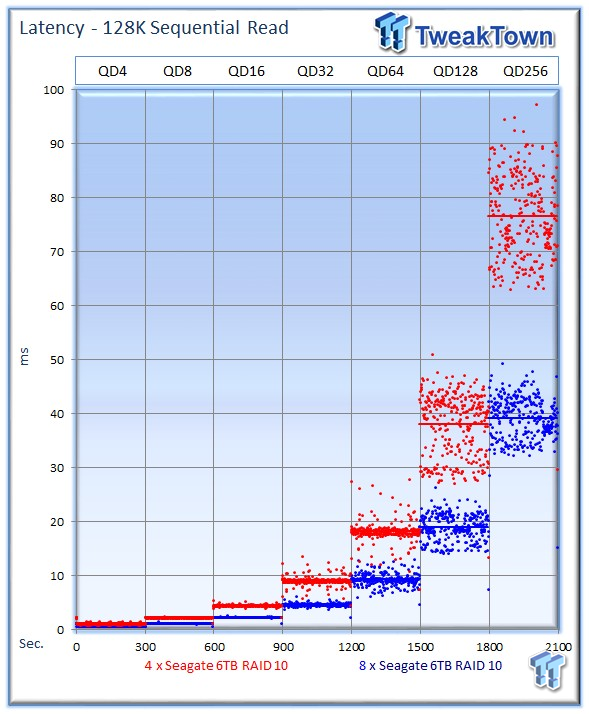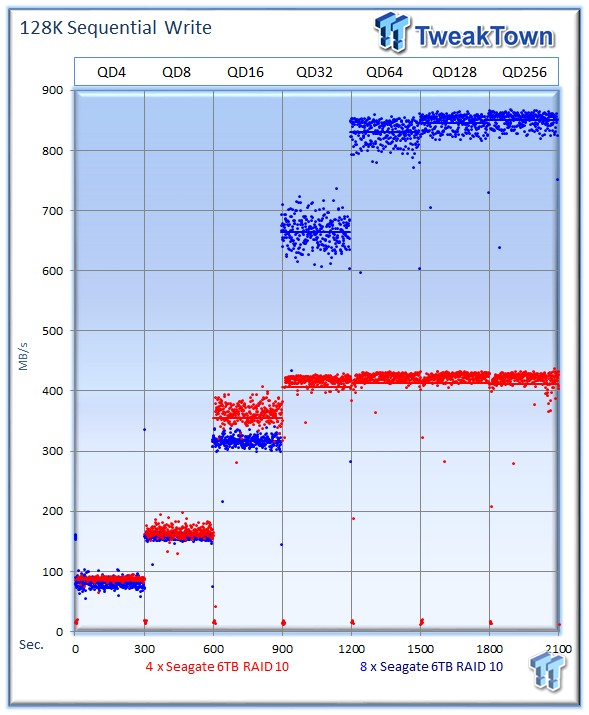 The four-drive array experiences some turbulence as each load begins, but averages 418 MB/s at 256 OIO. Eight drives bring the speed up to 817 MB/s.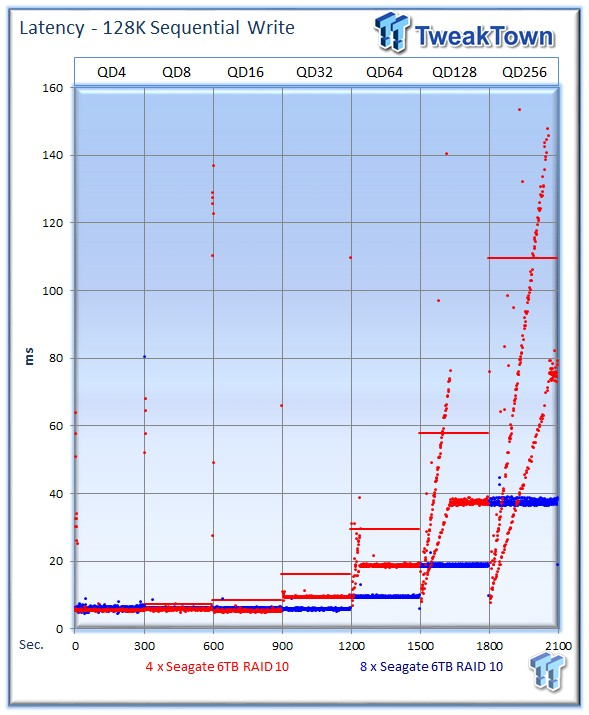 We observe the same interesting latency distribution experienced with RAID 0 during the sequential write workload in RAID 10.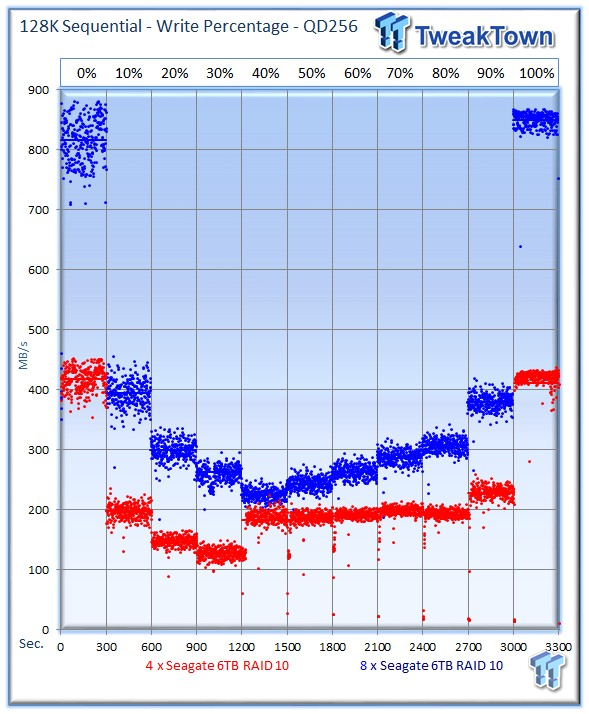 Our percentage testing shows the eight-drive Seagate array providing some benefit to performance, but scaling is much lower than observed with random workloads.
Benchmarks - RAID 10 Server Workloads
RAID 10 Database/OLTP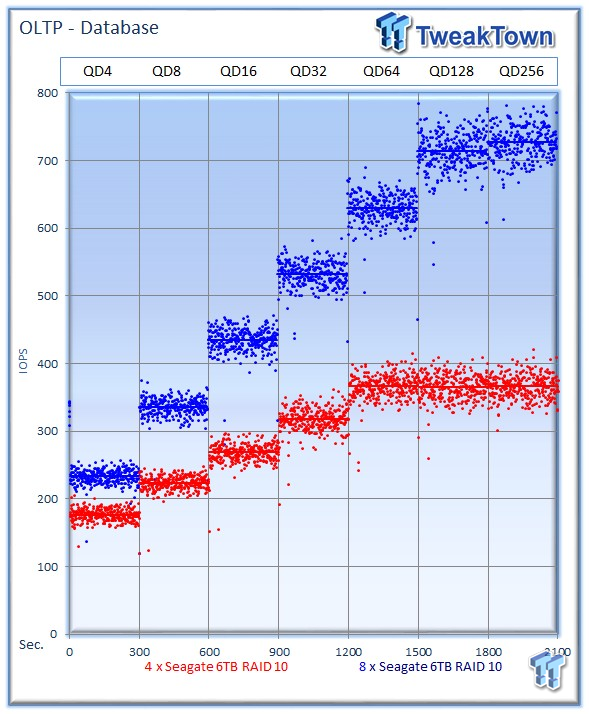 The arrays scale nicely during the OLTP workload, moving from 366 IOPS up to 727 IOPS at 256 OIO.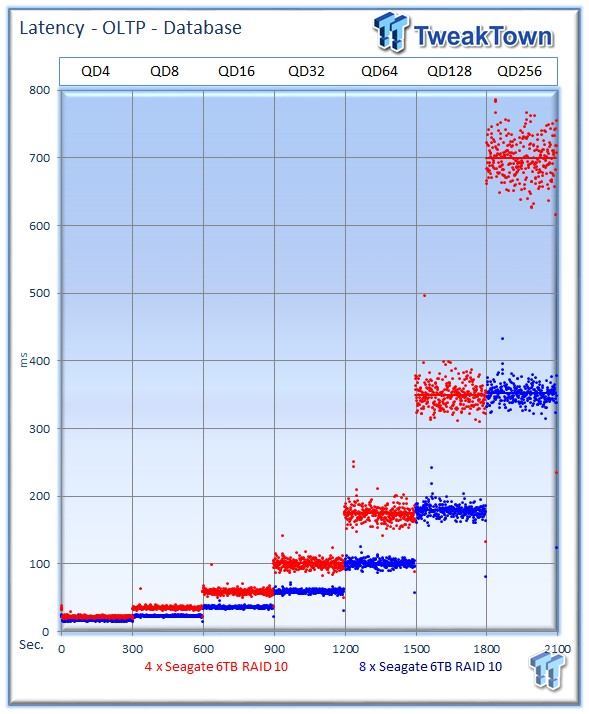 RAID 10 Web Server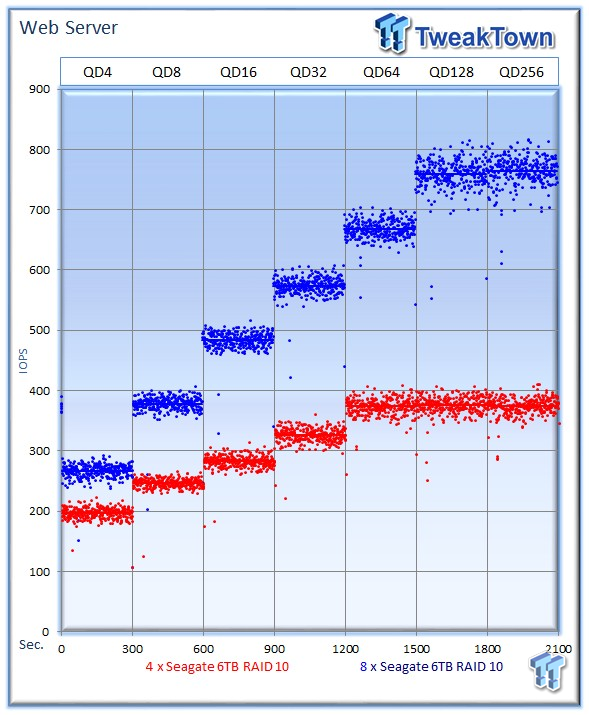 The read-centric Web Server workload delivered 374 IOPS with four drives, and 764 IOPS with eight drives.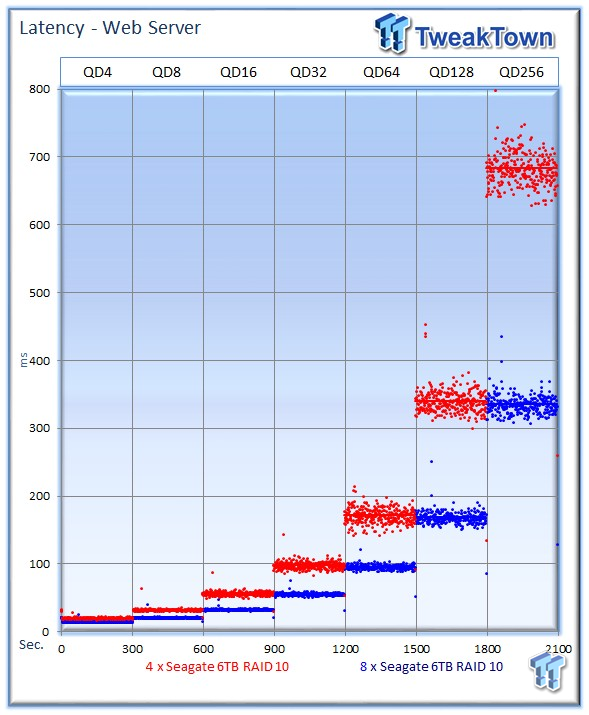 RAID 10 Email Server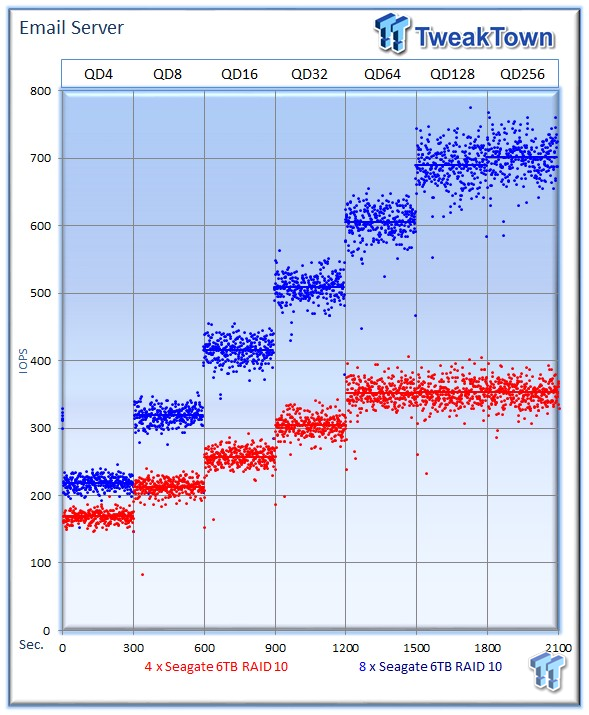 With four drives, we scored 352 IOPS during the write-heavy email workload, and this expanded up to 701 IOPS with eight drives.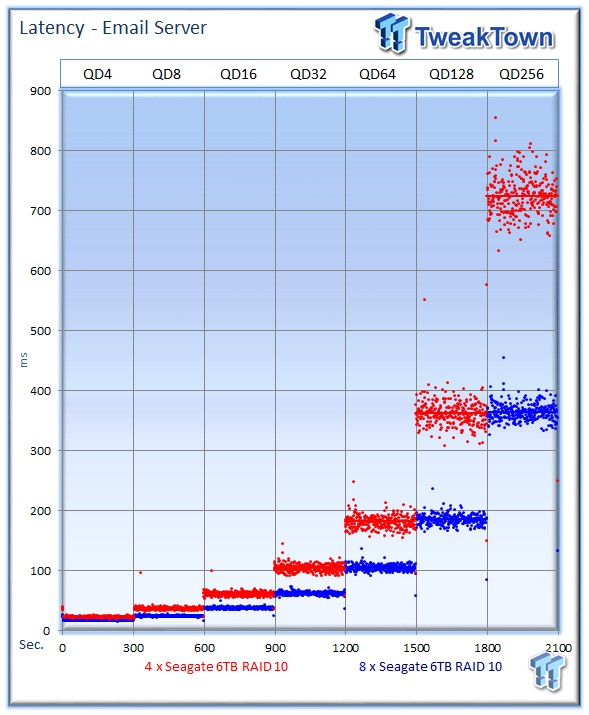 Final Thoughts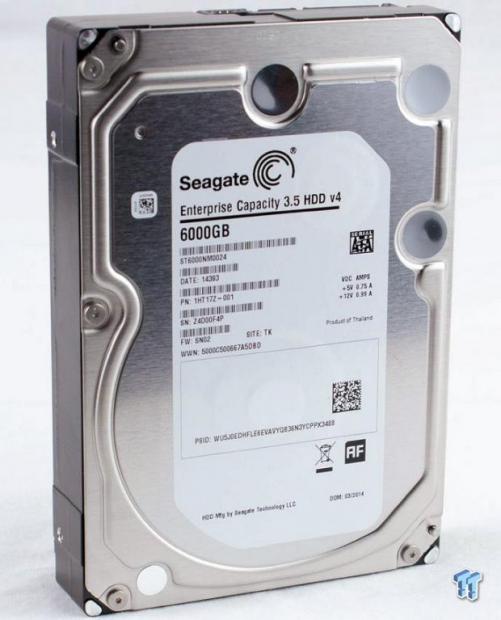 Meeting the capacity demands of the datacenter is an ever-increasing challenge as cloud storage has become more commonplace. Storing cold and archival data is a relatively simple proposition, as old technologies become more refined and new technologies are rushing in to provide economical storage options for administrators. The problem with archival data storage comes into play when administrators are tasked with keeping data available within tight SLAs.
Keeping large amounts of data easily accessible requires higher capacity HDDs that operate within tight power consumption envelopes. Power consumption is the highest ongoing expense in the datacenter, and simply adding in more HDDs to address capacity requirements isn't the best option.
The Seagate Enterprise Capacity 3.5 v4 addresses capacity concerns within a reasonable power envelope, and even offers enhanced sleep states to help combat excessive power consumption. The increased capacity of the Enterprise Capacity v4 also offers a slip-in 50% capacity increase for those already using 4TB HDDs. This alleviates the previous requirements for new chassis, servers, racks, and accompanying floor space, to increase capacity.
Random workloads are increasingly addressed with SSDs as more robust tiering and caching schemes become available. Even though SSDs can provide the fastest non-volatile data tiers, the Seagate v4 also offers increased random speed that scales well in RAID environments. The Seagate v4 displays particularly good scaling in random read and write workloads, and handles mixed data well. Enhanced vibration tolerance also delivers performance consistency.
The Seagate v4 delivers an increase in random speed, but a few SSDs can easily outpace small HDD arrays. For many deployments, the flash tier handles random data, and caching and tiering mechanisms rely upon the HDD tier to satisfy sequential data performance requirements. SSDs can also provide impressive sequential speed, but SSDs aren't often placed into large arrays that benefit from enhanced parallelism, and wear is always a concern. The Seagate v4 comes with a boost in sequential speed, and we reached 1,697 MB/s with only eight drives during our sequential read tests.
The inclusion of RAID Rebuild technology can also speed recovery of arrays in many circumstances. This is an important consideration as we begin to see higher capacity HDDs enter the datacenter.
High-performance SSDs have pushed RAID controller manufacturers to develop exceptionally fast controllers, and these benefits extend to HDD arrays as well. The Seagate v4's delivered nearly linear scaling in most workloads, and simple extrapolation can provide a guideline for users who plan to deploy larger arrays. The Seagate Enterprise Capacity 3.5 v4 provides all of the expected enterprise-class features, and 12Gb/s SAS and 6Gb/s SATA products address nearline and high-availability requirements.
PRICING: You can find the Seagate Enterprise Capacity 3.5 HDD v4 (6TB) for sale below. The prices listed are valid at the time of writing, but can change at any time. Click the link to see the very latest pricing for the best deal.
United States: The Seagate Enterprise Capacity 3.5 HDD v4 (6TB) retails for $472.49 at Amazon.
Canada: The Seagate Enterprise Capacity 3.5 HDD v4 (6TB) retails for CDN$730.97 at Amazon Canada.