SanDisk Optimus Eco SSD RAID Enterprise Performance Analysis
SanDisk's Optimus Eco is a widely deployed enterprise SAS SSD that delivers tremendous performance. We test eight of them in various DAS configurations.
Published
13 minute read time
Introduction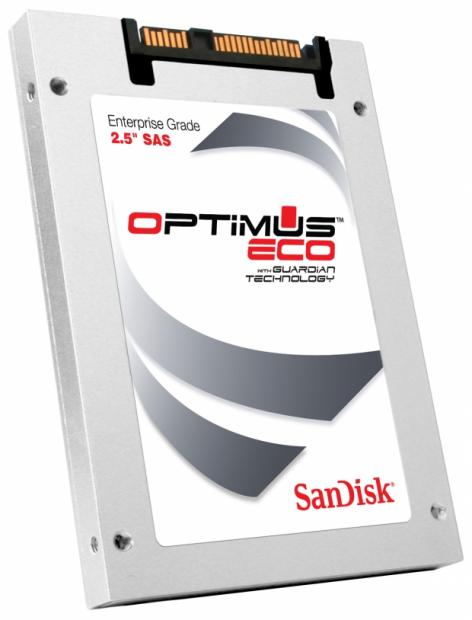 Boosting existing infrastructure is one of the most common applications for enterprise SSDs. The average CPU utilization in the datacenter is rising primarily through the benefits of virtualized environments, but the overwhelming majority of servers are still far below 100%. Increasing CPU usage maximizes application license usage, and many licenses are limited to the server, CPU, or even CPU core. Boosting server utilization relieves the requirement for more servers, and thus more licenses, to complete the task. Slipping in a few SSDs can deliver tremendous performance advantages, and allow fewer servers to handle more work. Additionally, utilizing SSDs has the added benefit of reducing power consumption, cooling requirements, and they require less space.
Virtualization can deliver more ROI from the server, but typically just serves to move the bottleneck to the storage subsystem. Virtualized architectures can also stress existing networking systems for servers that utilize networked storage. This simply moves the bottleneck to another source, well before the administrator realizes full CPU utilization. Performance-hungry applications require streamlined architectures, and benefit from nimble storage arrays.
Moving working sets from disk, NAS, or SAN, to server-side flash provides immediate performance benefits, and the current generation of SSDs is refined and able to deliver more than enough performance for any DAS deployment. The proven reliability and intense performance of today's SSDs has changed the question from whether or not to deploy SSDs, to how and where to deploy them.
The vagaries of SSD RAID scaling in RAID can be tricky, and SSD performance variability can adversely affect the benefits of stacking several SSDs onto a HBA or RAID controller. Inconsistent performance and errant I/O's slow down the RAID controller and reduce the speed of the array to the speed of the slowest I/O. Long before other competitors in the enterprise SSD market began preaching about performance consistency, the Optimus series from SanDisk was delivering market-leading consistency.

The 6Gb/s SAS SanDisk Optimus ECO is a good example of a venerable OEM-class drive that works well in RAID arrays due to enhanced performance consistency. Our original look at a single Optimus ECO left us impressed with its performance consistency. Reliability and high-availability are steadfast requirements in most environments, and the dual-port SAS connection provides multipath, failover, and wideport capabilities.
The proprietary Guardian Technology Platform consists of several key components that enhance reliability and endurance. FlashGuard utilizes adaptive DSP (Digital Signal Processing) in concert with advanced ECC algorithms to combat data errors, thus extending the endurance of the underlying NAND. DataGuard provides full data path protection and F.R.A.M.E. (Flexible Redundant of Memory Elements) functionality. F.R.A.M.E. is a cross-die, data redundancy feature, similar to parity, which allows for data reconstruction in the event of a catastrophic event such as a flash page, or even an entire NAND block failure. EverGuard is a third-generation host power-loss protection approach that protects against unexpected power events. Discrete ploy-Tantalum capacitors supply power to flush all data to NAND during power loss.
For our testing we utilize the 12Gb/s LSI MegaRAID 9361-8i that we recently evaluated. We test RAID 0 and RAID 10 configurations, and it is important to note that we test with default RAID settings with Direct I/O and Write Through enabled. This limits RAID controller interference while we focus on the performance of the SSDs themselves, but caching can help boost performance in some scenarios.
The Optimus Eco covers the bases with excellent data integrity features, power-loss protection, extended endurance, and a five-year warranty. Let's take a closer look at how much performance eight of these leading, enterprise-class SSDs can deliver in DAS configurations.
PRICING: You can find the SanDisk Optimus ECO for sale below. The prices listed are valid at the time of writing, but can change at any time. Click the link to see the very latest pricing for the best deal.
United States: The 400GB SanDisk Optimus ECO retails for $839.38 at Amazon, and the 800GB SanDisk Optimus ECO retails for $2,335.30 at Amazon.
Canada: The 800GB SanDisk Optimus ECO retails for CDN$2,763.66 at Amazon Canada.
Optimus Eco Design and Specifications
Optimus Eco Design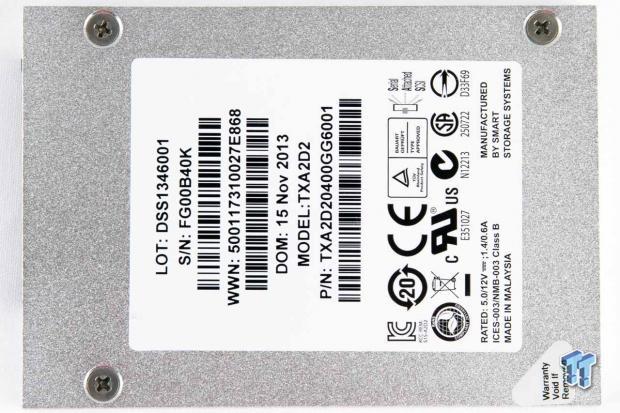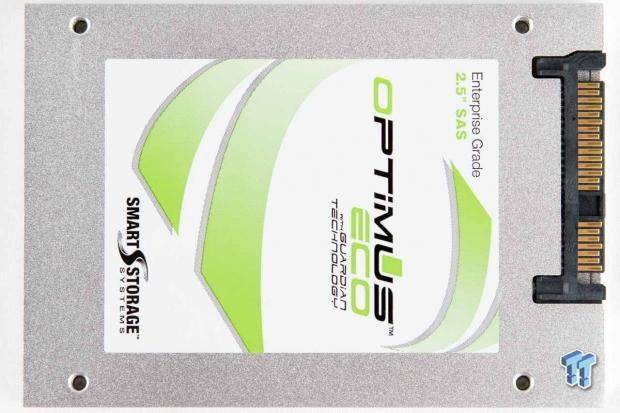 Our Eco samples come bearing the SMART Storage Systems branding, noting the company purchased by SanDisk that originally developed the core IP behind the Guardian Technology Suite. SanDisk branding will follow the scheme outlined on the first page of this evaluation, though the pretty stickers are not the real story behind the Optimus Eco.
The construction of the Optimus Eco, which consists of precision milled, aluminum alloy, speaks volumes to the care taken in the design of this SSD.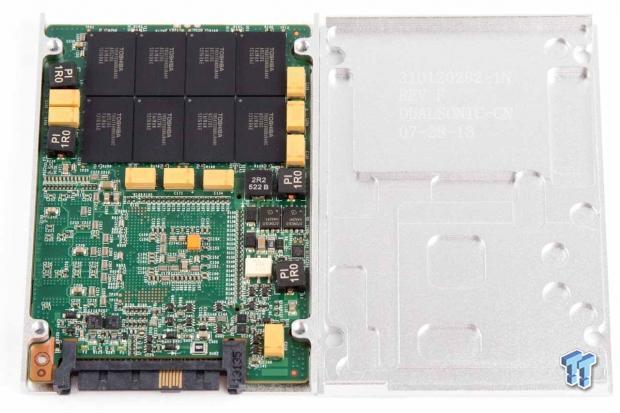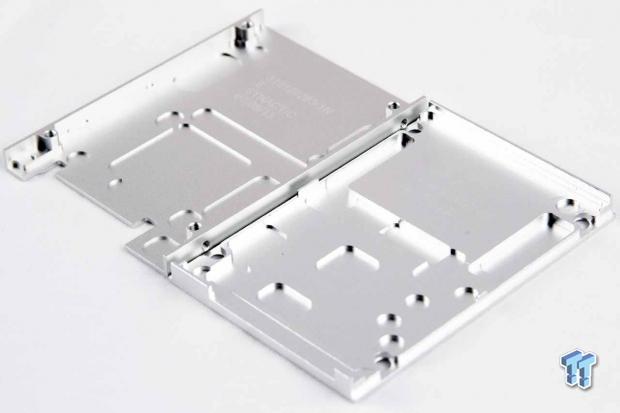 Popping apart the case brings the precision milling into view. There are recessed grooves that allow heat-producing components to come very close to contacting the case. Even though there is no direct surface mating, the extreme close tolerance design creates such a slim gap between the components and case that heat is efficiently wicked into the case, which then acts as a large heat sink. This ingenious design forgoes the use of thermal pads, yet still delivers the same thermal efficiency.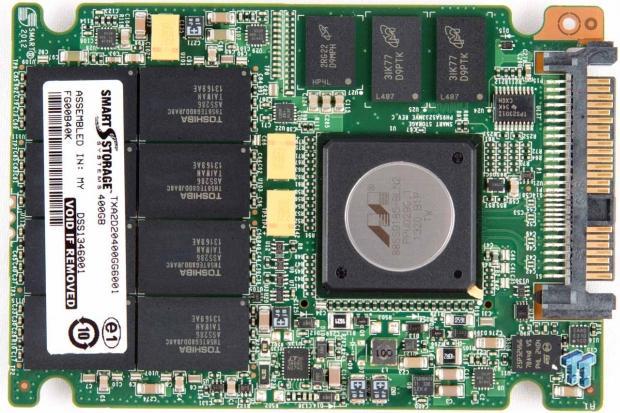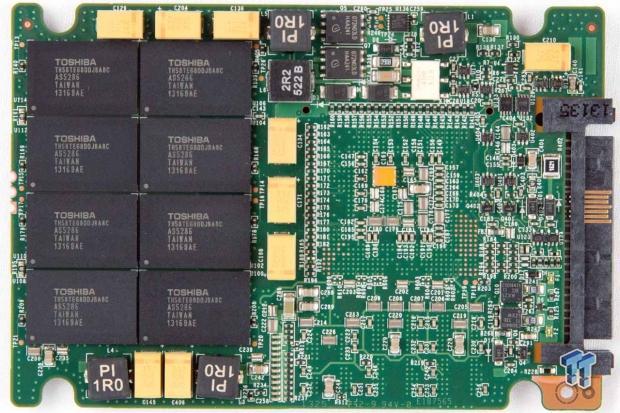 The top of the PCB holds eight of the BGA-mounted 32GB NAND packages, and the remaining eight populate the bottom of the PCB. The Toshiba 19nm NAND is jointly manufactured with SanDisk through their Flash Forward venture.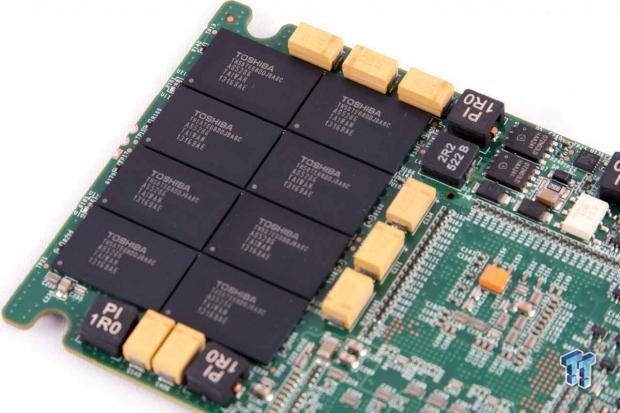 A total of twelve power-loss protection emplacements are located close to the NAND packages. The Tantalum capacitors provide the SSD with enough power hold-up to flush data to the lower NAND pages. There are three DRAM packages, making a combined total of 768MB, above the Marvell controller.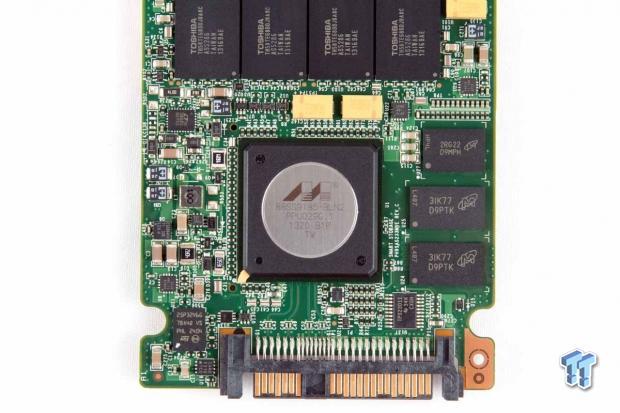 The Optimus Eco utilizes the Marvell 88SS9185-BLN2 controller. This key component provides flexibility for firmware customization. This is an important consideration for deploying custom SanDisk firmware that enables the Guardian Suite, which provides massive improvements in endurance and performance.
Optimus Eco Specifications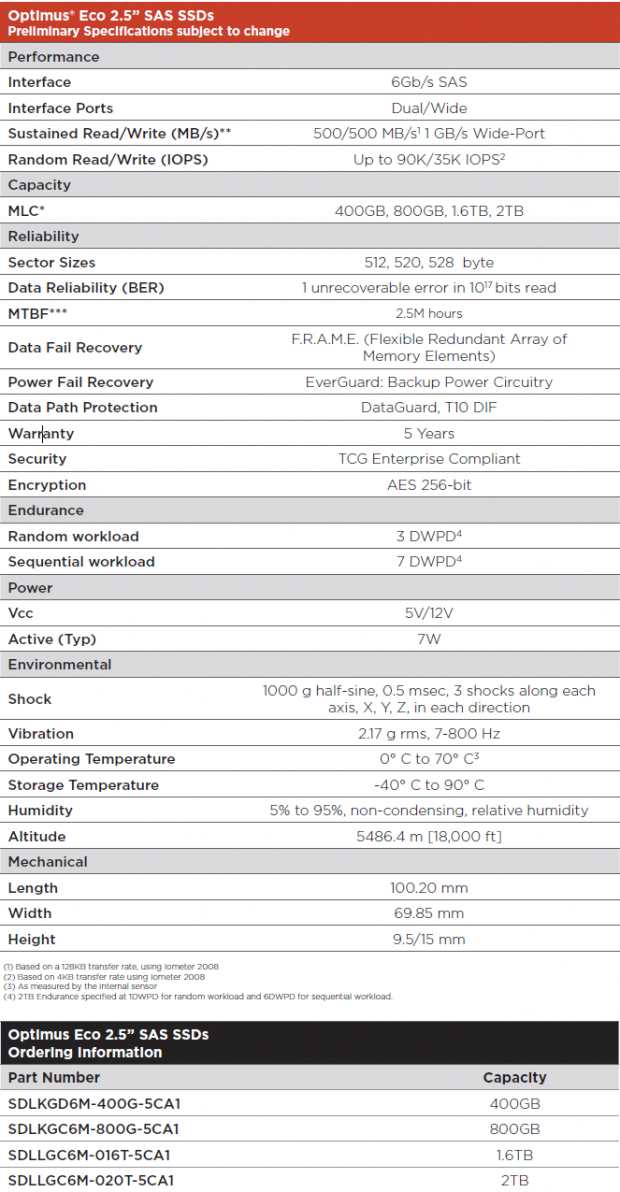 Test System and Methodology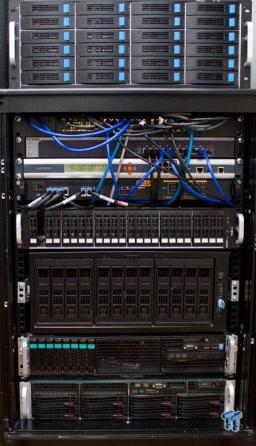 Our approach to storage testing targets long-term performance with a high level of granularity. Many testing methods record peak and average measurements during the test period. These average values give a basic understanding of performance, but fall short in providing the clearest view possible of I/O QoS (Quality of Service).
While under load, all storage solutions deliver variable levels of performance. "Average" results do little to indicate performance variability experienced during actual deployment. The degree of variability is especially pertinent, as many applications can hang or lag as they wait for I/O requests to complete. While this fluctuation is normal, the degree of variability is what separates enterprise storage solutions from typical client-side hardware.
Providing ongoing measurements from our workloads with one-second reporting intervals illustrates product differentiation in relation to I/O QoS. Scatter charts give readers a basic understanding of I/O latency distribution without directly observing numerous graphs. This testing methodology illustrates performance variability, and includes average measurements during the measurement window.
IOPS data that ignores latency is useless. Consistent latency is the goal of every storage solution, and measurements such as Maximum Latency only illuminate the single longest I/O received during testing. This can be misleading, as a single "outlying I/O" can skew the view of an otherwise superb solution. Standard Deviation measurements consider latency distribution, but do not always effectively illustrate I/O distribution with enough granularity to provide a clear picture of system performance. We utilize high-granularity I/O latency charts to illuminate performance during our test runs.
Our testing regimen follows SNIA principles to ensure consistent, repeatable testing, and utilizes multi-threaded workloads found in typical production environments. The SSDs are tested over their full LBA range to highlight performance at maximum utilization. The first page of results will provide the key to understanding and interpreting our test methodology.
In replicated environments, RAID 0 can be a compelling choice for bleeding edge performance, and can be indicative of performance expectations for larger RAID 10 arrays. We utilize two spans per RAID 10 array. RAID 10 provides the benefits of replication, and faster time-to-ready after drive failures. We test RAID 0 and RAID 10 for this evaluation.
Benchmarks - 4k Random Read/Write
4k Random Read/Write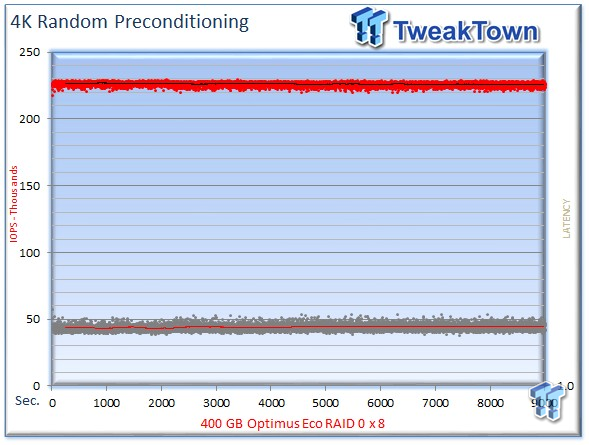 We precondition the SanDisk Optimus ECO arrays for 9,000 seconds, or two and a half hours, receiving performance reports every second. We plot this data to illustrate the drives' descent into steady state.
This dual-axis chart consists of 18,000 data points, with the IOPS on the left, and the latency on the right. The red dots signify IOPS, and the grey dots are latency measurements during the test. We place latency data in a logarithmic scale to bring it into comparison range. The lines through the data scatter are the average during the test. This type of testing presents standard deviation and maximum/minimum I/O in a visual manner.
Note that the IOPS and latency figures are nearly mirror images of each other. This illustrates that high-granularity testing gives our readers a good feel for latency distribution by viewing IOPS at one-second intervals. This should be in mind when viewing our test results below. This downward slope of performance only happens during the first few hours of use, and we present precondition results only to confirm steady state convergence.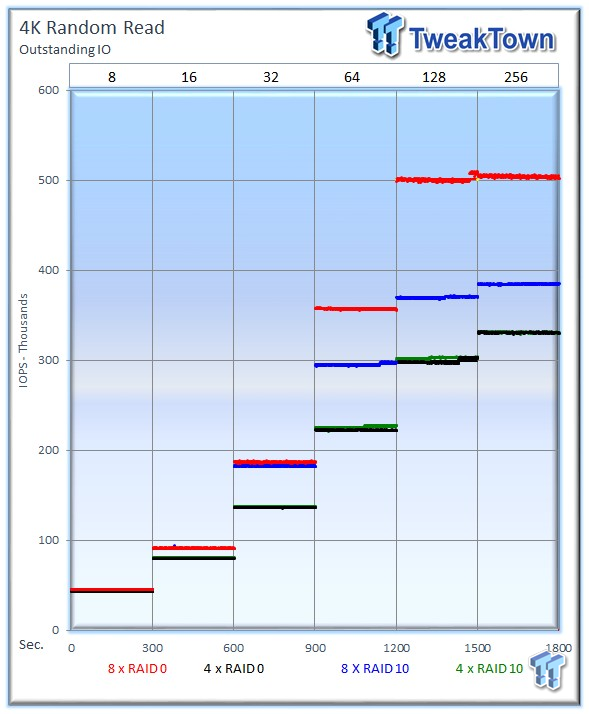 Each level tested includes 300 data points (five minutes of one second reports) to illustrate performance variability. The line for each OIO depth represents the average speed reported during the five-minute interval. 4k random speed measurements are an important metric when comparing drive performance, as the hardest type of file access for any storage solution to master is small-file random. One of the most sought-after performance specifications, 4k random performance is a heavily marketed figure.
The eight-drive RAID 0 array starts with spectacular performance of 504,753 IOPS at 256 OIO (Outstanding I/O). The eight-drive RAID 10 also provides impressive random read performance of 331,416 IOPS, trailed by the four-drive RAID 0 and 10, which hover at a tremendous 331,000 IOPS.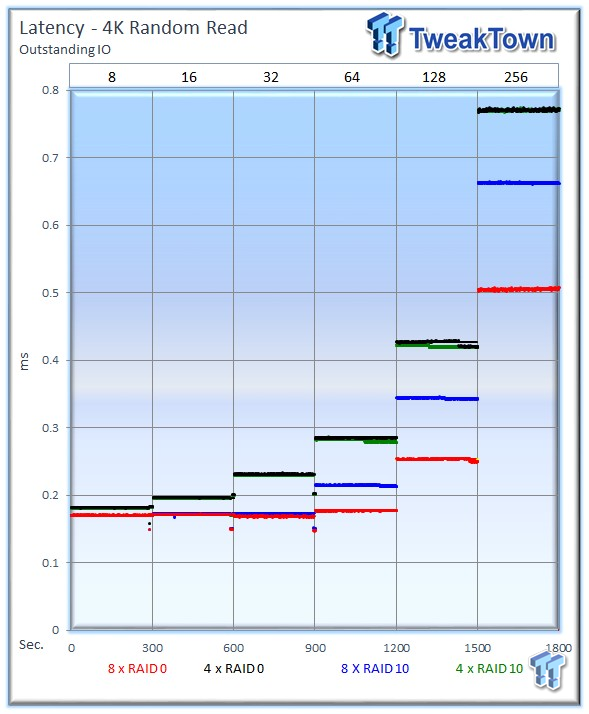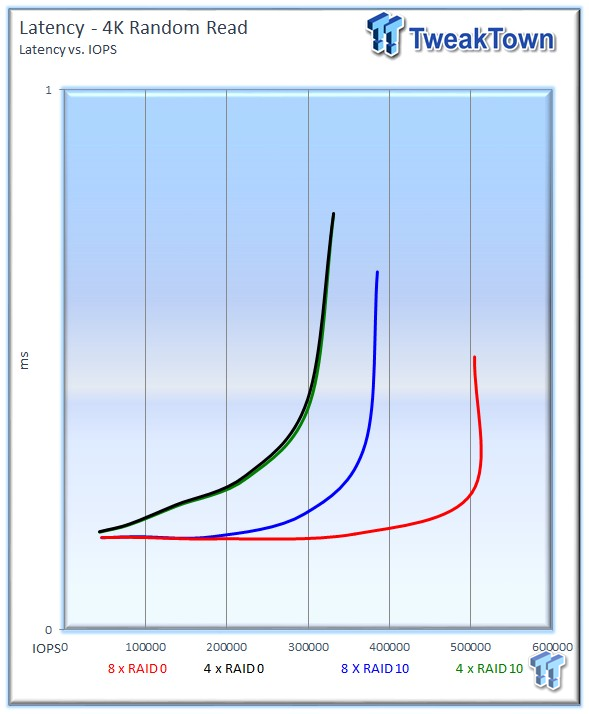 Our Latency vs IOPS charts compare the amount of performance attained from each solution at specific latency measurements. Many applications have specific latency requirements. These charts present relevant metrics in an easy-to-read manner for readers who are familiar with their application requirements. The arrays that are lowest and furthest to the right exhibit the most desirable latency characteristics.
The SSD arrays provide excellent low-latency performance, and the eight-drive RAID 0 exhibits a decrease in overall latency as we stack on more drives. All arrays manage to stay well under 1ms while delivering amazing IOPS performance. This excellent latency-to-IOPS ratio provides a huge benefit in application performance, especially in VDI and other high-performance applications.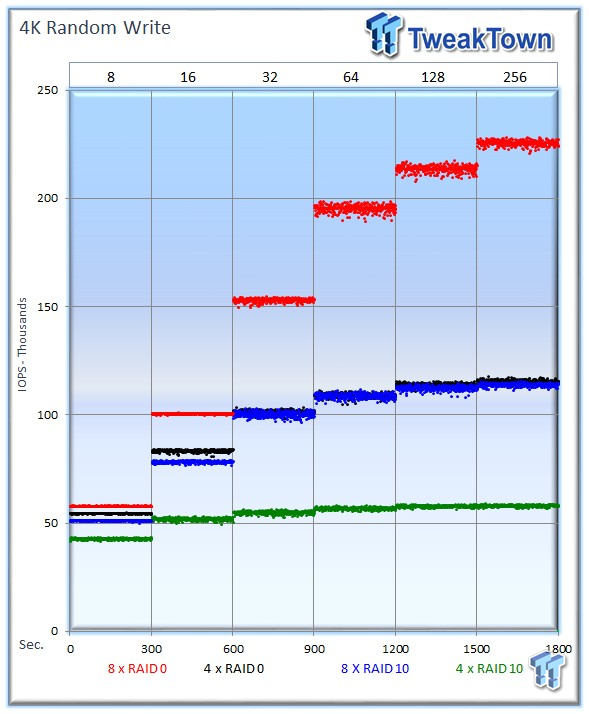 The eight-drive RAID 0 configuration cuts through the heavy write workload with ease, churning out a beastly 225,703 IOPS. The eight-drive RAID 10 and four-drive RAID 0 provide 115,000 IOPS at 256 OIO, and the four-drive RAID 10 provides 58,146 IOPS.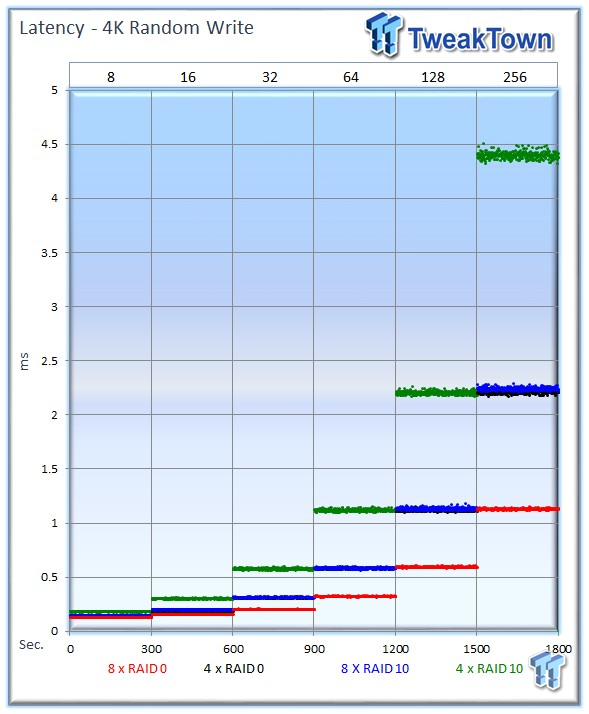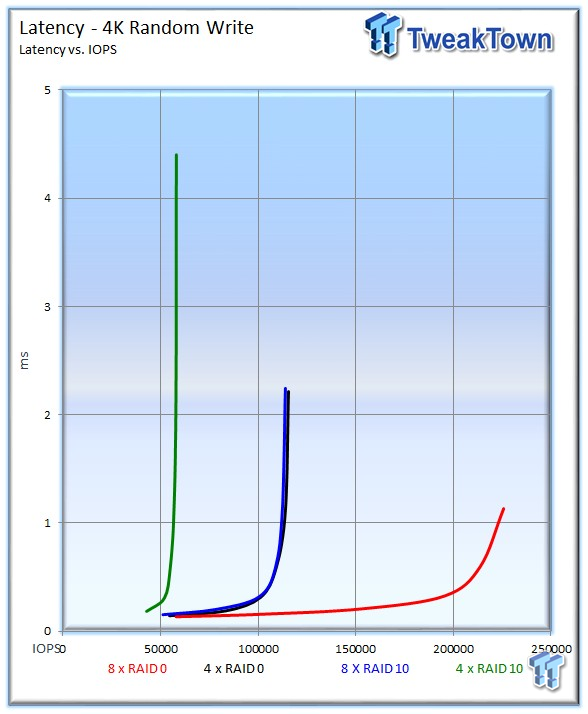 The proof is in the latency pudding when it comes to overall performance. IOPS scaling is important, but latency is far more important to application performance. The eight-drive RAID 0 array provides superb latency characteristics, and delivers the bulk of its performance well below the 1ms waterline.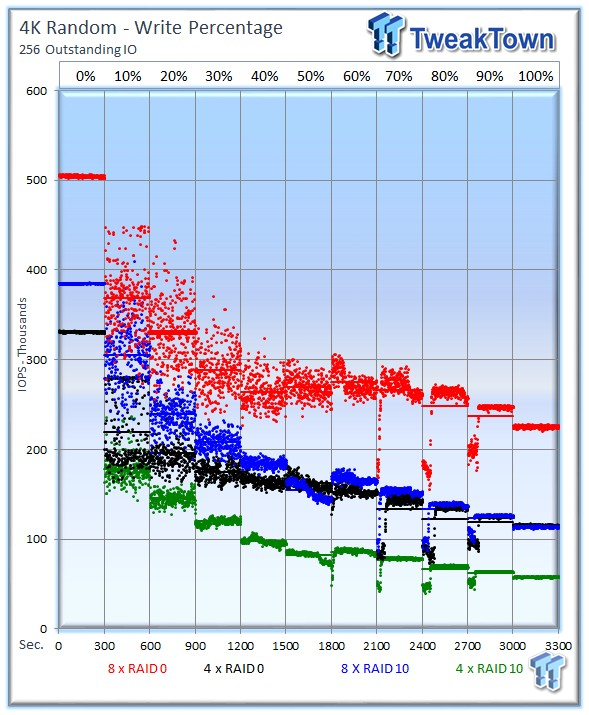 Our write percentage testing illustrates the varying performance of each solution with mixed workloads. The 100% column to the right is a pure 4k write workload, and 0% represents a pure 4k read workload.
Mixed workload testing reveals tremendous scaling in the common middle-ranges experienced during deployment. In VDI and other intensive applications, mixed I/O is a constant reality, resulting in the I/O blender effect. The SanDisk Optimus Eco delivers excellent scaling in mixed random testing. This clear scaling across all mixed workloads allows users to select and scale the correct number of drives to address performance challenges with confidence.
Benchmarks - 8k Random Read/Write
8k Random Read/Write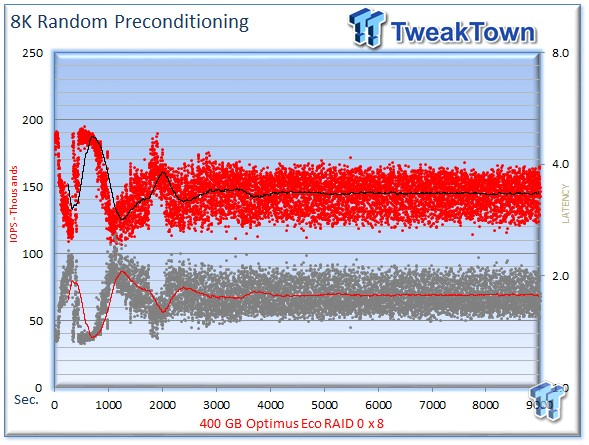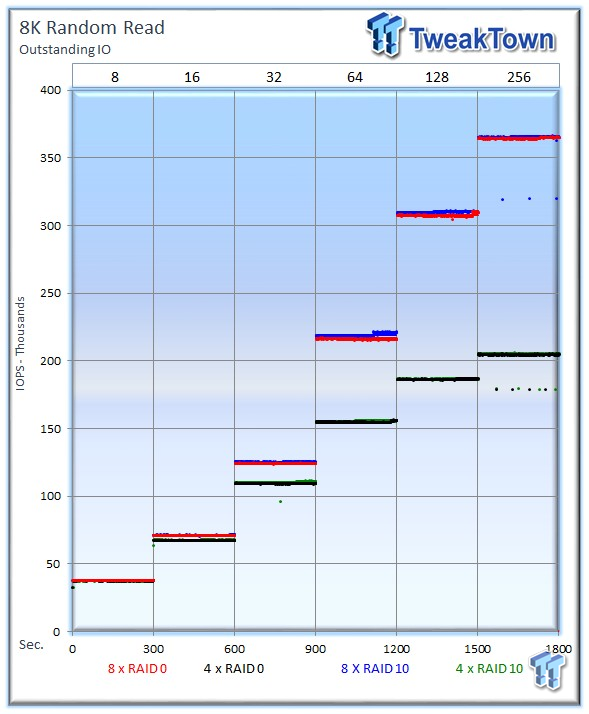 Many server workloads rely heavily upon 8k performance, and we include this as a standard with each evaluation. Many of our server workloads also test 8k performance with various mixed read/write distributions.
The eight-drive RAID 0 and RAID 10 results are nearly mirror images with 365,000 IOPS at 256 OIO. The four-drive RAID 0 and RAID 10 results are also closely aligned at 205,000 IOPS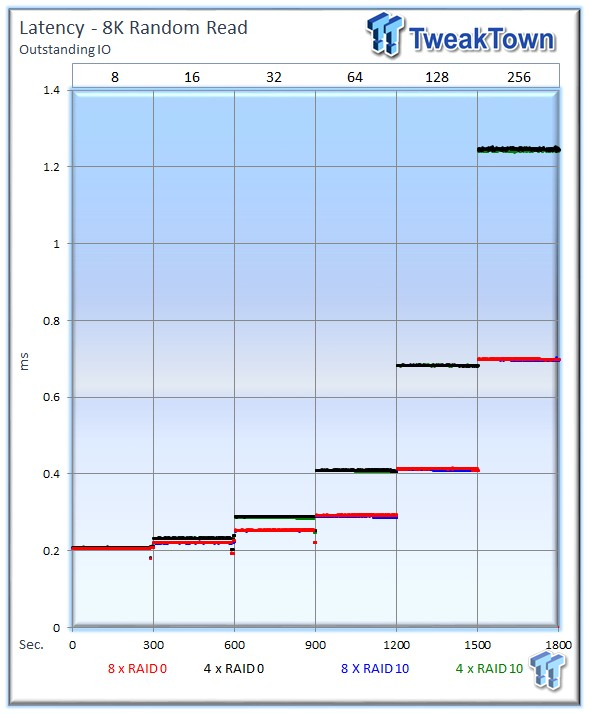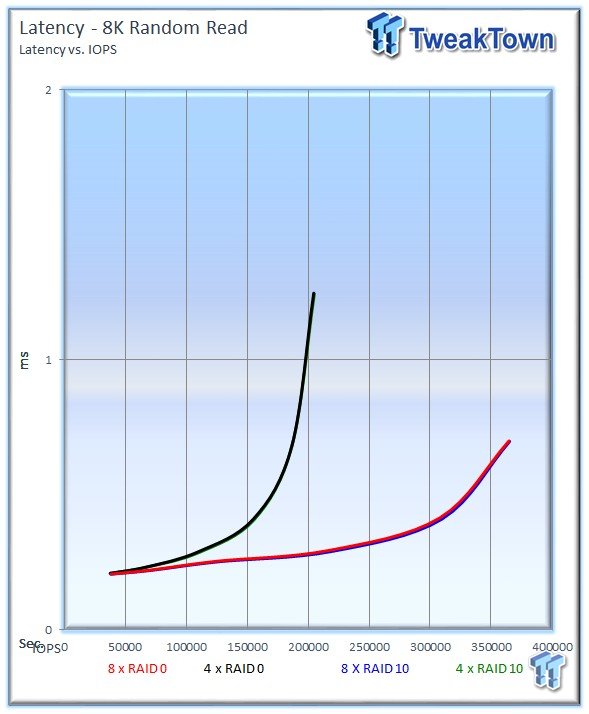 The four-drive arrays peak a little over the 1ms mark, while the eight-drive arrays stay well below, delivering over 350,000 IOPS.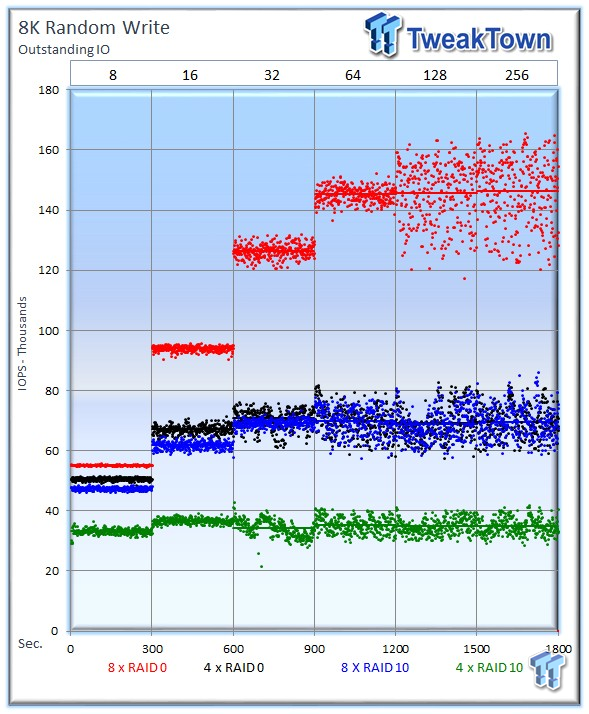 The eight-drive RAID 0 array averages an impressive 146,314 IOPS at 256 OIO, but does experience a bit of variability at the higher-end of the chart. This can be mitigated by enabling caching on RAID controllers, which will smooth out random write performance under heavy load. The four-drive RAID 0 and eight-drive RAID 10 both offer roughly 70,000 IOPS, and the four-drive RAID 10 provides 34,953 IOPS.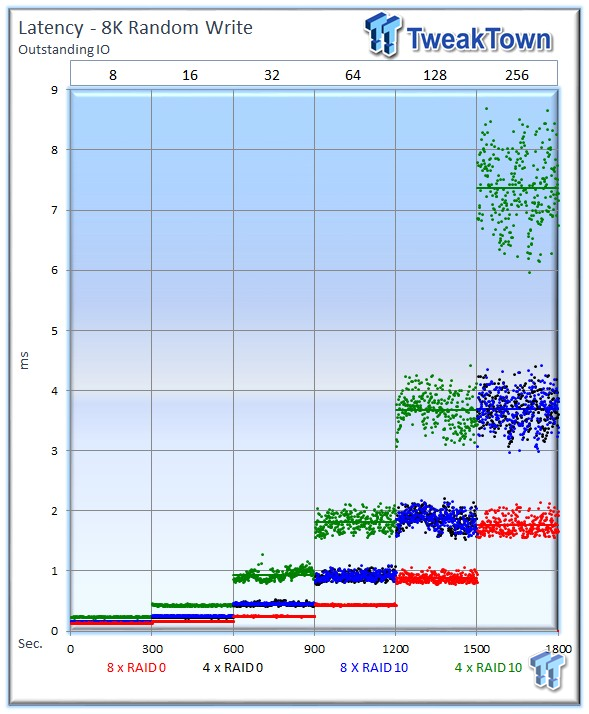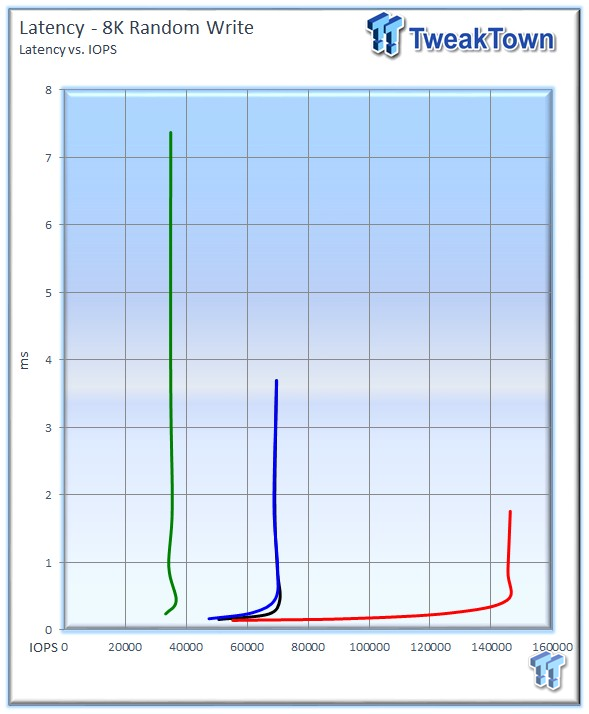 The difference in performance from the RAID 0 array is very clear in this test, as it provides significantly more performance within a much lower latency envelope.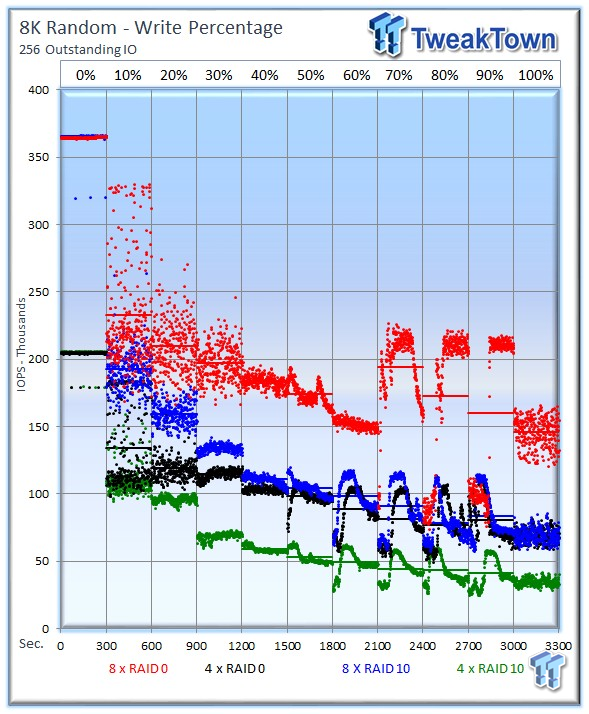 Scaling in the 8K mixed workload is within expectations, though we do note a bit of variability in the 70%-90% range. This is due to the resilient Optimus ECO drives fighting our best efforts to keep them in a steady state, in spite of the lengthy amount of time we run each individual workload in this test. The Optimus ECO drives feature extremely aggressive recovery mechanisms to provide the best performance, even under the heaviest workloads.
Benchmarks - 128k Sequential Read/Write
128k Sequential Read/Write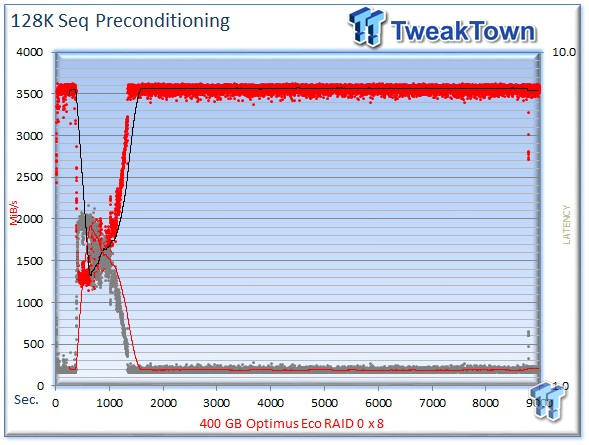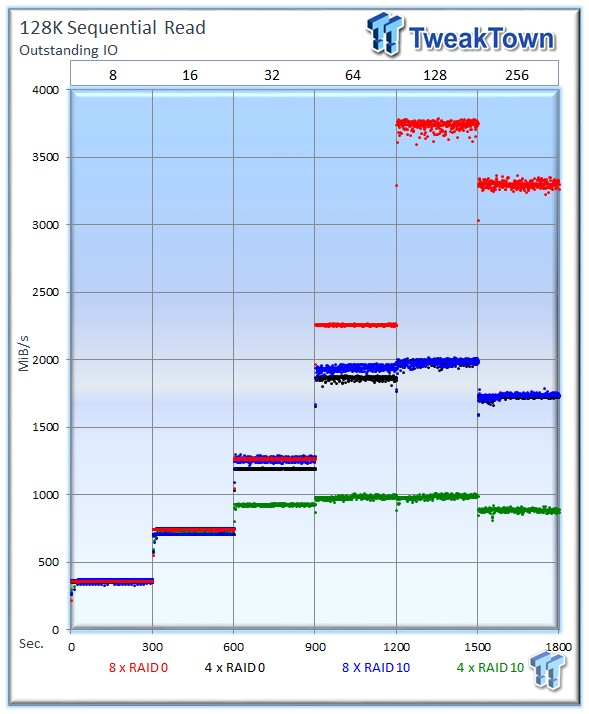 128k sequential speed reflects the maximum sequential throughput of the SSD, and is indicative of performance in OLAP, batch processing, streaming, content delivery applications, and backup scenarios.
The RAID arrays peak at 128 OIO during this test. The multithreaded nature of this test might be a contributing factor to the incrementally slower performance at 256 OIO. The eight-drive array stretches its legs and averages a blistering 3,736 MB/s at 128 OIO, and the eight-drive RAID 10 and four-drive RAID 0 arrays provide 1,983 MB/s at 128 OIO. The four-drive RAID 10 array weighs in with 985 MB/s. The continual similarity in eight-drive RAID 10 and four-drive RAID 0 results demonstrates that we can draw theoretical conclusions of 16-drive RAID 10 array performance from our eight-drive RAID 0 results.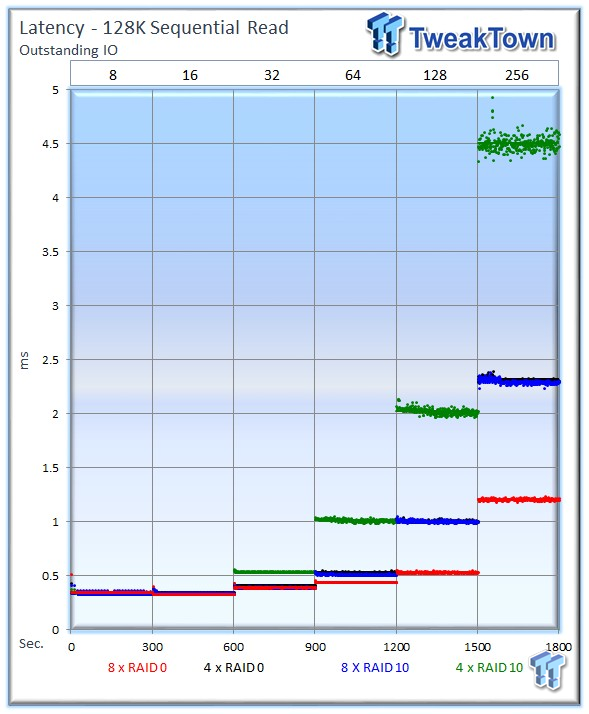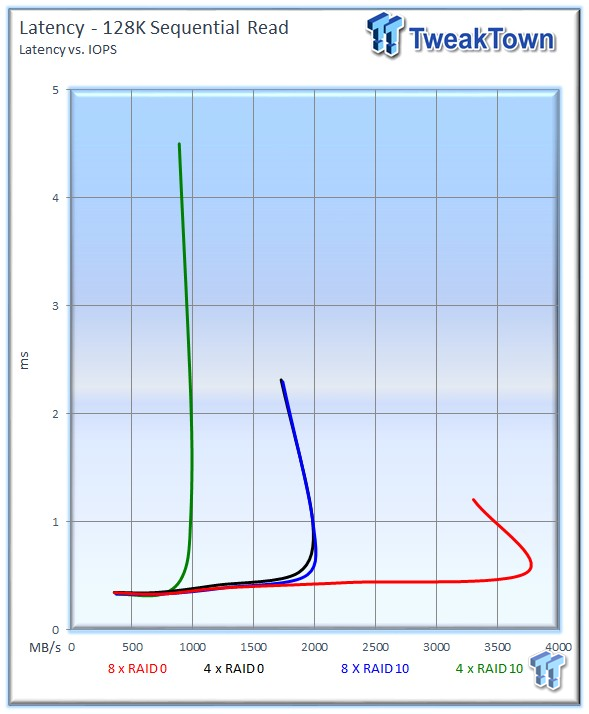 The latency-to-IOPS test reveals the walking back of performance as we reach the heaviest sequential workload. Latency continues to be a very strong suit of the Optimus Eco arrays.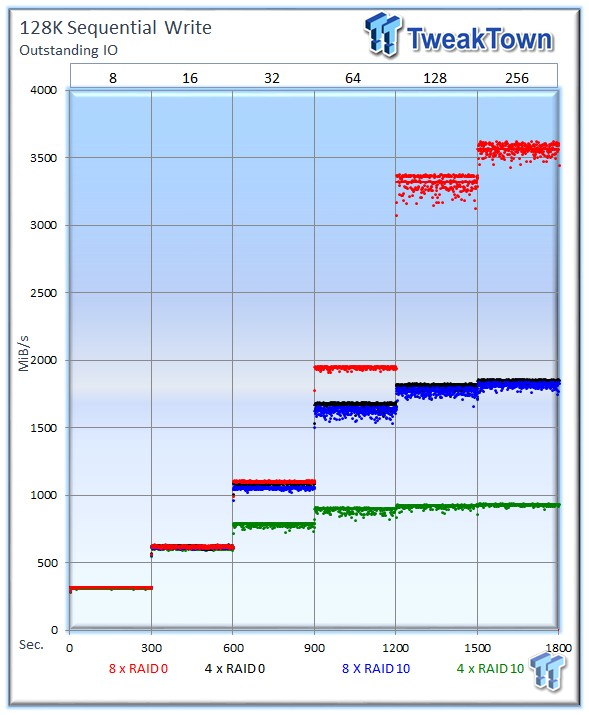 Sequential write performance is important in tasks such as caching, replication, HPC, content delivery applications, and database logging. The eight-drive array drops a whopping 3,566 in sequential write speed at 256 OIO, and the four-drive RAID 0 and eight-drive RAID 10 offer 1,736 MB/s. The four-drive RAID 10 brings up the rear with 985 MB/s.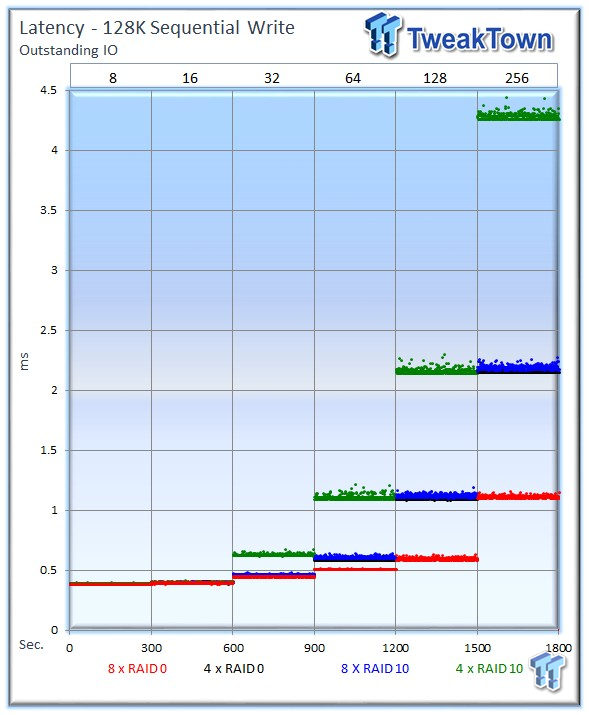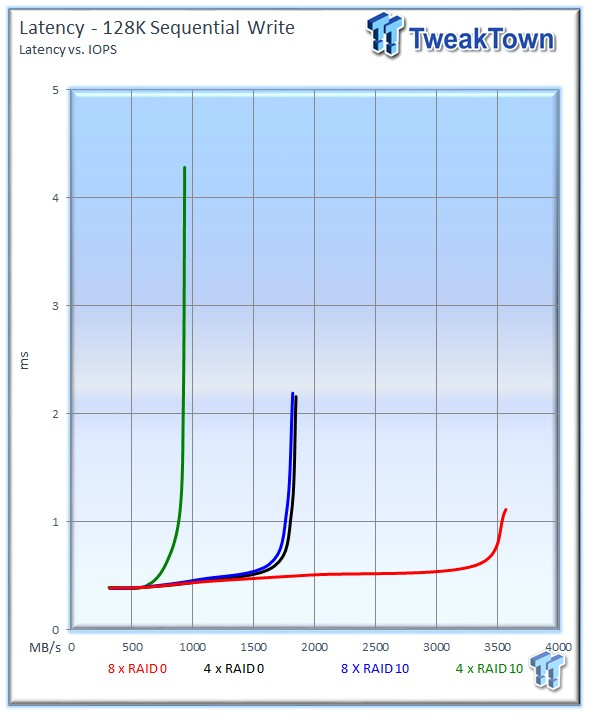 The Optimus RAID 0 array continues to impress with superb low-latency performance.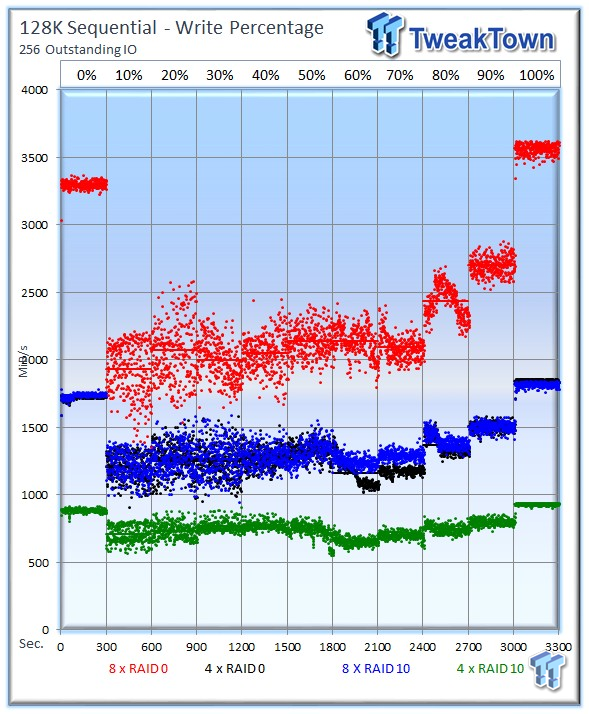 The Optimus Eco's scale well in the mixed sequential testing.
Database/OLTP and Web Server
Database/OLTP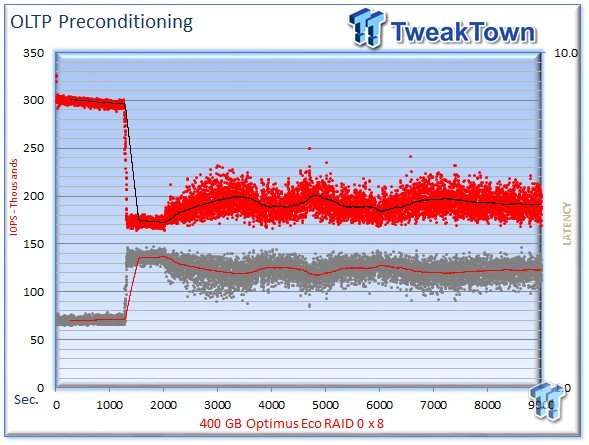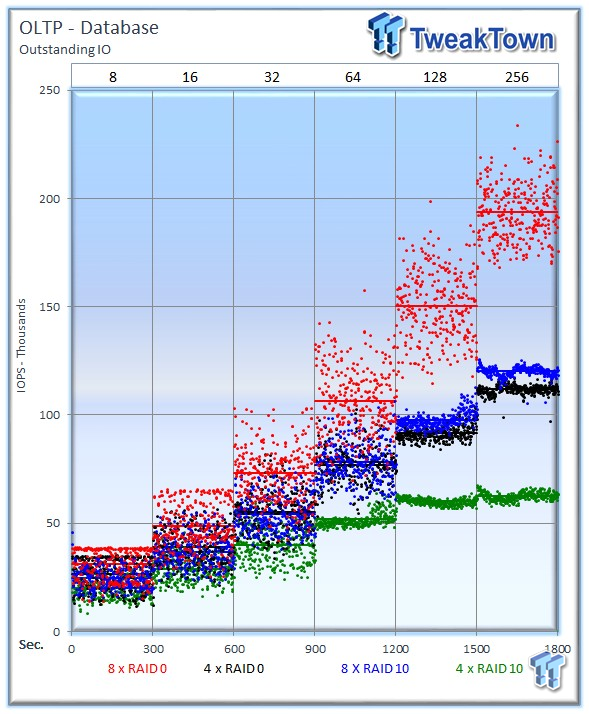 This test consists of Database and On-Line Transaction Processing (OLTP) workloads. OLTP is the processing of transactions such as credit cards and high frequency trading in the financial sector. Databases are the bread and butter of many enterprise deployments. These demanding 8k random workloads with a 66 percent read and 33 percent write distribution bring even the best solutions down to earth.
The eight-drive RAID 0 array predictably takes the lead with 193,658 IOPS at 256 OIO, followed by the eight-drive RAID 10 with 120,116 IOPS. The four-drive RAID 0 delivers 111,787 IOPS, and the four-drive RAID 10 array weighs in with 62,613 IOPS.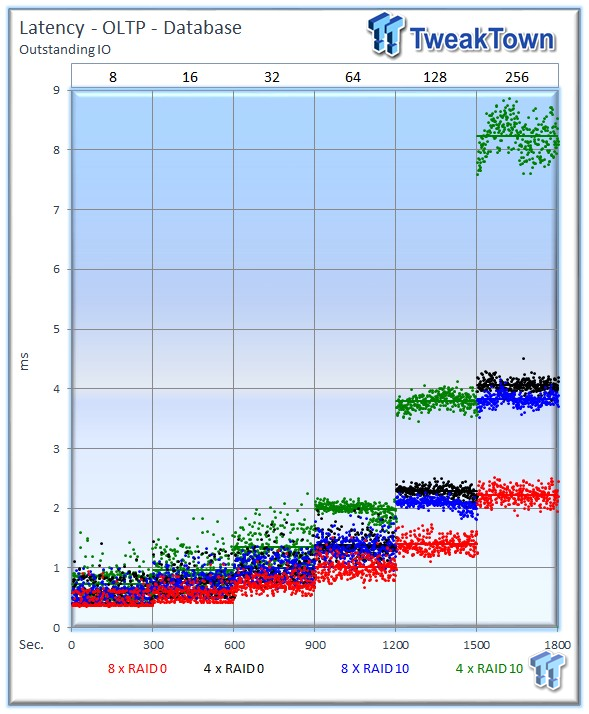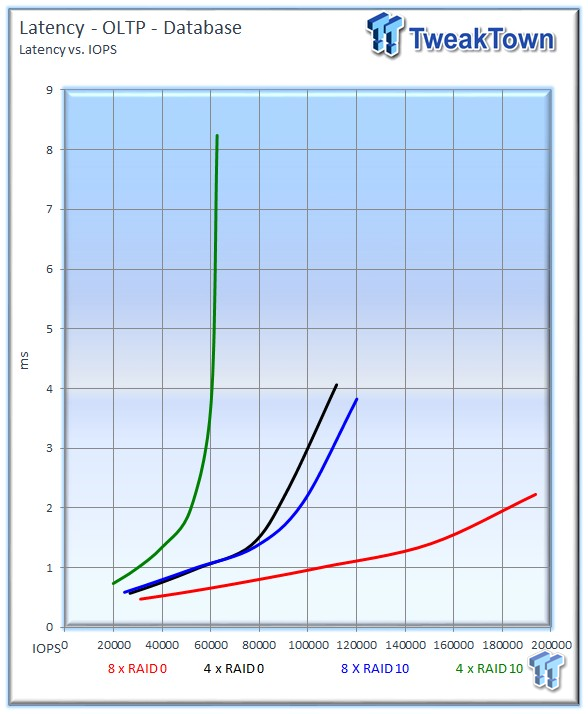 The eight-drive RAID 0 array provides 180,000 IOPS under 2ms.
RAID 0 Web Server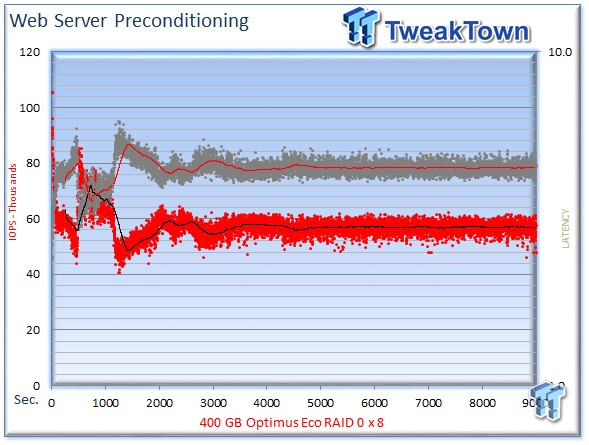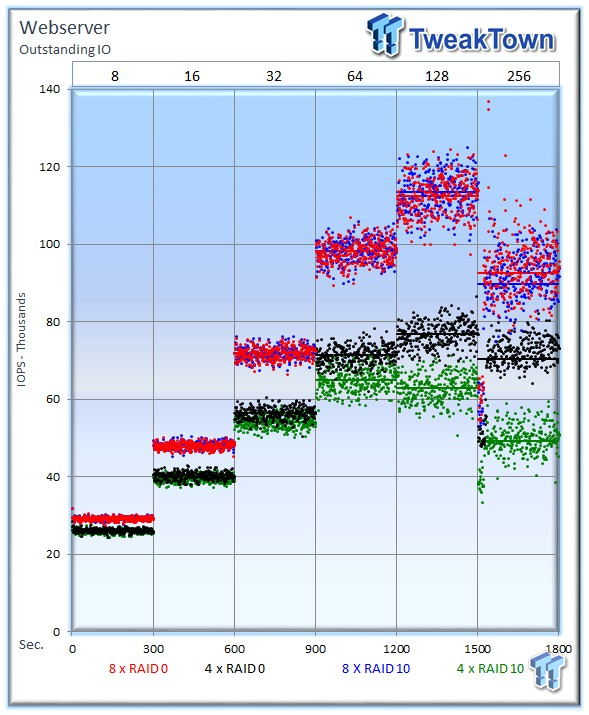 The Web Server workload is read-only with a wide range of file sizes. Web servers are responsible for generating content users view over the Internet, much like the very page you are reading. The speed of the underlying storage system has a massive impact on the speed and responsiveness of the server hosting the website.
The arrays top out at 128 OIO, and the eight-drive RAID 0 provides 112,457 IOPS at 256 OIO. The eight-drive RAID 10 isn't far behind with 113,375 IOPS, and the four-drive RAID 0 trails by a large margin with 76,802 IOPS. The four-drive RAID 10 tops out at 64 OIO with 65,207 IOPS.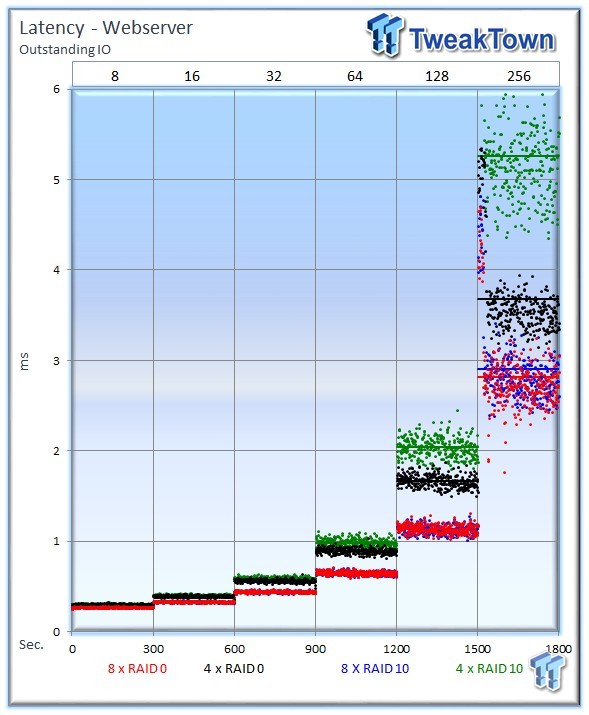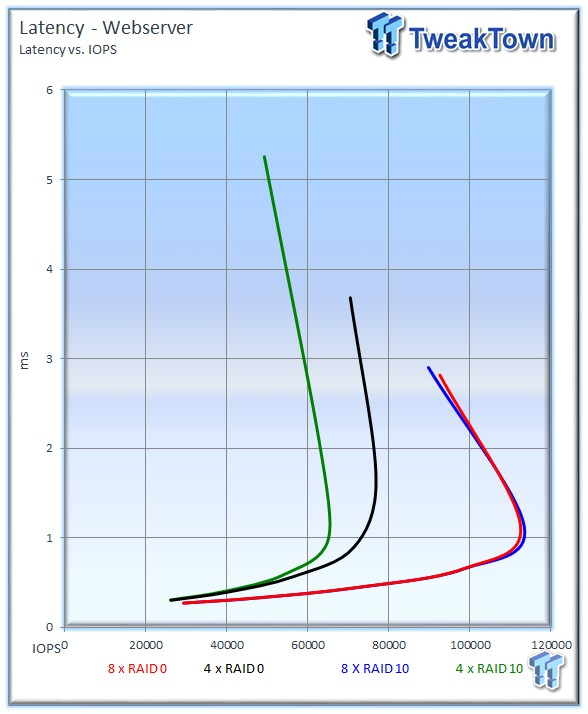 Performance takes a step back as we move into heavier workloads.
Email Server and File Server
Email Server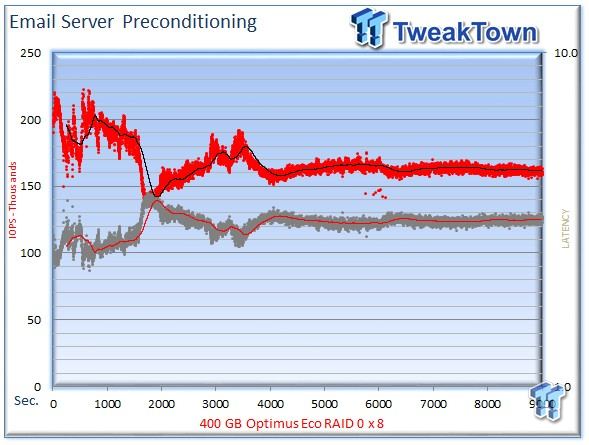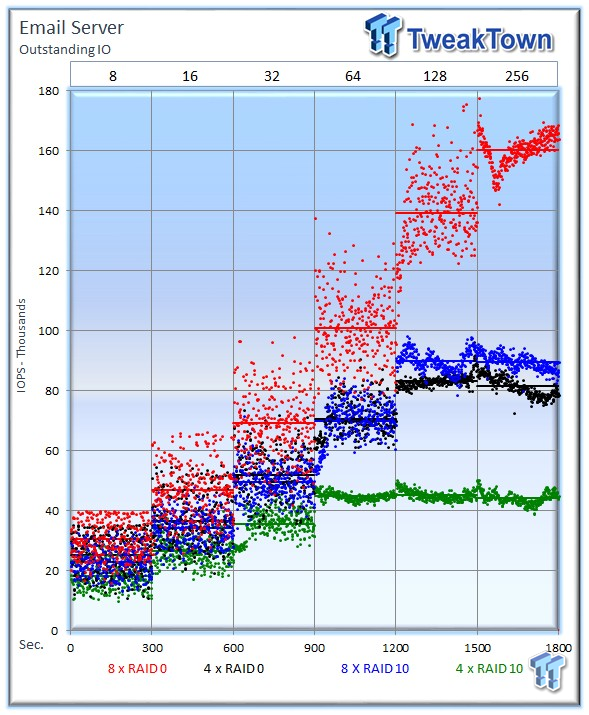 The email server workload is a demanding 8k test with a 50/50 read/write distribution. This application is indicative of performance in heavy random write workloads.
The eight-drive RAID 0 array delivers a robust 160,309 IOPS at 256 OIO. The eight-drive RAID 10 averages 89,540 IOPS, the four-drive RAID 0 averages 81,356 IOPS, and the four-drive RAID 10 array averages 44,321 IOPS.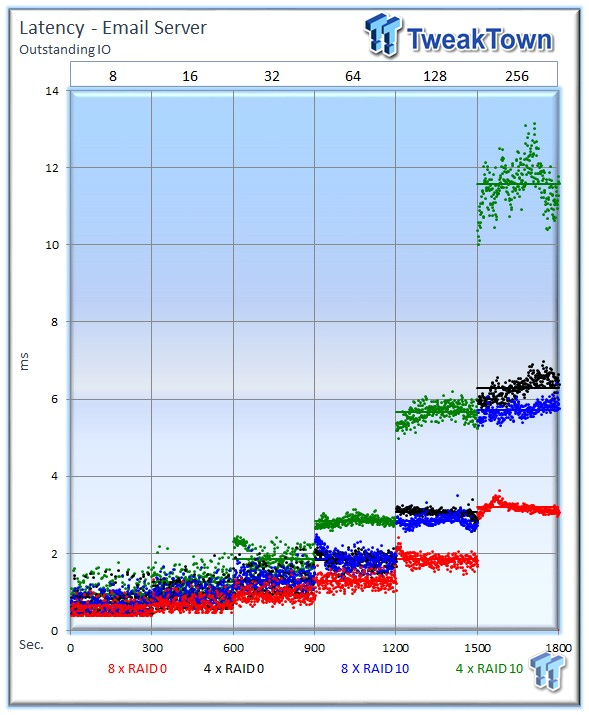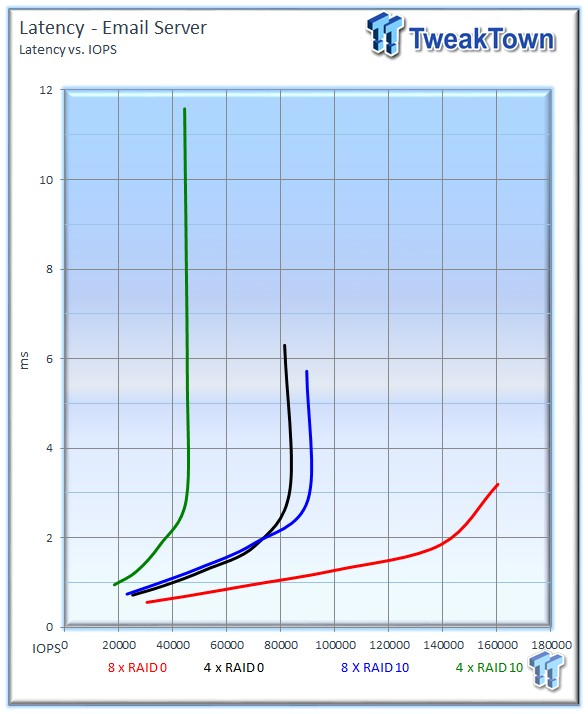 File Server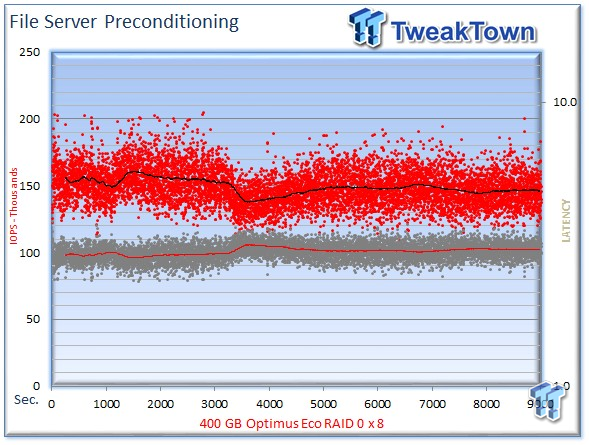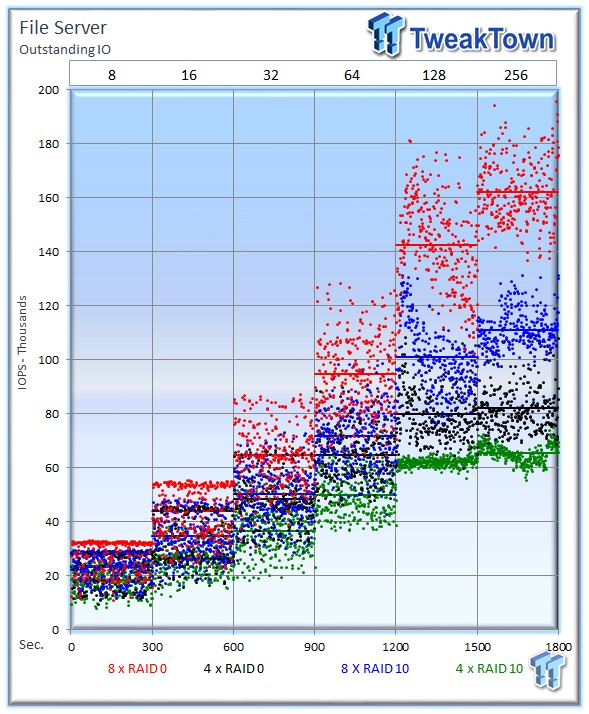 The file server workload tests a wide variety of different file sizes simultaneously with an 80% read and 20% write distribution. The wide variety of simultaneous file size requests is very taxing on storage subsystems.
Extensive variability creeps in with the wide range of file requests in this test. The eight-drive RAID 0 array averages 162,288 IOPS, the eight-drive RAID 10 averages 111,257 IOPS, the four-drive RAID 0 averages 82,287 IOPS, and the four-drive RAID 10 delivers 65,635 IOPS.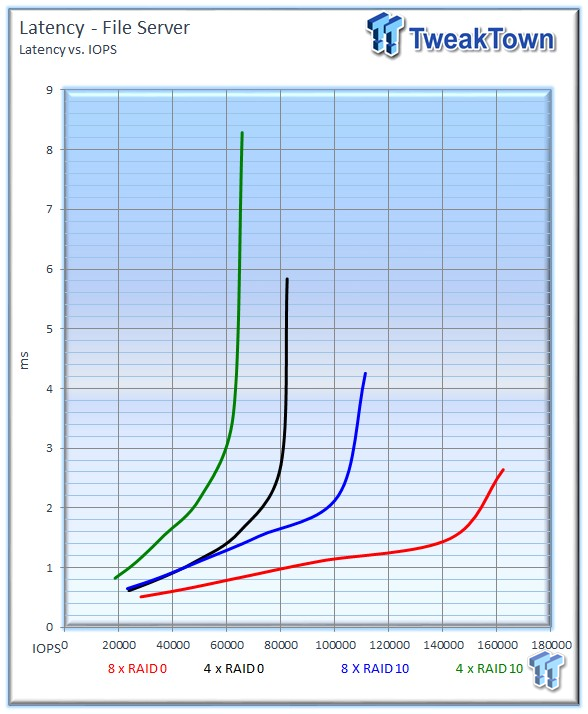 Final Thoughts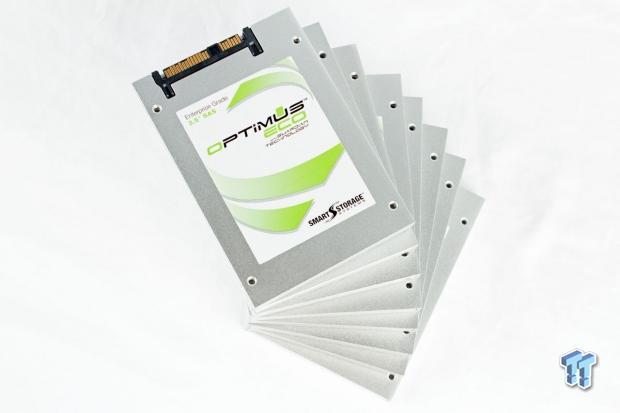 The tricky aspect of SSD RAID performance characterization lies in the overabundance of possible array settings. Through strip sizes, controller caching, drive caching, read ahead, and write through settings, administrators can tailor their array to provide the desired performance characteristics for their specific application. We test with default settings, and caching and read ahead disabled to provide a clear view of the SSDs themselves. We advise readers to tune their arrays for their application requirements.
One of the overlooked aspects of SSD RAID configurations is the fact that they can be used to extend endurance. SSDs have finite lifetimes. Enterprise SSDs provide plenty of endurance for mainstream applications, but those with more intense workloads can benefit by multiplying endurance through RAID scenarios. The difference between random and sequential writes can be profound for SSD endurance; the Eco goes from four DWPD for random write data to seven DWPD with sequential write data. Many RAID controllers sequentialize cached random data before handing it down to the underlying array. This technique was originally intended to boost performance for HDDs, but also has the benefit of increasing SSD endurance.
The Optimus Eco's delivered excellent scaling in RAID usage. Some SSDs with inconsistent performance do not achieve optimum scaling, and administrators can reach a point of diminishing returns with as few as four SSDs. The Optimus continued to scale up to eight SSDs, and delivered healthy increases in performance with each additional SSD. This performance scaling delivered tremendous RAID 0 results with up to 504,753 random 4k read IOPS, and 225,703 random 4k write IOPS. Sequential performance was just as impressive with a blistering 3,736 MB/s in sequential read performance, and 3,566 MB/s of sequential write performance.
RAID 10 scaling also fell within expectations and the similarities between the four-drive RAID 0 array and the eight-drive RAID 10 array highlight great scaling from both the SSDs and the LSI 9361-8i controller. RAID 0 isn't often used in actual deployments, but the eight-drive RAID 0 array test results should scale similarly to a larger 16-drive RAID 10.
Another impressive facet in our testing was the extreme reduction in latency during all of our workloads. The arrays all delivered excellent latency performance that will provide applications with fast service and a solid QoS. The low latency experienced with the arrays is usually impossible with a single device, and some PCIe offerings are competitive in this space. There are advantages to PCIe solutions, but many do not offer the high-availability features of the tried and true SAS interface.
6Gb/s SAS is widely deployed into the datacenter, and replacing hard drives with slip-in SSD replacements can be a quick fix for performance challenges. The ability to deploy varying numbers of SSDs, and varying capacities, allows users to tailor the level of performance and capacity precisely to provide targeted application acceleration. SSD RAID overhead is usually offloaded to the RAID controller, minimizing any disruption in the existing environment.
New features in Windows Storage Spaces also offers easy clustered and fail-over options that mesh well with SSD arrays. The Optimus Eco provides a compelling mix of features, endurance, pricing and high-availability features backed by a five-year warranty. In our testing, the Optimus Eco delivered excellent performance, and will be a good for any number of varying deployments.
PRICING: You can find the SanDisk Optimus ECO for sale below. The prices listed are valid at the time of writing, but can change at any time. Click the link to see the very latest pricing for the best deal.
United States: The 400GB SanDisk Optimus ECO retails for $839.38 at Amazon, and the 800GB SanDisk Optimus ECO retails for $2,335.30 at Amazon.
Canada: The 800GB SanDisk Optimus ECO retails for CDN$2,763.66 at Amazon Canada.
PRICING: You can find products similar to this one for sale below.

United States: Find other tech and computer products like this over at Amazon.com

United Kingdom: Find other tech and computer products like this over at Amazon.co.uk

Australia: Find other tech and computer products like this over at Amazon.com.au

Canada: Find other tech and computer products like this over at Amazon.ca

Deutschland: Finde andere Technik- und Computerprodukte wie dieses auf Amazon.de
We openly invite the companies who provide us with review samples / who are mentioned or discussed to express their opinion. If any company representative wishes to respond, we will publish the response here. Please contact us if you wish to respond.