Introduction
We've had a good look into the VGA side of things when it comes to Windows 7. However, while for many people that's the most important section, it's not all of it. Today we'll be having a closer look at how some of the other components in our system run under the new operating system due out in just a few months.
Today we'll be looking at two core components; the memory and the CPU. We'll be using a triple channel memory configuration with our Core i7 920 processor clocked at 4GHz. We'll be running our testbed through our standard memory benchmark line-up which does a good job of testing both the memory and CPU.
Like our other Windows 7 articles we recently published, there isn't a whole lot to say as the benchmarks themselves will do most of the talking. What we'll do is have a quick look at our testbed today to see what exactly we have going on before getting stuck into our benchmarks to see if there's much of a performance difference, be it in the negative or positive area, when comparing the new operating system Windows 7 to its predecessor, Windows Vista.
Test System Setup and wPrime
Test System SetupProcessor(s):
Intel i7 920 @ 4GHz (200MHz x 20)
Cooling:
Noctua NH-U12P (Supplied by
Noctua
)
Motherboard(s):
GIGABYTE EX58-UD5 (Supplied by
GIGABYTE
)
Graphics Card(s):
GIGABYTE GTX 285 (Supplied by
Gigabyte
)
Memory:
3 X 2GB OCZ Blade PC-16000 DDR-3 7-8-7-20
Hard Disk(s):
Western Digital 300GB Velicorapter (Supplied by
Western Digital
)
Operating System:
Windows 7 Ultimate 64-Bit Final OEM, Windows Vista SP2 64-Bit
Drivers:
ForceWare 190.38
There isn't anything too out of the ordinary when it comes to our testbed. It's the standard memory one we use which carries with it a 4GHz clockspeed vs. a 3.8GHz one that our VGA testbed runs at.
As mentioned in the intro, we'll be seeing how the performance of the two operating systems compares under our standard memory benchmark suite which consists of programs that concentrate on memory and CPU performance.
wPrimeVersion and / or Patch Used:
1.62
Developer Homepage:
http://www.wprime.net/
Product Homepage:
http://www.wprime.net/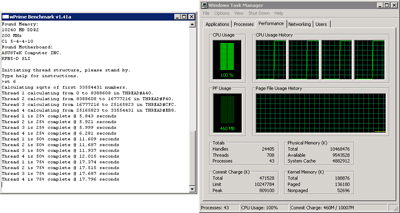 wPrime uses a recursive call of Newton's method for estimating functions, with f(x)=x2-k, where k is the number we're sqrting, until Sgn(f(x)/f'(x)) does not equal that of the previous iteration, starting with an estimation of k/2. It then uses an iterative calling of the estimation method a set amount of times to increase the accuracy of the results. It then confirms that n(k)2=k to ensure the calculation was correct. It repeats this for all numbers from 1 to the requested maximum.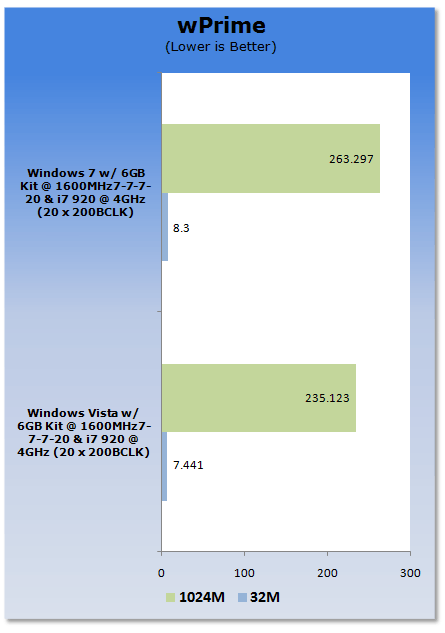 Under Windows 7 we can see that as far as pure CPU performance goes the numbers are up (which isn't what we want) for wPrime.
Benchmarks - EVEREST Ultimate Edition
EVERESTVersion and / or Patch Used:
Ultimate Edition
Developer Homepage:
http://www.lavalys.com/
Product Homepage:
http://www.lavalys.com/products/overview.php?pid=3&ps=UE&lang=en
Buy It Here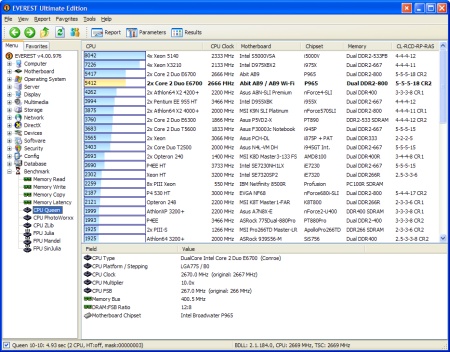 EVEREST Ultimate Edition is an industry leading system diagnostics and benchmarking solution for enthusiasts PC users, based on the award-winning EVEREST Technology. During system optimizations and tweaking it provides essential system and overclock information, advanced hardware monitoring and diagnostics capabilities to check the effects of the applied settings. CPU, FPU and memory benchmarks are available to measure the actual system performance and compare it to previous states or other systems. Furthermore, complete software, operating system and security information makes EVEREST Ultimate Edition a comprehensive system diagnostics tool that offers a total of 100 pages of information about your PC.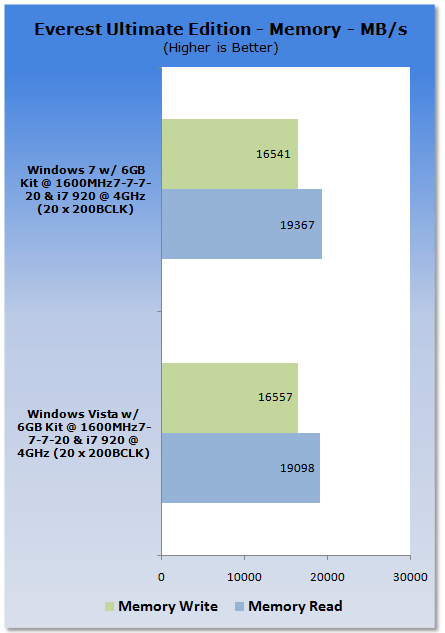 Under EVEREST we can see that the memory performance is quite similar with not much at all separating the two setups.
Benchmarks - SiSoft Sandra
SiSoft SandraVersion and / or Patch Used:
Professional Home
Developer Homepage:
http://www.sisoftware.co.uk
Product Homepage:
http://sisoftware.jaggedonline.com/index.php?location=home&a=TTA&lang=en
Buy It Here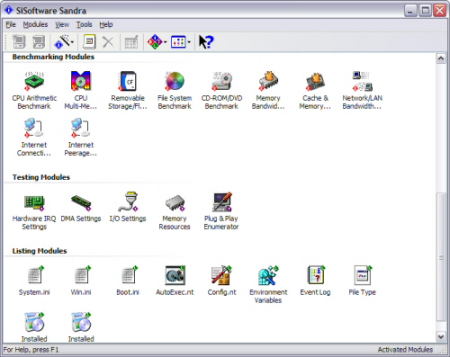 SiSoft Sandra (
S
ystem
AN
alyser,
D
iagnostic and
R
eporting
A
ssistant) is a synthetic Windows benchmark that features different tests used to evaluate different PC subsystems.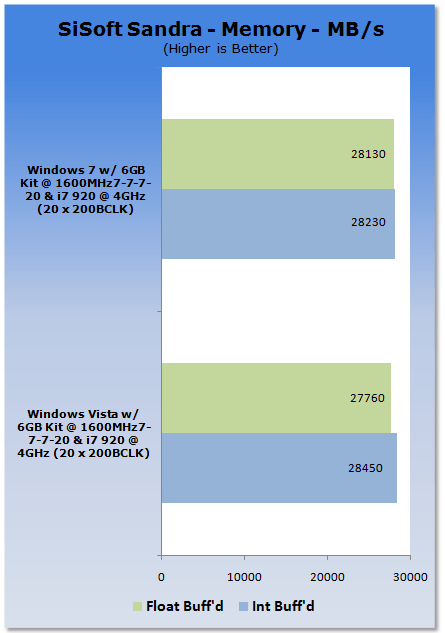 Sandra shows a similar picture to EVEREST with memory performance being very similar on the two test systems.
Benchmarks - Sciencemark
ScienceMark 2.0
ScienceMark 2.0 is a mathematical program designed to stress the memory subsystems of both desktop/workstation and server environments to determine the read/write latency as well as the overall memory bandwidth available between the CPU and the memory controller.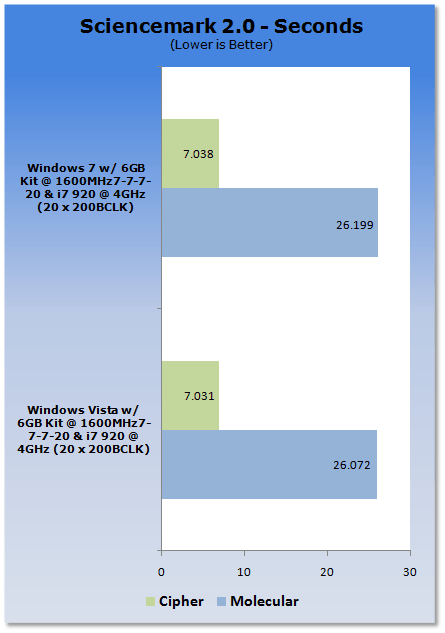 Under Sciencemark we can see that the two systems perform very similar in both the Cipher and Molecular tests.
Benchmarks - Far Cry 2
Far Cry 2Version and / or Patch Used:
1.01
Timedemo or Level Used:
Ranch Long
Developer Homepage:
http://www.ubi.com/
Product Homepage:
http://www.farcry2.com/
Buy It Here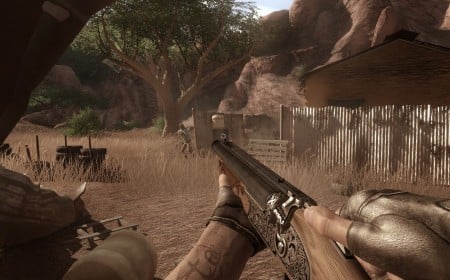 The Dunia Engine was built specifically for Far Cry 2 by the award-winning Ubisoft Montreal development team. It delivers the most realistic destructible environments, amazing special effects such as dynamic fire propagation and storm effects, real-time night-and-day cycle, dynamic music system, non-scripted enemy A.I. and so much more.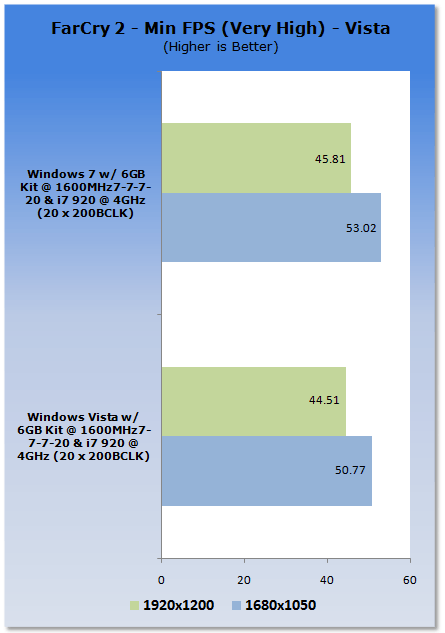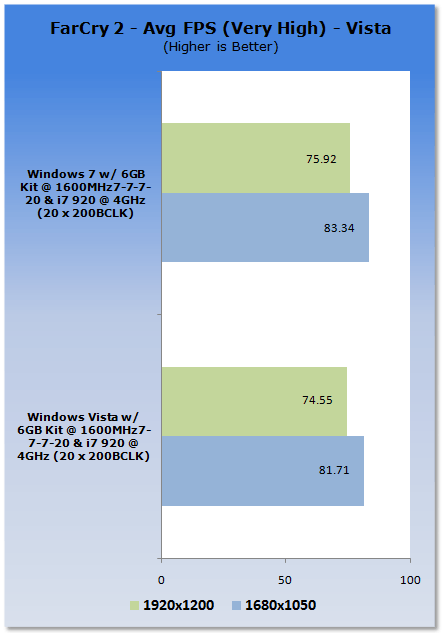 We can see under Far Cry 2 the performance in Windows 7 is up. This isn't much of a surprise as we've seen Windows 7 perform well in the past when it comes to VGA in some tests.
Final Thoughts
When it comes to having a look at pure CPU performance, it seems that Windows 7 isn't quite as efficient as Windows Vista. As for memory, though, there isn't a whole lot of difference. On the down side you're not going to be breaking any wPrime records under Windows 7 for the moment.
On the other hand, while the CPU scores are lower, when it comes to graphics card performance we can tell from our previous articles that Windows 7 does a good job of keeping up with the older and more mature operating system; it coming out in front at times and sometimes falling slightly back.
What we're seeing today doesn't turn us off Windows 7 one bit. Once a bit of time has gone past there's no doubt we'll see CPU performance come up to or overtake that of Windows Vista. This should also result in slightly better graphics card numbers and anything else that benefits from more CPU power.
There's no reason to not be excited about Windows 7; it's the upgrade that Vista probably should have been. With that said, though, if Vista hadn't existed, then it's possible that W7 wouldn't be as good as it is now.