Corsair DARK CORE RGB PRO SE Wireless FPS/MOBA Gaming Mouse Review
Today Corsair releases its new DARK CORE RGB PRO SE Wireless FPS/MOBA gaming mouse. Join us as we explore what it's all about.

Published Apr 7, 2020 8:00 AM CDT
|
Updated Tue, Nov 3 2020 6:57 PM CST
Manufacturer: Corsair (CH-9315311-NA)
Introduction, Specifications, and Pricing
It was almost two years ago when we got our first look at a Dark Core mouse from Corsair. Even though at that time, we thoroughly enjoyed what it delivered in features and performance, the fit to our hand was awkward and left us continually readjusting our grip to utilize all of the buttons. For those users with larger hands, the Dark Core was and is a terrific option, but as any manufacturer tends to do, when you have a massive hit in any market, keeping it relevant is an important aspect to continue success as time continues to march on from the release of a product.
Relevance and updates are what have us here right now, looking at the latest addition to the Dark Core lineup. Some of the changes are major, and some are less, but all told, without looking at the components inside, which some have changed, there are over a dozen changes and adjustments made when introducing this new mouse to the world. As we mentioned, some of the changes might slip right past some. Still, a few of the changes made are ones we addressed in the Dark Core RGB SE review, which should also increase functionality, and be a mouse no longer for those with the largest of hands, but now be something many more can enjoy using!
Corsair's latest attempt to win the hearts of customers is made with the release of the Dark Core RGB PRO SE, which by name, means that it is of a more professional mindset in the design! You will find the use of Omron main switches, tracking based off of an optical sensor, onboard storage so that software is not needed when playing, portability, connectivity, all of these things come into play. With well over a dozen changes, within a similar looking product, we have a lot to cover. Stick with us as we cover the specifications so that we can take you on a tour of what went into making the Dark Core RGB PRO SE Wireless Gaming Mouse, and why it needs to be on your desktop!
The above chart was snipped out of the reviewer's guide provided to us from Corsair, and we see more information contained in it than we typically do from Corsair products, so kudos to them for that. Connectivity gets top billing, where we see mentions of both the sub-1ms, 2.4GHz, Slipstream Wireless, as well as the option for Bluetooth 4.2. Wired connectivity is also an option, done so via a USB 2.0 Type-A connecting to the PC, with a USB-C connection for the mouse. As to the charging of the mouse, it is done over USB, or you do have options like the MM1000 mouse pad, with built-in Qi charging, rather than needing the cable every time the battery got low. The battery needing charging is a lithium-polymer cell, boasting a range of life, ranging from sixteen hours with everything powered, to fifty hours with all of the power saving features enabled!
The sensor has changed and is now the PixArt PAW3392, still an optical sensor, but of a newer design. DPI has increased from 16,000 to 18,000 now, with single DPI steps, done with a slider or with number entry, There are three onboard profiles, which is excellent for the average user, but in eSports, software is usually not allowed, so this is a definite advantage in that scenario! Backlighting has been updated as well, with now nine zones, of which, all of the zones can be addressed in software. The earlier model offered nine buttons, but this has eight, removing the one that was hardest to reach. USB report rate is shown to have the option of standard 1000Hz, but if that is not fast enough, Corsair offers 2000Hz as an option!
On a physical level, the Dark Core RGB PRO SE is black, but there is a mix of textured plastic, shiny plastic, and rubberized surfaces, adding style while aiding in comfort as well. The mouse feet, all six of them, made of PTFE, cover quite a bit of the underside of the mouse. The charging or wired connectivity cable is 1.8 meters long, we addressed the connectivity of it, but gone is the gray twist in the braid, opting for uninterrupted black this time around. iCUE is where it's at when it comes to customization and complete control over the mouse, and on top of that, it has gotten more intuitive and in-depth.
Dimensionally, the Dark Core RGB PRO SE is 127mm long, it is 89mm wide, stands 43mm tall, and weighs in at 133 grams. The width can be increased with use an optional side panel, and we do notice weight has increased a few grams over the original Dark Core RGB SE. The last thing covered in the chart is a mention of the warranty, which covers the Dark Core RGB PRO SE for a two-year timeframe, from the date of purchase.
Without a current listing, due to the freshness of this product, we did go back and look at the Dark Core RGB SE and saw that it currently sells for $89.99 with Corsair listed as the seller. If we had to hazard a guess, that is about to change with the release of the Dark Core RGB PRO SE. That guess is based on the fact that we have the MSRP in hand, and are told the latest addition to carry the name is requiring an investment of $79.99. Ten dollars less for much more product seems like a terrific way to start things out. If the new Dark Core RGB PRO SE is anything like we feel it should be from experience, we think Corsair will have another winner on their hands, with a mouse many will appreciate.
Chad's Peripherals Test System Specifications
Packaging, Accessories, and Documentation
The Dark Core RGB PRO SE comes packaged in a box with a black front panel, most of which is taken up by the image of the mouse in the middle. Across the bottom, we find that Corsair goes on to call this a wireless FPS/MOBA gaming mouse with Slipstream Technology, and just to the right of that explanation are mentions of QI charging, iCUE support, and Slipstream Technology.
As we move to the right side of the packaging, we run into a lot of bright yellow as the backdrop. Along with the company name, logo, and product name at the bottom, we also see the like "Win without Wires" as the tagline to this product.
Spinning the box again, we are now looking at the back, which is topped with the information we have covered already. Below, in four languages, we find features listed, containing the three connectivity methods, the 18,000 DPI max, 2000Hz polling, Type-C connector, and Qi charge compatibility, flanked by a pair of images of the Dark Core RGB PRO SE while illuminated. In the same four languages, at the bottom, we find the system requirements, which shows you need Bluetooth 4.0, Windows 7/ macOS 10.13 or newer, and an internet connection to obtain iCUE.
Spun the last time, the last panel of the packaging is almost the same as we saw on the opposing yellow panel, but this time, the tagline has been replaced by an image of the left side of the mouse.
Internally, the mouse rests under a plastic cover, which is folded into the yellow internal cardboard packaging. The cardboard keeps the mouse protected on both sides, with the plastic used to protect the surface treatments. In the lower half of the internal packaging, you will find all of the accessories and literature.
The accessories that come along with the Dark Core RGB PRO SE are all contained in this image. There is the black braided cable, with the USB-C connector and Velcro strap, to keep the cable tidy for travels. Between the ends of the cable, we find the optional right side cover plate, which adds texture and a wing, and we also see the Slipstream wireless dongle.
The literature that ships in the box, is made up of the manual, which gives you a rundown of all of what we covered, along with where to get the software, and basic usage information. It comes along with a safety and compliance insert due to its wireless connectivity, and there is also a warranty guide, with all the information needed, should an issue arise, and you need help with it.
Corsair Dark Core RGB PRO SE Wireless Gaming Mouse
The left side of the Dark Core RGB PRO SE starts at the front with three grooves ending at the DPI LED indicators. Gone is the D-pad style button arrangement, replaced with a page forward and page back button, and the surrounding area has been textured with a diamond pattern and is rubberized for added grip. Just below the side buttons is a thin strip that is backlit, as is the area near the heel, wrapped with shiny plastic trim. The rest of the view is very similar in shape and features, as we recall in the Dark Core RGB SE.
The view from behind the Dark Core RGB PRO SE has not changed. We can see the wing to the left, which sweeps around the back in the form of textured plastic. Above that is a shiny section of plastic, which is then topped with a diamond pattern of rubberized plastic, containing the Corsair logo in the middle of it.
The right side of the Dark Core RGB PRO SE is very similar to the Dark Core RGB SE at this time. We can see how all of the materials wrap around and continue the body lines and shapes around to this side. However, like in the original, we have an option here.
The textured plastic, center panel, of the mouse is magnetically attached to the body. Once removed, we can see that Corsair has added a location to store the Slipstream dongle, which is handy for those on the go, ensuring it will not be lost.
If you recall back to the accessories, there was that extra side panel, and here it is now, installed onto the Dark Core RGB PRO SE. It adds a wing, as we saw on the left, which supports fingers and keeps them from dragging, but we also like the diamond pattern addition this time, solidifying the theme across the entire mouse.
The front view of the Dark Core RGB PRO SE is similar to the original, but there is one slight difference. Along with the chunky lines at the bottom, flanking where the USB-C cable attaches, the ergonomic lean, and the highly textured main buttons, the shiny bit in the center of them is wider in this model.
Widening the center section allows for a slightly wider scroll wheel, which also gets the diamond -pattern treatment. Behind the wheel are a battery and wireless status indicator LED, followed by a profile cycle button. We also see a pair of buttons hanging on the side of the left click button, used for DPI selection as their default functionality.
The arrangement of feet around the center of the mouse has changed, and instead of five, we now have six PTFE feet supporting the Dark Core RGB PRO SE. The eye of the sensor is centered, but the sticker flanks the right of it, displaying information and containing the model and serial numbers. The last thing to note is the switch at the bottom. Replacing what used to be a pair of them, now one switch changes from wireless to Bluetooth, with an off position between them.
Once powered, the Dark Core RGB PRO SE comes to life with a rainbow assortment of colors wrapping around the mouse within the various LED zones. We can see the side of the scroll wheel is dark blue, changing to lighter blue and near green in the side strip, green at the bottom of the left side, and nearly tallow at the Corsair logo on the heel. Not visible are the DPI LEDs near the front, which are white, and the indicator on top does not stay illuminated, and is color dependent based on what function is being used at that moment.
The view of the right side is nowhere near as brilliant as we saw on the left, but all the same, we are glad there is a bit of RGB LED carrying over to this side, and not just what we see in the scroll wheel. We do realize there are power constraints, but we would have loved to see the front illuminated as well.
iCUE Software
Once obtained and installed, this is the first menu iCUE drops you into when opened from the taskbar. We have many compatible devices connected to this PC, which are all shown across the top of, but all we need to do at this time is to click on the Dark Core PRO SE icon, which also shows we have it wired to the PC at the moment.
Clicking on that icon takes us to what we see above. We are in the mouse control section of iCUE, and the top tab on the left tells us that we are dealing with profiles now. Next to the word profiles is a plus sign, and when clicked, you get a dropdown menu to start new profiles, name them, and associate them to games, the works. Three of these profiles can be stored on the mouse at any one time, and all others will need a folder on a PC or MAC to store any other profiles you may want to create.
Next in line is the actions section, and this covers anything from PC functions, including those of other USB devices, and so on. You will need to add an action to get things started, and here we are set for Macro use. Any of the eight buttons can be programmed, except for the left click, and that is on any profile! Below the selected key, we see the macro menu, where you record any activity you want to simplify the use of, make sure to choose the proper options when doing so. Still, if you screw up, you can edit inline rather than deleting all work and trying again.
Still, within the heading of Macros, we now look at what is to be had in the advanced settings portion of it. It is here that you select how the Macro is triggered, does it repeat or spam, would you like it to make noise when it is activated; you can do that! We also see checkboxes for retaining original key output and to enable uninterrupted execution of said Macro.
Still dealing with Macros, but in the sound department, there are the start settings. It is here that you would direct iCUE to a sound file you wish to play when the Macro is activated. Once set, you can test the file to make sure it plays correctly, and you have now covered all of the Macro options.
Lighting effects can be addressed in a total of eight separate zones. Each can be selected to either side of the mouse image, and you can then move to the lower section. We are currently in Rainbow Wave mode, but we have a speed slider we can adjust, we can change the direction of flow, and we can even set the lighting to correspond to a profile, and tell it when we want it to stop. Other effects will have other options, such as color pickers on a field of colors or RGB number entry.
If you click on the box that shows the Rainbow Wave mode, it opens the full list of effects. There are over twenty options to pick from, whether addressing the Dark Core RGB PRO SE on its own or over Lighting Link. Five of the options are customizable, and options for those modes go much deeper, depending on what it is you are looking to create.
The DPI section is, well, where you go to adjust the DPI settings. At the right, towards the bottom, we can use up to three DPI settings, which can also be enabled or disabled at will. There is also a fourth setting for a sniper button, but you will have to assign a button to do that first. Each DPI setting can be changed with the slider, or by clicking on the X and Y DPI boxes and entering a number. These DPI settings can also correspond to a custom color, which makes it easy to see what is currently set to be used on the side of the mouse.
The performance section offers only four things. There is a box to tick if you want angle snapping enabled, there is a box for the profile indicator color, there is a box for enhanced pointer precision, and you can also use the slider to change pointer speed.
It is recommended, no matter what type of surface you opt to use, that you calibrate the Dark Core RGB PRO SE to it. To do so, grab the yellow dot by holding the left click, and with similar speed, make circles. Your rate of the rings needs to keep the speedometer in the green zone, while progress builds to 100%. Once there, you can save it and set it to be what the mouse uses. Also, you can calibrate multiple surfaces, and keep them stored on the PC, and change them when needed.
The last bits of information for the mouse is found in the settings section, from the top menu bar. It is here that there is the battery status, polling rate options, the brightness of the LEDs, memory deleting, as well as firmware version for both the dongle and the mouse. To the right are options on life-extending, where we can enable sleep mode, and set the time it takes to fall asleep. You can allow the battery gauge in the taskbar, and there is also a box that initiates wireless pairing.
Gaming and General Impressions
DOOM Eternal & Warzone
Trying all modes of connectivity, gaming has been pleasurable. In something fast-paced like Doom Eternal, while only a few levels in so far, the Dark Core RGB PRO SE has allowed us to swing around to draw down on hellspawn trying to sneak up behind us, and is still accurate enough to deliver kill zone shots which makes demon destruction easier. Even when it comes to the wall-grabs, and aiming for the double jumps across various cavernous drops where bridges have collapsed, the mouse was in no way our bottleneck to killing our way through this game.
Even in something like Warzone, where you have to pick up bits by hovering an icon, and with slower action unless you run face-first into a squad, the Dark Core RGB PRO SE was up to the task. We also like the extra buttons much more for Warzone than in DOOM, and since we can reach all of the buttons this time, we get to take advantage of the options and customizability Corsair has designed into this device.
Windows and Productivity
As we do regularly, highlighting text section in word docs, editing images for dust, cropping them, all of that went rather well after just a few minutes of having the Dark Core RGB PRO SE in our hands. While we did not need more than 6000 DPI to get what we needed to do done, whether gaming or editing large images on a 4K, 55-inch screen, we were able to fly around on that real-estate without any need to lift the mouse.
For those that like lower DPI, we did miss any LOD setting options, but the wander is very slight when lifting then mouse, but mainly due to the weight shift as you lift it, not from lack of grip. Even though many will use the profiles for various game titles, there is no reason this mouse could not be a shortcut master for things like video and photo editing, and still be a beast when the time comes to game.
The Dark Core RGB PRO SE also offers options that one may not think about at first. Yes, you can go wired for connectivity, and all is well. You could go Slipstream wireless rather than that cable too, but what you may not have thought about is that nobody says it cannot be wirelessly connected to one PC, while Bluetooth connected to another, at the same time. At a flick of a switch, you can jump from one PC to another, clearing room for the desk of those who use multiple systems nearby!
Final Thoughts
With so many changes and features dumped into the Dark Core RGB PRO SE, we have much to talk about as we conclude this review. We feel we should start with things that feel short, or something we felt could have been changed, and on all honestly, we have only one complaint. Whoever the engineer is over there designing how these mice are assembled is either a mysterious genius or a sick sadistic person, we still are not sure! By this, we mean they are coming up with more tricks than we can easily decipher when it comes to opening these last couple of mice from Corsair. Not that it is a bad thing, and we have never run into an issue where a specifications chart claimed something we did not find inside.
However, we would like to have seen the MCU, which we are guessing is 32-bit, as there is so much going on that it benefits from that level of product. We have no doubt the main switches were Omron 50-million click switches, and we have no reason to doubt the use of the PixArt PAW3392 optical sensor either, but we do like poking around and showing the guts.
Even though the feature set is very rich, the wireless connectivity is what will sell this mouse. On a cable, everything is as expected; a little input lag, accuracy, and a bit of drag from the cable. When we opted to game and work with the Slipstream wireless dongle, there was no change, and to the average user, outside of the need to charge the mouse, differentiating these two options is very tough to do. We also tried our hand with Bluetooth connectivity. While we did experience what felt like slowdowns of the cursor movement in DOOM Eternal, it may have been a hiccup caused elsewhere, we were not able to replicate it in other titles or with other connectivity options.
With a maximum battery drain time of fifty hours, do keep in mind, which is with tight power-saving settings and no RGB LEDs. On Bluetooth and Slipstream, we saw similar timeframes. With eight hours of use, leaving it powered on the desktop with no sleep settings enabled, we saw twenty-four hours before we needed to charge. One day each was dedicated to full-on abuse, with little rest, one charge dedicated to Slipstream, we got fifteen hours before we hit the bottom end of the red zone for the battery indicator gauge.
Doing the same for Bluetooth connectivity, we went at it again, but this time required a recharge after sixteen hours. Of course, with sleep options, and a switch to turn the mouse off, these times will vary greatly depending on how you use it, but it will get you through a long day of games or work as long as you are sure to charge it when not in use. Out of the box, that is left to the cable, but any Qi charger or something like the MM1000 will do that for you.
As to the Dark Core RGB PRO SE as a mouse, without all of that previously mentioned, extensive list of features we have covered, we still have yet to address it. The feel is more substantial for our hand, but with the modifications made to the PRO edition, added grip areas, grip on both sides, and removal of the side button arrangement for something a bit more standard, all help to improve on these aspects. We like a mouse with wings, as it reduces drag by offering rests for the thumb and pinky, and that option is given with the second right side cover.
All of the buttons are within reach, and with ten functional buttons, eight of which are reprogrammable, over three profiles, leaves nearly unlimited options for right-hand users on top of this ergonomically shaped gaming mouse, which gives us no reason to complain when using it, sliding it freely on our mousepad, or when the need arises to have to lift it, it is a reliable, functional, well thought out design that many will appreciate.
On top of the basics, we can go into iCUE and add Macros, customize the RGB lighting in multiple zones, change DPI LED colors, whatever it is, the software delivers what you need. What makes it all that much better is the cost associated with it! Nearly two years ago, Corsair asked $90 for the Dark Core RGB SE, and while it was a great product in its day, it has been surpassed by the Dark Core RGB PRO SE. Even so, the MSRP of the Dark Core RGB PRO SE is ten dollars less, at $79.99. Who cannot get behind getting more product for less of an investment?
You will be hard-pressed to find other mice similar, and we are thinking back to products from the likes of Logitech and ROCCAT, comparing features, pricing, and connectivity options, and the Corsair solution floats to the top in our minds! The Dark Core RGB PRO SE has a lot of changes, but not one of them to the detriment of the product. While a tough nut to crack, there is an extensive list as to why this mouse should be in your top five mice ever made!
Chad's Peripherals Test System Specifications
| | |
| --- | --- |
| Performance | 100% |
| Quality | 98% |
| Features | 100% |
| Value | 100% |
| Overall | 100% |
The Bottom Line
Corsair packs in every option known to man, with a couple that aren't, and comes out smelling like a rose! No matter what you do at a PC, the DARK CORE RGB PRO SE adds a new level, and is what all others will strive to be.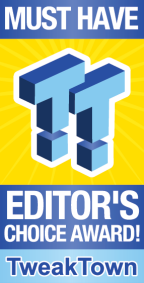 We openly invite the companies who provide us with review samples / who are mentioned or discussed to express their opinion. If any company representative wishes to respond, we will publish the response here. Please contact us if you wish to respond.