MSI X299 XPOWER GAMING AC Motherboard Review
MSI's X299 XPOWER GAMING AC motherboard gets fully tested as we determine if it's one to consider or not.
Published Sep 27, 2017 9:50 AM CDT
|
Updated Tue, Nov 3 2020 6:58 PM CST
13 minute read time
TweakTown's Rating: 92%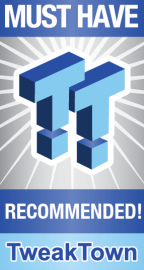 The Bottom Line
MSI's X299 XPOWER GAMING AC is not only one of the most feature-packed X299 motherboards on the market, but it can also support and overclock the beastly 7980XE with ease.
Introduction, Specifications, and Pricing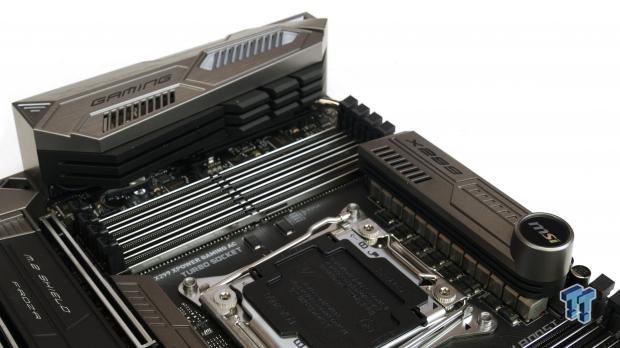 MSI's X299 XPOWER GAMING AC is one of MSI's more recent X299 motherboards, and it features certain upgrades over the X299 Gaming M7 ACK and X299 Gaming Pro Carbon AC, including improved VRM cooling and many more features.
For starters, the XPOWER line has always been targeted more towards enthusiast power users and overclockers rather than gamers, although the features do overlap.
The motherboard costs a little less than $100 more than the X299 Gaming M7 ACK, so let's see what it has to offer over the rest of MSI's X299 lineup.
Specifications

The X299 XPOWER GAMING AC features three M.2 slots, two Intel wired NICs, an Intel wireless AC card, USB 3.1, U.2, and ten SATA6Gb/s ports.
Pricing
The X299 XPOWER GAMING AC costs $449.99.
Packaging and X299 XPOWER GAMING AC Overview
Packaging and Overview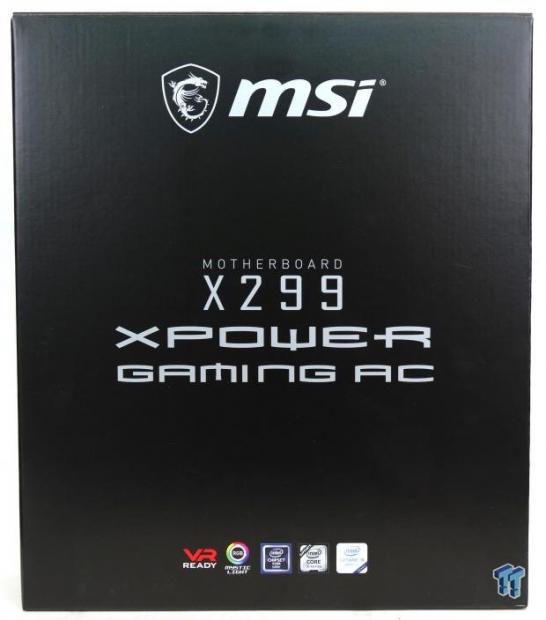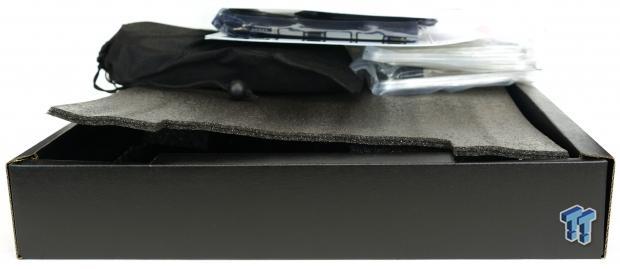 The motherboard's box is simple, sleek, and reflects the motherboard's general presence within the market. Packaging is taken seriously; the motherboard is encased in foam.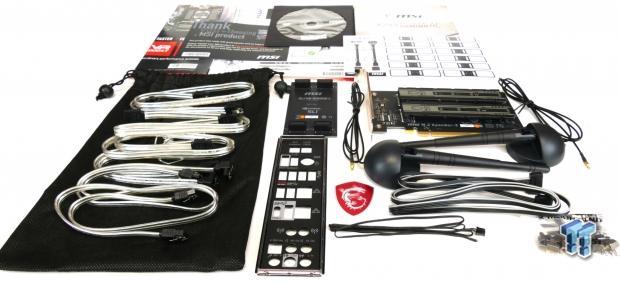 The accessory package includes six SATA 6Gb/s cables, an IO shield, thermistor cable, SLI HB bridge, M.2 Xpander-Z, RGB Y-cable extension, two WIFI antenna, 3D X-mounting screws, case badge, SATA cable labels, quick guide, user guide, and driver disk and utilizes.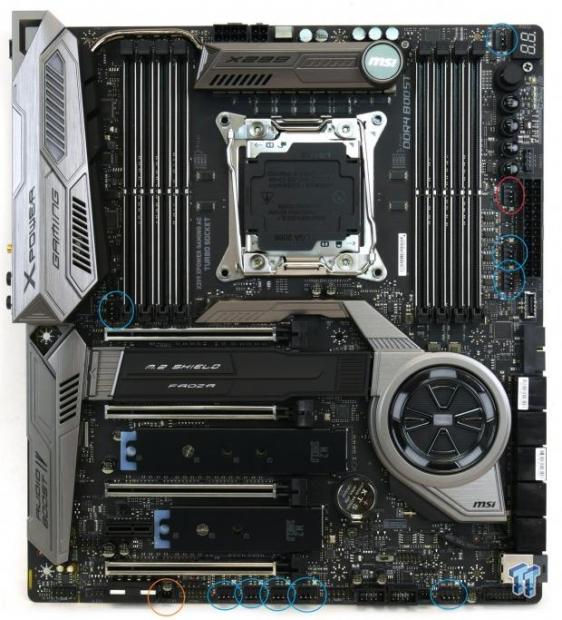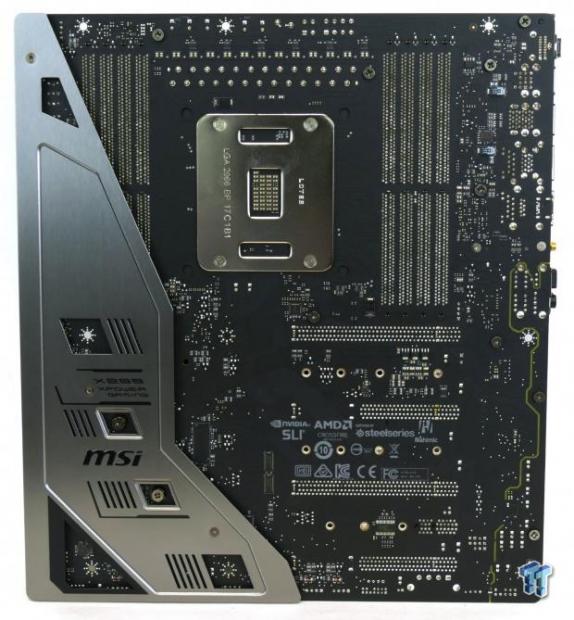 The motherboard features ten fan connectors, all of them are PWM/DC mode hybrid connectors, and all of them auto-sense if they have a PWM or voltage (DC) mode fan installed. The one header circled in red is a pump fan header, meaning it should run full speed at default. MSI also has taken steps to compete against some of their competitors and has added a header for an external temperature sensor cable (included), it's circled in orange. Ten headers is a ton of headers, and MSI said they added so many headers because of the cooling requirements of the X299 platform (water cooling radiators).
The motherboard aesthetics are designed to make it look like it has brushed aluminum surfaces, and it's quite a nice look, but unlike brushed aluminum, the plastic used to mimic the look won't easily scratch. The back of the motherboard features a large metal shield that helps stabilize and reinforce the motherboard. There are some components on the back of the motherboard, so be careful when installing it.

On the rear IO panel, you get a clear CMOS button, BIOS recovery button, PS/2 port, two USB 2.0 ports, six USB 3.0 ports, a USB 3.1 type-A ports, USB 3.1 type-C port, dual Gbit LAN, WIFI/BT antenna, gold plated audio outputs with S/PDIF out.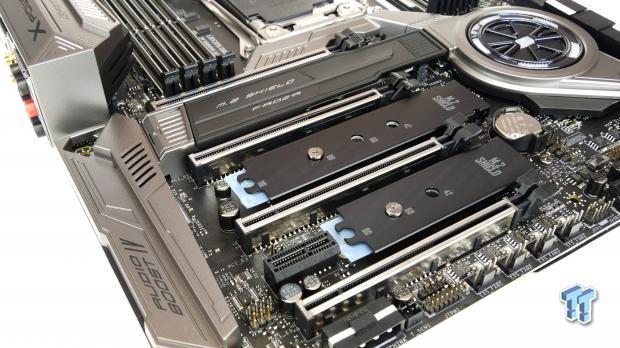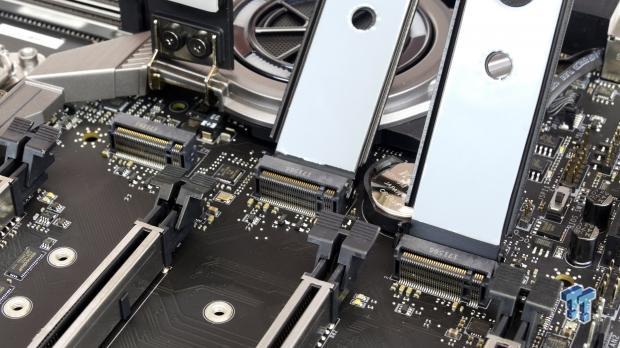 The motherboard is one of the only that offers the ability to run 4-way SLI/CrossFireX on the X299 platform, actually, only recently did we start to see any X299 motherboard with 4-way capabilities. With a 44-lane CPU the first and second x16 slots share x16 (can do x8/x8 or x16/x0), the third is hard wired x16, the fourth x8, and the bottommost M.2 slot will run x4 off the CPU. With a 28-lane CPU, the first and second slots get x16 which they can share as (x16/x0 or x8/x8), the third slot is always x8, and the last slot and the bottommost M.2 slot will trade x4, but they are mutually exclusive (you can't use both at the same time). With a 16-lane CPU, the first slot is always x8, the second is disabled, the third will always run at x4, and the fourth slot and bottommost M.2 slot will be mutually exclusive with x4 PCI-E 3.0. The topmost and middle M.2 x4 PCI-E 3.0 slots are connected to the PCH and share bandwidth with some of the SATA ports.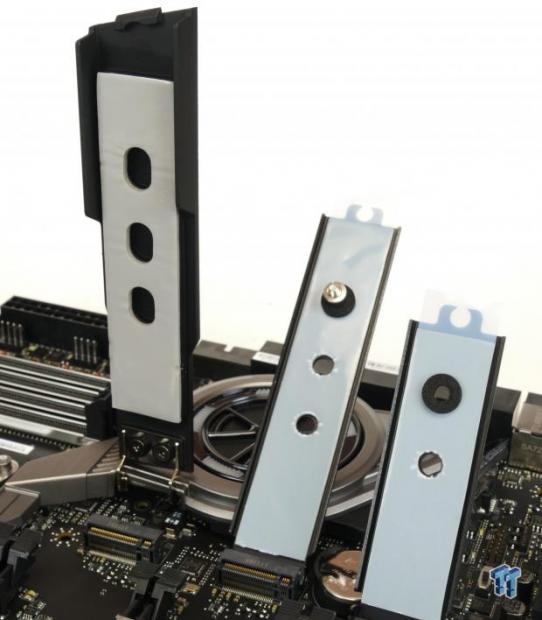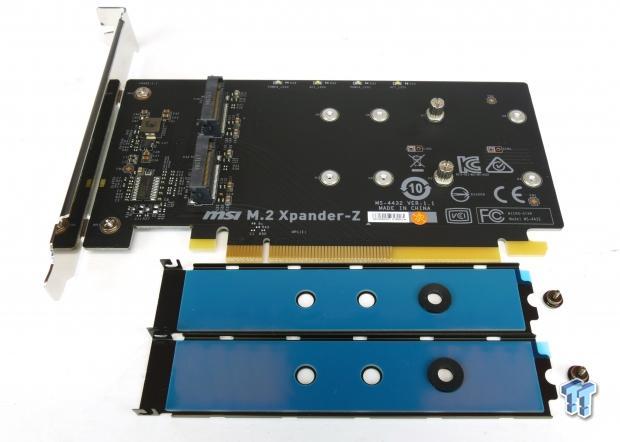 All three M.2 slots get heat shields, but the topmost slot gets a much thicker heat sink that doesn't require tools to install. The motherboard also comes with an M.2 expansion card that supports two x4 PCI-E 3.0 M.2 slots, this is for Intel's VROC capability, meaning you can RAID up to five M.2 drives on this board.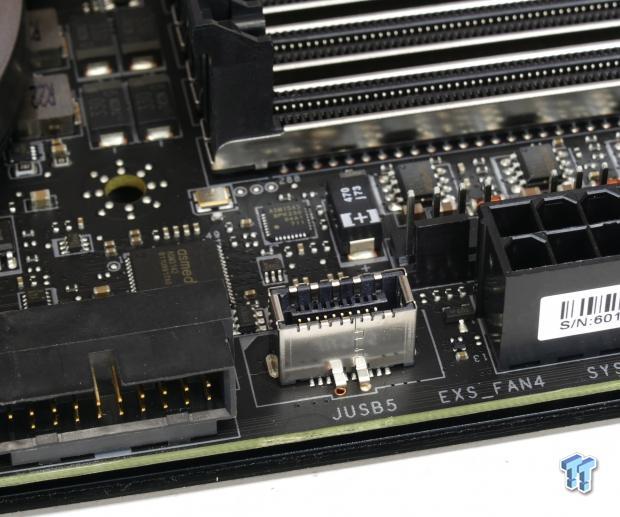 The motherboard features ten SATA6Gb/s ports, eight that come from the PCH and two more from an ASMedia controller. A U.2 port is also present on the motherboard; it's directly wired to the PCH. The motherboard has two USB 3.0 internal headers, one of them is right-angled. A USB 3.1 type-C header is located between the right-angled USB 3.0 header and the 24-pin power connector.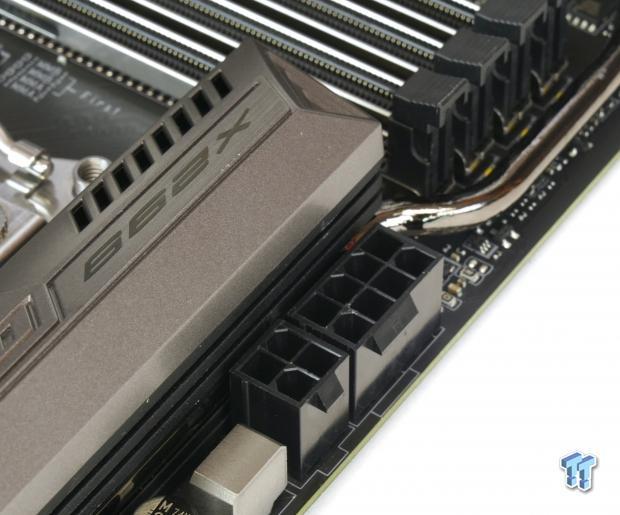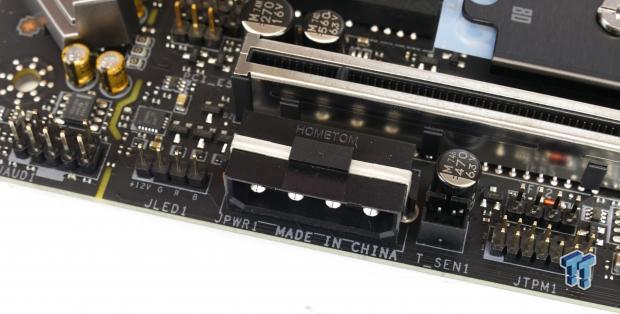 You get two power connectors for the CPU, an 8-pin and a 4-pin. The motherboard also offers a MOLEX power input for extra power to the PCI-E slots. An RGB LED header is located near the MOLEX connector, as is a thermistor input header.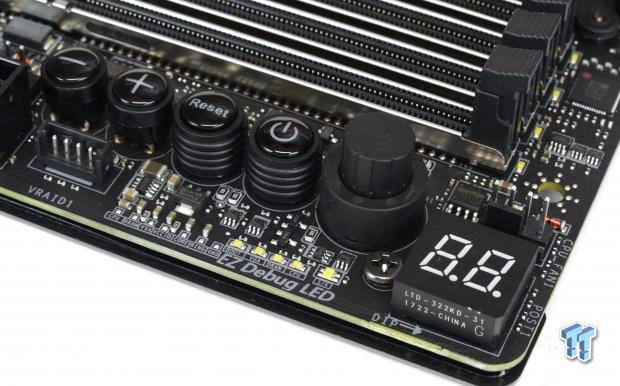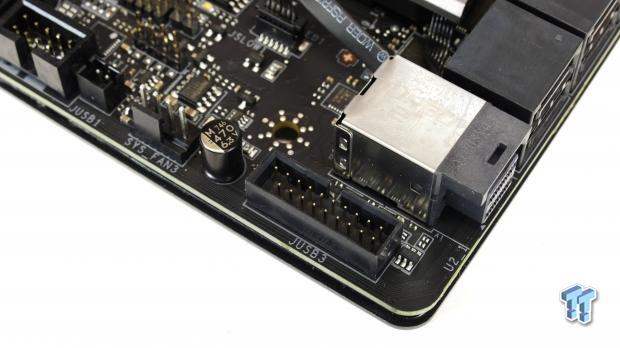 At the top right-hand corner of the motherboard is a POST code display, OC Knob (auto OC modes), power button, reset button, multiplier +/- buttons, voltage read points, EZ debug LEDs, and a VROC header. The second USB 3.0 internal header is located below the U.2 connector.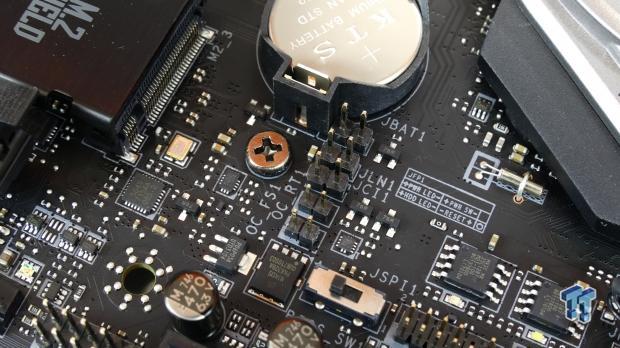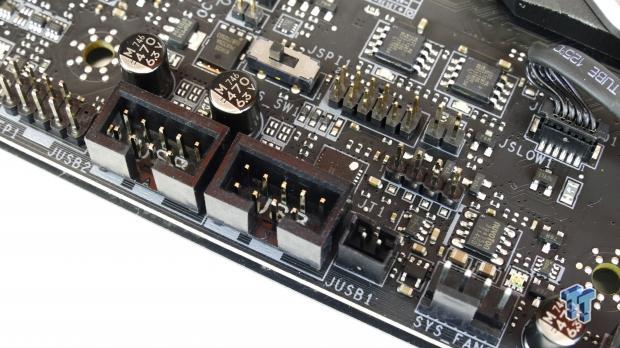 The motherboard also offers many other jumper headers which do things such as clear the CMOS, enable OC retry, enable straight to BIOS booting, or liquid nitrogen modes. You also get two USB 2.0 internal headers on the motherboard along with a dual BIOS switch to switch between the two BIOS ROMs.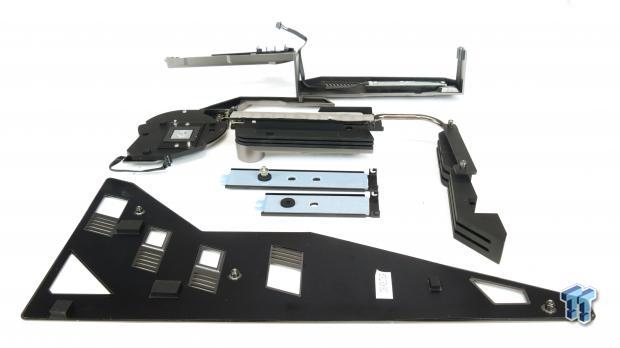 The heat sinks all make great contact with the components on the motherboard.
MSI X299 XPOWER GAMING AC Circuit Analysis
Circuit Analysis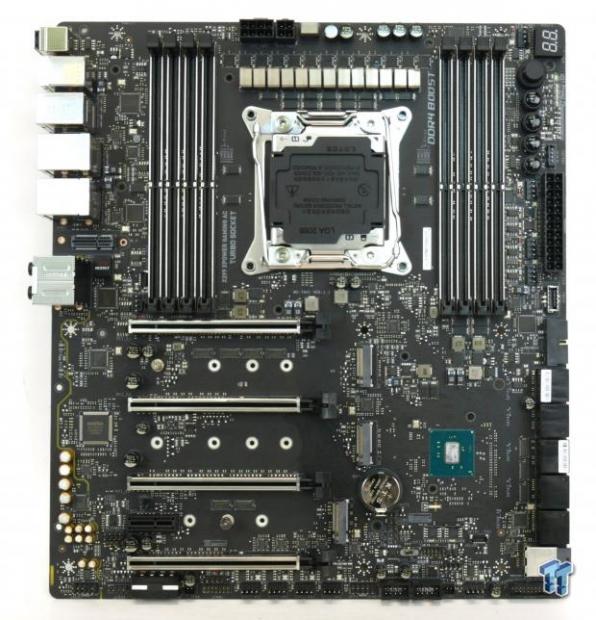 The X299 XPOWER GAMING AC reveals its secrets without its heat sinks.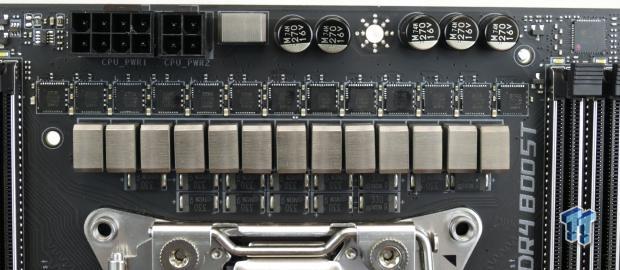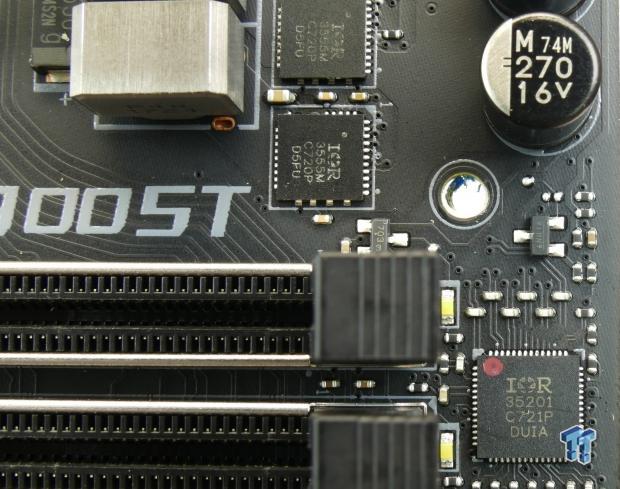 The VRM on the motherboard for the CPU VCore is made up of 12 phases; six PWM channels are doubled to 12. The IR35201 is being used in 6+1 phase mode, with the +1 being used for the CPU's VCCSA, so you get a total of 13 phases under the VRM heat sink. Each VRM phase for the VCore and System Agent uses an IR3555M 60A fully integrated PowIRstage.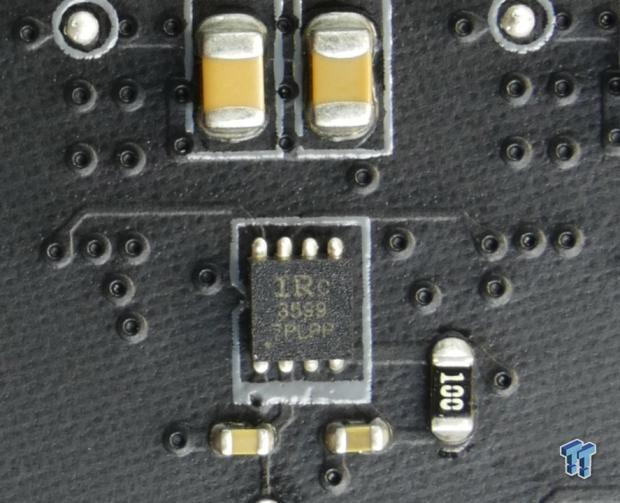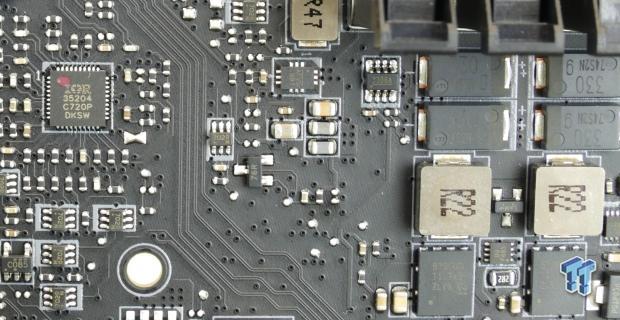 Six PWM doublers can be found on the rear of the PCB. An IR35204 digital PWM is used to control the single phase for the VCCIO, which uses a NexFET CSD87350Q from Texas Instruments and a CHL8510 driver.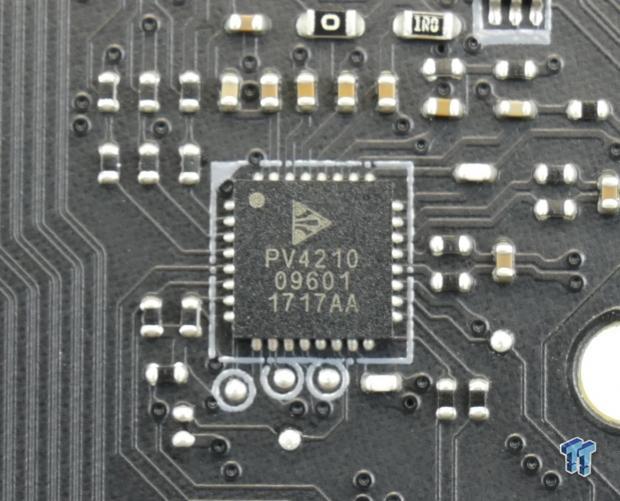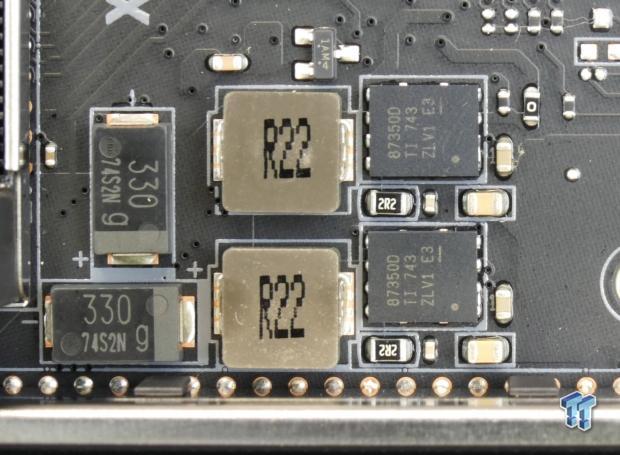 Both memory VRMs use Primarion PV4210 digital PWMs, which are located on the rear of the motherboard. Each memory phase uses two 25A/40A NexFETs, the CSD87350Q.
MSI X299 XPOWER GAMING AC Circuit Analysis Continued
X299 XPOWER GAMING AC Circuit Analysis Continued

The audio section of the motherboard features the Realtek ALC1220 along with an OP1652 amplifier, as the ALC1220 only has one amplified output (for the rear port on this board). Gold series audio capacitors improve audio quality, and the audio section of the PCB is physically isolated from the rest of the motherboard.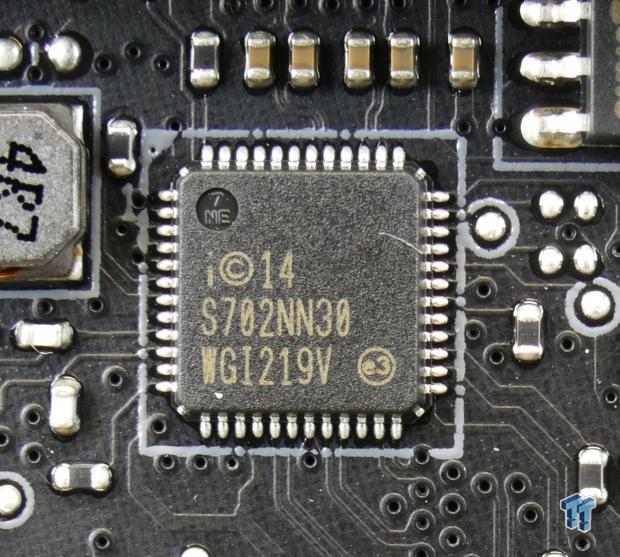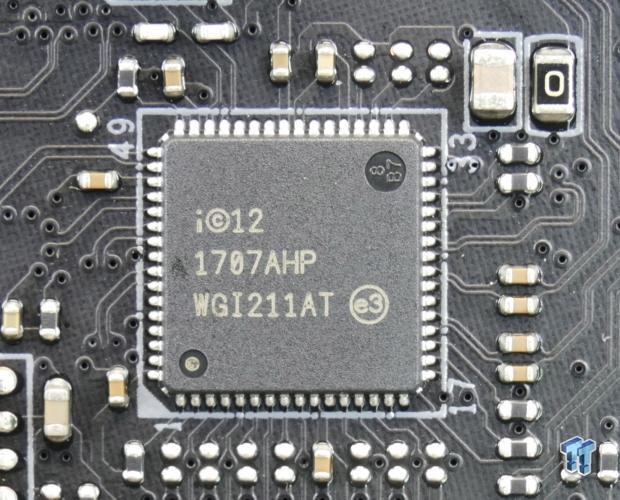 An Intel i219v complements the integrated Gbit MAC in the PCH for one of the Gbit LAN ports, and an i211AT is used as a standalone NIC for the second Gbit LAN port.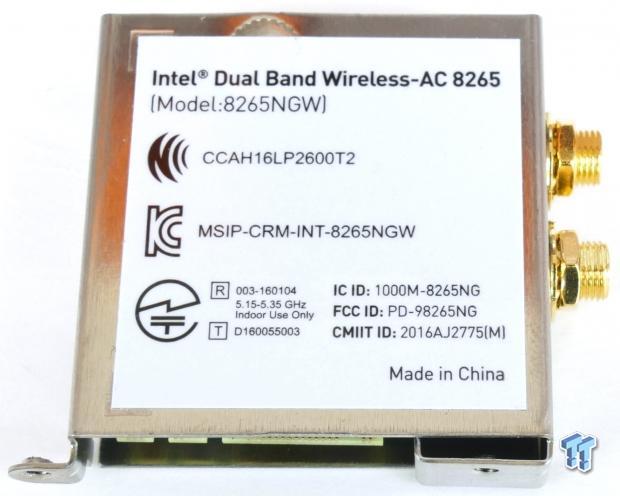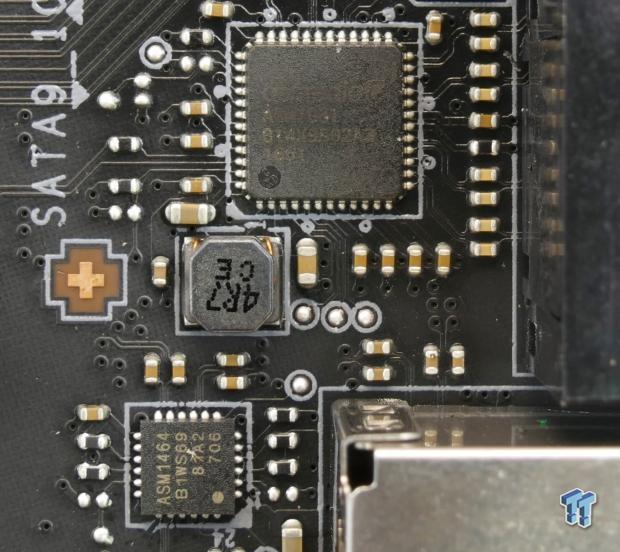 An Intel Wireless-AC 8265NGW is used for 2x2 867Mbps WIFI and BT 4.2. An ASMedia ASM1061 provides two extra SATA6Gb/s ports.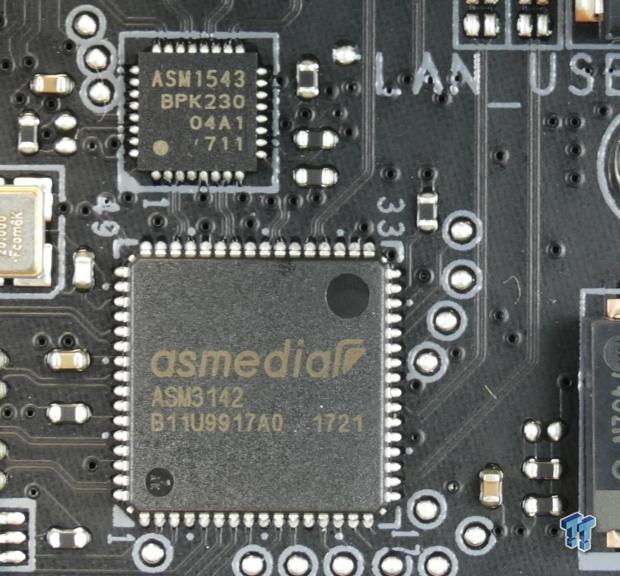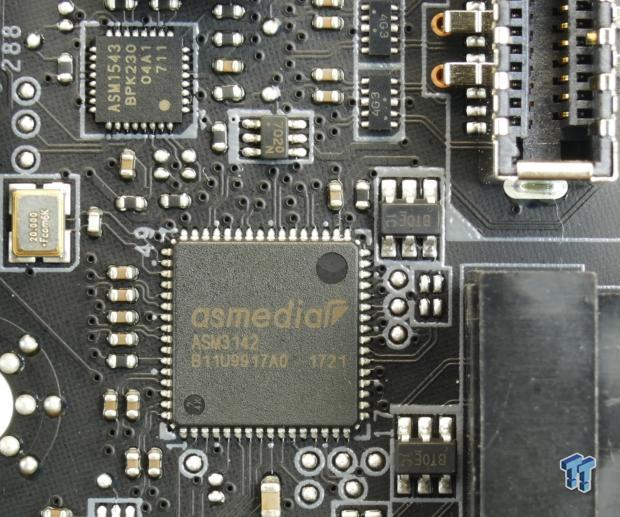 Two ASMedia ASM3142 each get x2 PCI-E 3.0 to produce the two rear USB 3.1 ports and the internal USB 3.1 type-C header. ASmedia ASM1543 are used to provide type-C switch capability and CC logic.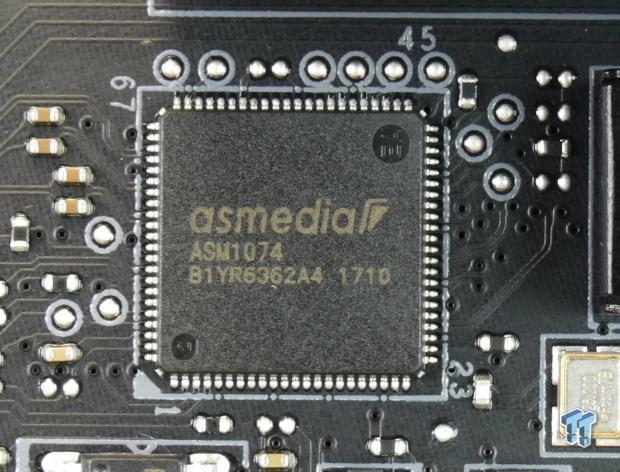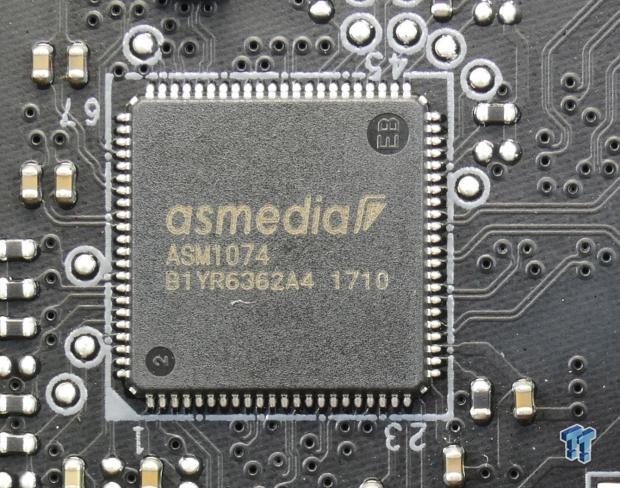 The rear IO panel features six USB 3.0 ports from two ASMedia ASM1074 hubs which each take in one USB 3.0 port and output three.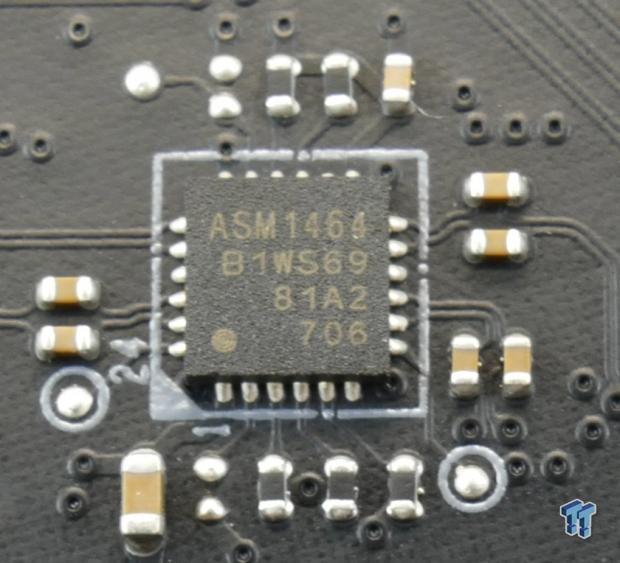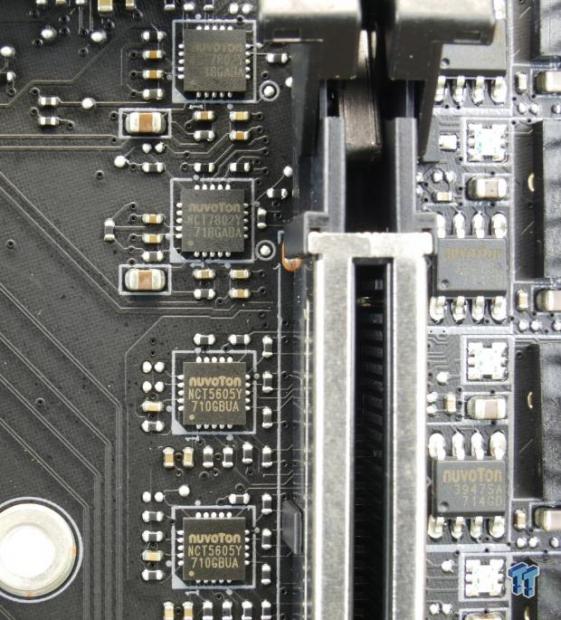 I counted at least four ASMedia ASM1464 USB 3.1 re-drivers (two near the rear IO and two near the internal header) that would help to improve USB 3.0 signaling across the PCB or longer distances. I found many nuvoTon chipsets all over the motherboard, most of which are used to expand fan and hardware monitoring capabilities. The NCT7802Y are used as hardware monitoring/fan control ICs, and the nuvoTon NCT5605Y are used as GPIO extenders (OC features, lighting, etc.) Each header also gets a nuvoton NCT3947, which provides, even more, fan control capabilities and auto sensing.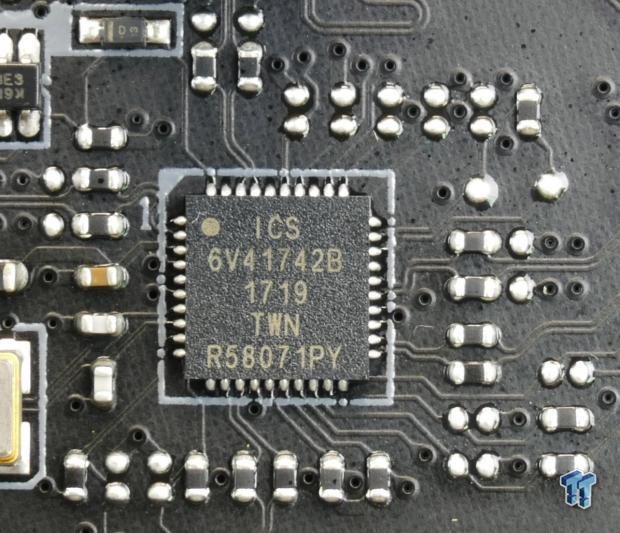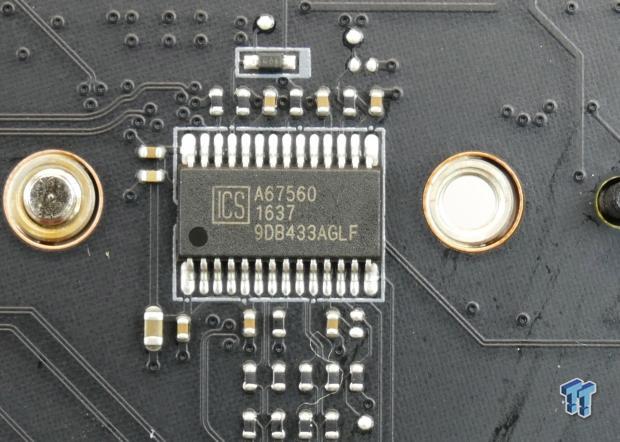 An ICS 6V41742B is used as the clock generator that provides expanded BCLK capabilities, and an ICS 9DB433AGLF is used as a clock buffer to support more PCI-E devices.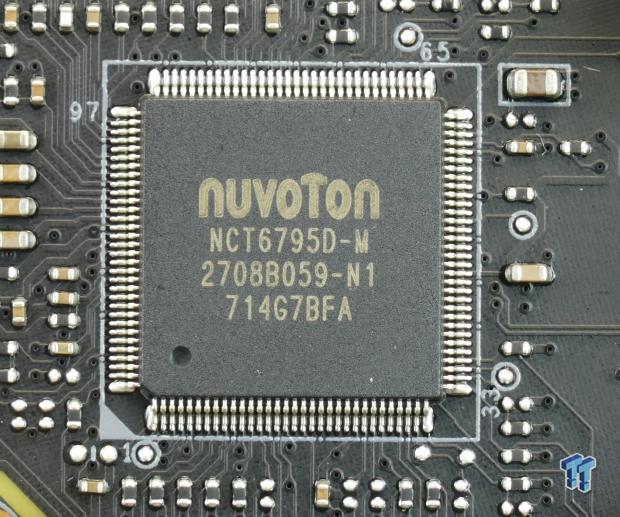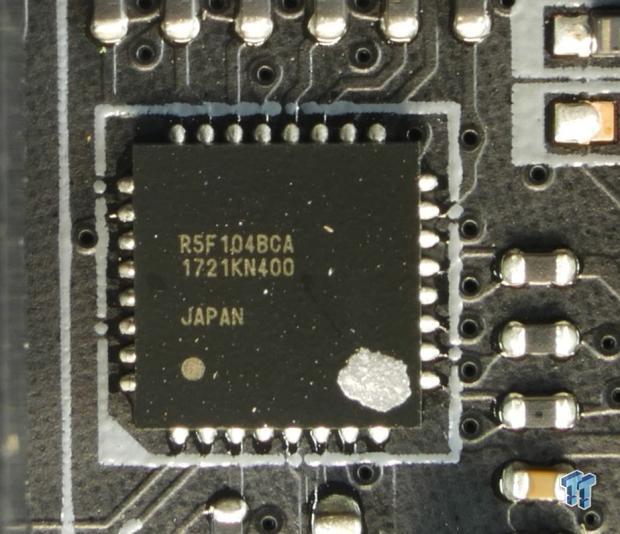 A nuvoTon NCT6795D is the main super IO used for system management, PS/2, and basic fan control and system monitoring. Digital RGB LED control is through an NEC R5F104BCA microcontroller, it controls the RGB LEDs built into the motherboard.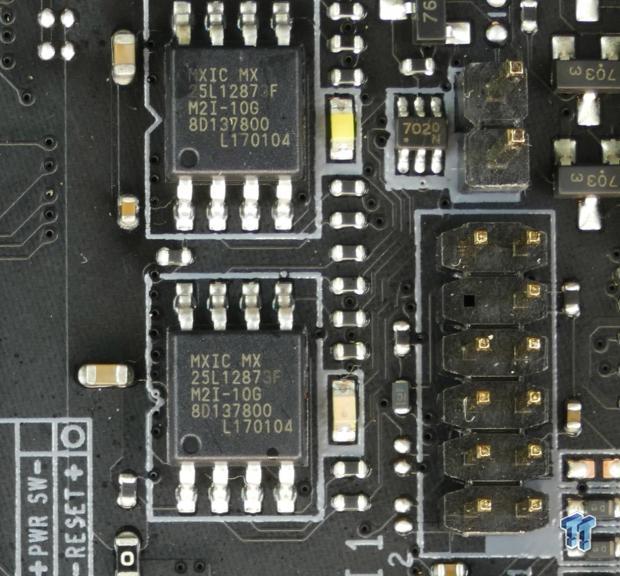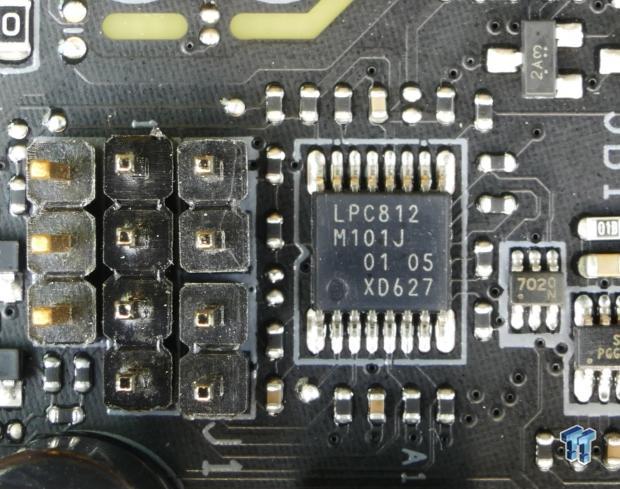 The motherboard has two BIOS ROMs, and I believe the NXP LPC812 chip pictures on the right is used for USB BIOS recovery, as it's an ARM-based microcontroller.
BIOS and Software
BIOS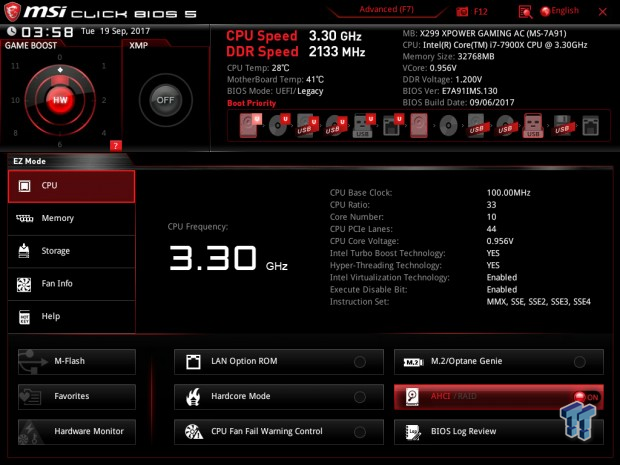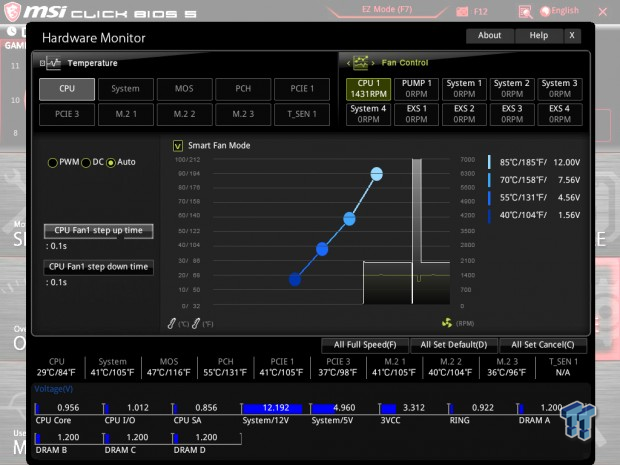 MSI's UEFI for the X299 XPOWER GAMING AC has been revamped with some improvements upon MSI's earlier X299 motherboards. For starters, fan control has been improved to allow you to use many different temperature inputs as a reference for your fan curve, including the external sensor that is included in the package.
MSI has upped their game with the number of fan headers on the motherboard as well. Overclocking settings are plentiful, and everything you need to max out even Intel's 18 core CPUs is present, and I did test the 18 Core on the XPower, and I was able to get over 400W out of the VRM when I expanded upon the built-in levels.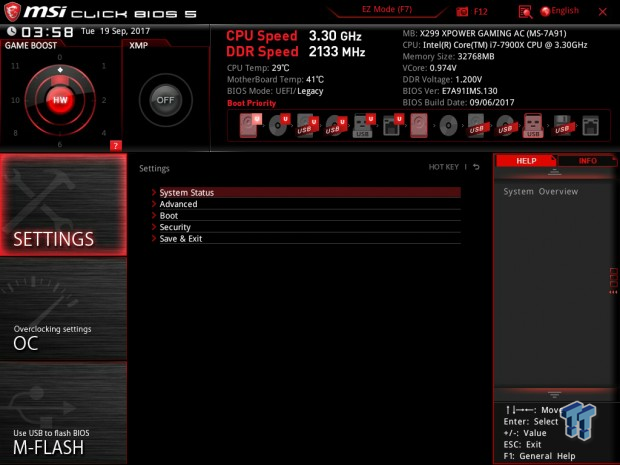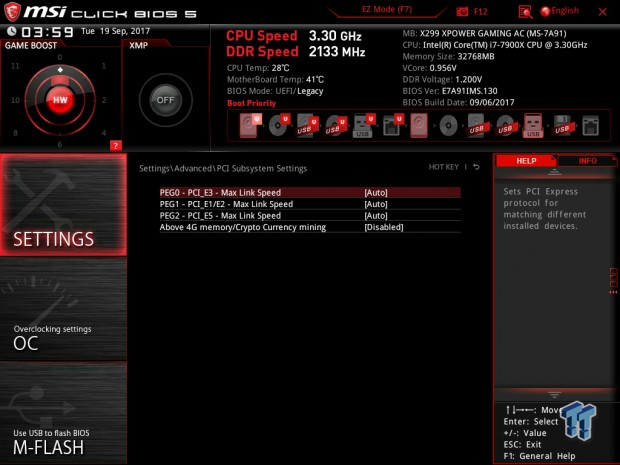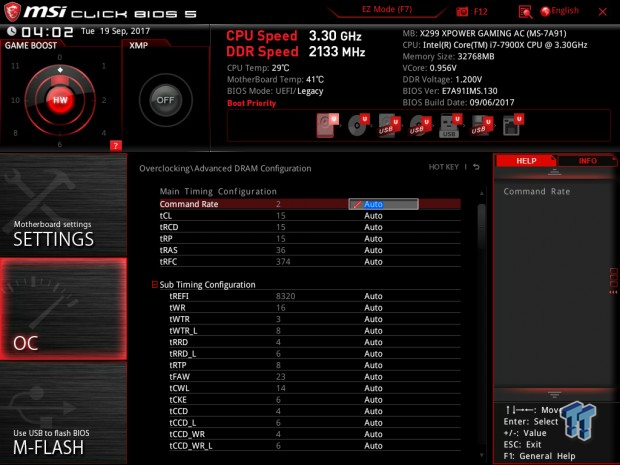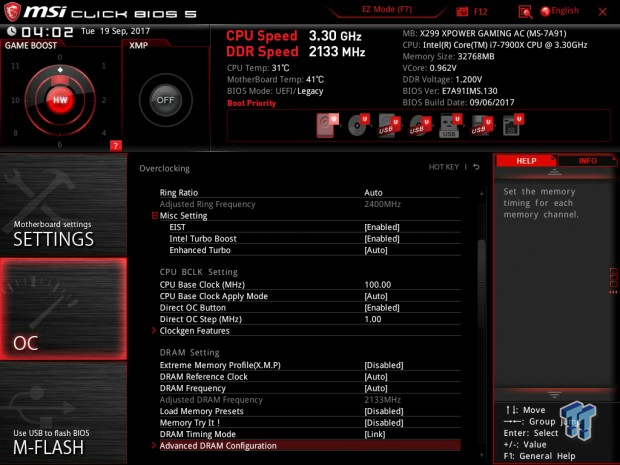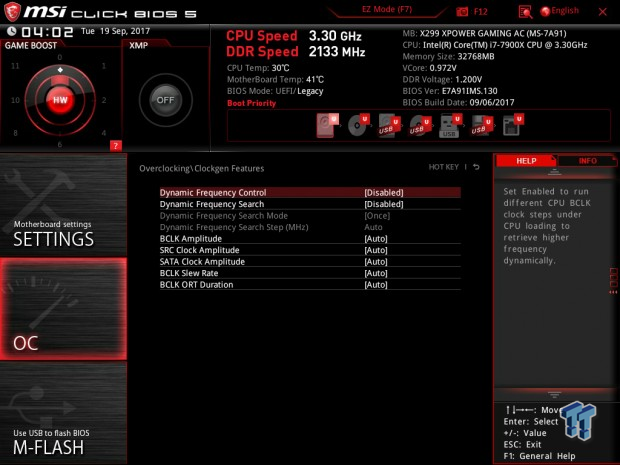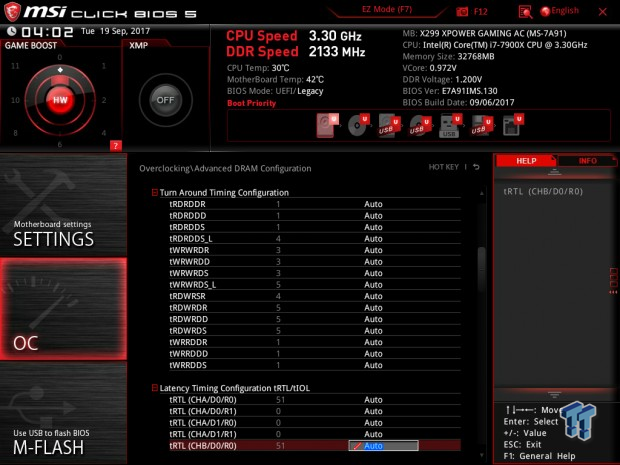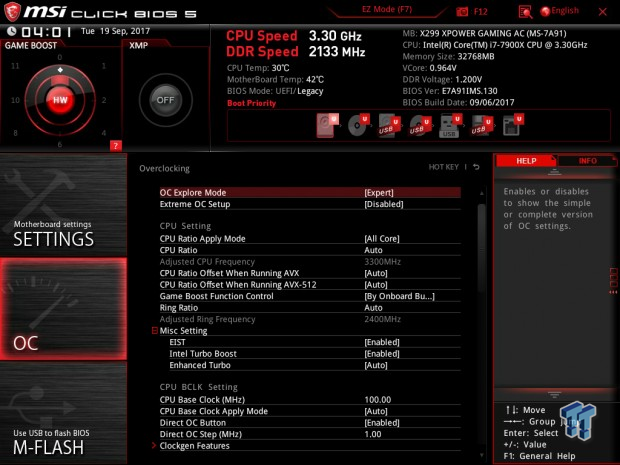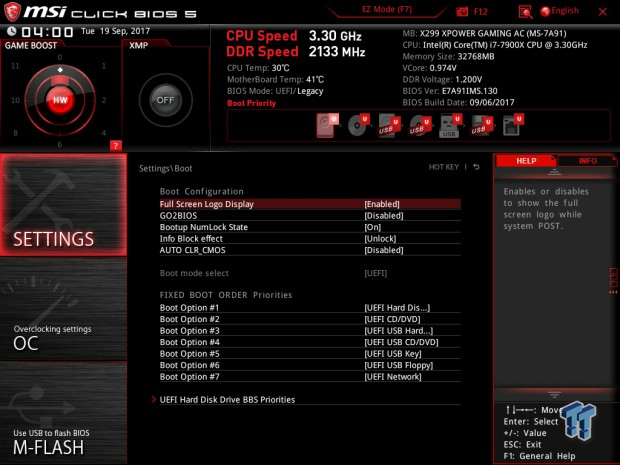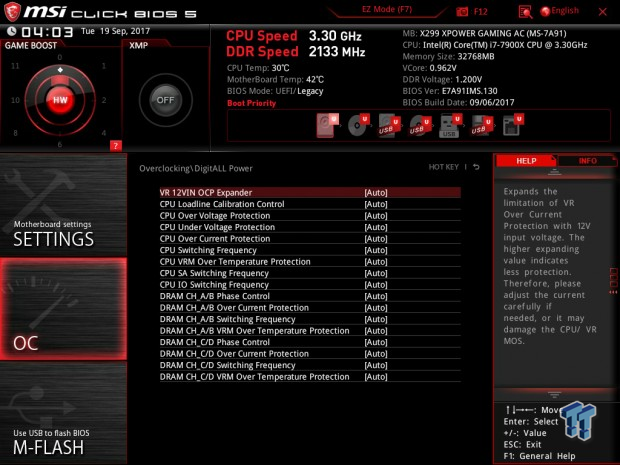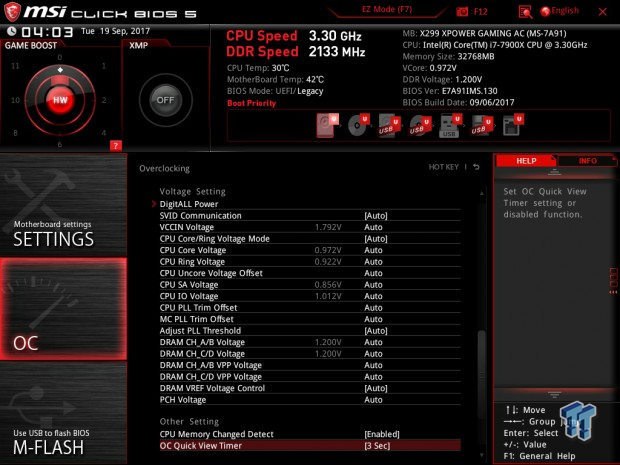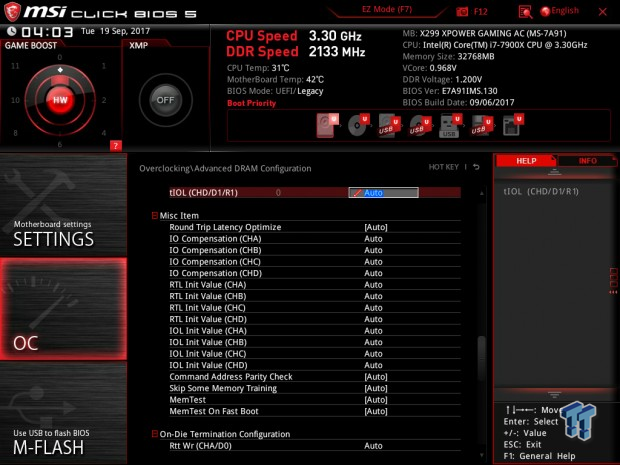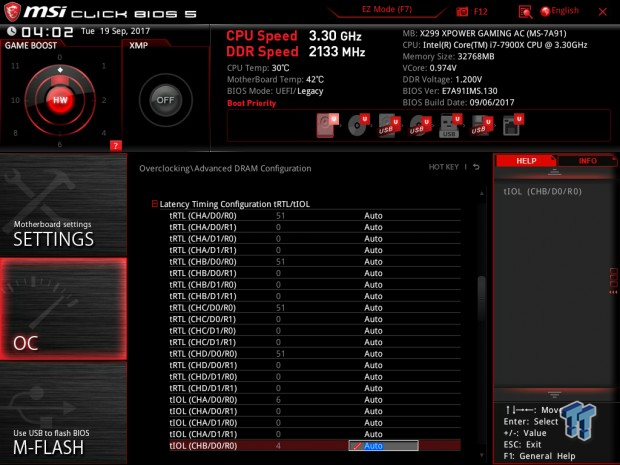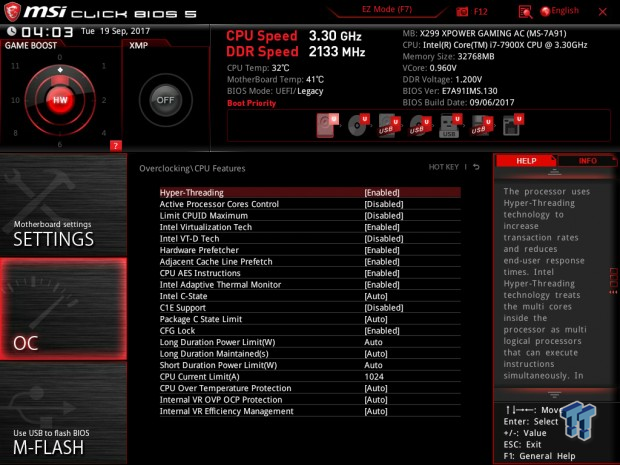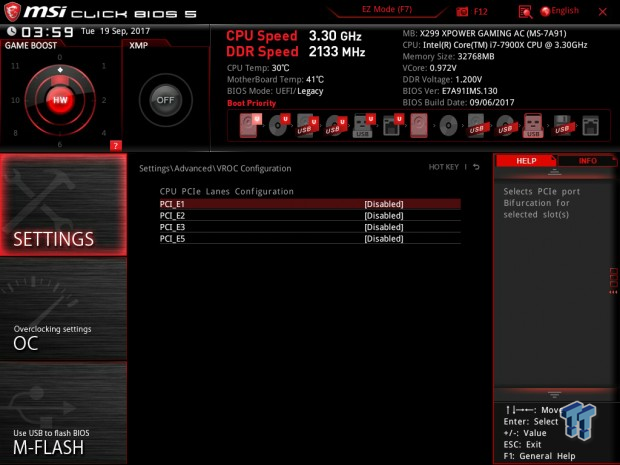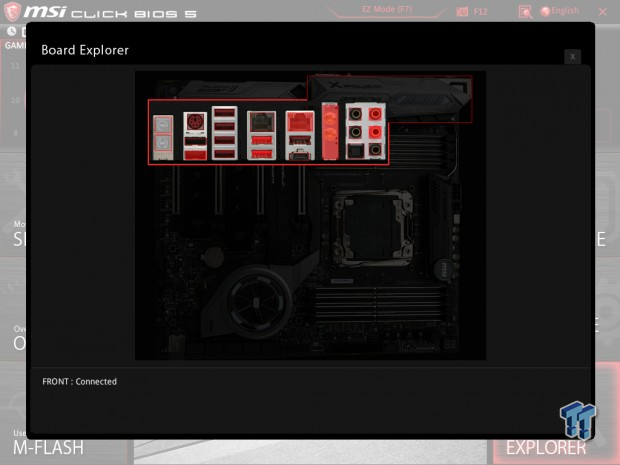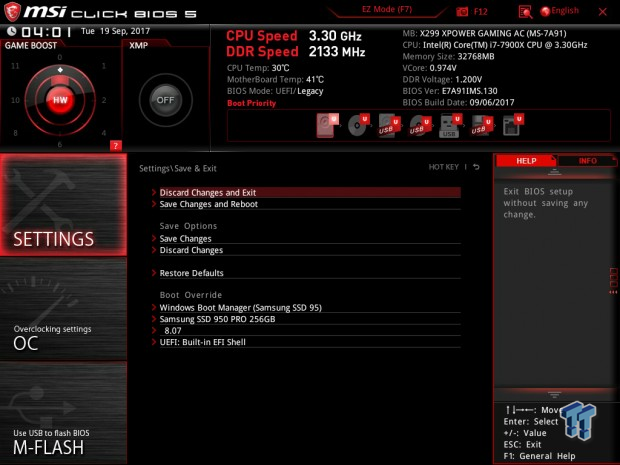 Software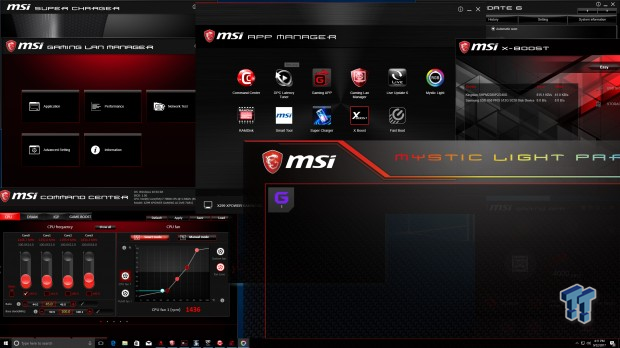 Software included with the motherboard includes Mystic Light, Live Update 6, APP Manager, X-Boost, Gaming APP, DPC Latency Tuner, Command Center, Live Update 6, and APP Manager among others.
Test System Setup
Steven's Motherboard Test System Specifications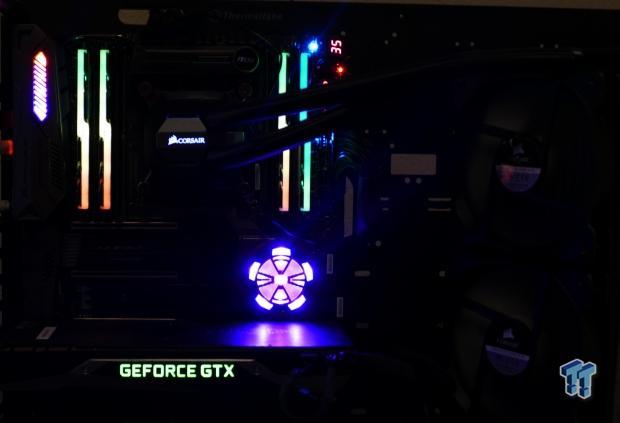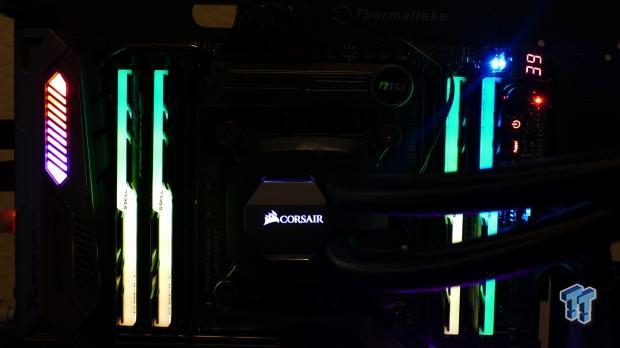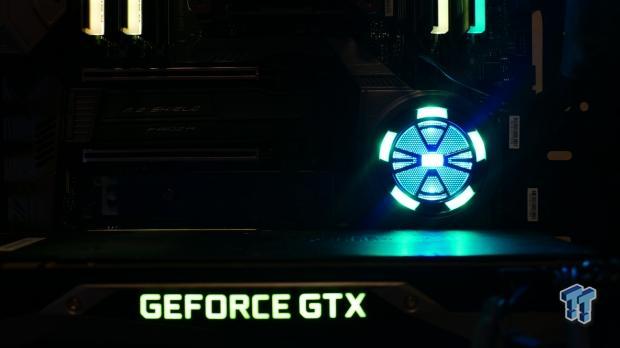 The motherboard has built-in RGB LEDs in the IO shield and the PCH, and these are digital RGB LEDs, meaning that each LED can emit a different color. Control through the Mystic application could be improved, and I had to fiddle around inside the application to understand how to get the digital functionality going.
The motherboard has a unique look, and it's pretty cool.
Overclocking
Overclocking Results
CPU Overclocking
Right now, I am going to see how far the motherboard can push my 7900X. The best overclock (or typical one) able to pass my Handbrake 4K encoding benchmark for stability is 4.6GHz with 1.2v VCore.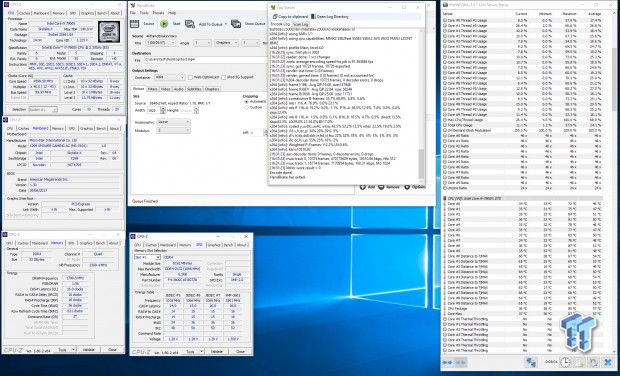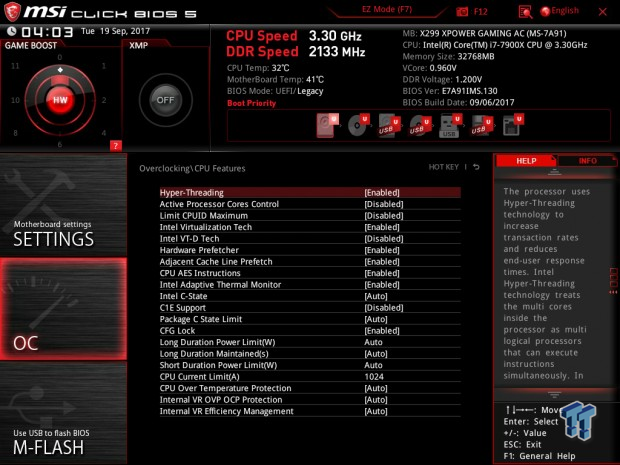 The motherboard easily pulled off a 4.6GHz overclock on all cores with XMP enabled. I set VCore to 1.2v, VCCIN at 2.1v, LLC at mode 2, and I expanded upon all DigiALL power settings. However, there is also a CPU current limit within the advanced CPU options menu in the image on the right, and I maxed that out to 1024A maximum.
Make sure you have active cooling over the VRM area, it will help keep the CPU from throttling, as it will pull a lot of power.
CPU, Memory, and System Benchmarks
CINEBENCH R15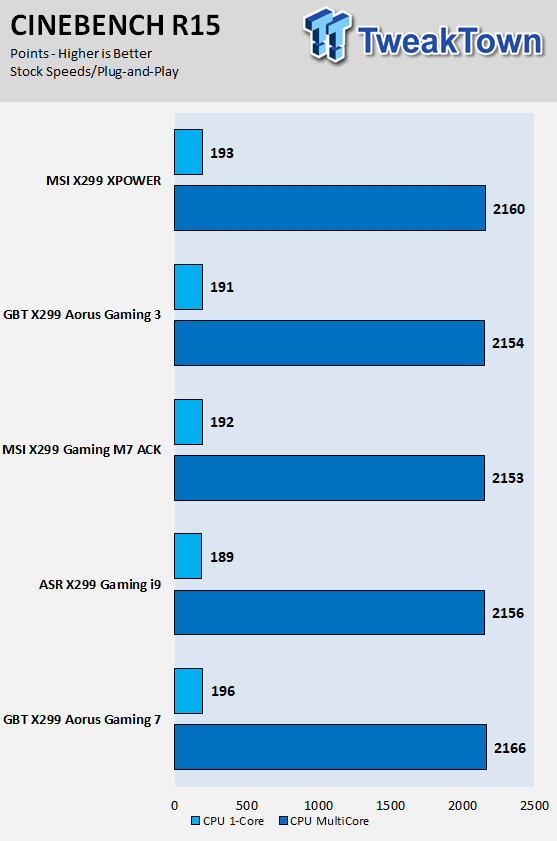 wPrime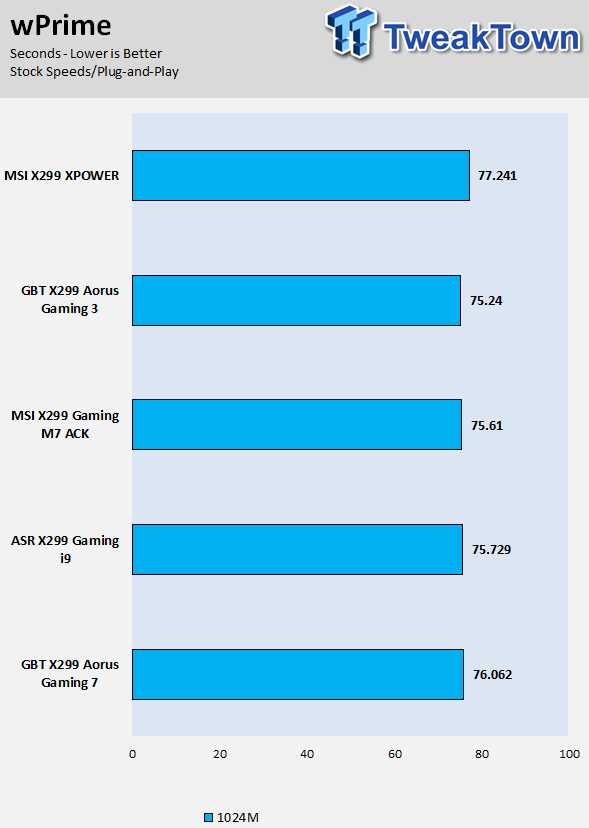 AIDA64 FPU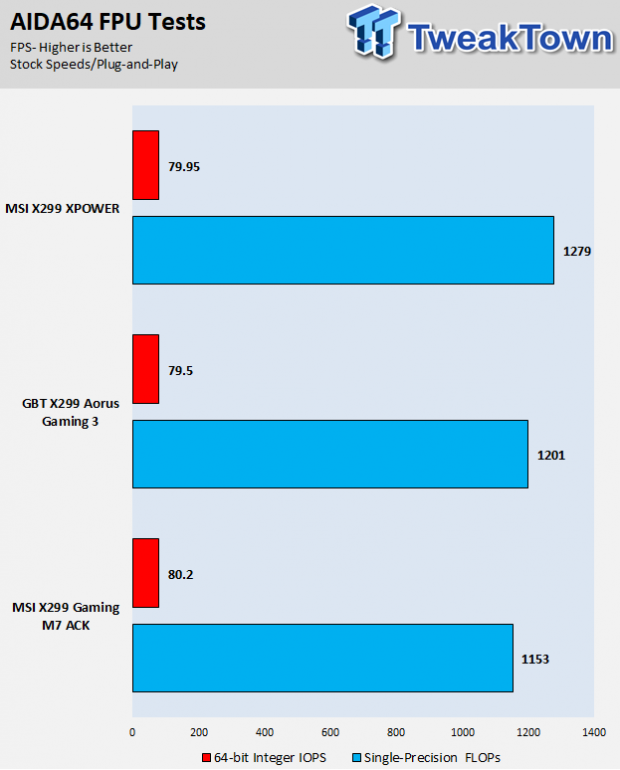 AIDA64 Memory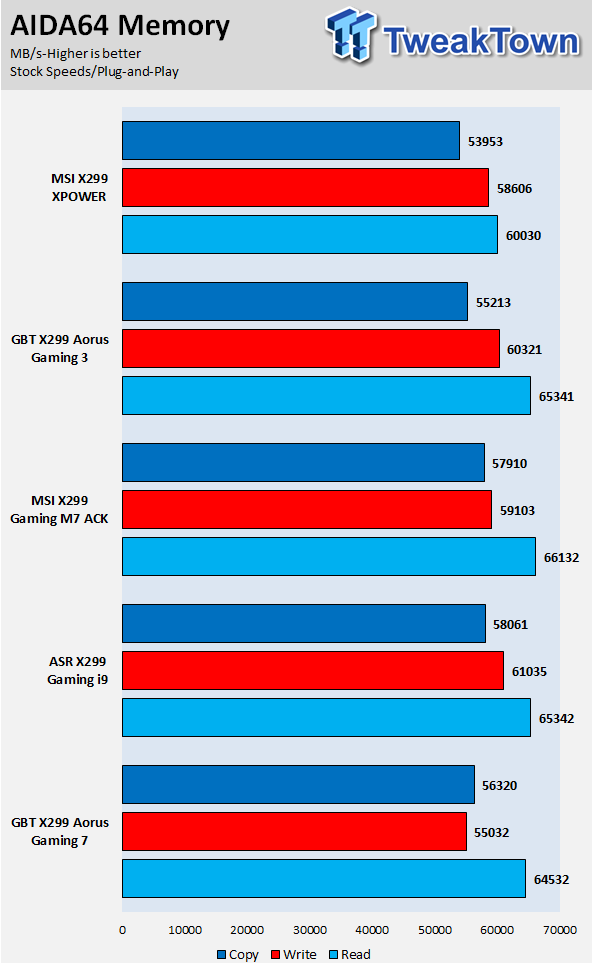 ScienceMark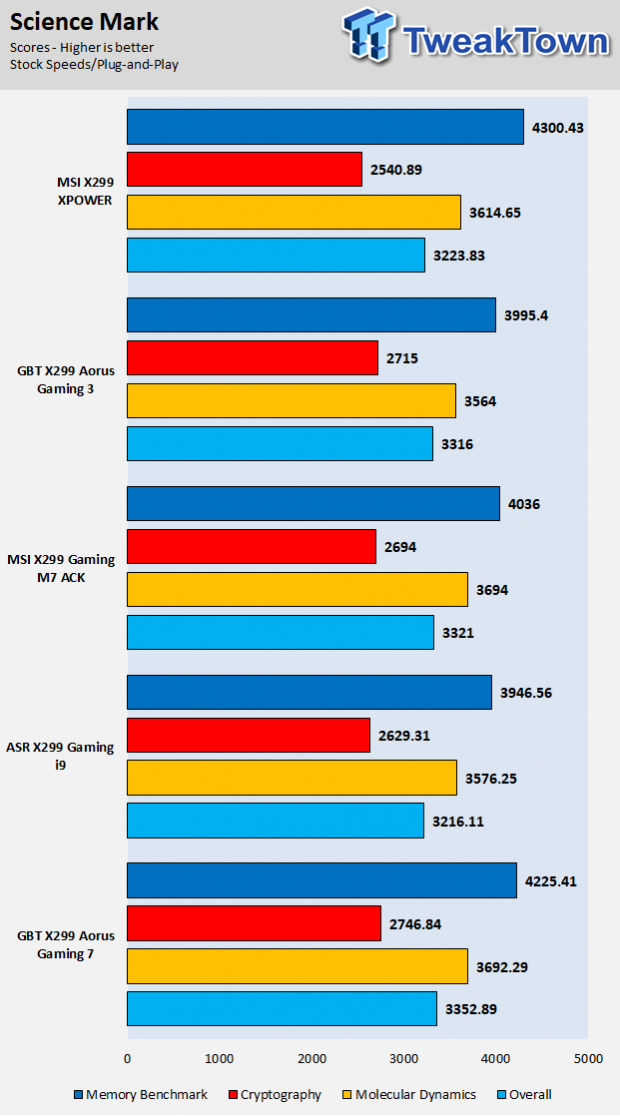 HandBrake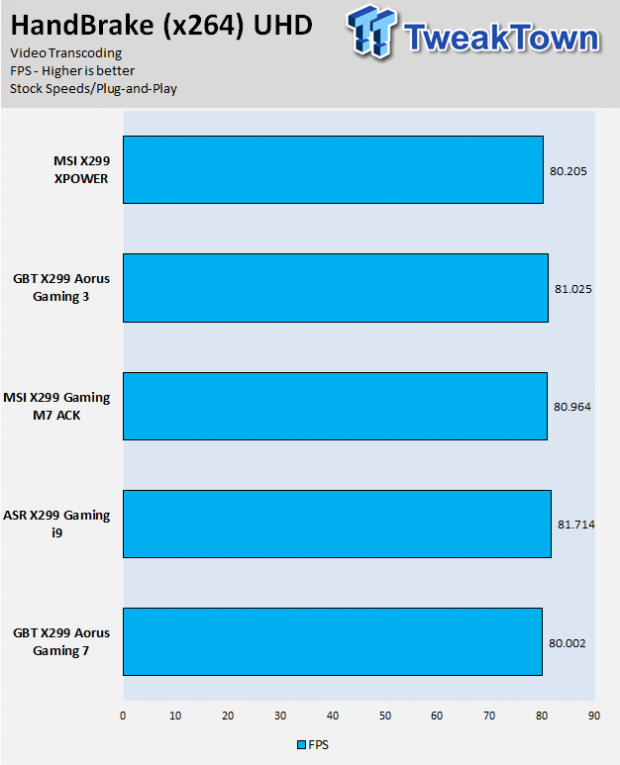 SuperPi 32M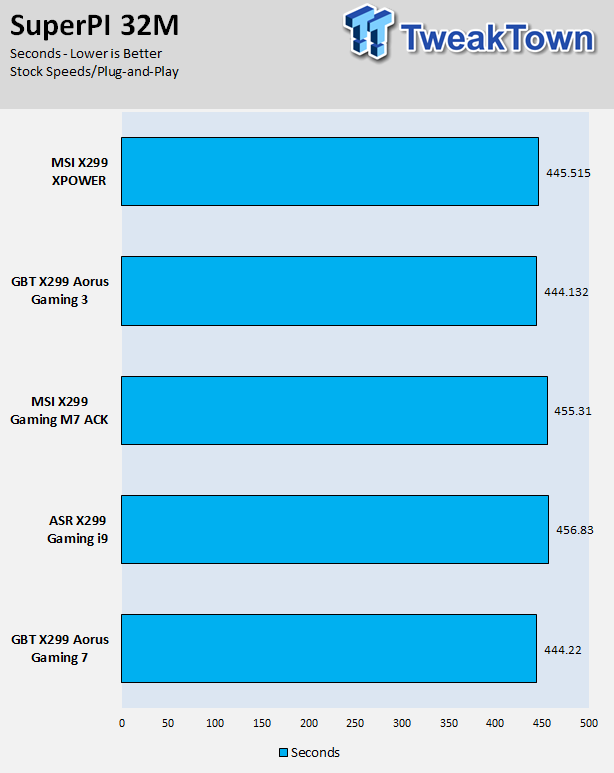 3DMark: Fire Strike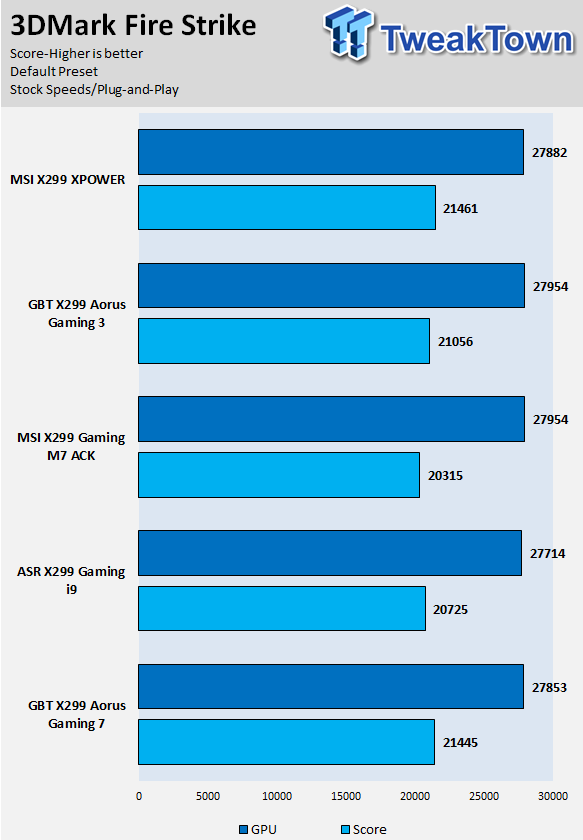 3DMark: Cloud Gate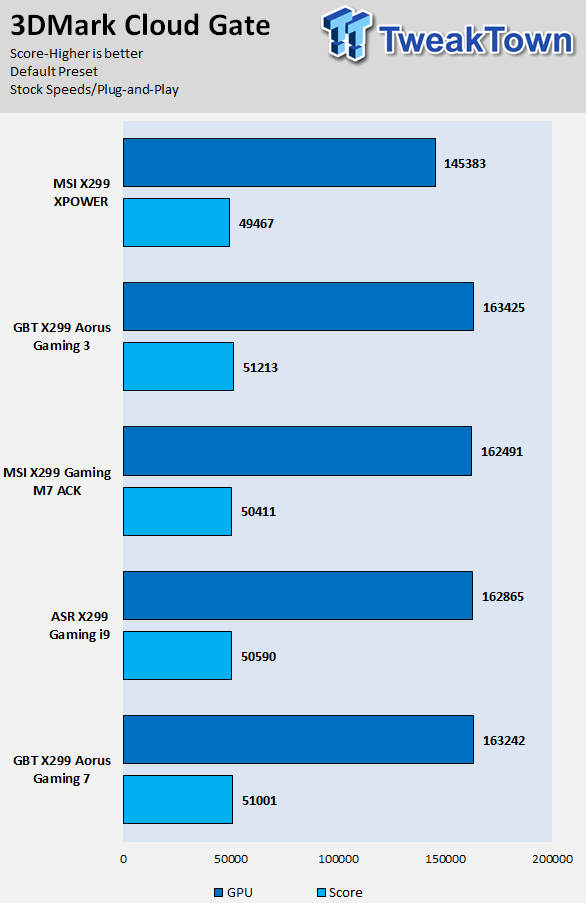 ResidentEvil 6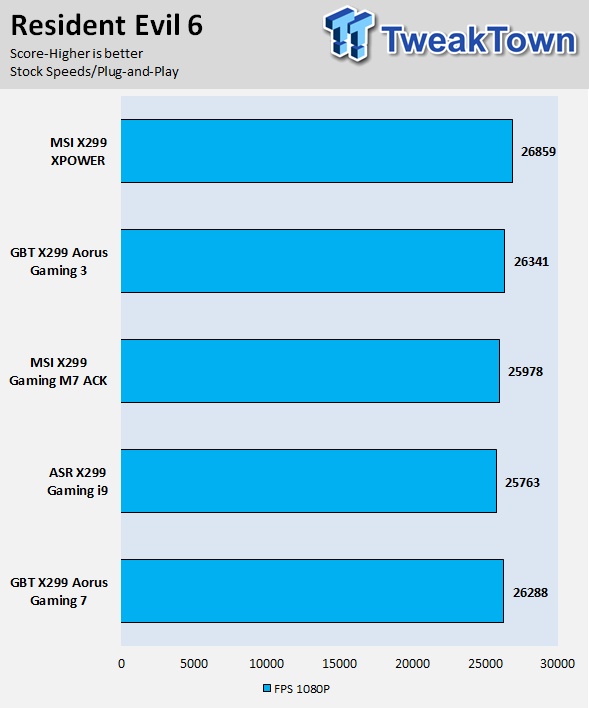 MSI's performance with the X299 XPOWER GAMING AC is well-rounded. Not only does the board use the new microcode that supports Intel's HCC 18Core CPU, but it also seems to have had its memory returned at default to favor latency over bandwidth as we can see in AIDA64 memory and ScienceMark memory results (Science Mark has it in the lead while AIDA doesn't). I should also mention that once you enable XMP that difference should become null.
AIDA64 FLOPS performance is due to updates in the software itself. I do not put too much credence into benchmarking the CPU or GPU to see how well the motherboard does, as the difference is usually within the margin of error. These tests are to make sure performance is not below that margin, or to see what is going on if it's above.
System IO Benchmarks
CrystalDiskMark SATA6G: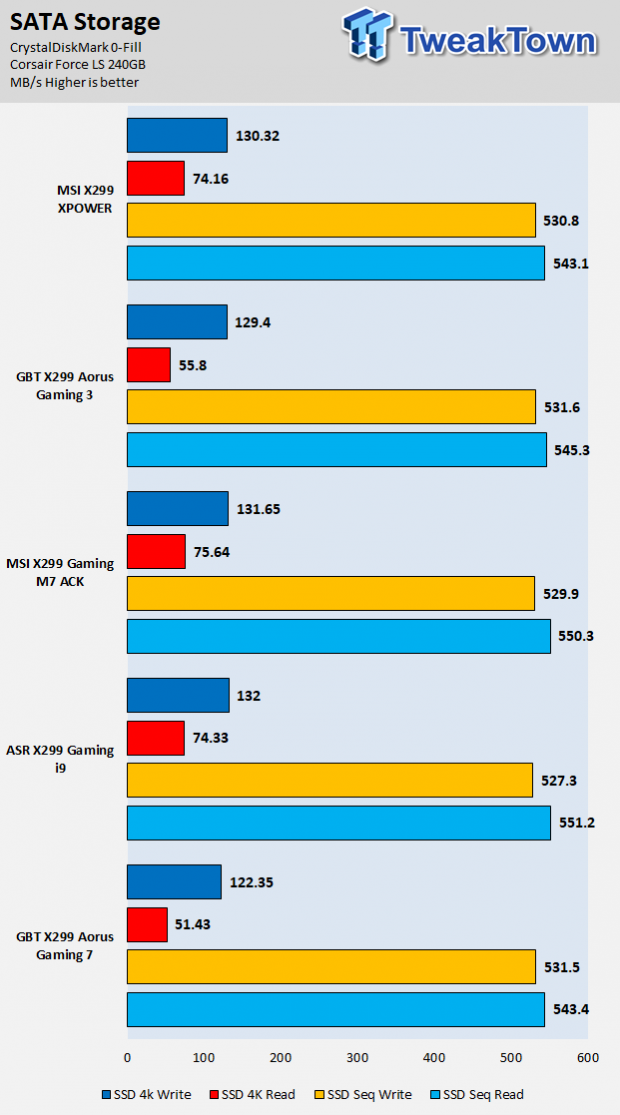 CrystalDiskMark M.2: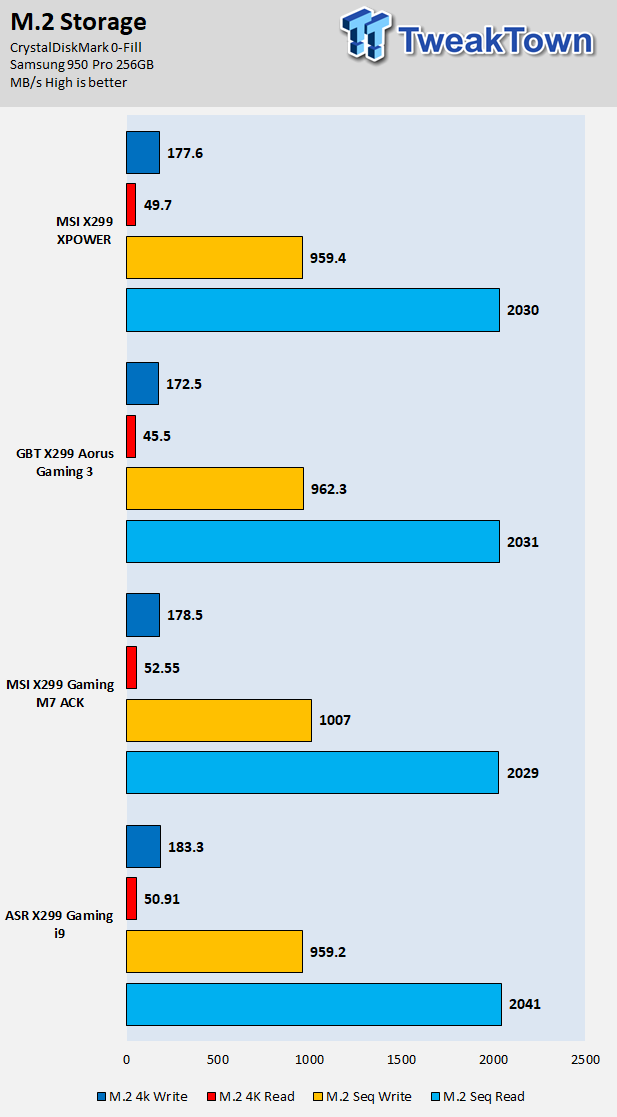 ixChariot Network Throughput: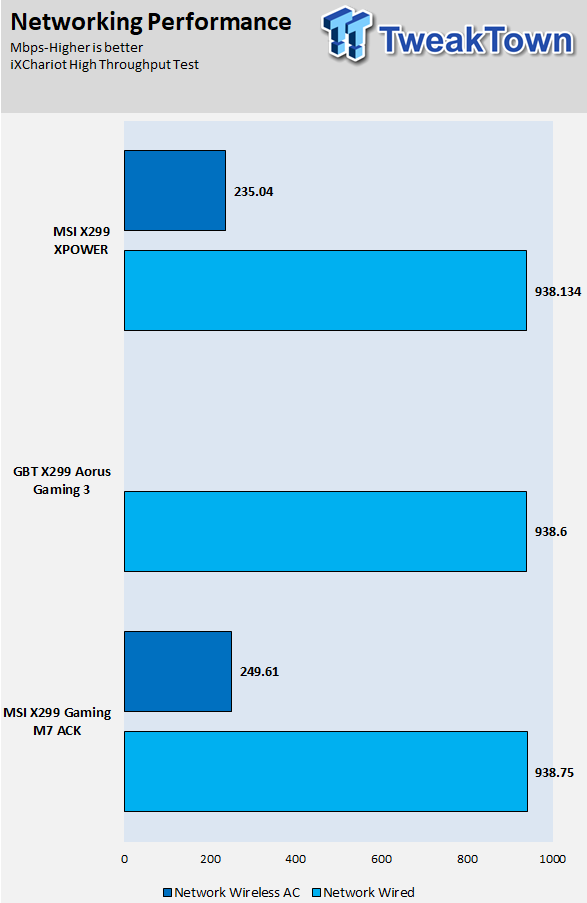 The motherboard offers well-rounded storage and networking performance, nothing out was out of bounds from what I had expected given the controllers and previous results.
Audio RMAA 5.5:
I disable all audio features, set the correct bitrates, and then test the audio with a loopback test.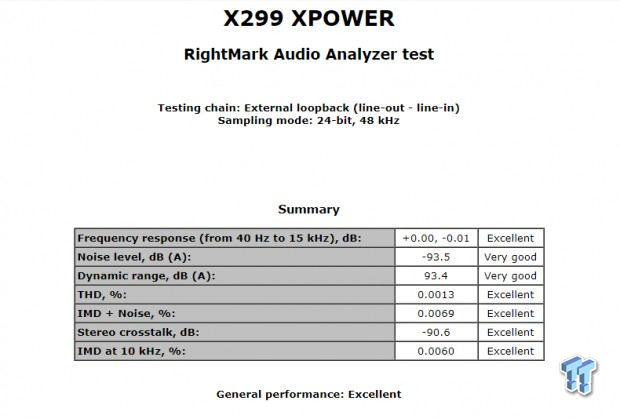 Sound Judgment by Ear: Excellent, MSI is using a standard ALC1220 implementation, and these results are what I typically see with solid trace routing. There are five ratings for audio: 1. Problems, 2. Okay, 3. Acceptable, 4. Very good, 5. Excellent
VRM and System Thermal Imaging and Power Consumption
Thermal Imaging and Power Consumption
System power is measured at the wall with an AC power meter.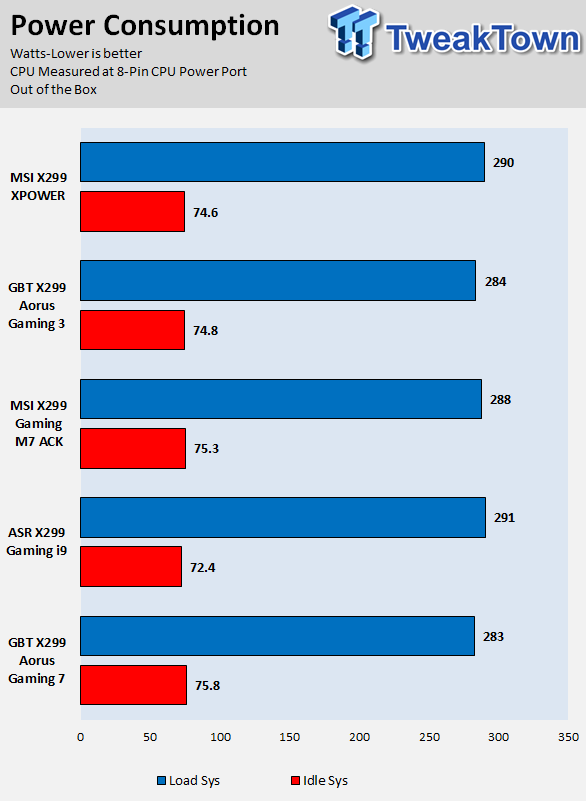 Note on Thermal Images: In the temperature section, we use our Seek thermal imaging camera to capture the surface temperatures of major components on the board. I look at the VRM and then all other things that light up the screen. If there is something to worry about, then I will state it. Otherwise, I will just show the hotter running parts of the board for fun. Unless some component is over 80-90C, then there isn't anything to worry about.
All systems will act differently, so I will look for commonalities, such as how far from the VRM the heat spreads through the PCB and the difference in temperature between the front side and backside of the PCB. Keep in mind, the majority of the heat from the VRM goes into the PCB as it is a giant soldered on copper heat sink. A larger difference in temperature between the back and front of the PCB points towards a more effective heat sink.
Thermal Testing at Stock Speeds:
The image on the left is always at idle, and the image on the right is at load. During ALL TESTS, fans above the VRM that cool the CPU cooler's (Corsair H110i) radiator are turned on to high (12v).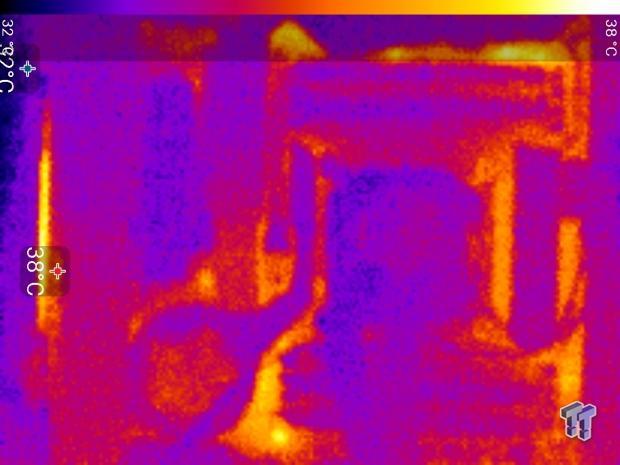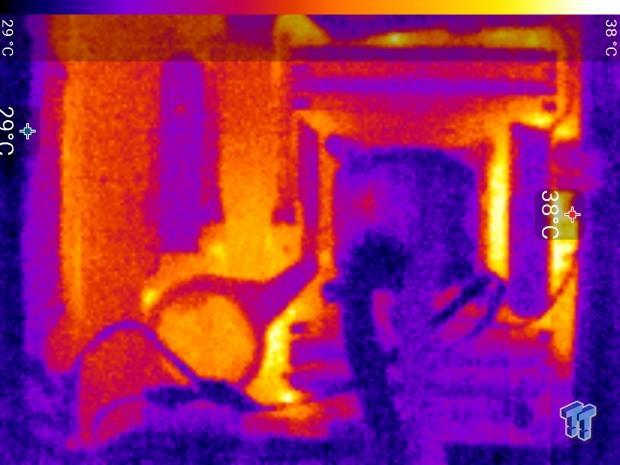 Full frontal.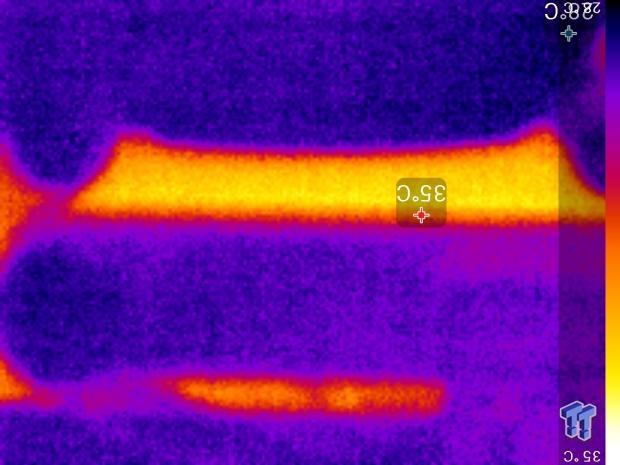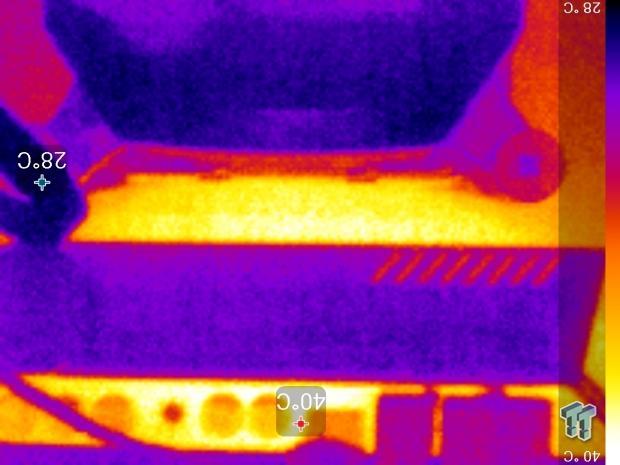 Up-close of the front of the VRM.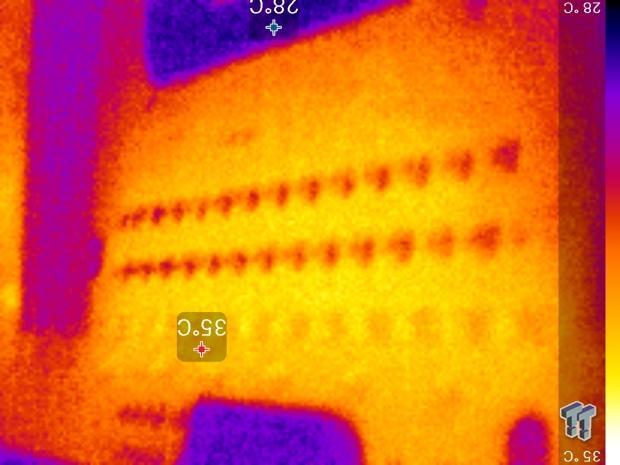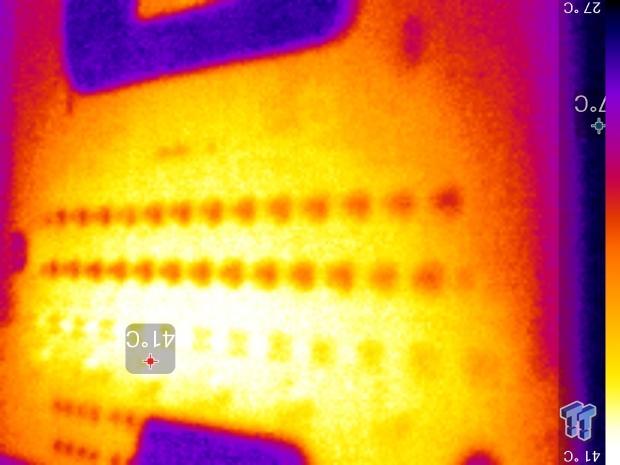 The motherboard runs just fine at stock in relation to VRM temperatures, actually very good compared to the competition, and that's because of a bigger VRM and a heat pipe cooler.
Up-close of the back of the VRM.
4.6GHz 2.1V VCCIN OCed VRM Thermal Imaging: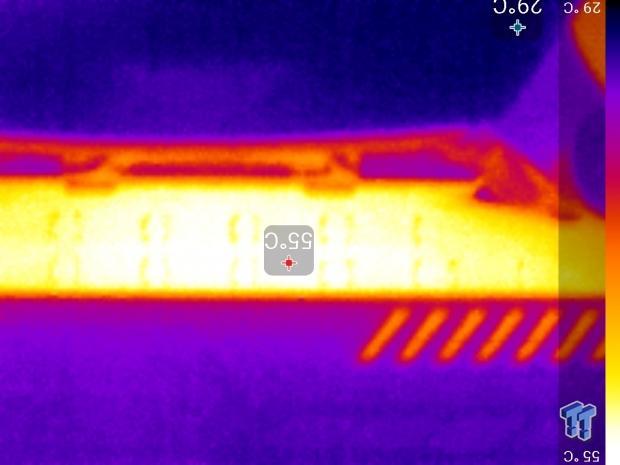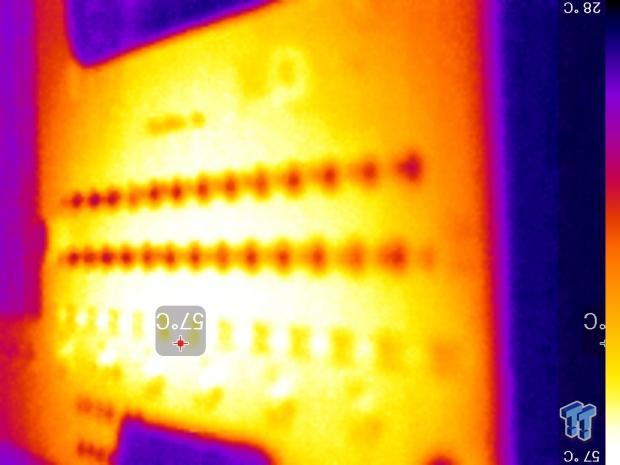 In this test, the fans from the radiator on the AIO blow in the general direction of the CPU VRM area and help cool down the VRM a little bit, but not as much as inside a case. The motherboard is doing very well here, with only a slight difference between the top and the bottom of the VRM PCB.
MSI has increased phase count from 10 to 12 power stages, to help spread the heat over a larger area, and they have added a heat pipe cooler. The motherboard will do better than its predecessors, as MSI has made improvements to VRM cooling.
What's Hot, What's Not & Final Thoughts
Here are key points about the MSI X299 XPOWER GAMING AC
What's Hot
Revamped CPU VRM: MSI's introductory X299 motherboards, the X299 Gaming Pro Carbon AC and the X299 Gaming M7 ACK both had 10 phase VRMs (5 doubled) and a VRM heat sink without a heat pipe or fins. MSI tackled that issue on two fronts. First of all, the VRM gets two extra phases, so it is now a 12 phase (6 doubled) VRM that uses the same 60A power stages. MSI then went and added in a better heat sink with a heat pipe to an auxiliary heat sink, and together they have helped improve upon MSI's earlier boards and made the motherboard capable of serious overclocking.
Capable of Handling Intel's 18 Core Processor: While I did this review with the 7900X, I used the XPOWER for my review of the 7980XE. The motherboard was able to overclock the 7980XE to 4.4GHz, and I was able to get more than 400W package power out of the VRM (with active cooling directed at it of course). While one might think all X299 motherboards will easily support the new HCC (high core count, >12) CPUs, the truth is not all of them will. The X299 XPOWER GAMING AC is one of the X299 motherboards that will be able to handle the newly launched CPUs.
Great Cooling Support: I already mentioned the heat sink improvement on the VRM, but now it's time to mention the fact that MSI has put ten fan headers on the motherboard. Yes, ten hybrid PWM/DC fan headers, all of them with auto-sensing, and all of them have an indicator LED to tell you what type of fan is installed. MSI also went and added an external temperature sensor input (sensor included), and went and revamped UEFI fan control to allow you to reference one of many temperature sensors built into the motherboard to control the fan curves.
Support for five M.2 drives: The motherboard has three built-in M.2 slots, one is connected to the CPU and two to the PCH. However, MSI also includes an M.2 Xpander-Z card that will facilitate two more M.2 cards in an x8 PCI-E 3.0 connection. The benefit here is that the platform supports VROC, which is virtual RAID on CPU, and while it might cost some money and CPU lanes, you can RAID five M.2 cards on this motherboard.
What's Not
RGB LED: I am not talking about how the motherboard has RGB LEDs, that is not a negative in my opinion, and I like how MSI has covertly implemented a few digital RGB LEDs. I want to see MSI improve their Mystic software to become more intuitive, as I couldn't even find out how to access the digital features of the integrated RGBs until I went into a second deeper menu, where you create a "party." Also, there is no digital/addressable RGB LED header on the motherboard, but there is on the Gaming M7... The RGB LED software works, but it could be improved, and I am surprised there is no "Rainbow" RGB header.
Final Thoughts
The MSI X299 XPOWER GAMING AC is the result of MSI going back to the drawing board and producing an improved product. They realized that the X299 platform is one that needs to be cooled internally and externally. Most consumers can't easily control internal cooling, which consists of mainly VRM and M.2 drive cooling, so MSI improved on both of those through both electrical and mechanical measures.
MSI also realized that users want better outside cooling, which means better fan control and support, as users will want to have many more radiator fans and case fans, and I think ten is a generous number of hybrid headers. The motherboard's aesthetics are also unique, and the motherboard doesn't light up in RGBs like many others, but rather offers a little bit of light to spice up your build.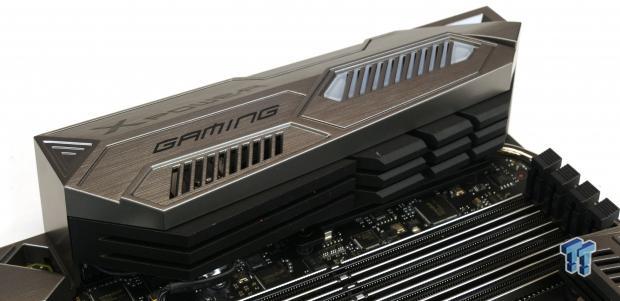 The X299 XPOWER GAMING AC is also built for more professional use cases; it has rear and internal USB 3.1, re-drivers for USB 3.0, two Intel wired NICs, and Intel Wireless AC. The motherboard is also equipped for overclocking, as every XPOWER motherboard, with voltage read points, ratio buttons, and diagnostic tools, and even specialty function jumpers.
The X299 XPOWER GAMING AC from MSI might be one of the more expensive X299 motherboards, but it's a solid one. If you are in the market for a fully loaded, well-rounded motherboard to support any Intel Skylake-X CPU, the X299 XPOWER GAMING AC is definitely worth a look.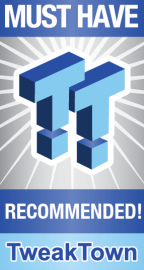 | | |
| --- | --- |
| Performance | 92% |
| Quality | 93% |
| Features | 95% |
| Value | 89% |
The Bottom Line: MSI's X299 XPOWER GAMING AC is not only one of the most feature-packed X299 motherboards on the market, but it can also support and overclock the beastly 7980XE with ease.
PRICING: You can find products similar to this one for sale below.

United States: Find other tech and computer products like this over at Amazon.com

United Kingdom: Find other tech and computer products like this over at Amazon.co.uk

Australia: Find other tech and computer products like this over at Amazon.com.au

Canada: Find other tech and computer products like this over at Amazon.ca

Deutschland: Finde andere Technik- und Computerprodukte wie dieses auf Amazon.de
We openly invite the companies who provide us with review samples / who are mentioned or discussed to express their opinion. If any company representative wishes to respond, we will publish the response here. Please contact us if you wish to respond.