GIGABYTE X299 Designare EX (Intel X299) Motherboard Review
GIGABYTE has one of the best X299 motherboards on the market with the X299 Designare EX!
Published Jan 18, 2018 10:00 AM CST
|
Updated Tue, Nov 3 2020 6:58 PM CST
11 minute read time
TweakTown's Rating: 93%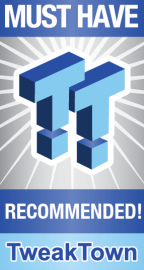 The Bottom Line
The X299 Designare EX is loaded with solid performance and features, including the king of all connectivity; dual ThunderBolt 3 ports. .
Introduction, Specifications, and Pricing
GIGABYTE's X299 Designare EX is now GIGABYTE's top of the line X299 motherboard, taking back the reigns from the X299 Aorus Gaming 9, or so I thought. GIGABYTE actually is positioning the Designare EX between the Gaming 7 and Gaming 9. However, that isn't the whole story; the X299 Designare EX replaces some rear IO, mainly USB 3.0, with two Thunderbolt 3 ports.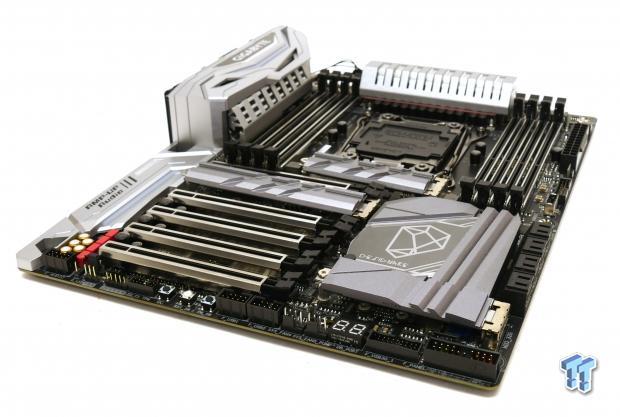 The X299 Designare EX is one of the first motherboards for the X299 platform with ThunderBolt 3, but it's also one of GIGABYTE's redesigned X299 designs. A new VRM, better VRM cooling, and a unique color theme are what the X299 Designare EX has to offer over the Gaming 9, so let's take a look.
Specifications

The X299 Designare EX features three M.2 slots, two ThunderBolt 3 ports, 3-way SLI support, quad channel memory, support for both Kaby Lake-X and Skylake-X, and SATA6Gb/s.
Pricing
The X299 Designare EX will be priced between the X299 Aorus Gaming 9 and X299 Aorus Gaming 7.
Packaging and X299 Designare EX Overview
Packaging and Overview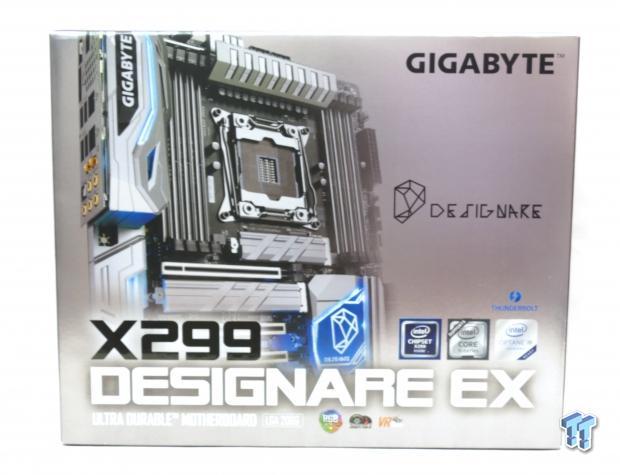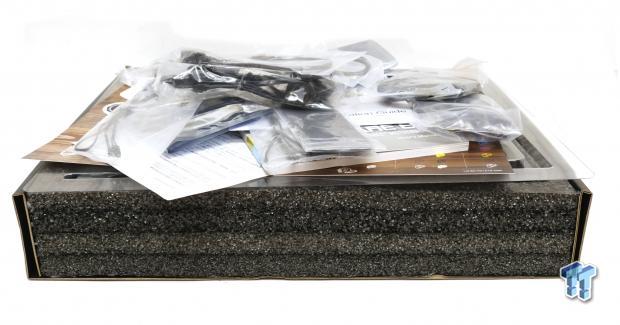 The motherboard box is silver and white just like the Designare itself. Packaging is top notch, and very well done.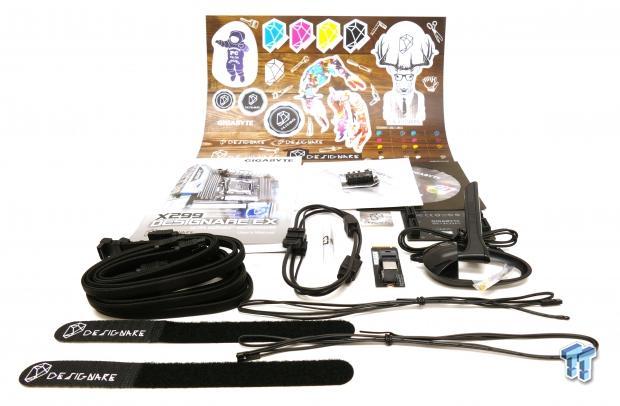 The accessory package includes six braided SATA6Gb/s, SLI HB Bridge, M.2 to U.2 converter, Wi-Fi antenna, two RGB extension cables, case badge, G-Connector, two temperature probes, driver DVD, manuals, and two Velcro ties.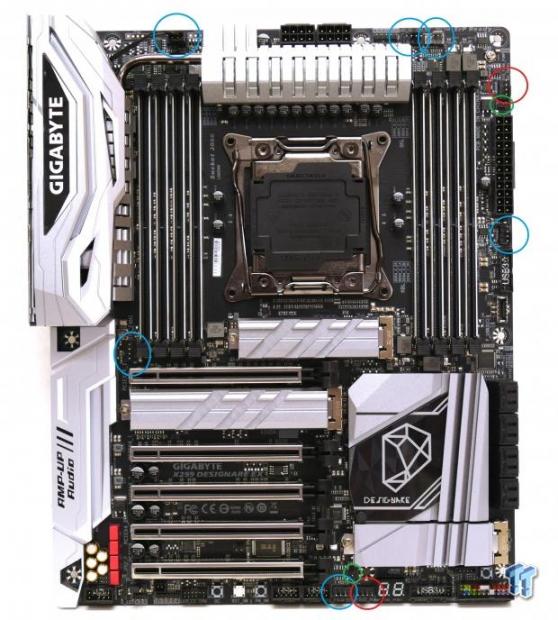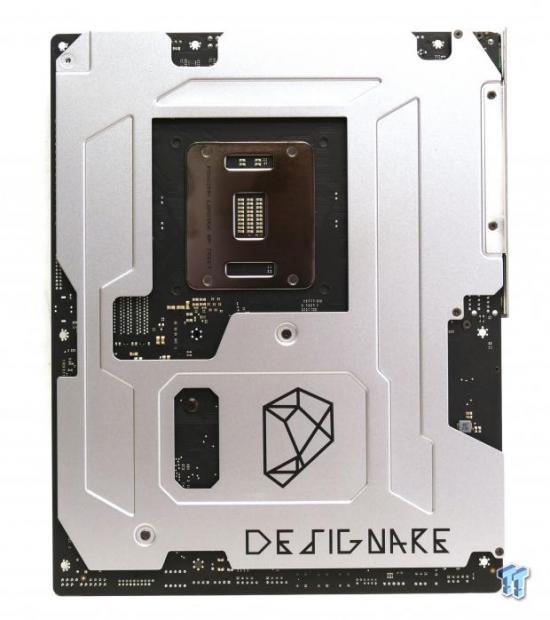 GIGABYTE put a ton of fan headers on the X299 Designare EX, for a total of eight. However, one of those headers is already occupied by a fan used to cool down the VRM heat sink if VRM temperatures go over 90C. All the fan headers work in PWM or DC mode depending on how you set it up, and each header supports up to 1A. There are two pump headers circled in red; they default to 100%.
There are also two EC temperature headers; they connect to the temperature probes so you can use them for monitoring temperatures of components not built into the motherboard. The silver/white and black color theme is a very nice one, and the default lighting is baby blue, which creates a wonderful theme. The back of the motherboard is protected by a large metal shield, and it helps reinforce the PCB.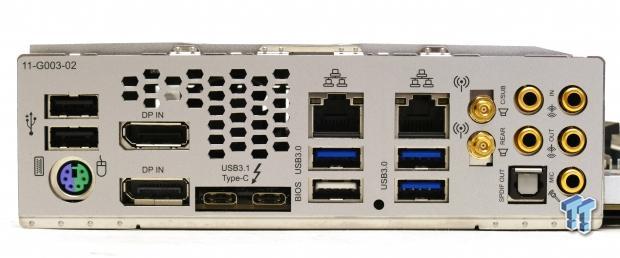 GIGABYTE put an integrated IO shield on the motherboard. You get two USB 2.0 ports, PS/2 keyboard/mouse port, two DisplayPort inputs (for ThunderBolt 3), two ThunderBolt 3 ports (double as USB 3.1 type-C), four USB 3.0 ports (white doubles for BIOS recovery), two Intel Gbit NICs, WIFI connectors, and gold plated 7.1 audio output with S/PDIF out.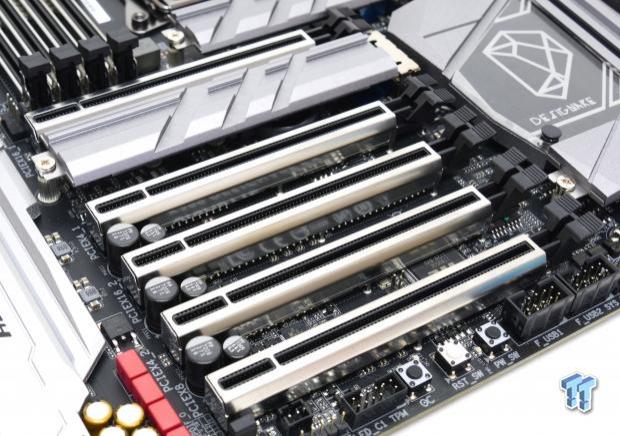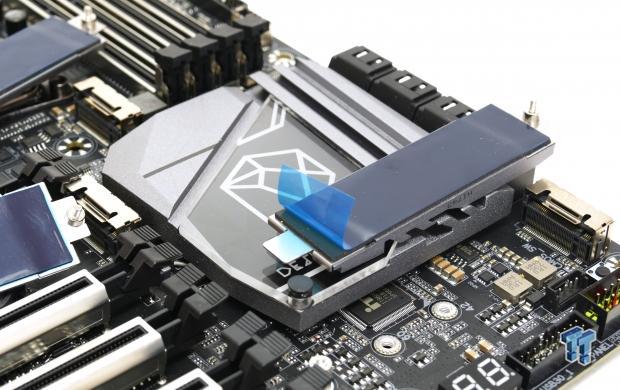 The PCI-E layout is not that simple, the PCI-E slots are physically (from top to bottom) PCI-E x16/CPU, x4/CPU, x16/CPU, x4/PCH, x8/CPU. The top PCI-E x4 slot is routed to the CPU and is not available when using a 16-lane CPU. The only PCI-E bandwidth difference between 40 and 28 lane CPUs is that the second x16 slot operates at x8 higher.
For 16 lane CPUs, you lose one PCI-E x4 slot (the top one), and you can operate at x8 in each of the x16 slots for 2-way. There are three M.2 slots on the motherboard, the middle slot shares all bandwidth with the first PCI-E x4 slot (second x16 physical slot) and it also will not be usable with an x16 lane CPU. The bottom M.2 slot shares all of its bandwidth with four SATA ports (ports 5-8). All M.2 slots get GIGABYTE's M.2 heat sink.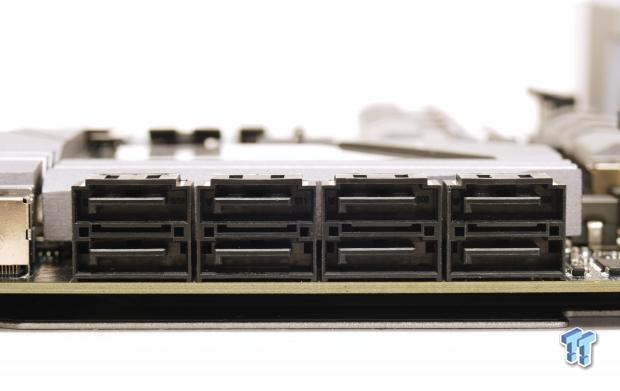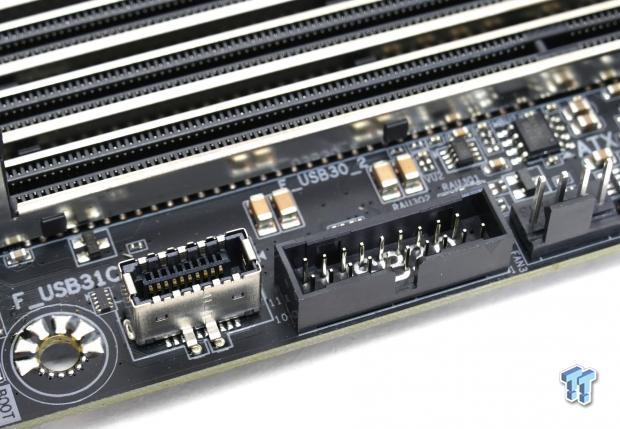 The motherboard features eight SATA6Gb/s connectors connected to the PCH, except two ports that are connected to an ASMedia SATA6Gb/s controller. The motherboard also features a USB 3.0 internal header under the 24-pin connector and a USB 3.1 type-C internal header.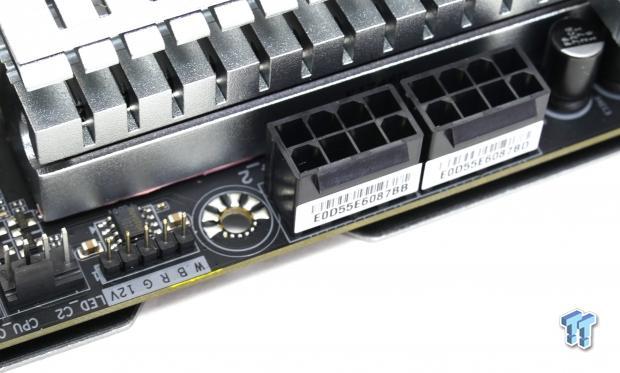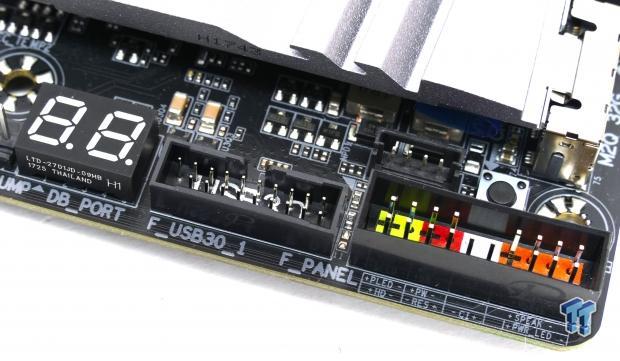 The motherboard features two 8-pin CPU power connectors and an RGBW header at the top of the motherboard. At the bottom of the motherboard, we find a USB 3.0 internal header to the left of the front panel headers. A POST code display can also be found at the bottom of the motherboard.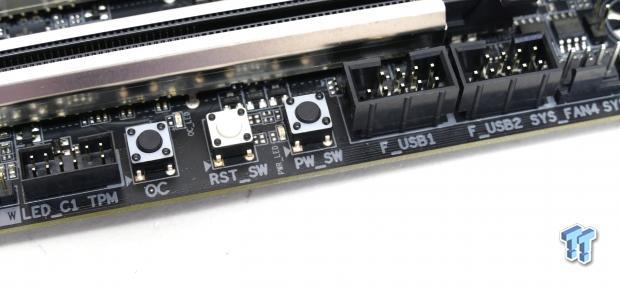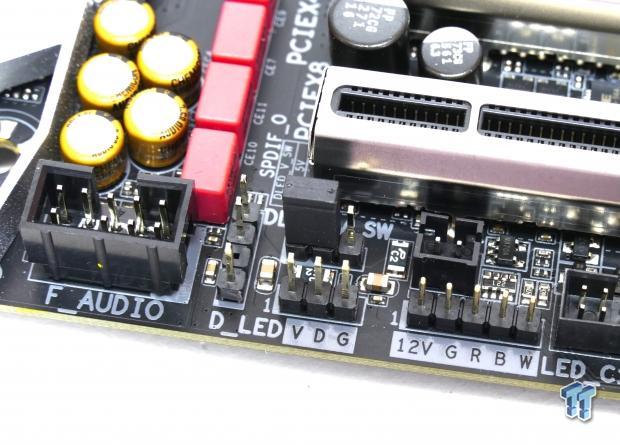 There are two USB 2.0 internal headers to the right of a power button, reset button, and OC button. A small TPM header is also located near the buttons. We also find an RGBW LED header and a digital RGB header. A jumper above the digital RGB header can switch voltage on the digital header from 5v to 12v.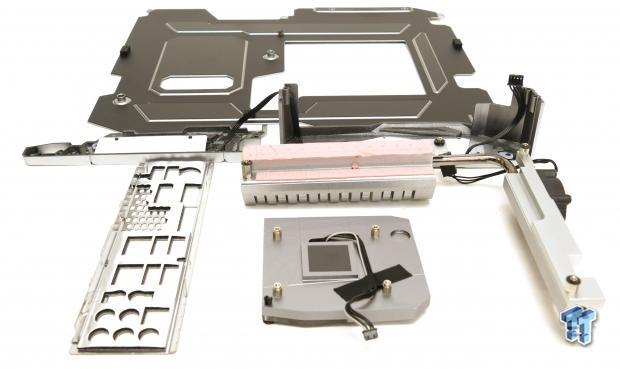 The heat sinks on the motherboard are all screwed in. The VRM heat sink has been re-designed and offers very good cooling capability, and it features different thermal pads from what we have seen in the past from GIGABYTE.
GIGABYTE X299 Designare EX Circuit Analysis
Circuit Analysis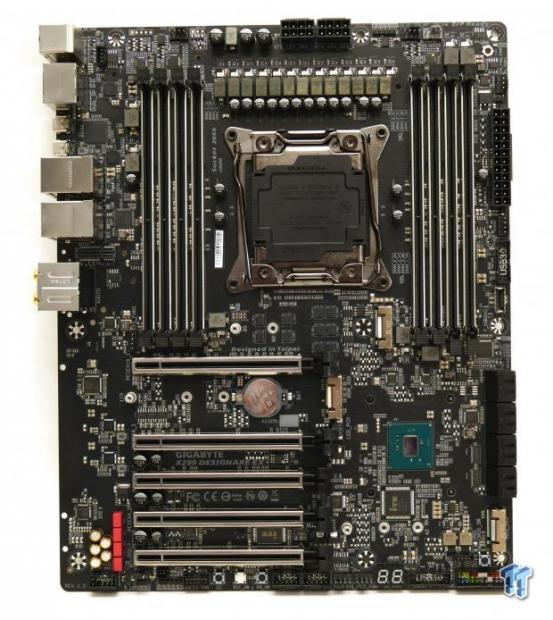 The X299 Designare EX looks great without any heat sinks on.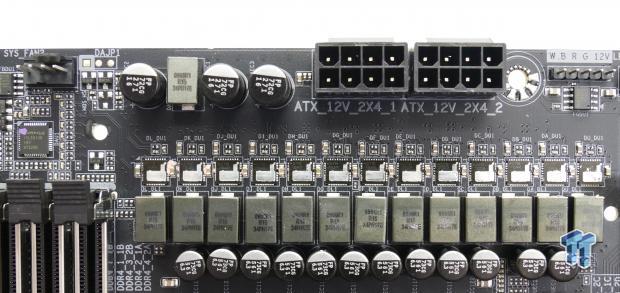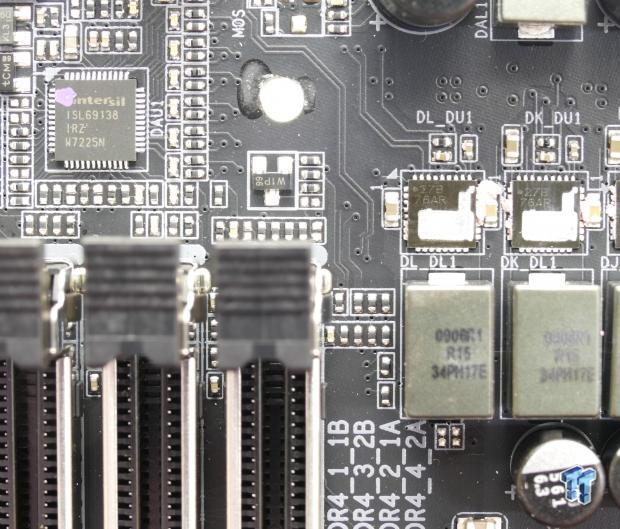 The new VRM went from a true 8-phase VRM to a 12-phase VRM based on 6-phases doubled up, which allows for higher power output. The Intersil ISL69138 true digital PWM controller from Intersil is in a 6+1 phase configuration. All CPU and memory power uses ISL99227 Smart Power Stages, which are rated 60A, have internal current and temperature sensors, and offer double-sided cooling capacity (bottom through PCB and top through a metal area). The inductors are rated for 51A (can go higher if needed but with a lot of core loss) high current power inductor.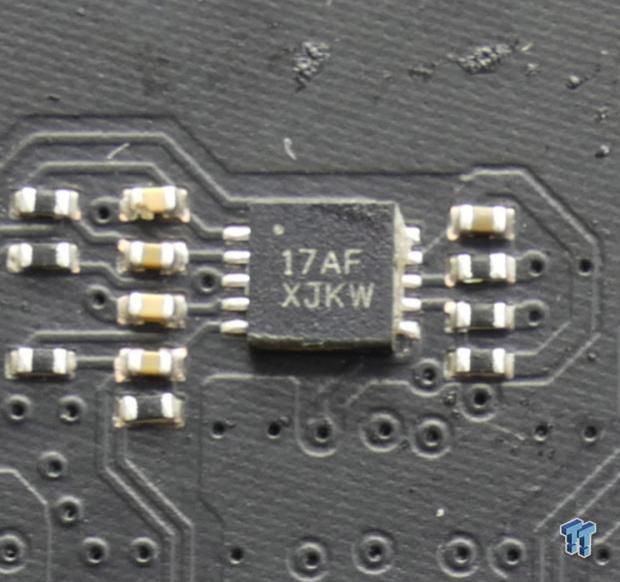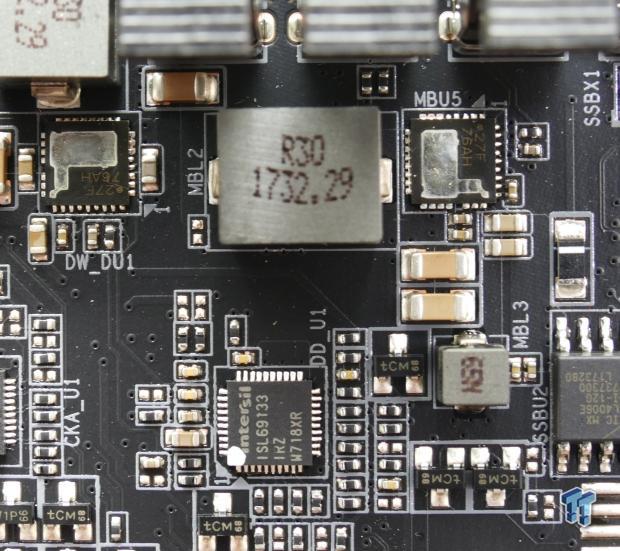 Doubling is done through six Intersil ISL6617 PWM phase doublers located on the rear of the PCB. We find ISL69133 four-phase PWM controllers for the memory VRM and VCCIO VRM. Each of those power stages clock in 60A each.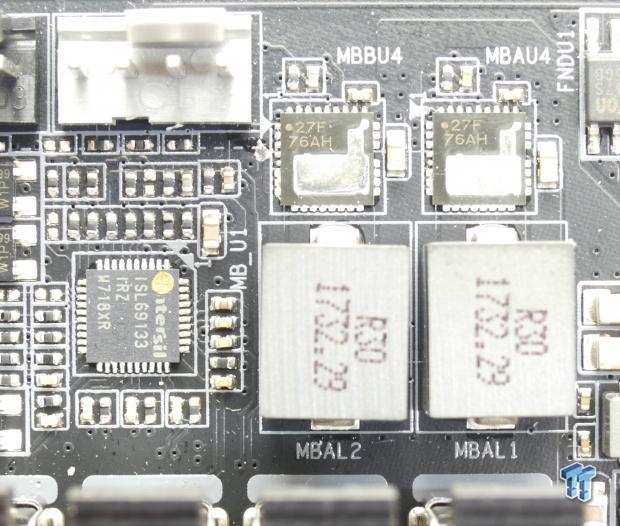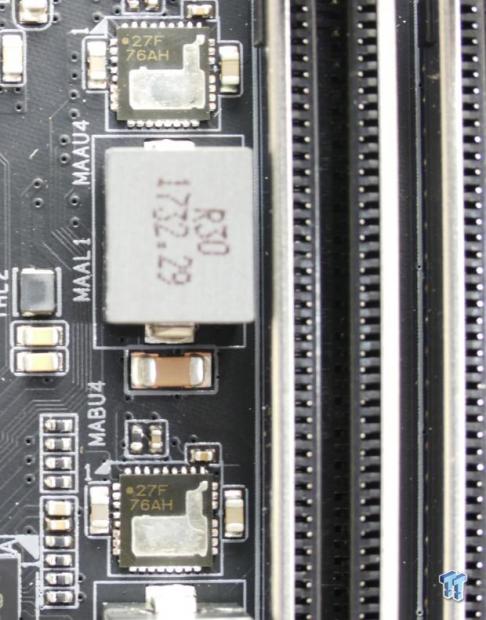 Each memory VRM is made up of two phases for the DRAM and one phase for the VPP voltage.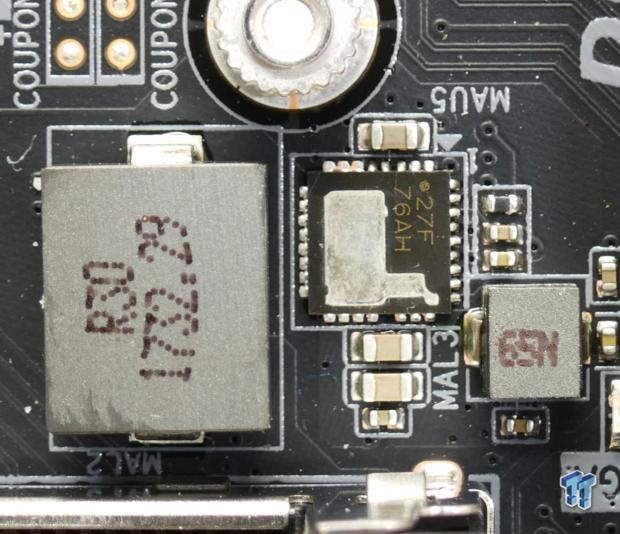 We find one of the VPP VRMs under the CPU socket to the left, while the one to the right is for VCCIO.
GIGABYTE X299 Designare EX Circuit Analysis Continued
X299 Designare EX Circuit Analysis Continued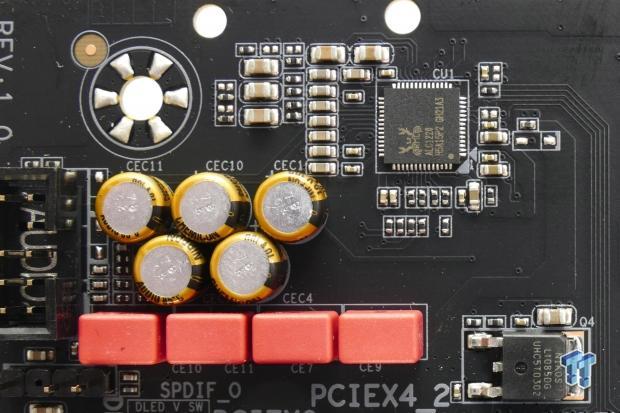 The audio hardware isn't that crazy; it is a simple Realtek ALC1220 with WIMA film capacitors and Nippon Chemicon audio capacitors.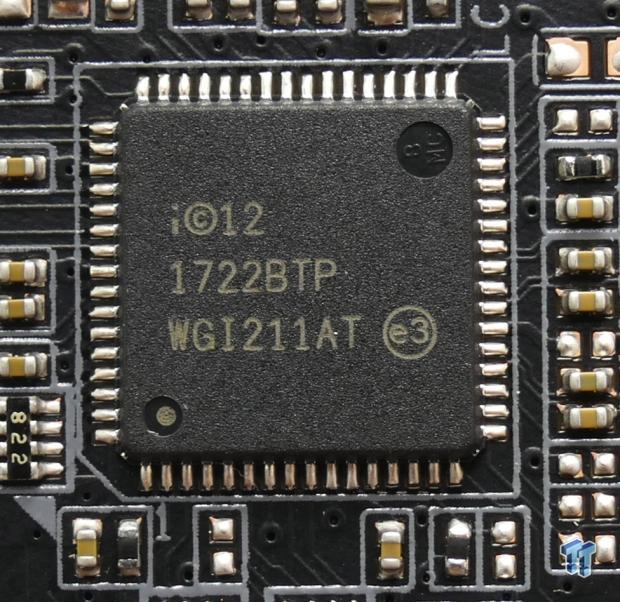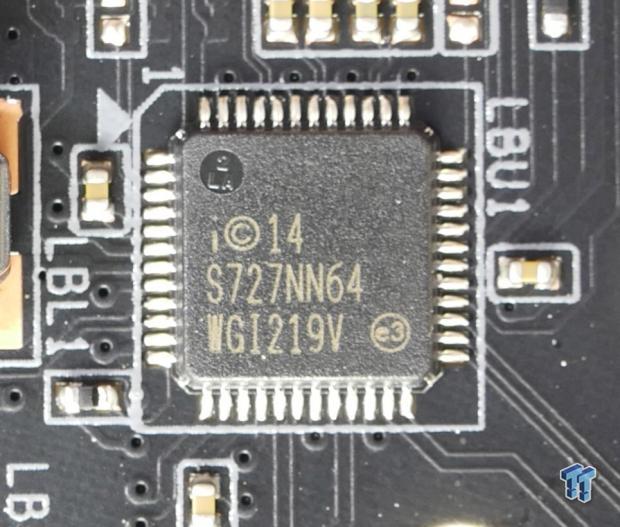 GIGABYTE used both Intel's i219v PHY and Intel i211AT, which provide two Intel Gbit NICs.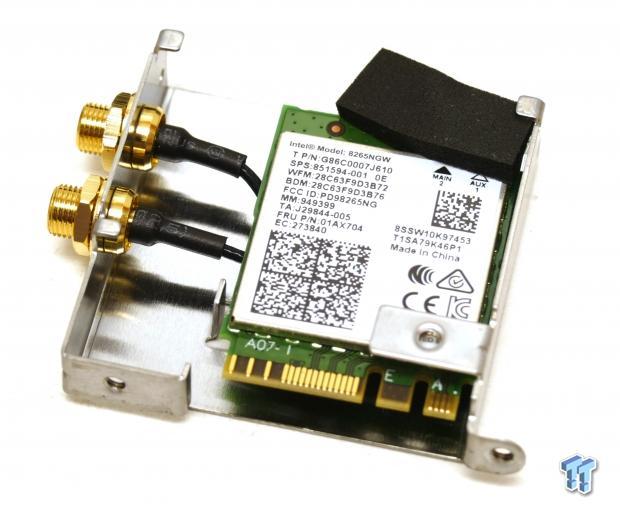 The WIFI controller is the Intel Wireless-AC 8265NGW, which is very common on high-end systems. We find one ASMedia ASM3142, which is used as a USB 3.1 controller for the type-C internal header.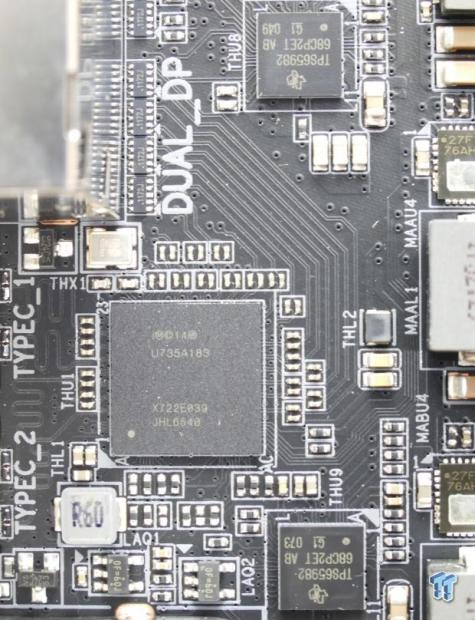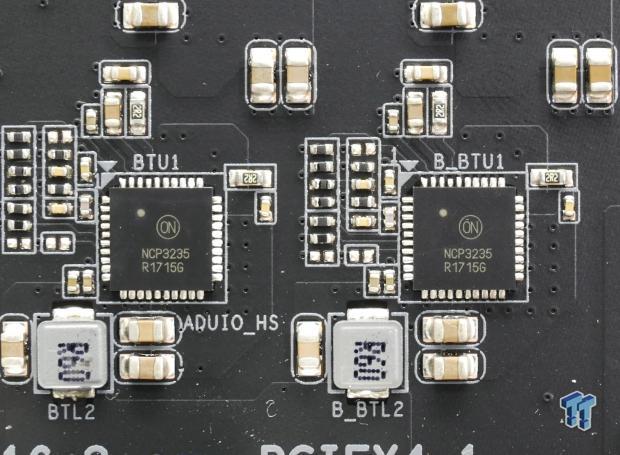 We also found Intel's new JHL6540 ThunderBolt 3 controller, which outputs two type-C Thunderbolt 3 ports. For correct handling and power delivery of the type-C ports two Texas Instruments TPS65982 controllers are used. However we also need power for those ports, and that's where two ON Semiconductor NCP3235 15A high current buck converters.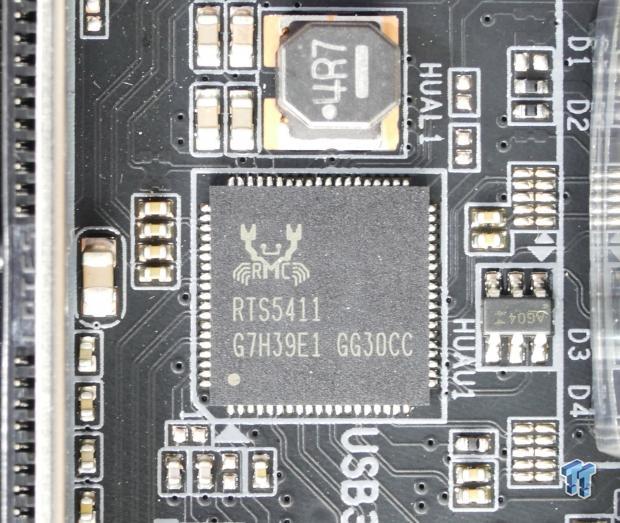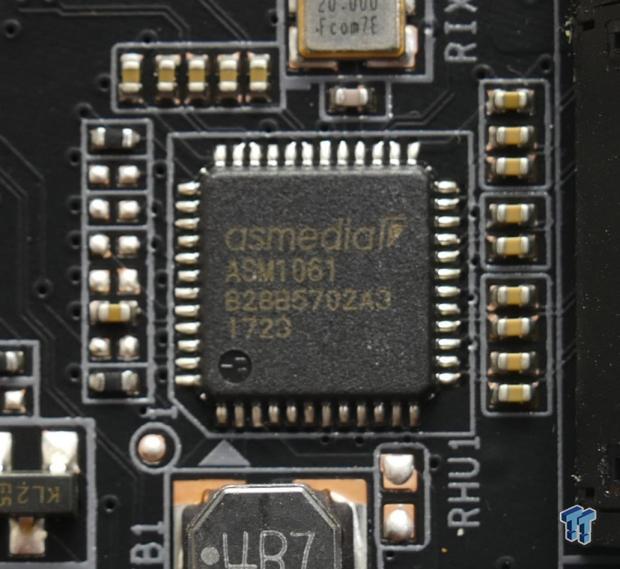 The Realtek RTS5411 chip is a USB 3.0 hub, and takes one USB 3.0 port and outputs four. An ASMedia ASM1061 produces two extra SATA6Gb/s ports for a total of eight.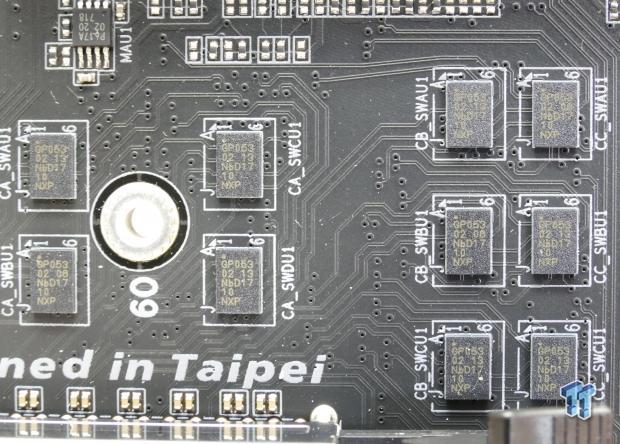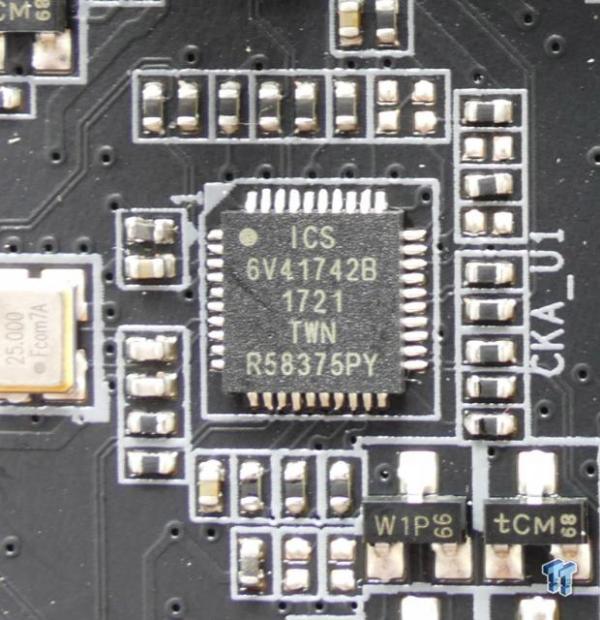 The NXP DBTL08GP053 multi-output/input 10Gb/s PCI-E switch is used for switching around all the different bandwidth around the PCI-E slots and M.2 slot. An ICS6V41742A clock generator enhances BCLK overclocking.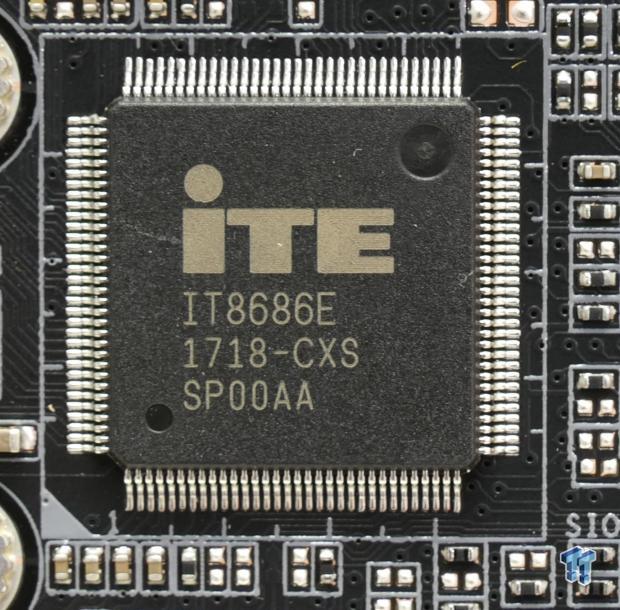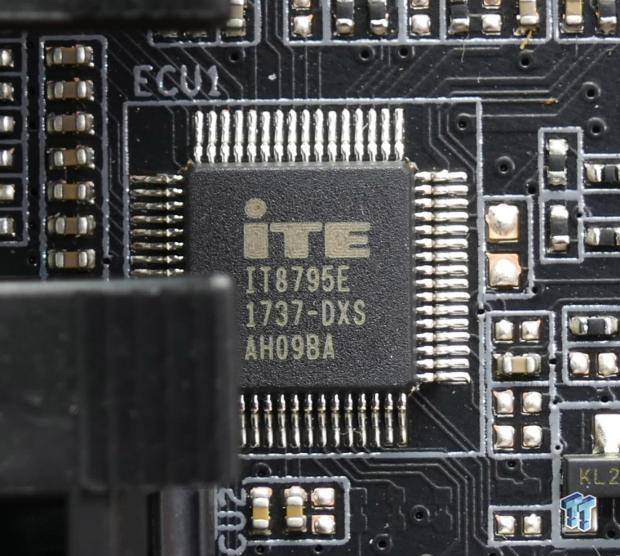 The main SuperIO is an IT8686E, which controls system management functions like monitoring, and provides PS/2 for the rear IO. An IT8795E expands fan control and temperature monitoring.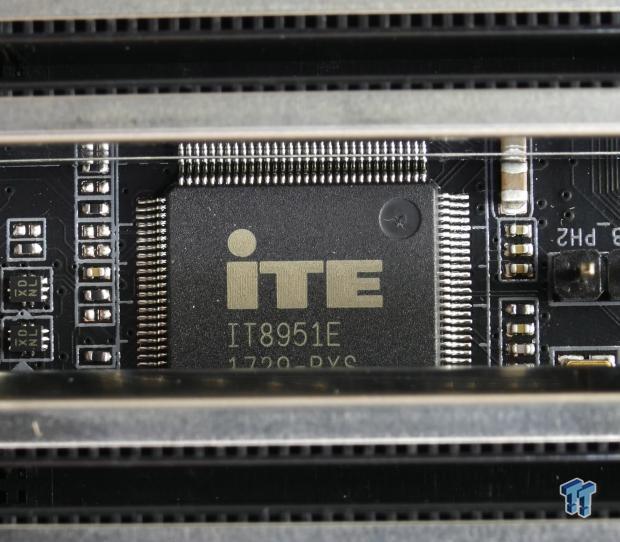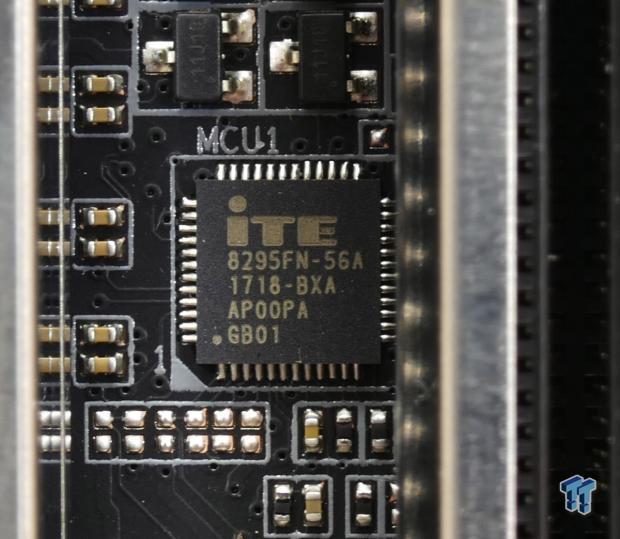 An ITE IT8951 is used to provide BIOS recovery through a USB drive; they call it Q-Flash Plus. The IT8295FN is used as a microcontroller that provides digital RGB LED support.
BIOS and Software
BIOS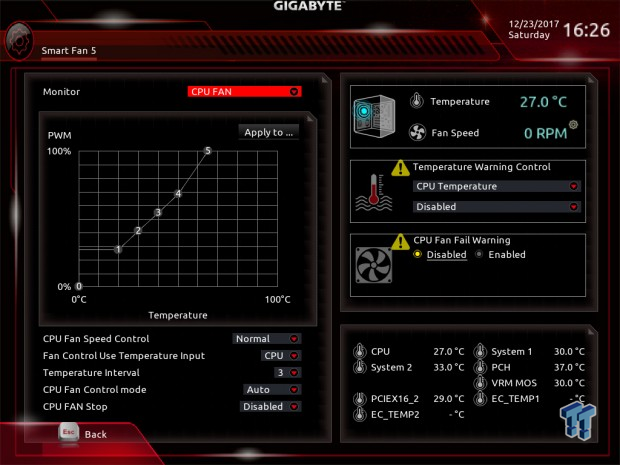 GIGABYTE's UEFI for the X299 Designare EX is very similar to the UEFI on every other current GIGABYTE motherboard. There are two operational modes, an Easy Mode and a Classic mode. The Classic mode is where are the settings are located, and it's typically what most people use to configure the UEFI. Fan control is present in GUI form and RGB Fusion is also present, and it offers basic color choices. Overclocking voltage menu also allows for you to use adaptive voltage as an option.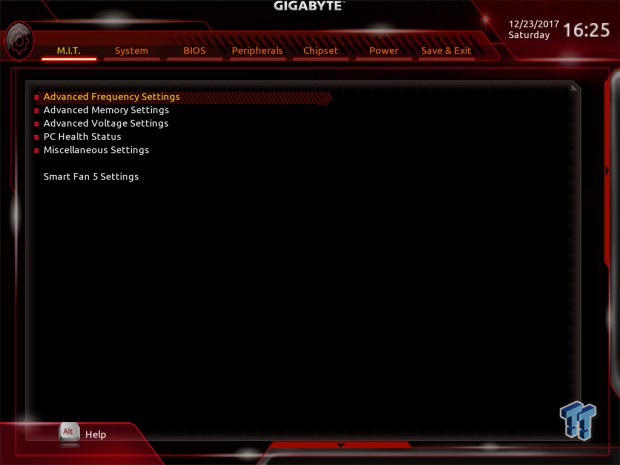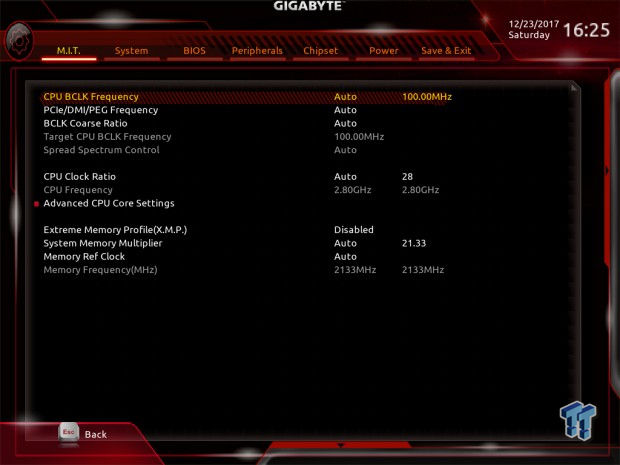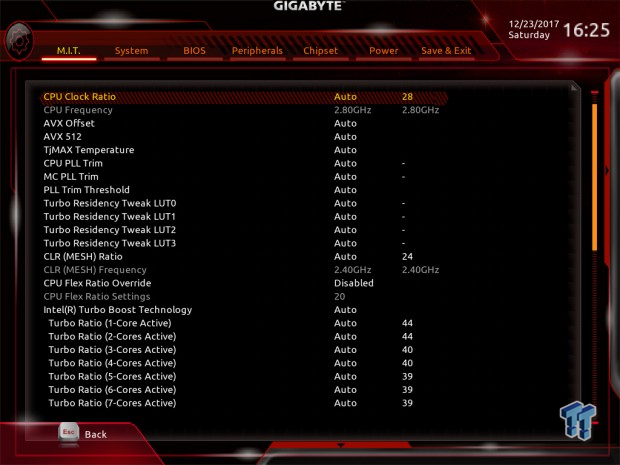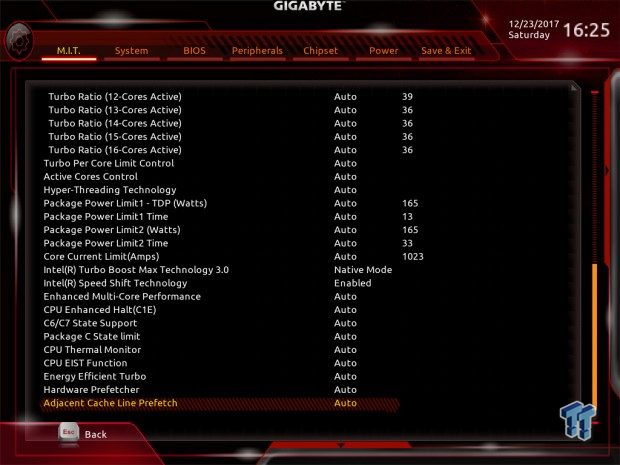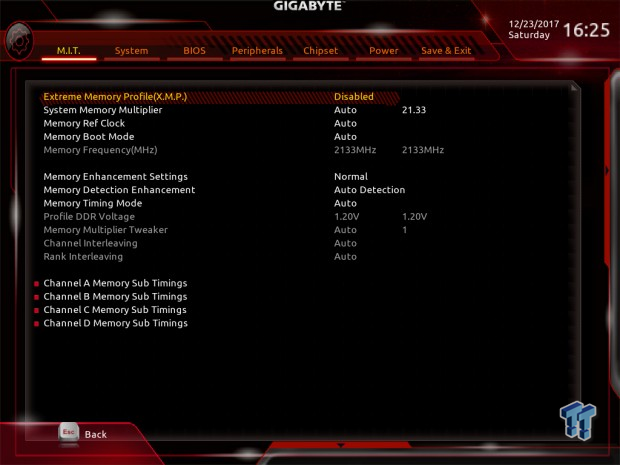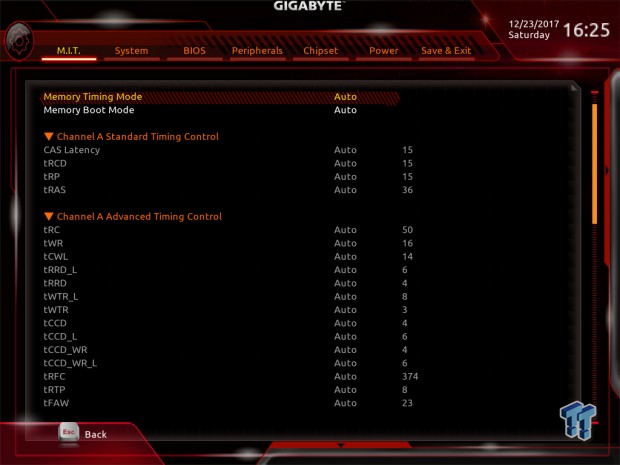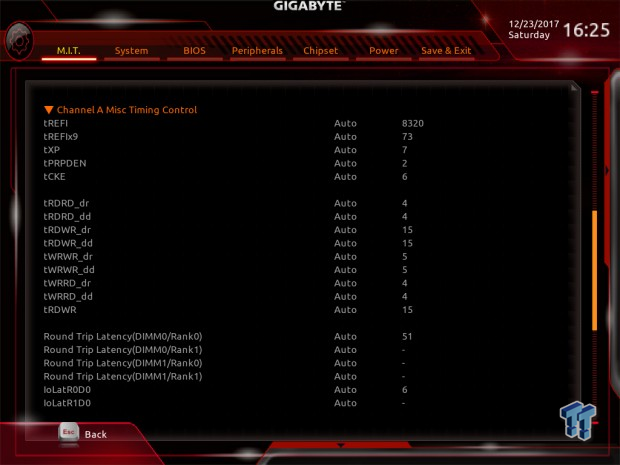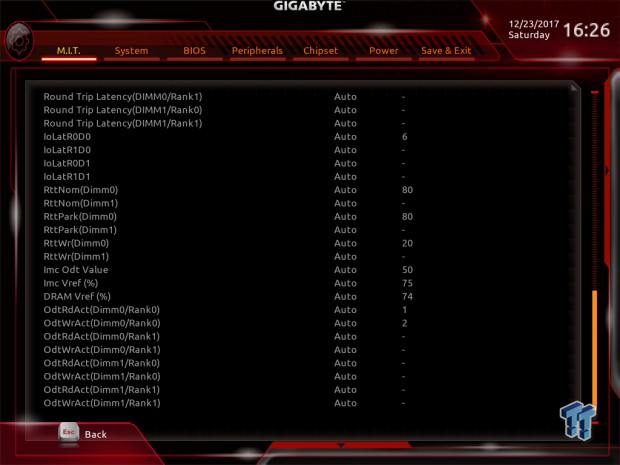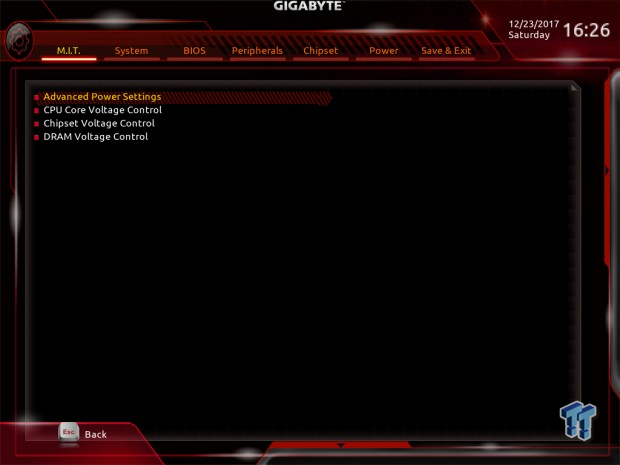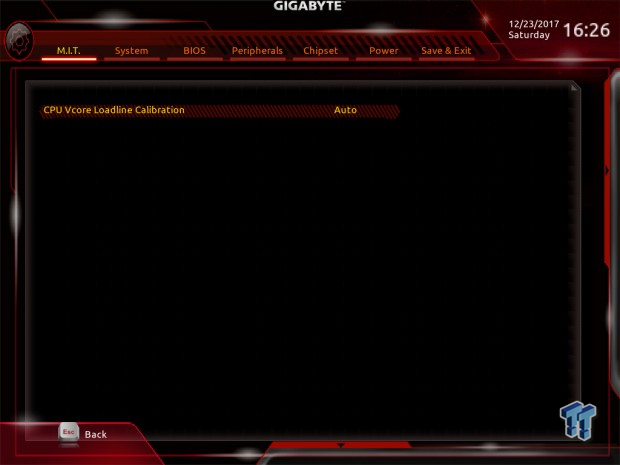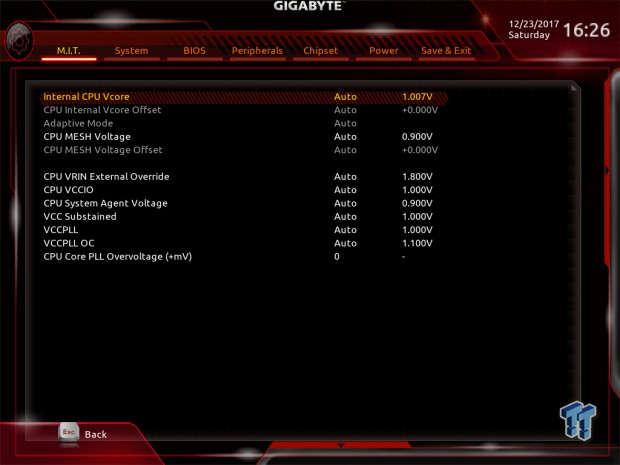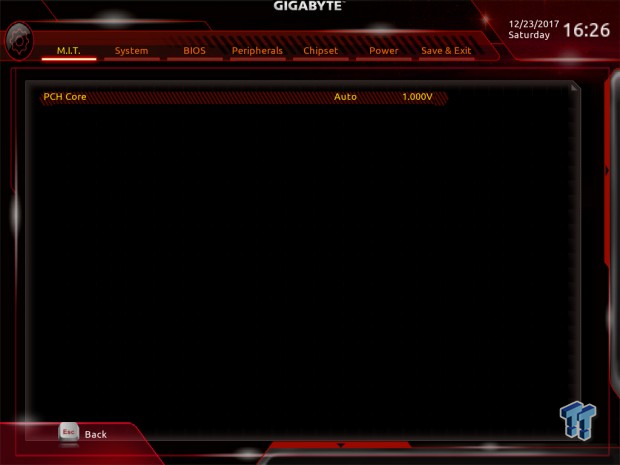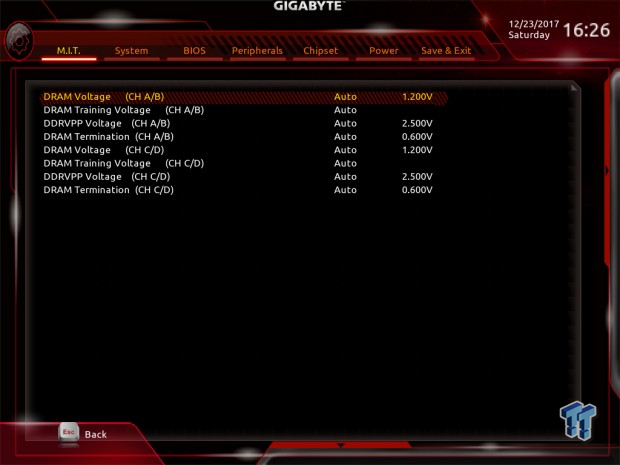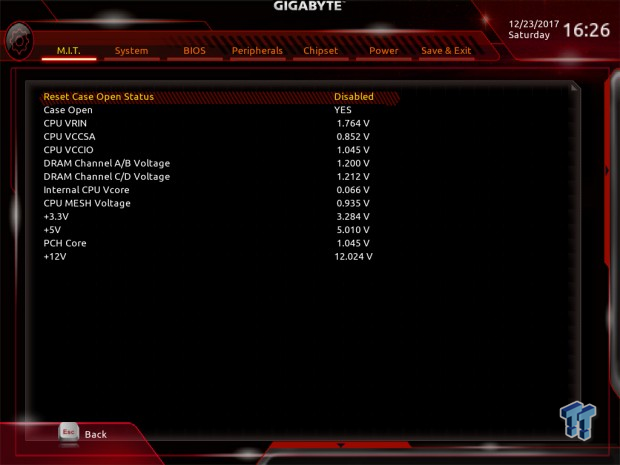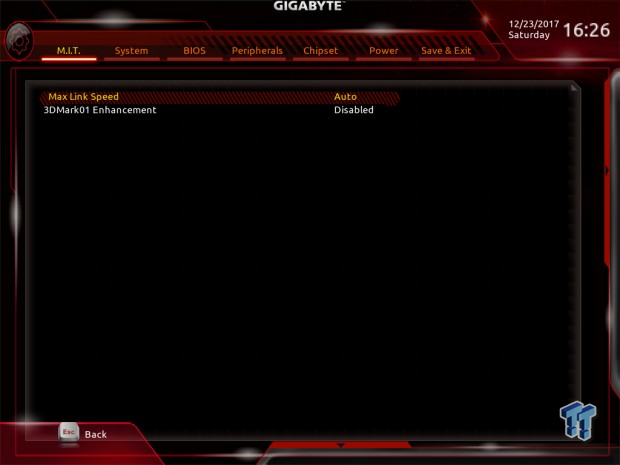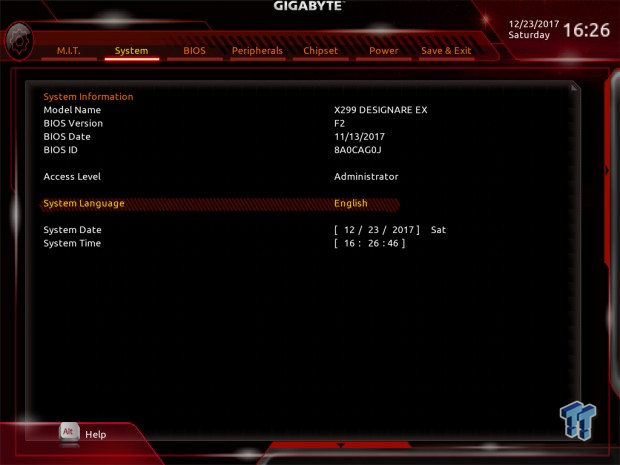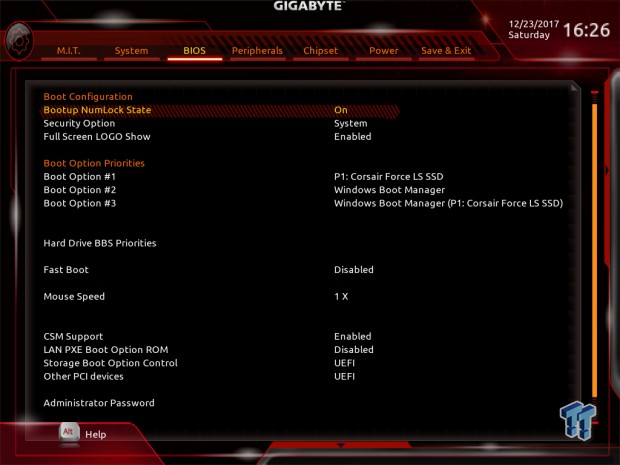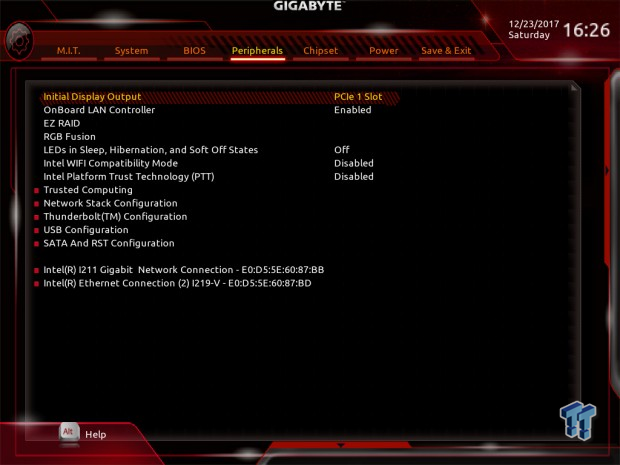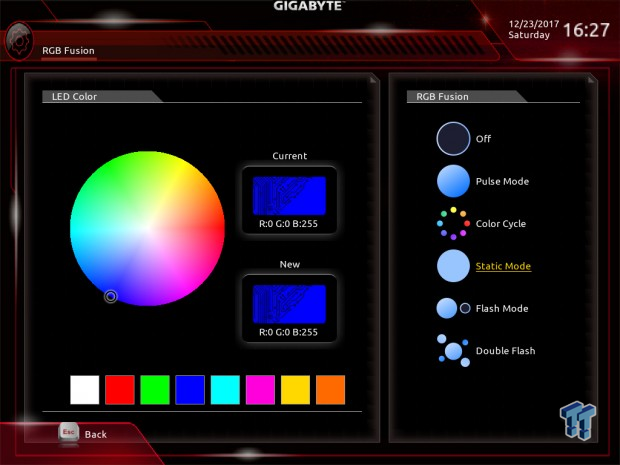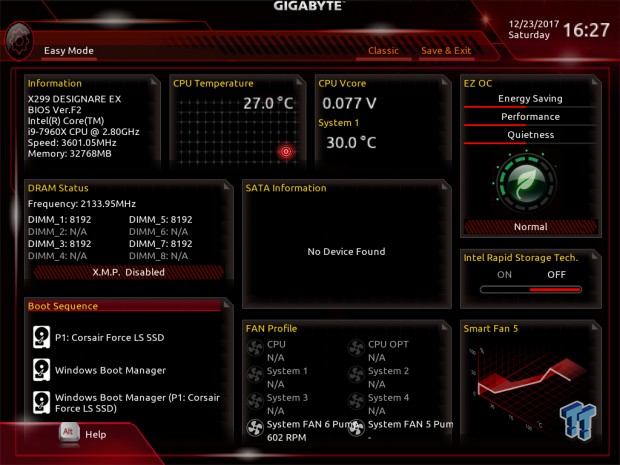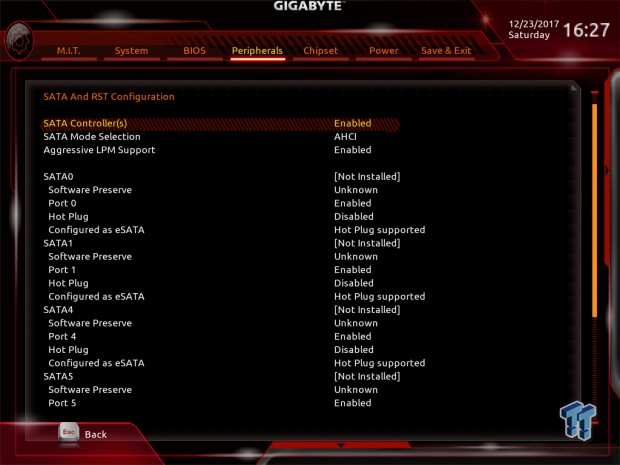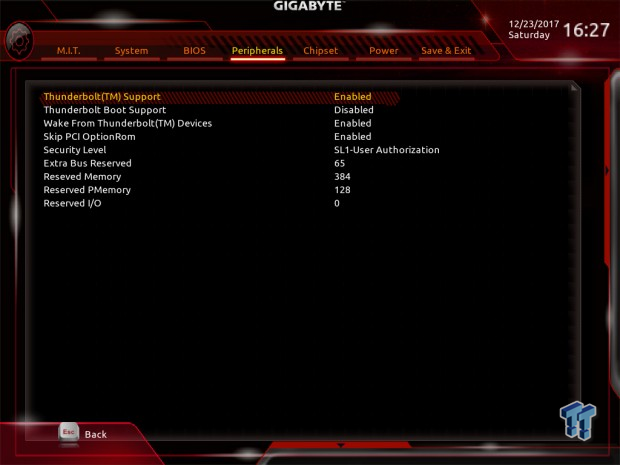 Software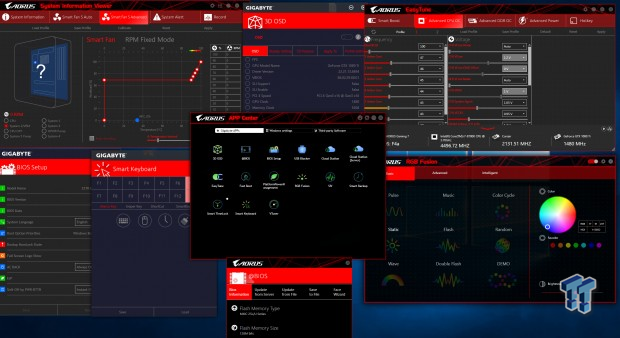 Software applications bundled with the motherboard include 3D OSD, @BIOS, BIOS Setup, USB Blocker, Cloud Station, EasyTune, Fast Boot, RGB Fusion, SIV, Smart Backup, Smart TimeLock, Smart keyboard, and VTuner among others.
Test System Setup
Steven's Motherboard Test System Specifications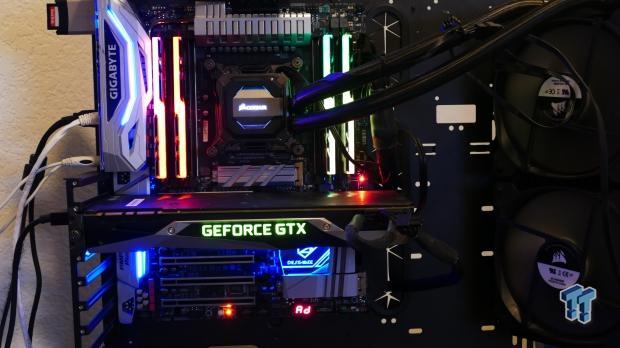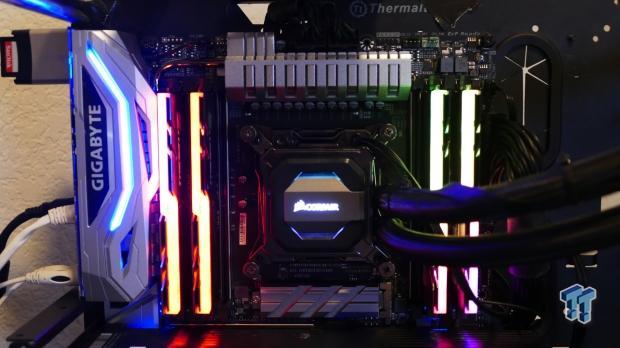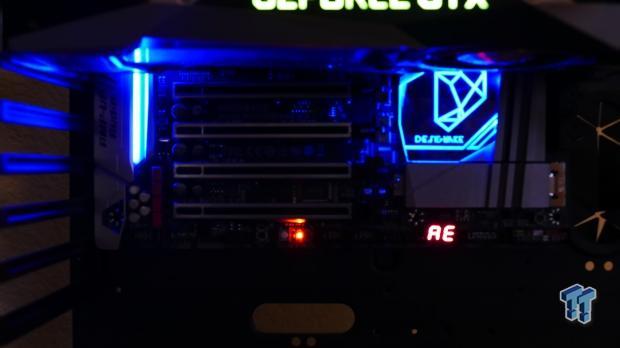 The default lighting option for the Designare EX is steady blue, and it's quite vibrant. The motherboard does have RGB LEDs, so you are definitely not stuck with blue. However, the blue on silver/white looks really good. If you want you can disable all RGB LEDs, but why bother since there aren't that many integrated into areas such as DRAM.
Overclocking
Overclocking Results
CPU Overclocking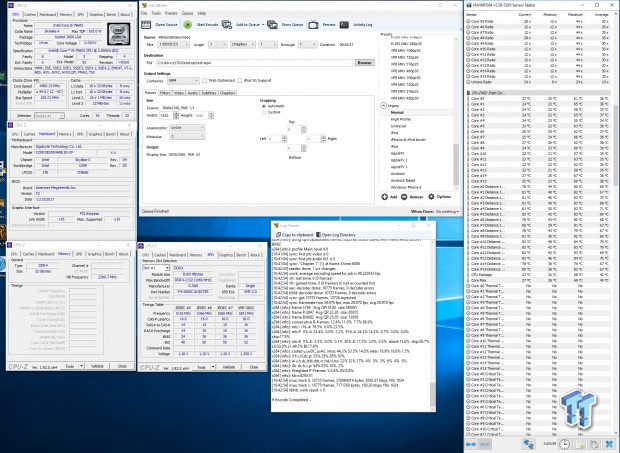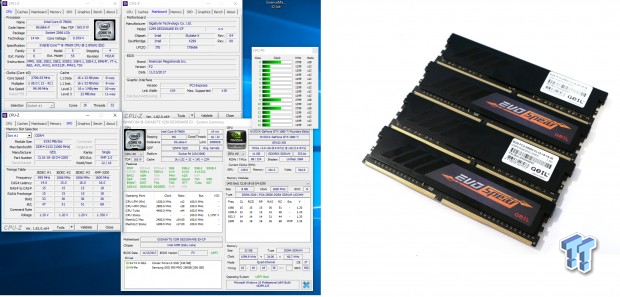 As of now our 7960X is capable of 4.4GHz with reasonable voltages and temperatures. We set LLC to Turbo, the input voltage to 2.1v, VCore to 1.18v, and XMP to enable. It seems that with the most recent BIOS versions we also need to disable C-States if we want to keep the CPU frequency from fluctuating. While we were able to take our G.Skill 3600Mhz quad channel kit to 3600Mhz with ease, we also were able to handle a GEIL EVO SPEAR at 3200Mhz with ease.
CPU, Memory, and System Benchmarks
CINEBENCH R15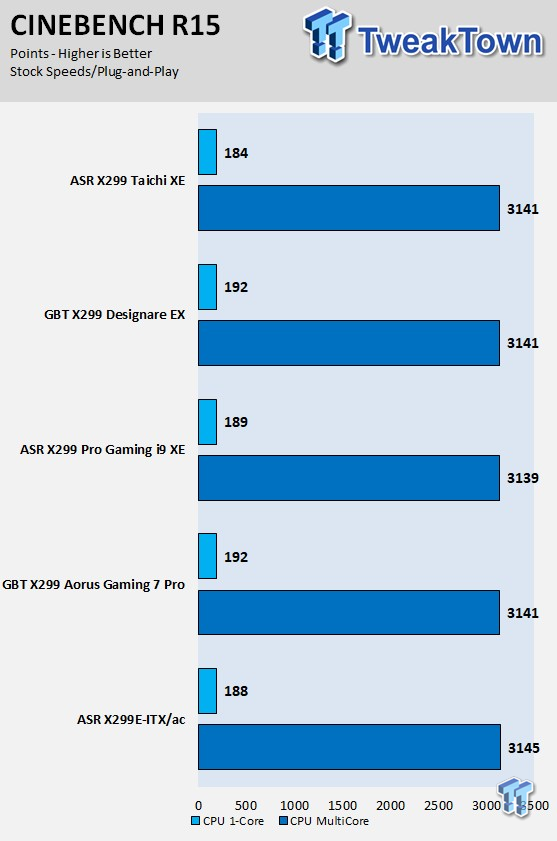 wPrime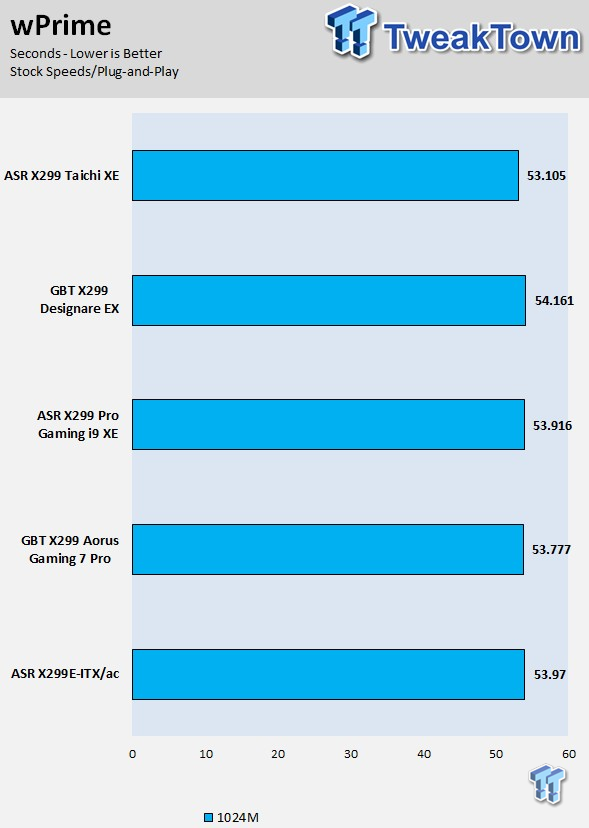 AIDA64 FPU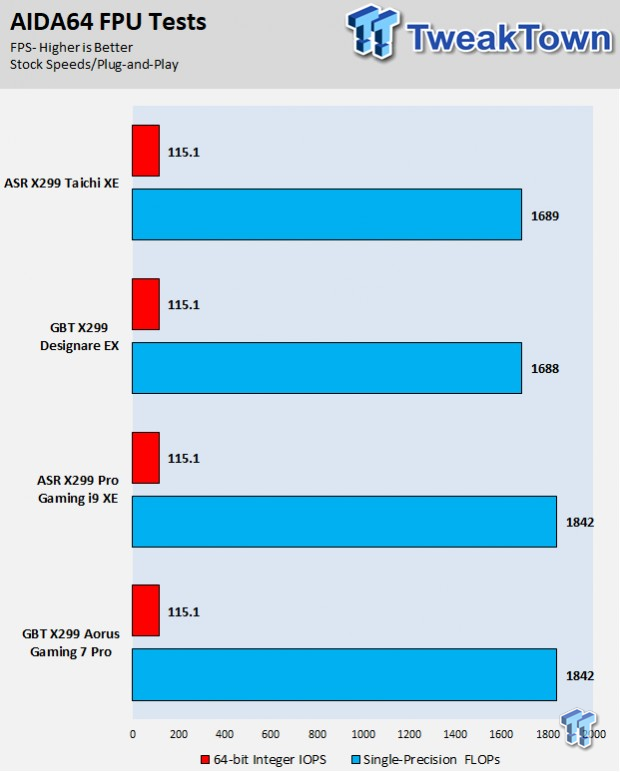 AIDA64 Memory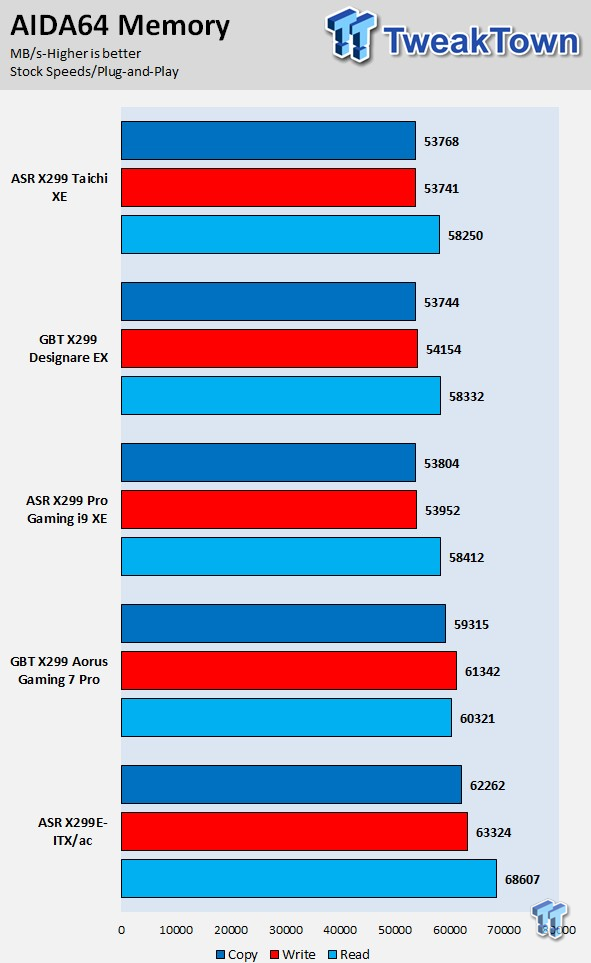 ScienceMark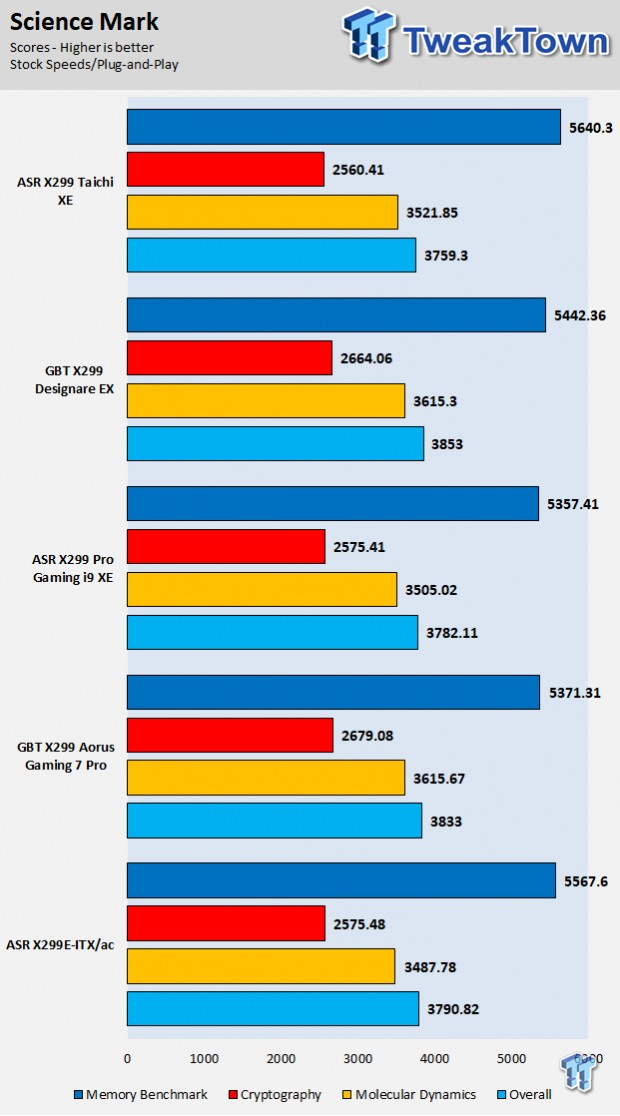 HandBrake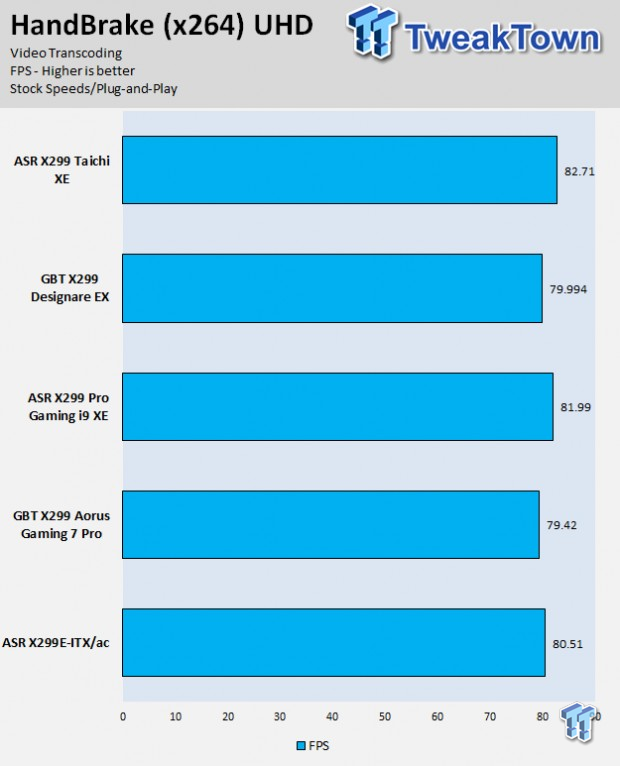 SuperPi 32M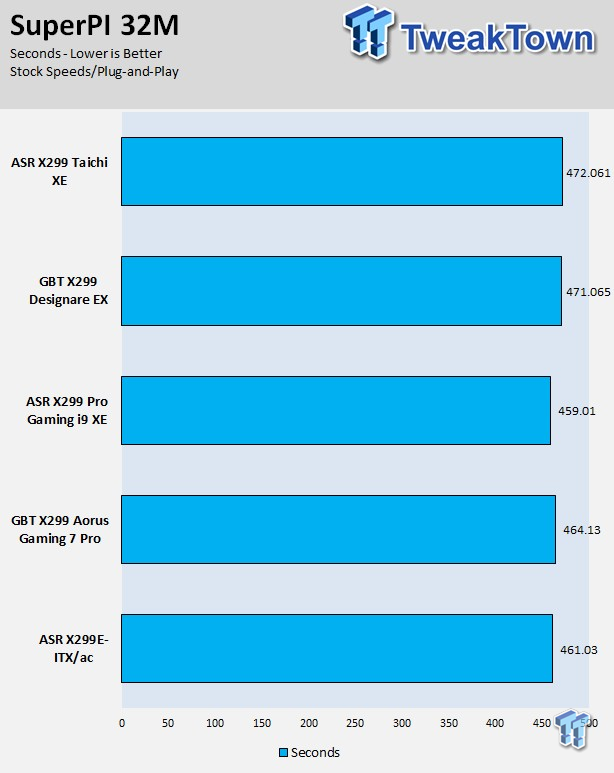 3DMark: Fire Strike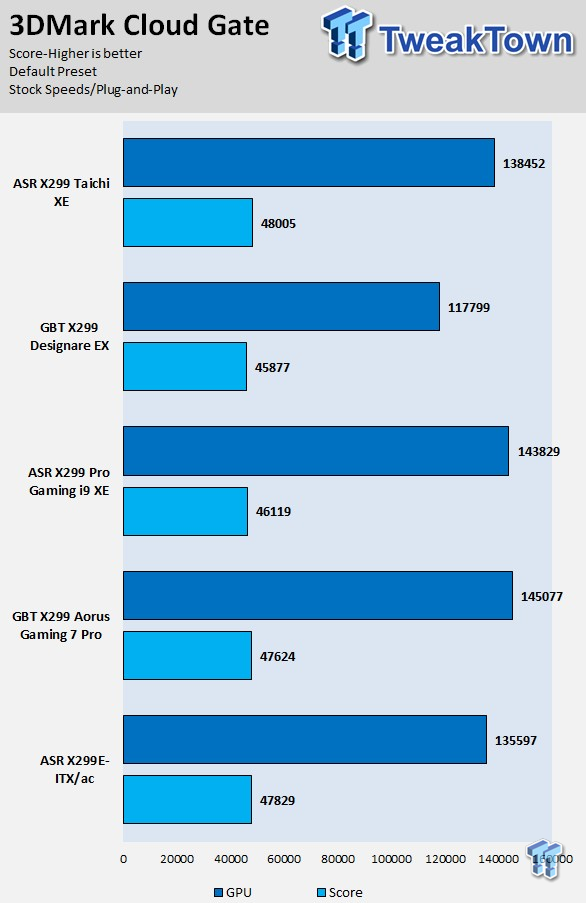 3DMark: Cloud Gate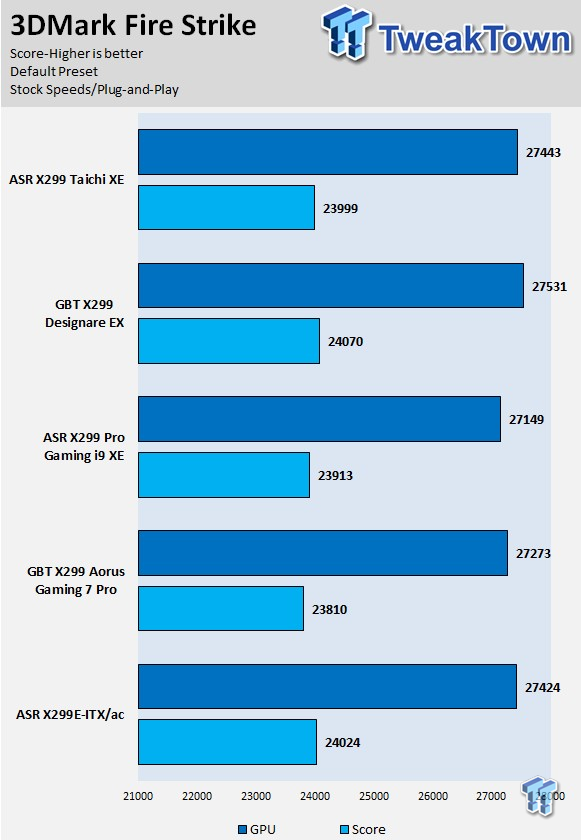 ResidentEvil 6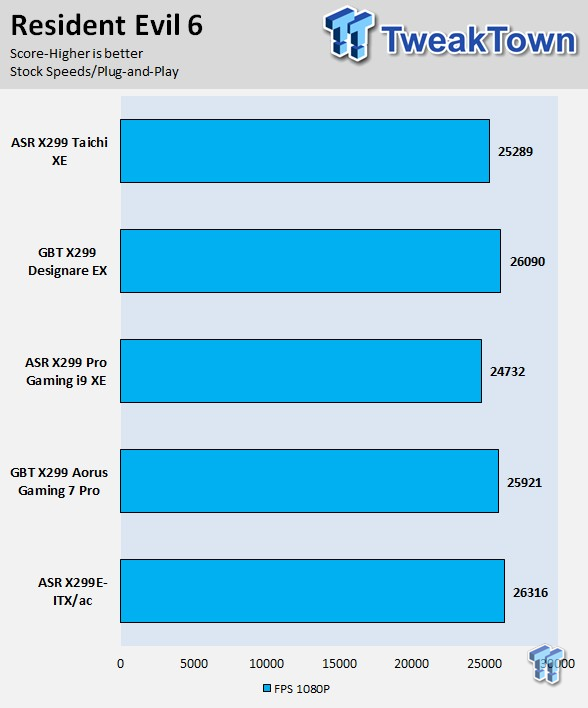 The GIGABYTE X299 Designare EX is well rounded in many aspects. We know that this motherboard is not currently launched and going forward GIGABYTE will tune the BIOS even more for performance, but thus far things are looking good. We see some odd inconsistency in our 3DMark testing, but Resident Evil shows things are okay. At this point, and as we go further, we won't see too much deviation in the performance of the CPU, memory, or GPU. I personally don't too much too much credence into benchmarking the CPU or GPU to see how well the motherboard does, as the difference is almost always within the margin of error. These tests are to make sure performance isn't below that margin, or to see what's going on if it's above.
System IO Benchmarks
CrystalDiskMark SATA6G: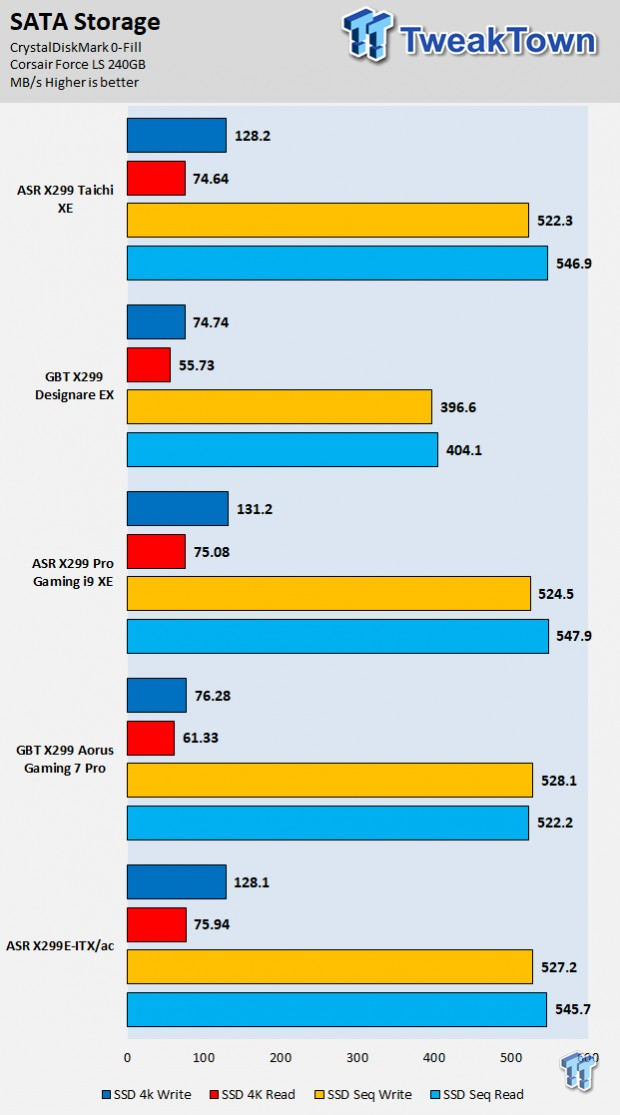 CrystalDiskMark M.2: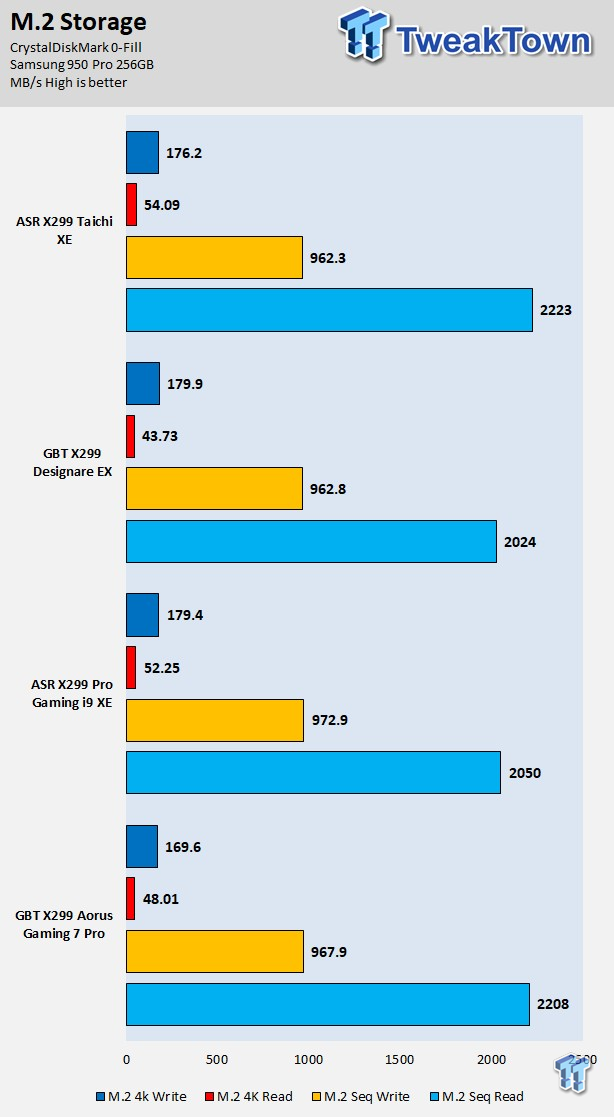 ixChariot Network Throughput: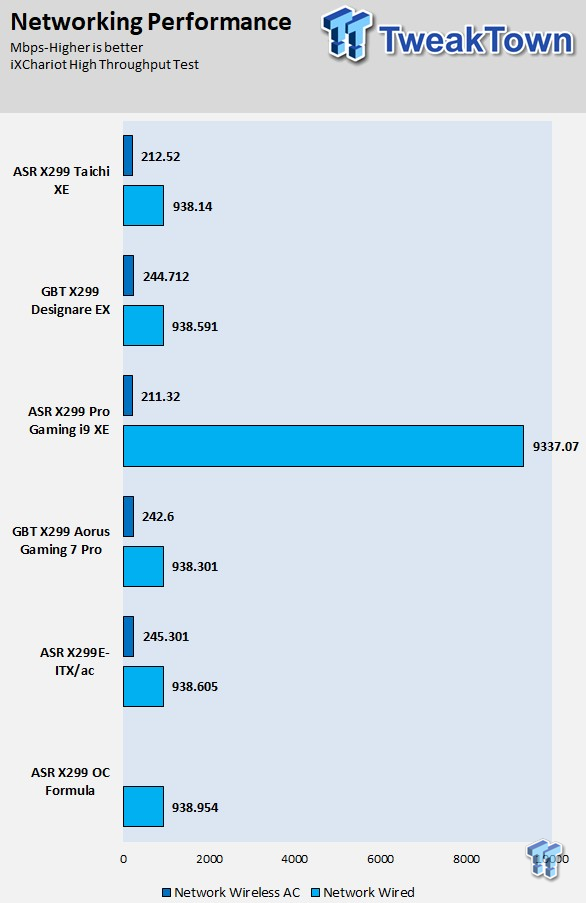 The X299 Designare EX isn't out yet, so we have hope that GIGABYTE will let off the aggressive link power management, so our sequential SATA speeds go up. You can disable the setting in the UEFI as it's enabled by default. M.2 performance is good, and networking performance is as well.
Audio RMAA 5.5:
I disable all audio features, set the correct bitrates, and then test the audio with a loopback test.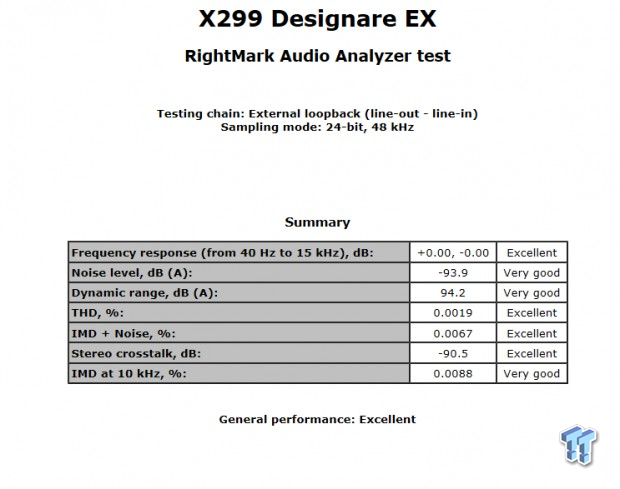 Sound Judgment by Ear: Excellent, the audio performance is solid even though it's just a basic ALC1220 with some capacitors. There are five ratings for audio: 1. Problems, 2. Okay, 3. Acceptable, 4. Very good, 5. Excellent
VRM and System Thermal Imaging and Power Consumption
Thermal Imaging and Power Consumption
System power is measured at the wall with an AC power meter.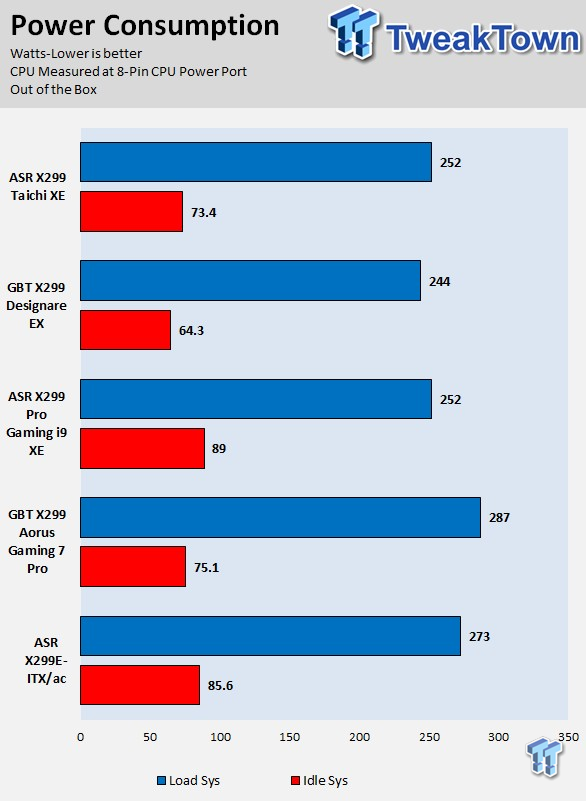 Note on Thermal Images: In the temperature section, we use our Seek thermal imaging camera to capture the surface temperatures of major components on the board. I look at the VRM and then all other things that light up the screen. If there is something to worry about, then I will state it. Otherwise, I will just show the hotter running parts of the board for fun. Unless some component is over 80-90C, then there isn't anything to worry about.
All systems will act differently, so I will look for commonalities, such as how far from the VRM the heat spreads through the PCB and the difference in temperature between the front side and backside of the PCB. Keep in mind, the majority of the heat from the VRM goes into the PCB as it is a giant soldered on copper heat sink. A larger difference in temperature between the back and front of the PCB points towards a more effective heat sink.
Thermal Testing at Stock Speeds:
The image on the left is always at idle, and the image on the right is at load. During ALL TESTS, fans above the VRM that cool the CPU cooler's (Corsair H110i) radiator are turned on to high (12v).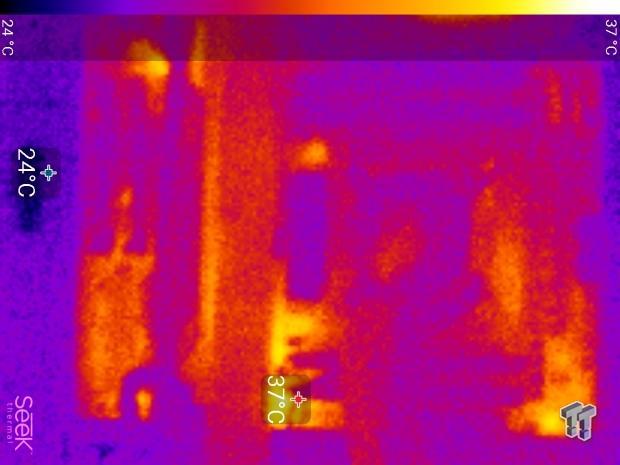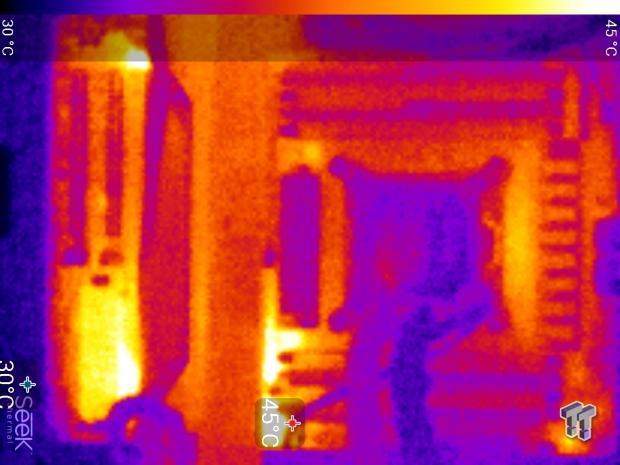 Full frontal.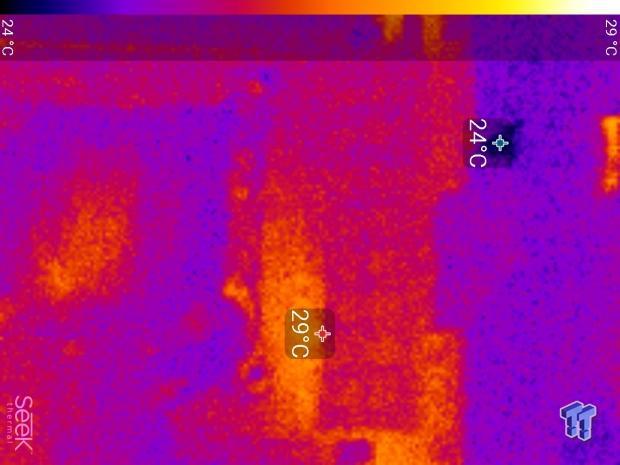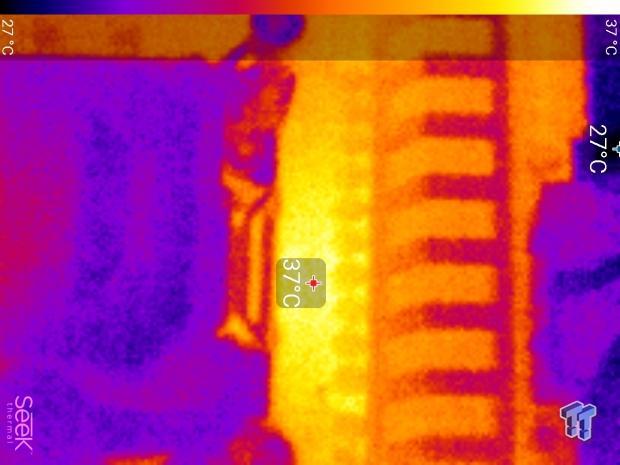 Up-close of the front of the VRM.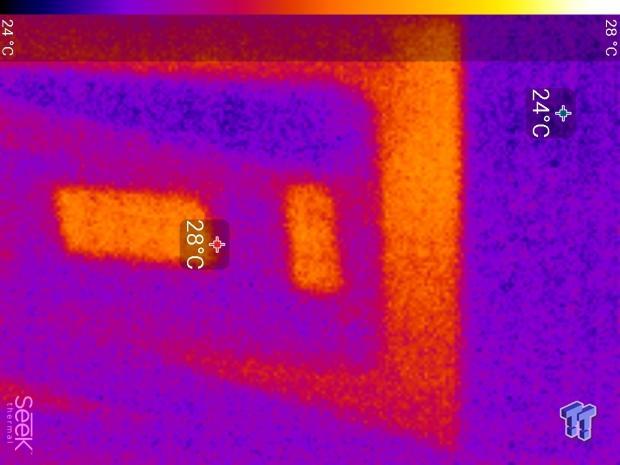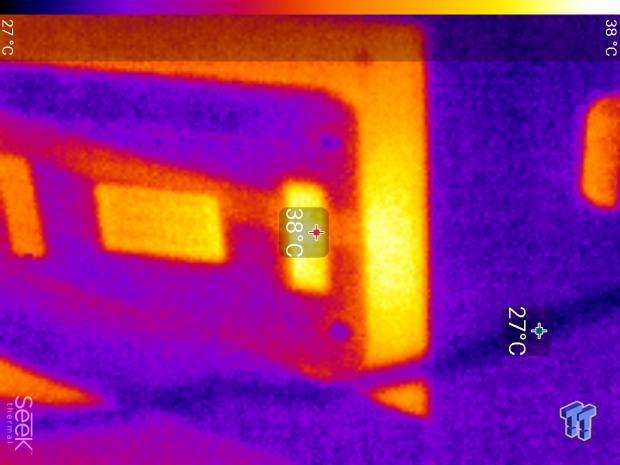 Up-close of the back of the VRM.
4.6GHz 2.1v VCCIN OCed VRM Thermal Imaging:
We standardize this test with a 4.9GHz on all cores with 1.2V real under load and take pictures at the 80% mark of HandBrake rendering a 4K video.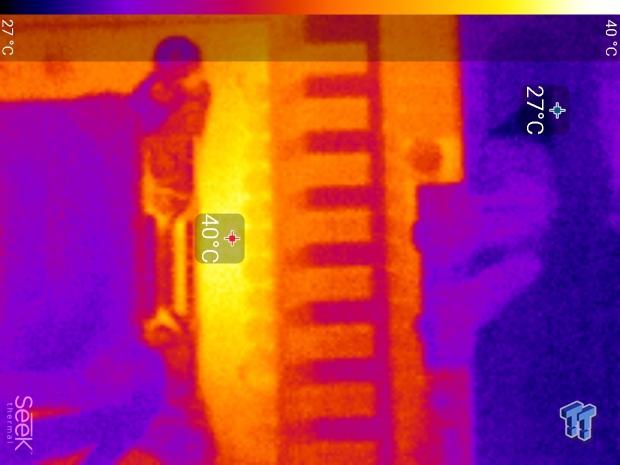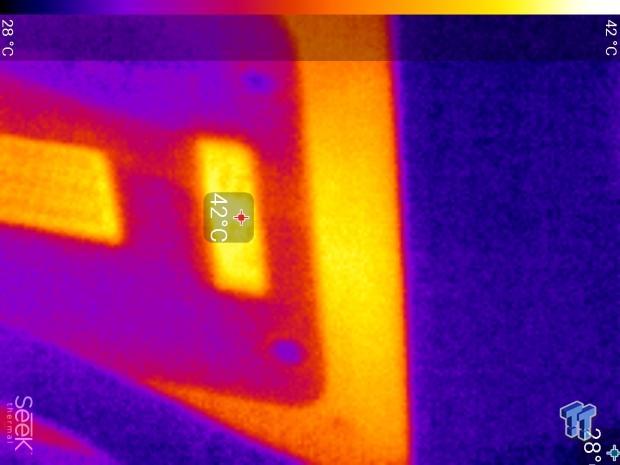 These are some of the best thermal performance numbers we have seen on any X299 motherboard. However, we expected as much since GIGABYTE went back to the drawing board change VRM components, increased phase count, added a much better heat sink, and even a fan as a backup. The temperature on the rear did go a few degrees that of the front of the motherboard, but the temperature levels were low enough that it didn't really matter. As long as you have some type of airflow over the VRM area, you will be set, and the VRM won't throttle your CPU.
What's Hot, What's Not & Final Thoughts
Here are key points about the GIGABYTE X299 Designare EX.
What's Hot
Holy VRM: GIGABYTE went back to the drawing board, switched from 50A true eight phase VRM to a twelve phase VRM (six doubled) with 60A power stages. They did change the inductors, but since there are so many more of them (due to phase count) their slightly lower current limit doesn't hold them back. The new heat sink also helps a lot, and it seems GIGABYTE also changed their thermal pads to better ones, and we see the results in our thermal testing of the VRM. Overall, excellent VRM.
ThunderBolt 3: GIGABYTE is using Intel's new ThunderBolt 3 controller which offers two ThunderBolt 3 ports. The reason we have two DisplayPort input jacks on the rear IO is that ThunderBolt 3 requires a Display Port signal, so you would hook those up to your GPU if you want to use ThunderBolt 3. It has to be this way on every motherboard without integrated graphics, that's one reason you don't see ThunderBolt 3 on many X299 motherboards. The TB3 type-C ports double as USB and DP type-C ports, and the power delivery ICs should provide a lot of power.
Tons of Fan Headers and Temperature Sensors: A total of eight fan headers and full hybrid control over each allows the motherboard to act as a fan controller. With the ability to add external temperatures as your reference point for your fan cooling curve, this motherboard offers a lot in regards to cooling. The good news is that you can configure it all in the UEFI and not have to install software to configure the fans and temperature probes.
Aesthetics: The white and silver aesthetics on the motherboard increase the uniqueness of the motherboard in a sleek manner. White is easy to match, and inside a case, you wouldn't be able to tell the color is more silver. I like the default blue LED color matched with the white. The motherboard also offers many RGB LED headers (RGBW and digital), and the PCH overlay is customizable (you can replace it).
What's Not
3-Way SLI/CF on 44-Lane CPU: You can do x16/x16 for 2-way, but you can only do x8/x16/x8 for 3-way with this motherboard. It's due to the complexity of supporting both Kaby Lake-X and SKylake-X CPUs.
Rear USB Count: While the two type-C ThunderBolt 3 ports double as USB 3.1 type-C ports, the Display Port inputs take up a lot of room, so GIGABYTe had to remove some USB 3.0 ports. Instead, you get four USB 3.0 ports and two USB 2.0 ports on the rear IO. There is a total of five internal USB 2.0, 3.0, and 3.1 headers.
Final Thoughts
The GIGABYTE X299 Designare EX is the reincarnation of the X299 Aorus Gaming 9, but I am told it's actually going to cost somewhere in between the Gaming 7 and the Gaming 9. I actually like the Designare EX more than the Gaming 9, not only because of the ThunderBolt 3, but because of the improved VRM. GIGABYTE really made a lot of changes to the VRM from the components to the phase count and finally to the cooling.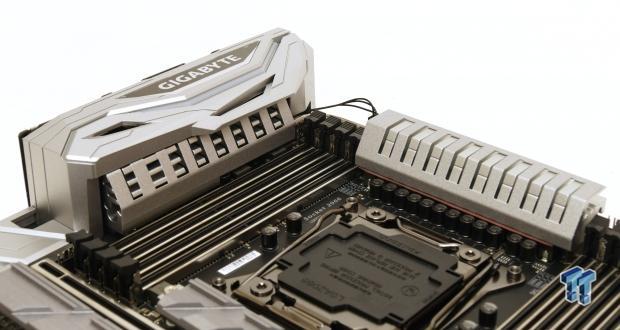 The aesthetics of the motherboard are also desirable and offer a more professional look rather than a playful one. I do miss the high-end audio setup, the digital RGBs built into the IO and audio shields and the illuminated IO panel, the extra USB type-A on the rear IO, and the high current fan headers, but that's practically all I miss. If you want a loaded X299 motherboard with the features and the capabilities to match an HCC (>10 core) Intel CPU, the X299 Designare EX might be the right board for you.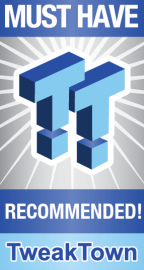 | | |
| --- | --- |
| Performance (including Overclocking) | 90% |
| Quality including Design and Build | 96% |
| General Features | 96% |
| Value for Money | 91% |
The Bottom Line: The X299 Designare EX is loaded with solid performance and features, including the king of all connectivity; dual ThunderBolt 3 ports. .
PRICING: You can find products similar to this one for sale below.

United States: Find other tech and computer products like this over at Amazon.com

United Kingdom: Find other tech and computer products like this over at Amazon.co.uk

Australia: Find other tech and computer products like this over at Amazon.com.au

Canada: Find other tech and computer products like this over at Amazon.ca

Deutschland: Finde andere Technik- und Computerprodukte wie dieses auf Amazon.de
We openly invite the companies who provide us with review samples / who are mentioned or discussed to express their opinion. If any company representative wishes to respond, we will publish the response here. Please contact us if you wish to respond.