ASRock Z270 Killer SLI Motherboard Review
ASRock's Z270 Killer SLI motherboard ticks the boxes in the value department. If you are after a great value product, come and take a look.
Published Tue, Apr 11 2017 9:55 PM CDT
|
Updated Tue, Nov 3 2020 6:58 PM CST
Rating:

89%
Manufacturer: ASRock
Introduction, Specifications, and Pricing
I have reviewed more Z270 motherboards than I can count, and today I will add another to the list. While I enjoy reviewing high-end motherboards because of their unique features and beautiful hardware, more mainstream products that cost under $200 are much more popular choices for most enthusiasts. ASRock was nice enough to send over a Z270 Killer SLI right around Z270 chipset launch. Since launch, ASRock also launched the Z270 Killer SLI/AC, which is the Z270 Killer SLI with a wireless AC card.
The Z270 Killer SLI is a mainstream motherboard on the lower-end side of the spectrum, offering high value at a very reasonable price. The motherboard is loaded with many of the latest features users want, such as M.2, but it also offers a color neutral aesthetic. At this price point, most vendors don't offer much in regards to heat sinks and shields, but ASRock made sure to maintain the aesthetic appeal of the motherboard, so it doesn't look low-cost. I will put the motherboard through the same paces as the high-end motherboards I review, so let's see how it does.
Specifications
The Z270 Killer SLI offers USB 3.0 type-A and type-C, Gbit LAN, two 32Gb/s M.2 slots, and even an RGB LED header.
Pricing
The Z270 Killer SLI/ac costs $139.99.
Packaging and Z270 Killer SLI Overview
Packaging and Overview
I am not so crazy about naming products something like Killer, but some gamers are into it, so it makes some sense. ASRock has gone all in with their "K"iller marketing on the box. The motherboard and accessories are protected in the box by anti-static bags.
The accessory package includes two SATA6Gb/s cables, IO shield, M.2 screw, SLI_HB bridge, driver DVD, case badge, manuals, and even a post card.
The Z270 Killer SLI has four fan headers; all the headers can operate in either DC or PWM mode. The header circled in red is the CPU fan header, and it can supply 1A of current. The other three headers circled in blue are chassis fan/pump headers; they can supply 1.5A of current. I am not sure why the CPU header supports less. Overall, the motherboard's PCH heat sink and "K" silkscreen on the PCB match together, to create a seamless look. Most of the "K" will be covered up by a full sized GPU. I like the white IO and audio shield, it is a nice touch. The back of the motherboard is bare of almost every component, that's a good thing.
The rear IO panel features PS/2 Keyboard/Mouse, five USB 3.0 ports, USB 3.0 type-C, DVI, HDMI, and 7.1 audio outputs with S/PDIF.
Two reinforced PCI-E slots are hooked up to the CPU and operate at x16/x0 or x8/x8. There are also four flexible (open ended) PCI-E 3.0 x1 slots. The motherboard also offers six SATA6Gb/s ports. Two ports are shared with the M.2 slots if you use an SATA M.2 drive.
The motherboard offers two Ultra M.2 ports. They each offer 32Gb/s of throughput. SATA ports 0 and 5 will be disabled if you use an SATA-type M.2 drive.
A single USB 3.0 internal header is located below the 24-pin power connector. At the bottom edge of the motherboard are the front panel headers, two fan headers, and two USB 2.0 internal headers.
An RGB LED header is located at the bottom row of headers on the motherboard to the right of the clear CMOS header. The VRM heat sinks use plastic push-pins while the PCH heat sink uses screws. The IO and audio shield are screwed to the motherboard.
ASRock Z270 Killer SLI Circuit Analysis
Circuit Analysis
The Z270 Killer SLI reveals its hardware!
The VRM on this motherboard is a 6+2 phase VRM. The PWM used is an ISL95824 Green hybrid digital multiphase PWM with some integrated drivers. To get 6 phases from the 4 on the main PWM's rail, ASRock doubles the number of MOSFETs and inductors hooked up to each of the three drivers. On the main VCore rail, the PWM offers two integrated drivers, so ASRock added an extra ISL6625A. The iGPU two-PWM channel offers one integrated driver, so ASRock adds another ISL6625A. ASRock uses a mixture of Nikos Semiconductor PK618BA and PZ0903BK N-channel PowerPAK MOSFETs. ASRock states their inductors are rated 40A, and their capacitors are premium 12K FP caps from Japan. The two phases on the far left are for the VCCSA and VCCIO.
The memory VRM uses an Anpec APW8720 single phase PWM with integrated driver and uses the same NIKOS MOSFETs as were used on the CPU VRM. MOSFETs and inductors are doubled, so you get two memory phases.
ASRock Z270 Killer SLI Circuit Analysis Continued
Z270 Killer SLI Circuit Analysis Continued
ASRock is using the Realtek ALC892 audio codec along with some Nichicon Gold series electrolytic capacitors. The audio section is physically divided from the rest of the motherboard.
Intel's i219v is a PHY that compliments the integrated MAC in the PCH to produce the Gbit NIC. An ASMedia ASM1543 type-C controller is used to provide the USB 3.0 type-C port on the rear IO.
A nuvoTon NCT6791D is used as the SuperIO. It offers fan control, temperature and voltage monitoring, and the PS/2 on the rear IO. A single 128Mbit/16MB BIOS ROM is used to hold the UEFI.
A nuvoTon N76E885A is used as the RGB LED controller. A Texas Instruments eFuse is used to protect the motherboard from reverse polarity that might arise if you plug in the RGB LED strip in reverse. A Texas Instruments GD75232 drivers and receivers chip provides the COM port.
Multiple NXP quick switches switch around PCI-E 3.0 between slots and other devices. Each switch can move x2 PCI-E 3.0.
BIOS and Software
BIOS
ASRock's UEFI for the Z270 Killer SLI is very similar to that of their Fatal1ty series of motherboards. It offers all the overclocking settings you might need to tune your system to its maximum. It also offers extensive RGB LED control, and that's impressive because a lot of other motherboards don't offer UEFI based RGB control. Fan control is also very good; the motherboard offers a GUI and manual input options. There is also an Easy Mode for users who might be intimidated by all the settings in the Advanced mode.
Software
ASRock's software suite includes APP Shop, AURA RGB LED, App Charger, A-Tuning, and Restart to UEFI.
Test System Setup
Steven's Motherboard Test System Specifications
The RGB LEDs built into the motherboard are very subtle and can easily be turned off to tuned to the color of your choosing. As you see, the GPU covers up a lot of the PCB's silkscreen. The motherboard is easy to match and would look great in a white themed build.
Overclocking
Overclocking Results
CPU Overclocking
CPU overclocking was simple and straightforward, but I was not able to reach the normal 5GHz I usually can, and I had to push more VCore than usual to hit 4.9GHz stable. The VRM on the motherboard isn't the best, but it should be good enough to hit 4.9GHz or more depending on your CPU's requirements.
Compatible Memory Overclocking Kits
In this section, I overclock four memory kits only using XMP, if the kit works then the results are below. I welcome memory vendors to send in their kits to be tested on each motherboard.
Corsair Dominator Platinum 3200MHz C16 8GBx2
G.Skill TridentZ 3866MHz C18 8GBx2
GEIL EVO X RGB 3200MHz C16 8GBx2
GEIL EVO FORZA 3200MHz C16 8GBx2
The Z270 Killer SLI overclocked all of our kits with ease by just enabling XMP, which is a bit surprising for a motherboard of this caliber.
CPU, Memory, and System Benchmarks
CINEBENCH 11.5
wPrime
AIDA64 AES and HASH
AIDA64 FPU
AIDA64 Memory
ScienceMark
HandBrake
3DMark: Fire Strike
3DMark: Cloud Gate
ResidentEvil 6
The Z270 Killer SLI's stock performance isn't as good as some other motherboards; its multi-core enhancement doesn't seem to be as aggressive as that of some of the other motherboards. However, when I standardize the settings to 4.8Ghz with XMP, the motherboard's performance can match most other motherboards in the charts.
Some motherboard reviews put a lot of weight into motherboard CPU, memory, and GPU benchmarks, but for me, CPU, memory, and GPU benchmarks on motherboards should be more about finding anomalies, and I do that at standard settings (4.8G in graphs).
System IO Benchmarks
CrystalDiskMark SATA6G:
CrystalDiskMark M.2:
ixChariot Network Throughput:
The Z270 Killer SLI's M.2 and SATA performance are solid and have no issues. Network performance is also solid and where it should be.
Audio RMAA 5.5:
I disable all audio features, set the correct bitrates, and then test the audio with a loopback test.
Sound Judgment by Ear: Acceptable. ASRock's ALC892 isn't the best audio codec, but it's good enough. There are five ratings for audio: 1. Problems, 2. Okay, 3. Acceptable, 4. Very good, 5. Excellent
Thermal Imaging and Power Consumption
System power is measured at the wall with an AC power meter.
Note on Thermal Images: In the temperature section, we use our Seek thermal imaging camera to capture the surface temperatures of major components on the board. I look at the VRM and then all other things that light up the screen. If there is something to worry about, then I will state it. Otherwise, I will just show the hotter running parts of the board for fun. Unless some component is over 80-90C, then there isn't anything to worry about.
All systems will act differently, so I will look for commonalities, such as how far from the VRM the heat spreads through the PCB and the difference in temperature between the front side and backside of the PCB. Keep in mind, the majority of the heat from the VRM goes into the PCB as it is a giant soldered on copper heat sink. A larger difference in temperature between the back and front of the PCB points towards a more effective heat sink.
Thermal Testing at Stock Speeds:
The image on the left is always at idle, and the image on the right is at load. During ALL TESTS, fans above the VRM that cool the CPU cooler's (Corsair H110i GT) radiator are turned on to high (12v).
Full frontal.
Up-close of the front of the VRM.
Up-close of the back of the VRM.
Thermal Testing at 4.5GHz Overclocked Speeds:
The image on the left is always at idle, and the image on the right is at load. During ALL TESTS, fans above the VRM that cool the CPU cooler's (Corsair H110i GT) radiator are turned on to high (12v).
Full frontal.
Up-close of the front of the VRM.
Up-close of the back of the VRM.
The Z270 Killer SLI's thermal performance is acceptable; its VRM is what you might expect from a motherboard of this price. You should be able to hit 4.8Ghz stable, but I would recommend airflow over the VRM.
Anything under 60C is great, 60-80C is acceptable, and anything above 80C is a bit worrisome (if at stock).
What's Hot, What's Not & Final Thoughts
Here are key points about the ASRock Z270 Killer SLI.
What's Hot
Intel NIC: At 139.99 the version of this motherboard with Wireless AC is very affordable, but this is the price range where we stop seeing features such as the Intel NIC. However, ASRock made sure to add in the Intel NIC on the motherboard, somthing I am sure will please many owners of this motherboard.
Dual M.2: The motherboard has two M.2 slots, both of which provide 32Gbps of throughput. You can also RAID the slots.
Killer Price: At $139.99 for the version with Wireless-AC the Z270 Killer SLI is one of the most affordable Z270 motherboards with a decent feature set. It also seems that the motherboard is one of the most popular, with a solid five-star rating on Newegg with hundreds of reviews.
Aesthetics: The IO shield, VRM heat sinks, and RGB LEDs provide a very color neutral aesthetic. The motherboard also features an RGB LED header. It is very easy to match the motherboard to your build because it's easy to match white and black.
What's Not
Low on USB: The motherboard has no USB 3.1 and only five USB 3.0 type-A ports on the back panel.
Final Thoughts
The ASRock Z270 Killer SLI is an excellent value at only $139.99. It has the aesthetic appeal of much pricier motherboards and the features of a more expensive motherboard. It does, however, have its shortcoming because of the price. If you want a stronger VRM, better audio, or USB 3.1, you will have to dish out a bit more cash as you can't have it all at this price point. It does have all of the Z270 platform's premium features, and those are more than enough for most users.
The motherboard's popularity is also quite interesting; I did not expect to see it rated 5-stars on Newegg with 185 reviews, that is impressive. I can see why people have rated the motherboard so high; it offers a ton of value at a very attractive price point. It can overclock, it looks good, and it has the few premium features people are willing to pay for and use.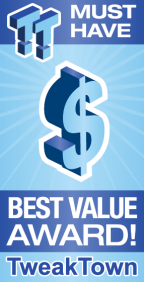 | | |
| --- | --- |
| Performance | 85% |
| Quality | 85% |
| Features | 90% |
| Value | 97% |
The Bottom Line: Loaded with a decent feature set and killer aesthetics, the ASRock Z270 Killer SLI is one of the best value buys on the market.
PRICING: You can find products similar to this one for sale below.

United States: Find other tech and computer products like this over at Amazon.com

United Kingdom: Find other tech and computer products like this over at Amazon.co.uk

Australia: Find other tech and computer products like this over at Amazon.com.au

Canada: Find other tech and computer products like this over at Amazon.ca

Deutschland: Finde andere Technik- und Computerprodukte wie dieses auf Amazon.de