ASUS Maximus XI Formula (Intel Z390) Motherboard Review
The ASUS Maximus XI Formula is everything you want in a motherboard and more, it could be your next purchase if you are in market for a new Z390.
Published
9 minute read time
TweakTown's Rating: 93%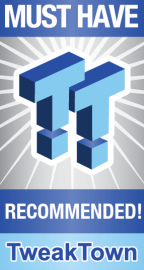 The Bottom Line
If you are looking for a premium Z390 motherboard you can watercool and also have do pretty much everything else, give the Z390 Maximus XI Formula a look.
Introduction, Specifications, and Pricing
Today we look at the Maximus XI Formula, one of ASUS's top of the line Z390 motherboard revamped with some beautiful finishing material, a new VRM, and the same good EKWB waterblock that cools down the VRMs to offer maximum performance.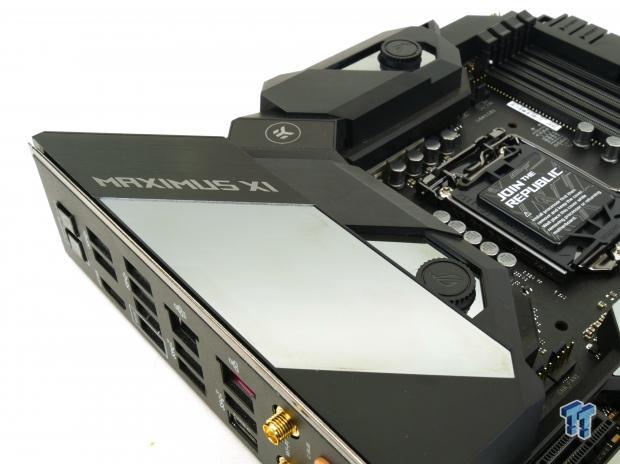 The Formula series has traditionally been very high-end, but on the more affordable side, but this round it's one of the most pricey Z390 motherboards. Let's see what this motherboard has to offer!
Specifications

The Maximus XI Formula features two M.2 slots, WIFI, Intel LAN 5G LAN, USB 3.1, and SATA6Gb/s.
Pricing
The Maximus XI Formula costs $424.00
Packaging and Maximus XI Formula Overview
Packaging and Overview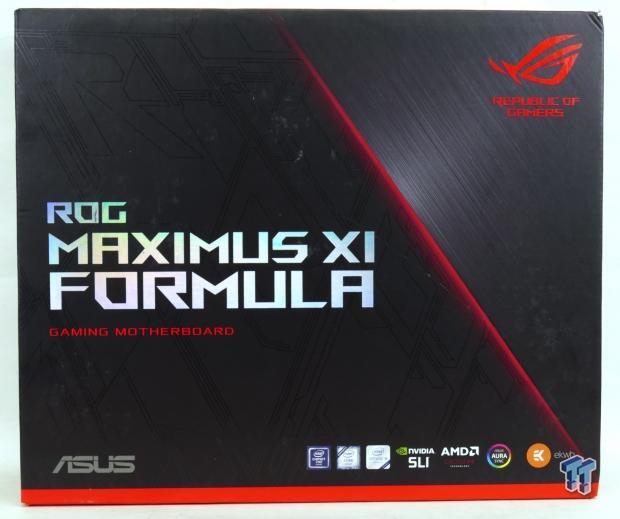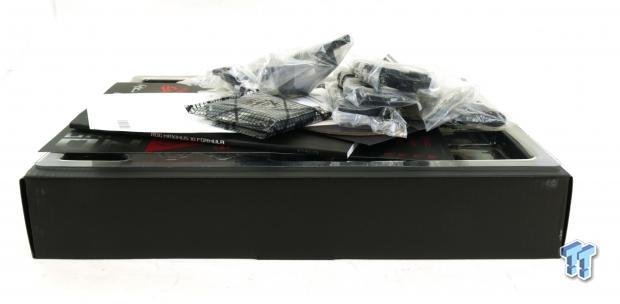 A strong design on the box and the packaging is top notch.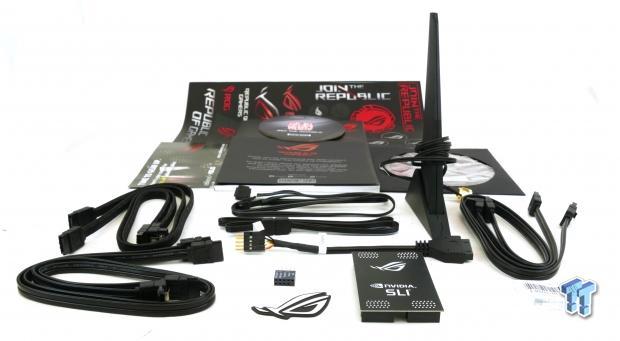 The accessory package includes four SATA6Gb/s cables; two weaved SATA6Gbps cables, WIFI antenna, SLI HB bridge, ROG stickers, ROG coaster, ROG thank you card, USB 3.0 to USB 2.0 adapter, Q-Connector, M.2 screws, ROG badge, Driver DVD, and manual.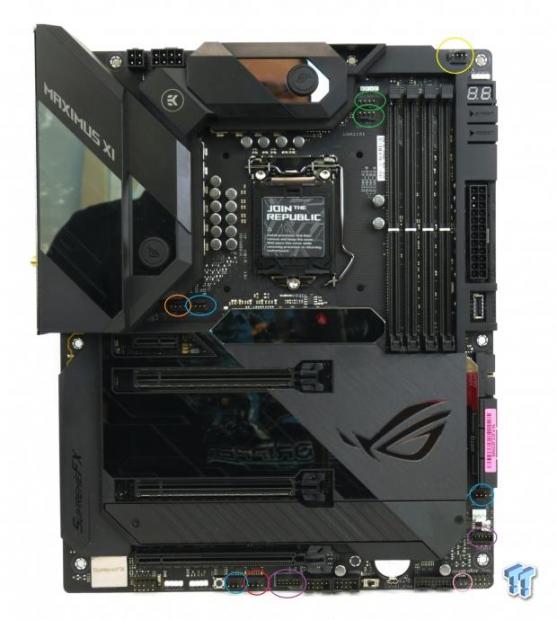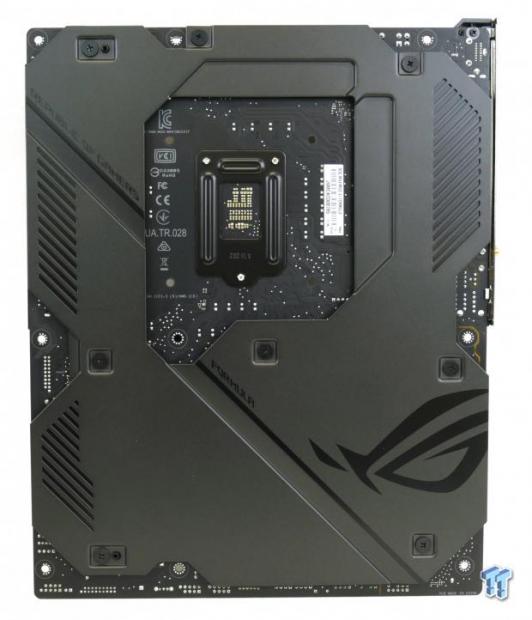 ASUS has a total of eight Fan headers on this motherboard, all of them are hybrid DC/PWM mode fans. The two headers circled in green have shared control and offer 1A output. The headers circled in blue are all 1A headers as is the header circled in orange, but the one in orange runs at full speed by default. The headers circled in yellow and red offer 3A, with the one in red operating at full speed by default.
The two headers circled in purple are for the fan extension card and the new ASUS Node. There is one external temperature sensor input header and it is circled in pink. Overall the board has a large OLED display centered, and the mirror finish is delicate but looks beautiful when the RGB LEDs are illuminated below it. The back of the motherboard has a large rear shield that will reinforce the motherboard and cool the back of the VRM.

The rear IO panel features WIFI antenna, three USB 3.1 type-A ports, USB 3.1 type-C port, six USB 3.0 ports, BIOS FlashBack button, Clear CMOS, HDMI, 5G LAN, two 1G LAN, and gold plated 7.1 audio outputs with S/PDIF.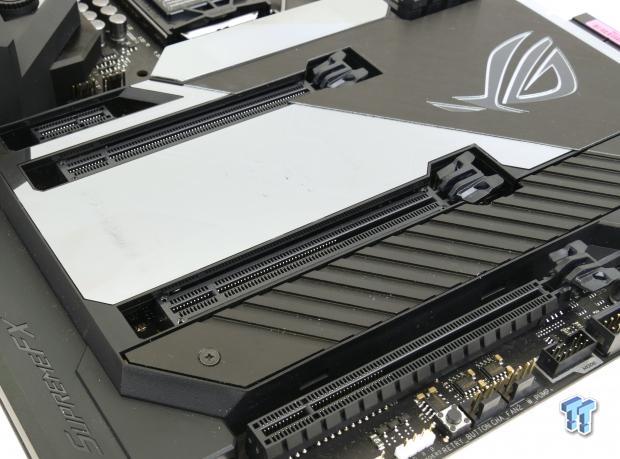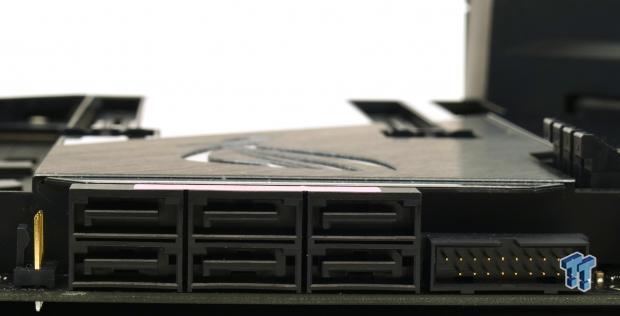 The PCI-E layout is as follows, x16/x0/x4, x8/x8, or x8/x4/x4. The bottom x16 slot is connected to the PCH and will operate at x2 by default as it shares two PCI-E lanes with two SATA6Gb/s port (5 and 6). We have six of our SATA ports angled at 90 degrees as well as one of our USB 3.0 internal headers.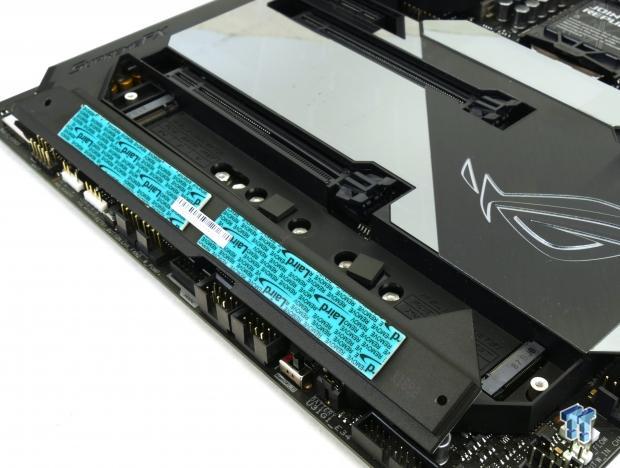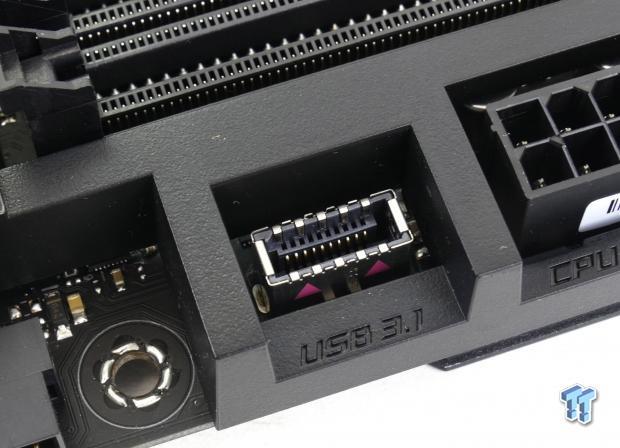 We find two M.2 slots under a heat sink, both of them support PCI-E x4 M.2 drives, but one also has SATA support and will disable port 2 when used. We also have a USB 3.1 (10Gb/s) type-C internal header on the motherboard.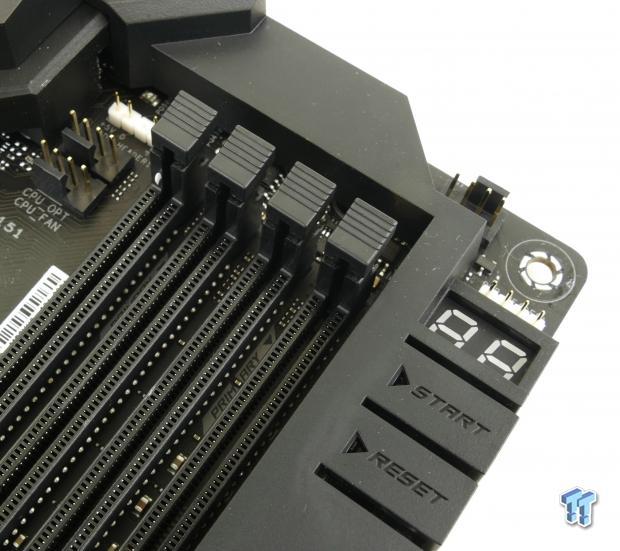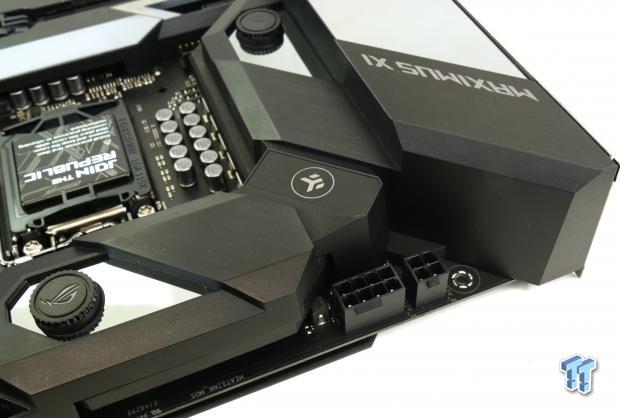 At the top of the motherboard, we find an addressable RGB LED header, a normal RGB LED header, our POST code display, power button, and restart button. The motherboard also features one 8-pin power plug and one 4-pin power plug.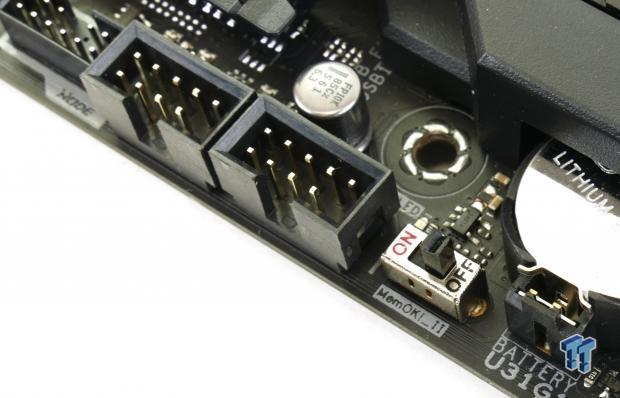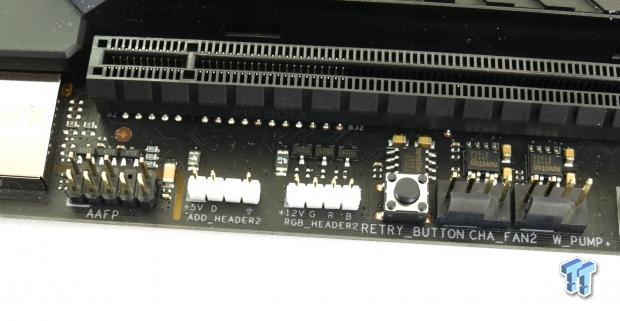 At the bottom of the motherboard, we find two USB 2.0 internal headers near a MemOK! Switch. We find a Retry button to reapply current BIOS setting to try and book okay at the bottom of the motherboard along with an addressable RGB LED header and an RGB LED header.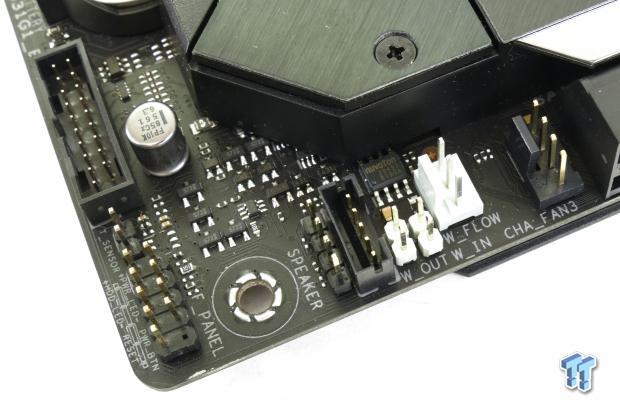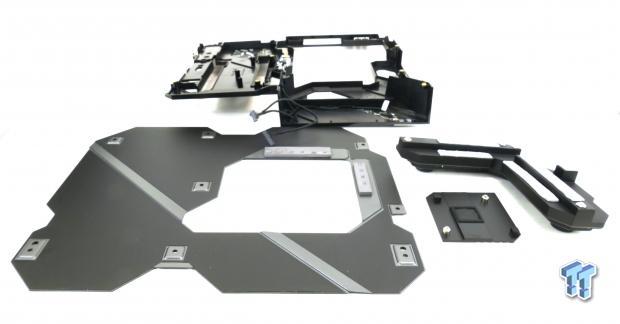 We also find another USB 3.0 internal header, front panel headers, water flow sensor header, and water temperature input and output headers. The heat sinks are all of the highest quality, with the water block on the VRM coming from EKWB. The copper block is also capable of cooling the VRM without water in it.
ASUS Maximus XI Formula Circuit Analysis
Circuit Analysis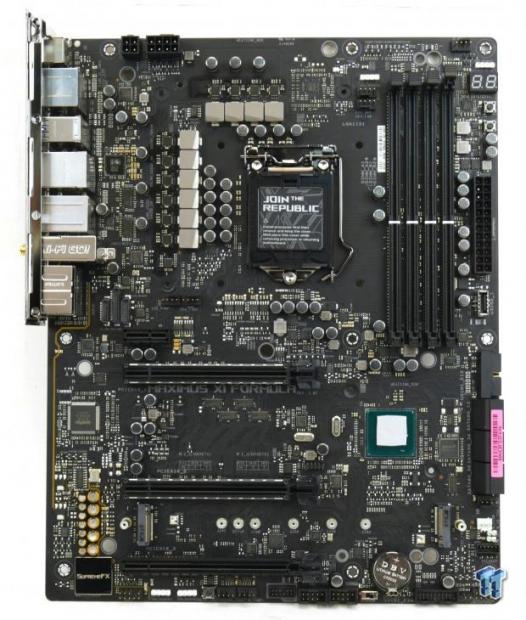 The Maximus XI Formula shows us the goods with the heat sinks removed!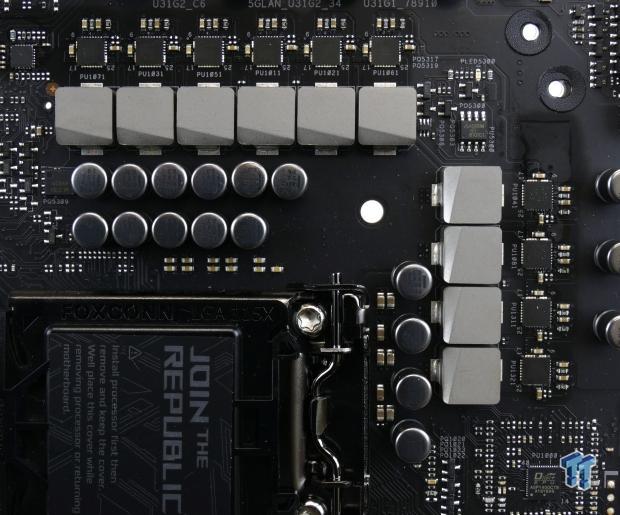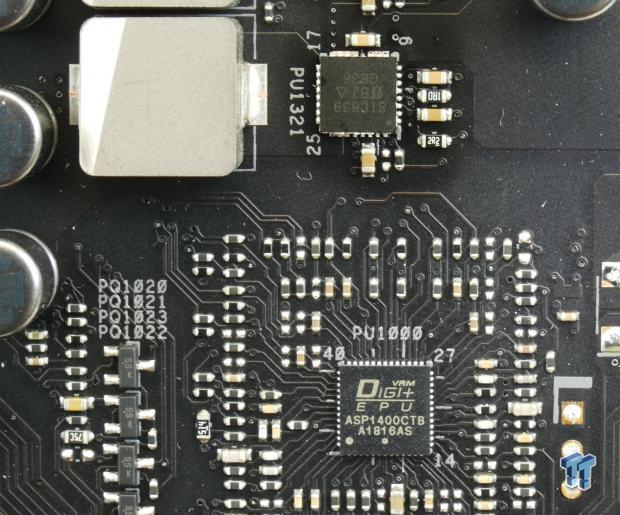 The VRM is in an 8+2 phase configuration here, the eight phases for the CPU each share a PWM channel, so it's four PWM channels being doubled to eight through double components. The DrMOS integrated power stages as the Vishay Siliconix 50A power stages, and we find the Micro-Fine alloy chokes to go with them.
ASUS is Using the ASP1400, which can also be found on the Maximus IX Formula and STRIX Z370-G Gaming. We think it's a Richtek PWM controller, as used on the Maximus IX Formula (Z270) as the pin-out is identical for most of the component layout (resistors and capacitors).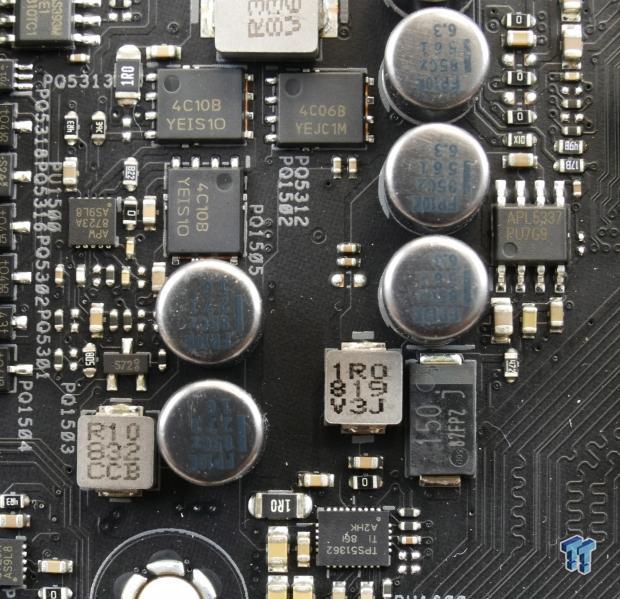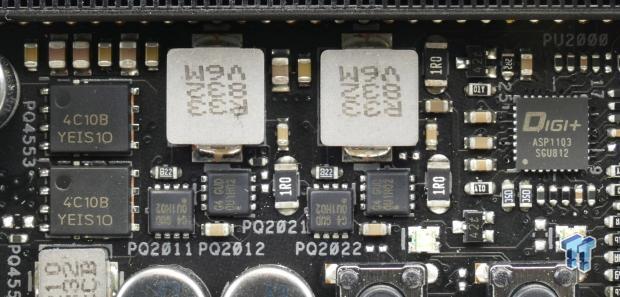 The VCCSA and VCCIO are controlled and provided by A single phase VRM and a POL. The memory VRM is similar to other high-end ASUS motherboards in a two phase configuration using a Digi+ ASP1103 as the PWM controller with integrated drivers.
ASUS Maximus XI Formula Circuit Analysis Continued
Maximus XI Formula Circuit Analysis Continued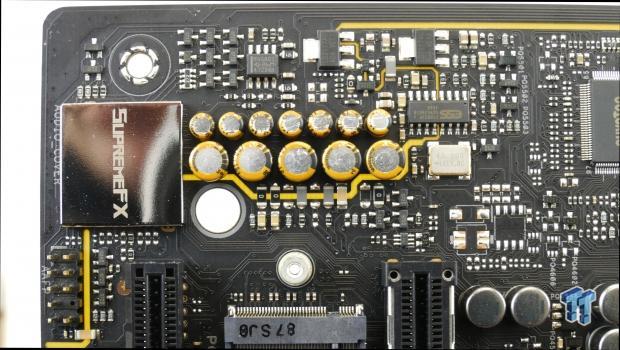 The audio solution consists of a Realtek ALC1220 an ESS9023P DAC, a Texas Instruments RC4580 amplifier, and Gold series Nichicon audio capacitors.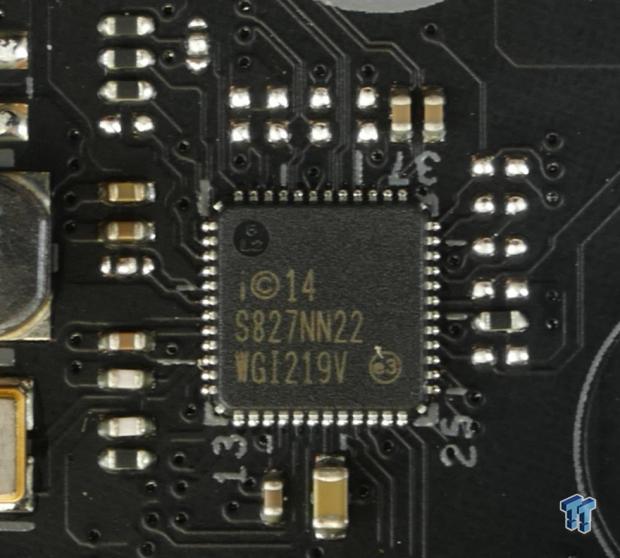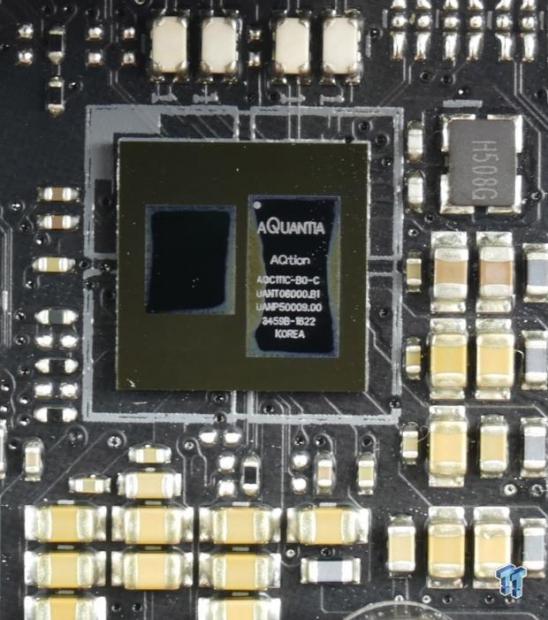 We find Intel's i219v used for Gbit LAN and Intel's Wireless AC 9560 used for the 1.733Gbps WIFI/BT5. The Aquantia AQC111C is used on this motherboard and takes a single PCI-E 3.0 lane, it's the first time this 5Gbit LAN controller has popped up for us.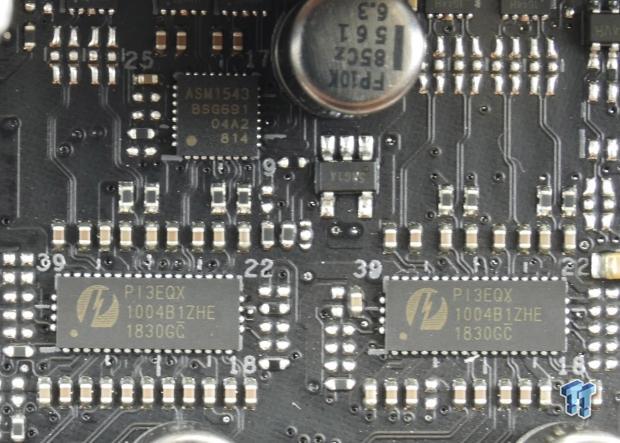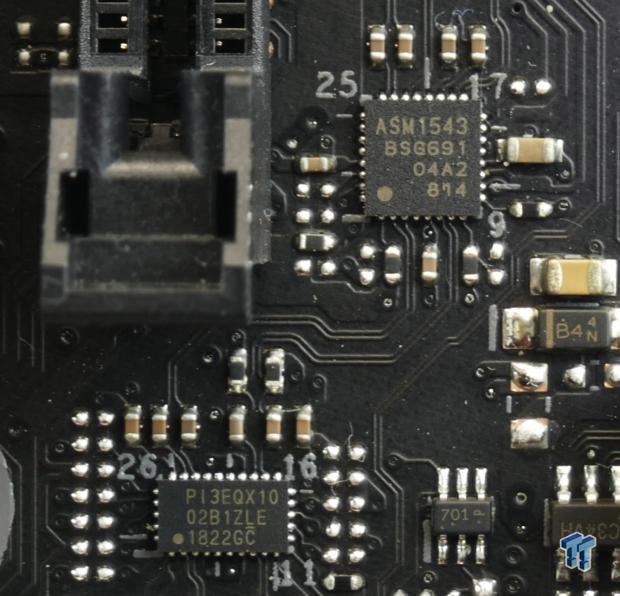 At the rear of the motherboard, we find two Pericom PI3EQX dual channel USB 3.1 re-drivers that output to the four ports on the rear IO. An ASMedia ASM1543 is used as the type-C switch chip. The internal type-C USB 3.1 header gets a single channel PI3EQX and another ASMedia ASM1543.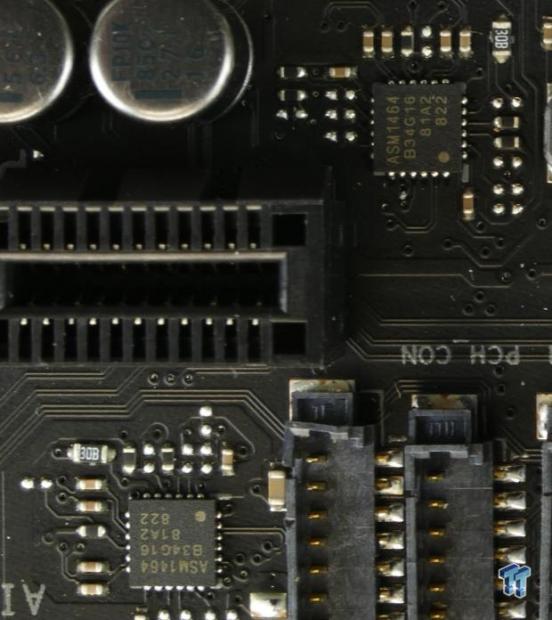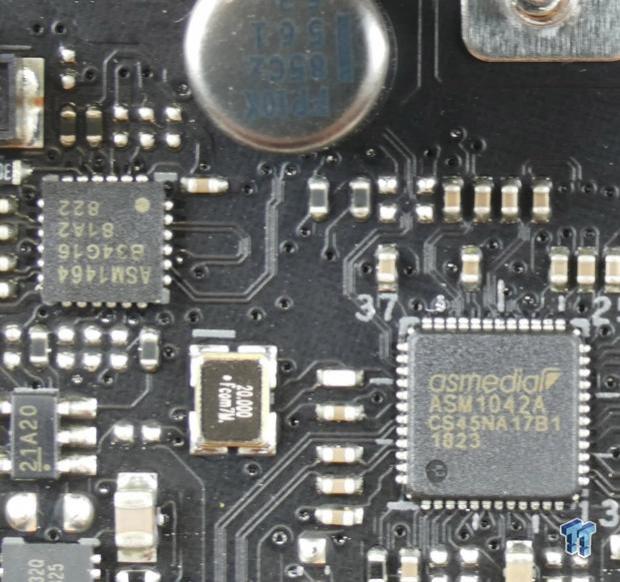 On the Rear IO panel, we find four ASMedia ASM1464 USB 3.0 re-drivers to help repeat the USB 3.0 signals from the PCH to the rear IO. The other two USB 3.0 ports come from an ASMedia ASm1042 USB 3.0 controller.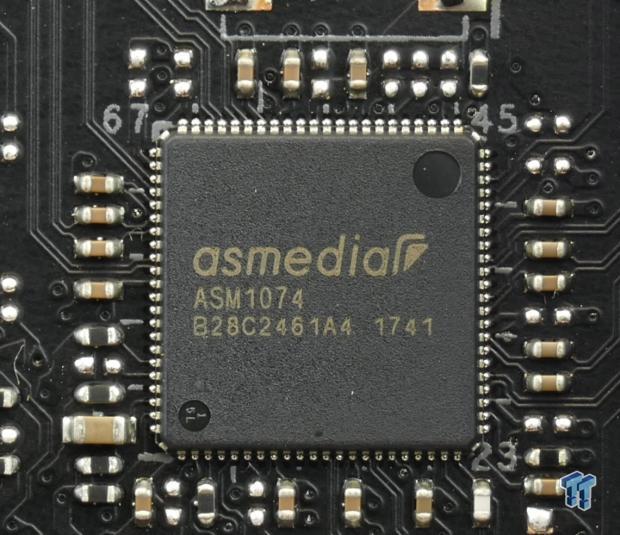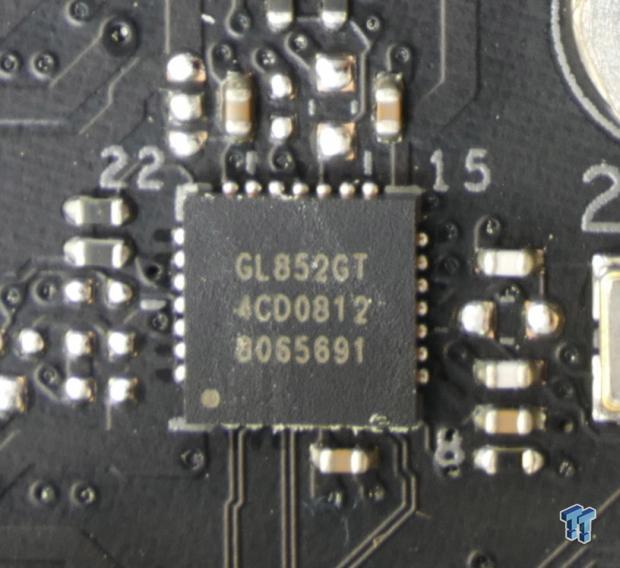 An ASMedia ASM1074 USB 3.0 hub is used for the two internal USB 3.0 headers. We also find a Genesys USB 2.0 hub for the internal headers labeled GL852.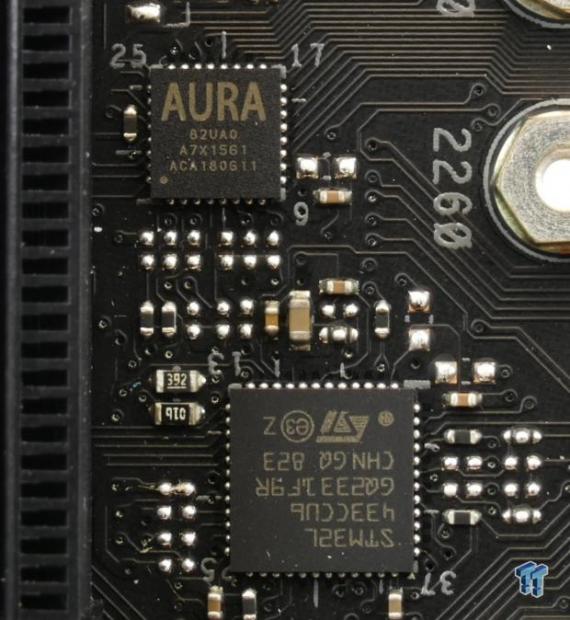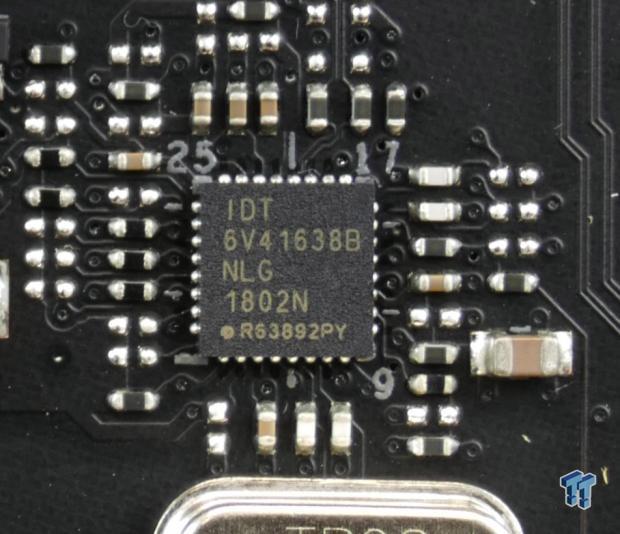 The Aura chip controls the RGB LED headers while the STM32 microcontroller seems to help with the OLED display. The motherboard also features an IDT6V41638B clock generator.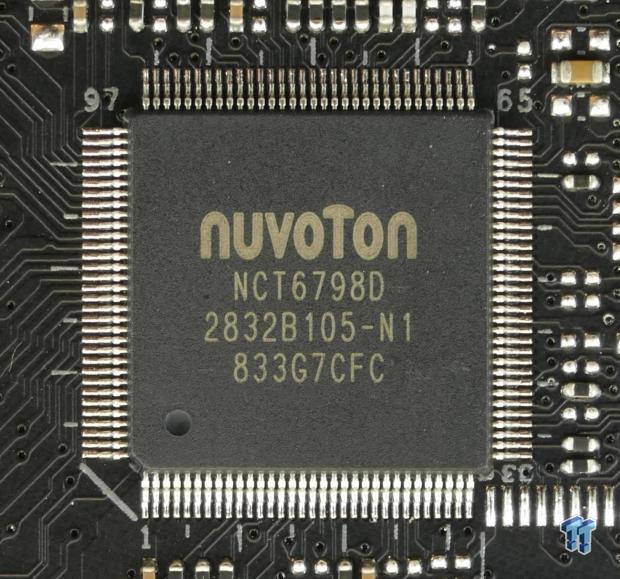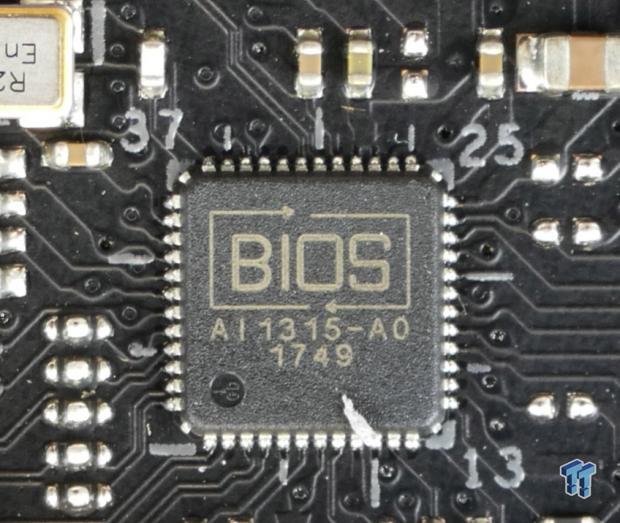 A Nuvoton NCT6798D is used as the SuperIO controller. The motherboard features BIOS FlashBack and the BIOS chip is responsible for that.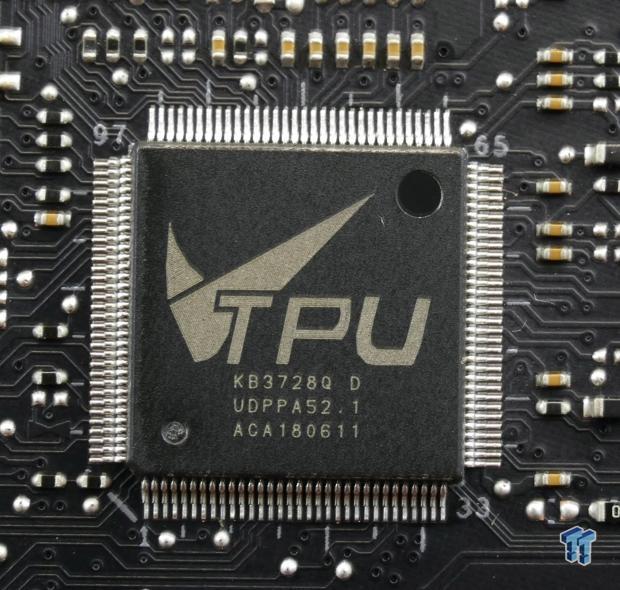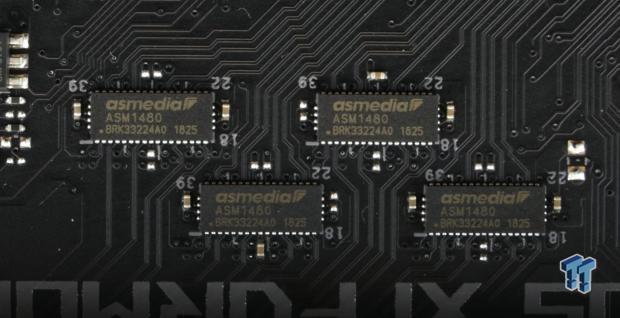 The TPU chip is used to improve fan control and other system attributes that are custom to the motherboard. The motherboard uses ASMedia ASM1480 for quick switches.
BIOS and Software
BIOS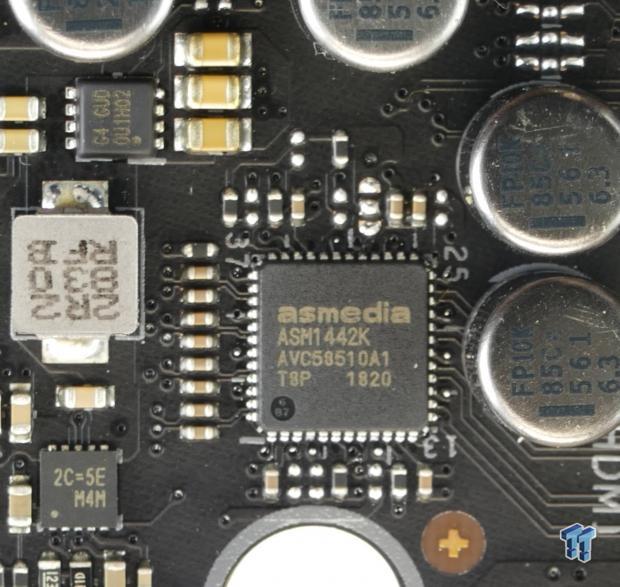 Here we have ASUS's UEFI, which most consider one of the best UEFIs in regards to layout, looks, and ease of use. It's easy to use and offers both an EZ Mode and an Advanced mode. There are overclocking profiles for those who have zero idea what they are doing as well. We found both Q-Fan GUI for controlling all fan headers, including the extension fans, and manual input for all fans (including extension fans). We also found memory overclocking presets, something ASUS is well known for on their high-end ROG motherboards.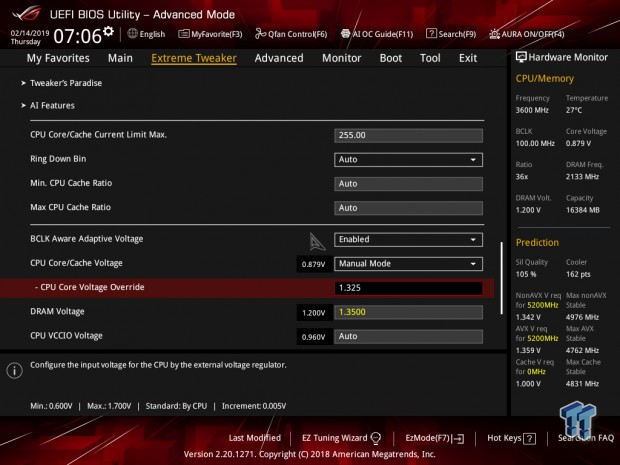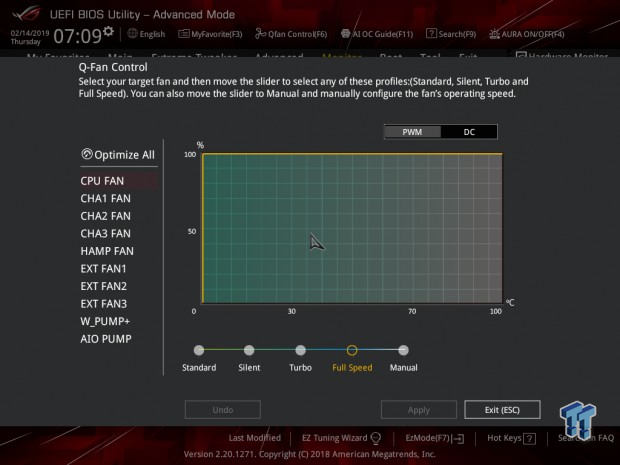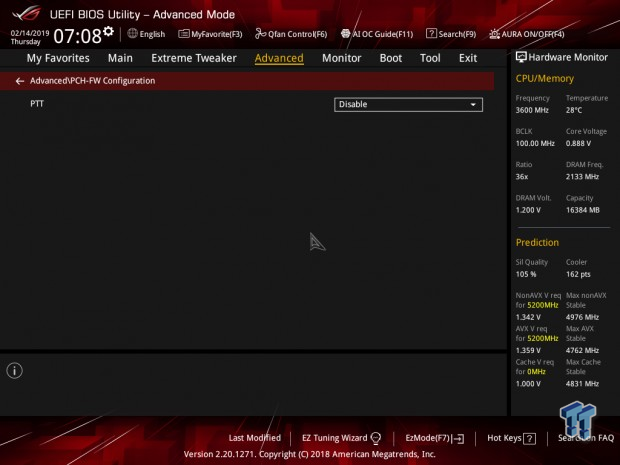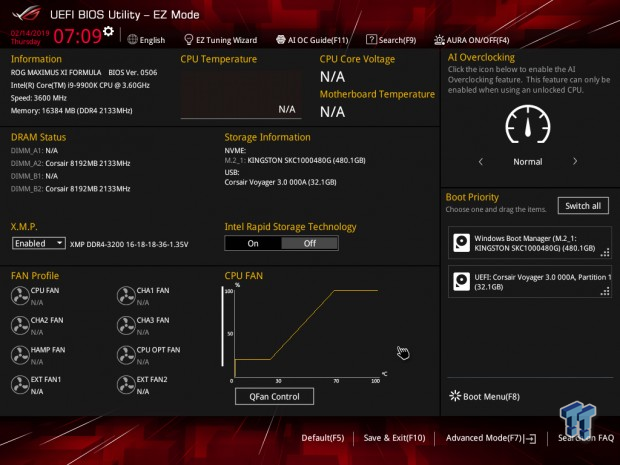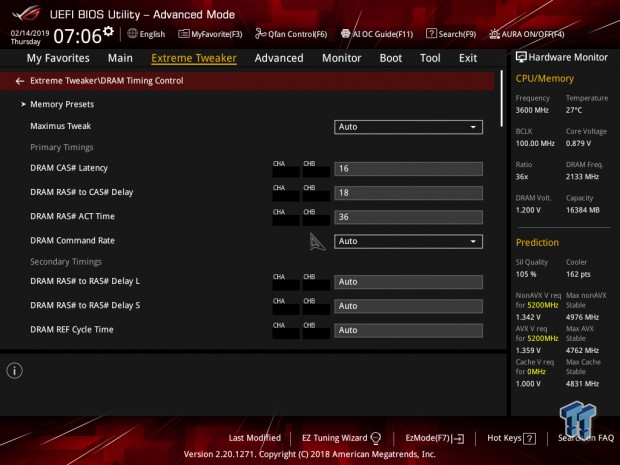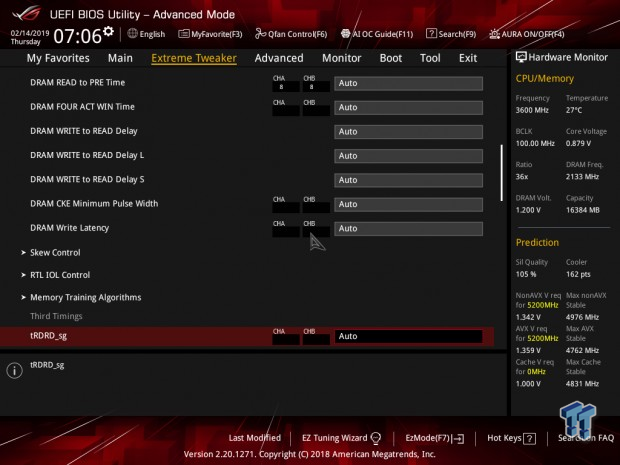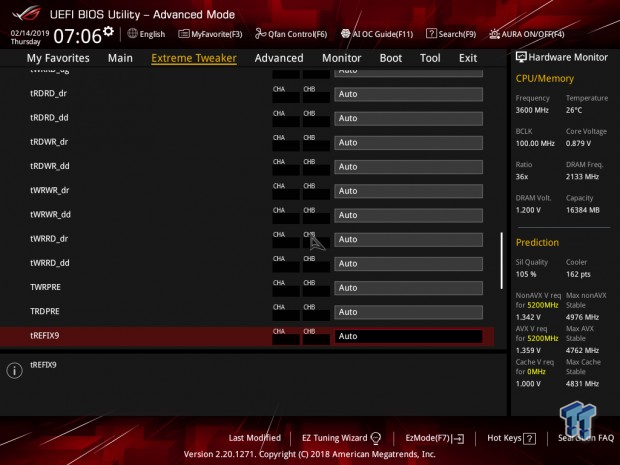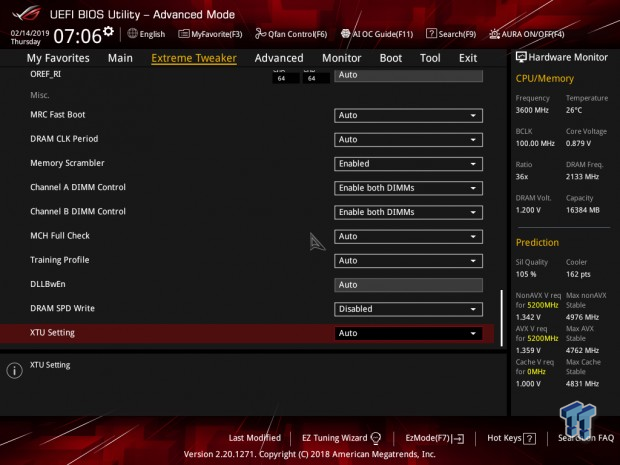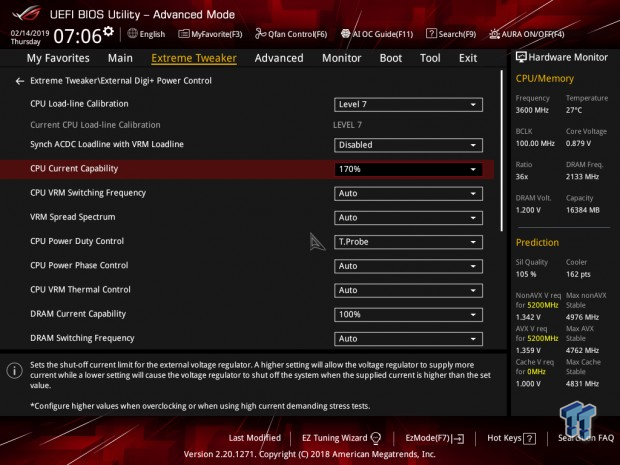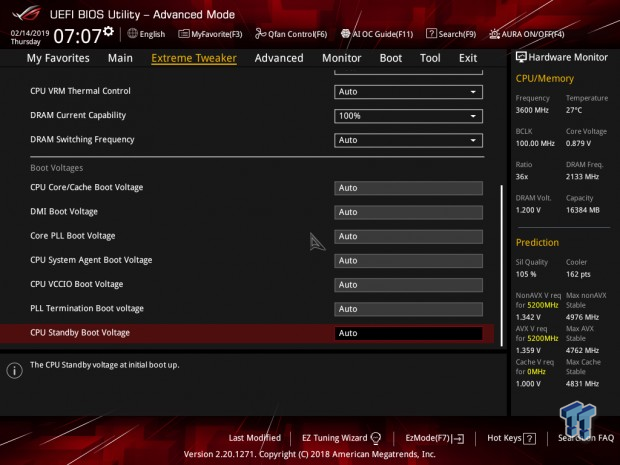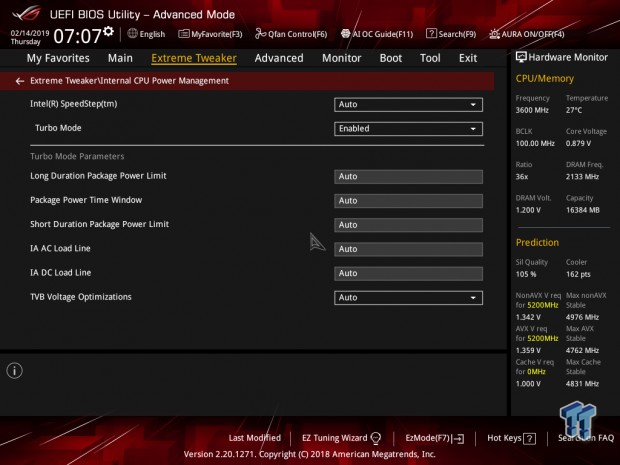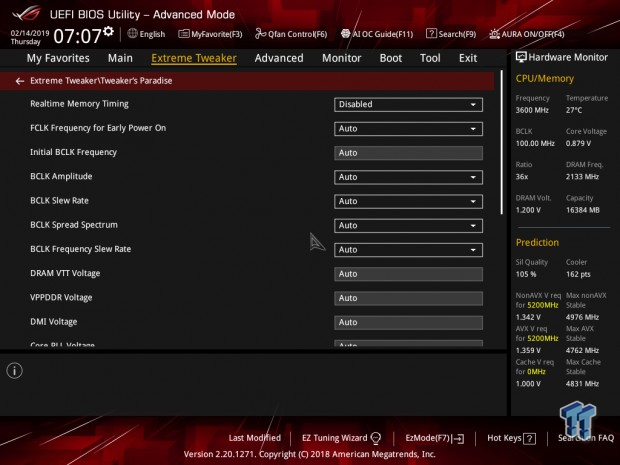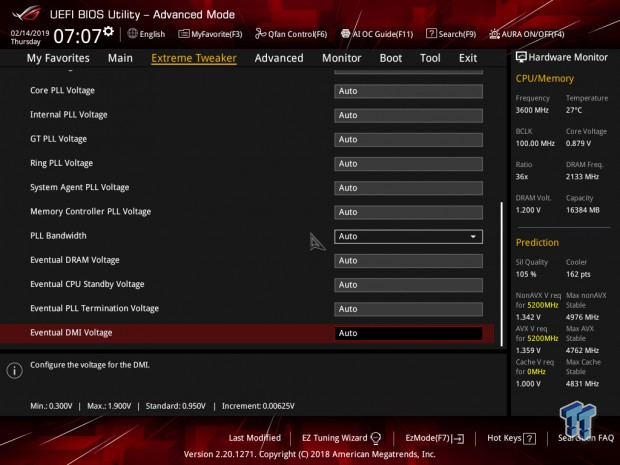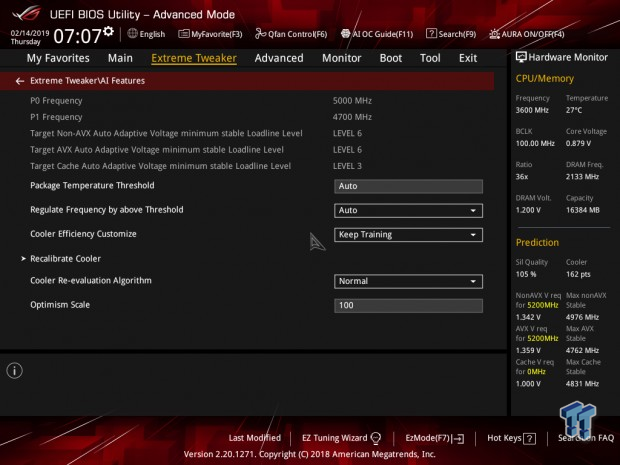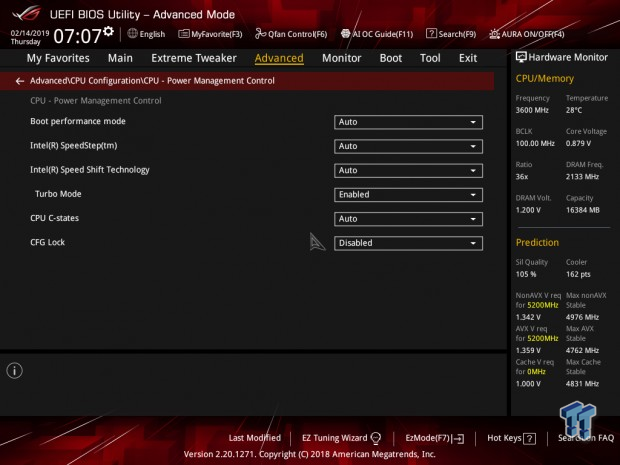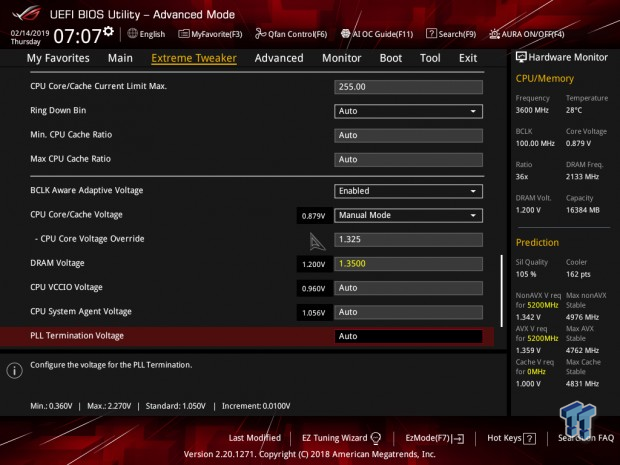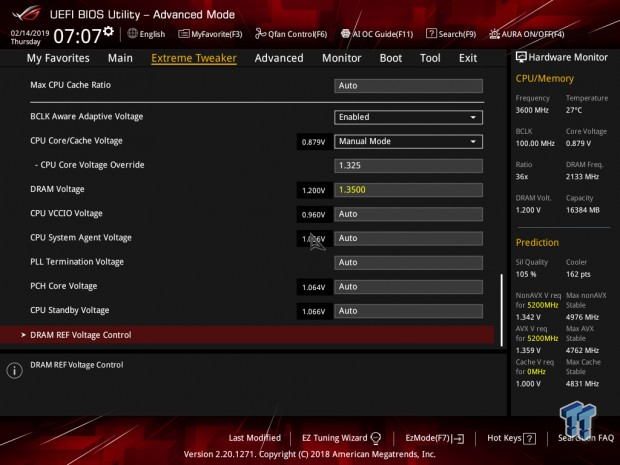 Software
Software includes Dual Intelligent Processors 5, AURA lighting, Ai Suite 3, Ai Charger, TPU, EPU, Mem Tweakit, RAM Cahce III, RAM Disk, Game First V, Sonic Studio III + Sonic Studio Link, and Sonic Radar.
Test System Setup
Steven's Motherboard Test System Specifications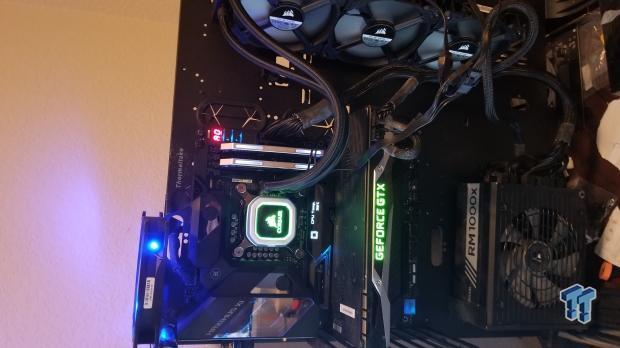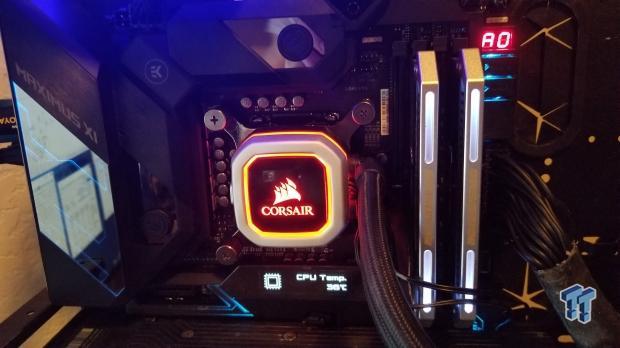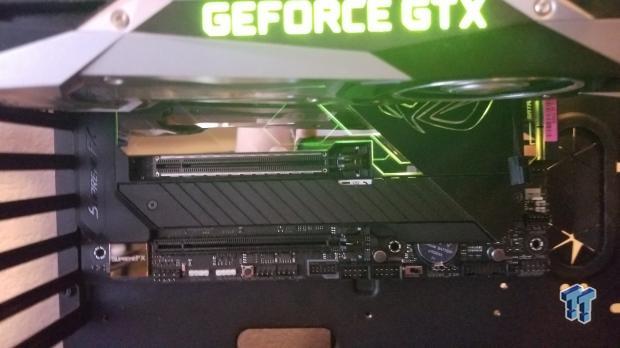 The Maximus XI Formula has the same special coating as the Ramapage VI Extreme, and it looks just as amazing as it does on that motherboard. The OLED is also really cool, and it's the largest we have seen on an ASUS motherboard thus far.
Overclocking
Overclocking Results
CPU Overclocking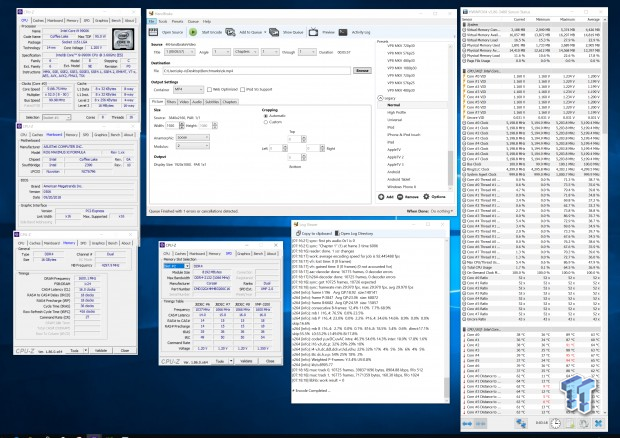 The Maximus XI Formula overclocked our CPU to 5.2GHz with ease. We used manual override mode for VCore at 1.325v set and LLC level 7, 140% increase current capability, we also increase CPU current to 255A in the CPU advanced configuration menu. We also set XMP at 3200MHz, and we have no issues, and the performance in Handbrake was exactly where it should have been.
CPU, Memory, and System Benchmarks
CINEBENCH 15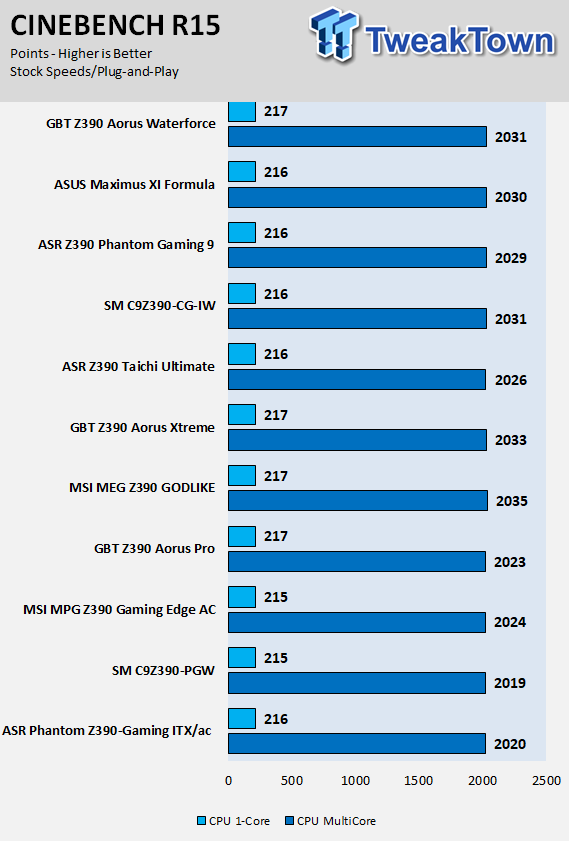 wPrime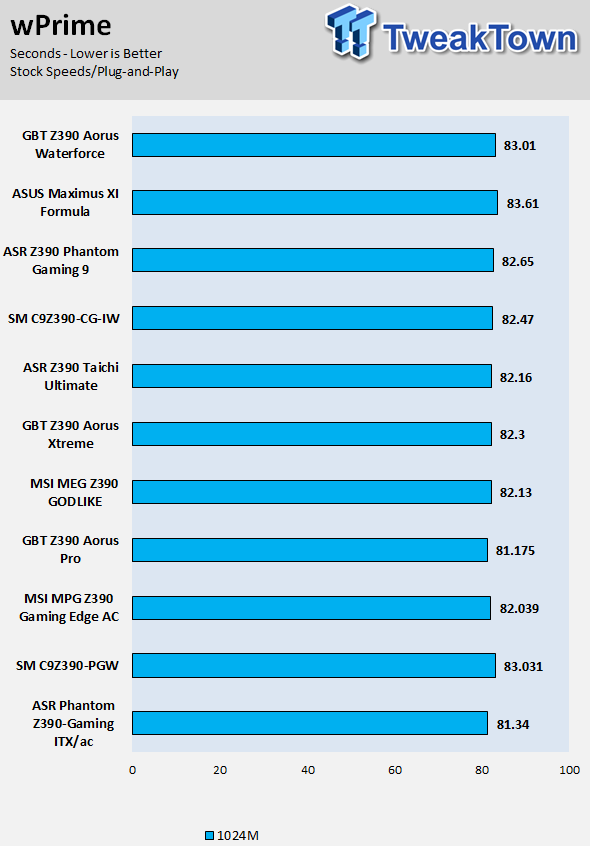 AIDA64 FLOPS and IOPS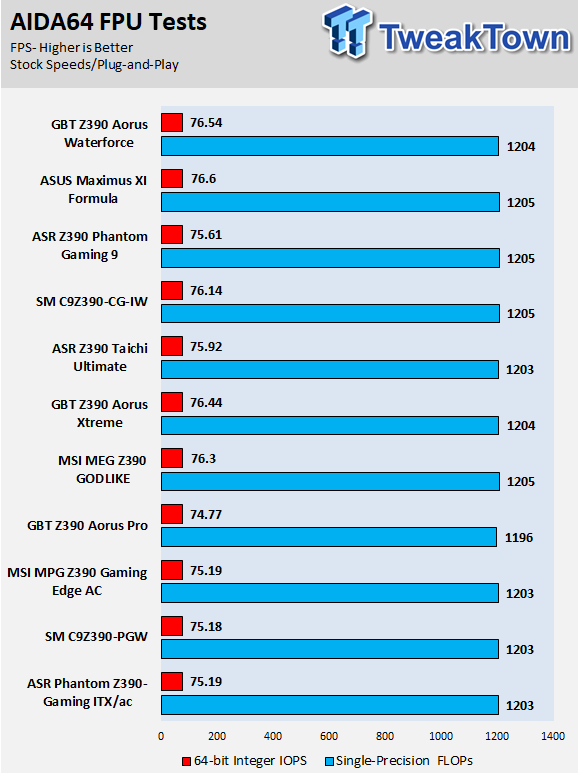 AIDA64 Memory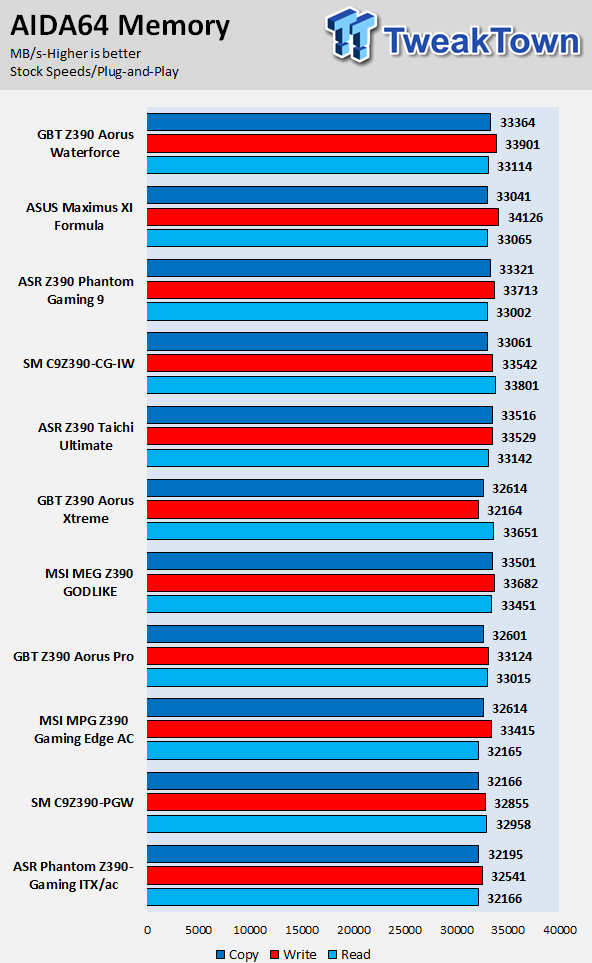 ScienceMark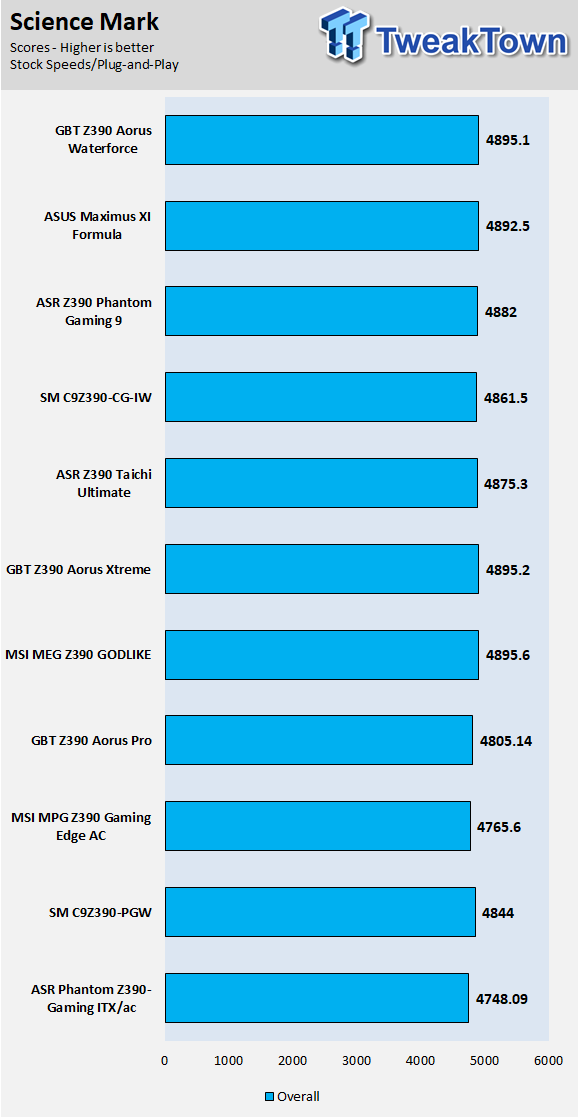 HandBrake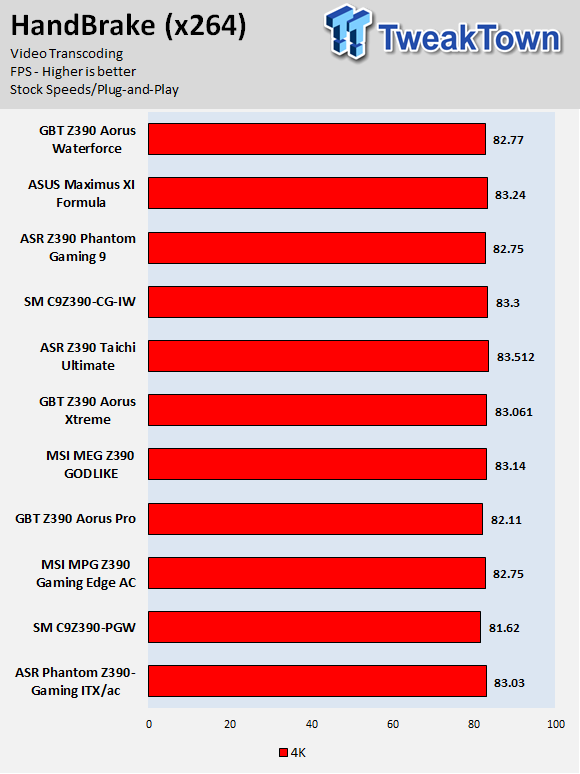 3DMark: Fire Strike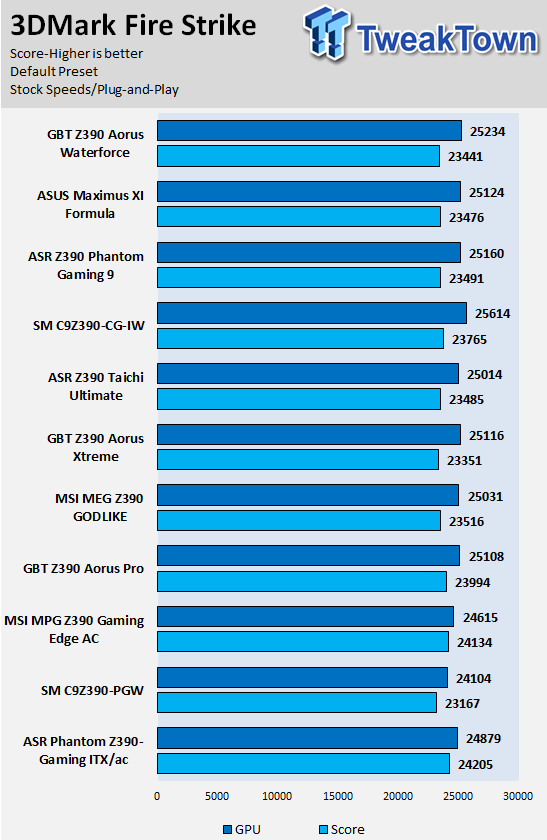 3DMark: Cloud Gate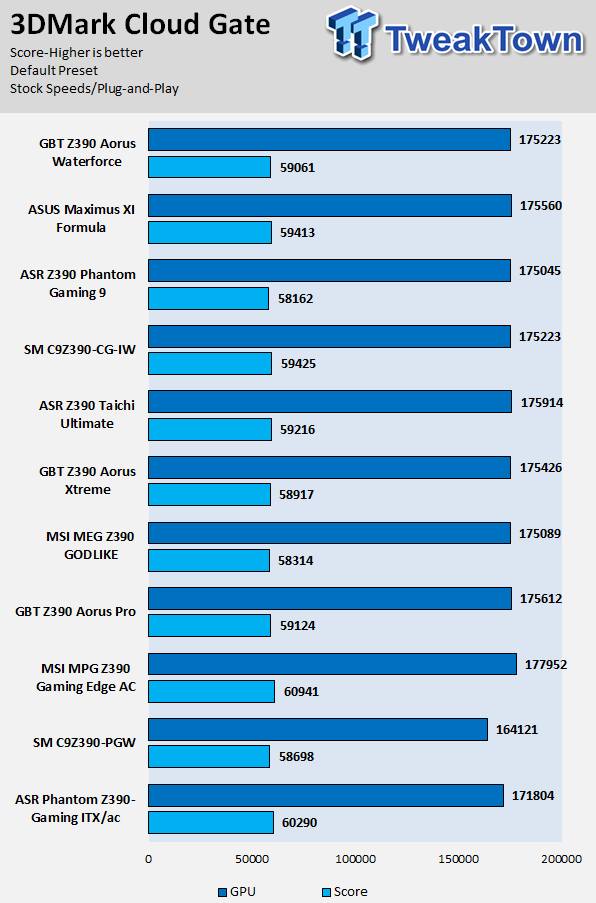 ResidentEvil 6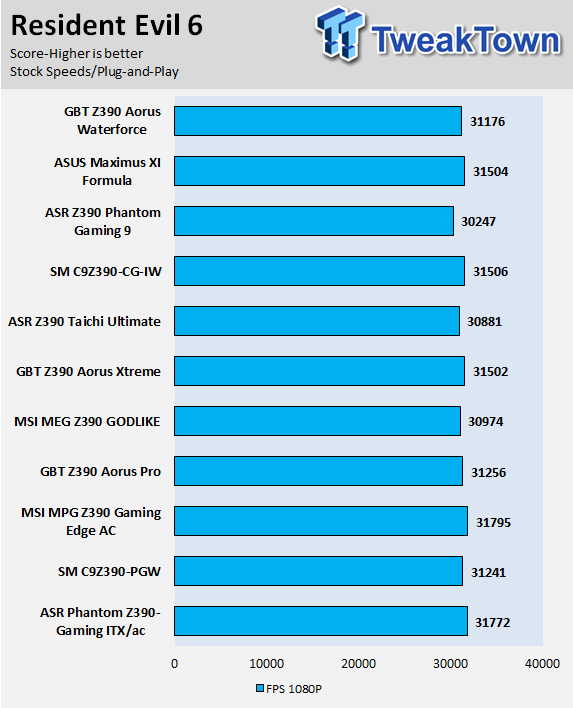 Overall, performance is solid; there are no performance issues with this motherboard.
System IO Benchmarks
CrystalDiskMark SATA6G: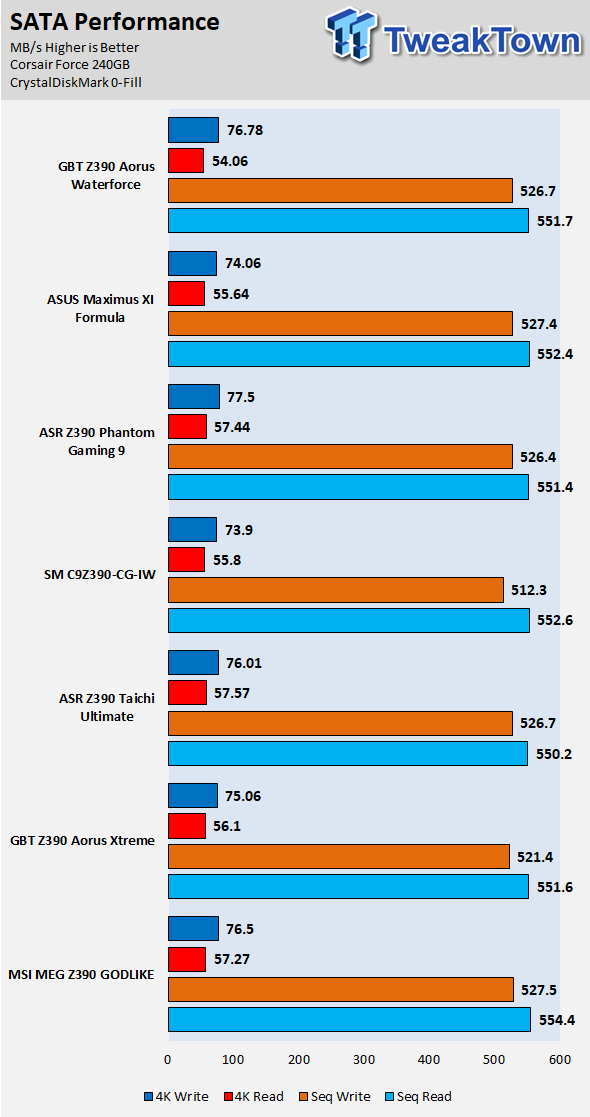 CrystalDiskMark M.2: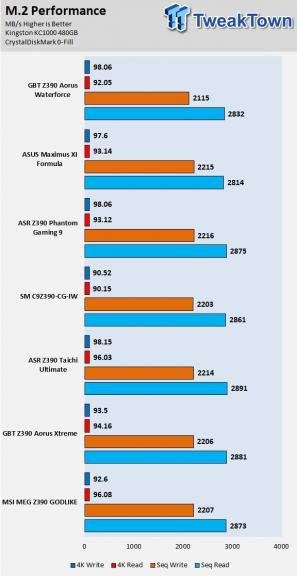 ixChariot Network Throughput: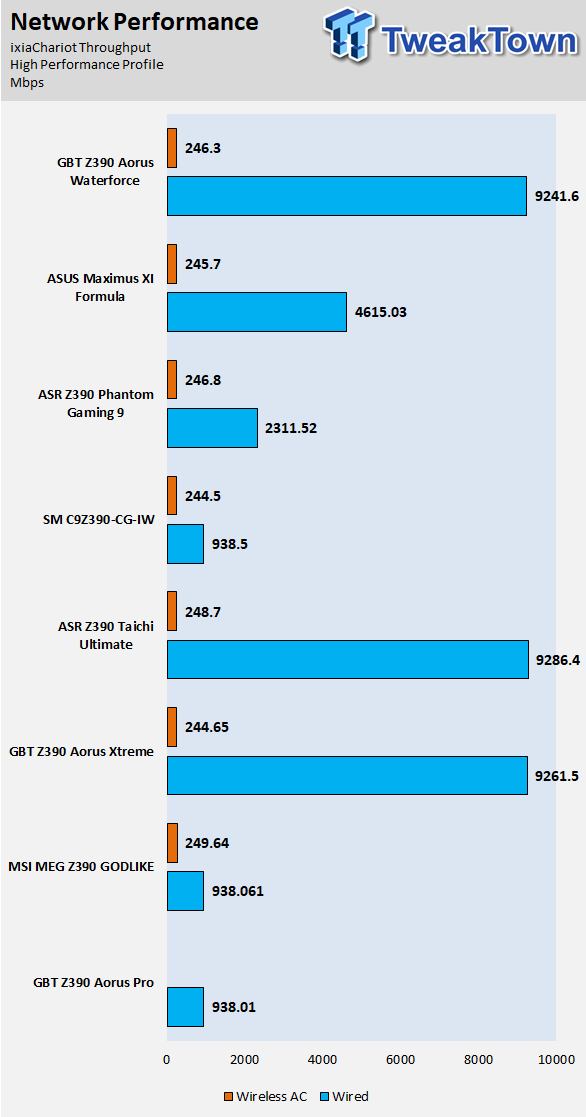 The storage and networking performance is excellent.
Audio RMAA 5.5:
Sound Judgment by Ear: Excellent, the audio was quite good on this motherboard due to the extra DAC. There are five ratings for audio: 1. Problems, 2. Okay, 3. Acceptable, 4. Very good, 5. Excellent
Thermal Imaging and Power Consumption
System power is measured at the wall with an AC power meter.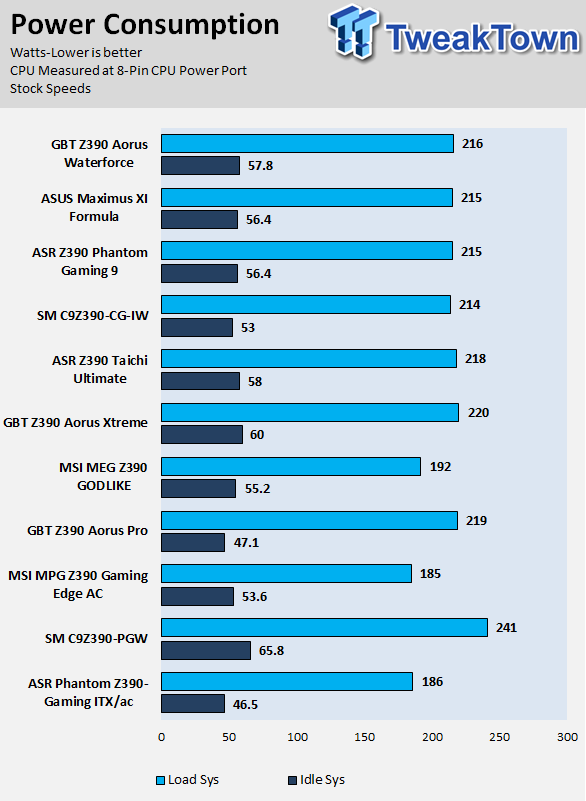 Note on Thermal Images: In the temperature section, we use our Seek thermal imaging camera to capture the surface temperatures of major components on the board. I look at the VRM and then all other things that light up the screen. If there is something to worry about, then I will state it. Otherwise, I will just show the hotter running parts of the board for fun. Unless some component is over 80-90C, then there isn't anything to worry about.
All systems will act differently, so I will look for commonalities, such as how far from the VRM the heat spreads through the PCB and the difference in temperature between the front side and back side of the PCB. Keep in mind, the majority of the heat from the VRM goes into the PCB as it is a giant soldered on copper heat sink. A larger difference in temperature between the back and front of the PCB points towards a more effective heat sink.
Thermal Testing at Stock Speeds:
The image on the left is always at idle, and the image on the right is at load. During ALL TESTS, fans to the right of the motherboard from the (Corsair H110i) radiator are left on automatic mode (ramps with internal block temperature). Additionally, a 120mm fan is situated right above the VRM, and it blows down at a medium rate (very quiet). Thermal Images are taken at loop 15 of Intel Burn Test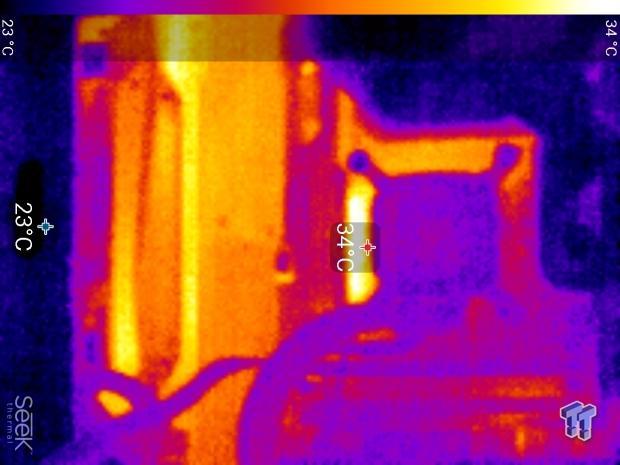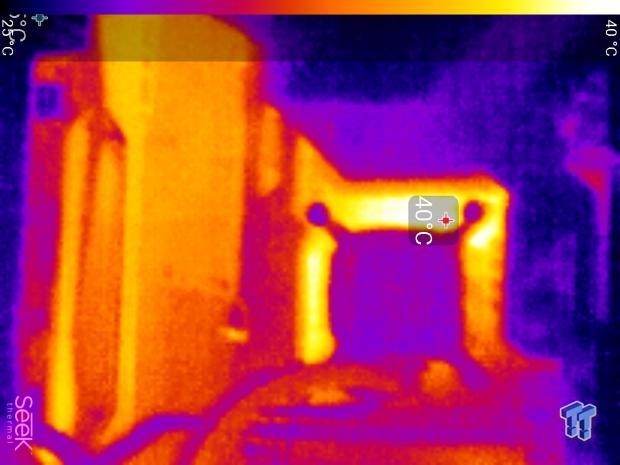 Full frontal.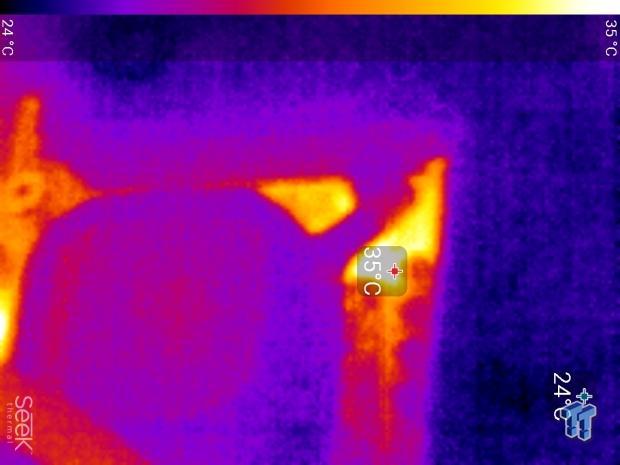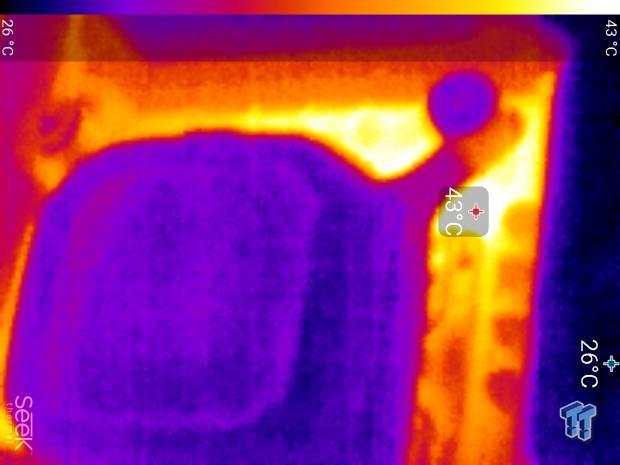 Up-close of the front of the VRM.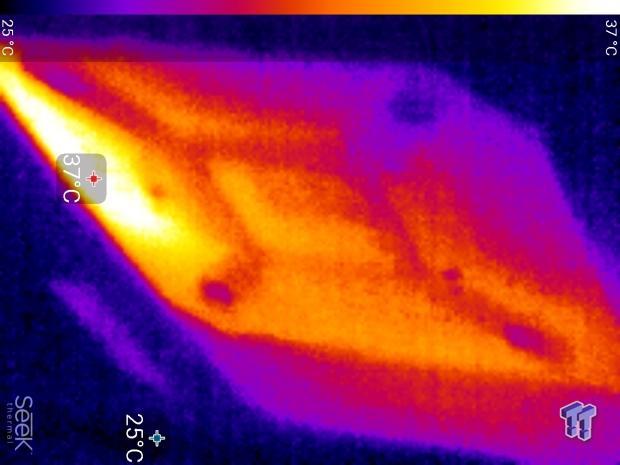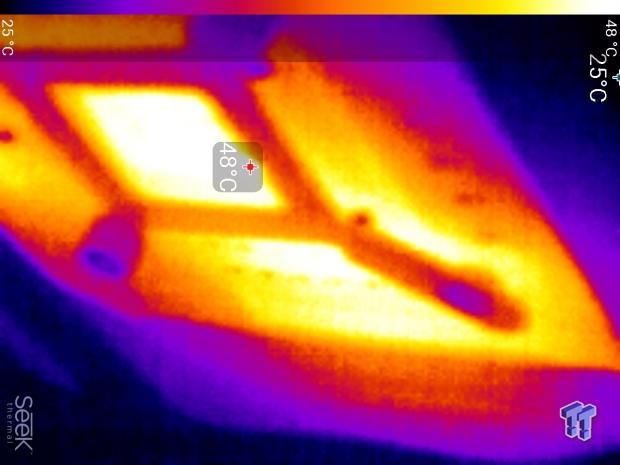 Up-close of the back of the VRM.
The Maximus XI Formula has excellent VRM thermal performance. While it's not the best we have seen, that is mostly due to the fact that it's using a waterblock as a VRM heat sink, but regardless, the thermals were acceptable, and temperature rises weren't bad. Anything under 60C is great, 60-80C is acceptable, and anything above 80C is a bit worrisome (if at stock).
What's Hot, What's Not & Final Thoughts
What's Hot
VRM Block: The custom waterblock that sits on the Maximus XI Formula has been specifically designed for this motherboard by EKWB, a leading maker of high-performance computer watercooling parts. Even though we didn't watercool the VRM block, it still performed quite well as a normal heat sink since it's mostly a copper block.
5G Networking: The Aquantia 5Gbit NBase-T LAN controller they used helps future proof the motherboard for the future. With faster ISP offerings, faster Wireless AC, and even faster Wireless AX, multi-Gbit LAN is the future.
Solid VRM: ASUS's VRM uses 50A DrMOS with an IR digital PWM controller, but they aren't using doublers to improve transient response times. We see this in digital scope shots when comparing their previous design to their current design, and you can see the output is much tamer. They have also used this new VRM design on their high-end X299 and X399 motherboards, just with slightly better VRM components and in a higher phase count because the CPUs for those platforms can pull power in the kilowatt range.
What's Not
Pricey: If you aren't going to be using the waterblock as a waterblock, we highly recommend you look at the Maximus XI Hero WIFI if you don't need 5Gbit LAN. The motherboards have very similar VRMs, but the Hero has slightly fewer features and no waterblock, but costs more than $100 less.
Final Thoughts
Solid motherboard all around can easily be said of the ASUS Maximus XI Formula. The waterblock is very well engineered, and of high quality, the WIFI is the latest, the 5Gbit LAN is awesome, and the VRM is solid.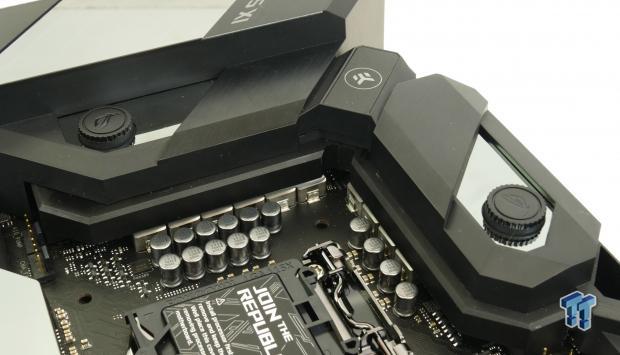 The motherboard is very well rounded, but you will pay a premium for the block and 5Gbit LAN, and if you need and want those features, then this motherboard might be perfect for you. We also want to mention this motherboard is a stunner; its large OLED display and it's special coating over the shield are amazing to look at if you like stylized RGB.
| | |
| --- | --- |
| Performance | 92% |
| Quality | 95% |
| Features | 96% |
| Value | 88% |
| Overall | 93% |
The Bottom Line
If you are looking for a premium Z390 motherboard you can watercool and also have do pretty much everything else, give the Z390 Maximus XI Formula a look.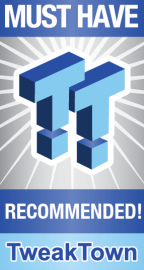 We openly invite the companies who provide us with review samples / who are mentioned or discussed to express their opinion. If any company representative wishes to respond, we will publish the response here. Please contact us if you wish to respond.