TweakTown's Rating: 92%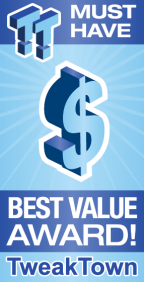 The Bottom Line
The ASRock B365M Phantom Gaming 4 is a solid LGA1151 motherboard with a great set of features at quite a reasonable price.
Introduction, Specifications, and Pricing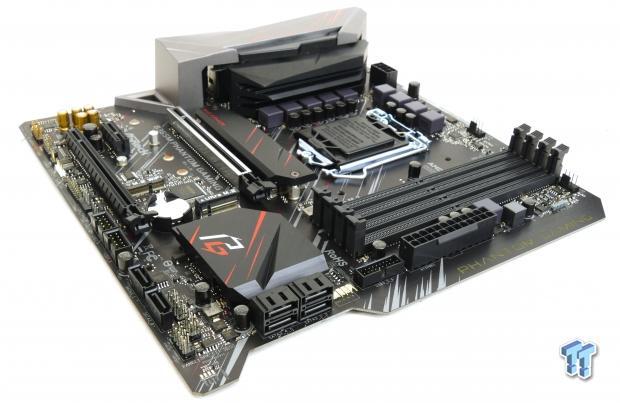 We look a look at our first B365 chipset motherboard earlier, and today we are taking a look at its little brother, the B365 Phantom Gaming 4. The motherboard has the same high-end look and many of the same features, so let's see what it has going on!
Specifications

The B365M Phantom Gaming 4 features two M.2 slots, USB 3.0, SATA6Gb/s, and RGB LED support.
Pricing
The price of the B365M Phantom Gaming 4 is right around the $90 mark.
Packaging and B365M Phantom Gaming 4 Overview
Packaging and Overview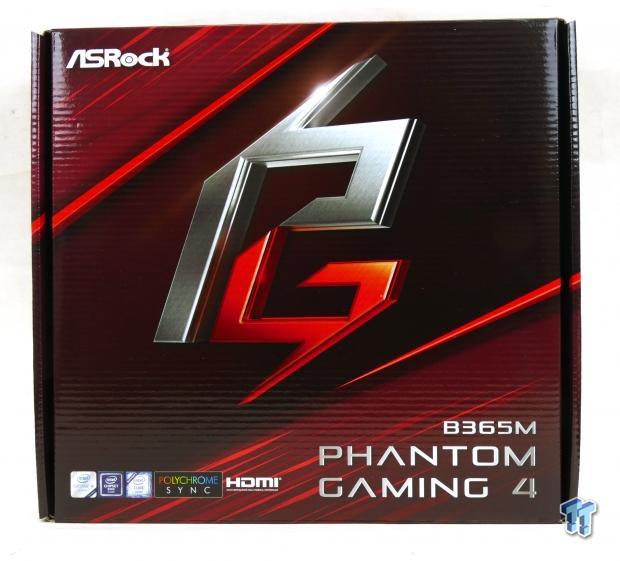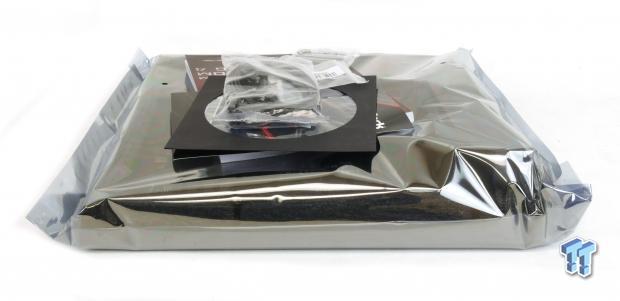 The box is stylized like the motherboard, and the packaging is high quality.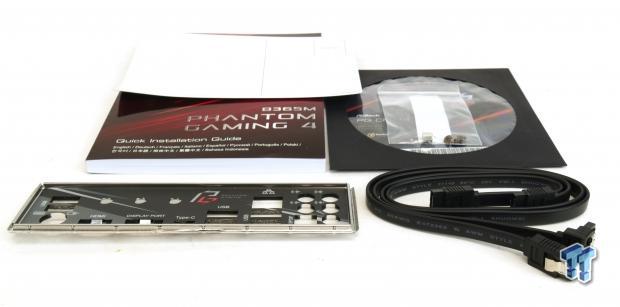 The accessory package includes IO shield, M.2 screws, two SATA6Gb/s cables, postcard, driver DVD, and manual.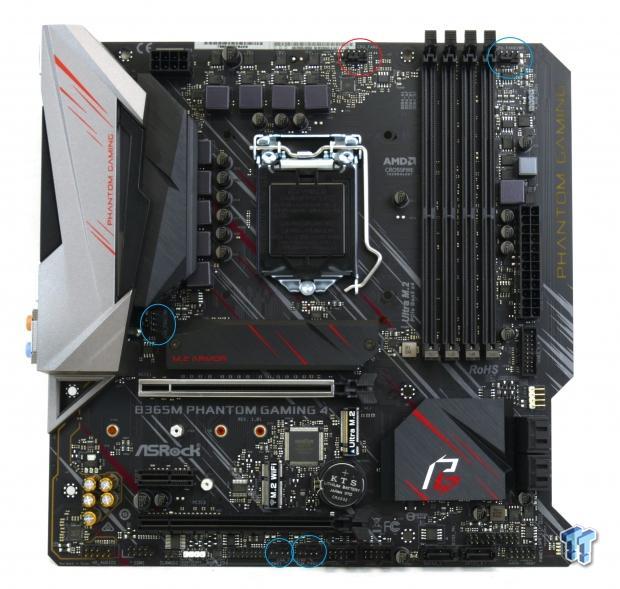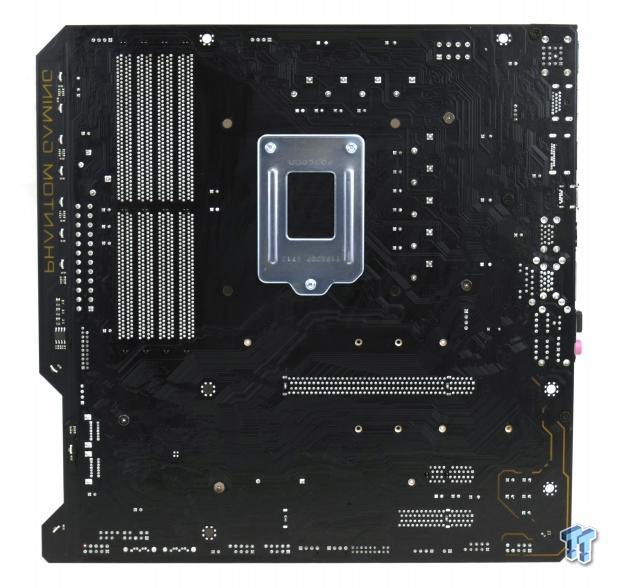 ASRock has five fan headers on this motherboard, the CPU fan header circled in red, it offers up to 1A of power and is PWM mode. The other four headers are rated for 2A each, and will auto-detect if a DC or PWM fan is installed, but you can change the mode manually in the UEFI if you want. The motherboard has a sleek silver/black/red color theme and merges the PCB with the heat sinks. The back of the motherboard is clean except for some RGB LEDs.

The rear IO panel features four USB 2.0 ports, USB 3.0 type-C, four USB 3.0 ports, PS/2 keyboard/mouse port, DisplayPort, HDMI, 1Gbit LAN, and gold plated 7.1 audio outputs.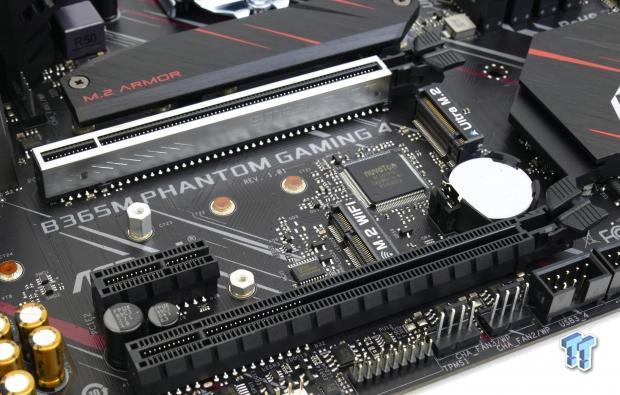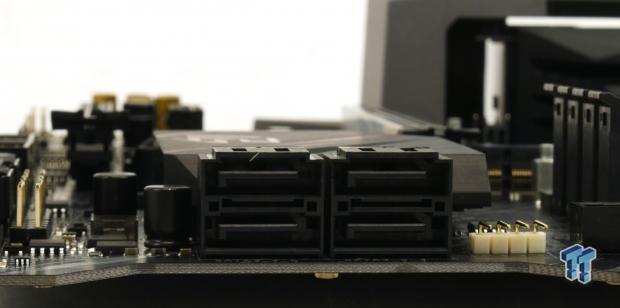 The PCI-E layout is simple to understand. The topmost PCI-E x16 slot is wired directly to the CPU and is always x16. The second PCI-E x16 physical is x4 electrical and doesn't share lanes with anything. Four SATA6Gbps ports are right-angled. There is also a right-angled RGB LED header in this area.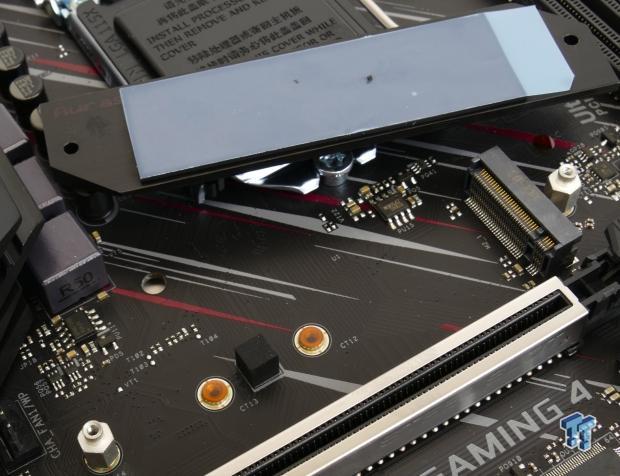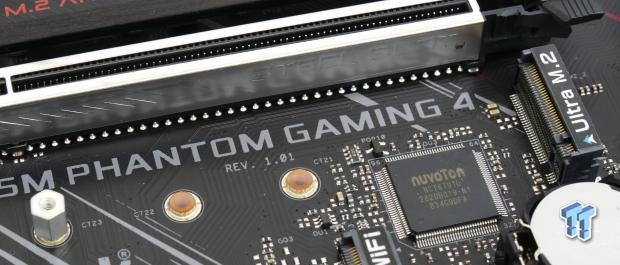 There are two x4 PCI-E 3.0 M.2 slots with heat sinks. The bottom one also supports SATA based M.2 drives, but if you use a SATA M.2 drive, it will disable SATA port 0.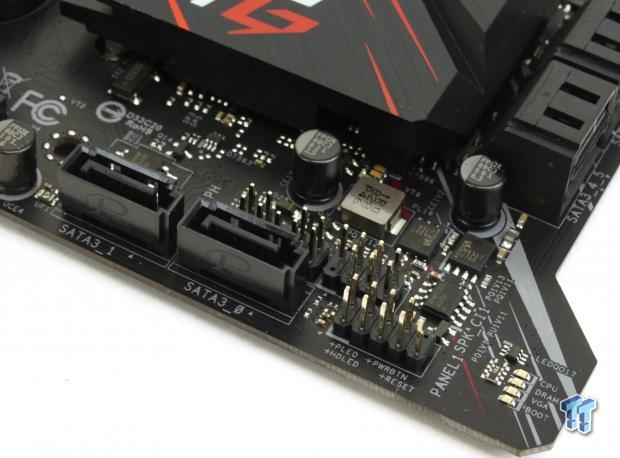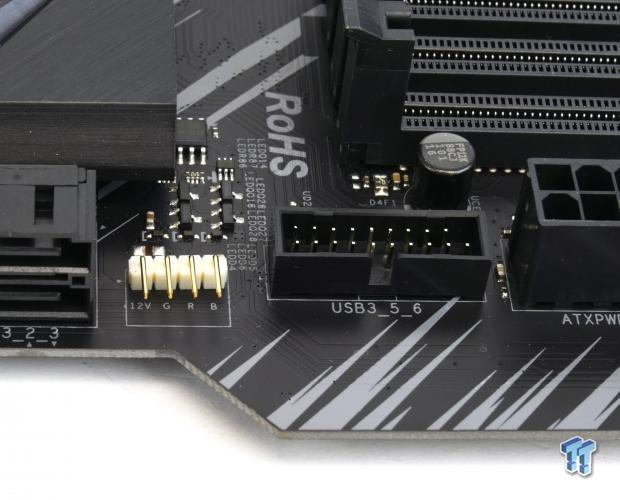 The motherboard also features two SATA6Gbps ports that are angled straight up, and they are located at the bottom right corner of the motherboard where we find boot LEDs and front panel connectors. A USB 3.0 internal header is located mid-board, and you can see the RGB LED header there.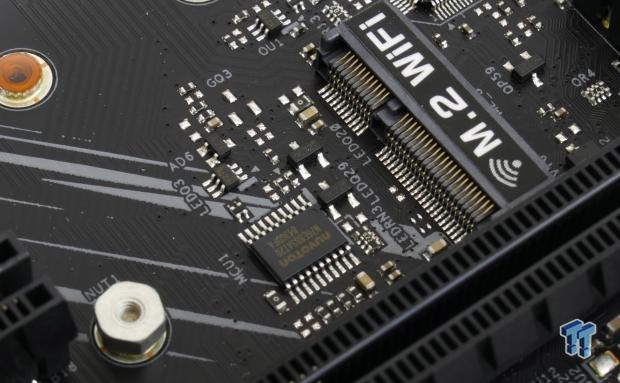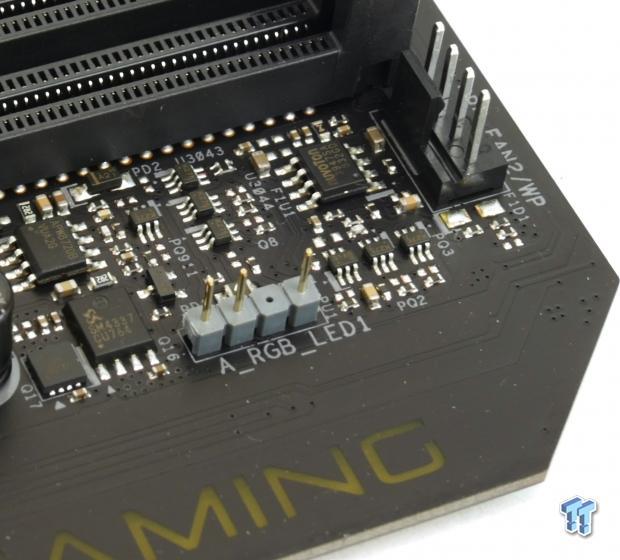 There is also an M.2 WIFI card slot, so you can add in WIFI later one, and there are three holes in the IO panel to facilitate antenna. At the top right of the motherboard, we find an addressable RGB LED header.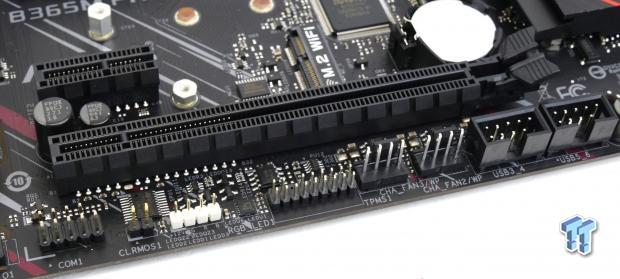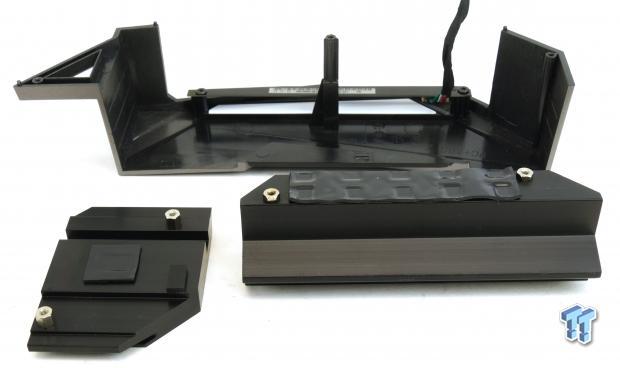 At the bottom of the motherboard, we find another RGB header, two USB 2.0 internal headers, a TPM header, and a COM header. The heat sinks are all screwed to the motherboard.
ASRock B365M Phantom Gaming 4 Circuit Analysis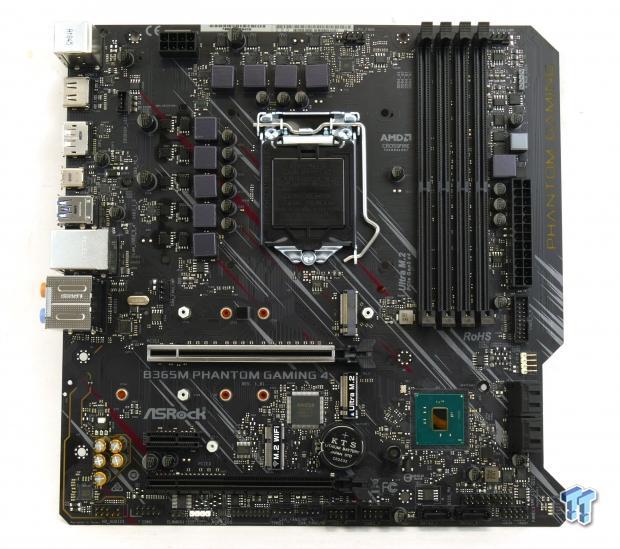 The B365M Phantom Gaming 4 reveals its secrets with the heat sinks removed.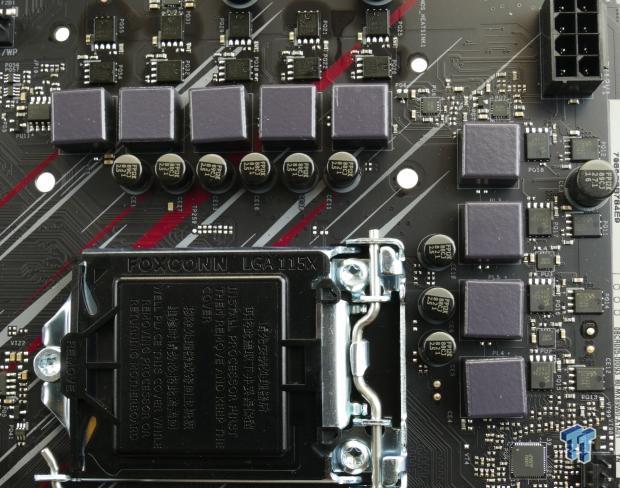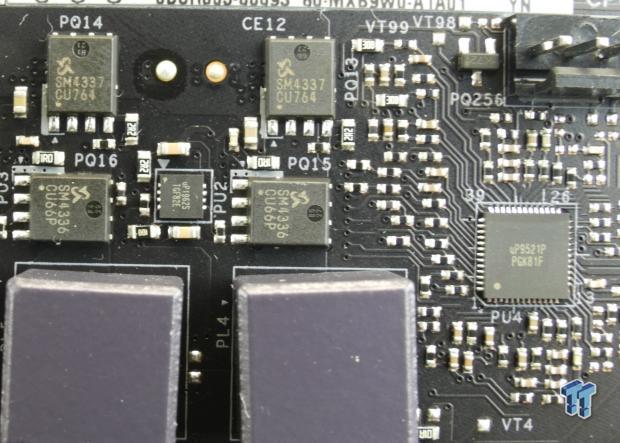 The VRM is in a 6+2 phase configuration, with a single phase VRM for the VCCSA. The six VRM phases for the VCore are doubled using three uP1961 doubler/dual driver chips, and the two iGPU phases use two uP1962 drivers. The UPI Semiconductor uP9521P is a 4+3 phase PWM controller in 3+2 phase mode. The MOSFETs are the Sinopower SM4337 (H) and SM4336 (L).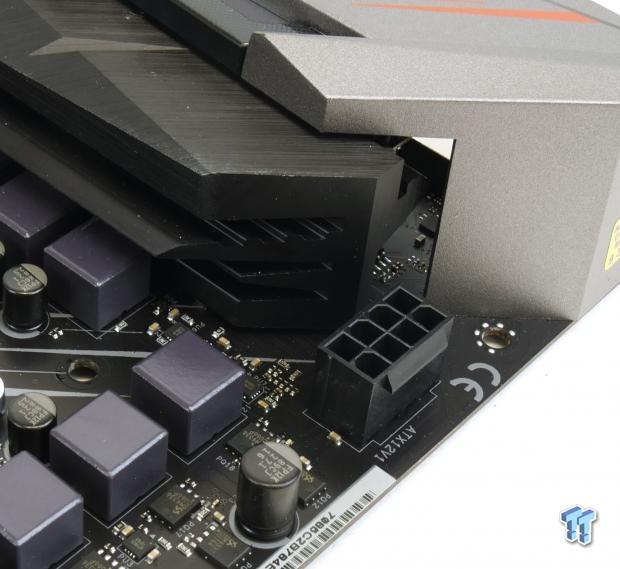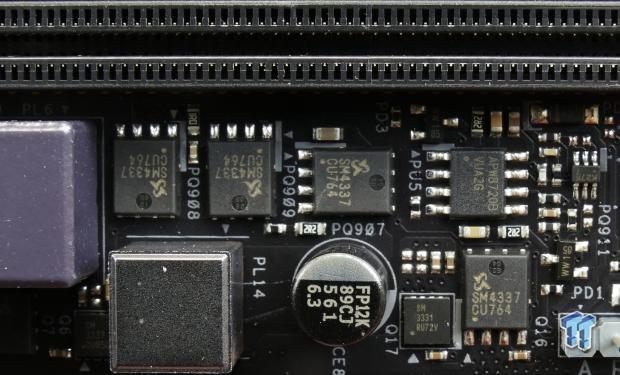 We get a single 8-pin power port, but that's enough for any CPU since the motherboard cannot overclock the CPU. The memory VRM is a single for the main DDR voltage controlled by the Anpec APW8720 single phase PWM with driver, and the phases use SM4337 MOSFETs in a 2L1H configuration.
ASRock B365M Phantom Gaming 4 Circuit Analysis Continued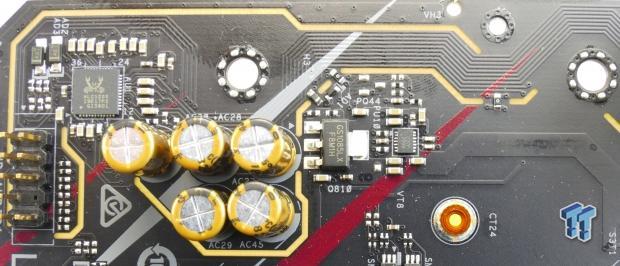 The Realtek ALC1200 is used, which is different than the ALC1220. There are also gold series audio capacitors, and look at that trace routing inside the PCB divides. We will see how it performs later down.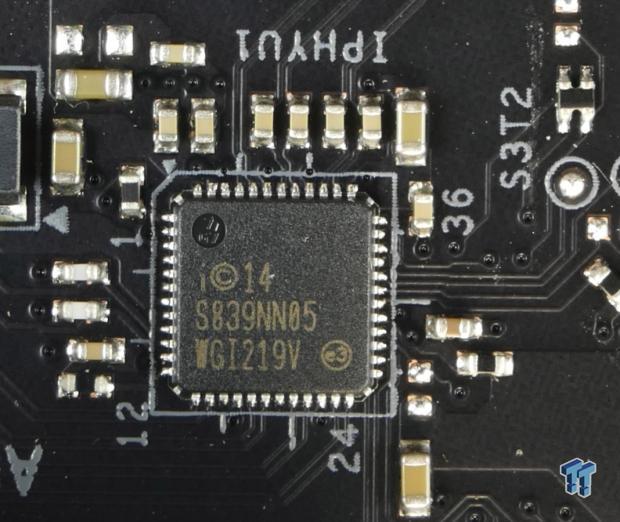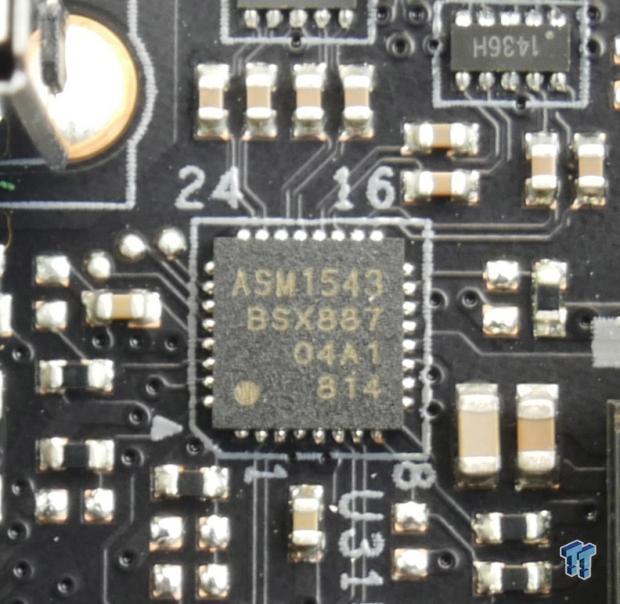 Intel's i219v is the PHY that provides the GBit Intel NIC. An ASMedia ASM1543 is used as the type-C switch chip.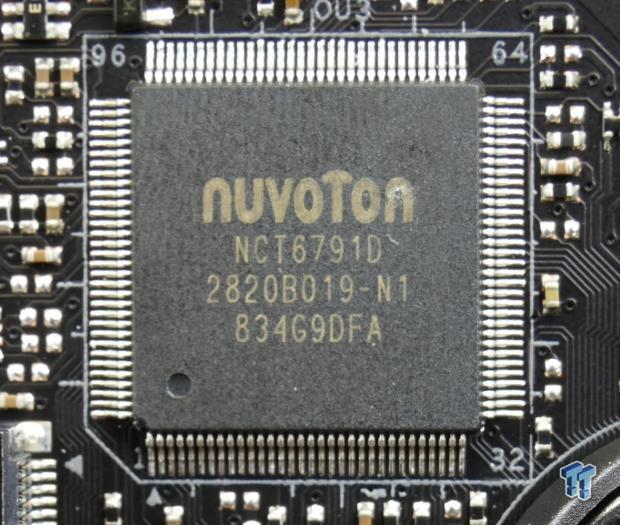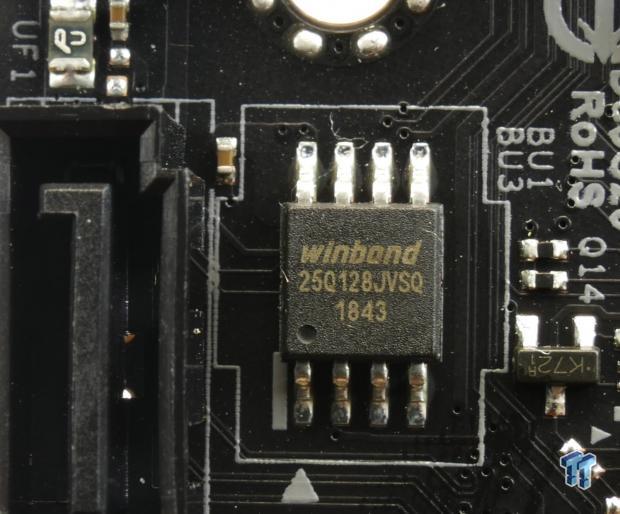 The Nuvoton NCT6791D is used as the SuperIO controller, and the motherboard has a single 128Mbit BIOS ROM.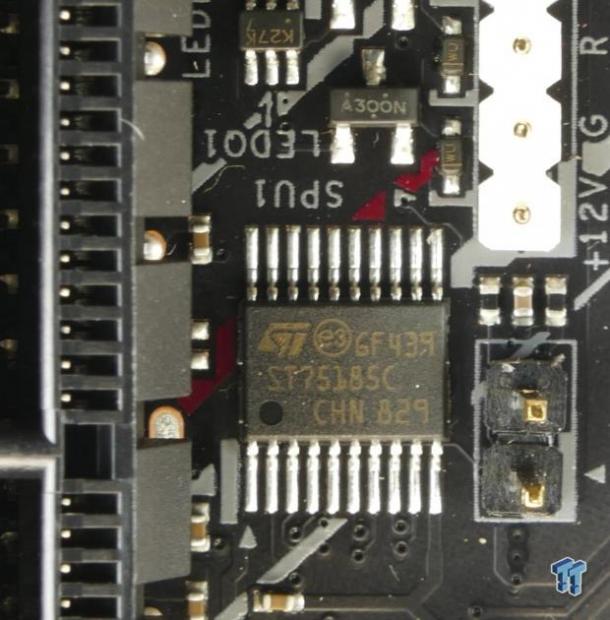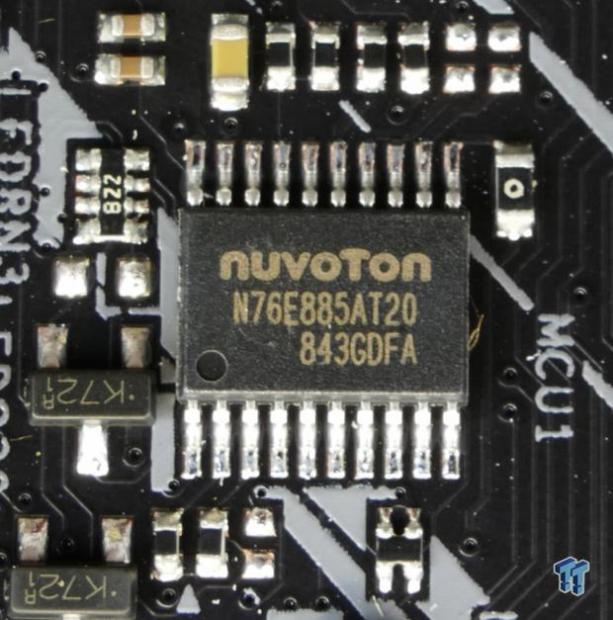 An ST75185C microcontroller is used to provide addressable RGB LED support, and we fine all the headers have eFuses. A Nuvoton N76E885AT provides RGB LED support.
BIOS and Software
BIOS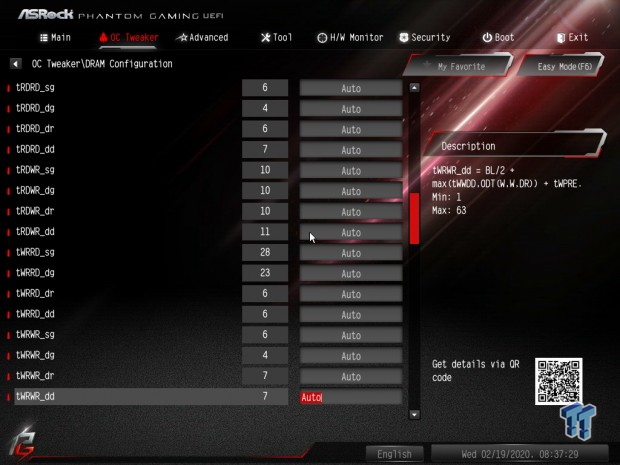 The UEFI BIOS here has everything you might need to configure your PC. It also has an EZ Mode and an advanced mode, but we typically just use the advanced mode. Since the chipset doesn't support overclocking, we can't comment on that, but you do get control over voltages and DRAM timings and the like. Fan control is present in GUI form and manual input form.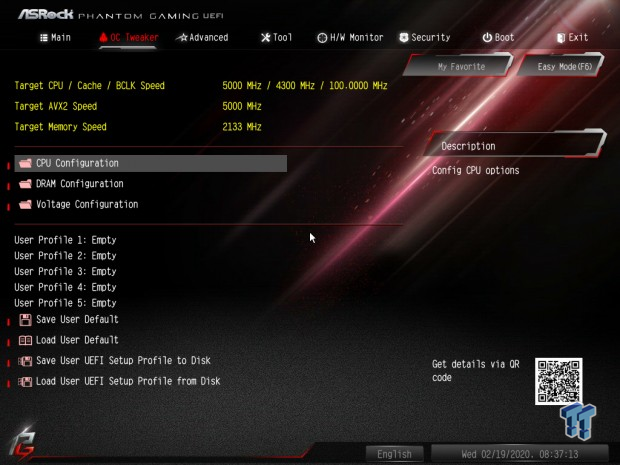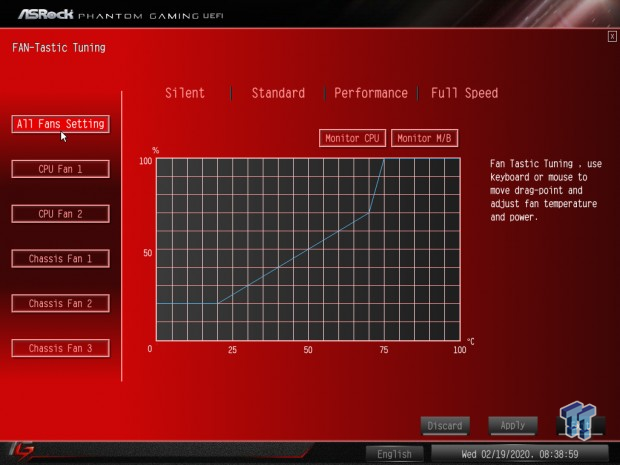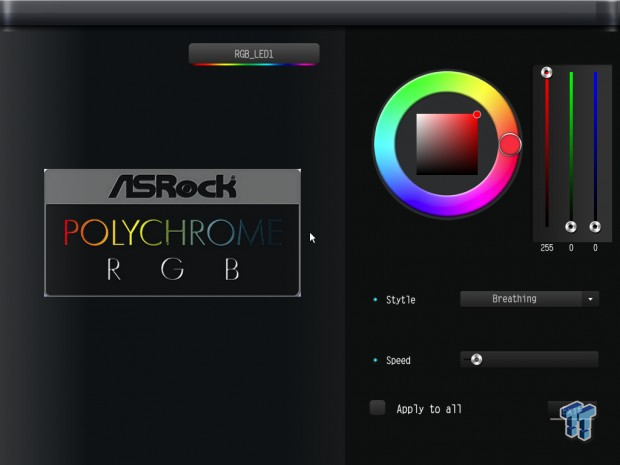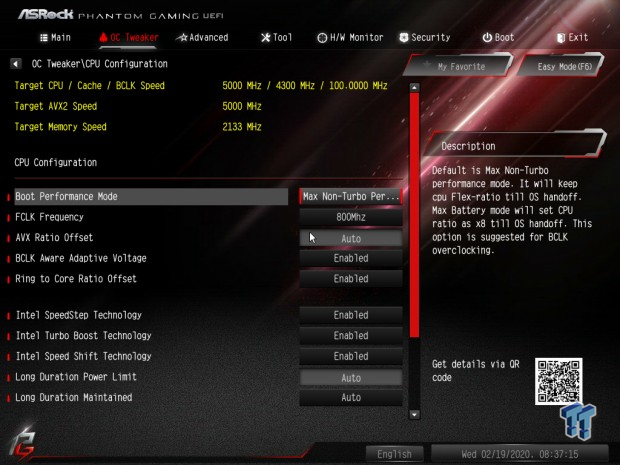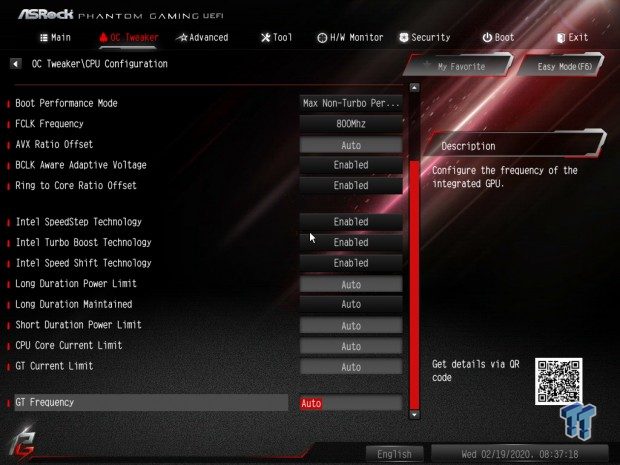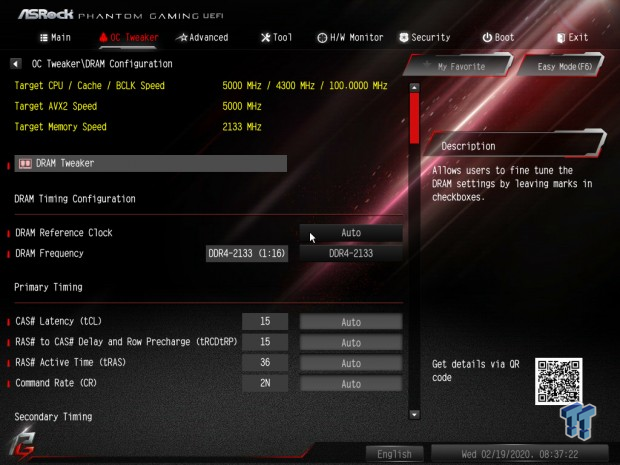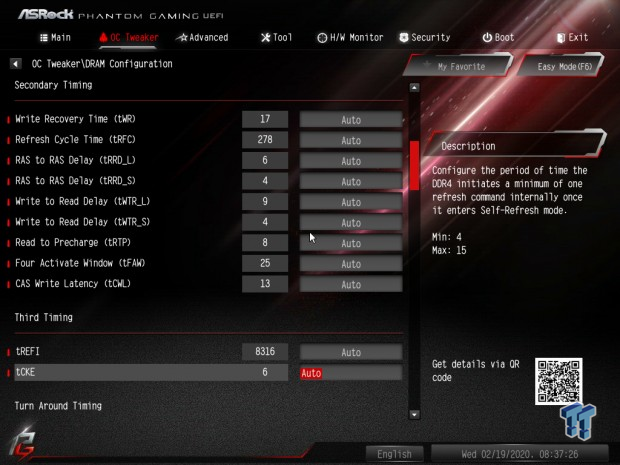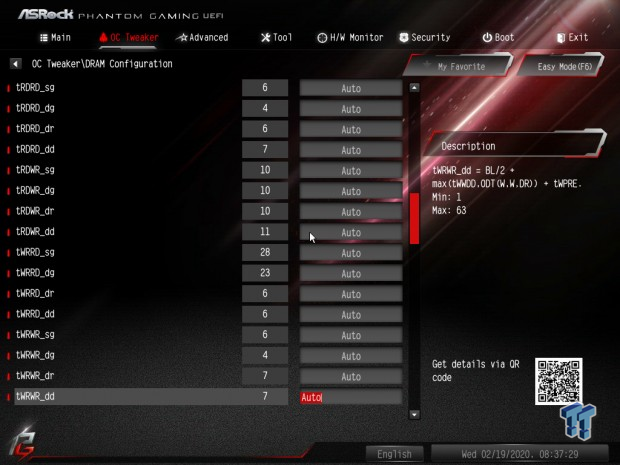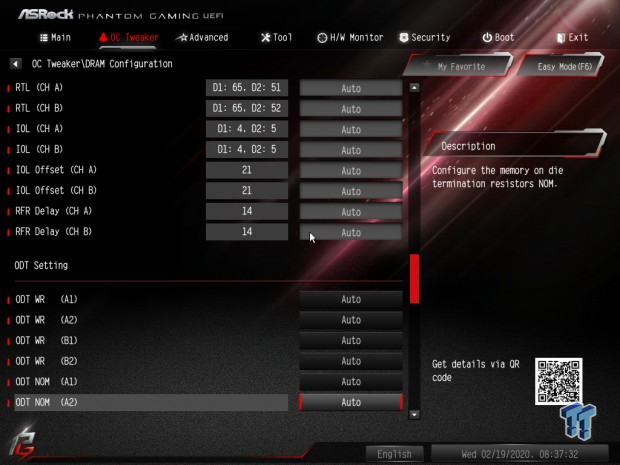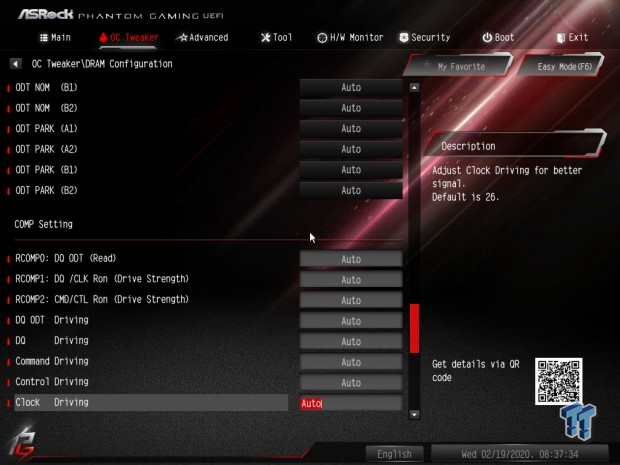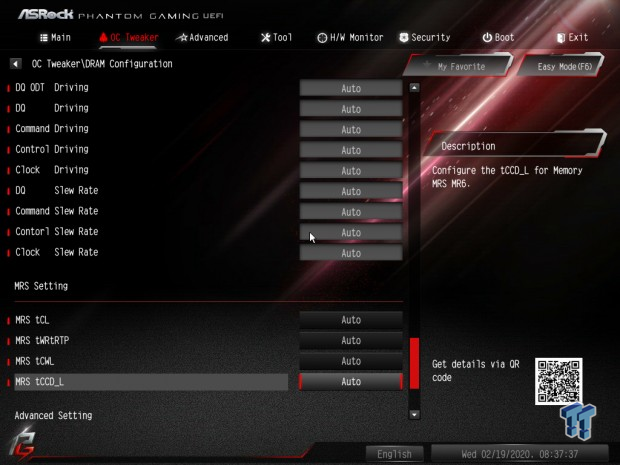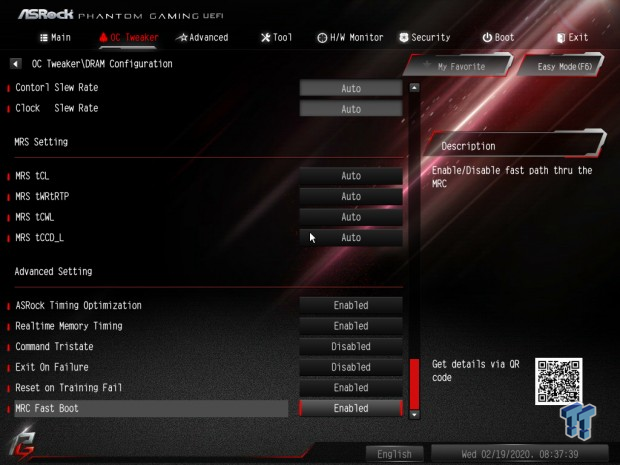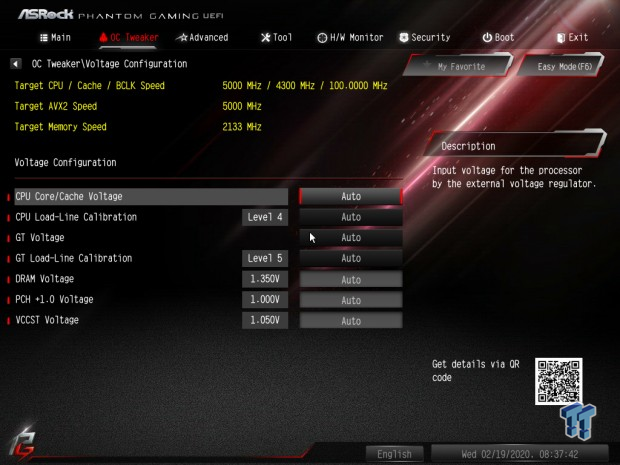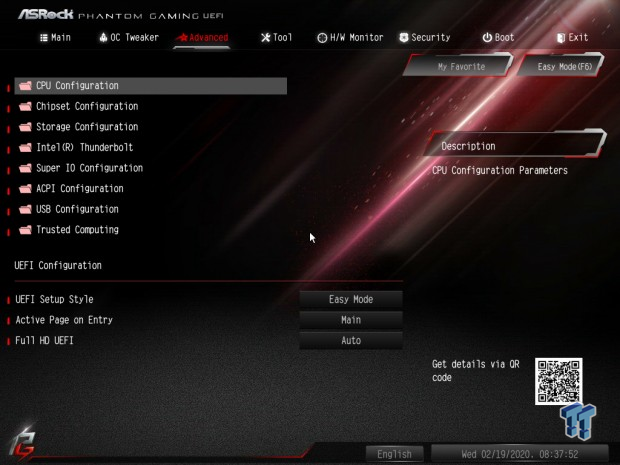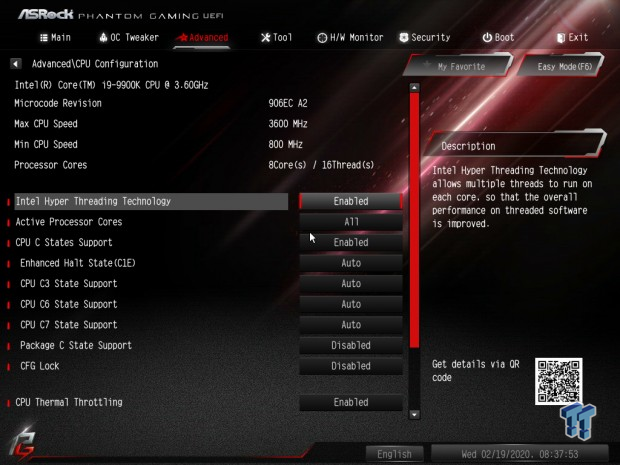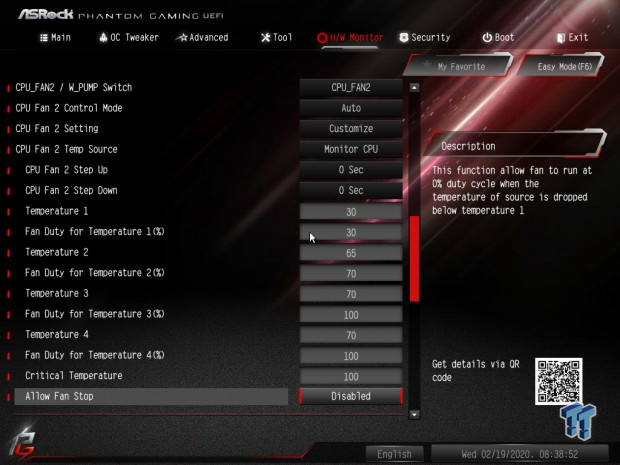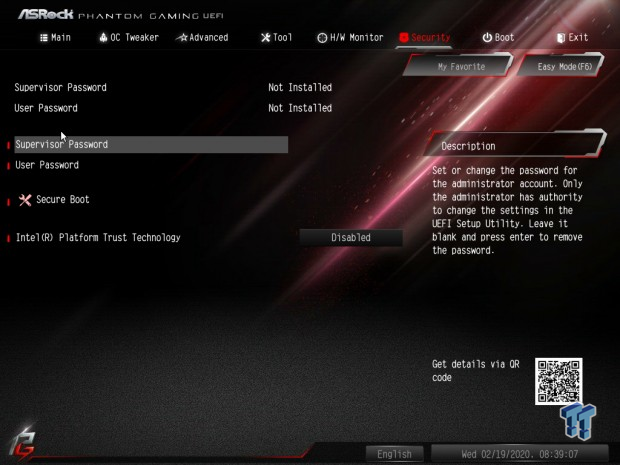 Software
Software includes Phantom Gaming Tuning, Polychrome RGB, Key Master, XFast LAN.
Test System Setup
Steven's Motherboard Test System Specifications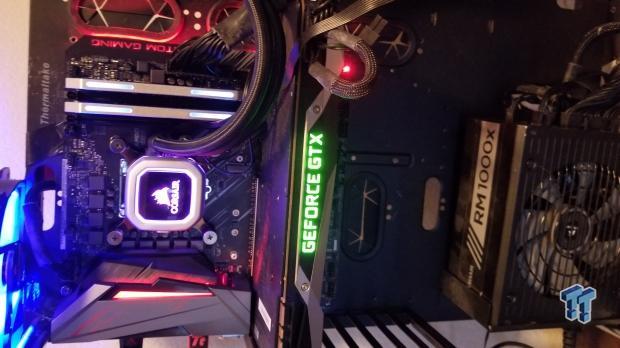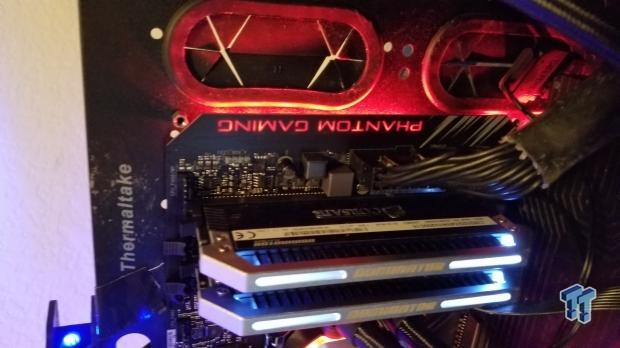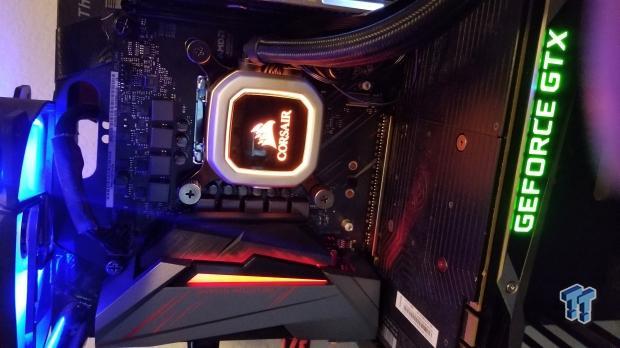 The RGB LEDs are situated in the IO shield in behind the right side of the motherboard, creating a pretty nice glow.
CPU, Memory, and System Benchmarks
CINEBENCH R15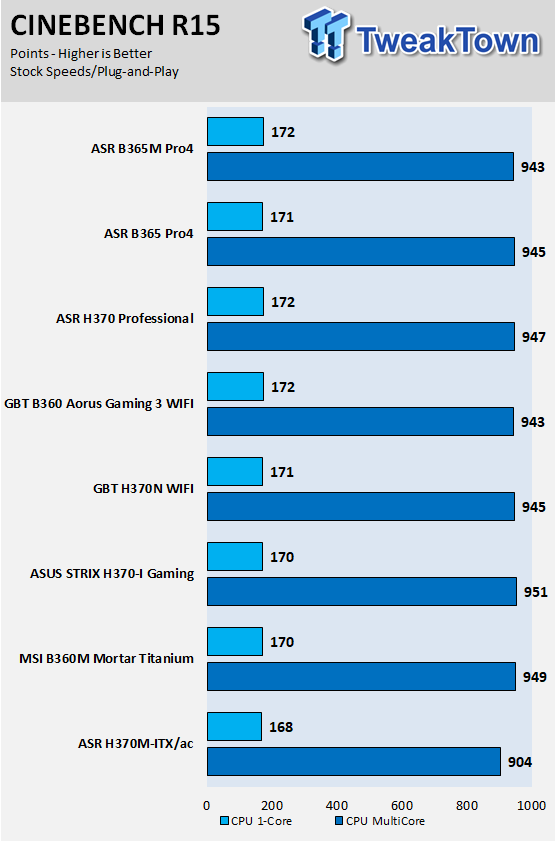 wPrime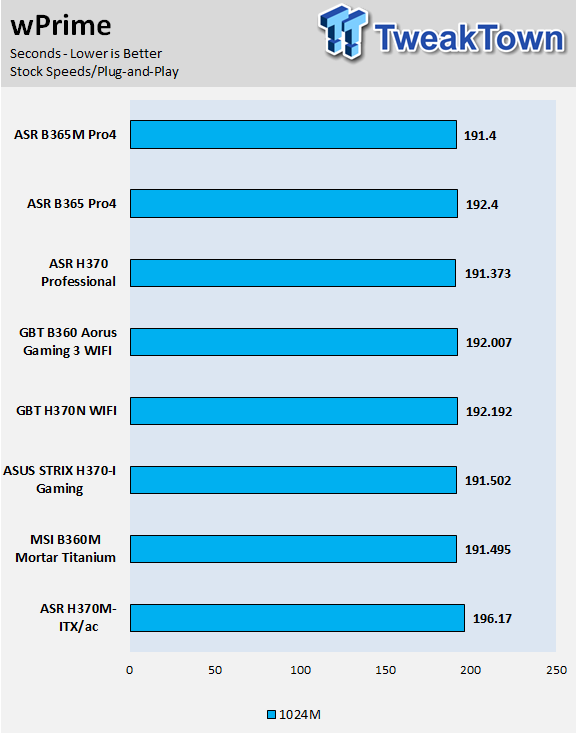 AIDA64 FPU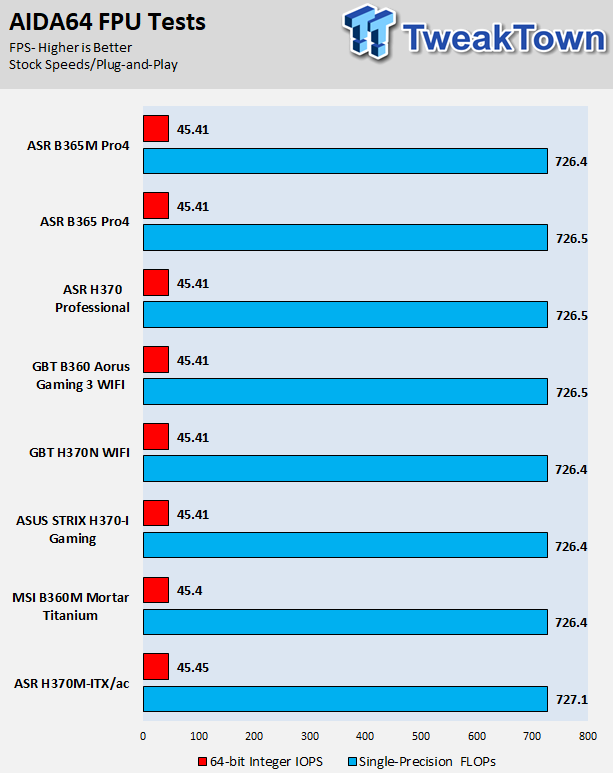 AIDA64 Memory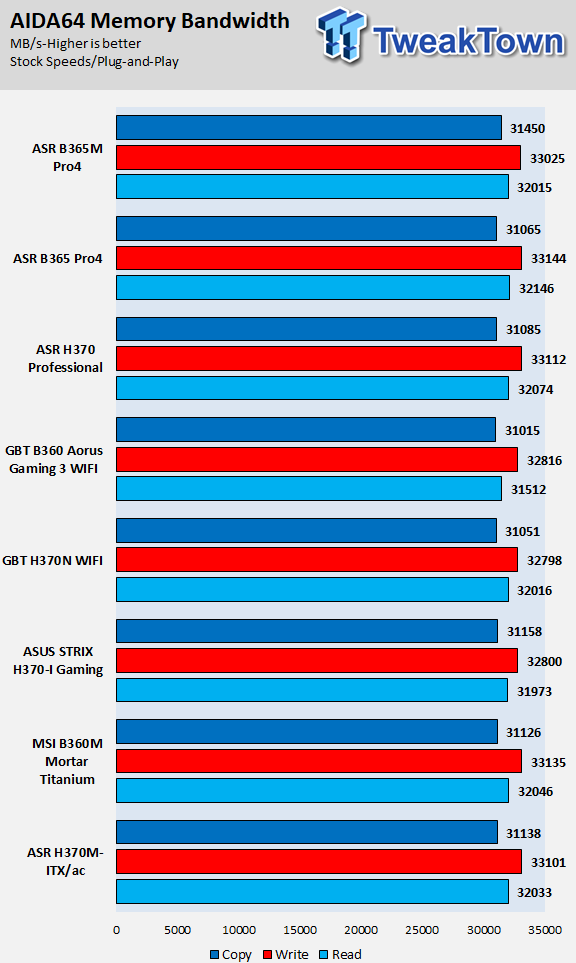 ScienceMark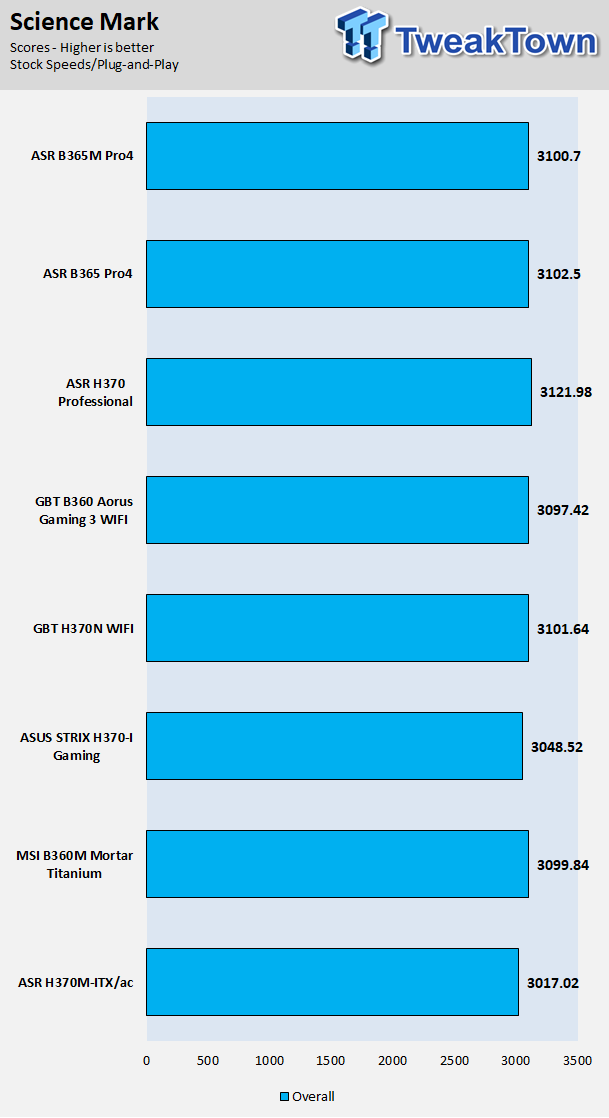 HandBrake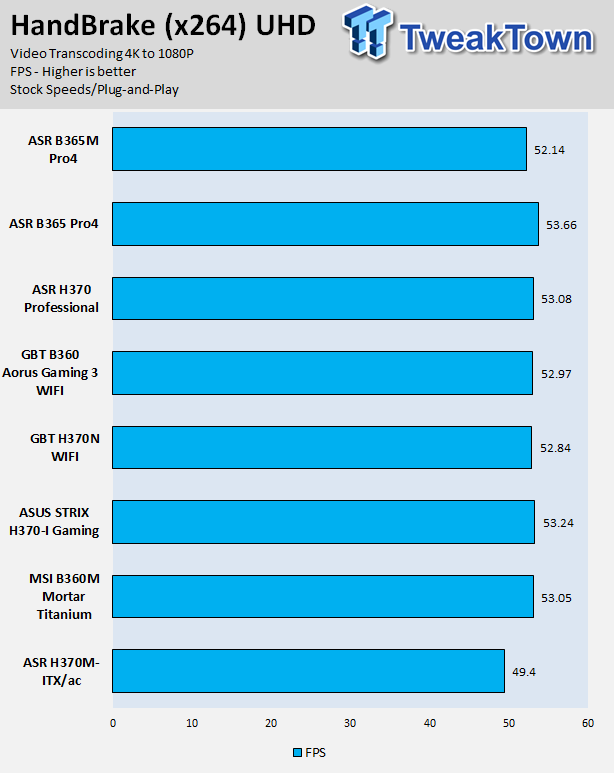 3DMark: Fire Strike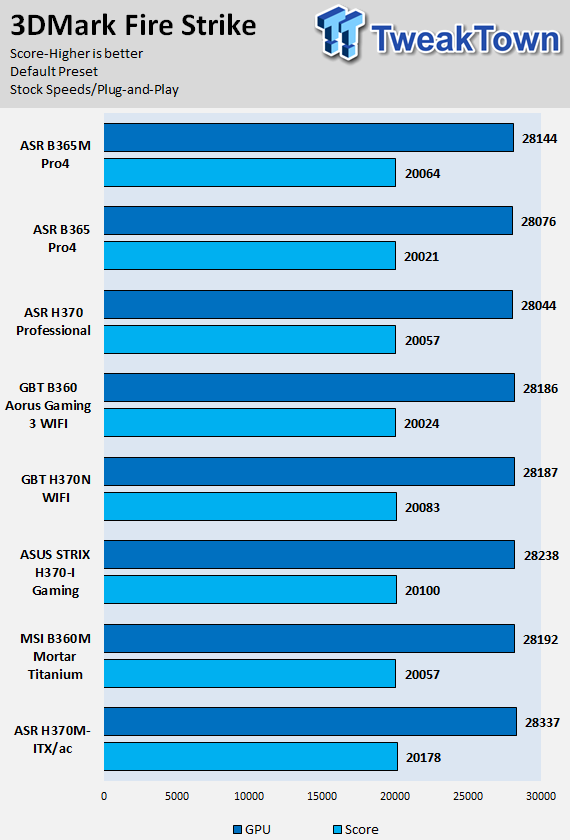 3DMark: Cloud Gate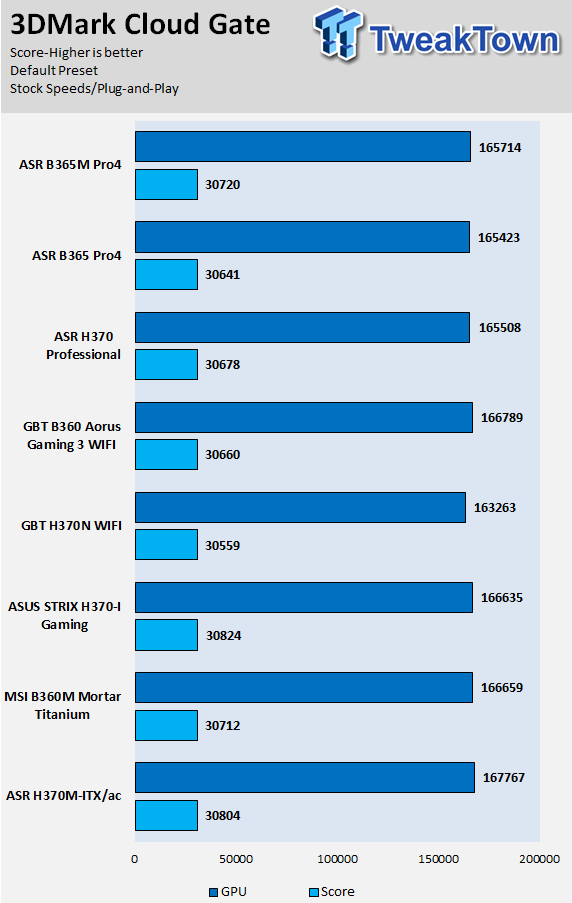 ResidentEvil 6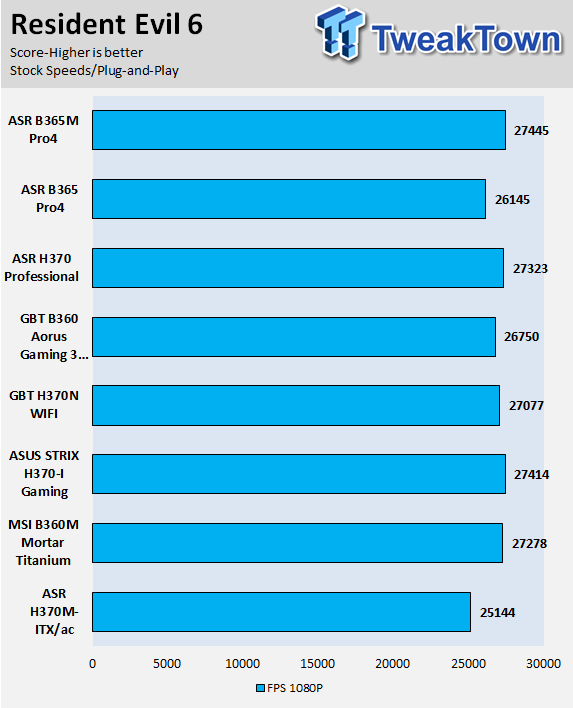 Performance is very similar to that of the H370 and B360 motherboards in our charts. We found no performance issues.
System IO Benchmarks
CrystalDiskMark SATA6G: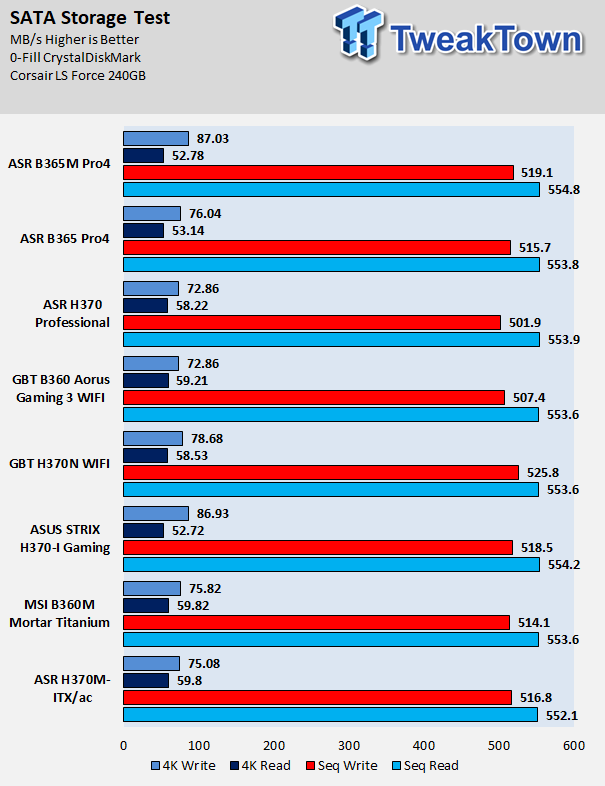 CrystalDiskMark M.2: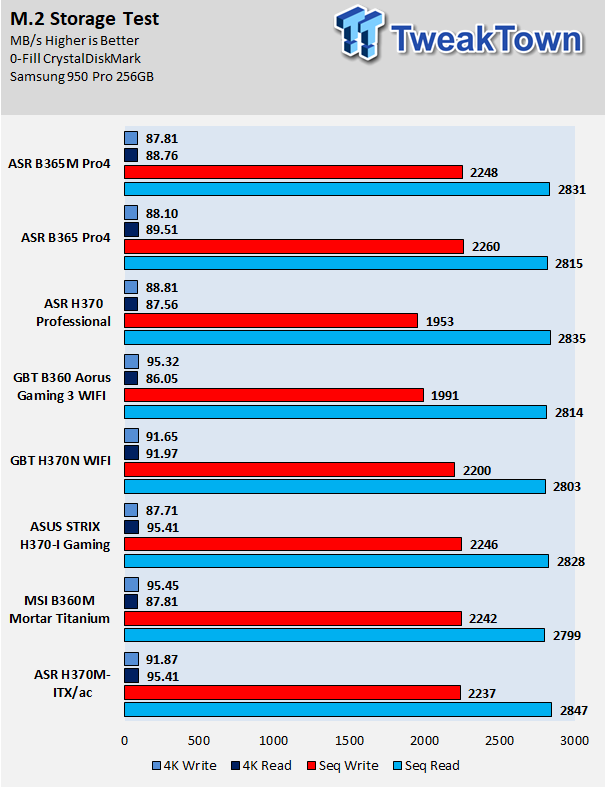 ixChariot Network Throughput: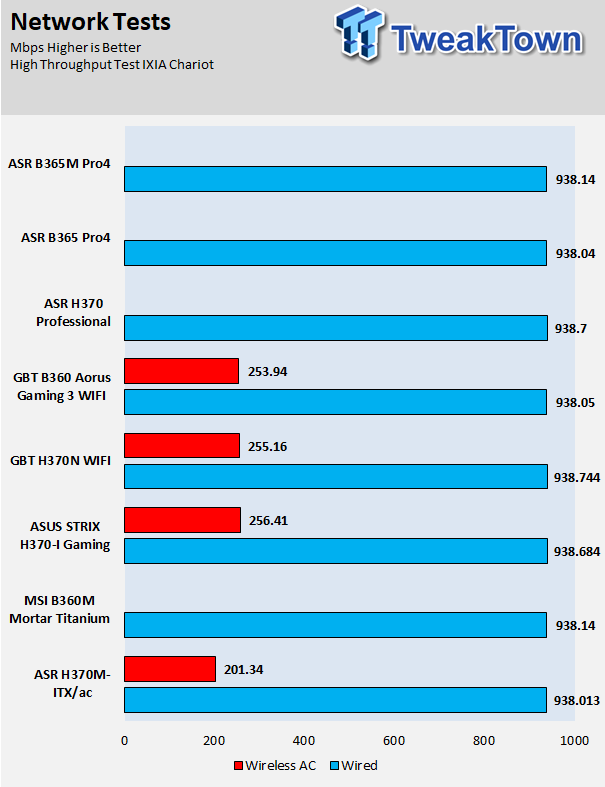 Networking and storage performance are good, no issues there.
Audio:
Sound Judgment by Ear: We would rate the audio as pretty decent for an onboard Realtek solution. There are five ratings for audio: 1. Problems, 2. Okay, 3. Acceptable, 4. Very good, 5. Excellent
Thermal Imaging and Power Consumption
System power is measured at the wall with an AC power meter.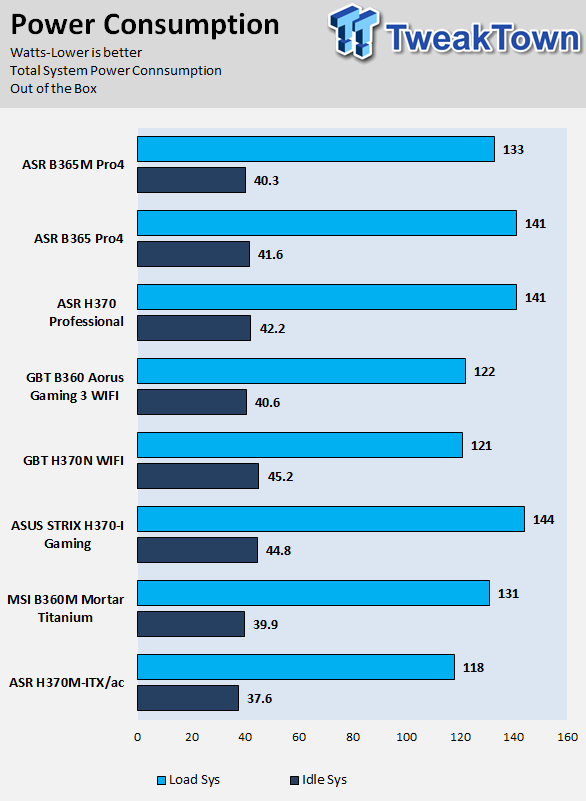 Note on Thermal Images: In the temperature section, we use our Seek thermal imaging camera to capture the surface temperatures of major components on the board. I look at the VRM and then all other things that light up the screen. If there is something to worry about, then I will state it. Otherwise, I will just show the hotter running parts of the board for fun. Unless some component is over 80-90C, then there isn't anything to worry about.
All systems will act differently, so I will look for commonalities, such as how far from the VRM the heat spreads through the PCB and the difference in temperature between the front side and backside of the PCB. Keep in mind, the majority of the heat from the VRM goes into the PCB as it is a giant soldered on copper heat sink. A lower temperature on the front of the PCB points towards a more effective heat sink.
Thermal Testing at Stock Speeds:
The image on the left is always at idle, and the image on the right is at load. During ALL TESTS, fans above the VRM that cool the CPU cooler's (Corsair H110i) radiator are turned on to high (12v).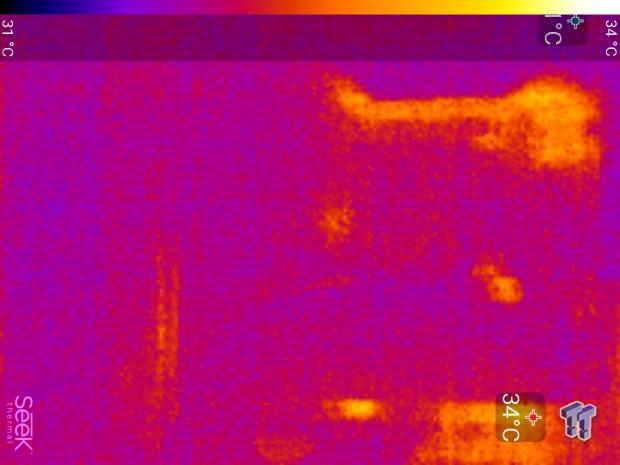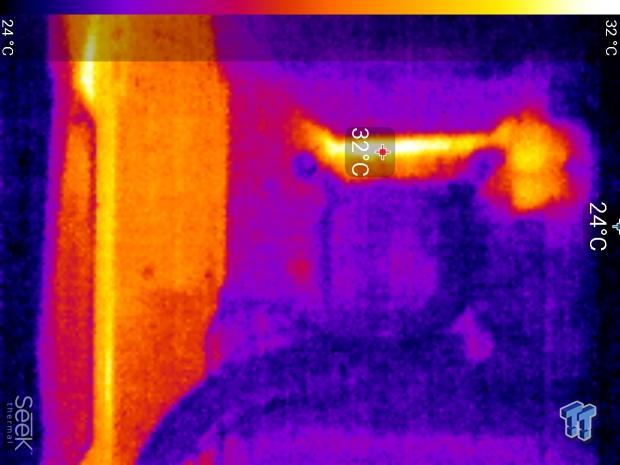 Full frontal.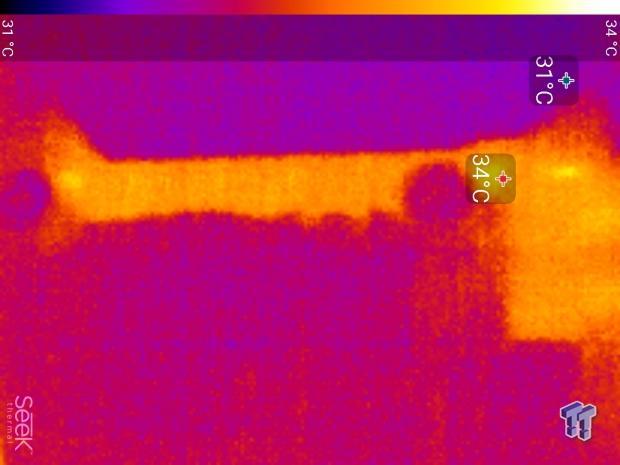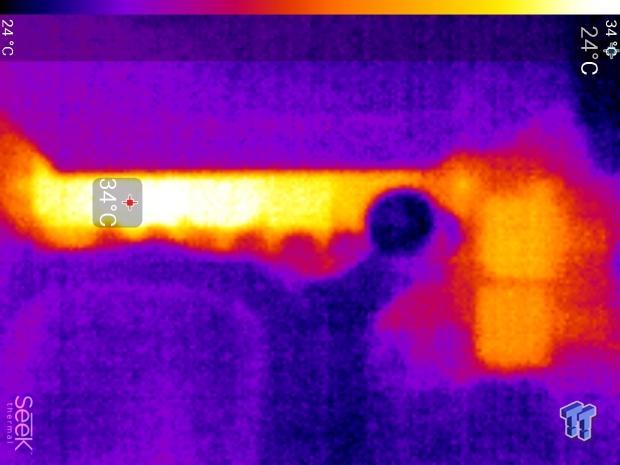 Up-close of the front of the VRM.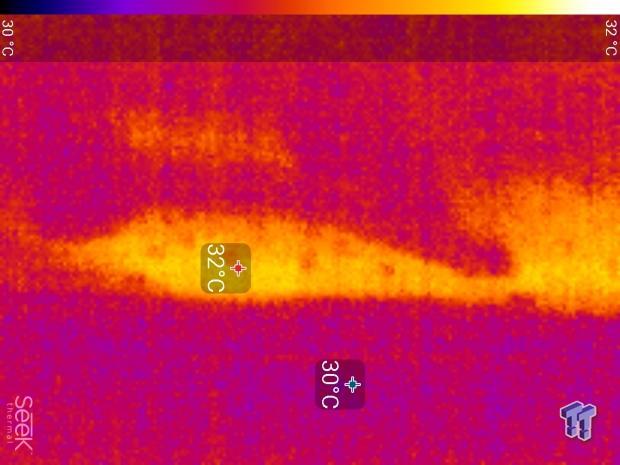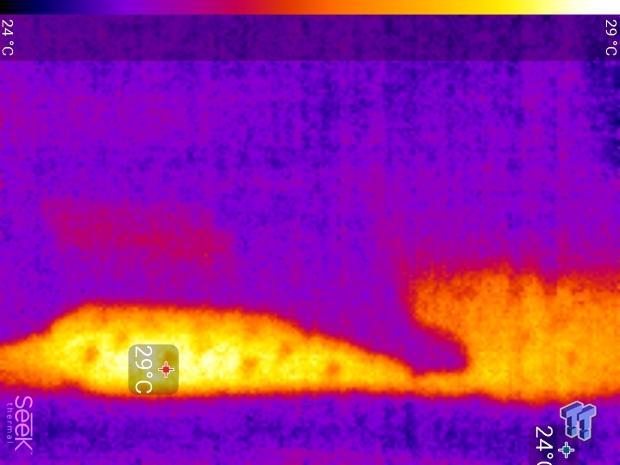 Up-close of the back of the VRM.
Just like it's big ATX counterpart, this motherboard's VRM performance is good enough for Intel's 65W parts, and we see the heat spread more than rise. We did find the same hotspot on the motherboard, presumably because of the phase temperature balancing current into phases that have heat sinks on them. Anything under 60C is great, 60-80C is acceptable, and anything above 80C is a bit worrisome (if at stock).
What's Hot, What's Not & Final Thoughts
What's Hot
Looks High-end: The B365M Phantom Gaming 4 looks high-end and even has RGB LEDs integrated not only into its IO cover, but also behind the motherboard on the right side. We also get two RGB LED headers and one addressable RGB LED header.
Component Choice: Utilizing Intel's latest i219 PHY to produce an Intel NIC and Realtek's ALC1200 for audio, both of which are expensive parts that could have been replaced by lower-end pars. We are happy to see these higher-end parts on the motherboard.
Fan headers: On smaller motherboards we typically find fewer fan headers, but in this case we get a full five fan headers, four of which are flexible hybrid PWM/DC headers that support pretty much all PC fans.
What's Not
33%: A third of the VCore VRMs are not covered and cooled by heat sinks.
Final Thoughts
The B365M Phantom Gaming 4 is a pretty decent mATX motherboard for LGA1151 CPUs. Micro-ATX motherboards are sometimes hard to find, and when we ask vendors why they prefer mini-ITX and ATX over mATX, they respond it has to do with demand. While enthusiasts tend to upgrade more often, PCs in places like offices need to last for many years, and in that case, longevity is important.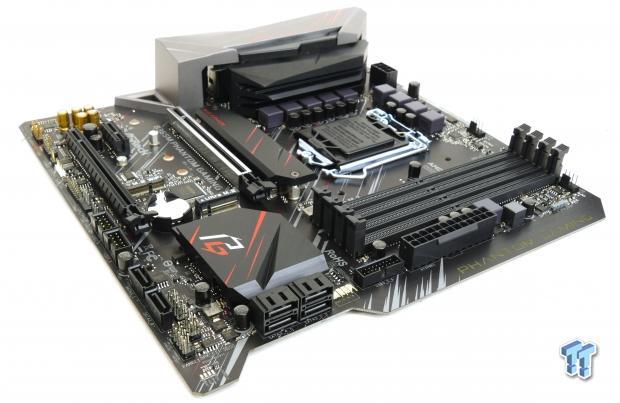 Many of those PCs are mid-sized towers, and while their cases support full ATX motherboards, many utilize mATX motherboards. That is done for a few reasons; for starters, it can reduce costs while offering more room inside the case and the ability to upgrade down the road. In this case, the same is true for a gaming PC where someone might want a smaller case that doesn't have spacing issues that they might encounter with a full-sized ATX motherboard.
If you are in the market for an mATX motherboard for your gaming rig that uses an 8th or 9th generation Core series CPU, give this motherboard a look.
| | |
| --- | --- |
| Performance | 88% |
| Quality | 89% |
| Features | 94% |
| Value | 95% |
| Overall | 92% |
The Bottom Line
The ASRock B365M Phantom Gaming 4 is a solid LGA1151 motherboard with a great set of features at quite a reasonable price.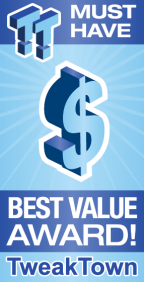 We openly invite the companies who provide us with review samples / who are mentioned or discussed to express their opinion. If any company representative wishes to respond, we will publish the response here. Please contact us if you wish to respond.