TweakTown's Rating: 91%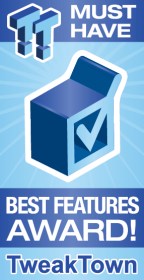 The Bottom Line
Loaded with Thunderbolt 3, the latest in storage interfaces, tons of fan control, and a slew of unique features such as an RGBW header and USB DAC-UP 2, the Z270X-Gaming 7 has all the latest features at a reasonable price.
Introduction, Specifications, and Pricing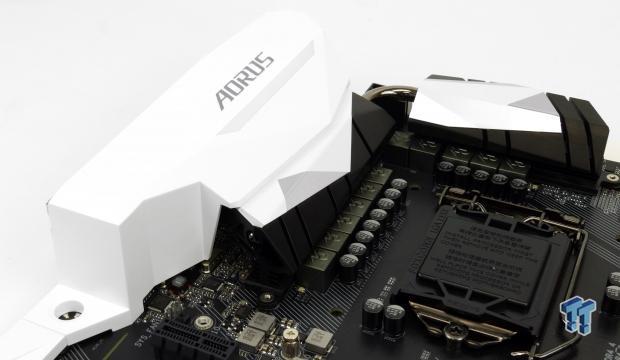 Intel's latest and greatest consumer series chipset just launched, and while the hype might not be as great as Z170 launch because the Z270 chipset is just a refresh, there are some major improvements across the platform that should get some excited.
Intel's Z270 chipset offers two main features over its Z170 predecessor, four extra PCI-E 3.0 lanes, and support for Intel's Optane technology. The latter won't be launched until later this year, and four extra PCI-E 3.0 lanes is a nice addition, but not something to make you consider upgrading for Z170, so motherboard vendors went back to the drawing board to give their products more value.
Some of you might be wondering what or who AORUS is; simply put, it is GIGABYTE's high-end brand for notebooks and now motherboards. The AORUS brand was launched a few years ago, and they produce some of the best gaming notebooks on the market, so it makes sense for GIGABYTE to re-brand their premium motherboards with the AORUS name.
The AORUS Z270X-Gaming 7 does bring more to the table than the GIGABYTE Z170X-Gaming 7, and I am not talking about chipset features. RGB LEDs are everywhere now, aside from that the Z270X-Gaming 7 offers very robust fan control, a new UEFI, new USB power technology, and multiple IC generational upgrades.
Let's take a look at what the AORUS Z270X-Gaming 7 has to offer.
Specifications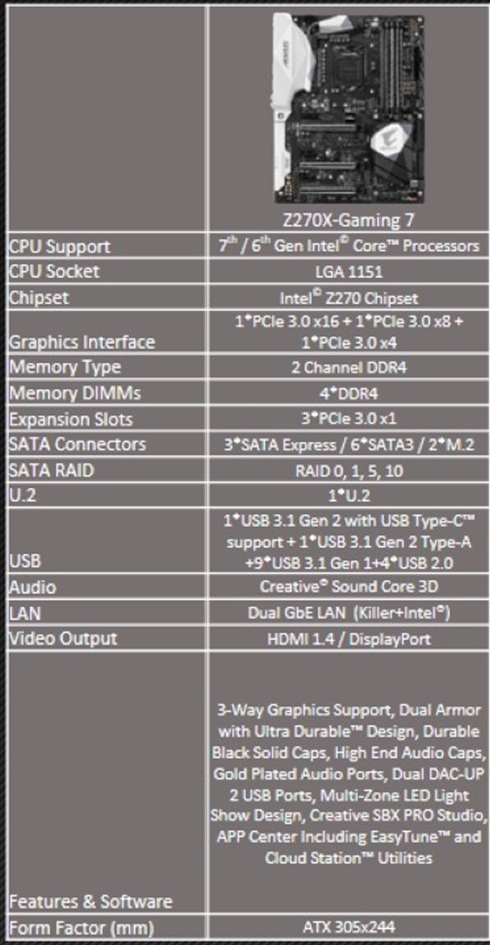 The Z270X-GAMING 7 has two M.2 ports, U.2, USB 3.1 Gen 2 (I will now refer to this as USB 3.1, and USB 3.1 Gen 1 will be referred to as USB 3.0), ThunderBolt 3, Creative Core3D audio, Intel and Killer LAN, and a slew of other high-end features.
Pricing
The Z270X-GAMING 7's price is $239.99.
Packaging and Z270X-GAMING 7 Overview
Packaging and Overview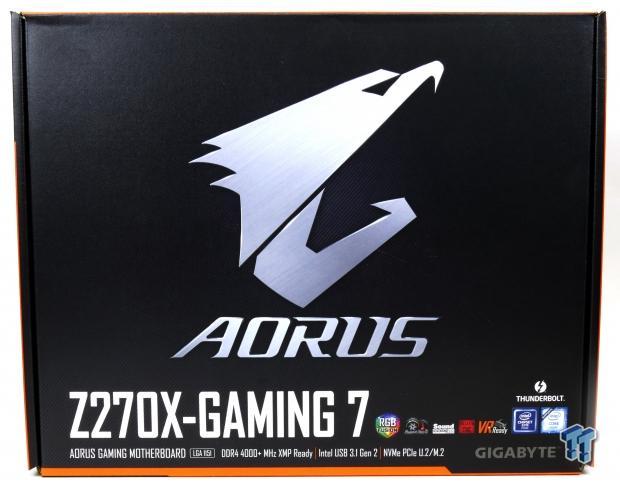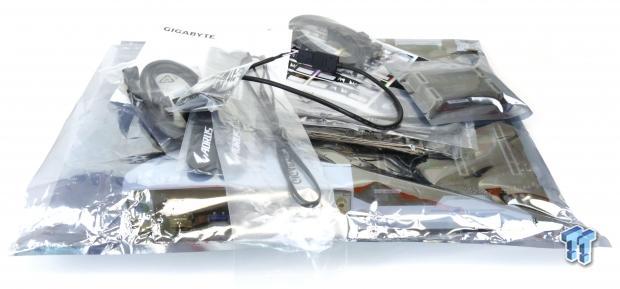 AORUS is not hiding the fact that it is owned by GIGABYTE; I much prefer the AORUS branding. The box is sleek and simple. The packaging should keep everything protected.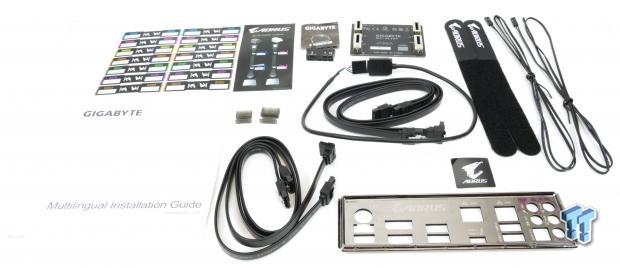 The accessory package includes four SATA6Gb/s cables, RGBW extension cable, two external temperature sensor cables, iGPU output dust protectors, GIGABYTE G-Connector, AORUS cable stickers, two AORUS Velcro cable ties, AORUS case badge, a SLI HB bridge, IO shield (with Intel and Killer NIC markings), and manuals/driver DVD.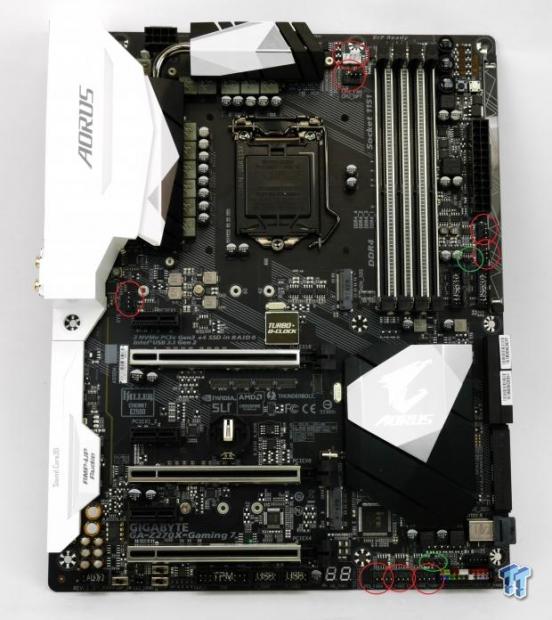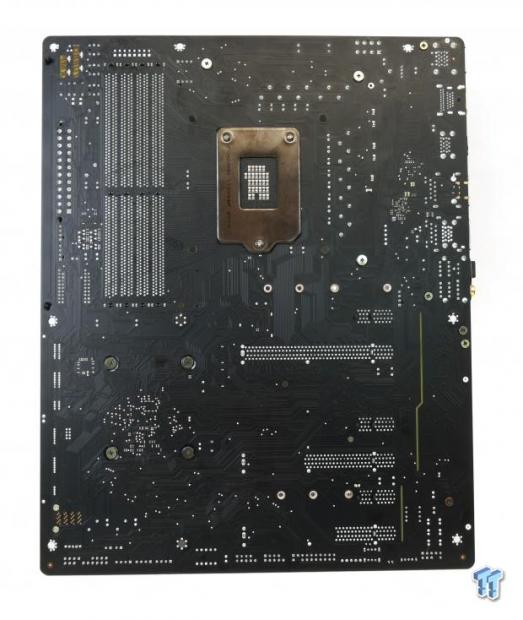 One of the biggest improvements the Z270X-Gaming 7 offers over its predecessor is fan control. The motherboard has eight 2A PWM or DC mode auto-sensing fan headers; they will detect the type of fan plugged in. The UEFI offers full control over all the fans so that you can set a custom curve without the use of software, and two external temperature sensors (included) can plug into either of the headers circled in green. You can now choose between many different reference temperatures for each fan header, including the temperature of the VRM, PCI-E, PCH, CPU, and either external sensor. These might be the first generation of AORUS branded motherboards, but their fan control is superior to anything GIGABYTE had done in the past.
The motherboard has a white and black color theme. I think it's nice looking, and I like the polygon design of the heat sinks and shields, they would match well with NVIDIA's reference Pascal heat sink design. Since black and white match other colors well, and since the board uses RGB LEDs instead of fixed color LEDs, you can choose your own color theme. Some of you are worried about LEDs; I will say now that you can disable all the LEDs or just certain sections, but the sections are limited. The back of the motherboard is bare except for some LEDs.

The IO panel on the Z270X-GAMING 7 features two yellow DAC-UP 2 USB 3.0 ports (adjustable voltage compensation levels), gold plated HDMI 1.4a and DisplayPort, three USB 3.0 ports, USB 3.1 type-C (ThunderBolt 3) and type-A, Intel LAN, Killer LAN, 7.1 gold plated audio ports with S/PDIF optical.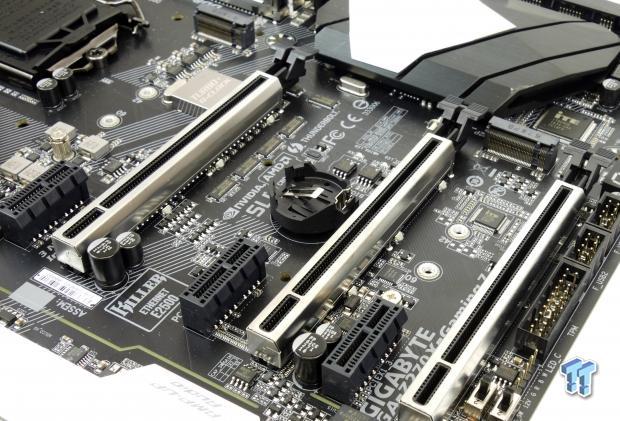 The PCI-E layout is simple; the first and second full sized x16 slots operate using the CPU's x16 PCI-E 3.0 lanes. You can do either x16/x0 or x8/x8. The last x16 slot is connected to the PCH and shares its bandwidth with the nearest M.2 slot (M2P_32G). The U.2 connector does not share bandwidth. All six SATA6Gb/s ports are connected to the Intel Z270 PCH, and some of them share bandwidth with either M.2 slot. The manual specifies the sharing and port availability. Each set of two SATA6Gb/s ports doubles as an SATA Express port.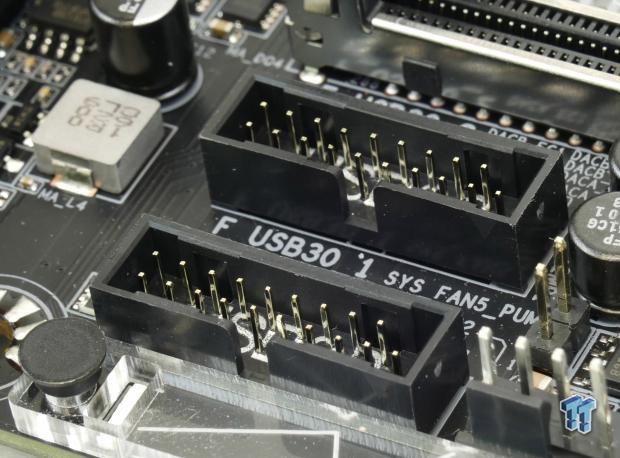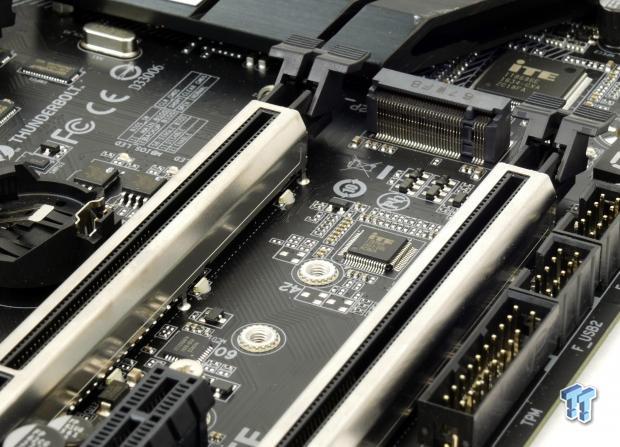 Two USB 3.0 internal headers get their bandwidth from a Realtek hub, and they also support AORUS's DAC-UP 2, which offers different voltage compensation levels to make up for the voltage drop longer USB cables can produce. Each port has its own dedicated power controller, and you can even disable power if you are connecting to a DAC and only need data. There are two M.2 x4 PCI-E 3.0 slots; the first is located right above the third x16 PCI-E slot.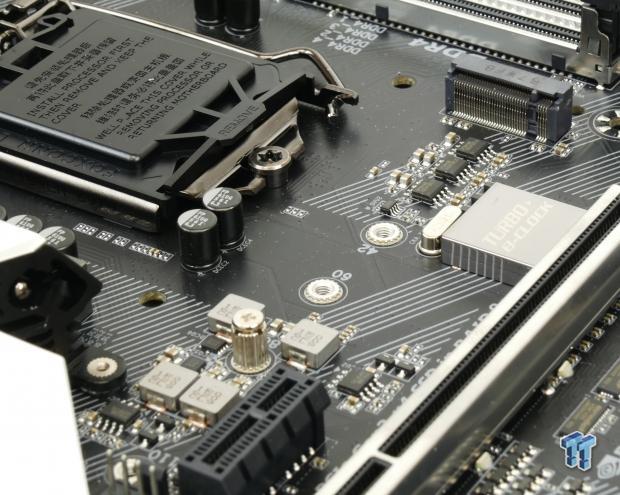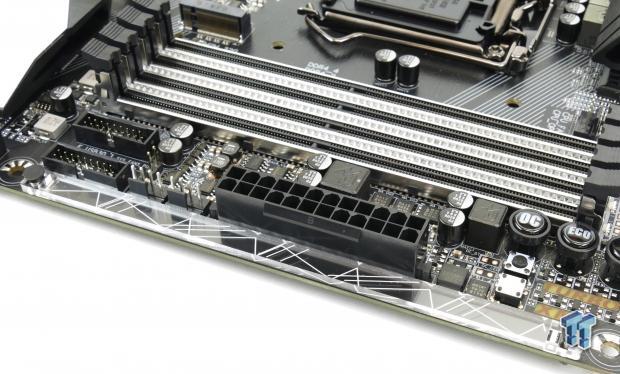 The second M.2 port sits below the CPU and supports longer M.2 drives. At the right edge of the motherboard is an interchangeable acrylic plastic cutout with an embedded design. Two RGB LEDs tastefully illuminate this strip; it doesn't look tacky, but the 24-pin power connector might block some of the view.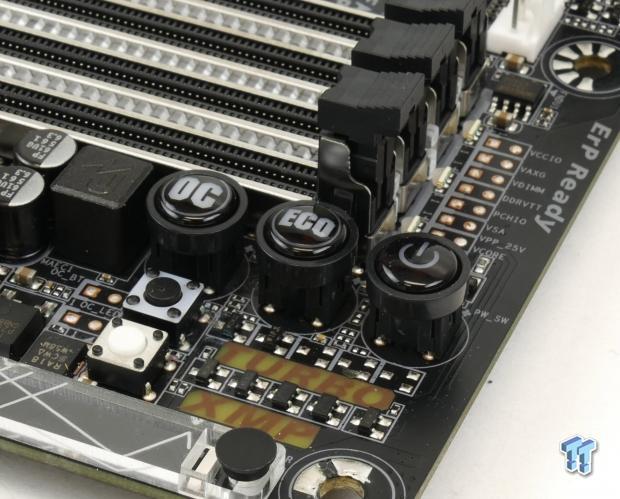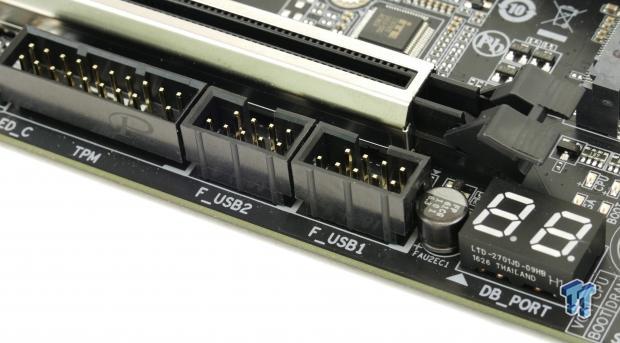 High-end motherboards must carry OC features, at least in my opinion, and the Z270X-Gaming 7 doesn't disappoint. Voltage read points, power, reset, and clear CMOS buttons, as well as OC and ECO mode buttons, are located in the top right corner of the motherboard. I wish AORUS had better labeled which button is reset and which is clear CMOS. For those of you who are allergic to manuals, the white button is reset, and the black is clear CMOS. A POST Code display can be found at the bottom of the motherboard to the right of two USB 2.0 internal headers.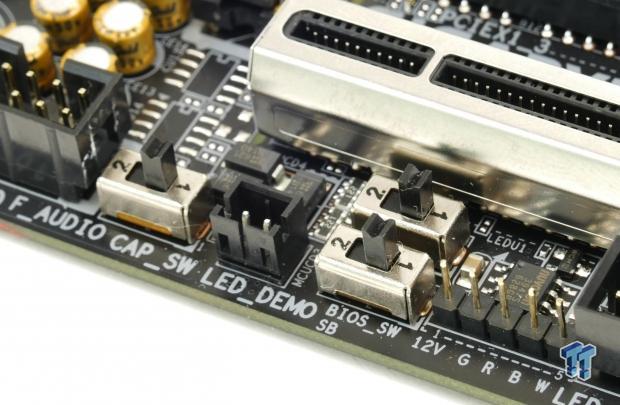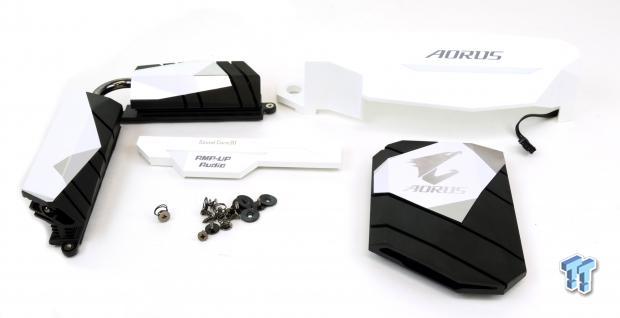 AORUS is the first motherboard vendor I have seen to offer RGBW headers, which are backward compatible with RGB headers. The W stands for white, since the LEDs that use the W have an extra white chip for true white. RGBW offers much better white, an actual white instead of maxed out RGB, and offers more color range since the white can soften colors. That LED Demo connector is not something you will use; it's a power input header used by GIGABYTE for motherboard display purposes (it lights up the LEDs on the board without the motherboard requiring main power).
A Dual BIOS switch is located above a Single BIOS mode switch. The dual BIOS switch allows you to choose between either of the two onboard BIOS ROMs, and the single BIOS mode switch will severe inter-BIOS communications and disable automatic BIOS recovery. The CAP switch allows you to choose between x6 and x2.5 gain for the amplifier. The heat sinks and shields are well designed and use screws. The shields are plastic.
AORUS Z270X-GAMING 7 Circuit Analysis
Circuit Analysis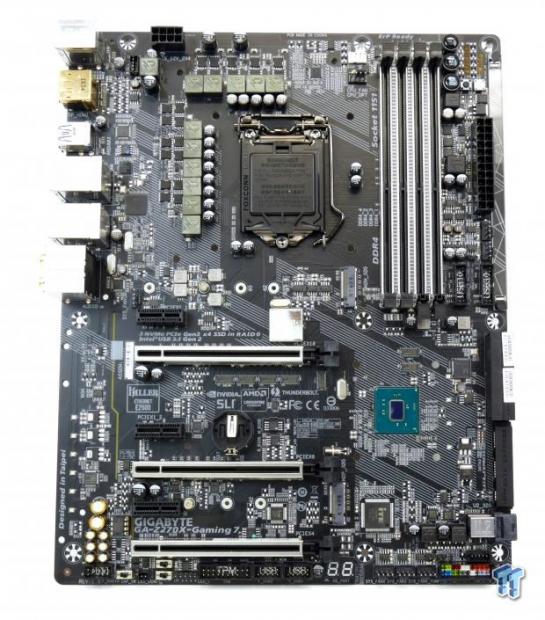 Now it's time to dig deep into the motherboard's circuitry.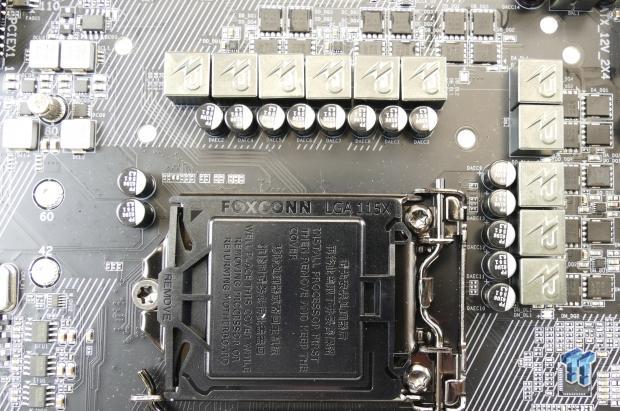 The VRM on the Z270X-GAMING 7 is in an 8+3 phase configuration for the VCore and iGPU voltage rails. It seems that the VRM is a true 4+3 phase and the CPU VCore section is doubled to 8+3. The VRM on this motherboard should be adequate for overclocking the 7700K since it does not use all that much power.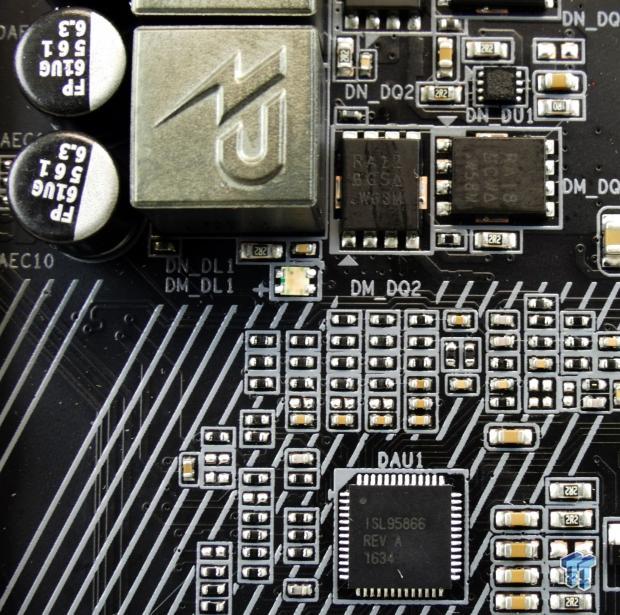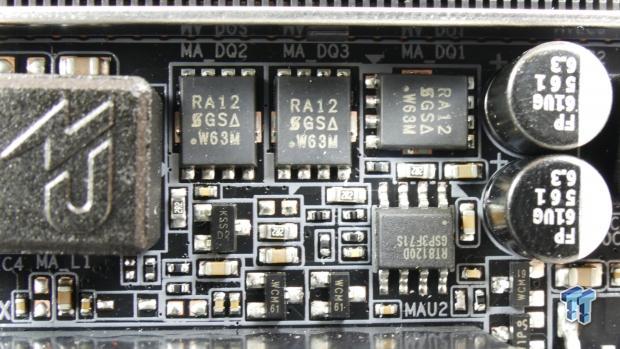 The Intersil ISL95866 4+3 phase hybrid-digital PWM controller. Intersil uses something they call a Green hybrid digital R3 modulator, which they say provides the best of analog and digital PWM technology. It offers two integrated drivers for the CPU and one for the iGPU outputs, so GIGABYTE had to add two ISL6625A drivers for the iGPU and two more for the CPU to get 4+3 phases, which they then doubled on the CPU side to 8+3 by doubling the number of MOSFETs on each driver.
The MOSFETs are the same Vishay SiRA12 for the low-side and SiRA18 for the high-side that GIGABYTE used on the Z170X-Gaming 7. The memory VRM receives the same MOSFETs, but uses a two low and single high configuration and a Richtek RT8120 single phase PWMN with integrated driver.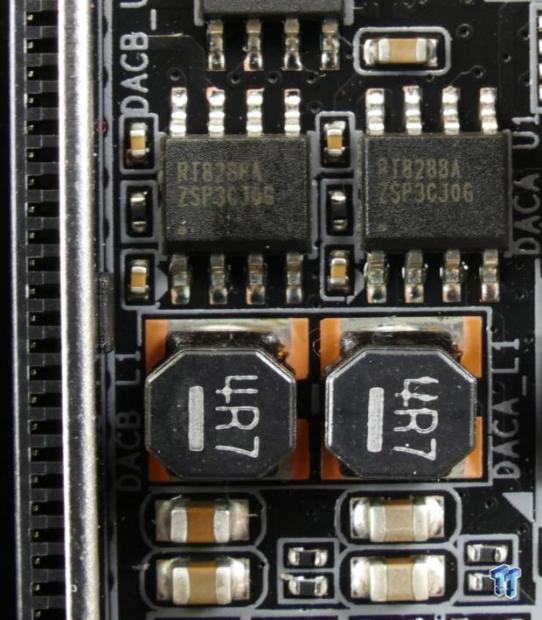 USB DAC-UP 2 offers power control and voltage compensation for select USB 3.0 ports/headers. The two internal headers each get their own dedicated voltage regulator circuit that utilizes a Richtek RT8288A 4A step-down converter.
AORUS Z270X-GAMING 7 Circuit Analysis Continued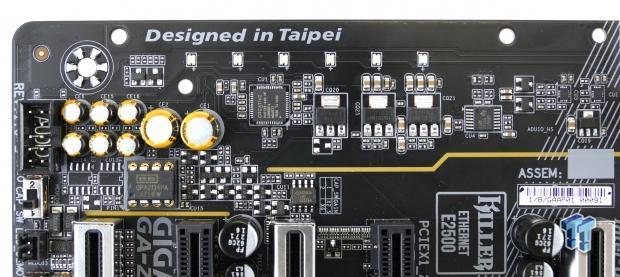 Audio on the Z270X-GAMING 7 is similar to that of the Z170X-Gaming 7, you get a Creative Core3Di CA0132 quad-core audio processor, a DIP socket with a BurrBrown OPA2134 amplifier with dedicated power for front headphone output, Nichicon Gold series electrolytic audio capacitors, and a Texas Instruments DRV632 line driver (similar to an amplifier) for the rear headphone jack. It's a decent authentic (not only software) Creative audio solution.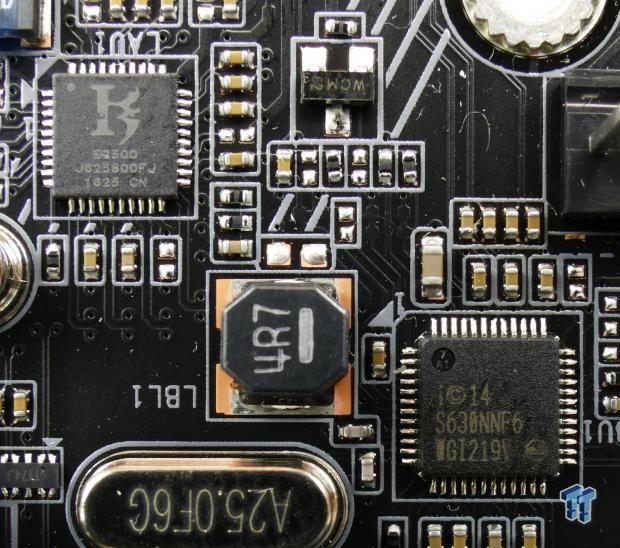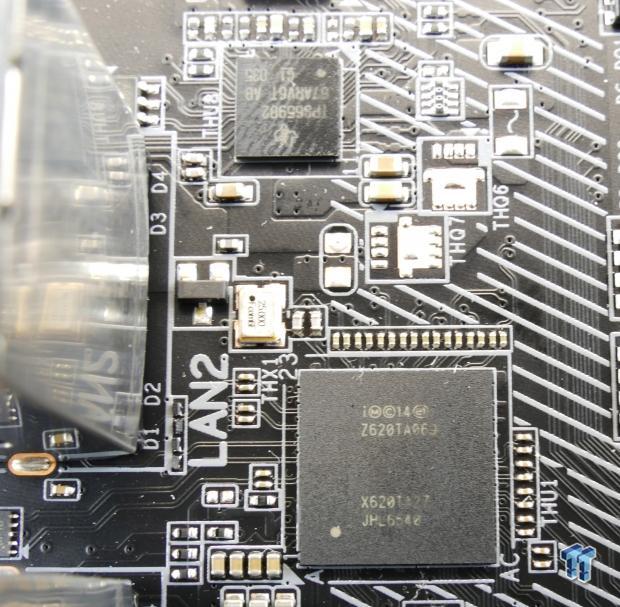 One of the new chips I am seeing aside from the new ASMedia USB 3.1 controller and Realtek audio codec is Killer's new E2500 NIC, the successor to the E2400. I am told (not by GIGABYTE or AORUS but another vendor), that it is actually more expensive than the Intel NIC. Either way, the Z270X-Gaming 7 offers you the option to use either, perhaps Intel for work and Killer for play. AORUS has used Intel's USB 3.1/ThunderBolt 3 controller and Texas Instruments TPS65982 type-C switch and power delivery controller for the USB 3.1 on the rear IO.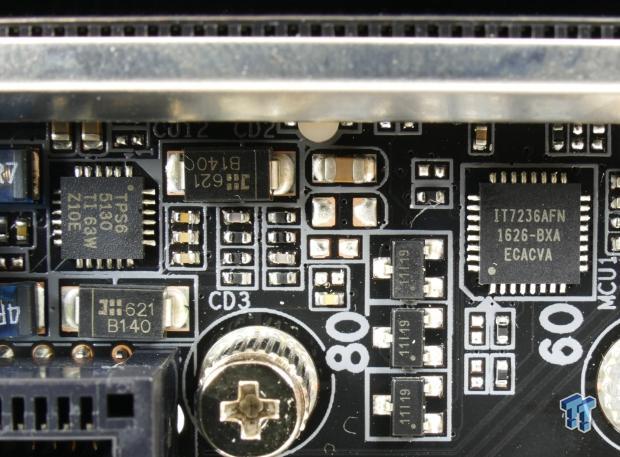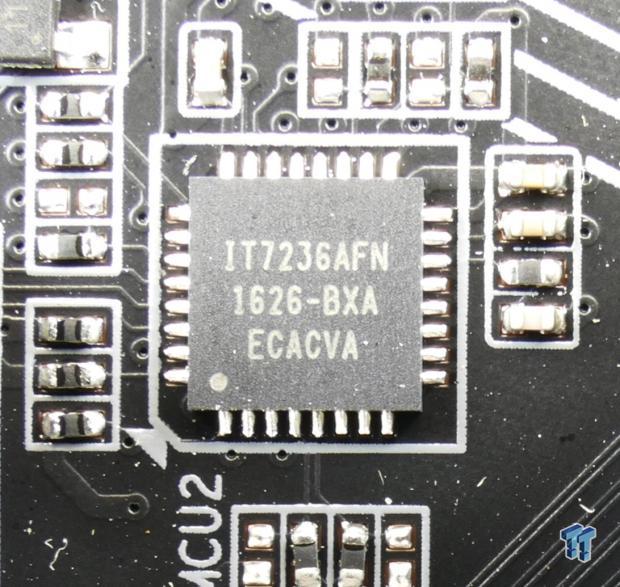 The Texas Instruments TPS65130 is a step up converter that powers the AMP-UP socket with +/- 15v. The IT7236AFN is a new IC I have found on these AORUS motherboards; it seems to be in control of the RGB header and RGB LEDs on the motherboard, there are two of them on the Z270X-Gaming 7.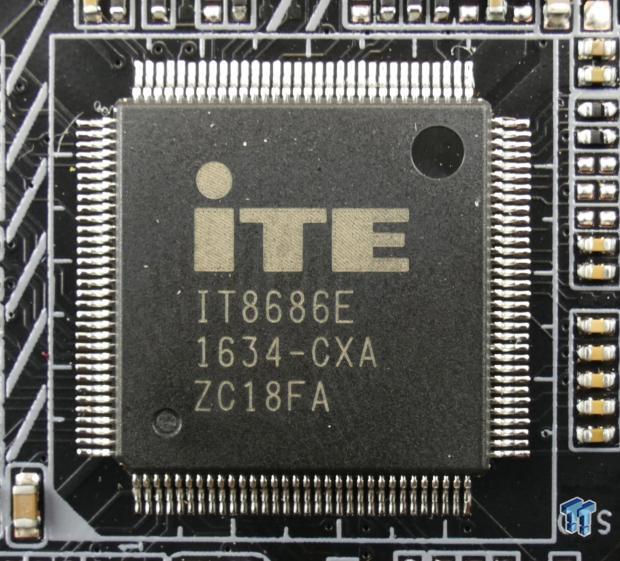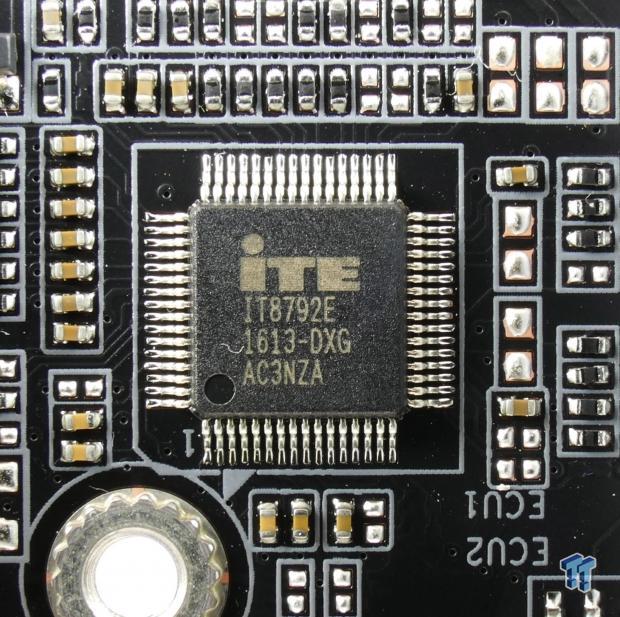 The ITE IT8686E replaces the IT8628E SuperIO and is perhaps the reason the Z270X-Gaming 7 has much more robust fan control. The IT8792E is a secondary embedded controller that helps the main SuperIO with fan control and other custom AORUS features.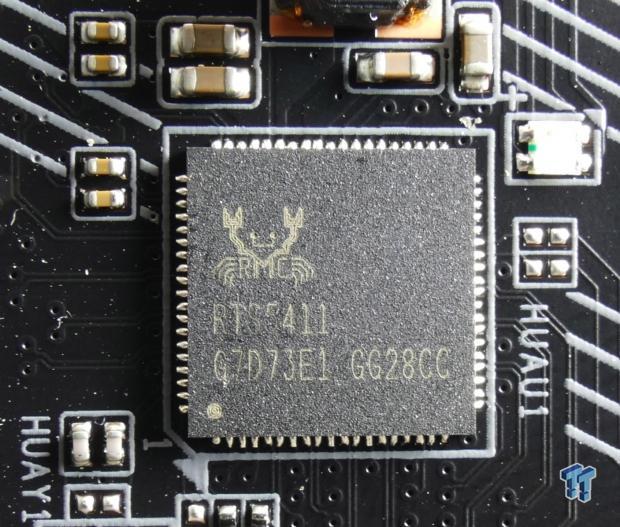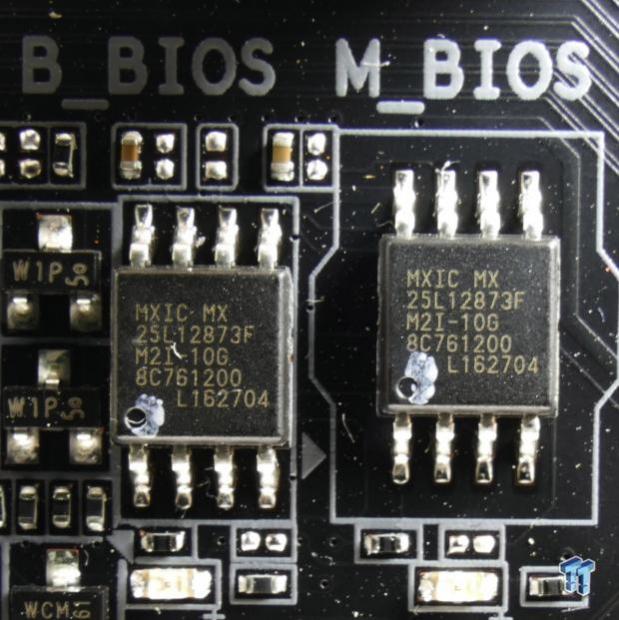 Realtek's RTS5411 is the USB 3.0 hub that takes a single port from the PCH and turns it into four for the two USB 3.0 internal headers. Two 128Mbit BIOS ROMs offer redundancy in case one gets corrupted.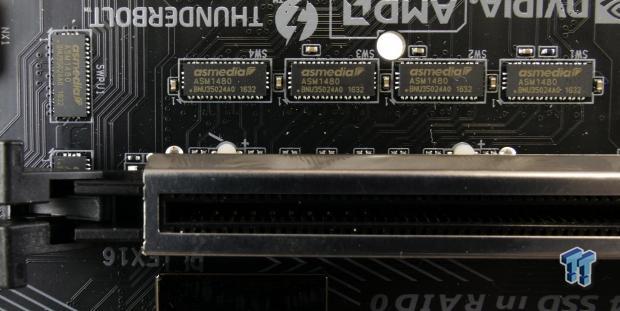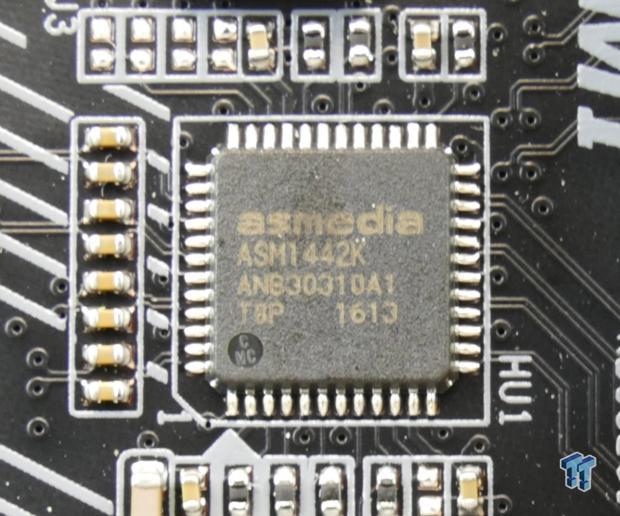 There are many ASMedia ASM1480 PCI-E 3.0 quick switches on the motherboard. The four in a straight line switch x8 between the first and second x16 PCI-E slots, the other two in the picture are for M.2 bandwidth. An ASMedia ASM1442K level shifter provides an HDMI signal from the digital video signal output of the iGPU in the CPU.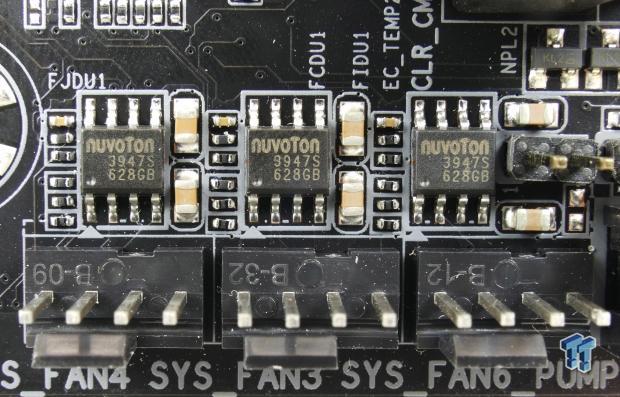 For individual fan control and auto-sensing capabilities, each fan header is equipped with a nuvoTon NCT3947.
BIOS and Software
BIOS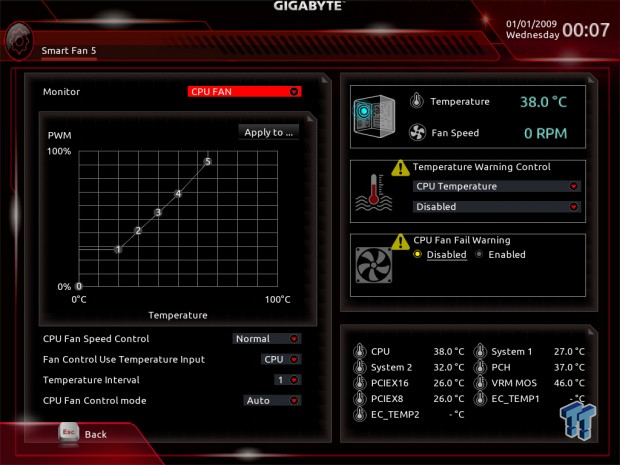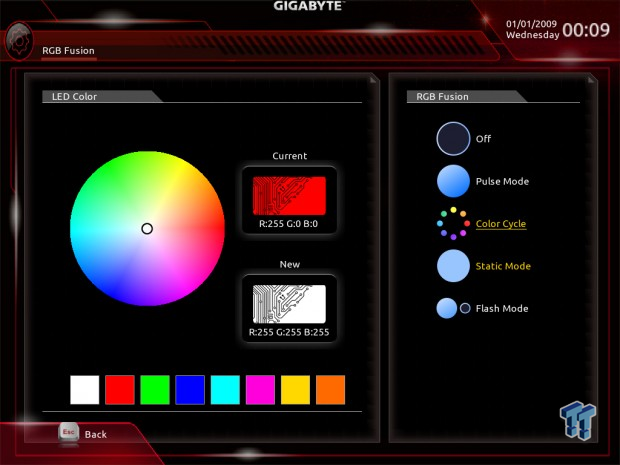 The Z270X-GAMING 7 is equipped with a new UEFI, which is similar to that of refreshed GIGABYTE X99 and Z170 motherboards. It has two operation modes, tons of overclocking settings, and everything you need to configure your hardware.
Fan control is present and totally customizable, but what is even more interesting is the presence of UEFI RGB control, something not common. If you find the advanced mode intimidating, there is an easy mode for novice users.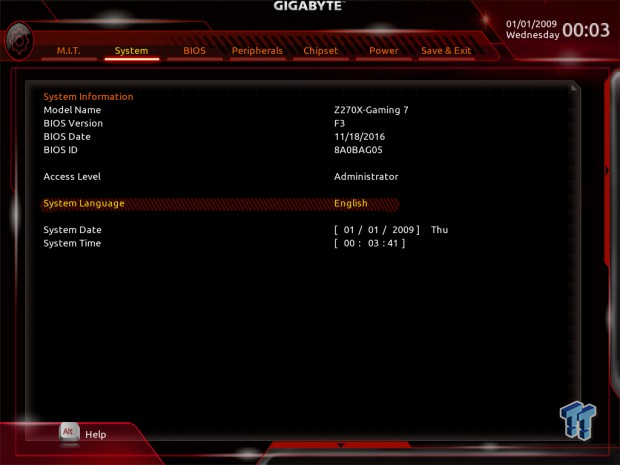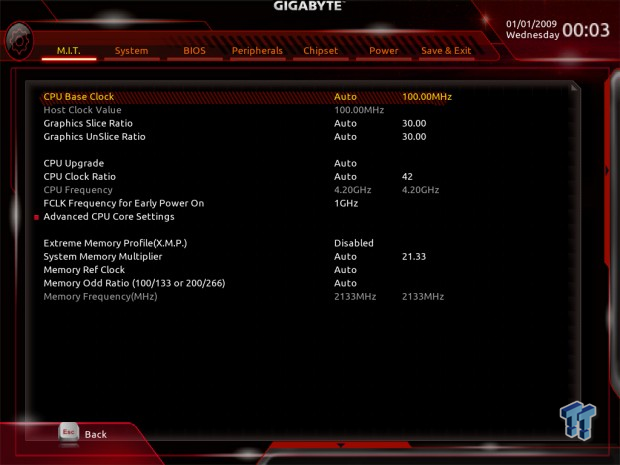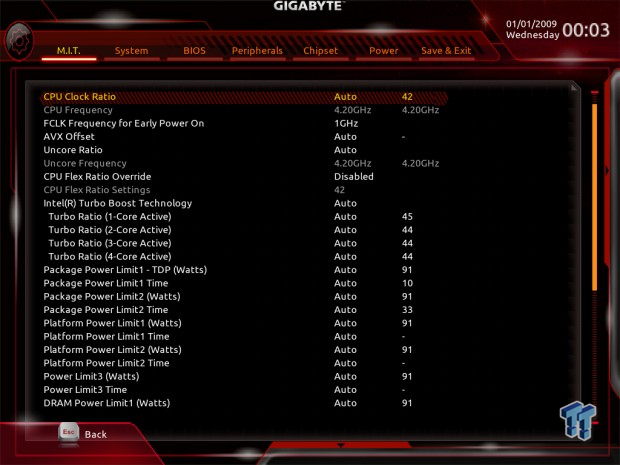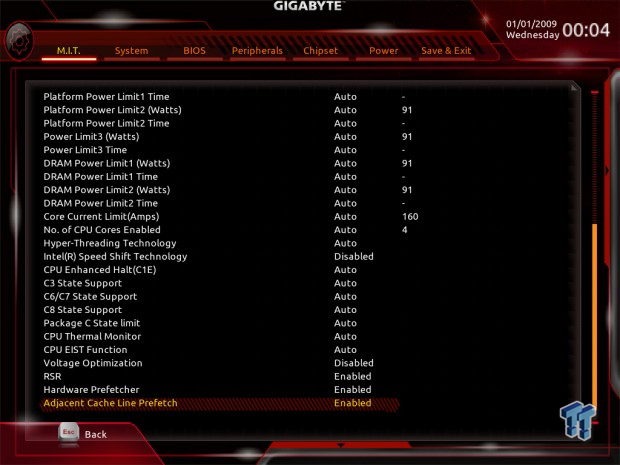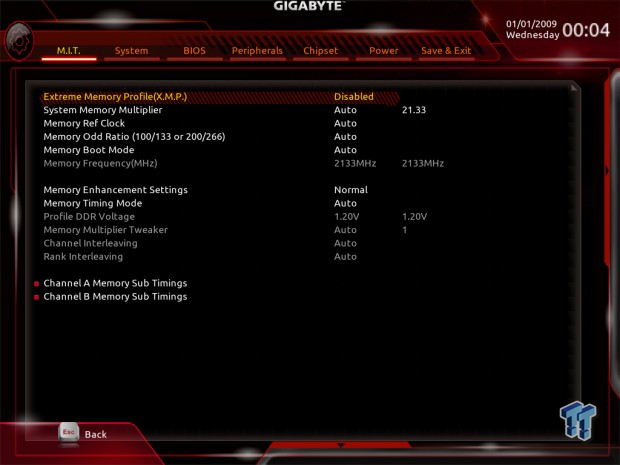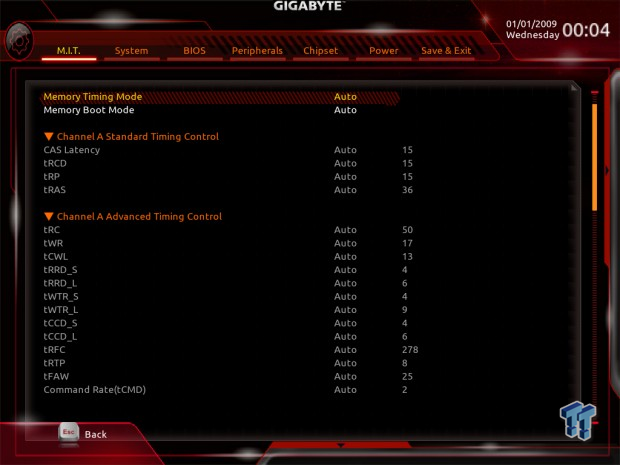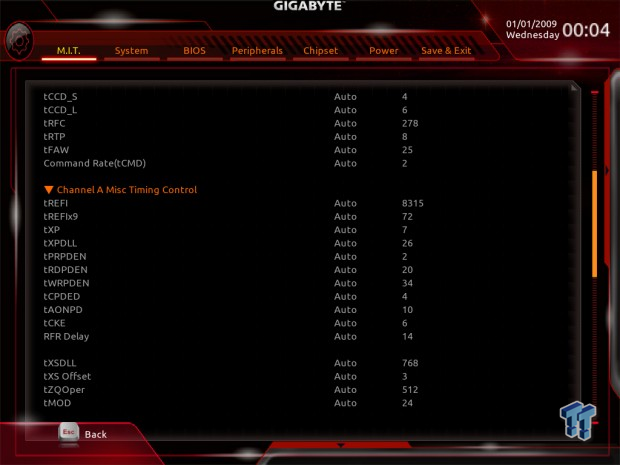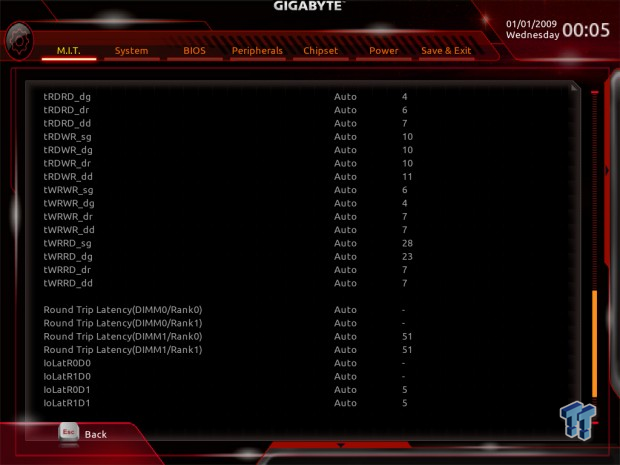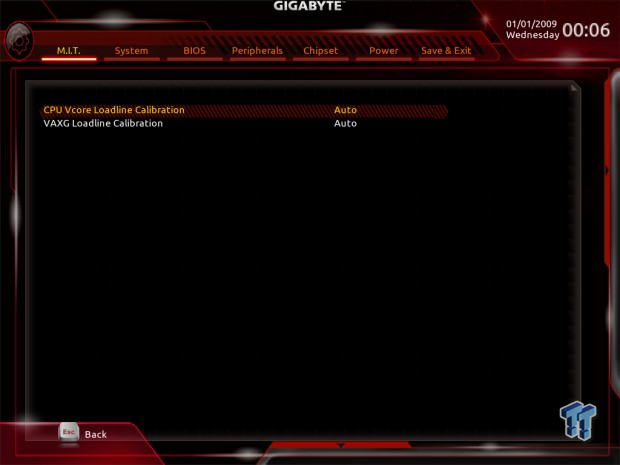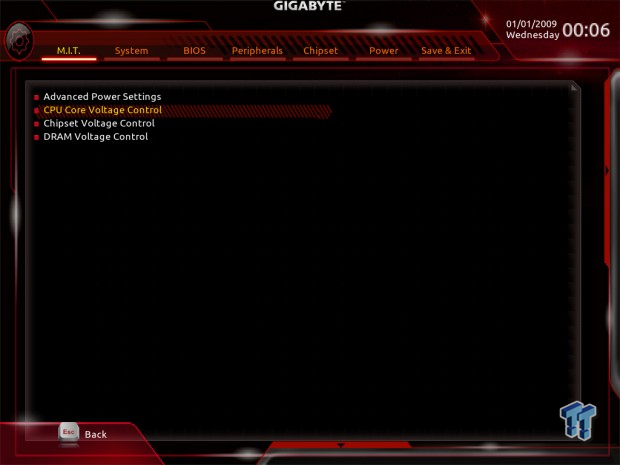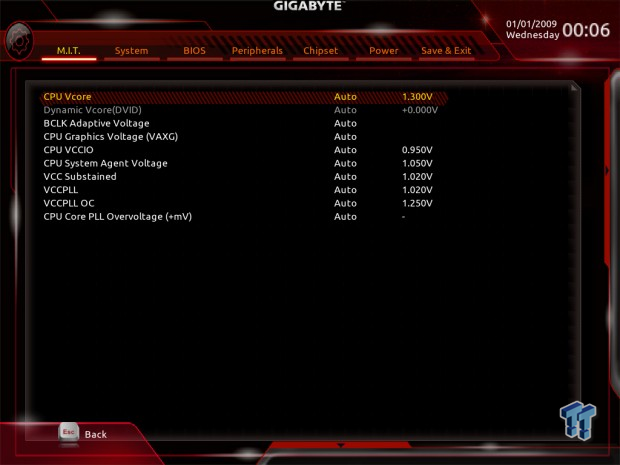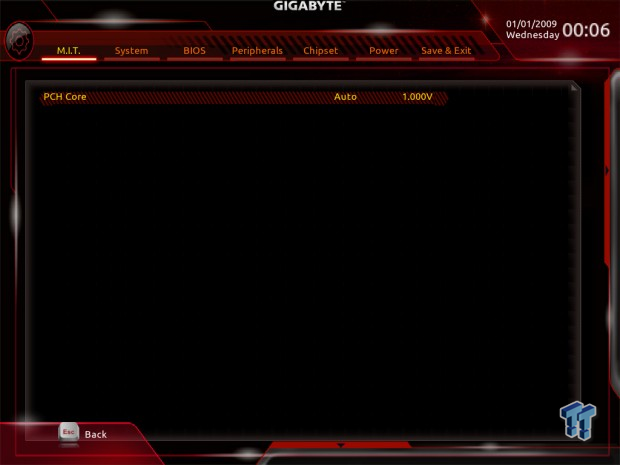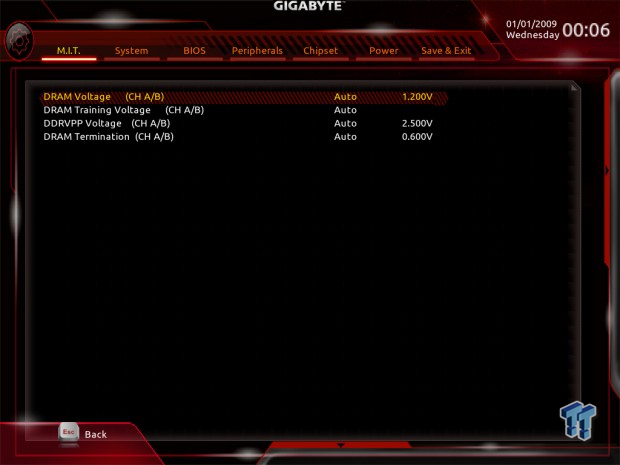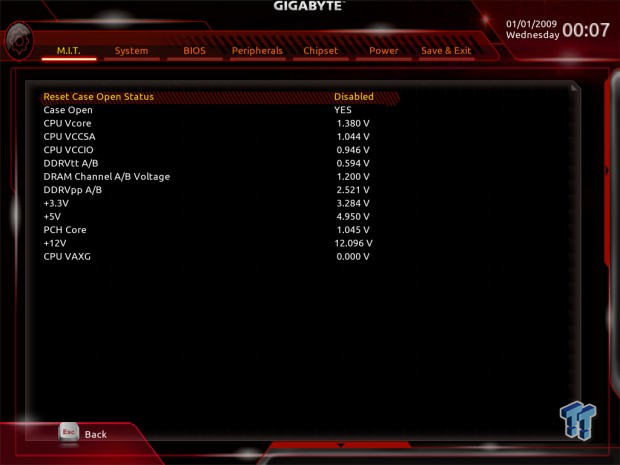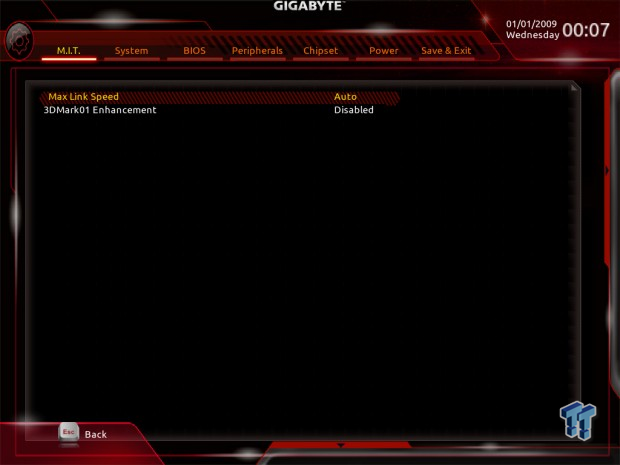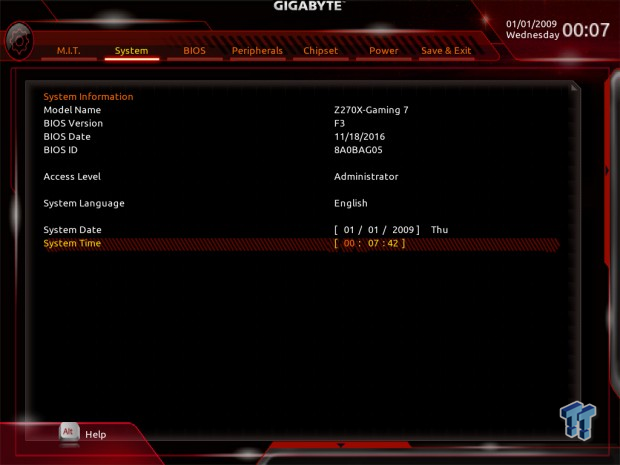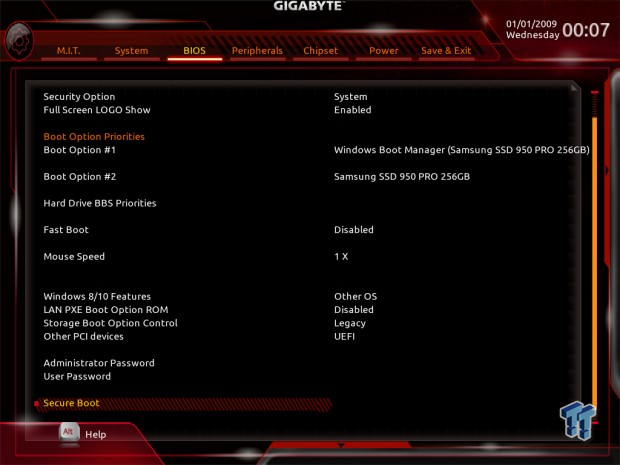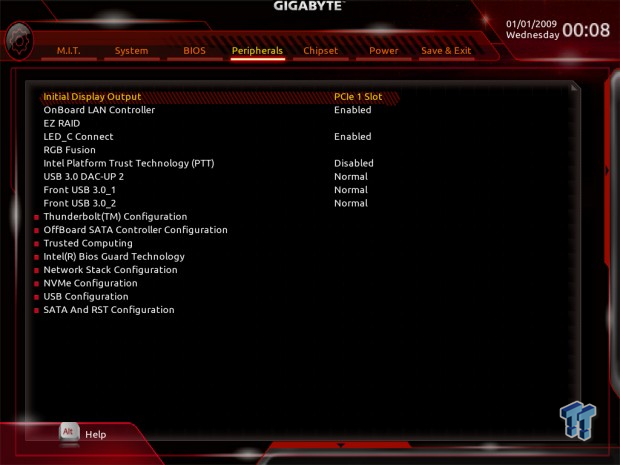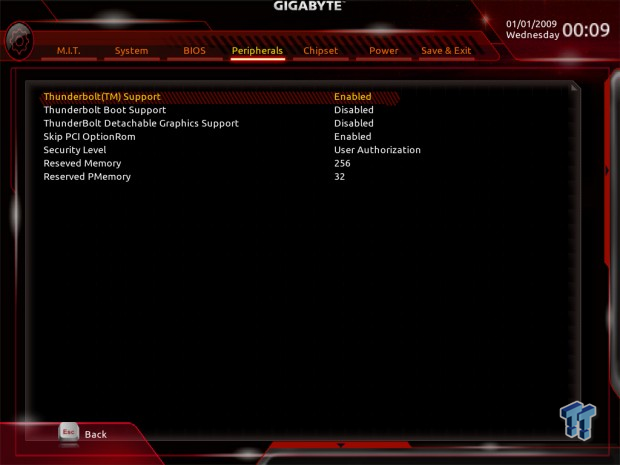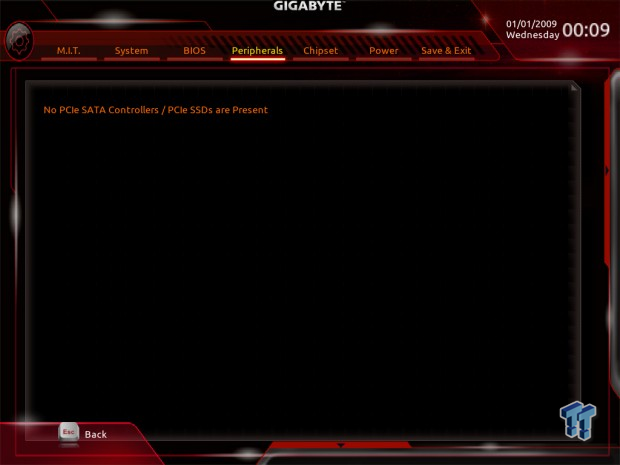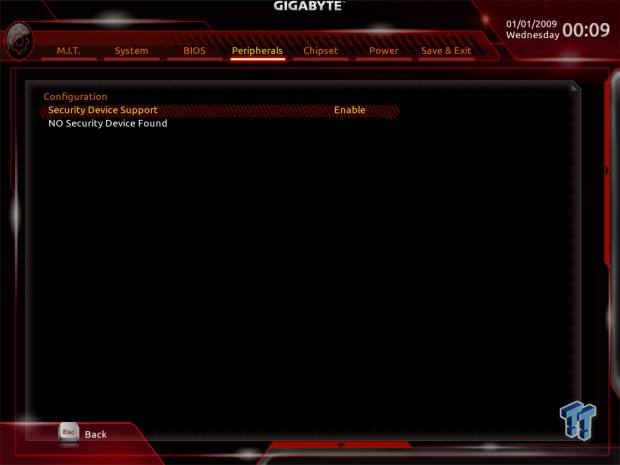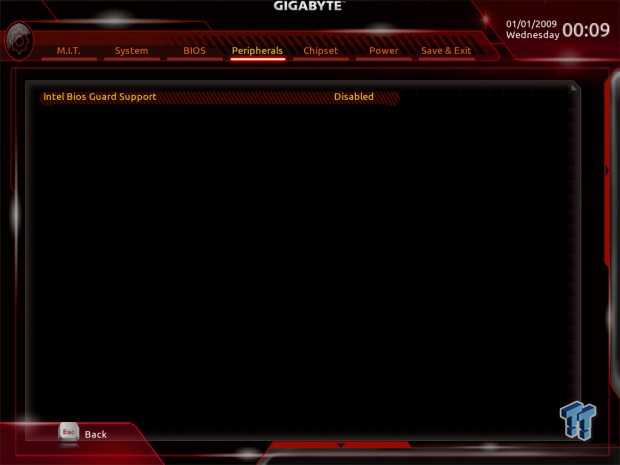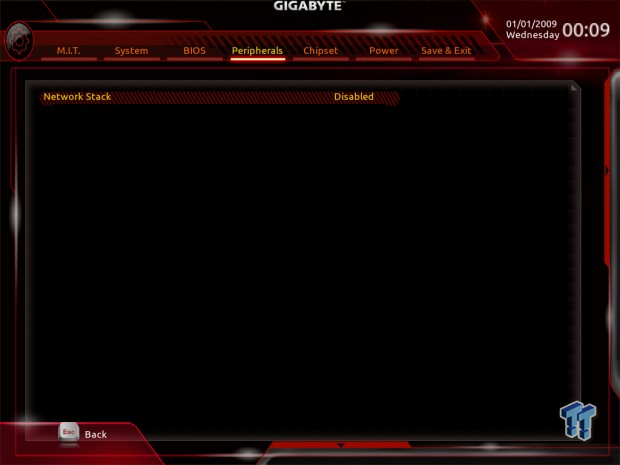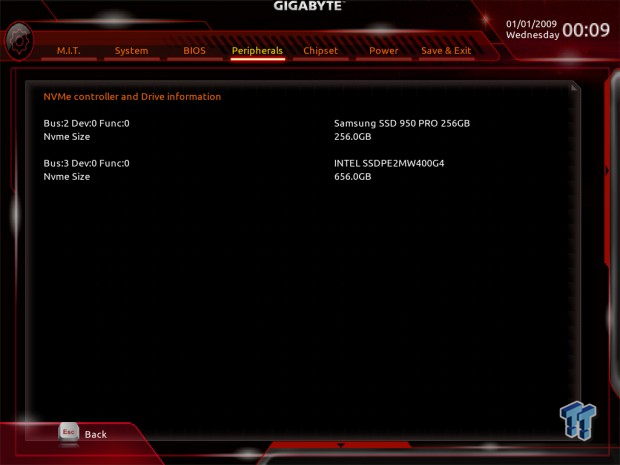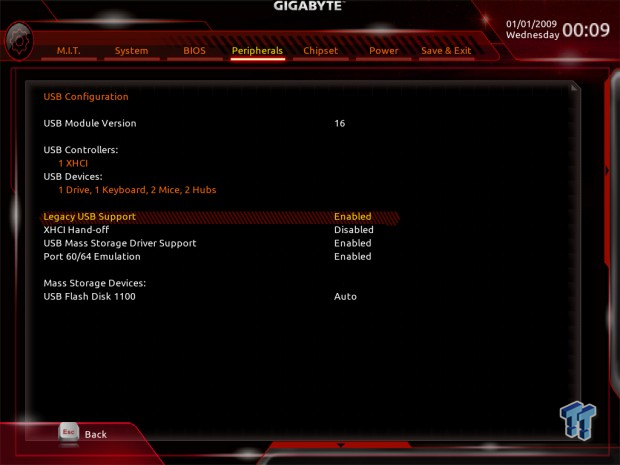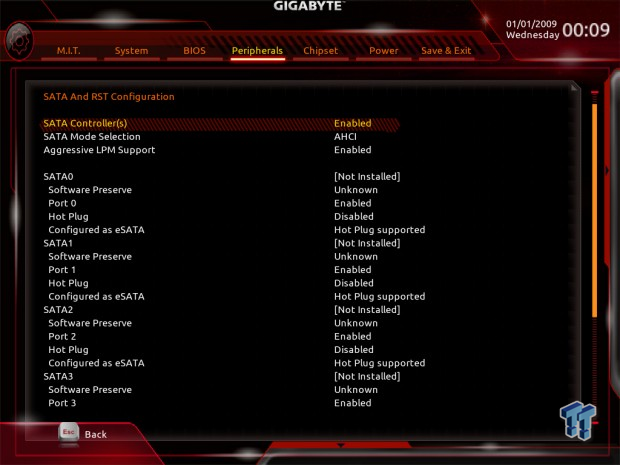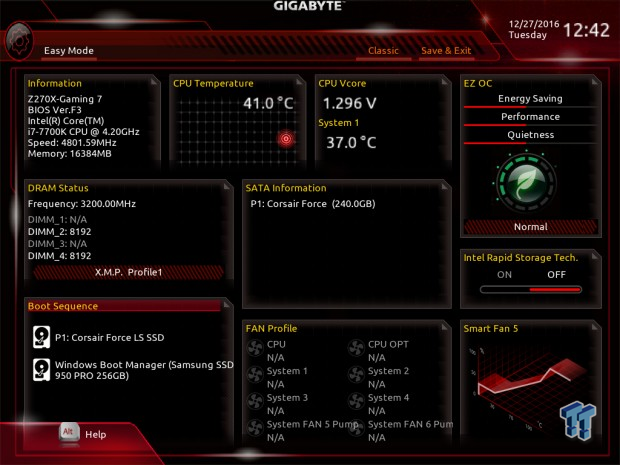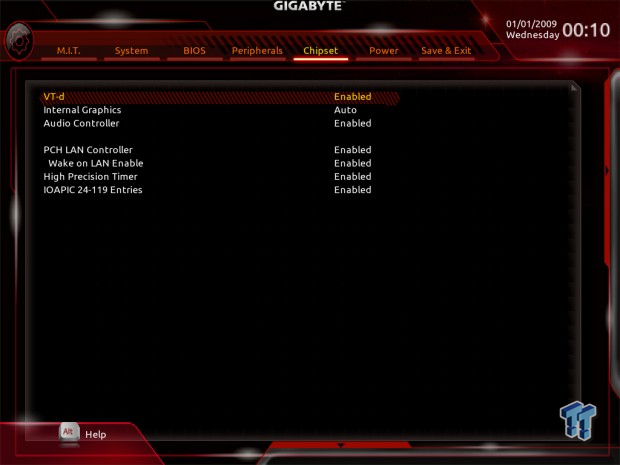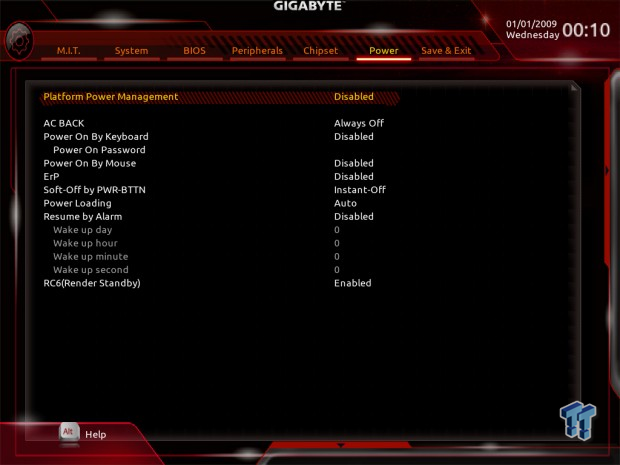 Software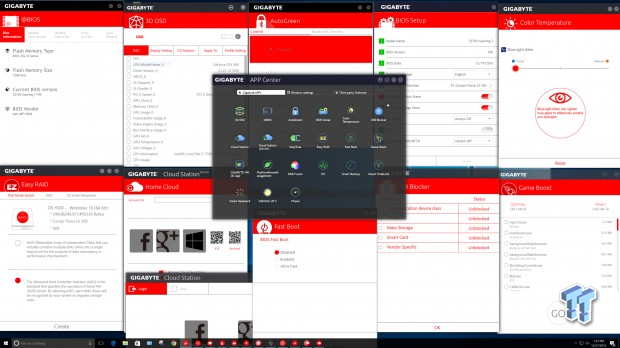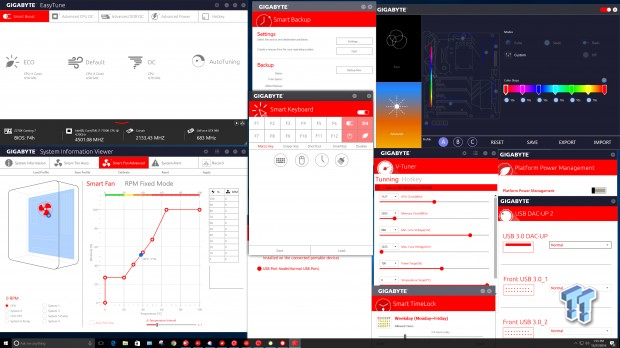 GIGABYTE's APP Center is where most of GIGABYTE's software is located. Software applications include 3D OSD, @BIOS, AutoGreen, BIOS Setup, Color Temperature, USB Blocker, Cloud Station, EasyTune, Easy RAID, Fast Boot, Game Boost, GBT HW OC App, PlatformPowerManagment, RGB Fusion, SIV, Smart Backup, Smart TimeLock, Smart Keyboard, USB DAC-UP 2, VTuner.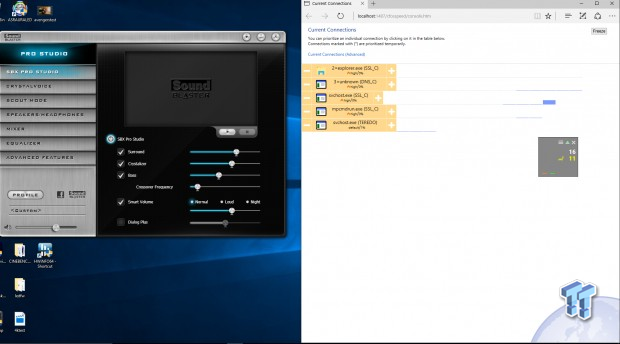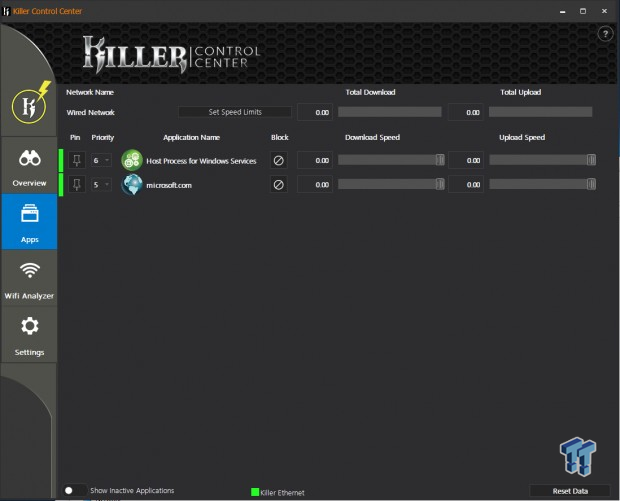 Creative's Sound Blaster Pro Studio is included, as is a modified version of cFOS for the Intel NIC, and Killer's Network Manager for the Killer NIC.
Test System Setup
Steven's Motherboard Test System Specifications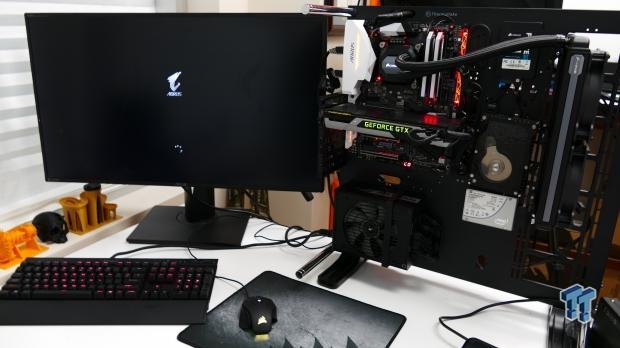 AORUS's motherboard is quite the shining star and looks good on a wall mounted PC build.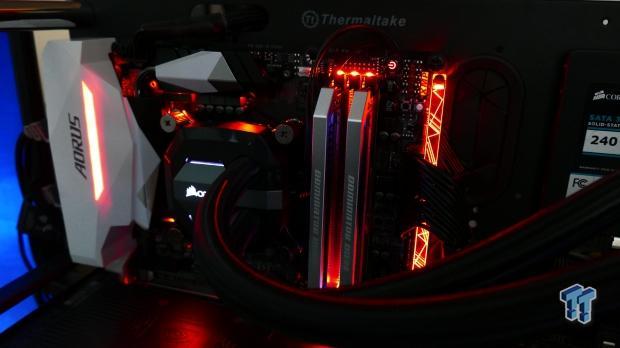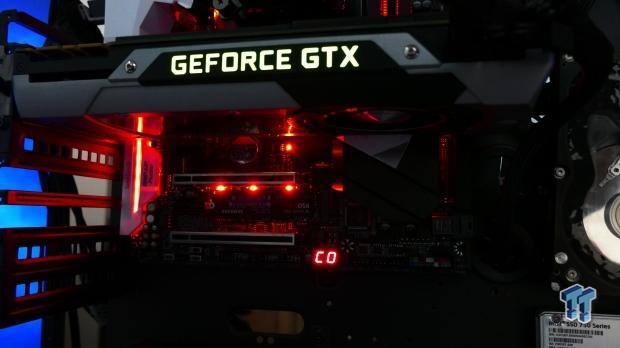 I am a big fan of the plastic strip and the LEDs in the shields that are well-diffused, but the LEDs around the VRM and PCI-E slots glare right into your eyes and are diffused if you use a large air cooler or multiple GPUs. You can disable different LED sections, though.
Overclocking
Overclocking Results
CPU Overclocking
I have decided to reduce the CPU VCore to 1.3v applied with XMP and set 5GHz for the 7700K.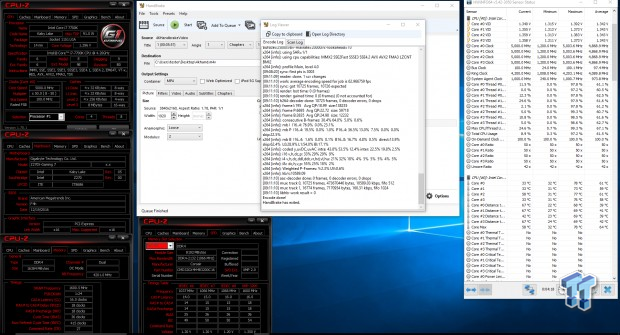 The new 7700K is an excellent overclocker, and I use my best one to overclock to 5GHz. The AORUS Z270X-Gaming 7 is a pretty good overclocker, and setting the overclock was easy and simple.
Compatible Memory Overclocking Kits
In this section, I overclock four memory kits only using XMP, if the kit works then the results are below. I welcome memory vendors to send in their kits to be tested on each motherboard.
Corsair Dominator Platinum 3200MHz C16 8GBx2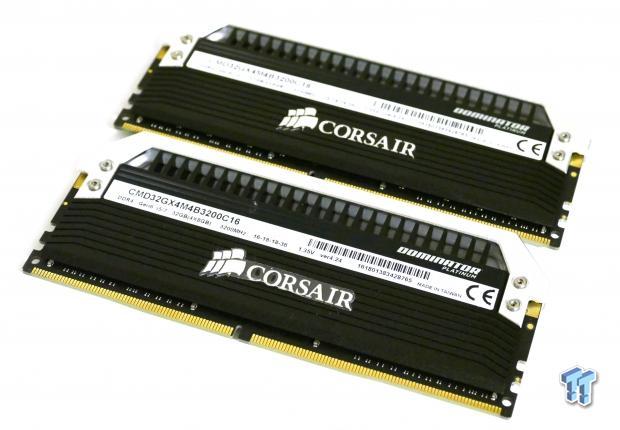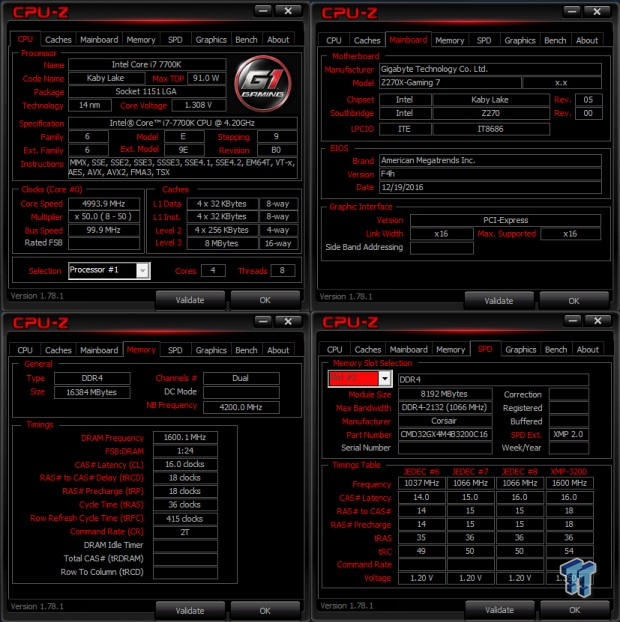 G.Skill TridentZ 3866MHz C18 8GBx2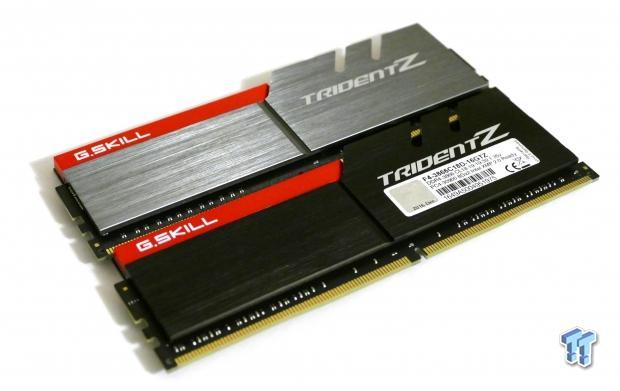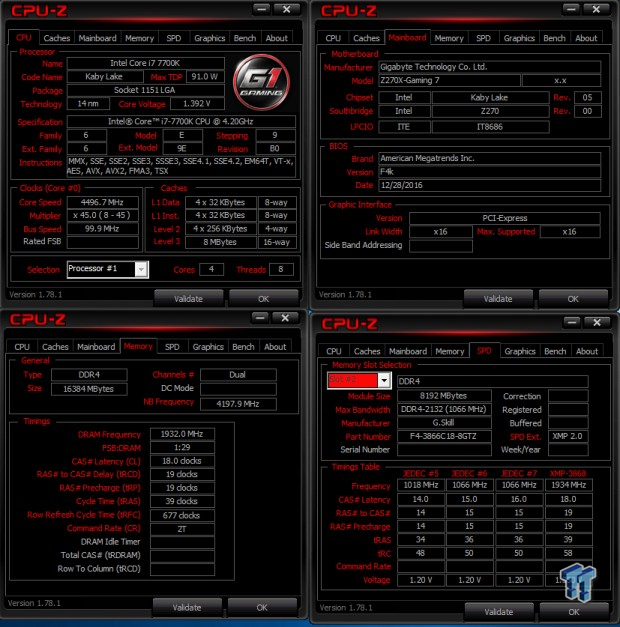 GEIL EVO X RGB 3200MHz C16 8GBx2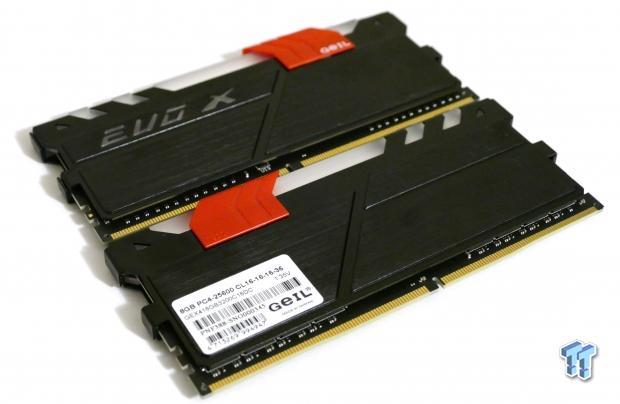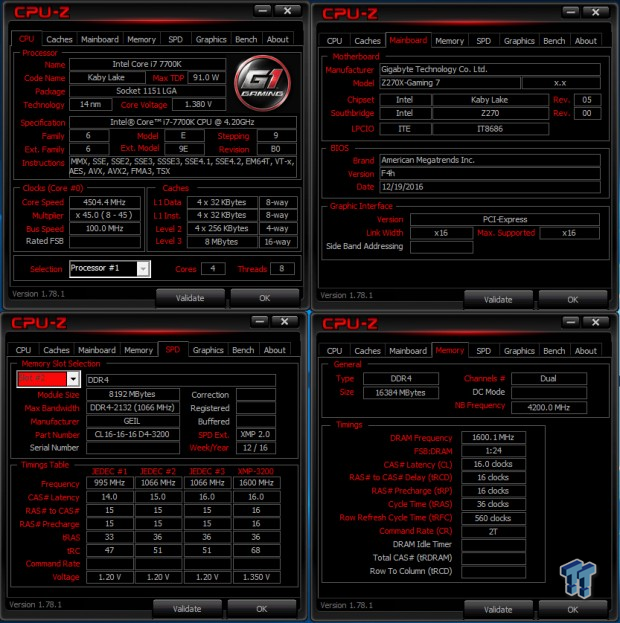 GEIL EVO FORZA 3200MHz C16 8GBx2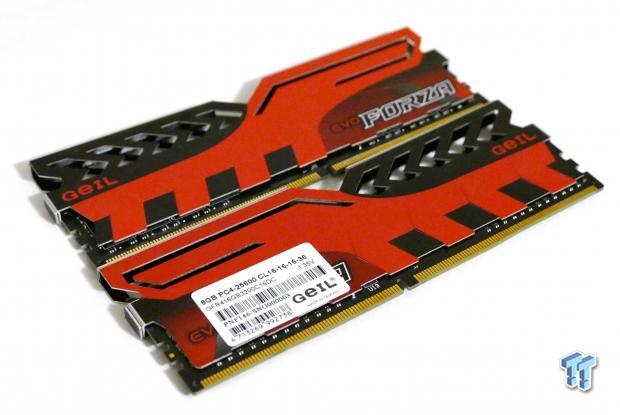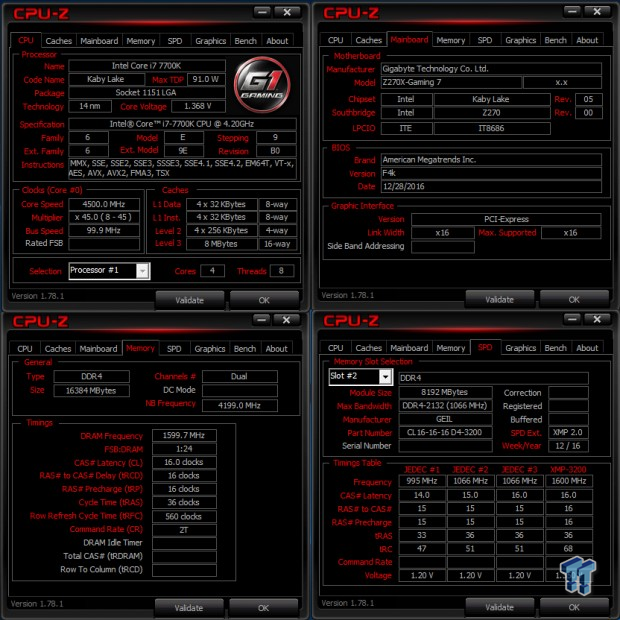 Lessons learned from Z170 motherboard production and the improved memory overclocking of the 7700K allow the motherboard to support very high DDR4 speeds.
CPU, Memory, and System Benchmarks
CINEBENCH 11.5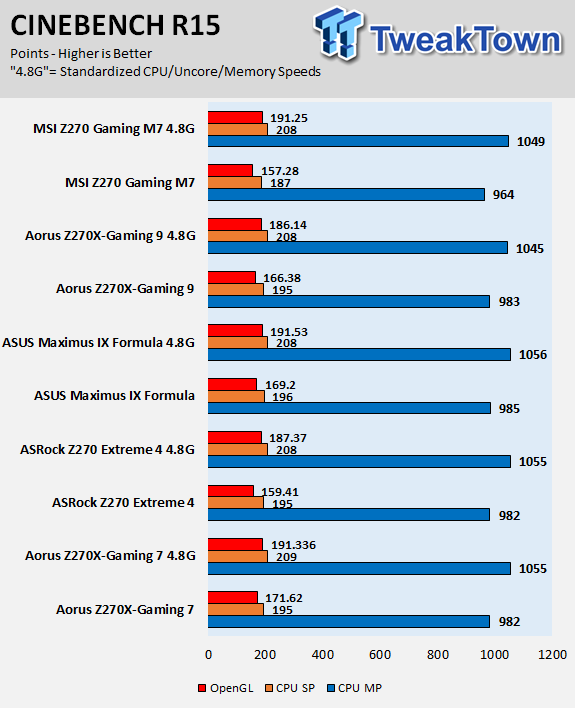 wPrime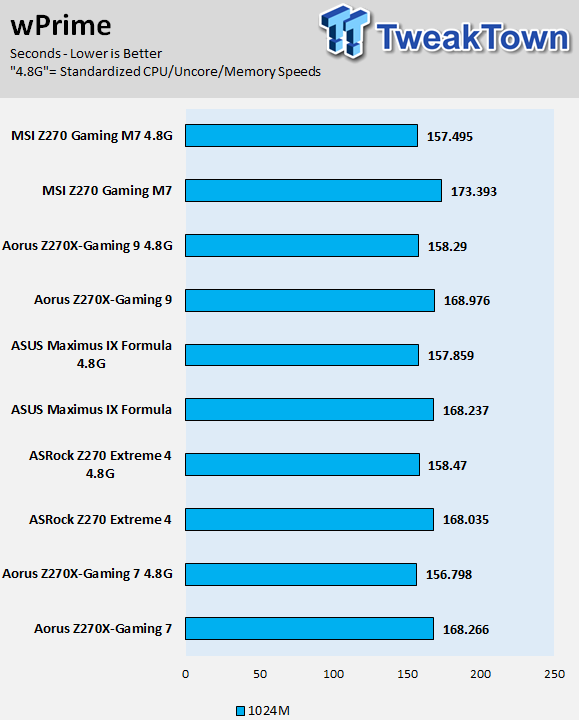 AIDA64 AES and HASH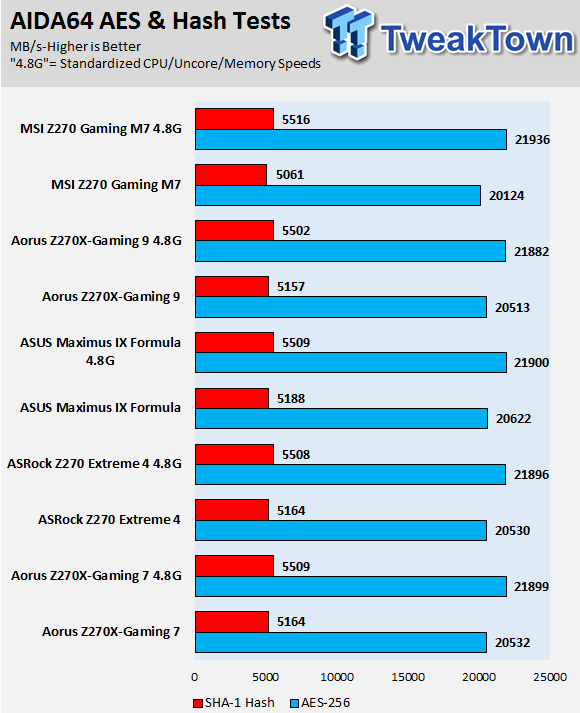 AIDA64 FPU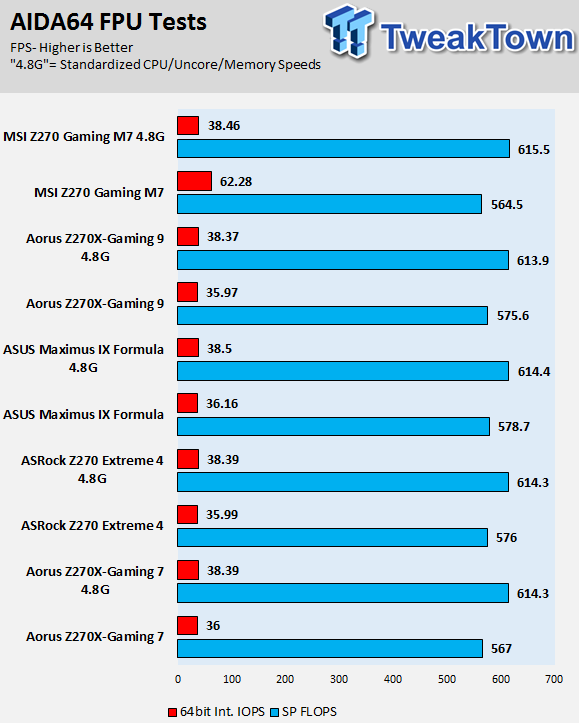 AIDA64 Memory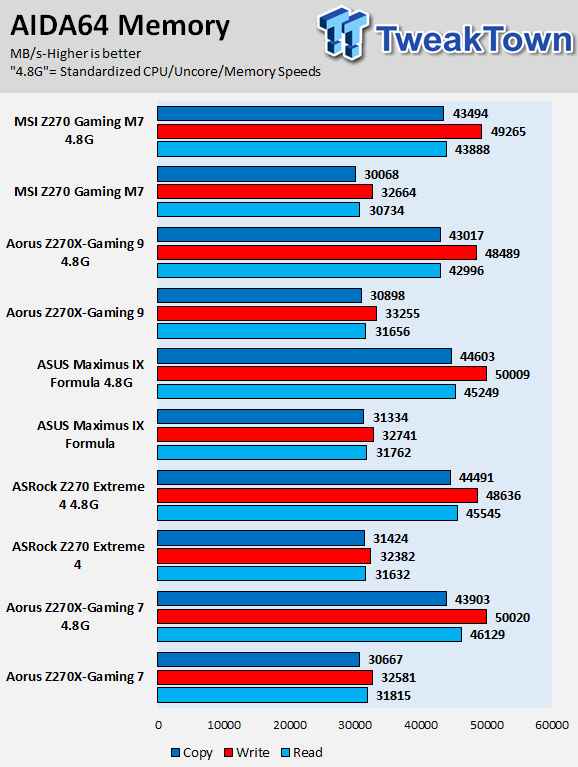 ScienceMark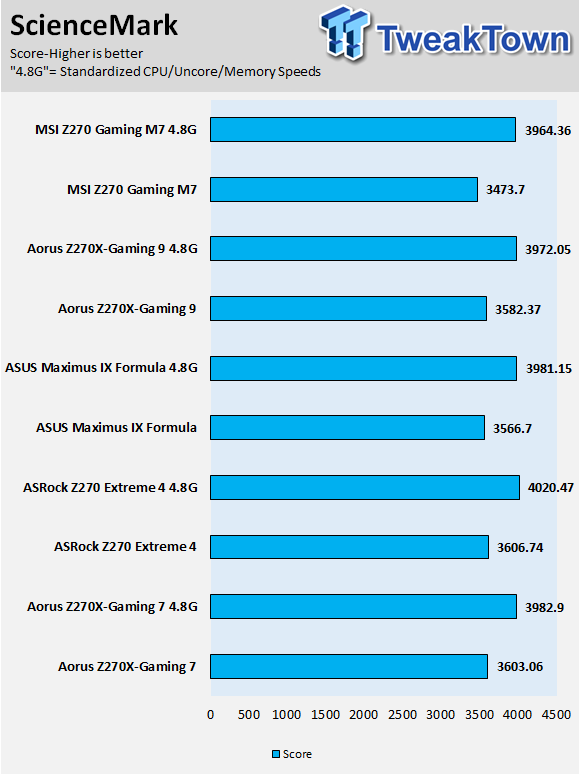 HandBrake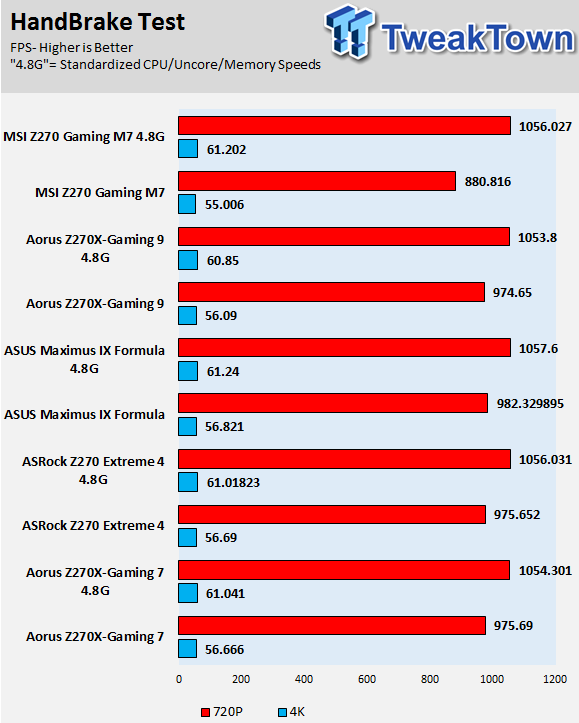 3DMark: Fire Strike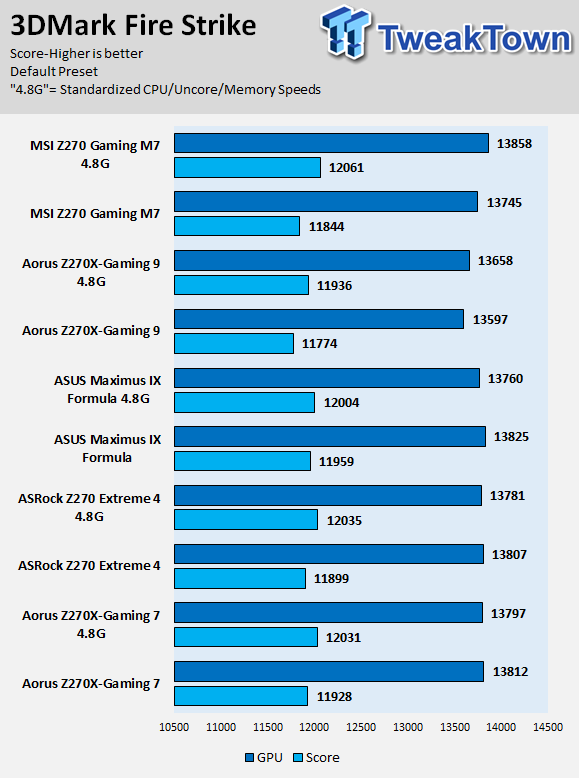 3DMark: Cloud Gate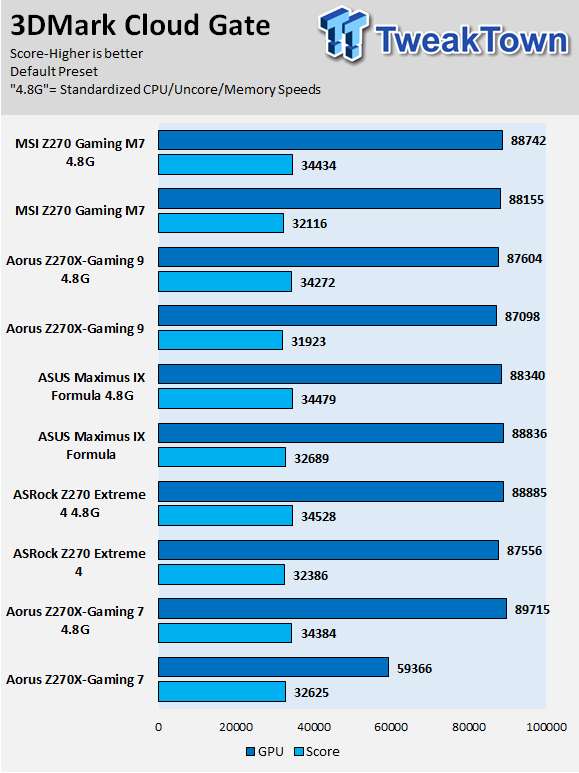 ResidentEvil 6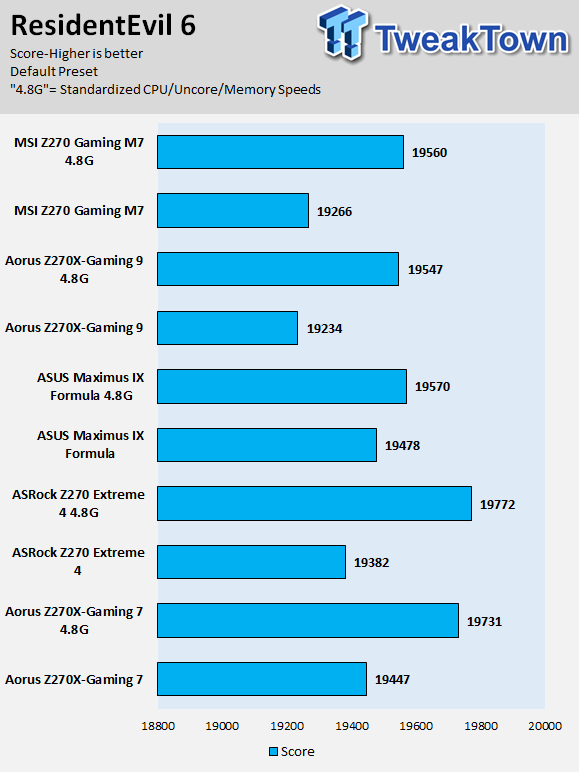 AORUS's Z270X-GAMING 7's multi-core enhancement, the practice of bumping all cores to maximum turbo multiplier, is at the same levels as some of the other motherboards. When I dial in standardized settings the motherboards almost all, score relatively the same. The performance was solid all around, and at this point, with all the microcode changes scores can change at any moment.
Some motherboard reviews put a lot of weight into motherboard CPU, memory, and GPU benchmarks, but for me, CPU, memory, and GPU benchmarks on motherboards should be more about finding anomalies, and I do that at standard settings (4.8G in graphs).
System IO Benchmarks
CrystalDiskMark SATA6G: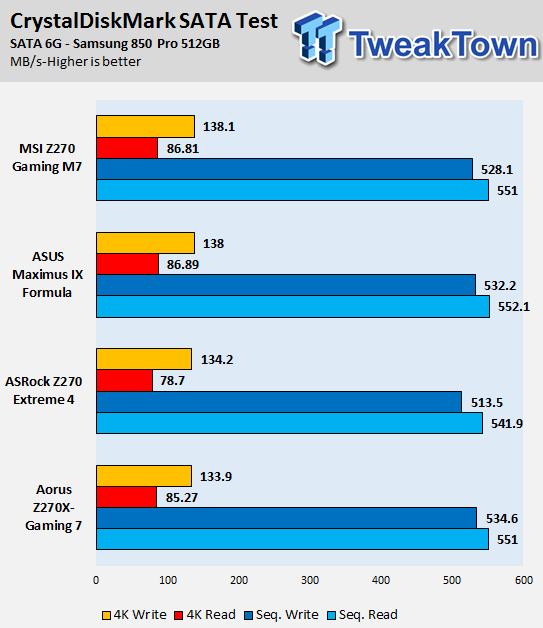 CrystalDiskMark M.2: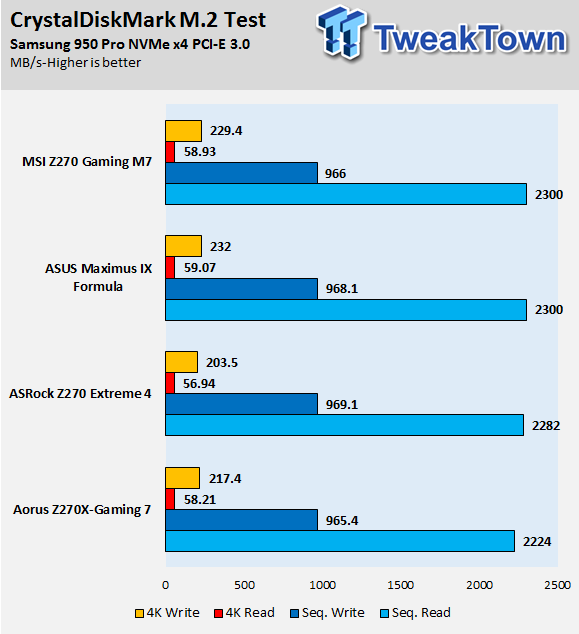 CrystalDiskMark U.2: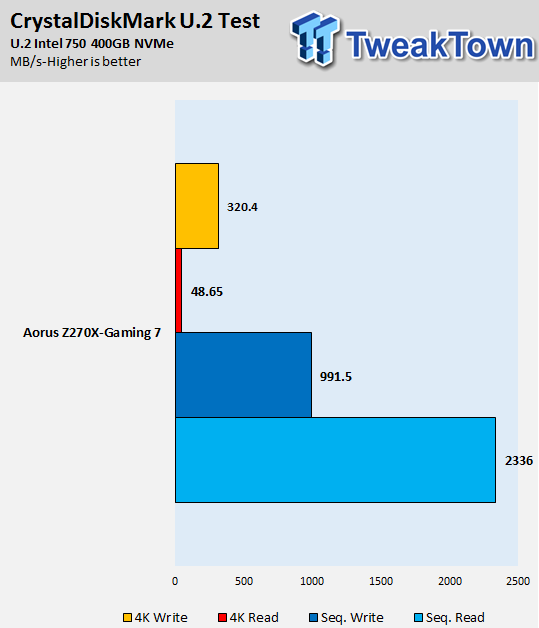 ixChariot Network Throughput: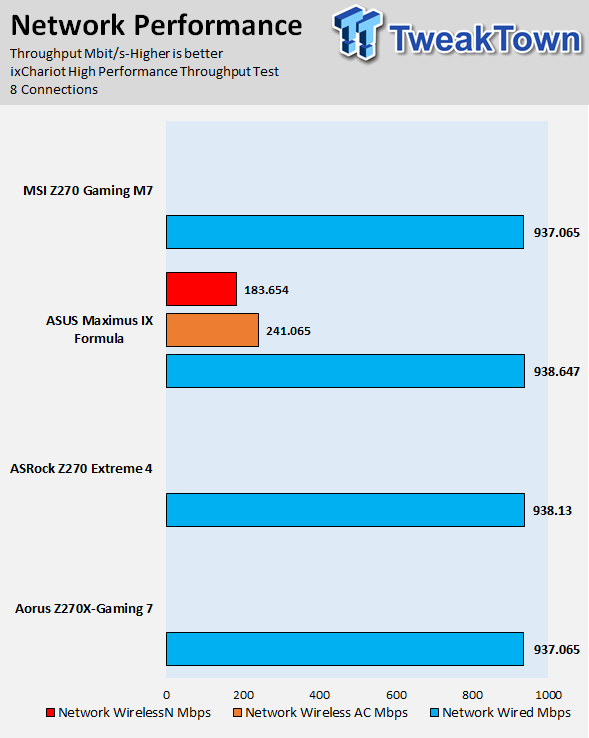 The Z270X-GAMING 7 has good IO performance, and storage doesn't seem bottlenecked. Network performance is also solid, but that is to be expected as the majority of 1Gbit NICs score above 937 Mbps.
Audio RMAA 5.5:
I disable all audio features, set the correct bitrates, and then test the audio with a loopback test.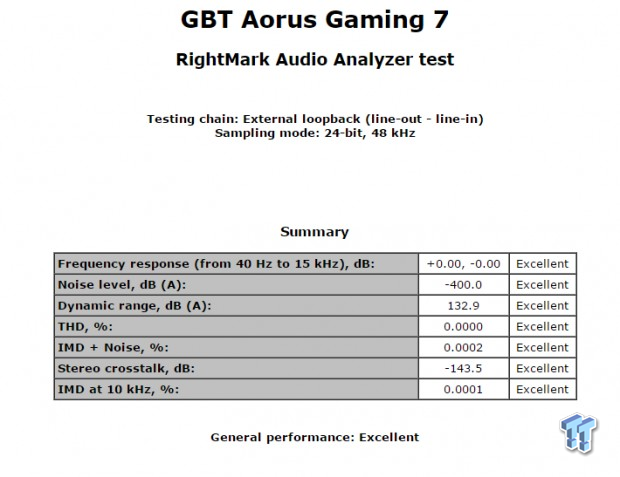 Sound Judgment by Ear: Excellent. Creative chipsets bug out in RMAA, and so the scores are pretty much useless, but I can attest the audio sounds excellent. There are five ratings for audio: 1. Problems, 2. Okay, 3. Acceptable, 4. Very good, 5. Excellent
Thermal Imaging and Power Consumption
System power is measured at the wall with an AC power meter.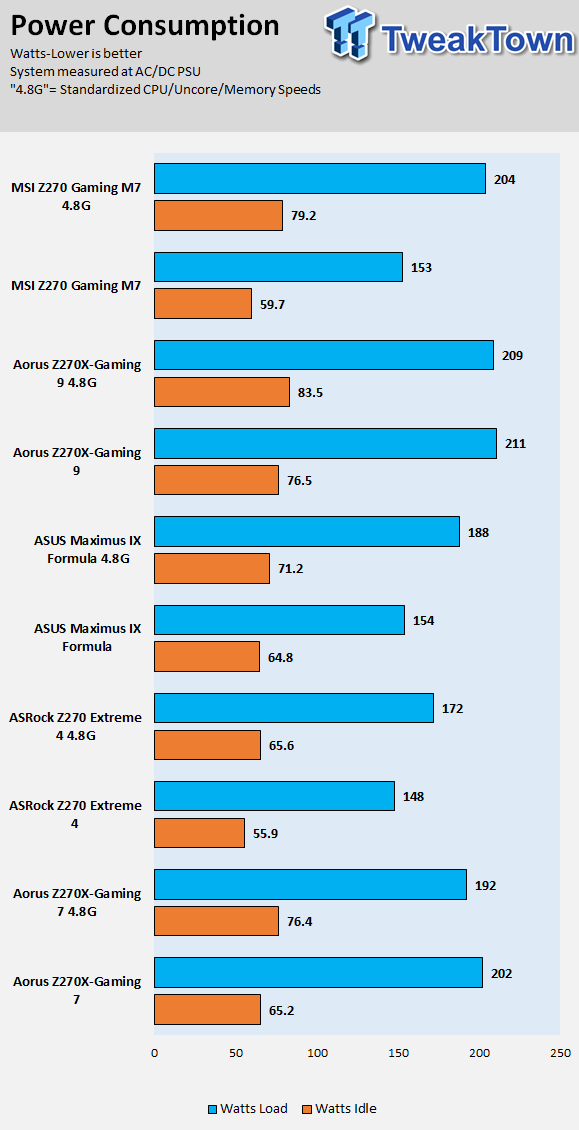 Note on Thermal Images: In the temperature section, we use our Seek thermal imaging camera to capture the surface temperatures of major components on the board. I look at the VRM and then all other things that light up the screen. If there is something to worry about, then I will state it. Otherwise, I will just show the hotter running parts of the board for fun. Unless some component is over 80-90C, then there isn't anything to worry about.
All systems will act differently, so I will look for commonalities, such as how far from the VRM the heat spreads through the PCB and the difference in temperature between the front side and backside of the PCB. Keep in mind, the majority of the heat from the VRM goes into the PCB as it is a giant soldered on copper heat sink. A larger difference in temperature between the back and front of the PCB points towards a more effective heat sink.
Thermal Testing at Stock Speeds:
The image on the left is always at idle, and the image on the right is at load. During ALL TESTS, fans above the VRM that cool the CPU cooler's (Corsair H110i GT) radiator are turned on to high (12v).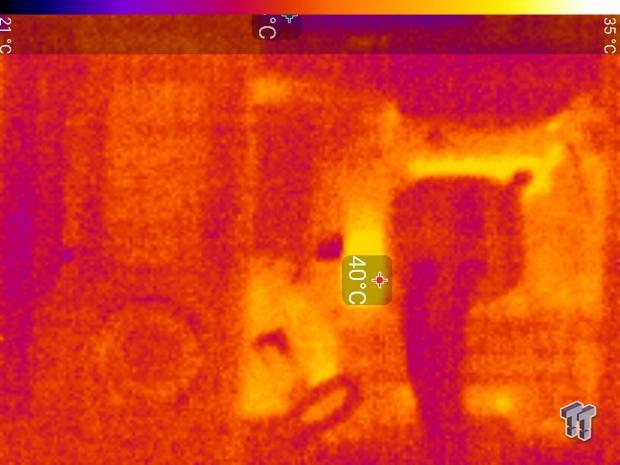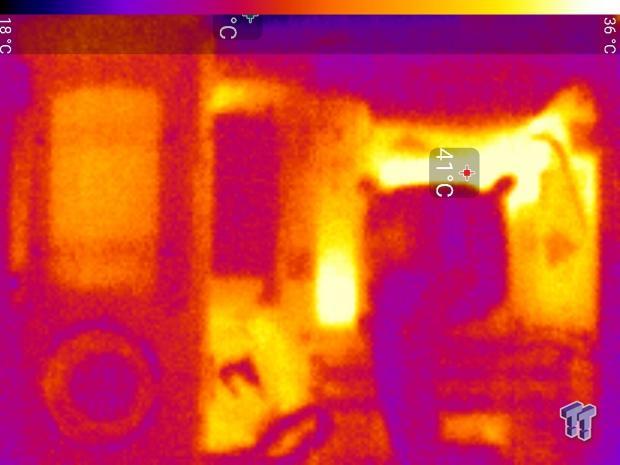 Full frontal.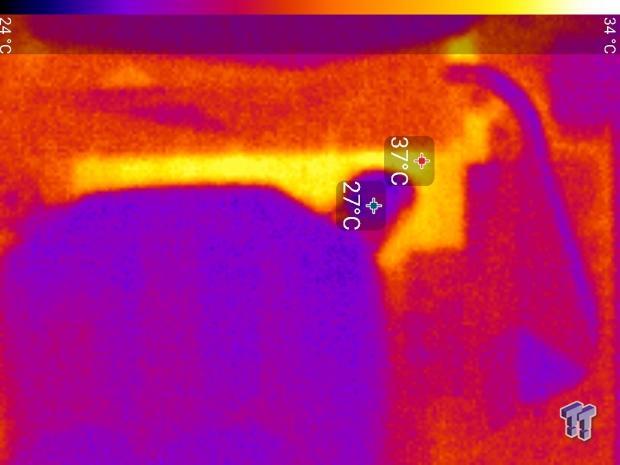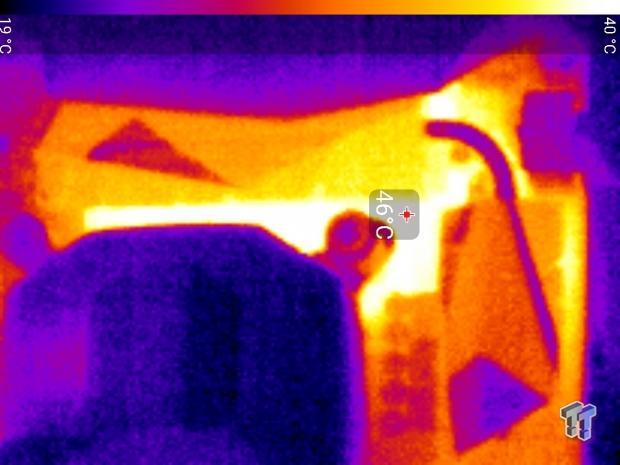 Up-close of the front of the VRM.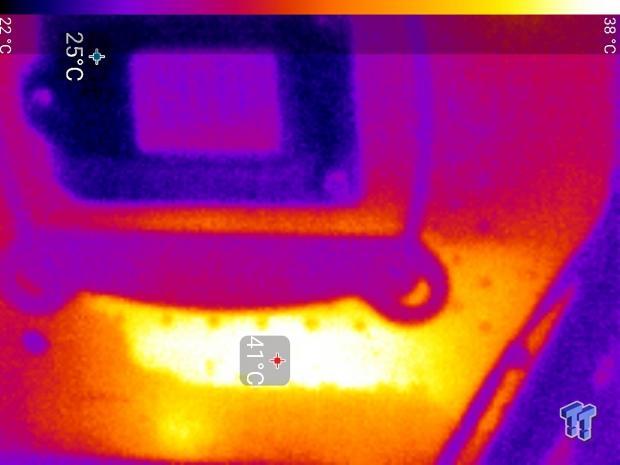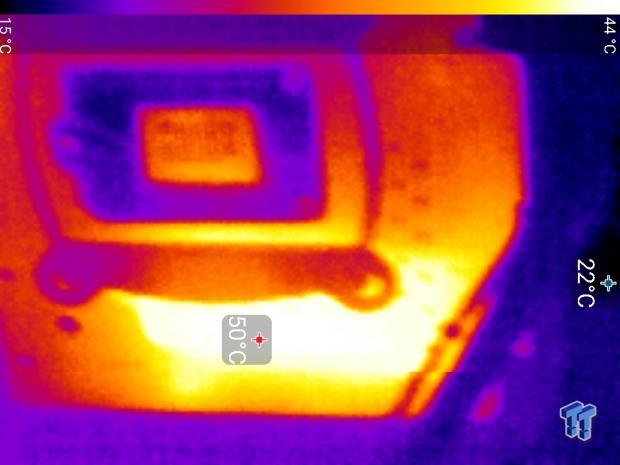 Up-close of the back of the VRM.
Thermal Testing at 4.5GHz Overclocked Speeds:
The image on the left is always at idle, and the image on the right is at load. During ALL TESTS, fans above the VRM that cool the CPU cooler's (Corsair H110i GT) radiator are turned on to high (12v).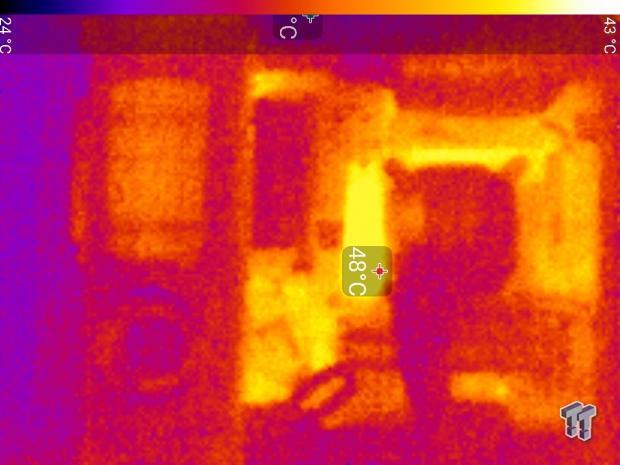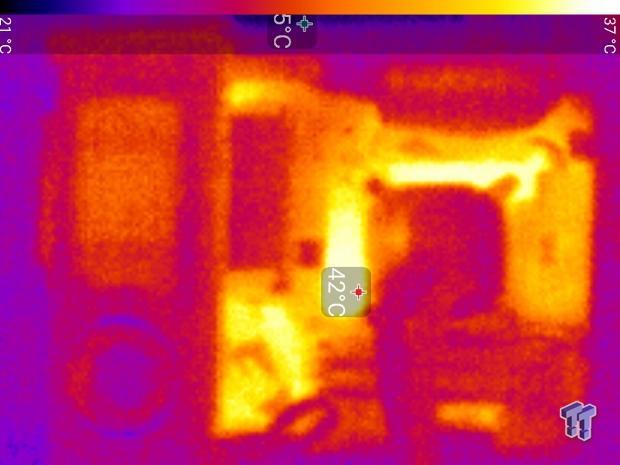 Full frontal.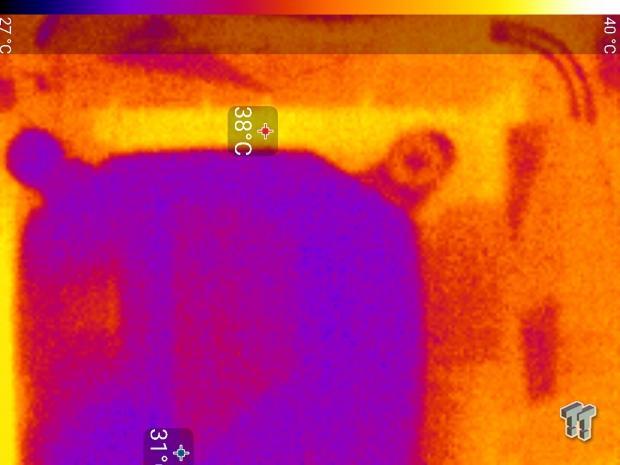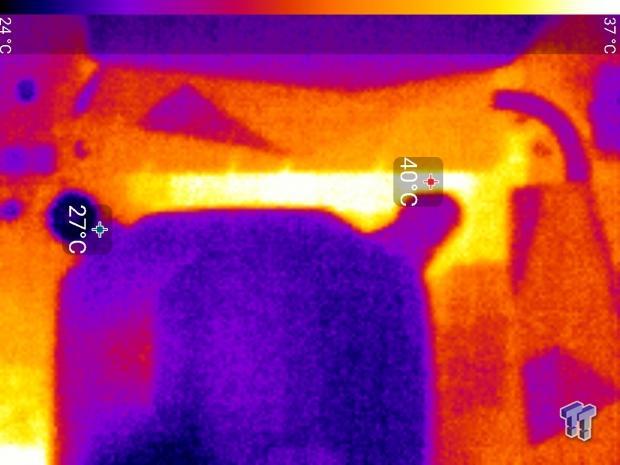 Up-close of the front of the VRM.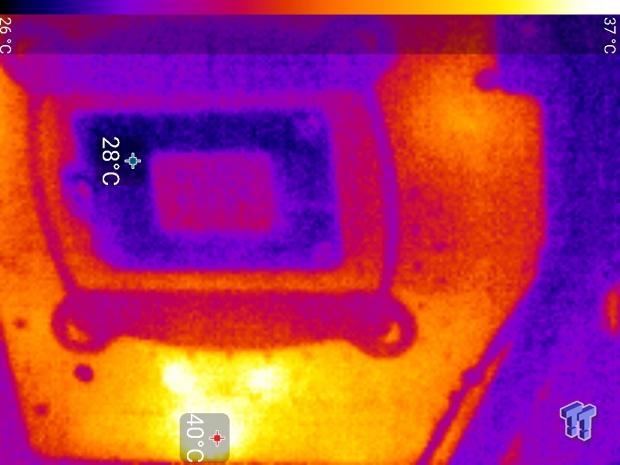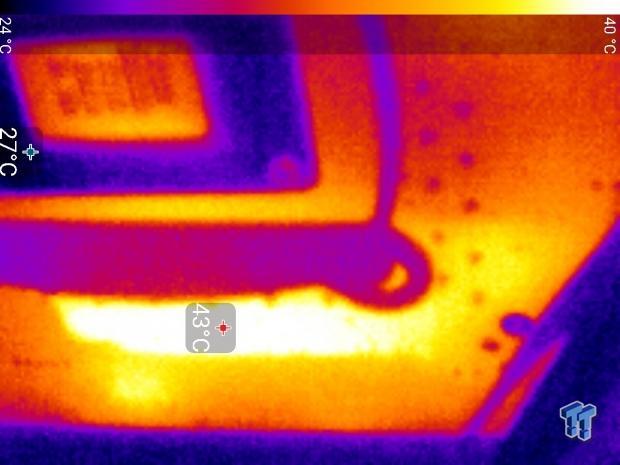 Up-close of the back of the VRM.
The VRM on the Z270X-GAMING 7 is decent and good enough to take the 7700K to 5Ghz and beyond, but you might have noticed that stock temperatures are higher than the 4.8GHz overclock. That difference is because of the BIOS engineers VCore auto rules, which push the VCore higher than 1.3v at stock.
At stock, we are dealing with a 1.35v VCore under AVX load, which is pretty much the upper limit of VCore you will want to use to get to 5GHz and beyond on air or water.
Anything under 60C is great, 60-80C is acceptable, and anything above 80C is a bit worrisome (if at stock).
What's Hot, What's Not & Final Thoughts
Here are key points about the AORUS Z270X-GAMING 7.
What's Hot
AORUS Improvements: The sleek black and white aesthetics and polygon design is a look I approve of. White and black match pretty much everything since they are very basic, and the RGB LEDs let you customize the look for almost any color theme. The new features and improvements bring over GIGABYTE's previous version of the board are impressive. Eight fan headers with PWM/DC auto sense, 2A current limit, and multiple temperature sources with two external input points is something I didn't think I would see from GIGABYTE for a few more generations, and AORUS brings it to the table right away. DAC-UP 2 with the ability to increase USB voltage is great for longer USB cables that come with VR.
Audible Audio: I like Creative's audio solution, and Aorus does a good job with the amplifier, even going as far as adding a boost converter to increase 12v to the proper +/-15v amplifiers of that size can use.
U.2 and Dual M.2: Dual M.2 is always good, as the latest and greatest storage drives are all coming out in M.2. Intel's Optane will also come out in the M.2 form factor. There is also a U.2 connector for those Intel 750 series SSDs.
OC Features: I was happy to find GIGABYTE's assortment of overclocking features, including the dual BIOS and single BIOS mode switches. The voltage read points are also always welcome.
ThunderBolt 3: ThunderBolt 3 is the ultimate type-C port, as it is backward compatible with USB 3.1 and pretty much every other type-C data transfer protocol.
What's Not
Clear CMOS and Reset Buttons are Too Close: One button is white the other is black, they are right near each other, and neither is labeled. The buttons should have had better PCB labeling.
VRM and PCI-E area LEDs: The LEDs around the VRM area and below the PCI-E slots shine straight out, and I think the designers figured that with the slots filled and a large heat sink, the light from these LEDs would be diffused and that would create a glow. However, many people don't use large heat sinks or multiple GPUs, but at least you can disable certain LED zones.
Final Thoughts
The Z270X-GAMING 7 is my first encounter with an AORUS motherboard, and I have to say that GIGABYTE did the right thing by adding in all these features and improving on the ones they were lacking or the launch of the AORUS brand's first motherboard series. Fan control is up to par with almost all of GIGABYTE's competition, RGB lighting control is great, and I think AORUS is the only brand with RGBW headers.

AORUS is known for their premium notebooks, they do not make mid-range or value products, and when it comes to motherboards, I hope GIGABYTE keeps AORUS at the high-end only. The Z270X-Gaming 7 is a high-end product; it looks high-end, performs high-end, and has all the features users would expect from a high-end motherboard. It also comes with the price tag of a premium product.
At $239.99, it won't be the cheapest Z270 motherboard on the market, but if you are looking for a solid and fun motherboard, the Z270X-Gaming 7 is worth a look.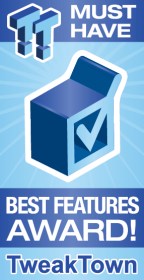 | | |
| --- | --- |
| Performance (including Overclocking) | 90% |
| Quality including Design and Build | 92% |
| General Features | 95% |
| Bundle and Packaging | 90% |
| Value for Money | 90% |
The Bottom Line: Loaded with Thunderbolt 3, the latest in storage interfaces, tons of fan control, and a slew of unique features such as an RGBW header and USB DAC-UP 2, the Z270X-Gaming 7 has all the latest features at a reasonable price.
PRICING: You can find products similar to this one for sale below.

United States: Find other tech and computer products like this over at Amazon.com

United Kingdom: Find other tech and computer products like this over at Amazon.co.uk

Australia: Find other tech and computer products like this over at Amazon.com.au

Canada: Find other tech and computer products like this over at Amazon.ca

Deutschland: Finde andere Technik- und Computerprodukte wie dieses auf Amazon.de
We openly invite the companies who provide us with review samples / who are mentioned or discussed to express their opinion. If any company representative wishes to respond, we will publish the response here. Please contact us if you wish to respond.