Razer Leviathan Mini Bluetooth Speaker Review
Boasting big sound in a small package, can the Razer Leviathan provide the bass we need? Let's check it out.
Published Mon, Mar 28 2016 11:39 AM CDT
|
Updated Tue, Nov 3 2020 6:58 PM CST
Rating:

93%
Manufacturer: Razer
Introduction
Published with the tagline 'Tiny but Mighty' on Razer's marketing content, this portable speaker is the little brother of my previously-reviewed Razer Leviathan 5.1-channel sound bar and sub.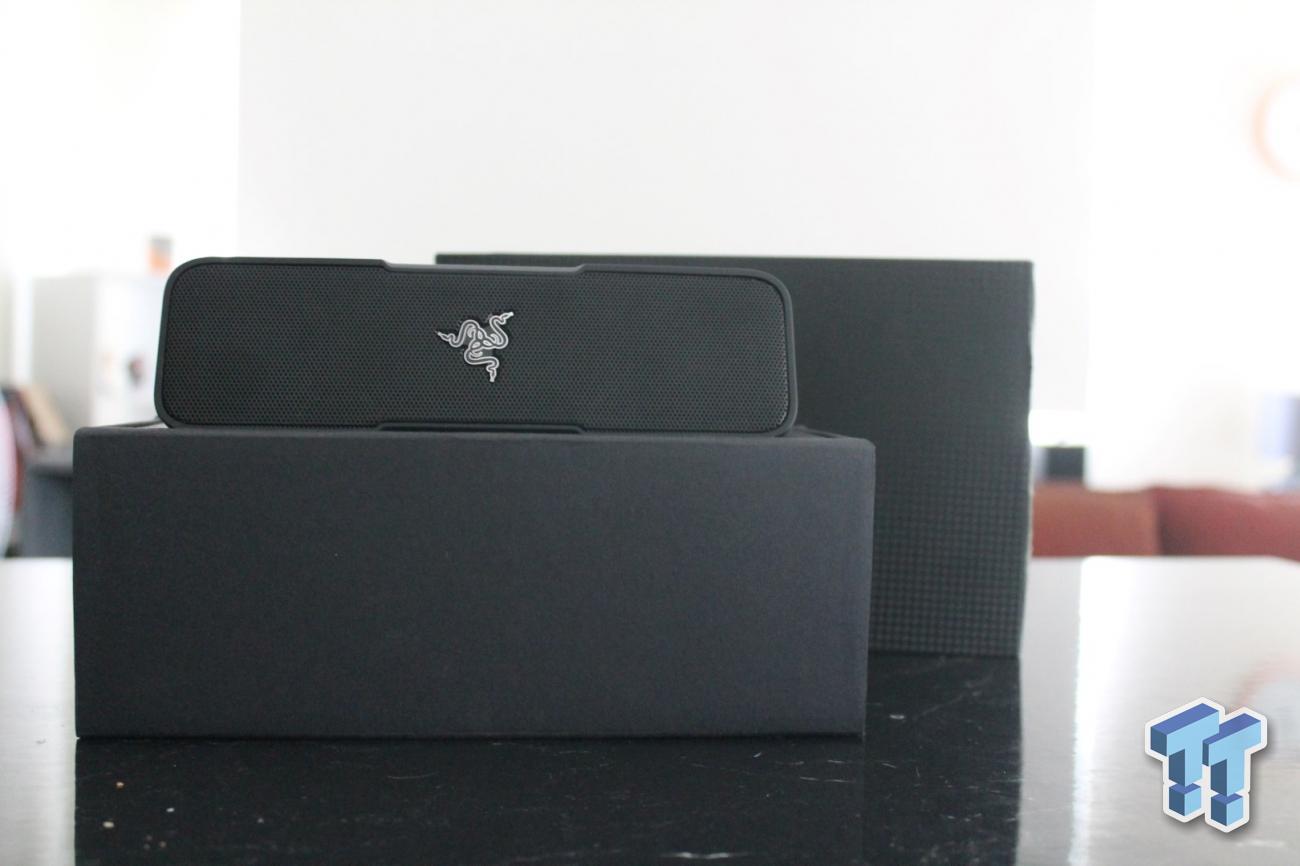 This compact travel speaker is designed to mimic a similar experience to what the sound bar offers, but further, empower you to take it on the road wherever you may travel, aiming to provide loud and encompassing sound in this small package.
While many portable audio solutions lack bass and often come packaged with a slight hiss background noise due to Bluetooth integration, I'm here to see if the Razer Leviathan Mini can blow away the rest as Razer claims it can.
Specifications
Measuring in at 2.12 (L) x 3.34 (W) x 2.15-inches (H), this small speaker comes packed with two 12W speakers that push out a standard rated frequency response rate of 20 Hz - 20KHz. Further specifications include two passive radiators for bass enhancement and a rated Impedance of 4 Ohms.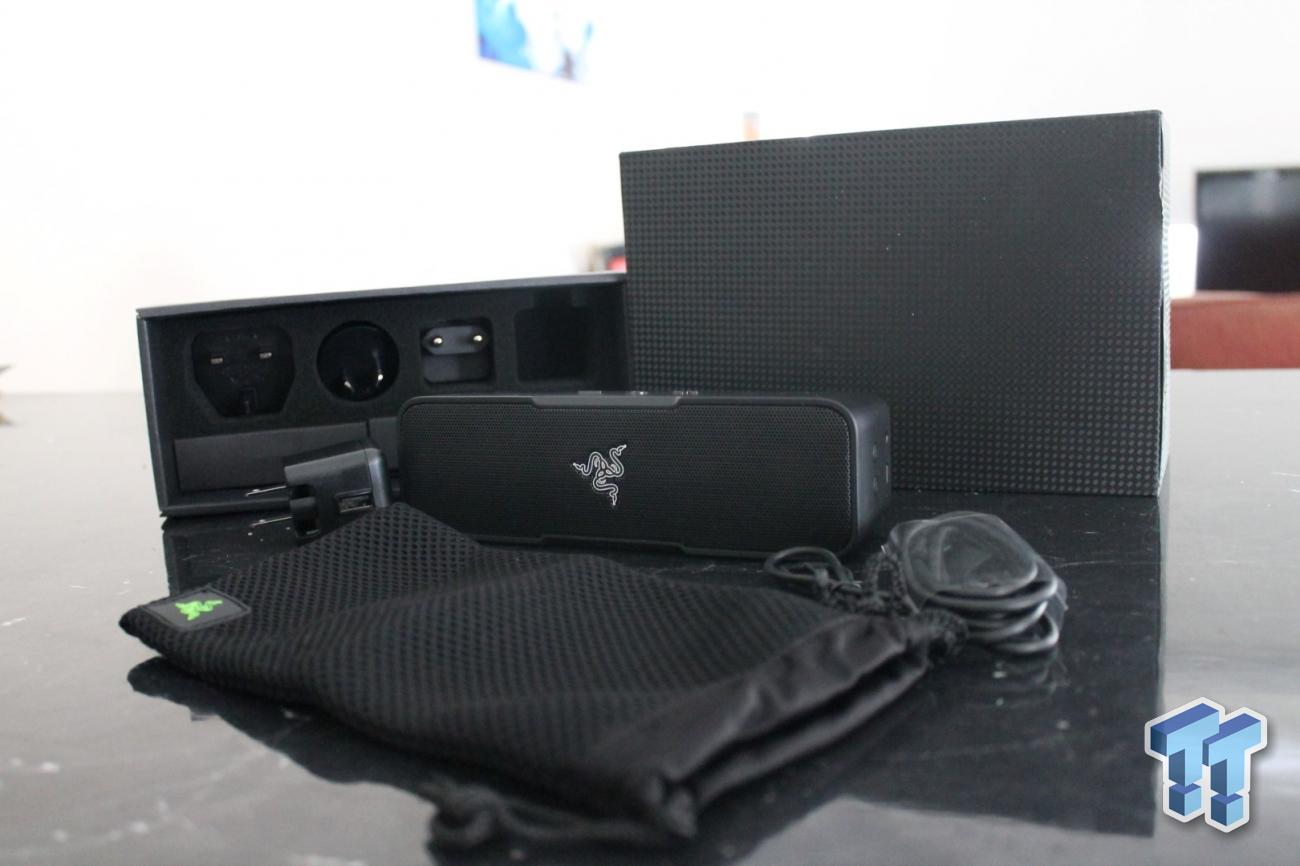 Connecting to your smartphone or tablet through Bluetooth or the 3.5mm audio jack, this product also provides hands-free calling support. The microphone is omnidirectional in design and measures in at 4mm. Razer claims that this model is operational up to 30ft when using Bluetooth, further providing the option for people to sync up multiple Leviathan Mini models and place them at a maximum of 13ft apart.
The internal 2600 mAH lithium-ion battery makes for a 10-hour playback time and 4-hour charge time, with this product loaded through a micro-USB port and the supplied wall charger - a device that pushes out an impressive 2.5A. While small in stature, this product is quite weighty, coming in at 1.21 lbs (538g).
Pricing & Availability
Currently priced at $179.99 on Amazon with shipping included, this expensive portable option comes in at the same price as Razer's full-size Leviathan 5.1-channel sound bar and sub.
This matches the Leviathan Mini with my previously-reviewed products such as the similarly-priced BRAVEN 805, or the similar in stature LUXA 2 GroovyW speaker. A price tag of $179.99 thrusts it into the upper-end of portable audio, ranking among the more expensive offerings.
What's in the box?
Coming with a suitable set of accessories, opening up the box of your Razer Leviathan Mini will showcase the speaker itself, a wall charger with numerous country power point adapters (with the USA plug as the base), a micro USB charging cable, and an AUX 3.5mm cable.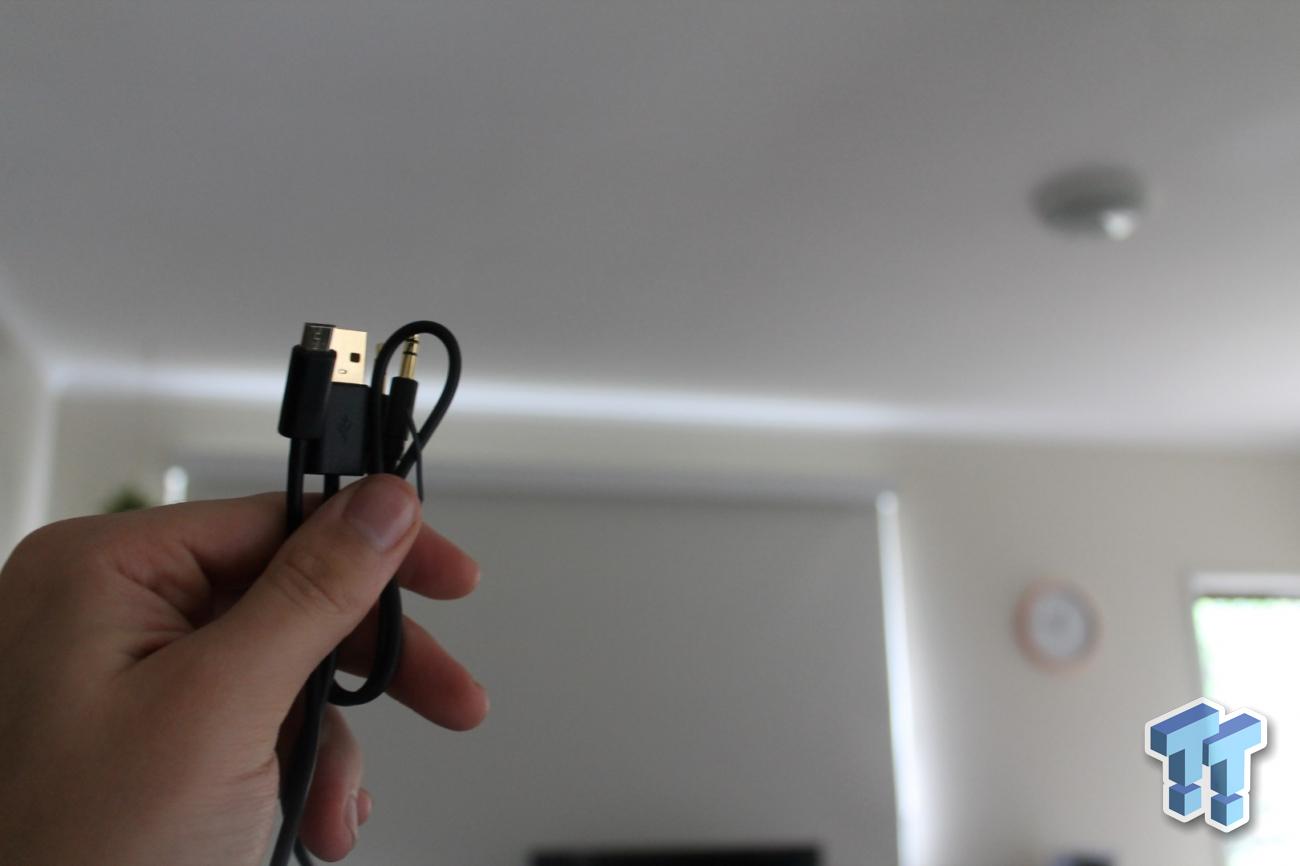 A great positive of this package is that the charging cable that's not minuscule - something I've sadly come to expect from competing companies. The AUX 3.5mm cable could do with a little more length as it doesn't give you much room to play with, but massive ups to Razer for providing a charging cable that isn't ridiculously short as many competitors do. Last on the list is a carry pouch, providing an excellent way to keep your device safe from wear when traveling, with this carry case being plush enough to protect from most bumps and bruises.
Let's dig deeper
The AUX 3.5mm cable is shorter than I would have liked (double the length, please!), meaning I mainly used Bluetooth - the way it is intended to be used, anyway. The connection process was extremely easy, and the speaker worked well alongside by Samsung Galaxy Gear S2 smartwatch, with both of these devices connected at the same time.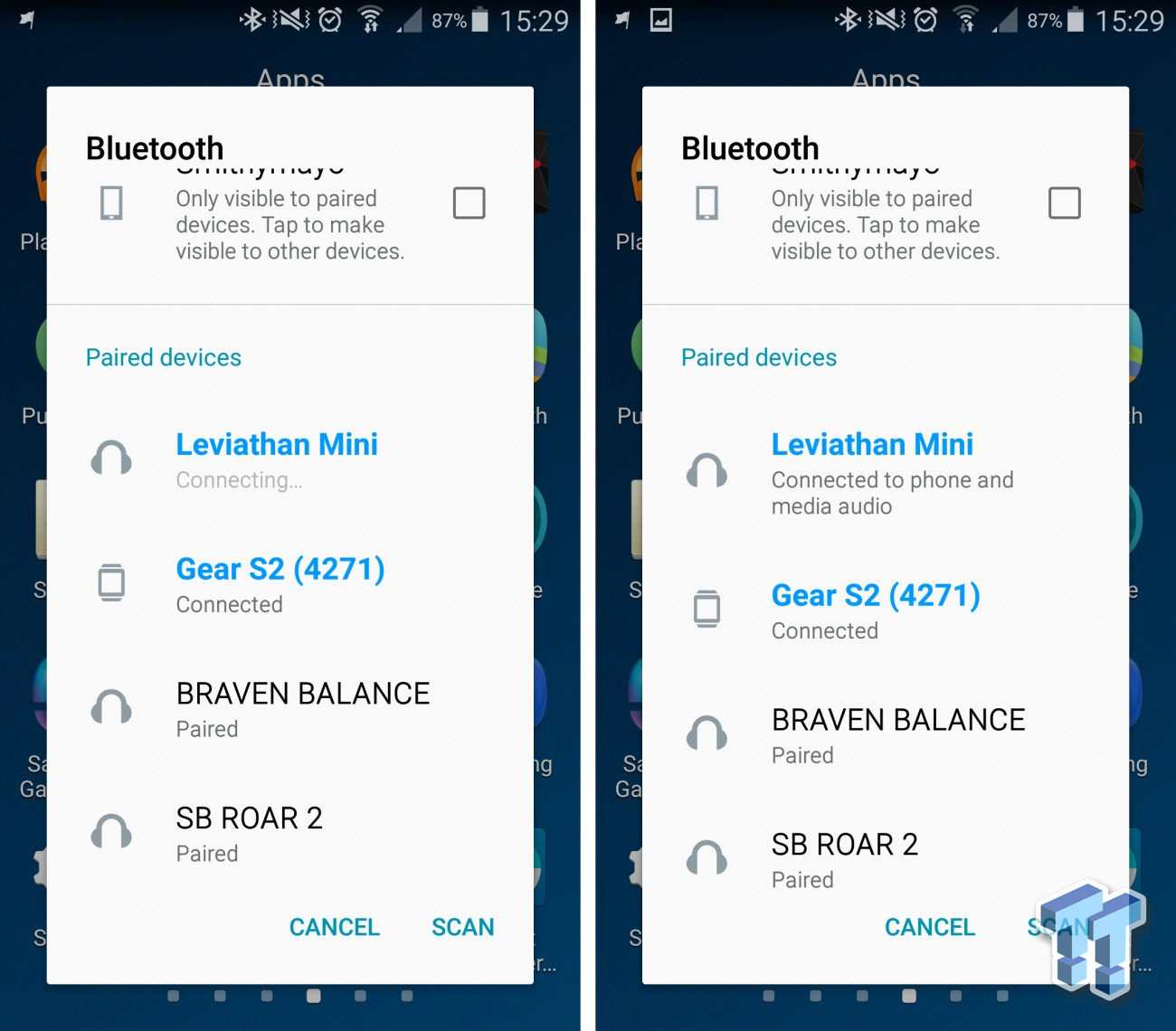 Another great positive of the Leviathan Mini is the buttons on top. All too often I will be presented with portable speakers that have confusing and hard to press buttons, ensuring that I'll often touch the wrong thing or end up double pressing buttons by accident. The Razer Leviathan comes with three well-presented buttons on top - two for volume adjustment and one for music play/pause. Controls also include illuminated power and Bluetooth buttons on the right-hand side of the device, sitting next to the AUX 3.5mm, micro USB charging, and microphone features.
The speaker is quite small but also considerably heavy, meaning that a drop may cause some breakage issues. This, added to the fact that it doesn't come with any particular water resistance rating or shock-proof rubber coating, I would be careful when taking this out and about.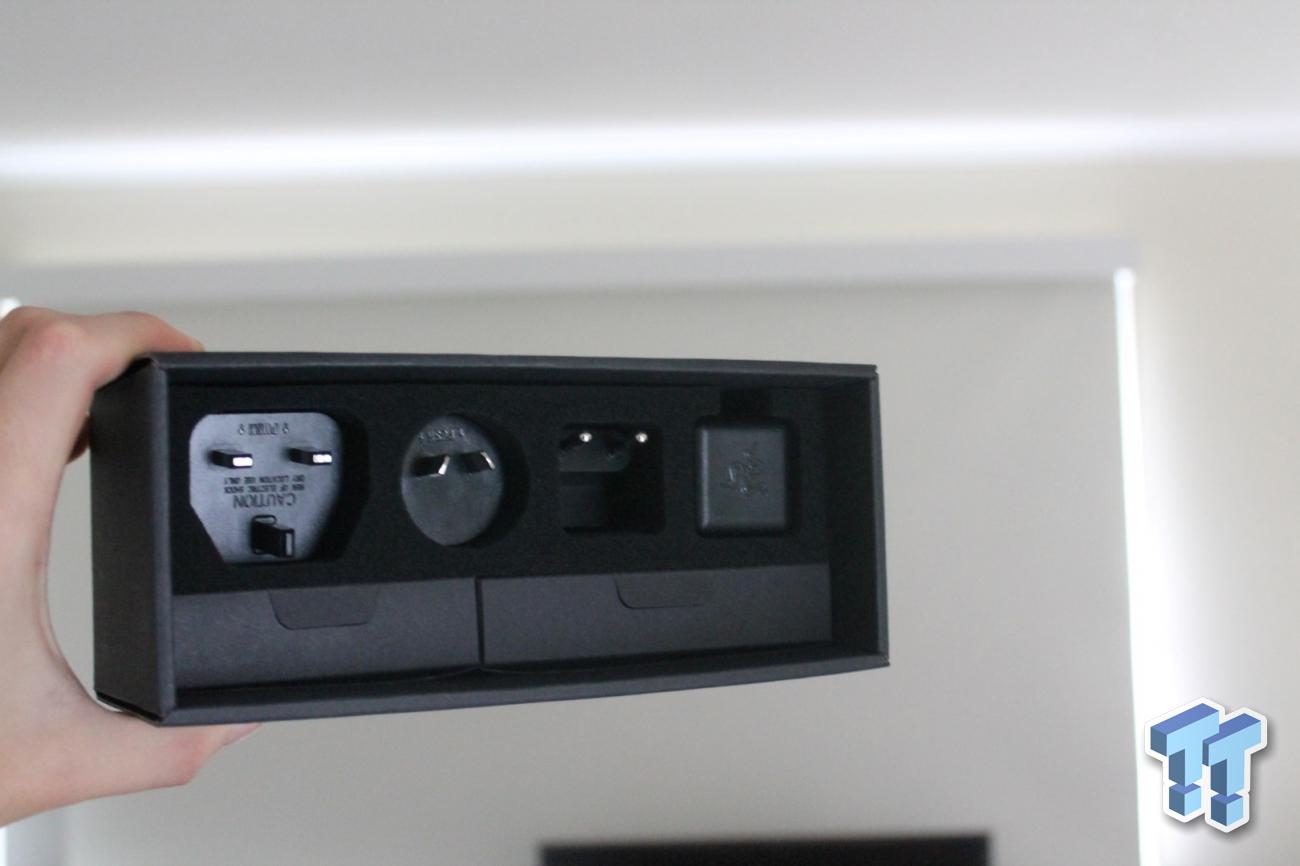 The massive rubber base ensures that the Leviathan Mini sits solidly on most surfaces, not skipping or moving when the volume is turned up to 100%, nor causing issues with it falling over or other such things. As for the design, it mimics that of the original Razer Leviathan Sound Bar - minimal, clean, and neat.
It's Time to Party
Loading up my Spotify Weekly Discover playlist alongside my normal testing mix, I was able to look into a wide variety of tracks and genres.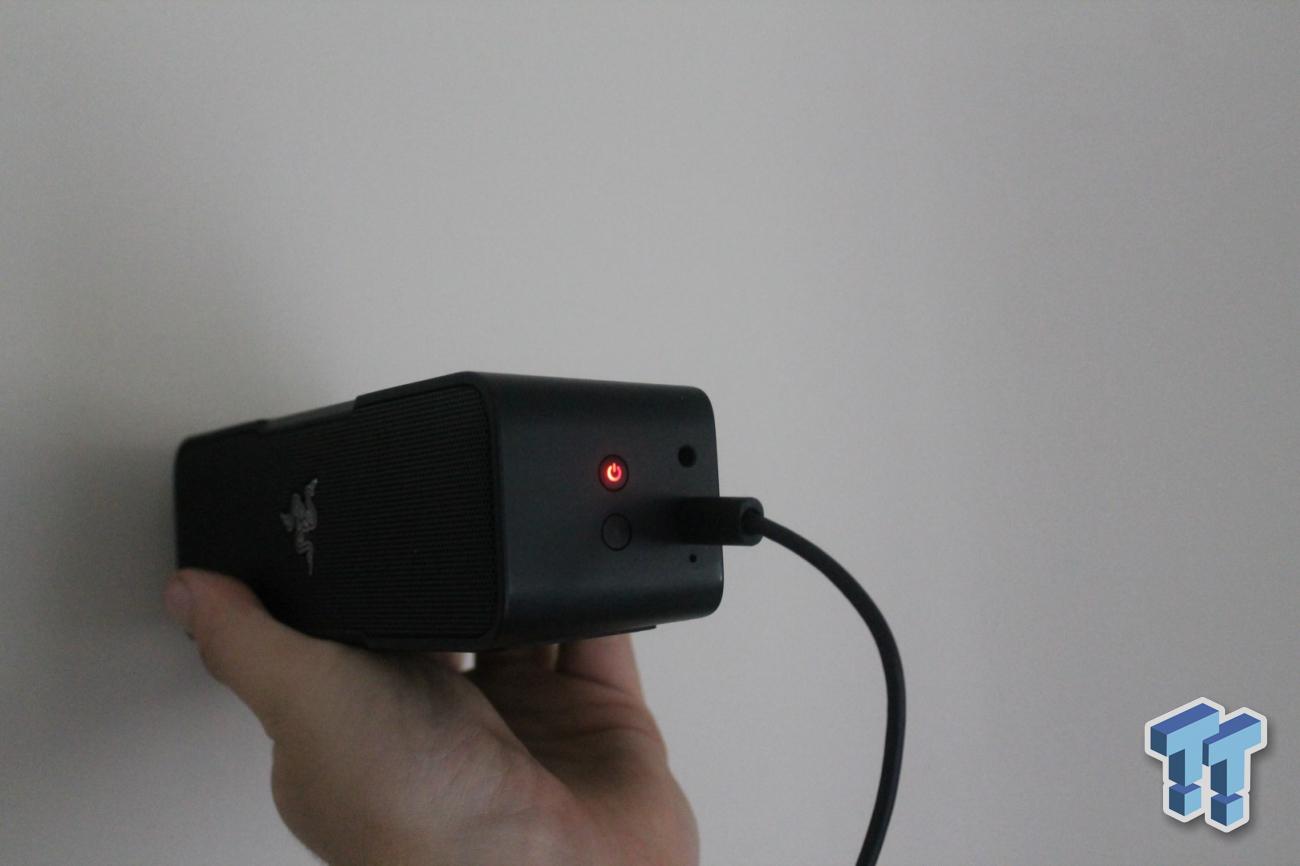 Most Bluetooth speakers are plagued by washy and overpowering bass that will distort, rattle, and fade (in quality) when the volume is pumped up above 75 percent. The Razer Leviathan Mini impressed me from the start with the way it handles loud music, never skipping a beat, no matter how tough the music got. The biggest impression this speaker left on me was that of Audiofreq's 'WarCry' (linked below), with each reverse bass hit resonating cleanly and well, showing that this small package has some seriously big sound.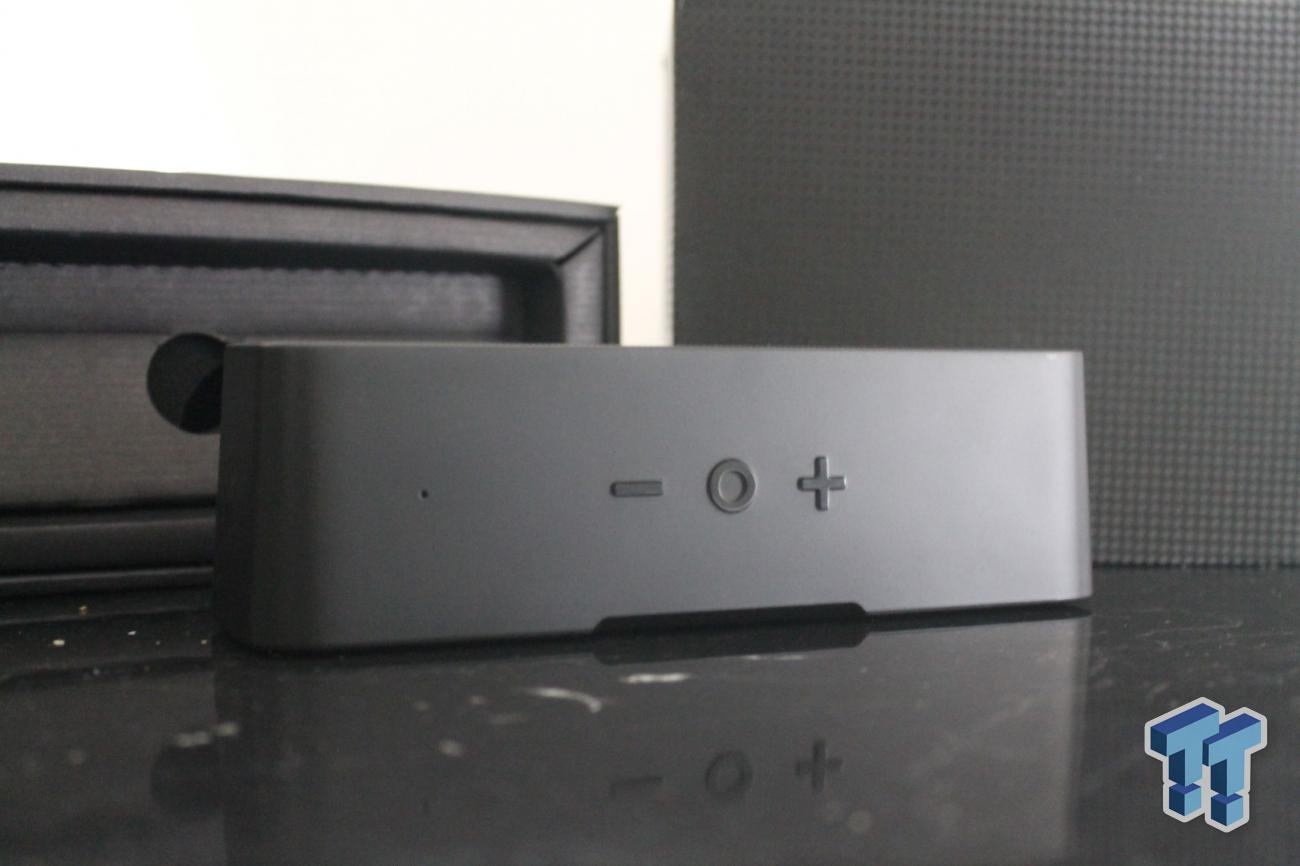 There is an issue of some flat mid-range sound in some tracks, accentuated when I started listening to Pink Floyd. However, the Leviathan Mini handled the highs of each acoustic guitar solo extremely well, and I was further able to hear every audible crackle and pop of the vinyl recording on some classic tracks. While the mid-range can be a little flat in some areas, this slight negative is completely blown away by the overall package that this product has to offer. I'm simply amazed at the quality it provides.
Some of the music I tested this product with included:
What's Hot
Seriously big sound: I actually thought my Razer Leviathan Sound Bar and Sub was still playing, not this tiny device.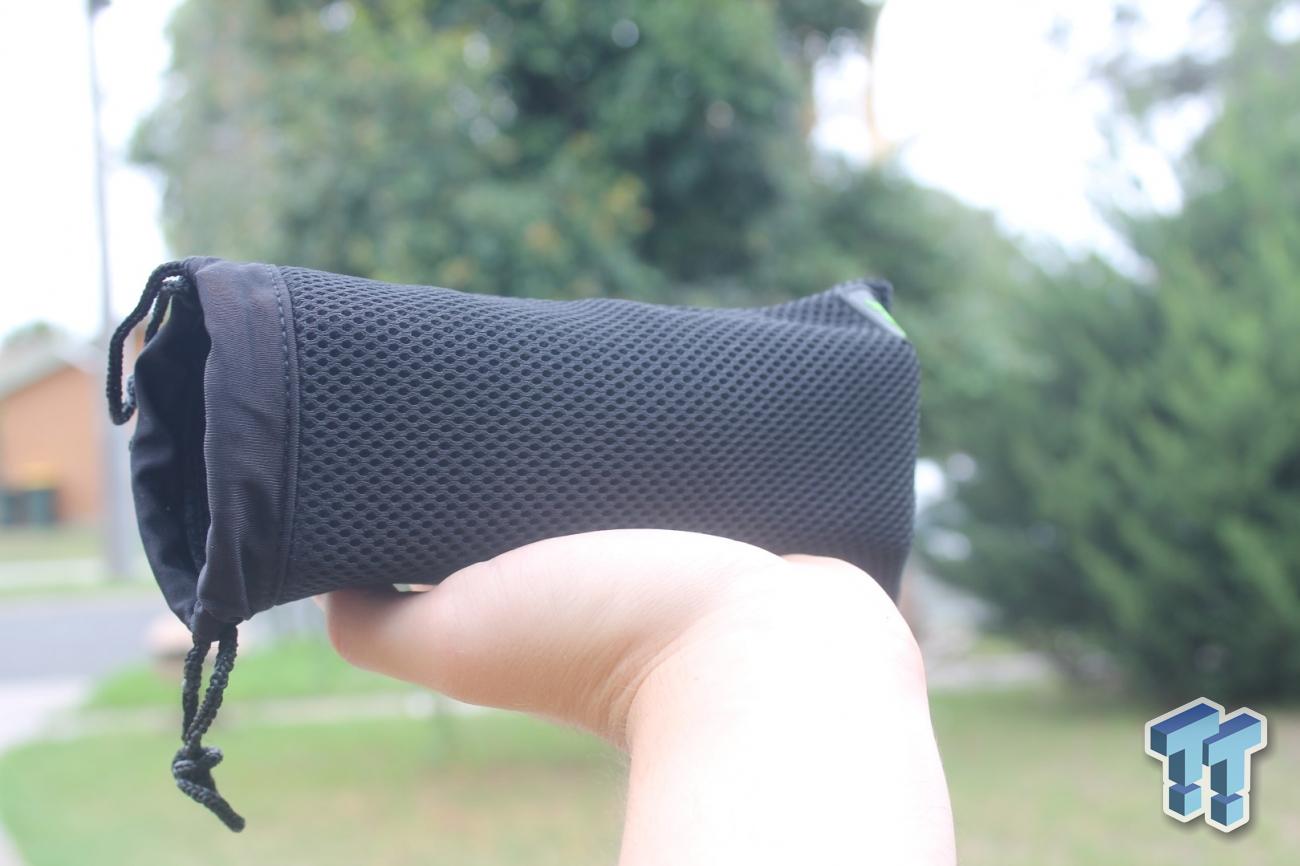 The bass: If you're a lover of the harder styles, this mini-audio solution is for you.
The construction: It's sturdy on its feet and won't fall over when the going gets tough.
Accessorize! Accessorize! Accessorize!: The included accessories are almost too good to be true. The wall charger puts out a brilliant 2.5A, the charging cable is long enough, and the carry pouch is of decent size.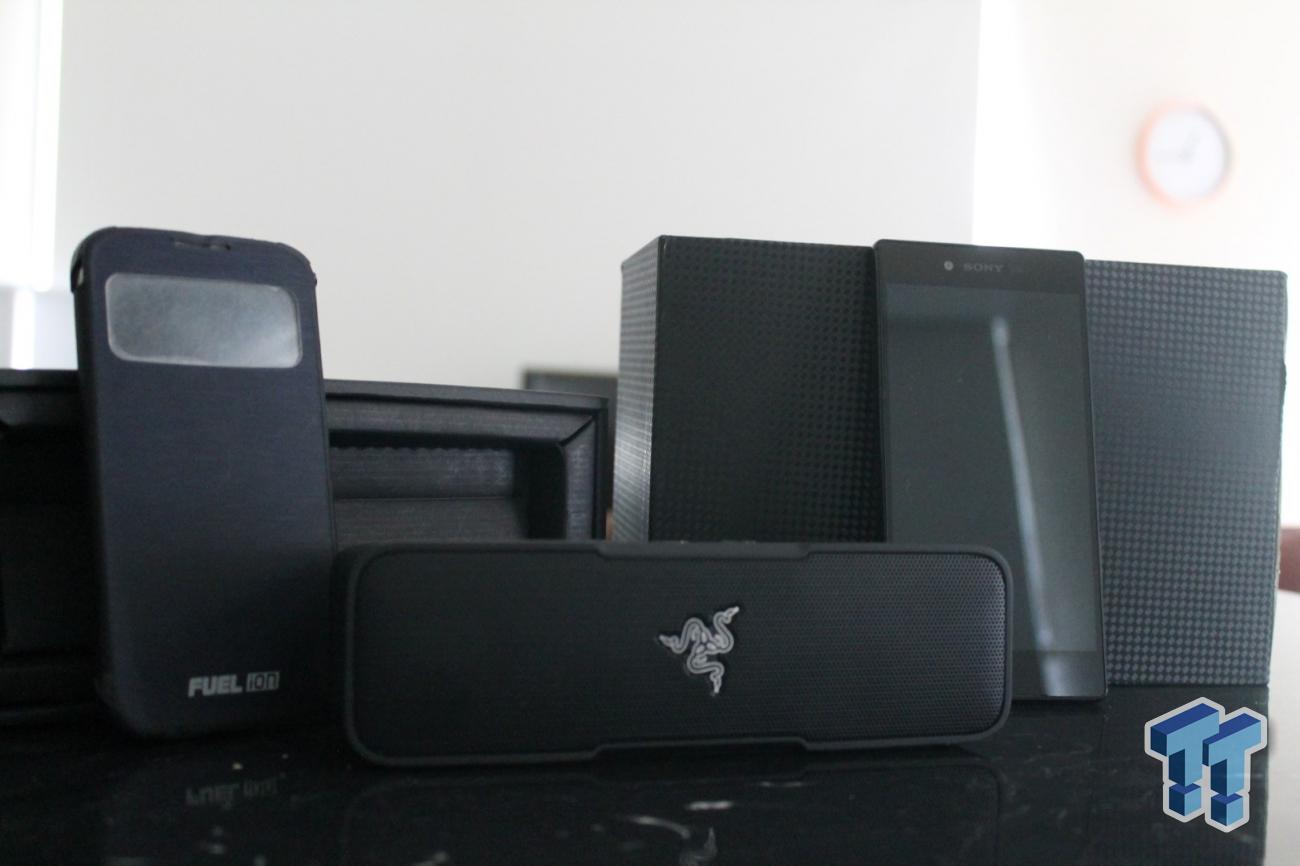 What's Not
The price: You get what you pay for here. It is a little confusing that Razer's full-size sound bar and subwoofer is the same price as this Mini edition.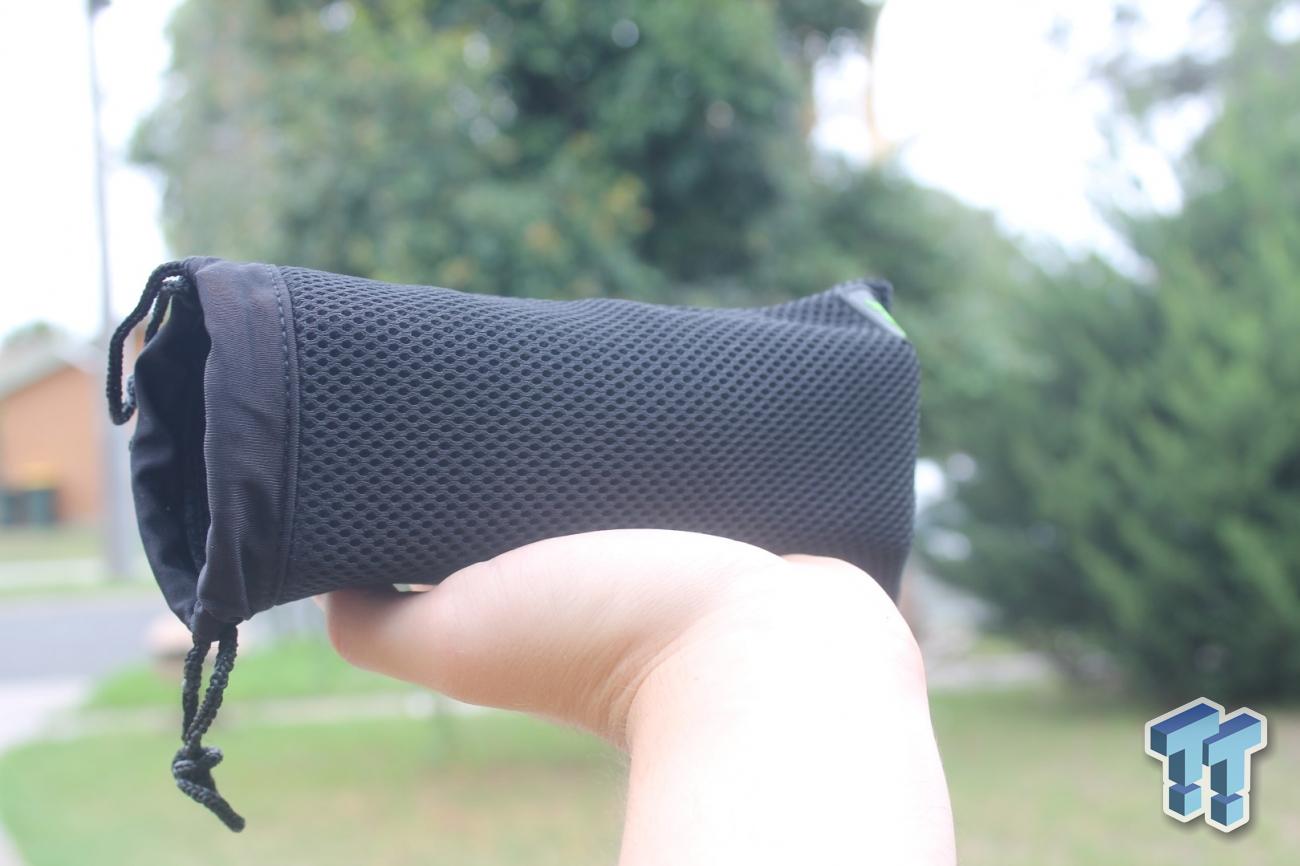 Final Thoughts
I actually thought my Razer Leviathan Sound Bar and Sub was still playing, not this tiny device - it doesn't get much better than that.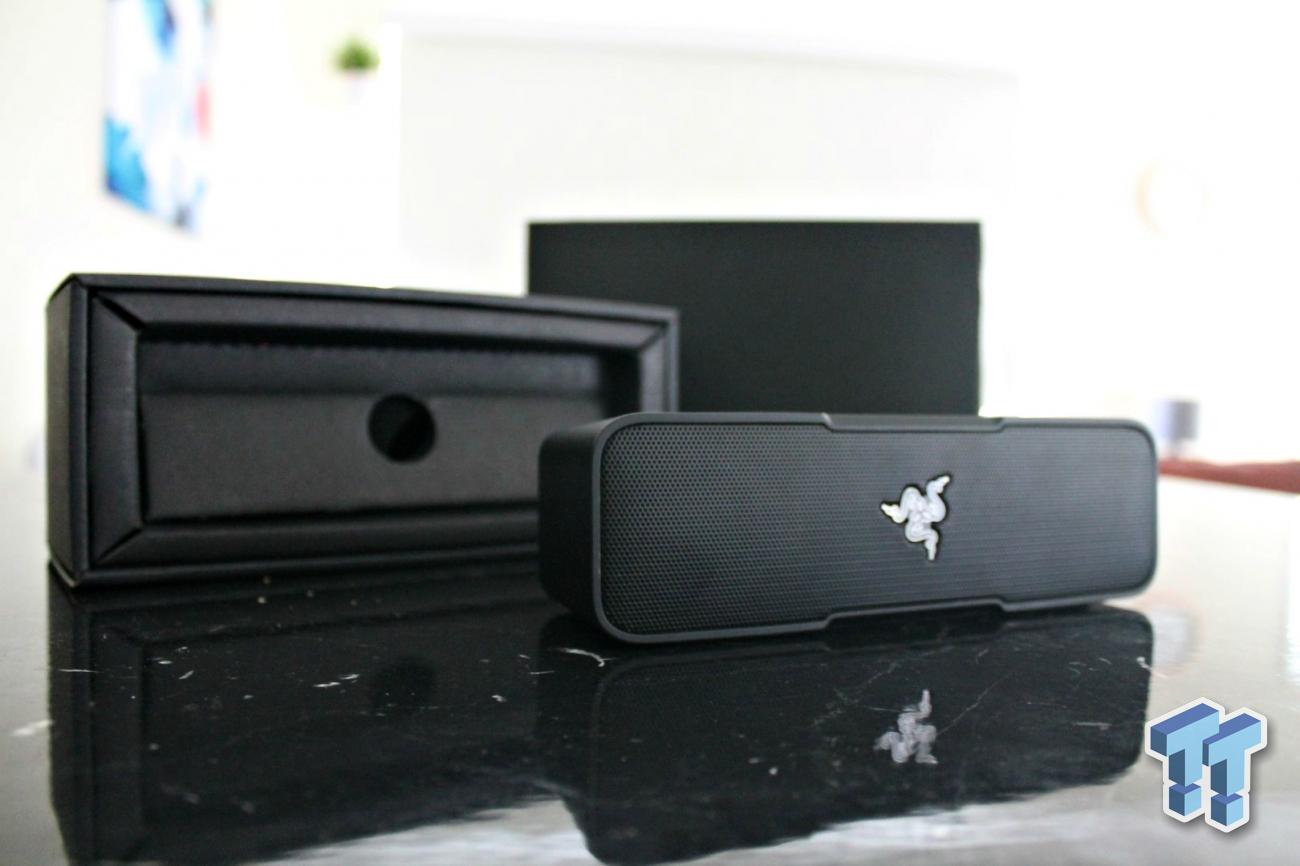 While the Leviathan Mini is expensive and heavy, the sound quality it provides is second-to-none and is a must-have for anyone looking for a quality portable audio solution. It handles bass and punchy songs extremely well, the speaker is quite sturdy on its feet, the included accessories are great, the wall charger puts out a stellar amperage. These points make the overall product hard to beat.
Chris' Test System Specifications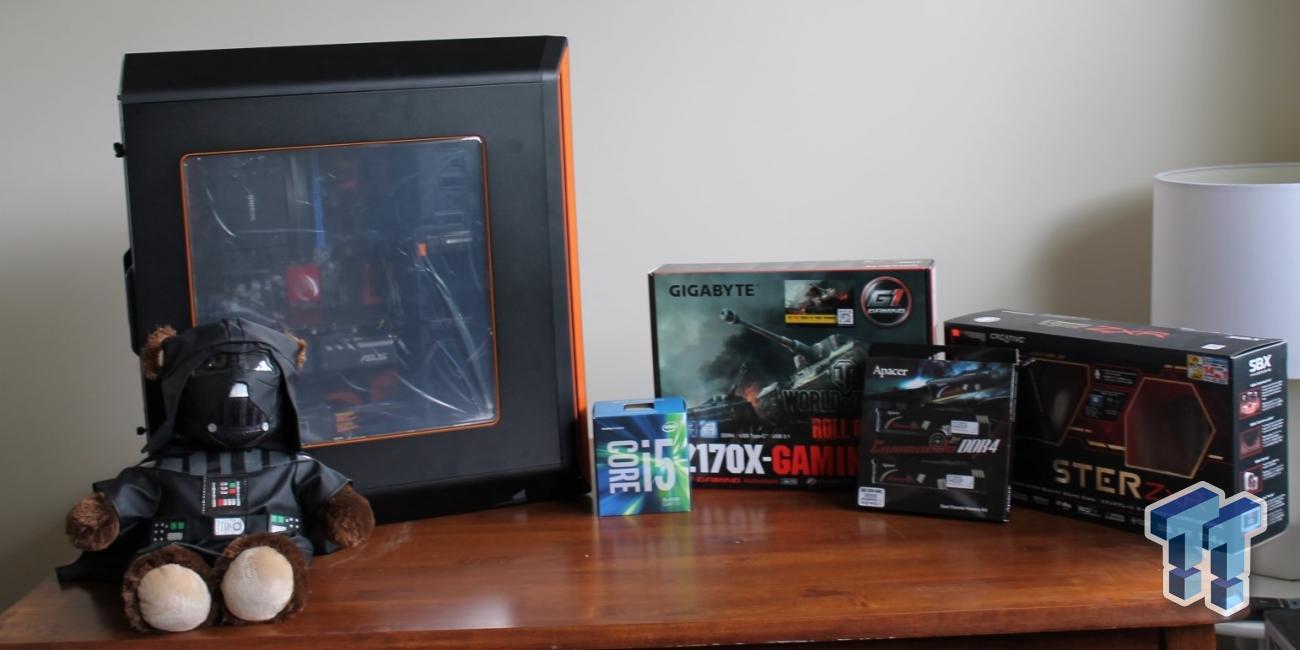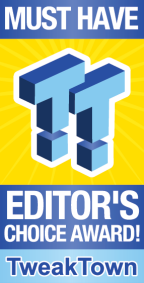 | | |
| --- | --- |
| Performance | 95% |
| Quality including Design and Build | 95% |
| General Features | 95% |
| Bundle and Packaging | 95% |
| Value for Money | 87% |
The Bottom Line: Packing seriously big sound in a small package, Razer's Leviathan Mini Bluetooth Speaker expensive speaker is a must-have for anyone looking at quality portable sound.
PRICING: You can find products similar to this one for sale below.

United States: Find other tech and computer products like this over at Amazon.com

United Kingdom: Find other tech and computer products like this over at Amazon.co.uk

Australia: Find other tech and computer products like this over at Amazon.com.au

Canada: Find other tech and computer products like this over at Amazon.ca

Deutschland: Finde andere Technik- und Computerprodukte wie dieses auf Amazon.de