TweakTown's Rating: 92%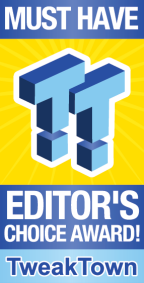 The Bottom Line
Although the price point of Razer's Leviathan 5.1 is a little high for some, the clarity, connectivity, and versatility of applications is unmatched by anything else available today.
Introduction
Speakers are something that most gaming orientated brands have not dared to touch on heavily over time, with peripheral brands sometimes releasing small Bluetooth portable models or the odd 2.1 system without showing a full commitment. However, Razer has taken a plunge into the currently increasing soundbar market, jumping on the opportunity to produce this 5.1-channel soundbar, complete with a subwoofer.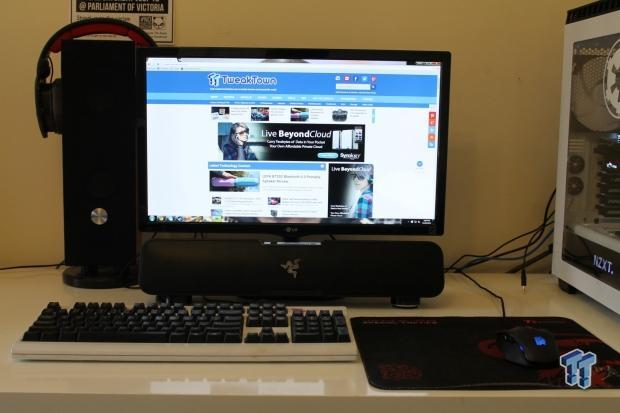 For most who aren't exactly sure what a soundbar is or what it does, it sets out to create a surround-sound 5.1 experience by cramming all of the necessary speakers into one long bar of sound. A soundbar sets out to provide a minimalist solution to messy full 5.1 setups at a still-affordable price point. With many HI-FI companies taking on thousand dollar soundbars and pushing them to a home entertainment market, how does Razer's version stack up for gamers? I will be comparing this product to some of the higher level Bluetooth speakers in which have been reviewed on TweakTown recently, alongside my trusty old Logitech X-530 5.1 system.
Specifications
Although containing one physical speaker and one sub, Razer's Leviathan 5.1 channel product crams all the speakers you may need into one chassis. The soundbar itself contains two 2.5" full range drivers and two 0.74" tweeters, with the subwoofer featuring a 5.25" downward-facing speaker of its own.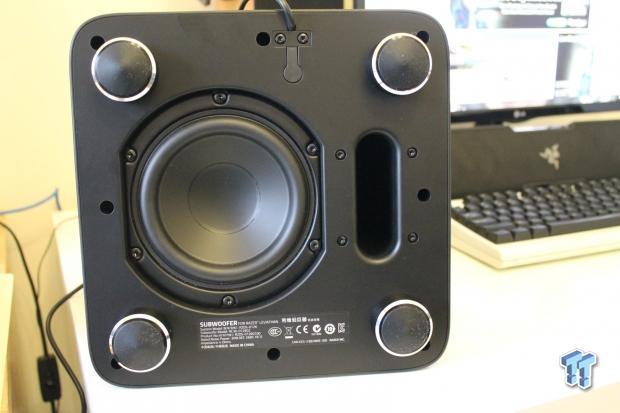 With the soundbar pushing out a total power of 30W (15W x 2RMS), you can expect a frequency response rate of 180Hz - 20KHz at an impedance of 8 Ohms. Weighing in at 4.4 lbs, it certainly isn't light, but this bar does include four speakers and all internal components necessary to connect to your devices, which makes the hefty weight understandable.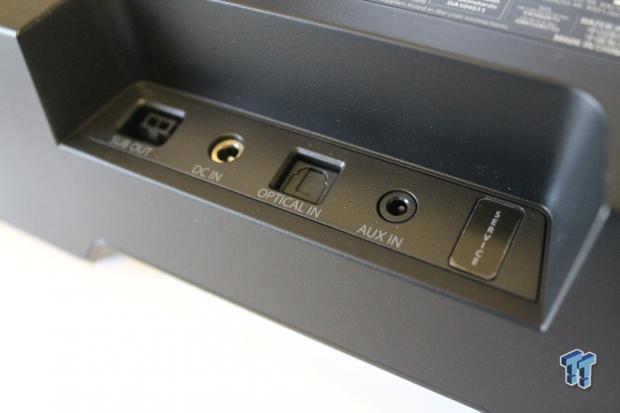 The subwoofer is further rated at a total power output of 30W RMS and provides a frequency response rate of 20Hz - 180Hz at an impedance of 4 Ohms. Weighing in at 5.1 lbs, it connects to the soundbar through a different type of plug.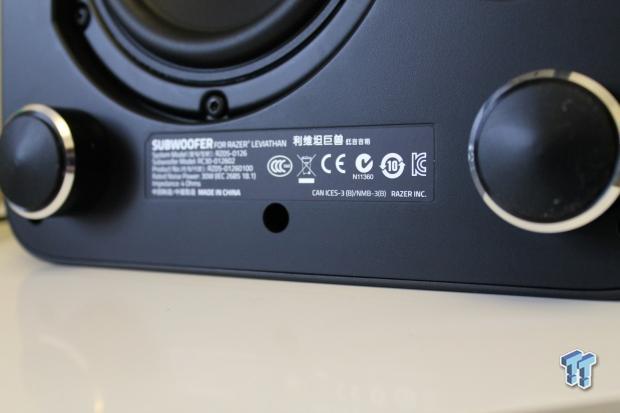 One of the main marketed features of this product is the connectivity options, providing accessibility through a 3.5mm audio jack, an optical connection, Bluetooth, or NFC. Backed up by Dolby Virtual Speaker technology, Razer claims this product will emulate a 5.1 experience, although it is simply sits in front of your keyboard or television.
Pricing & Availability
Coming in at $197 with free shipping from Amazon at the time of writing, this soundbar is certainly cheaper than other HI-FI options available on the market, but it isn't very comparable due to specifications and features. Some of the closer comparisons would be that of the Logitech X-530 5.1 speaker system or the Harman Kardon Soundsticks III 2.1 speakers.
What's in the box?
Complete with plenty of different country power plugs to snap on, the Razer Leviathan 5.1 is also packaged with connectivity cables (3.5mm AUX and Optical), two feet in order to change the soundbar angle in three different ways (one of the feet is reversible), and a myriad of user manuals in order to help you get the most out of your experience.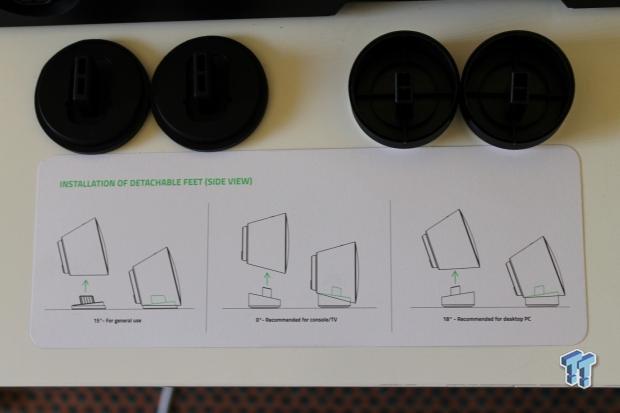 The cables are of adequate length and the feet are quite useful. There's a 15-degree option for 'general use', a 0-degree for console/TV applications and that foot can be reversed to offer an 18-degree tilt for desktop PC applications.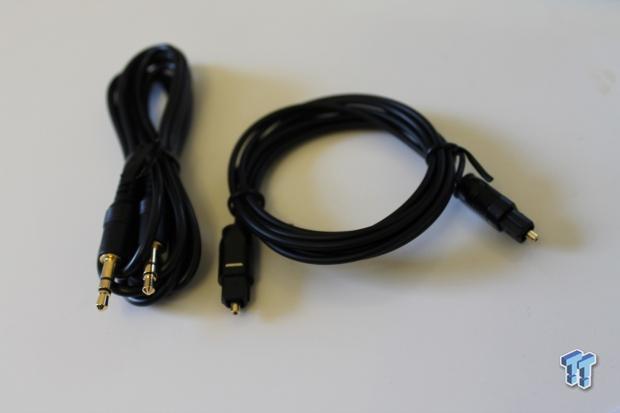 If you're feeling extra adventurous, Razer has also included a sticker, as it does with most products.
Let's dig deeper
The speakers feel well-constructed and the detachable feet for the soundbar are of adequate size and offer a stable base when planted. However, if the surface is uneven, they can become wobbly and fall over. Pumping the speakers at 100% won't see the soundbar skip across your desk as some cheaper speakers are known to do, and the subwoofer will also stay firmly planted on the ground.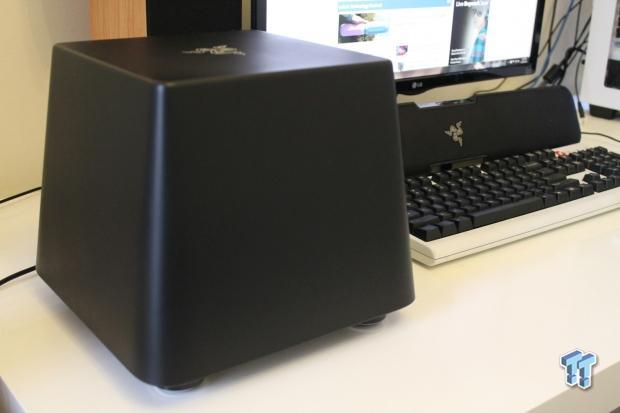 The downwards-facing design of the sub is something that many gamer-targeted speakers don't usually incorporate. It never occurred to me until recently why this may be a positive, and I'm not talking about in a sound sense either. My current speakers are the Logitech X-530's set up in a simple 2.1 format, however, when you pump up the volume, the forward facing port on the subwoofer annoyingly blows air on your foot with each pump. You may call it a first-world problem, but honestly it can be quite annoying. There's no real noticeable buzz or whine when connected through Bluetooth 4.0 to your mobile device as seen with cheaper Bluetooth options, and playing the speaker at 100% volume reports back no distortion or heavy vibration to disrupt your sound experience.
How does it compare?
The clarity is certainly something that is on point with this product. Comparing it to my Logitech X-530 speakers, there is a distinct noticeable difference from the first second you power the speakers up, no matter what the song may be, ranging from rap to techno.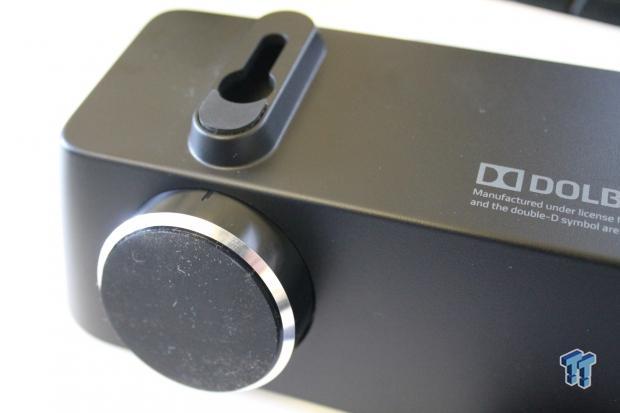 The subwoofer certainly does the job, however, falls a little short if you're an extreme lover of bass. The way I could explain it is that this subwoofer 'adds to the experience' of the music, rather than creating a rumbling, wall-vibrating pump with each bass drop. The bass is nothing to be sneezed at, but if you're looking for something that will vibrate your walls and quench a big-bass thirst, you should look somewhere else.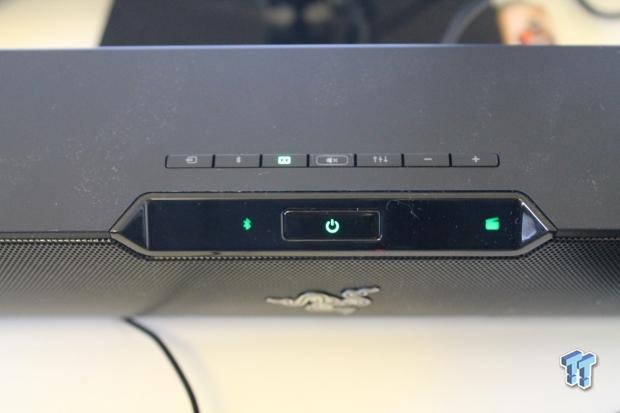 Quiet tracks fare extremely well with this product, seeing Twenty One Pilots' 'Ode To Sleep' report back crisp and clear sound and allowing the clarity and mid-high range of this speaker to really shine; something that is completely devoid in cheaper products.
Some chilled out rap music from Nas also fares well, as explained above the bass does help 'add to the experience' of your music, gently pushing it along, but sometimes you just want that bone-rattling bass and with this speaker you simply can't get it.
The virtual 5.1 experience is slightly noticeable, but nothing really to write home about. What I think really wins out here is the multitude of connectivity options and the availability of this speaker to a general consumer, mixed with the variety of applications for the one product.
It is easily suitable for a PC, laptop, TV, or console setup and is quite easy to transport around your house or to a mates place considering it's simply a single soundbar and one sub. Even setting up a 2.1 system can be annoying at times due to cables being everywhere. The box provided with the package is sturdy and easily to re-pack, meaning that if you need to move the speakers around, there's no issue with them becoming damaged in transit.
Gaming with speakers
There's always the cliché that gamers who play with speakers are generally complete noobs and have no idea what they're doing. But for people who are looking to mill around in a single player game and not bother about talking to anyone else over a VoIP program, speakers are a brilliant way to kick back and have some fun.
Dirty Bomb is my new casual game of choice, something that my other friends aren't too keen on so I can frag up a storm myself. The positional audio isn't as quality as you would find with a set of headphones or earphones, but the emulated 5.1 channel surround does a surprisingly good job.
When compared to my Logitech X-530 speakers, the subwoofer in the Leviathan does a slightly better job for gaming too. There isn't the bone-rattling bass which I mentioned previously, but you don't always want this for games. It's no fun when the only thing you can hear is the floor and subwoofer vibrating, making it impossible to focus on the rest of the sounds that are going on.
This means that although the Leviathan subwoofer isn't exactly a booming subwoofer, once again it adds well to the overall sound experience that this system has to offer - a true all-rounder for sure.
What's Hot
The clarity: Unmatched by other speakers in this price range.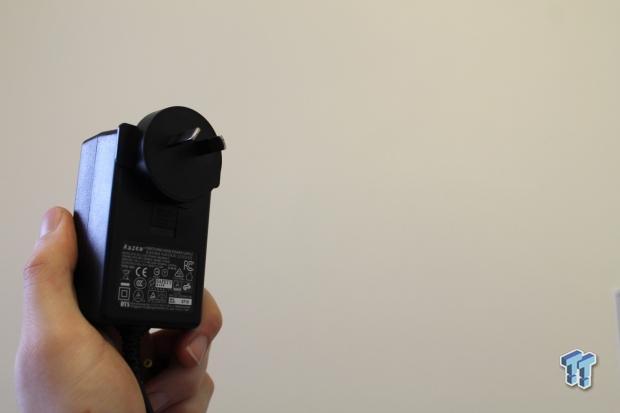 Price point: Providing a similar experience to other soundbars at quite a good price. Razer isn't generally known for hitting price-points on the head with its latest releases, but it's certainly a positive here.
Connectivity options: It comes complete with 3.5mm AUX, optical, Bluetooth 4.0, and NFC.
Multiple applications: Thanks to the detachable feet and a rear mounting platform, this one product can be well utilized for a myriad of different situations and technologies.
What's Not
No rumbling bass: The bass certainly adds to the experience, but it's not going to rumble your walls and windows like other similarly-priced 2.1 speaker systems will. If you're a lover of big smashing bass, look elsewhere.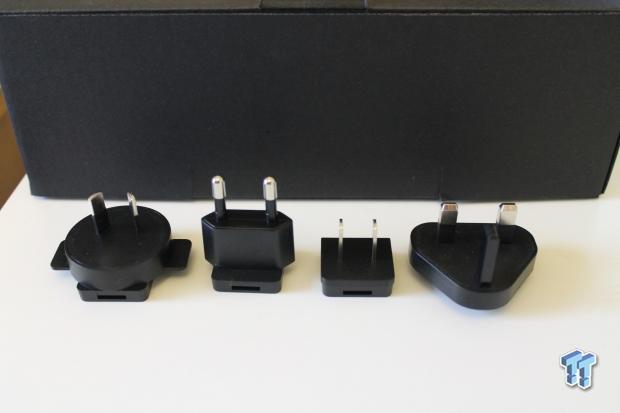 Wide power pack: Something I didn't mention previously, some of the power pack snap on country connections (see above) are a little wide and will get in the way of other power packs on your board.
Attracts dust and shiny plastic smudges: The images in this review speak for themselves. Nothing massive, but might annoy some.
Final Thoughts
As someone who is a lover of big bass, I can't let the lack of wall rattling impede my overall judgement on this product. The Razer Leviathan soundbar really does provide an overall speaker package to suit just about every consumer.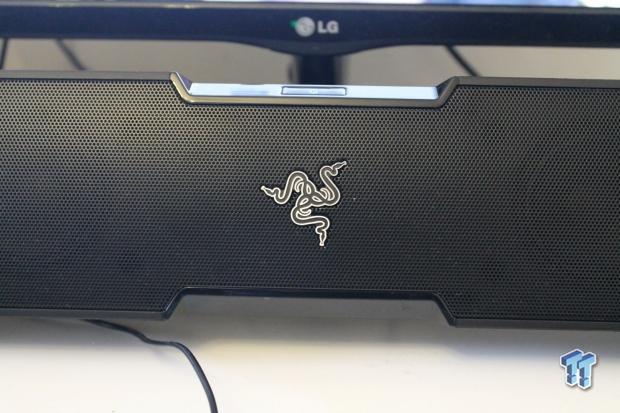 The sound is crisp, the mid to high ranges are full, and the bass certainly adds to the whole sound stage. The connections are plenty, the whole frame looks great, and the multiple mounting/sitting options ensure a versatile product experience. I can certainly suggest this soundbar for anyone looking at a mid-range setup for their desktop PC, console setup or lower-end (but price conscious) HI-Fi setup. This soundbar will be transported immediately to my lounge room and used for many Super Smash Brothers catch ups with my mates.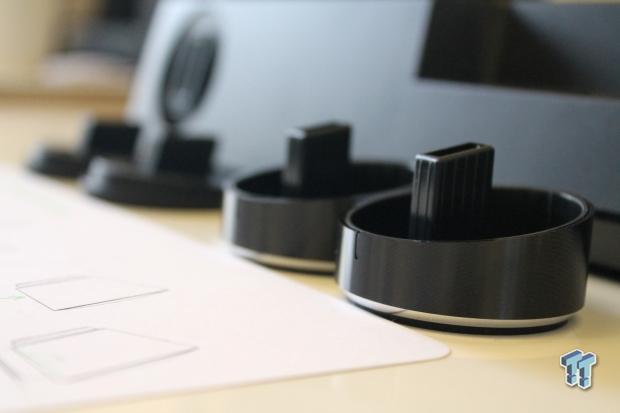 I wonder if they can make another with a small 5,000 mAh battery in the soundbar for parties or outdoor adventures. It wouldn't be too portable sure, but take it in your car and there will be little issue here, while adding extra versatility to an already solid product.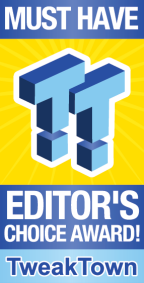 | | |
| --- | --- |
| Performance | 90% |
| Quality including Design and Build | 90% |
| General Features | 95% |
| Bundle and Packaging | 99% |
| Value for Money | 85% |
The Bottom Line: Although the price point of Razer's Leviathan 5.1 is a little high for some, the clarity, connectivity, and versatility of applications is unmatched by anything else available today.
PRICING: You can find products similar to this one for sale below.

United States: Find other tech and computer products like this over at Amazon.com

United Kingdom: Find other tech and computer products like this over at Amazon.co.uk

Australia: Find other tech and computer products like this over at Amazon.com.au

Canada: Find other tech and computer products like this over at Amazon.ca

Deutschland: Finde andere Technik- und Computerprodukte wie dieses auf Amazon.de
We openly invite the companies who provide us with review samples / who are mentioned or discussed to express their opinion. If any company representative wishes to respond, we will publish the response here. Please contact us if you wish to respond.