Creative iRoar Intelligent Bluetooth Speaker Review
Described as 'the most intelligent speaker on the planet', Creative's iRoar Bluetooth speaker is essentially a Sound Blaster Roar with added brains.
Published
7 minute read time
TweakTown's Rating: 79%
The Bottom Line
While Creative's iRoar Intelligent Bluetooth Speaker offers decent sound and an amazing feature set, there are other downsides that slash its score considerably.
Introduction
Produced with the help of Wyclef Jean, the Creative iRoar is explained as the original Sound Blaster Roar speaker with added brain power, described on the official Creative website as 'the most intelligent speaker on the planet.'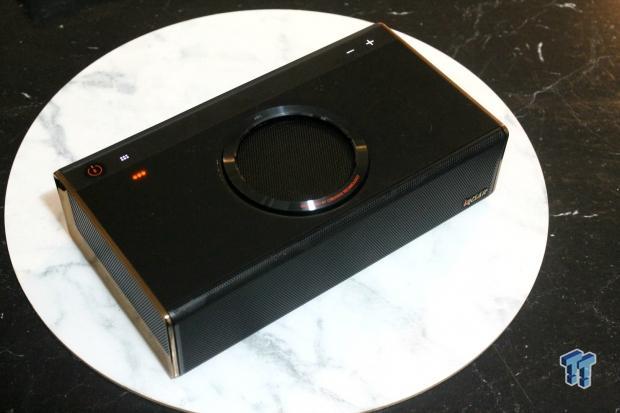 This speaker has received a few awards since its recent release, backed by features that include personal PA system functionality, five drivers, and its own audio processor.
This feature-packed speaker will be analyzed from many angles throughout this review. I'll be looking not only into how it performs in an audio sense but whether the features are useful, the asking price, the included accessories, and more.
Specifications
This five-driver unit is comprised of dual high-frequency 1.5-inch speakers and a top-facing 2.75-inch driver for bass projection. In addition to this, the two passive radiators help provide 360-degree sound for anyone who listens in.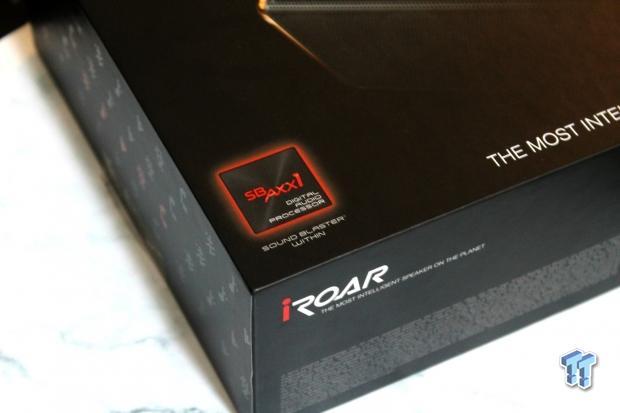 Packed with a plethora of software based features, the iRoar has been heavily marketed towards its PA and voice related perks. Through the help of its smartphone app, this speaker can apply around 18 voice changers, change the sounds depending on what purpose it is fulfilling, and also provide tweaks to equalizer settings while on the run.
Offering a slightly different input/output landscape than the jam packed Sound Blaster Roar, the iRoar ops to delivers users a USB phone charging socket, AUX 3.5mm, and optical in ports. Further options include a micro-USB audio input plug, micro SD card storage, a wall charger power plug port, and wireless Bluetooth functionality. This speaker provides communication to the user and tells you how to connect the speaker and will display charge percentage and volume (in numbers) on its front-facing LED display, further offering a touch-button layout for volume, play/pause and skip song buttons.
The iRoar packs a 9,000mAh battery within that will last a massive 20 hours of playback time while also providing enough power to charge your phone through its 1.5A USB output, a significant increase over previous Roar models. The speaker measures in at 8.8 x 4.7 x 2.2 inches and weighs a hefty 2.5lbs. Utilizing its Bluetooth 3.0 functionality, this speaker is packed with Bluetooth profiles including A2DP, AVRCP, HFP, and it supports codecs including AAC, aptX, SBC, and aptX-LL. With this review, I also received a packaged unidirectional microphone (sold separately) that weighs in at 30 grams and offers up to 10 hours of usage time, providing users with the ability to clip this product on clothing for speeches and presentations. Unfortunately, Creative has decided not to list the driver specifications once again, so I'm going to have to rely on testing to see how it performs.
Pricing & Availability
Priced at $369.99 on the official Creative website, expect to see this product debut in retail stores for around the $250 mark, which is a high price in its own right. The whole Roar series of devices by the sister-company duo of Creative and Sound Blaster have provided well-poised products that sound decent and provide advanced features. While they all have their drawbacks, I'm interested to see whether this 'world's smartest speaker' adds a whole lot to what the Roar 2 had on display.
What's in the box?
Included within the packaging is the unit itself, a USB cable for smartphone connection and play, a wall adapter for charging, relevant manuals and guides, and finally a carry pouch.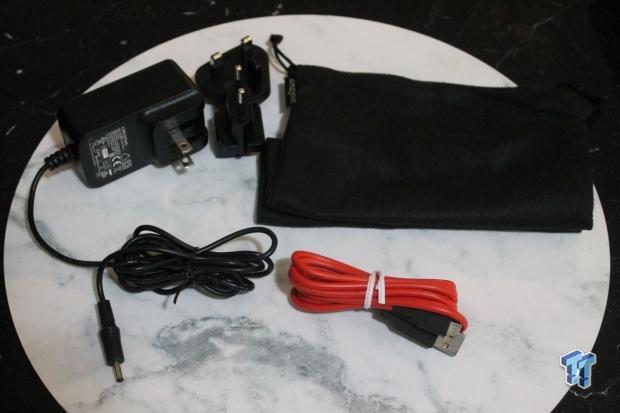 This is the first speaker in the Roar series to include a carry pouch and has finally crushed one of my main concerns about this product range. A carry bag will help keep your unit safe from scratches and scuffs while on the move, simultaneously helping you keep all accessories in one place to avoid losing them while traveling. That being said, there is yet again no AUX 3.5mm cable included with the package. A short auxiliary cable is an incredibly cheap and handy inclusion. There is no real excuse for not providing one - many competitors do.
Let's dig deeper
This product follows all other Roar devices by offering a weighty design thanks to a large internal battery, with this speaker mimicking the Roar Pro in the fact that it's best laid down for better sound projection and stability purposes.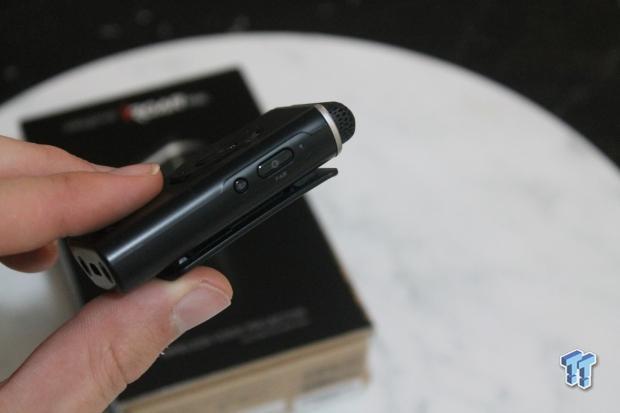 The plastic top of this device doesn't feel tacky as you may assume, with Creative once again providing ports and buttons with firm connections and responses when utilized. The touch buttons on the front are a fancy and new inclusion, but this type of design it not something that I'm interested in. While this product isn't water resistant and is quite weighty, there is some concern about it possibly falling and breaking. To combat this, Creative has put two long rubber running strips on the back of the product, assisting immensely with stability and control - further ensuring that it doesn't slide around when you're pumping music at full volume.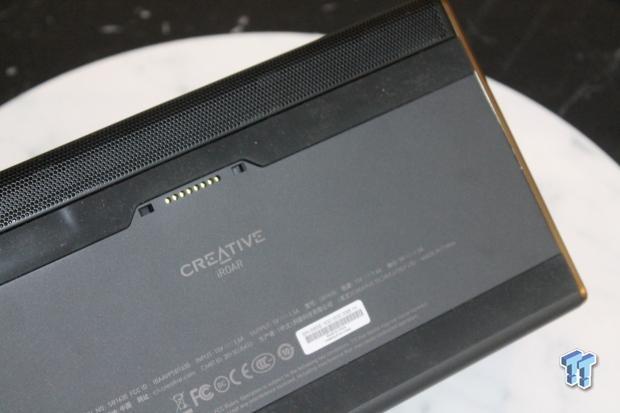 The bottom of this device has two large rubber strips running parallel to ensure the speaker doesn't bounce or move when in use, further providing a strong resting spot for the speaker if you decide to buy Creative's massive Wyclef Jean branded speaker that connects through a touch terminal (not covered in this review).
The plug pack is an annoying inclusion once again, providing a 15V 1.6A charging connection to the speaker through a wall port. This speaker could charge its internal battery through a micro-USB input port as seen with copious amounts of competing products. Including a wall charger means that users are going to have to account for this bulky and hard-to-replace addition, rather than using their existing micro-USB charging architecture. Why Creative has decided to go with a wall port for its whole Roar range completely eludes me as it demolishes so many things that are great about this product line, holding it back overall. Besides this major drawback, the features on this product are impressive, especially if you're looking at a small PA system for public speaking or events. The microphone is quite light and small, further clipping to a shirt with ease. The iRoar app gives you a bunch of funky voice changers that will entertain you for a few minutes and cheapen the product a little, but overall, it functions very well, providing a handy quick mute button, volume controls, a simple pairing button, and more. However, priced at $69.95 on Amazon, I wouldn't buy the mic myself unless it was a company expense.
The pairing function on the iRoar is a little confusing at first but easy enough, with users having to hold down the off button for a period to enter the pairing mode. To turn the speaker off, you have to press the button just once, which is different to many other speakers - so just keep this in mind. The addition of the front (or top) facing touch display adds some extra class to the overall product. Previous Roar speaker models looked quite retro in design and that was partially due to their crazy amount of buttons and ports, with the iRoar being much more defined in nature, which is further perpetuated by the classy shiny black top plate with gold accents.
It's Time for Tunes
I utilized my Samsung Galaxy S4 and an LG Nexus 5X for Bluetooth-connected music play on this device, using Spotify Premium to pump a wide variety of genres including hard-core metal, rap, pop, rock, and more.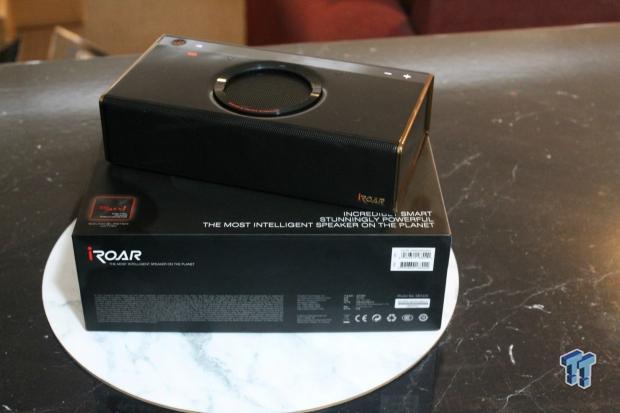 Providing much the same speaker setup as the rest of the Roar range, the iRoar provided a decent sound stage overall - keeping in mind that the speaker must be laid flat to get the best sound quality. This is due to the overall driver placement and helps make the device quite confusing. The reason for this is that the subwoofer is the large round speaker on the 'top' of the iRoar- facing this towards you gives you weirdly washed out and muffled sound because the tweeters aren't giving you their full attention. Laying this device down gives you the best quality, but it looks and feels weird because your connection ports are no longer facing up, but it would explain why the touch buttons for volume control are no longer positioned next to them.
The multi-driver setup follows suit of many other products and provides a plethora of drivers that aren't quite as decent if they were reduced in number. The subwoofer helps the sound along, don't get me wrong, but it's a little flat and muffled in most music. The tweeters are of adequate quality and certainly worth the price, just don't expect this speaker to be audiophile in quality by any means.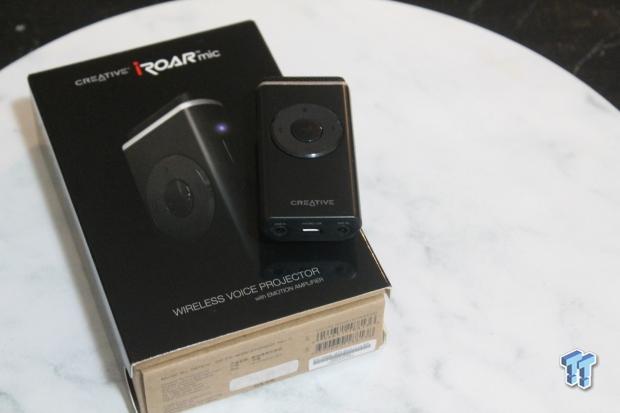 The whole soundstage of this product is fairly decent and its best described as an all-rounder ordeal. It doesn't seem to excel in any single form of music but handles everything sufficiently well. No matter if you're listening to Justin Timberlake through iTunes or 'Pogo' on YouTube, this product is going to handle everything with class. The equalizer settings available help tweak your product to whatever music you're listening to, and this will help a great deal if you're not likely to skip between genres. However, if you're like me and love to listen to Ratatat followed by La Dispute, it's best off left how it is. Some of the music I tested this product with included:
What's Hot
Projection: The volume output is more than sufficient for small-scale speeches and family gatherings.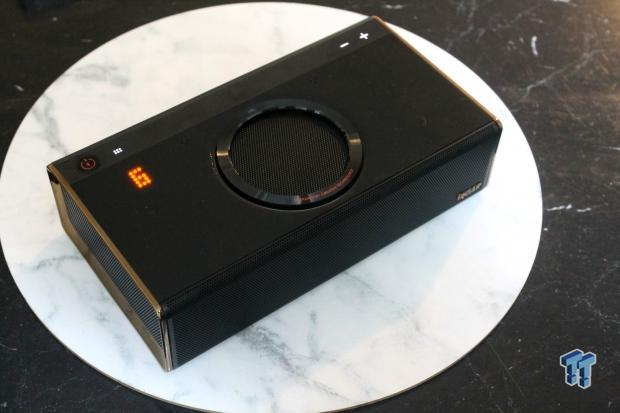 Feature set: This speaker includes all the great standard Roar features plus a few gimmicks that some may find useful.
Updated look: This new sleek and highlighted look brings the Roar out of the 80's and into 2016.
All-around sound: This product will tackle any music genre or track that you throw at it reasonably well, with the equalizer being able to adjust things to your needs.
What's Not
The positioning: Best laid flat on its back for premium sound quality, this device covers quite a lot of area and can be hard to position for sound.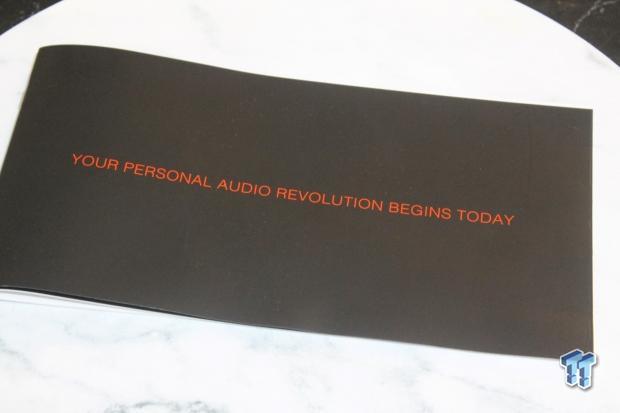 Muffled sound: While not terrible in its own right, this speaker provides sound that is a little flat, something I wouldn't have expected out of a tweeter and subwoofer setup.
Charging implements: I'm begging Creative to do away with the annoying, cumbersome, and hard to transport power pack charging implementation.
Final Thoughts
The Creative iRoar is an impressive piece of kit on paper. While brandishing the title of the 'world's smartest speaker', in my honest option, the smarts don't sell the product overall.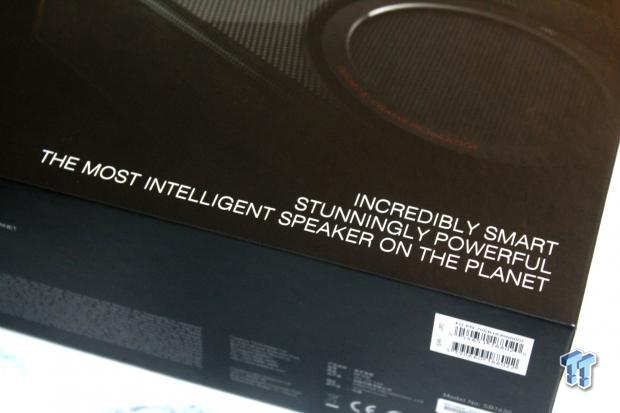 What does sell this product is the sleek highlighted look, the ability to synchronize two of these devices in unison, the decent all-round sound quality, and the battery size. With these come drawbacks, however, with the laid-down positioning taking up a lot of space, this unit is also quite heavy, and the charging method is nothing short of annoying, but at least they included a carry pouch this time. While this speaker does carry a lot of positives and a few crushing downsides, in the end, it's up to the consumer to decide if this speaker is for them. It certainly offers more options than most.
| | |
| --- | --- |
| Performance | 75% |
| Quality including Design and Build | 80% |
| General Features | 90% |
| Bundle and Packaging | 75% |
| Value for Money | 75% |
The Bottom Line: While Creative's iRoar Intelligent Bluetooth Speaker offers decent sound and an amazing feature set, there are other downsides that slash its score considerably.
PRICING: You can find products similar to this one for sale below.

United States: Find other tech and computer products like this over at Amazon.com

United Kingdom: Find other tech and computer products like this over at Amazon.co.uk

Australia: Find other tech and computer products like this over at Amazon.com.au

Canada: Find other tech and computer products like this over at Amazon.ca

Deutschland: Finde andere Technik- und Computerprodukte wie dieses auf Amazon.de
We openly invite the companies who provide us with review samples / who are mentioned or discussed to express their opinion. If any company representative wishes to respond, we will publish the response here. Please contact us if you wish to respond.