Fitbit Surge GPS Fitness Super Watch Review
The wearable tech sector continues to grow and market leader Fitbit continues to pump up its range of activity tracking devices with more advancements.

Published
|
Updated Tue, Nov 3 2020 6:59 PM CST
5 minute read time
TweakTown's Rating: 85%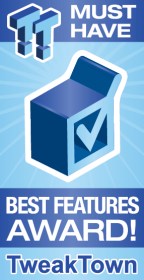 The Bottom Line
It's not perfect and it's not for everyone, but on paper at least, Surge is the best tracker Fitbit has produced. If you're in the market, you have to put it on the short list - just don't forget to look at the Charge HR, too.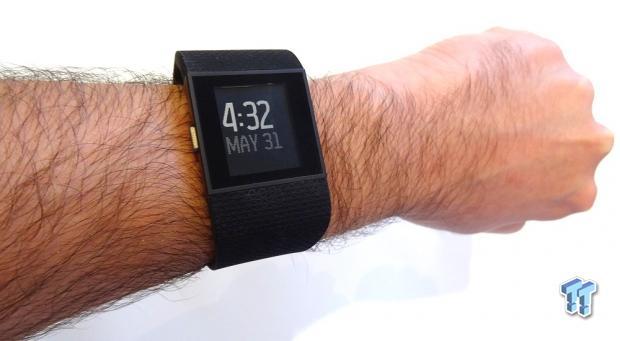 Fitbit Surge GPS Fitness Super Watch Review
While fitness tracking outfit Fitbit's newest activity trackers the Charge HR and the top-end Surge were announced together earlier this year, a delay reaching the Australian market meant that the top end of the Fitbit range was somewhat constrained locally. But now the Fitbit Surge has launched in stores and consumers are really spoiled for choice - but who exactly will benefit from the additional features and are they really worth the $150 premium? Ben spent a few weeks running, gyming and living with the Fitbit Surge and returns with his verdict.
A few months ago, I spent an extended period with the Fitbit Charge HR and came away very impressed. I still wear it every single day and whilst admittedly the sheen has come off and I don't pore over the endless stream of data quite like I did when initially, I still take note of the little unit and its companion app as it gently chides me for being only a few thousand steps away from my daily target when the afternoon workday sedentary sets in. In part thanks to its encouragement and goal setting features, I'm proud to say that I've shed much of my excess weight, with a BMI is just edging the upper limits of a good weight - a solid improvement on where my fitness was just a few months ago.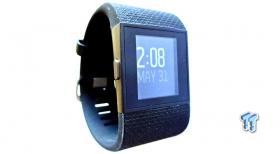 At their core, the Fitbit line of activity trackers monitor the number of steps taken daily, with the Charge HR and Surge adding a heart rate monitor to give more depth, relevancy and accuracy to the seemingly endless stream of statistics. In truth, both units share many similarities in form, function and technology that for the everyday consumer, it might be hard to justify the price premium. But dig a little deeper and some subtle and not so subtle feature differences that really set this fitness tracker apart from its sibling and targeted towards more discerning fitness fanatics.
The first big difference in the Surge is the switch out from the bright, single line OLED display in favor of a larger (and dimmer) monochrome LCD display, which allows for a more generous range of display options and on-screen data. That the display stays active during activities makes a big difference, giving feedback such as heart rate and calories burned rather than having to repeatedly press a button to wake the unit as with the Charge - presumably to reign in battery usage. The addition of touch functionality is also welcomed, but forcing the user to toggle a combination of one or more of the three physical buttons, as well as the touchscreen to perform simple tasks is onerous and sometimes frustrating. The larger screen real estate also renders text notifications, over and above the standard features such as call notifications, alarms and multiple watch face styles.
A subtle but very welcome improvement is the easy access to a range of predefined workouts which can be tailored to your own fitness regime. A recent firmware update also unlocked another which will be useful for cyclists. While activity logging isn't something you already can't do with a bit of manual work on the web app, it's certainly nice to have the unit do the work automatically, which makes tracking and organizing your stats just that little bit more useful.
Another big addition (and a first for Fitbit) is on-watch GPS tracking which integrates nicely with Google Maps. It works pretty great too, even if it can take a minute or two to lock onto a satellite. While I don't find the feature personally desirable as the bulk of my running is confined to an indoor treadmill, for hardcore joggers, I imagine the feature could be quite the game changer. As good as this is, I wonder how hard would it be for Fitbit to merge a mobile device GPS signal into the apps of the basic line of trackers?
The same MEMS 3 axis accelerometer that powers the Charge HR (and many of Fitbit's competitor trackers) provides much of the core functionality of the band, including steps taken and distance traveled with excellent accuracy. Similarly, an altimeter keeps tabs on height, with each 3 meter incline counting as a floor.
Fitbit's proprietary 'Pure Pulse' heart rate monitor returns, with some definite improvements. This time, the two low intensity green LEDs are slightly separated due to the larger size of the unit and for whatever reason seem to lock on to heart rate more successfully, particularly during high intensity workouts. It's not infallible, but I noticed fewer problems with the Surge than I did with the Charge HR. For times when it does lose the signal, it will simply extrapolate the data from either side of a successful reading and render an estimate as usual.
The sleep monitoring function is also back and as eerily accurate as ever (down to the minute I dozed off), but I still don't put too much value in the feature other than as an interesting, yet superfluous statistic. At the end of the day, how much control can you really exert over the internal and external forces which dictate your sleep quality?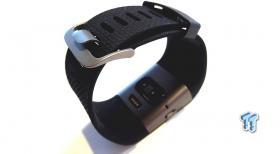 Due to the wider and thicker design, I found the Surge slightly less comfortable and harder to conceal underneath a business shirt. Utilizing the same elastomer material on the band, the same hygiene rules apply. Washing the band in light water and drying after a rigorous workout comes highly recommended. I suffered none of the 'arm rash' problems that some appear to be having, which I understand is predominantly only affecting those with a pre-existing allergies to the material.
The low voltage Bluetooth 4.0 sync connection to the app on a mobile device simply cannot be faulted. Despite a number of updates to my preferred Android app in recent weeks, the edge still goes to the iOS version, although both are undoubtedly excellent, with rock solid stability. For everyday information, the apps do a great job of displaying the most pressing vital stats, whilst the web app gives access to a much broader suite of statistics and interactive graphs to illustrate your health progression and to alter a range of band settings. I didn't particularly care for the water and food logging options (which I note have recently been updated to better reflect Australian food items), but those prepared to invest the time to dial down to calorie counting and portion control can try their luck.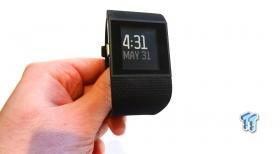 I can only assume that the Surge comes equipped with a larger, more powerful battery, because even with the screen permanently lit, the unit manages an extra day over the Charge HR. Again, charging is pretty rapid at under two hours via USB or a smartphone/ tablet wall socket 5V USB adaptor.
The Fitbit Surge does everything the Fitbit Charge HR does and often just that little bit better. While the increased size and girth of the watch naturally narrows its market, the company doesn't make any secret of the fact that this unit is aimed squarely at the most demanding of fitness fanatics. For comfort, value for money and range of features, for me the winner is the Charge HR. But both would be excellent choices for someone new to the game, or upgrading from a more basic tracker. Combined with excellent quality companion apps with an appealing, pleasant and easy to use interface, Fitbit's position at the top of the market is not simply a matter of coincidence.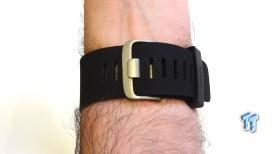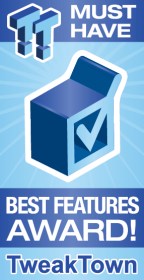 | | |
| --- | --- |
| Performance | 85% |
| Quality including Design and Build | 85% |
| General Features | 95% |
| Bundle and Packaging | 80% |
| Value for Money | 80% |
The Bottom Line: It's not perfect and it's not for everyone, but on paper at least, Surge is the best tracker Fitbit has produced. If you're in the market, you have to put it on the short list - just don't forget to look at the Charge HR, too.
PRICING: You can find products similar to this one for sale below.

United States: Find other tech and computer products like this over at Amazon.com

United Kingdom: Find other tech and computer products like this over at Amazon.co.uk

Australia: Find other tech and computer products like this over at Amazon.com.au

Canada: Find other tech and computer products like this over at Amazon.ca

Deutschland: Finde andere Technik- und Computerprodukte wie dieses auf Amazon.de
We openly invite the companies who provide us with review samples / who are mentioned or discussed to express their opinion. If any company representative wishes to respond, we will publish the response here. Please contact us if you wish to respond.