G.Skill RipjawsX PC3-17000 8GB Dual-Channel Memory Kit Review
We take a look at G.Skill's PC3-17000 8GB RipjawsX kit and see just what it can do. Follow on as Shawn tells us all about it and if it's worth buying.
Published Wed, Mar 26 2014 9:06 AM CDT
|
Updated Tue, Nov 3 2020 7:00 PM CST

It's been a while since we've written a RAM review, but we've had a couple of kits sitting around needing some love. We actually tested the G.Skill kit we're looking at a few weeks ago, but a couple of high profile motherboards and a steady stream of video cards took priority, and it seemed that the time to write the full review was just never available.
That changes today, though, as we throw everything else on hold for a day, and I work towards writing this review and a review of an ADATA kit that we also tested a few weeks ago. The particular kit we're looking at today from our friends at G.Skill is part of the popular RipjawsX series. The RipjawsX series is one that has impressed us since launch and continues to impress us with every new addition to it.
Taking a look below at the kit, you won't see anything too out of the ordinary. We've got the same red color scheme that we've seen out of other RipjawsX kits, and the same heat sink design, which is seen on other Ripjaws series memory, is present. While there's not a lot of PCB shown, you can see that G.Skill opted for a black one, which looks awesome against the Red and Black heat sink. Throw them into a Black PCB motherboard with red highlights, and there's no denying that you're going to have quite a sexy combination.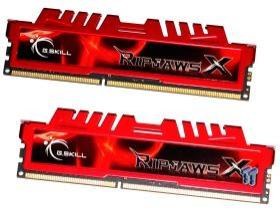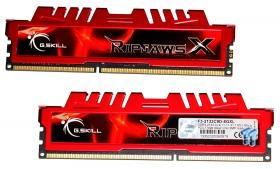 The overall design and layout of the module is very standard. Both sides clearly show the G.Skill logo; one side shows the RipjawsX one, and the other side gives us a sticker that lets us know some of the main specifications of the modules with a quick glance.

Moving in closer, you can see just exactly what we're dealing with here today. Looking at the F3-2133C9D-8GBXL model number, you can see most of the main details are given away. The PC3-17000 kit translates to 2133MHz DDR3, and we're dealing with a CL9 setup, or CL9-11-11-31-2T to be exact, at 1.6v to 1.65v. As for the size, you can see we're dealing with a smaller 8GB kit that is made up of two 4GB modules.
Installing the modules and heading into the BIOS to set the XMP, we encountered no problems just as you'd hope and expect. Looking below, you can see we got the default 9-11-11-31-2T at 2133MHz DDR3 up and running with no issue.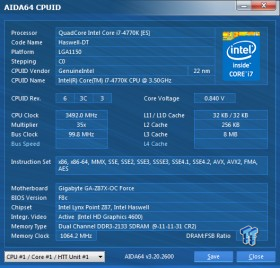 Under AIDA64, we ended up with read/write numbers of 30,932 MB/s / 31,551 MB/s, a copy speed of 28,430 MB/s, and latency of 47.6ns. Performance numbers are fairly standard for this speed. The real fun begins when we get into the overclocking side of things, though, and see just what the kit is capable of. Heading into the BIOS again is where we really see what the kit is capable of.
Looking below, you can see that we managed a fairly decent overclock moving from 2133MHz DDR3 to 2244MHz DDR3, or a 111MHz DDR3 overclock. You can see this was achieved with a 102 BCLK and an 11:1 DRAM:FSB ratio. While we leave the main timings alone, we do head back into the BIOS once we've found a stable clock speed and see if we can move to 1T Command Rate if the default is 2T. Looking below, you can see we managed that.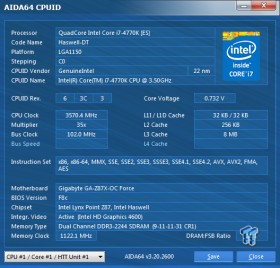 Under AIDA64, we ended up with read/write numbers of 32,781 MB/s / 33,413 MB/s, a copy speed of 30,281 MB/s, and latency of 44.2ns. With the increased speed, you can see that we manage to get a boost across the board. We see a little under 10 percent when it comes to the MB/s, and a reduction of 3ns taken off the latency.
Once we've found the maximum overclock on the memory, the last thing we like to do is head into the BIOS and overclock our CPU to see just how much more performance we can get out of the kit. Unfortunately, we didn't have much luck increasing our CPU clock alongside the RAM with the aforementioned settings.
Since we didn't want to just leave it there, we decided to take the CPU to 4746.7MHz, which is a fairly standard, but strong, overclock for the i7-4770K. With that done, we set the timings to 9-11-11-31-1T like the previous tests and find out what kind of clock speed we're able to get.
Using the same 11:1 RAM divider, you can see we manage to push the BCLK to 101 instead of 102, which was seen on the previous test. This means our RAM comes in at 1110.9MHz, or 2221.8MHz DDR, which is 22MHz DDR lower than our previous result with the CPU running at the same speed.
Under AIDA64, we ended up with read/write numbers of 32,521 MB/s / 33,123 MB/s, a copy speed of 29,911 MB/s, and latency of 45.4ns. One thing about the Z87 platform and the Haswell based setups on a whole is that CPU overclocking brings very little change to memory performance unlike the previous generation setup from Intel. Because of this, you can see that the memory performance is lower here despite our CPU speed being higher.
When it comes to making a decision between a higher clock speed on your CPU or more MHz on your RAM, the better decision would be the former. The increase on your CPU is going to bring with it a strong performance gain in key areas and also increase any CPU limitation that might be present when it comes to gaming.
At the time of writing, the F3-2133C9D-8GBXL RipjawsX kit from G.Skill is going to set you back a bit under the $100 mark, which is fairly standard for a kit of this speed with these timings. When it comes to being an all-round product, this is quite a nice kit of RAM.
2133MHz DDR3 is a speed that no one should have any trouble achieving. You should find yourself being able to get into the BIOS and set the XMP profile with ease on any motherboard with any CPU. Along with that, 8GB for most people is more than enough RAM. While I wouldn't use anything under 16GB, that is more due to being a heavy user of RAM-intensive programs.

For gamers and others, the extra $70 or so that is associated with moving from 8GB to 16GB would be better spent on a higher-end video card, which will bring with it a clear increase in performance when gaming.
Priced at under $100 with strong timings and a decent overclock, the RipjawsX kit we're looking at today from G.Skill is a great option for gamers and general users who are looking for a quality RAM kit that carries a good out-of-the-box clock speed.
PRICING: You can find the G.Skill RipjawsX 8GB kit for sale below. The prices listed are valid at the time of writing but can change at any time. Click the link to see the very latest pricing for the best deal.
United States: The G.Skill RipjawsX 8GB kit retails for $94.95 at Amazon.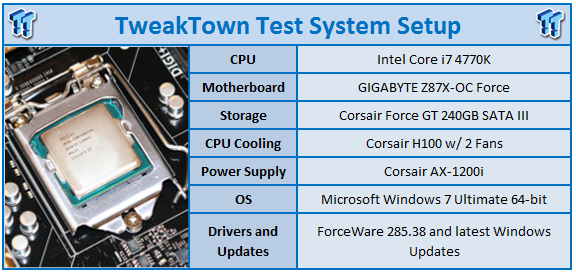 PRICING: You can find products similar to this one for sale below.

United States: Find other tech and computer products like this over at Amazon.com

United Kingdom: Find other tech and computer products like this over at Amazon.co.uk

Australia: Find other tech and computer products like this over at Amazon.com.au

Canada: Find other tech and computer products like this over at Amazon.ca

Deutschland: Finde andere Technik- und Computerprodukte wie dieses auf Amazon.de